Anyone old enough to remember a time before digital photography likely has fond memories of Polaroid cameras. At a time when viewing photos typically required handling film correctly, a trip to the drug store or photo lab, days of waiting for processing, and anxiously flipping through a stack of photos to see if any looked good, the Polaroid was a magical device.
The near-instant gratification of snapping a photo and waiting a few seconds as the image gradually came into view never lost its novelty. Plus of course, even though it didn't do anything, we all shook the pictures anyway.
Digital cameras finally brought about the death of Polaroid. Yes, it still exists in a small niche, but it's an extremely rare product in a day when everyone has a smartphone in their pocket.
Despite the popularity of the smartphone and social media sharing, there is still something special about a tangible, touchable, printed photo that most of us rarely encounter anymore. Case in point, despite the fact that any of us can take a photo at any time, photo booths remain popular at fairs, events, and amusement parks. Patrons are willing to spend money to get a printed photo strip when they could easily take thousands of digital photos for free.
Canon looks to capture a bit of that old magic with the SELPHY CP1300 Wireless Compact Photo Printer. With a host of clever and fun features, you might just find yourself trading Instagram for an instant print.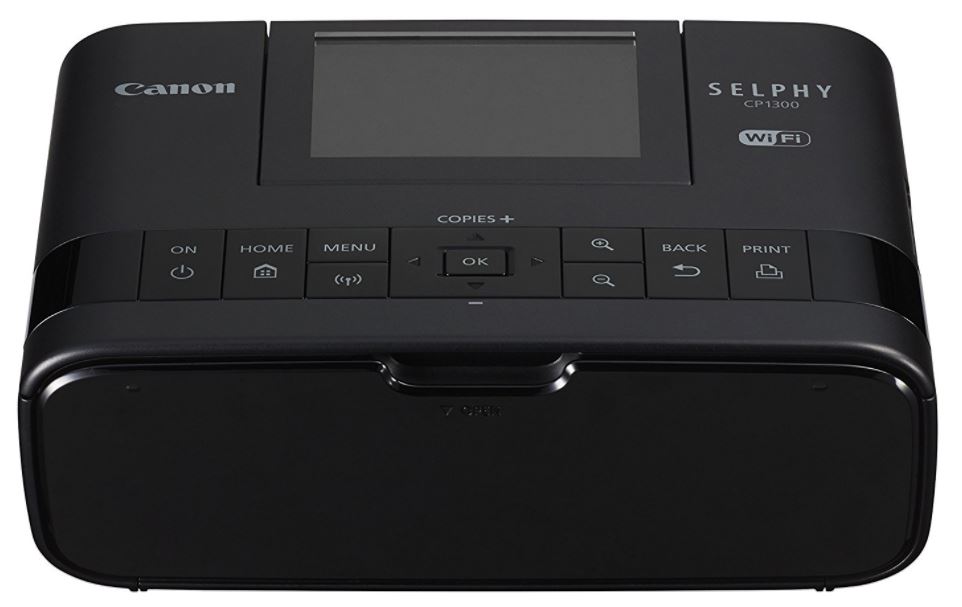 Specifications
When Canon says compact, they mean compact. The SELPHY CP1300 measures in at a mere 7.1 x 5.4 x 2.5 inches making it about the size of a thick paperback book. At 1.9 pounds it's about half the weight of an average laptop computer.
The CP1300, available in black or white, certainly fits into the "portable" category and shouldn't be confused with a standard multi-function unit. The largest print size available is Postcard at 4.0 x 6.0 inches. Additional sizes include L size (3.5" x 4.7"), Card Size (2.1" x 3.4") and Square Label (2.1" x 2.1").
Canon supports a number of ways to connect to the SELPHY for printing. Supporting USB and WiFi connections, you can print via Windows or Mac computer. The Canon PRINT app enables mobile printing from iOS or Android portable devices while and SD card slot allows for easy printing from digital cameras without the need to upload files to a PC.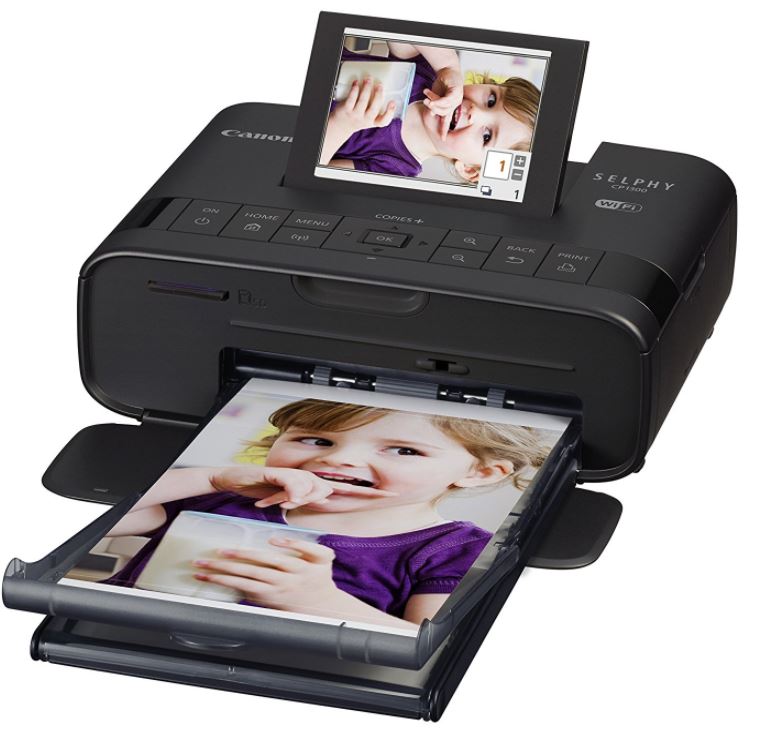 User interface input happens via a 3.2-inch LCD screen. For ease of use, Canon claims to have improved the interface with more intuitive control Also, the LCD screen tilts vertically to enable more convenient access.
Photo printing takes significantly more time than document printing, and a smaller printer tends to magnify that impact. The SELPHY CP1300 takes 39 seconds to print a card-sized photo and 47 seconds to fill a borderless 4 x 6-inch postcard. While it's understandable to sacrifice performance for convenience and portability, don't expect this unit to pump out a high volume in a short time.
Photo Quality
You can generally judge the quality of a photo printer by analyzing the color and clarity of the pictures it produces. While somewhat subjective, objective measurements do exist. Color reproduction should accurately reflect the source media and clarity results from the ability of the printer to produce enough dots per inch, known as DPI, on the paper.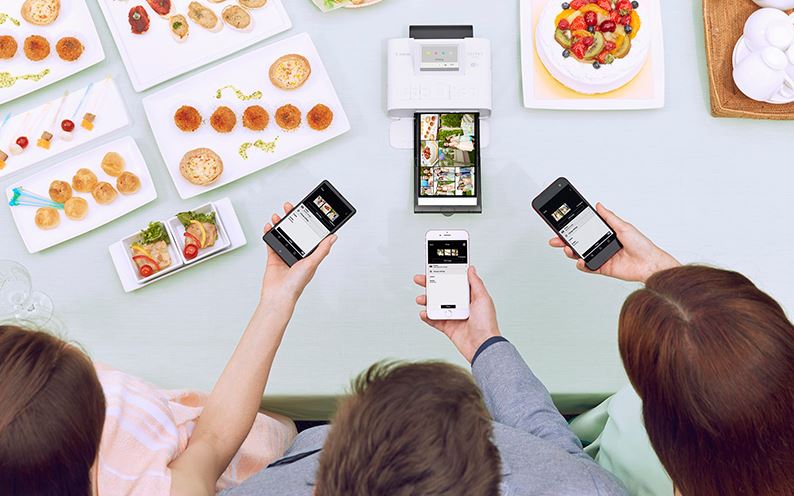 The SELPHY CP1300 supports a maximum of 300 dpi, standard for commercial printing. While completely adequate, it isn't particularly impressive. Larger printers, even consumer models, state support of much higher DPI such as 2400 x 1200. Some of these figures are inflated by counting each color ink as a separate "dot" even though they all contribute to a single pixel. While not stunning, color reproduction was accurate and lifelike.
We tested printing on a variety of photo sizes and felt completely satisfied, if not blown away, by the results. Since most of the photos were quite small, both in collage modes and the smaller 2 inch stickers, there's just not a lot of space to scrutinize the quality.
Ultimately, the CP1300 will produce perfectly acceptable images for personal use and sharing. In this sense, the sharing and collaborative features of the printer matter more than the quality. If you're looking for professional grade printing, you wouldn't consider a small portable device like this anyway.
Dye Sublimation Technology
The SELPHY CP1300 does hold one advantage over standard inkjet printers by utilizing dye-sublimation technology for printing. While inkjets, as the name implies, squirt a tiny jet of liquid ink onto the paper, dye-sublimation uses heat to transfer a solid dye onto the target.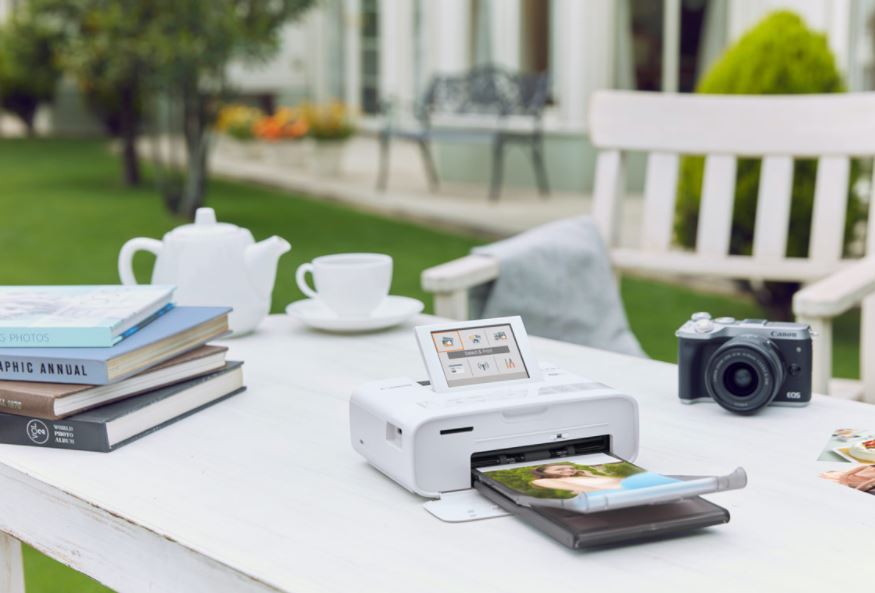 The name isn't completely accurate since the term "sublimation" refers to converting matter directly from solid to gaseous state and dye-sub printers generally liquify the dye to some extent. Regardless, the principal remains the same. Heat is applied to solid dye which vaporizes, transfers to paper, plastic, or fabric where it immediately cools and re-solidifies. This represents a major advantage in a portable printer because unlike inkjet prints which need some time to dry, the dye-sublimated images come out immediately dry and smudge-proof.
On top of the instant drying, the solid nature of the dye naturally affords a measure of water resistance to your prints. Even if you aren't familiar with dye-sublimation technology you could most likely identify images printed this way. While inkjet and laser prints tend to feel just like the paper they're printed on, a dye-sublimated print has a glossy, almost waxy feel.
Additionally, Canon claims an extremely long 100 year print longevity assuming the prints are stored in an album out of the elements. While it's very difficult to get accurate estimates about inkjet print lifespan, it's generally understood that colors will fade more rapidly than dye-sublimated counterparts.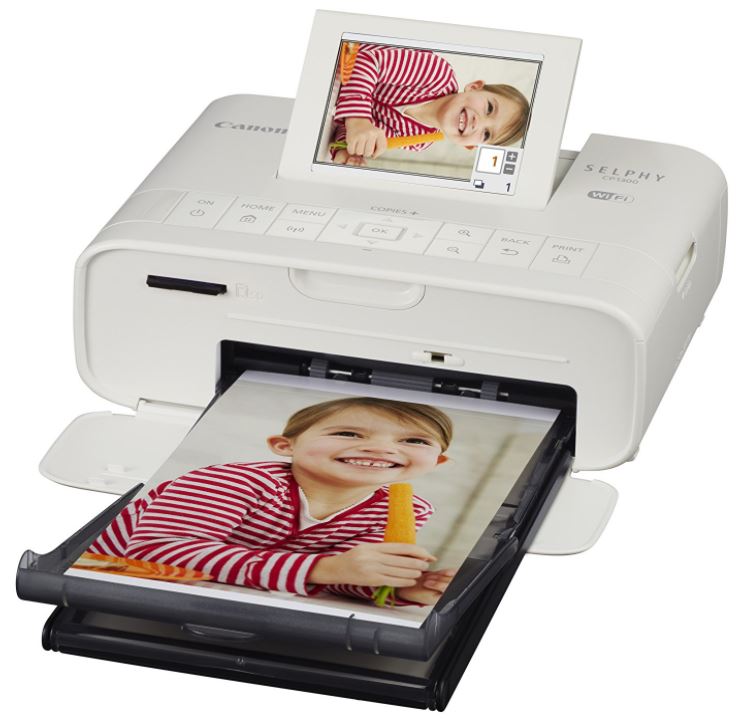 Portability
Given its small size, the SELPHY CP1300 is naturally much more portable than a larger desktop printer. A number of other features enhance the mobile productivity options.
First, the build-in 3.2" LCD screen allows you to edit and select photos to print. Editing features are understandably basic, but do give you some creative options. You can create collages, adjust colors, add borders, and select specific areas of an image to print. While this certainly won't replace the options from more sophisticated editing software, it's a nice option to have on the fly.
Thanks to the dye-sublimation printing process, the SELPHY CP1300 can also print directly onto plastic. This makes it a great option for mobile printing of ID cards and badges at tradeshows or other events.
To further enable mobility, Canon offers a battery pack for separate purchase. While this certainly sounds like a great enhancement, you do need to consider a few points. The battery pack costs nearly as much as the printer itself, and to top it off it's only rated for 54 prints. While 54 prints should be enough for average usage scenarios, Canon advertises the SELPHY CP1300 as a portable party photo booth. It's easy to imagine a situation where you'd exceed 54 prints so you couldn't plan to go too far away from an outlet.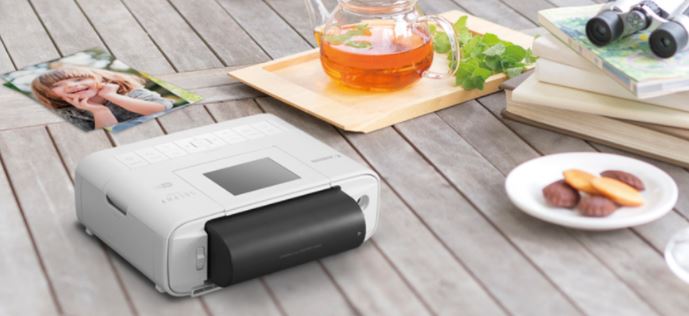 Party Features
If the CP1300 only printed photos, it would a functional but not particularly interesting mobile printer. In order to bring some fun into the picture, Canon has added some unique features that should get everyone involved in the party.
First, Party Shuffle mode allows all of your friends to connect to the CP1300 simultaneously. Everyone can send images to print, and you can select multiple to combine into a collage. It's a great way to let everyone bring home a keepsake from a memorable day. Small square photo labels let you print your favorite, or most ridiculous, photos and stick them anywhere you want.
We found the Photo Booth mode the most entertaining. Even as times change, there's something nostalgic about the strips of tiny photos. In Photo Booth mode, you can select 4 images which will duplicate onto two strips. Simply cut them in half and you can share with a friend. Adding a few costume props and a background is a great way to liven up any party.
Together these features do bring a great deal more to the experience than just printing photos and ID cards. They allow the SELPHY to function well as both a useful business tool and a fun party experience.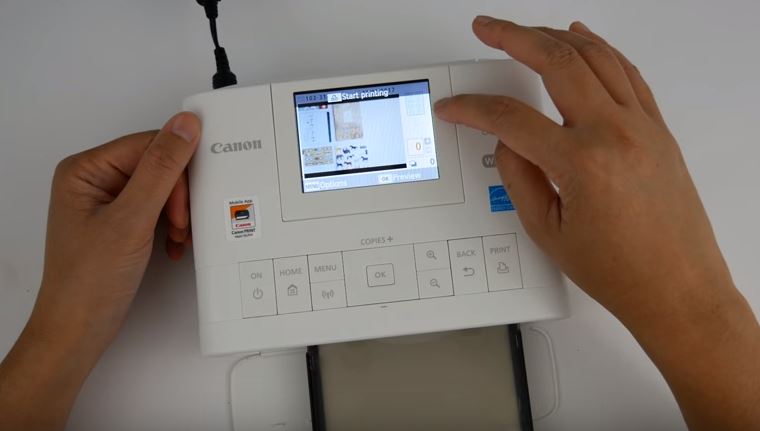 Conclusion
While printing ID cards and photos may serve a purpose, it's the social features that make the SELPHY CP1300 stand out as something more special. In the day of constant social media, it's refreshing to have something personal that doesn't need to be shared with the entire world. Also, we really enjoyed hiding humorous sticker pictures in unexpected places.
The SELPHY isn't a perfect device. The extended battery, replacement ink, and photo paper do run on the expensive side, and the battery life leaves a bit to be desired. Of course, it's worth keeping in mind that the older Polaroid supplies were quite expensive as well.
The biggest test will be to see if people willingly spend what amounts to a fairly significant cost for printed photos. While some of us get a feeling of nostalgia from the "photo booth" style strips and the instant prints, there's no doubt it's now a digital world. There's no doubt it is fun, but it has a novelty that could wear off for many. The convenience of simply posting to social media could win out once the costs of additional photo paper, replacement ink, and portable batteries starts adding up.
The name SELPHY obviously tips a cap to the self-photography phenomenon, and while social posting was one the realm of younger generations, these days everyone has social media accounts of some form or another. From preteens to grandmas, everyone loves connecting online, and we have to wonder if the notion of printed pictures remains a relic of the past.
Regardless of larger social trends, if you're looking for mobile photo printing today, the Canon SELPHY CP1300 provides a versatile solution. The instant dry, durable printing means that it can handle anything from ID cards to stickers, and the Photo Booth and Party Shuffle modes are sure to entertain at your next event.
Meet Derek, "TechGuru," a 34-year-old technology enthusiast with a deep passion for tech innovations. With extensive experience, he specializes in gaming hardware and software, and has expertise in gadgets, custom PCs, and audio.
Besides writing about tech and reviewing new products, Derek enjoys traveling, hiking, and photography. Committed to keeping up with the latest industry trends, he aims to guide readers in making informed tech decisions.