Smartphone speakers are portable, but have sound quality that's ultimately bound by their miniature size. That's why people turn to Bluetooth speakers for their portable sound needs. Whether you're looking for something large enough to play to a stadium, or small enough to carry in your hand, there are plenty of solid options out there.
But there's a strong relationship between the sound a speaker creates, and the size of that speaker. When it comes to choosing smaller speakers, it's hard to overstate the importance of details. Even subtle variations in the construction materials can have a palpable effect on how good a speaker sounds. The fact that small changes can have a large impact on quality is a small part of the reason why brands like Sony continue to release new iterations of their best gear almost annually.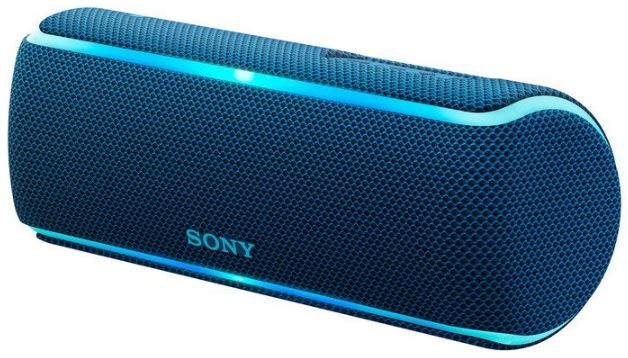 Sony SRS-XB21
You can find any number of portable Bluetooth speakers on the market, but the SRS-XB21 manages to stick out in the crowd all the same. Like all of Sony's latest audio gear, this speaker was built with pretty specific uses in mind. And with a specific design comes some pros and cons. But no matter your intended use, Sony's new SRS-XB line of gear warrants close examination. The XB21 is particularly interesting, in large part due to its exceptionally compact.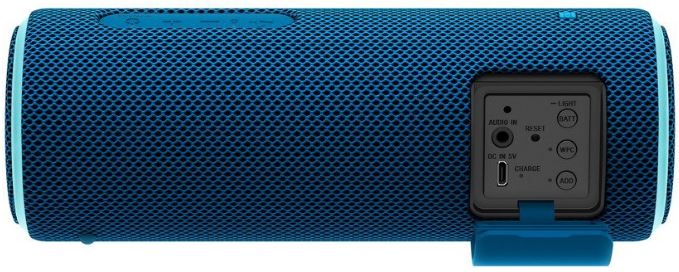 Build & Design
Internally, the XB21 is composed of two 42mm drivers, which are roughly the same size you'd see in full-sized headphones. Those drivers are contained within an elongated build that's roughly 8 x 3 x 3-inches, making the XB21 similar in size to an old beatbox. And that small frame leaves the XB21 weighing only 1.17 lbs., making it exceptionally lightweight even among portable speakers. In short, the XB21 is as small as you can make a speaker before you start to wonder why you're not using a smartphone instead.
Like all the SRS-XB line of audio equipment, the XB21 has its control panel port is hidden behind a hatch on its backside. Inside the panel you'll find an audio-in port, a reset button, the DC charge port, and a handful of buttons to toggle the XB21's light-display and Bluetooth connection. There's nothing truly remarkable to note about the control panel, apart from how invisible it is when the hatch is sealed.
Compared to the last generation of Sony's portable speakers, this redesign incorporates a protective fabric material around the outside of the speaker. It's completely washable, and fairly robust. That helps contribute to the XB21's impressive IP67 waterproof rating. In other words, you can safely run a hose over the SRS-XB21 to clean it off, and you wouldn't have to worry for a minute. Even a fall into the mud would be unlikely to damage the XB21. Sony even went as far as to anticipate the need for rustproofing, which can help protect the XB21 if you decide to take the waterproofing to its limits.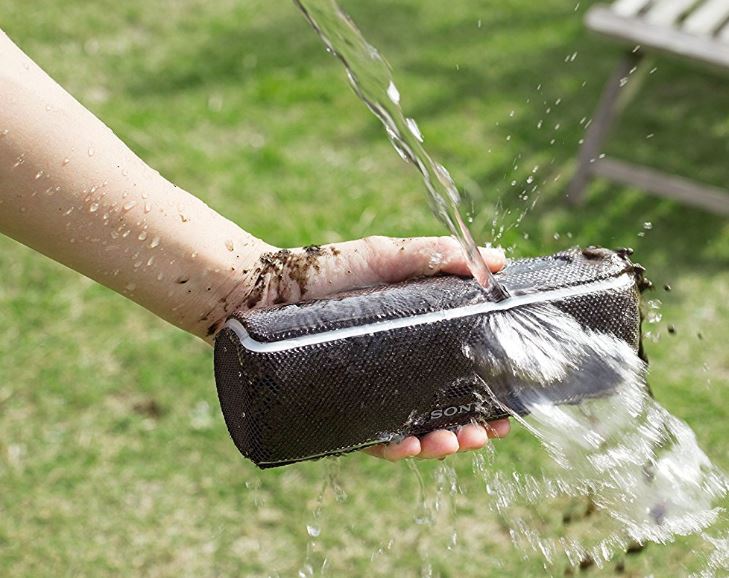 Aesthetic
The XB21 is available in black, red, white, and blue. If you're thinking of pairing the XB21 up with other units like the XB41, you'll want to know the 41 isn't available in white. Apart from that, the XB21 has the same distinct LED array as the larger and more expensive models in the series. That means along the edges of the speaker, a colored single-lined LEDs give the XB21 a visually distinct look, which can be easily customized to your preferences. Those light-show effects are also pretty good at creating a cool party atmosphere.
Battery Performance
The XB21's battery life is rated for up to 12 hours of continuous playback, but that rating is worthy of skepticism. There are actually a number of factors that affect how long batteries last for portable speakers, including your volume level and the type of music you're listening to. But Sony's 12-hour rating assumes generously low levels of volume. For turning the speaker up beyond its half-way point, you'll start to see a maximum battery capacity closer to 8 hours.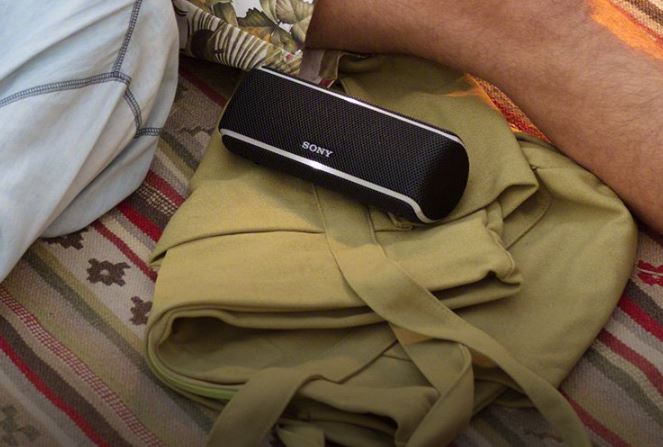 Sound Quality
Small speakers are somewhat antithetical with bass. For great bass, you want a larger bodied speaker, preferably with its own independent subwoofer. Smaller speakers like the XB21 do their best to emulate deep bass, but they're ultimately doomed to somewhat mediocre bass tones. The XB21 is no exception, its bass sounds about what you'd expect from a 2.0 channel PC speaker system.
But the XB21 does excel in high tones, offering crisp and clear sound free of distortion. Like with any modern Sony audio product, you can adjust the character of the XB21's sound through Sony's app. But the SRS-XN21 already sounds great straight out of the box. While they're not quite up to audiophile standards, it's certainly much more than you'd ever expect from a speaker small enough to fit in your pocket.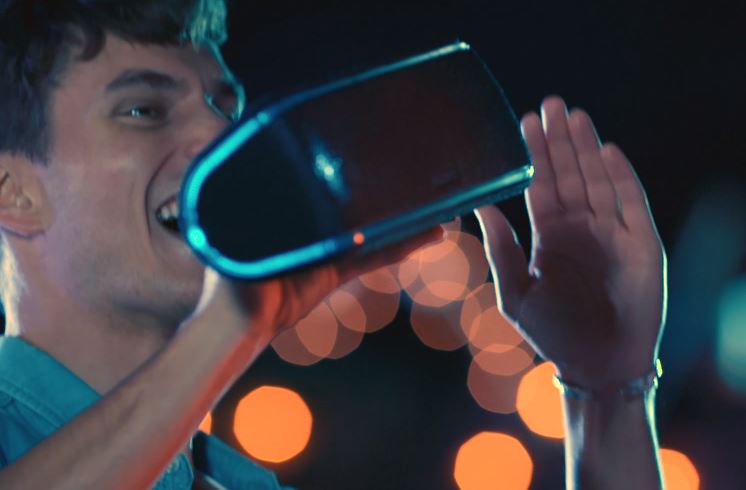 Extra Features
The SRS-XB21 has a number of added features that are part of the SRS-XB line of products. Most of them are pretty compelling in an objective sense, but some of them are a matter of taste. For example, the "Party Booster" feature is something you'll either love or feel totally indifferent towards. It's a feature that allows you to tap various parts of the speaker to produce sound effects, like a snare, kick, or record-scratch. It seems to be something to let your kids goof around with, helping turn the XB21 into a bit of a toy.
But the XB21 has more substantive features as well. For example, the SRS-XB series can sync up with other units. Using Sony's digital signal processor, the XB21 can be connected to as many as 100 separate speakers. That connectivity helps ensure the XB21 is expandable now and in the future, especially if you've got any friends who also use Sony products. It's also worth noting that the connectivity can help link up the lighting effects between the various units.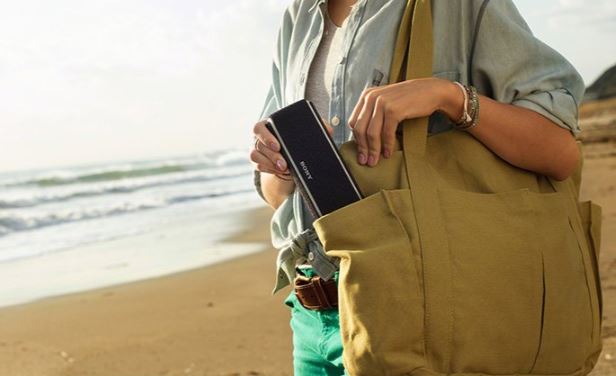 But the hallmark feature of the SRS-XB line of Bluetooth speakers isn't their cool LED aesthetic, it's the Live Sound Mode, which allows the device to emulate three-dimensional sound. Internally, the drivers of the XB21 have been angled to spread audio throughout an area, both horizontally and vertically. The result can fairly be called the best three dimensional sound you can get from a two-channel unit. And with the ability to link up with other speakers, it doesn't take much to turn that emulated surround sound into the real deal.
Bluetooth Connectivity
The XB21's Bluetooth connection is modern, but otherwise completely standard. In other words, you can anticipate a stable connection capable of carrying high resolution audio, and supporting the relatively standard 33-feet range that we've all become accustomed to using. One thing to note is that the XB21's NFC button is conveniently placed on the face of the device rather than hidden away behind a port, so it's not hard to make rapid and easy connections.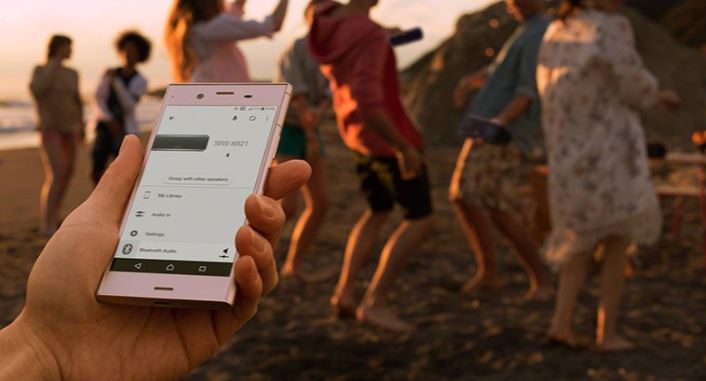 Software Support
Many big brands in the audio space do little to nothing to help their fans when it comes to software. But Sony's software support for even their entry-level products is rather impressive. Within their music center app, it's easy to toggle between playlists, change the lighting patterns on the SRS-XB21, or switch between sound modes. There are various modes depending on the type of listening you're doing, and depending on how many speakers you've got attached. And within the equalizer you're able to fine-tune the sound the XB21, which can add make it simple to add a little more punch to its sound.
Drawbacks to Consider
The SRS-XB line of speakers are dressed to impress. The LEDs are bright and active, which can be good or bad depending on what you're looking for. Under the right circumstances, the lights can help create a cool atmosphere, but under the wrong circumstances they could become annoying. Fortunately, it's capable to customize and control the lights. That means you can circumvent those types of issues with a little bit of effort.
The Live Sound mode is a feature that can be hit or miss. You can't get vivid detail within emulated three dimensional sound because at the end of the day you're dealing with an imitation rather than the real thing. But if you're not a fan of emulated surround sound, it's always possible to link up the XB21 with other speakers to create a true 3D soundscape.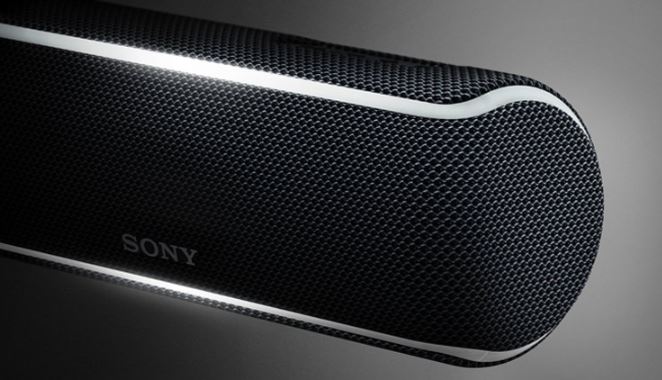 Who Should Choose the SRS-XB21?
The Sony SRS-XB21 is two things above all else, it's portable quality. Its modestly sized body is easy to carry around, even if you've got small hands. You can stick it in your bag, jacket, large pants pocket, jacket, or carry it in your hand. Regardless of how you bring it along, you'll barely notice the weight. But you'll definitely notice the sound quality once you turn it on.
The XB21 shares many of the strongest features of Sony's XB41, at a fraction of the cost. For the kind of hardware involved, the SRS-XB21 definitely on the inexpensive side of things. The sound quality is palpably better than most comparable speakers because of the directional design of the sound. And the fact it can be paired up with other speakers means you've got options for expansion in the future, and the ability to connect up with anyone who's also using Sony's gear.
If you're willing to carry a larger speaker and you're willing to spend more, then you'll be better off with the XB31. Larger speakers will almost invariably produce better sound, especially when it comes to bass tones. If portability is scarcely a concern at all, then you'll want to take a look at the XB41, which pushes sound quality as far it can go with a small design.
Ultimately, the XB21 is for people who need a high degree of portability. If you need a speaker that's small enough to hang from your wrist, the XB21 can help you take your music just about anywhere. As long as you're not expecting to use it as the primary sound system for a 52" television, you'll end up loving its rich and distinctive sound.
Meet Derek, "TechGuru," a 34-year-old technology enthusiast with a deep passion for tech innovations. With extensive experience, he specializes in gaming hardware and software, and has expertise in gadgets, custom PCs, and audio.
Besides writing about tech and reviewing new products, Derek enjoys traveling, hiking, and photography. Committed to keeping up with the latest industry trends, he aims to guide readers in making informed tech decisions.