Sound quality is less linear than visual quality. Virtually everyone will agree that 1080p content looks better than 720p, but when it comes to audio quality there's more room for personal choice. After a certain point of quality is achieved, differences in sound actually becomes a matter of taste! The perfect mixture of high tones, mid tones, and bass tones will be different from person to person. That's why if you and a friend tried out 100 pairs of headphones each, you'd probably end up preferring entirely different sets.
For the most part, selecting the right pair of headphones is all about choosing the pair that's best for your particular listening circumstances. Beyond that, you only have to avoid qualities that are objectively good or bad in other ways. For example, comfort, sound quality, and even durability can vary widely from one pair of headphones to the next. And even seemingly aesthetic design decisions may play into the quality of the sound you end up hearing.
Choosing Wireless In-Ear Headphones
For people who put portability first, the clear choice is wireless in-ear headphones. In-ear monitors make use of that familiar bud-design that rests inside your ear canal, powered by two tiny 8-10mm audio drivers. That small and portable design makes them the obvious choice for people who listen on the go, especially for exercise or traveling. But between the $10 earbuds you can pick up at a gas station and the $600 pairs you find in specialty shops, you can find a world of difference in almost every aspect of their design.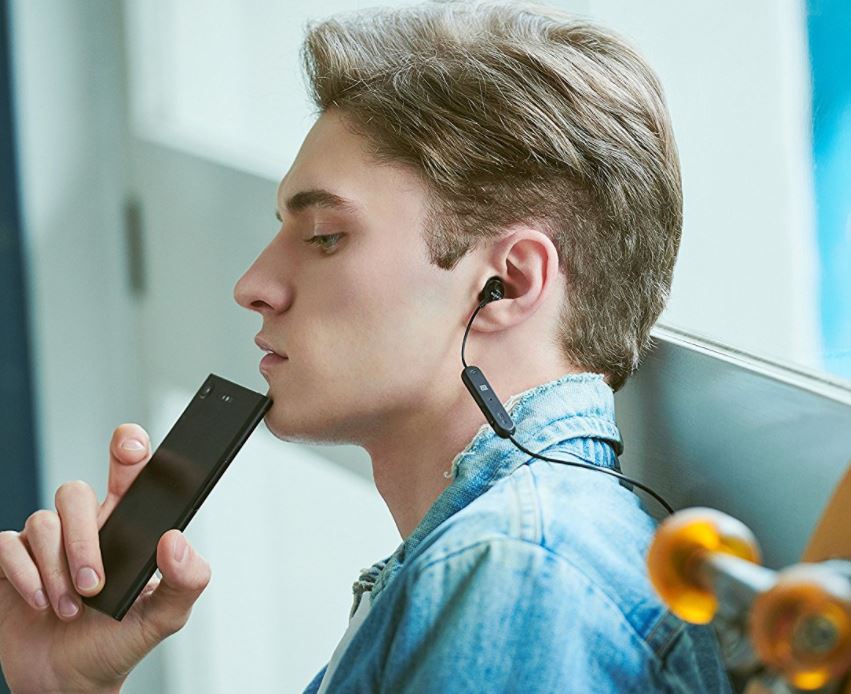 Comfort
Wireless in-ear headphones have an array of advantages compared to bulkier designs. For example, even minor amounts of weight can cause strain to your neck, or press painfully against your ears. Anyone who's tried on a cheap pair of headphones knows how they can become uncomfortable after a short period of wear. But in-ear headphones have their own comfort perils, especially because of the intimate way in which they're worn.
A lightweight design contributes to making in-ear headphones far more portable, usually to the point they can easily be tossed inside a pocket or bag. For commuting, traveling, exercising, or doing just about any other kind of listening where you're not sitting in an enclosed studio space, in-ear headphones are a great choice.
But when you're talking about something that is going to be physically worn on your body, comfort isn't a trivial concern. Even great sounding headphones aren't something you're going to want to use if they cause pain after a few minutes. In-ear headphones get around those types of problems with an extremely lightweight design, but some pairs do a better job than others. You'll want to know if the in-ear design sits comfortable in your ear, and how it feels after you've had it in for more than a few minutes.
Roughly 80% of people have the same size ear canal. About 15% of people have slightly larger ear canals, and 5% fall elsewhere entirely. If you're among the majority, you'll find that in-ear headphones are built with you in mind. But if you've never in your life had a pair of in-ear headphones sit comfortably in your ears, you should consider the possibility you're among those who are better served with a different design.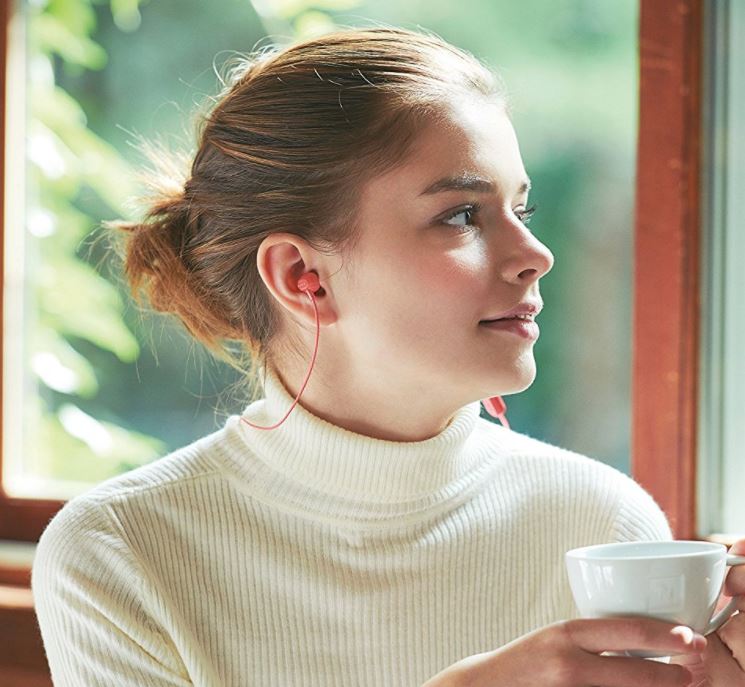 Audio Price Point
Whenever you're buying audio equipment, it's important to recognize there are strong diminishing returns on sound quality as you spend. Going from a $20 pair of headphones to a $80 pair gives you huge boost in terms of bang for your buck, but you won't see the same high rate of returns as you keep spending more. Unless you're prepared to invest heavily in audiophile-grade equipment, the ideal price point for in-ear headphones is roughly $40 to $60.
Noise Canceling & Open/Closed Design
Noise canceling alters the soundscape of anything you listen to. The resulting sound isn't necessarily bad, and in many circumstances you'll find no meaningful difference either way. But whether or not you want noise cancelling technology depends entirely on if you need to cancel noise. If you're listening in a noisy environment, noise cancelling is an essential feature. But if you've got a more controlled and quiet space, you'll most likely find a preference for headsets without noise cancelling.
Another thing to consider is whether you want your headphones to use an open or closed design. As the tiny audio drivers inside in-ear headphones work, they produce sound both towards your ear and away from it. With an open design, the sound that is sent away from your ear is allowed to pass into your environment. People around you will hear your headphones bleeding sound rather clearly. You'll also be forced to listen to any sounds occurring in your environment because open designs don't block out any noise.
Clearly, closed design headphones have many advantages. They tend to block off sound from escaping or entering your ear. They also tend to have a stronger bass response. However, they cause more ear fatigue, and necessarily altered the sound you're listening to when they don't allow their driver to send sound into your environment. In short, whether you want an open or closed design depends on how much you value sound isolation. If you're sitting in a quiet room where you won't disturb anyone and they can't disturb you, then open headphones are desirable for their richer sound. But if you're in more common real-world environments, then sound isolation will likely be a critical feature for you.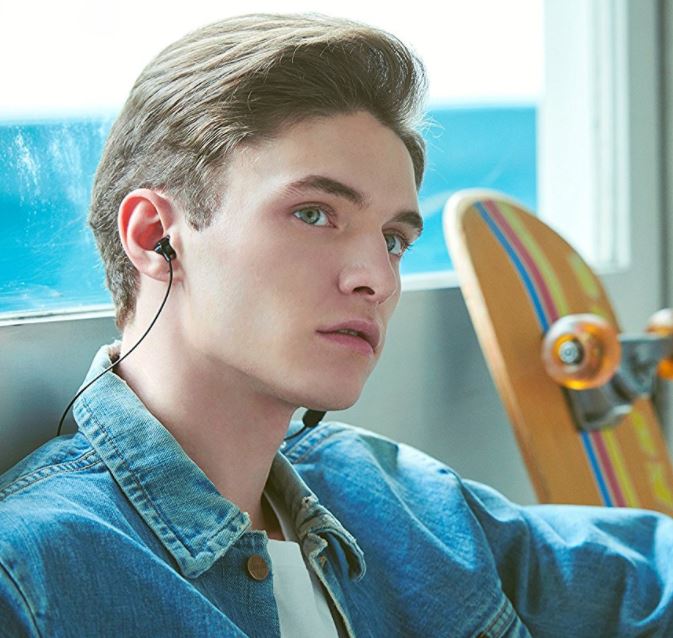 Wired vs. Wireless
Unless you spend every waking moment in one spot, having your sound tied-up to a wire can be very restrictive. Going wireless is liberating, especially if you don't want to have to take off your headset anytime you want to stretch your legs. But wireless has a cost – you'll have to involve a battery. Batteries need to be charged, and you'll need to pay attention to how long they can last.
If you're a drummer in a band, sitting at a desk 14-hours a day, or are otherwise in a position where you don't actually need to be wireless, then you'll probably be better off without it. But for everyone else, going wireless is clearly the smart choice.
Manufacturer Specifications
If you look at manufacturer specs for headphones, you'll find a wall of technical figures that probably mean nothing to you. Truthfully, they mean almost nothing to experts as well. For example, frequency response is the range of sound capable of being produced. But essentially every manufacturer will provide a support for the full 20HZ to 20kHz range of human hearing.
More importantly, that figure tells you nothing about the quality of the tones in each part of that range. In general, manufactured specifications don't give you any detail you can use to inform yourself about the character of the sound that's being offered. That's why there's no substitute to trying headphones yourself — but the next best thing is a review.
For headphones, higher impendence means more volume. However, higher impendence headphones also require more power, and often require more than common players can provide. If you're trying to stay portable, the last thing you want is to have to carry around an amplifier with your headphones. There's no point in getting high impendence headphones if you're not going to power them, so you'll want to avoid higher impendence gear entirely.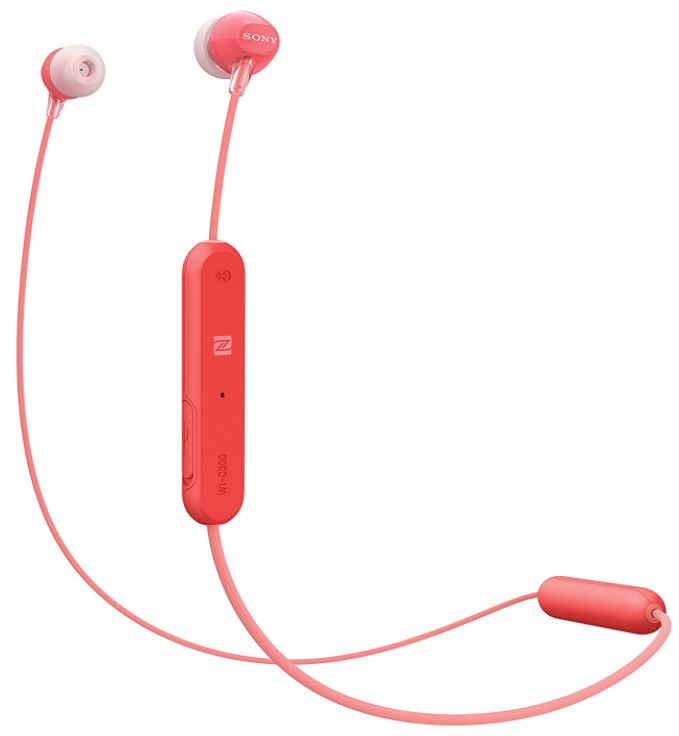 Sony WI-C300 Wireless In-Ear Headphones
From a glance, you can tell that Sony's WI-C300 are a little bit different. They make use of a wireless connection, but still have a wire in their design. However, that wire is suspended behind your neck, ensuring it never has the opportunity to get in your way. On the technical side of things, the WI-C300 use some of Sony's best 9mm drivers, a powerful battery, Bluetooth, and a built-in microphone. In short, they're far more than a simple pair of headphones, they're an embodiment of versatility.
Bluetooth Connectivity
A powerful Bluetooth 4.0 connection makes these headphones effortlessly double as an efficient hands free calling device. And you'll be able to keep conversations flowing freely with the built-in noise cancelling microphone on the WI-C300, which makes smartphones look immobile and burdensome by comparison.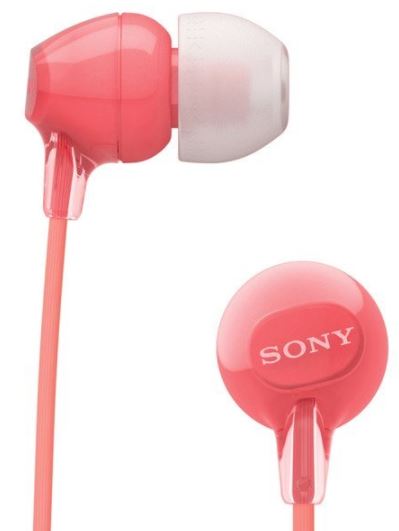 Bluetooth 4.0 ensures you'll have access to a roomy 30-foot connection for a completely liberated wireless experience. And making your Bluetooth connections is as simple as one-button, so you won't have to deal with a complicated setup procedure to get your headphones recognized as you move from device to device.
Naturally, there are some devices where Bluetooth compatibility can get sticky, but because this is Sony, you can rest assured that compatibility issues are few and far between. Another thing to note is that the WI-C300's microphone is an electret condenser, which is what engineers use for pilots and others in extremely loud environments. That alone should speak volumes about the quality of the noise cancelling Sony brings to the table.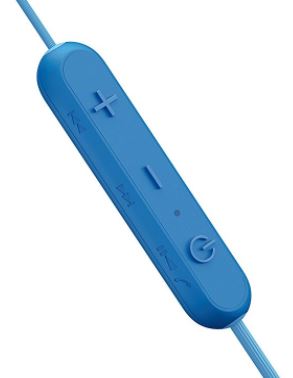 Battery Power
The WI-CS300 includes a formidable battery life of up to 8-hours continual play off one charge. But those estimates are taken in labs conditions, whether or not you'll reach 8 hours can depend on a number of things. The actual performance of the battery you received from the manufacturer, the settings you use for playing your music, various environmental conditions, and long-term use can all contribute to battery life.
That means in practice, many users will find they end up with closer to 7 hours of power. But rapid 2-hour recharge is possible through the included micro-USB charger. And when left idle, battery life has a maximum standby time of about 200 hours.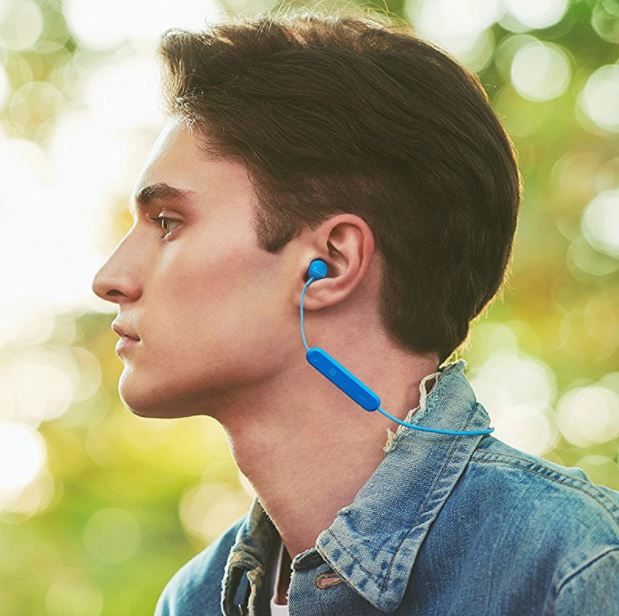 Build & Comfort
The WI-C300 makes use of a behind-the-neck design that doesn't cause the cord to pull downward on your head, or cause you to accidentally jerk your headphones out of your ears. The 7-inch cord connects the two sides of the headset, making it snag-proof. And even though there's two cords, they each attach independently to one point. That's an important design decision because there's the commonly used pigtail cord design found on many headsets can disproportionately strain one side of the cord, eventually causing a short in the wire.
One of the most common issues people have with in-ear headphones is how they're worn. It's potentially invasive and awkward to have objects shoved into your ear canals. But Sony has made use of a comfortable rubberized tip design that rests comfortably yet firmly in the ear. If in-ear headphones have never been comfortable for you, then the WI-C300 probably won't be the pair to change your mind. But if you've had good experiences with in-ear headphones before, then these may be your first chance to have a truly great experience with them.
Along the base on the headphone wire you'll find a button panel with an independent volume settings and Bluetooth connectivity button. In spite of the relatively powerful battery, the total weight of these headphones is no more than 4 ounces, making them extremely lightweight by in-ear standards. And the Wi-C300 comes in four available colors, blue, red, black, and white.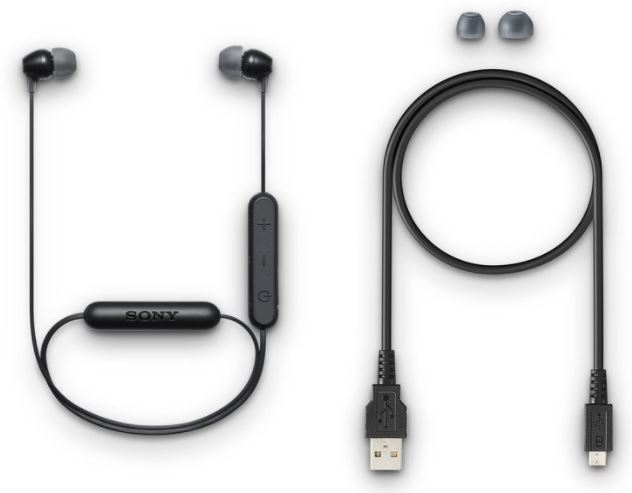 Extras
As far as technical specifications go, all you need to know is that these in-ear headphones are ready to take on CD-quality audio. That is more than enough for virtually any purpose, especially if you're listening to a streaming radio service or MP3 files. The WI-C300 also supports SCMS-T content protection, so you can listen to DRM-protected audio content without a worry. And these headphones are ready to work alongside your favorite voice assistants. Just hold down the play button, and you'll can start ordering calls, asking for directions, or otherwise making requests in seconds.
Who Should Pick the WI-C300?
If you want true wireless freedom, then you need Bluetooth connectivity and a rechargeable battery. Those kinds of features are easy to mess up on the drawing board. Rechargeable batteries can be burdensome, and Bluetooth connections can be frustrating and complicated. But the Sony WI-C300 doesn't end up entangled with any problems like that. They're an extremely ubiquitous pair of headphones, perfect for people who are on the go. And considering all the features that are packed into this tiny little unit, the WI-C300 are also attractively priced.
If you're looking to wear your headphones for eight hours a day, then in the interests of comfort you probably don't want to use in-ear monitors. But if you demand maximum portability plus a powerful Bluetooth connection, then it's not clear that Sony's WI-C300 has any competitors at all.