4K and HDR are the new resolution standard, period. 1080p is trying its darndest to stay relevant, but that ship is slowly sailing away. As a new generation of TVs enter our living rooms, the demand for updated audio equipment is becoming an international crisis. Okay… maybe that's a bit of an overstatement, but it really is a problem. If you're using a receiver that's not built for 4K, you're not really watching 4K quality video. If your receiver doesn't have a direct pass 4K pass through, then you might as well have a 1080 set. That's just the reality of the situation.
There's no denying that 4K and HDR have changed the way we absorb our media. The higher resolution makes our viewing experience more immersive than ever before—but it takes two medias to tango. What is the point of watching amazing video if you don't have amazing audio to go with it? We, for one, are taking a stand. Everybody, grab a partner and a picket sign and take to the streets! We have a feeling Bernie Sanders is going to have a new cause in 2020.
We recently had the chance to take a look at the new Sony STR-DH590 AV receiver. Sony's newest entry to their line of audio visual receivers boasts an impressive line of features, including 5.2 multi-channel surround sound, 4K HDR pass through, Dolby Vision imaging technology, and Bluetooth connectivity. The STR-DH590 is Sony's mid-end receiver, fitting comfortably between the lower-end model, the STR-DH190, and their pricier option, the STR-DN1080.

HDR Pass Through
The most important feature to note here is the STR-DH590's direct 4K and HDR pass through, a feature which will allow people with High Dynamic Range compatible TVs and media to experience the HDR video, without sacrificing video quality due to multiple adaptations. When we compared this receiver to a receiver which does not feature HDR pass through, there was a very significant difference.
The image contrast was much more defined and the visuals were much brighter. We also noticed a major increase in shadow detail and highlights, resulting in a much more colorful and immersive experience. The STR-DH590 supports the latest HDR standards, including HDR10, HLG (Hybrid Log-Gamma) and Dolby Vision. Because of its versatility and HDR performance, the STR-DH590 is one of the more impressive 4K receivers we have reviewed.

Speaker Set-up
The STR-DH590 provides 5.2 multi-channel surround sound with 145 watts per channel. Because of the additional sub-woofer output provided by the 5.2 system, the richness of the audio is enhanced with double the rumble. 5.2 channel sound provides, in general, a more cinematic experience than that of a 5.1 channel system. The five speaker setup is the same, but the ability to integrate an extra sub-woofer creates that deep rumble that only theatrical speakers can provide.
In addition to 5.2 channel, the STR-DH590 also supports a 2.1 channel virtual sound system, using S-Force PRO front surround sound to make less, sound like more. Using only two speakers, the virtual surround sound experience uses sound engineering to create the illusion of surround sound. While the 2.1 channel system was clearly inferior to the 5.2 channel system, the 2.1 is a great alternative for someone not ready to drop the extra dough on a five speaker system.
Calibration
Anyone who has installed a sound system at multiple locations, rather it be because you had to move or just decided to set up a surround system in a second room, knows that every room handles sound a bit different. Everything from the insulation, to construction material, to the rooms dimensions can affect the way that sound is perceived. Sony's Digital Cinema Auto Calibration (D.C.A.C.) system is the most convenient and user friendly way to optimize your sound.
The D.C.A.C system automatically analyzes a room's acoustics and then uses the collected data to calibrate and adjust various audio levels. The result is optimized sound, much like that of a surround sound system that has been professionally installed. After allowing the auto calibration to do its thing, the difference was night and day. Everything sounded so much more balanced. We felt like our ears were hearing what they were supposed to be hearing. It was a marked change over other surround systems we had used in the past.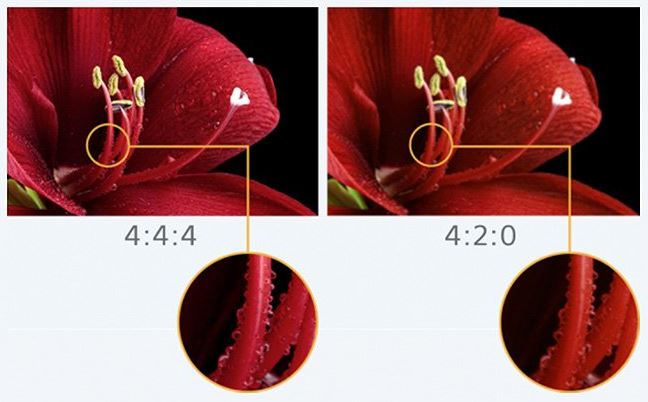 HDCP Compliance
The 4K pass through did not disappoint. Sony says that their pass through hardware allows for visual data to pass through the receiver without compromising the visual integrity of your display. The result is 4K quality video that actually look like 4K quality video. The STR-DH590 is also HDCP 2.2 compatible, which means that you shouldn't have any trouble streaming any 4K or HDR content.
If you're not quite sure what HDCP is, it's pretty much the equivalent of the copy protection that some VHS tapes used to have. Some platforms will not allow you to play 4K quality video without support for the HDCP 2.2, this includes major platforms such as Roku and Amazon. While you won't be able to bootleg the newest season of Daredevil, you'll be able to watch Kingpin's bald, shiny head in stunning 4K HDR clarity.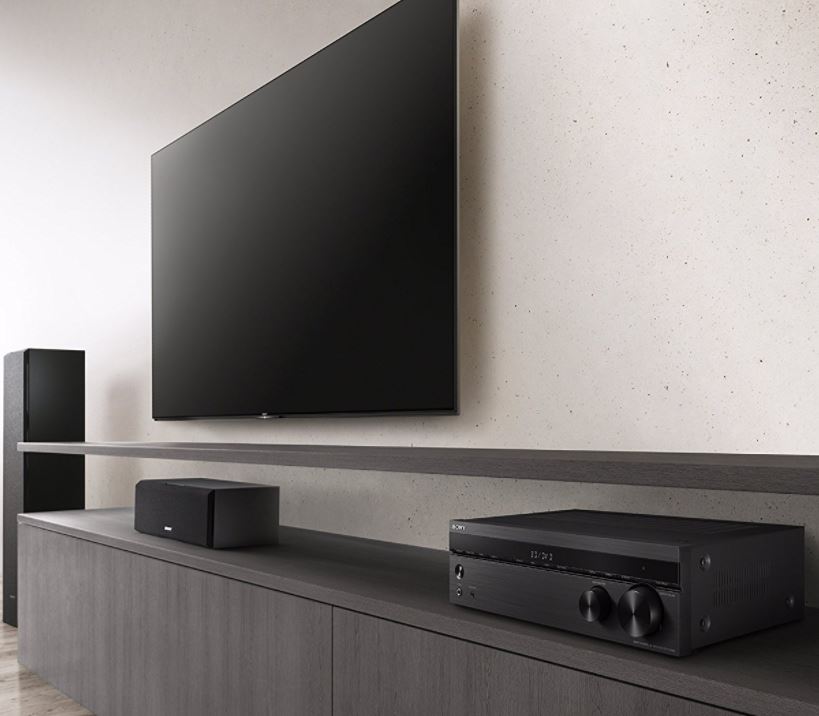 Bluetooth
The STR-DH590 also features Bluetooth connectivity, which allows you to wirelessly stream audio directly through the audio visual receiver. We had a great time listening to our favorite artists through our surround sound system. Classic rock bands such as Led Zeppelin, Metallica, The Rolling Stones, The Spice Girls and Black Sabbath all sounded amazing blasting through the 5.2 channels of audio hardware. Our favorite jazz artists, including Miles Davis, Thelonious Monk, Britney Spears and Louis Armstrong, sounded smooth and soulful.
The STR-DH590 also features Bluetooth Standby, which allows you to turn your receiver on, directly from your smartphone. If you're anywhere as lazy as we are, then you'll find Bluetooth Standby to be one of your favorite and oft-used features.
Ambient Reverb EQ
If you're the kind of guy or gal that prefers to have their EQ settings preset, the STR-DH590 has a bunch of intuitively designed ambient reverb preset options which should be satisfying for most tastes. Included is 5 channel stereo (let the speakers do all of the work), Hall (which adds some reverb to simulate a concert hall experience), Jazz Club (for a more refined sound), Live Concert (for a more open, yet still ambient sound), Sports (we're not quite sure what sports are. Maybe it's just "ports" spelled incorrectly?), and Stadium, which makes the audio sound bouncy and muddled. Some people just don't like to be in large crowds. For those of you who can't handle a large public event, using a 5.2 surround system with ambient reverb is a solution, albeit not a crazily accurate one.
Dimensions
One of the things you'll probably want to consider before springing for the STR-DH590 are the device's dimensions. Considering the quality that Sony is able to engineer out of this puppy, the form factor is very manageable. The AVR measures 17 inches by 5 ¼ inches by 11 ¾" (430 mm x 133 mm x 297 mm), which was significantly smaller than we were expecting. There have been too many occasions in the past when we have impulsively bought a receiver without doing our research, only to find that the AVR didn't fit in the nook we had designated.
We don't expect finding space will be a major issue with the STR-DH590 considering its relatively short height. The receiver weighs 15.65 lbs., so it's not the lithest gadget in the world, but the weight is pretty much a none issue. You're going to have to carry this device less than a handful of times before you set it down at its destination, and once it's home, it's staying home. Yet, we couldn't help but notice that we looked slightly more jacked after installing the receiver.

Rear Ports, Outputs and Inputs
On the back of the receiver you'll find four HDMI ports, all of which are HDCP 2.2 compliant as we mentioned earlier in this review, but it bears repeating. Four ports are plenty of room for most people's needs. Use your imagination for your perfect device combination. In addition to the four HDMI ports, you'll find the standard coax, optical and antenna ports, as well as a variety of audio input ports, including four stereo RCA inputs, a full-sized ¼" headphone jack and wired speaker inputs.
Final Thoughts
There is something about the STR-DH590 that feels very complete. It is abundantly clear that Sony put a lot of time and effort into making this receiver an extremely versatile device. The STR-DH590's combination of value and feature strength make Sony's AVR one of the most desirable and practical pieces of audio equipment on the market. With a combination of 5.2 multi-channel surround sound, 2.1 channel S-Force Pro virtual surround sound, 4K and HDR pass through, Bluetooth connectivity, auto calibration and ample port real estate, the STR-DH590 is the best choice for the everyman.

If you're looking to add a few more speakers into your sound system, you might want to consider upgrading to Sony's STR-DN1080, which offers 7.2 plus Phantom Rear Surround which lets you simulate the sound of a seven channel system with only five speakers, sort of like the 2.1 virtual system available on the STR-DH590. If you don't need 4K pass through, only have two speakers, or don't mind significant less wattage, the low-end STR-DH190 is a more cost effective option. In all honestly, the amount of money you would save with the STR-DH190 doesn't measure up to the amount of functionality you lose. That's why the STR-DH590 is the clear winner of the bunch.
If you haven't jumped on the 4K HDR train quite yet, we suggest you take the leap. 4K resolution is rapidly taking over and it would be a shame to be palling around with out-of-date technology. If you don't think that 4K would make a difference, go visit any Walmart and compare TV screens. While 4K is like staring out of an open window, 1080p feels more like looking through a screened window. It really makes a big difference. If you decide that upgrading your audio to match the immersive experience of your 4K display, the STR-DH590 is a solid choice. We recommend it.