Many generic brands are horrible. It's understandable that people end up buying headphones because they're familiar with the brand, or because they look really cool. But buying the well-known, cool brand, can be just as dangerous as buying generic.
Especially if you end up paying a bunch of money for a logo you don't care about. If you want inexpensive headphones add more value than branding, you really have to start by combing through less known brands like SoundPEATS.
SoundPEATS Q12 Plus
The Q12 Plus aren't exactly trying to reinvent the wheel. These headphones use an almost-classic design, that would best be described as a slight upgrade over the previous members of the series. Like their predecessor, the Q12 Plus are made with a behind-the-neck wire, in-line console, and fairly impressive noise cancelling microphone.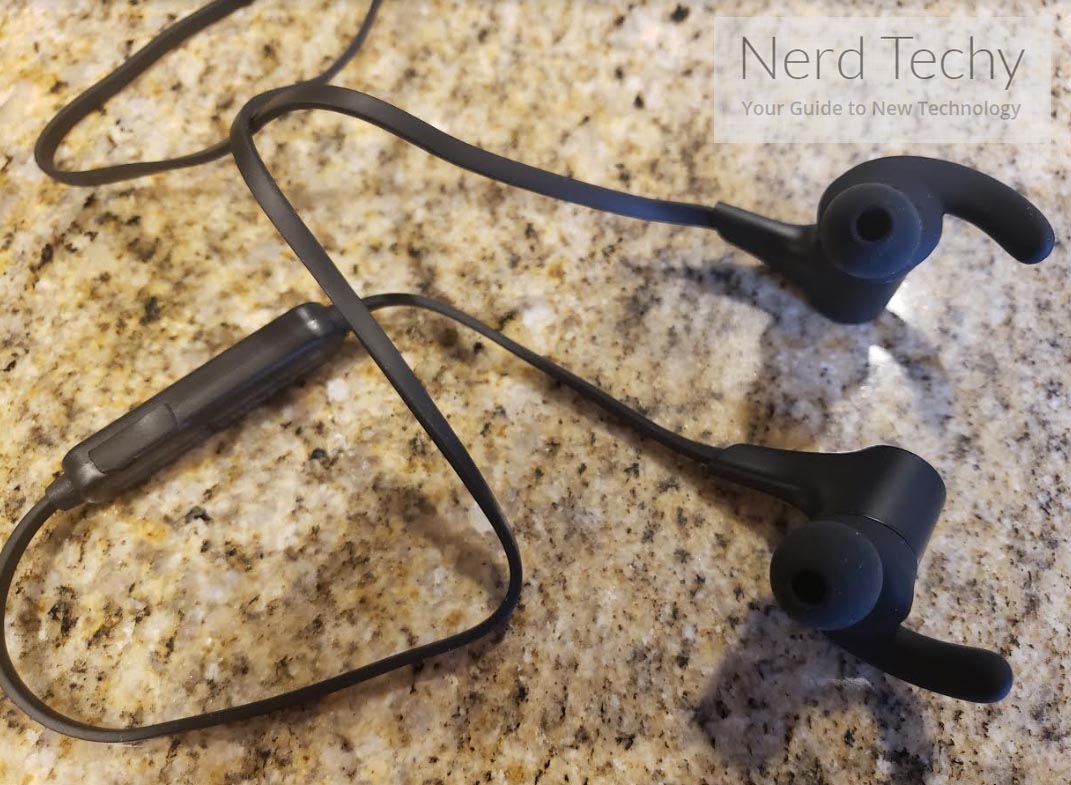 Though nothing about these headphones is really astonishing, the generality behind their design is bound to be useful for people who end up replacing their headset every couple of years.
They give off the impression they're intended to be made for sports, but sports are really more like an afterthought to these headphones. Athletic capacity is something they can accommodate, but it's not their specialty.
Build & Design
Physically speaking, SoundPEATS Q12 Plus look terribly ordinary. Their chassis is composed of simple matte black plastic, connected by a black wire. It totally lacks any identifying logo or branding. The in-line control is black, and even the lining of the earbuds is black.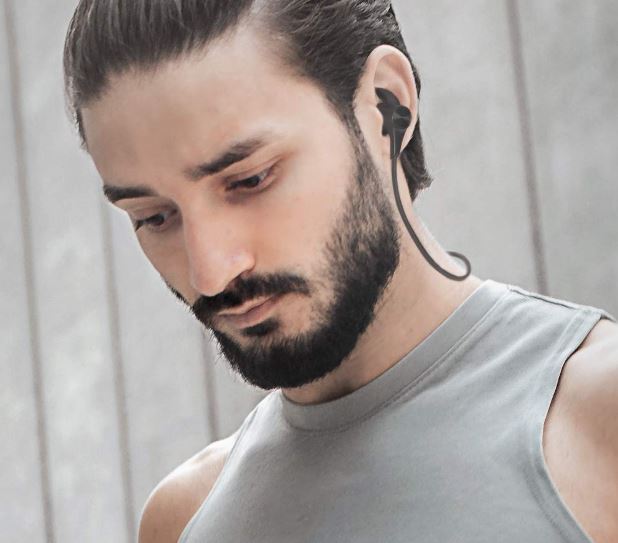 Though it's not totally obvious at first glance, these headphones use flattened wiring. Switching to flattened cables helps make them mostly tangle-proof. They're also much easier to carry or store because the wire tends to only run in one direction.
The Q12 Plus are made with an IPX6 waterproofing certification. The general idea is to protect the earbuds against rain, sweat, and small splashes. But IPX6 doesn't mean you want to take them into the pool, or otherwise intentionally expose them to submersion.
You're better off thinking about them as water-resistant rather than waterproof. If you're concerned about submersion in water, you would want to consider moving to an IPX7 certification. They probably wouldn't survive a dip in the pool.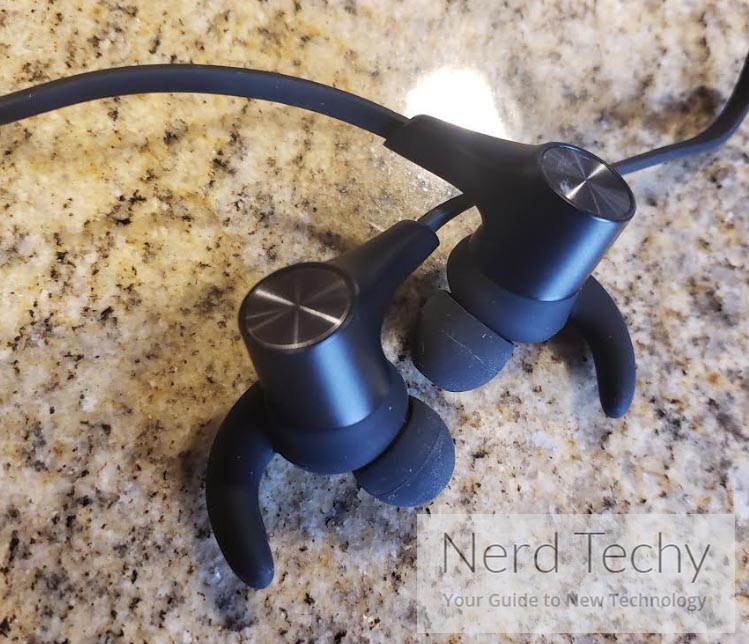 Audio Quality
The Q12 Plus Bluetooth Headphones are constructed with 10mm audio drivers, slightly larger than the tiny 6mm drivers often used by similar pseudo-athletic earbud headphones. Compared to 6mm audio drivers, these drivers are positioned slightly further away from your ear. This provides a greater tonal range than the alternative, but it also seems to mean you enjoy slightly less noise isolation from the silicone ear tips.
Their slightly larger drivers work rather excellently for the mid-range, and provide a little boost to the bass tones in the process. It's a sound profile that's once again great for athletics, but not specific to athletics. If you find it could use a little tuning, it's not tough to get them to work with an equalizer app.
Noise isolation can be an integral part of audio quality, especially if you're trying to enjoy music in a noisy environment. Incidentally, that's why some of the best headphones in the world are designed specifically to be enjoyed in quiet environments. There are sound advantages to be gained when you don't have to worry about creating noise isolation.
On the SoundPEATS Q12 Plus, the silicone earbuds provide a small degree of passive noise isolation, perhaps only marginally less than similar Bluetooth headphones. Functionally speaking, the difference should be indistinguishable for most users, provided each person takes the time necessary to select ear-tips that fit.
It's only when the earbuds are in your ears without music that you can really tell the difference. Any differences in noise isolation really even out once you start playing music.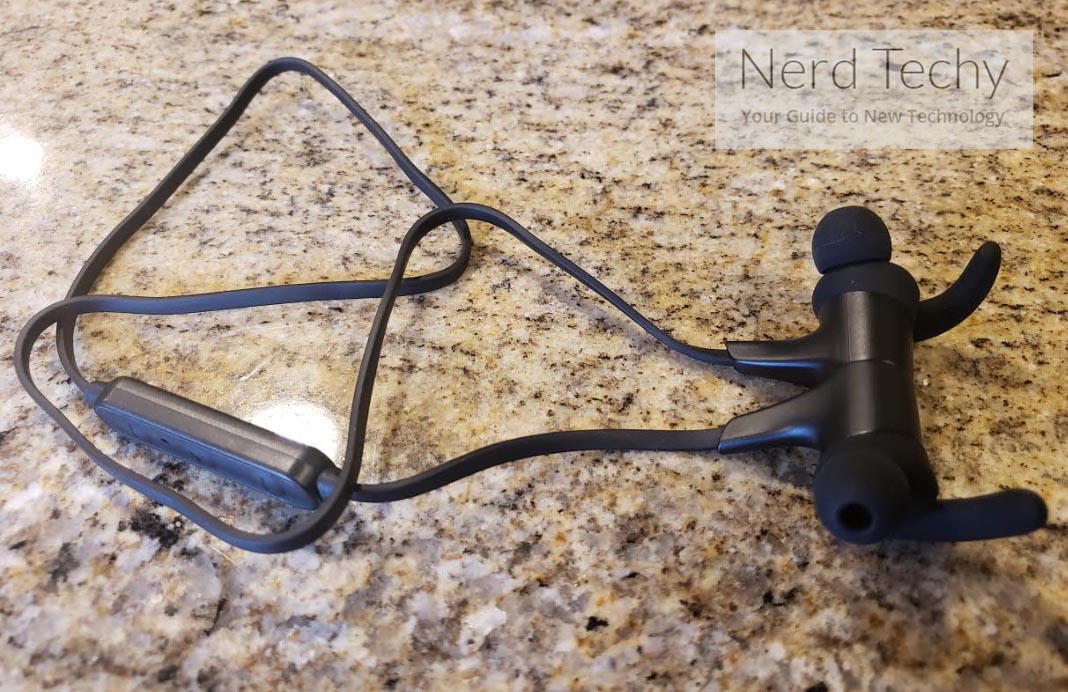 Wireless Connectivity
The SoundPEATS Q12 Plus uses Bluetooth 5.0 with a QCC3005 chipset. That chip supports the APTX-LL and APTX codecs, which means it offers some of the best high definition wireless audio streaming that money can buy.
You also get all the other advantages of Bluetooth 5, including more stable connectivity between your devices and the Q12 Plus. Another important thing Bluetooth 5 brings to the table pertains to battery life because it's capable of being considerably more efficient than previous formats. This can translate into at least half-an-hour of battery lifespan under the right conditions.
Battery Life
Behind-the-neck headphones are usually capable of offering a total playtime between six and ten hours. True to form, the Q12 Plus can provide roughly nine hours. However, the actual amount of playtime you receive will depend on how loudly you're playing your music, the temperature of the room, and several similar factors.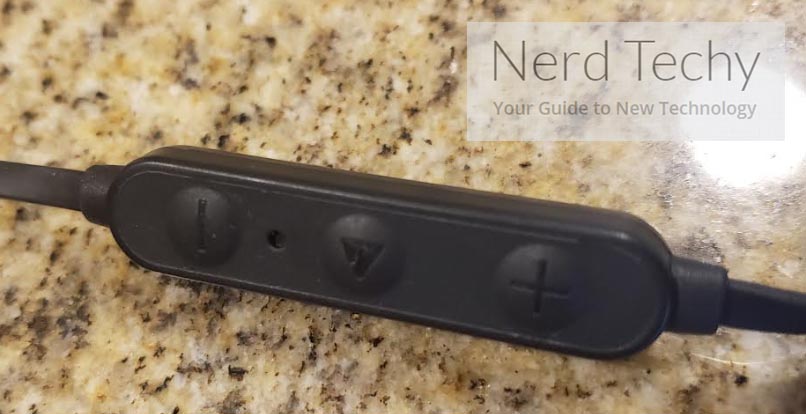 If you mostly use your headset for talking instead of listening to music, you could expect playtime to extend an additional two hours. But it's hard to imagine why anyone would choose the SoundPEATS Q12 Plus specifically for calling because it's more of a generalist headset. If it's cold outside and you're cranking your music as loud as possible, you may find they work out to provide closer to 5-hours.
In any case, it ought to be able to make it through a workout without quitting on you. Unless you're doing a day-long marathon in the snow.
One additional thing to keep in mind. It's a bad idea to use these headphones while they're recharging. While it's technically possible, it will only mean disaster for the battery.
Microphone Quality
Even though the Q12 Plus was not made to specifically emphasize call features, they're constructed with a reasonably impressive microphone. What makes it impressive is the use of CVC 8.0 technology. It's a noise cancellation suite which ensures your calls go through with a greater degree of clarity.
To the person who's listening to you talk, it sounds like there's a steady flow of ambient noise behind you. It's actually a technology that's seen plenty of use in call centers, so it's something you may have heard on the other line before.
Additionally, they offer basic levels of support for voice assistants and hands-free calling. But it might be worth noticing, there's no native support for any specific voice system, and no voice assistant function button. In other words, really no advantages in this department over any other pair of similar headphones.
Worn Comfort
Like you would expect, the Q12 Plus includes several sizes of ear-tips. Delivering three size options is so standard, it hardly needs to be pointed out. What isn't standard is the multiple pair of ear-fins which are included. In fact, the ear fins are one of the most important ways in which this version of the Q12 have been upgraded from previous iterations.
The new ear fins are made to provide a secure fit without falling out while engaged in activity. The ear fin presses firmly against the inside of your ear bowl, which does a great job of keeping each earbud in place. The C-shape ear fins are quite well designed, and quite comfortable due to the relatively soft-bodied fin.
But sooner or later, your ear will realize there's something pressing against it. That's when it becomes uncomfortable to be wearing in-ear earbuds. And for many people, that's after about three or four hours of consecutive use. You want to use earbuds like these for shorter bursts of time. It would be optimal to listen in 90-minutes intervals between breaks.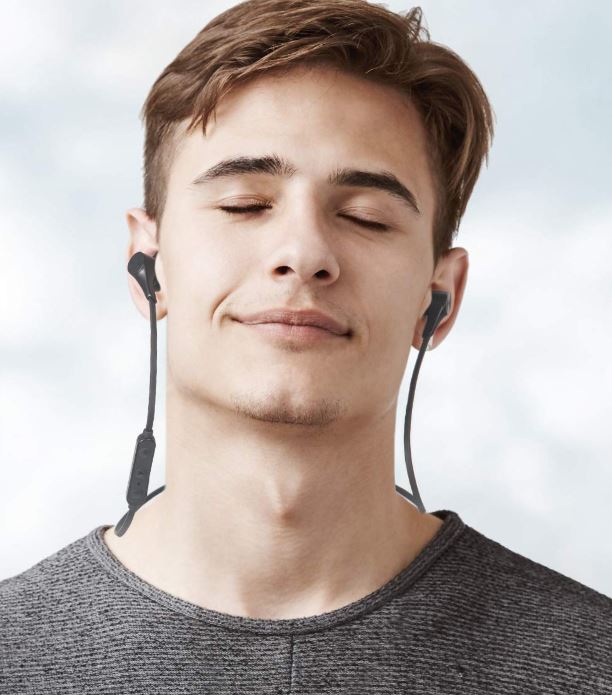 The Q12 Plus makes use of a fairly standard behind-the-ear design, which keeps the connective wire out of your way while listening. When you're done listening, the magnetic plate on the outer-face of each earbud will help clasp to both buds together. This makes it a bit easier to transport them from one place to the next. You can basically wear it as though it were a necklace, and it won't bounce around too much.
Other Considerations
The SoundPEATS Q12 Plus warns users that their devices will need to support Bluetooth 4.0 or above. But this warning is misleading. Bluetooth 5.0 is backwards compatible. If your devices support Bluetooth, you should have no problem connecting with them.
SoundPEATS includes a buckle and cord clip. Depending on what you're wearing, you can adjust the cord to match your needs, then tie it with your clothes. That can be useful for people who find it annoying when the cord starts to bounce around, or people who are worried about the cord snagging on something. Though many people will find these clips unnecessary because the flat nature of the cord.
The Q12 Plus also includes an Avery zippered case. Interestingly, SoundPEATS doesn't seem to mention this at any point. But the case isn't bad. Similar to the Q12 Plus, it would be inaccurate to characterize it as totally waterproof, but it's certainly water resistant. The SoundPEATS also includes a one-year warranty.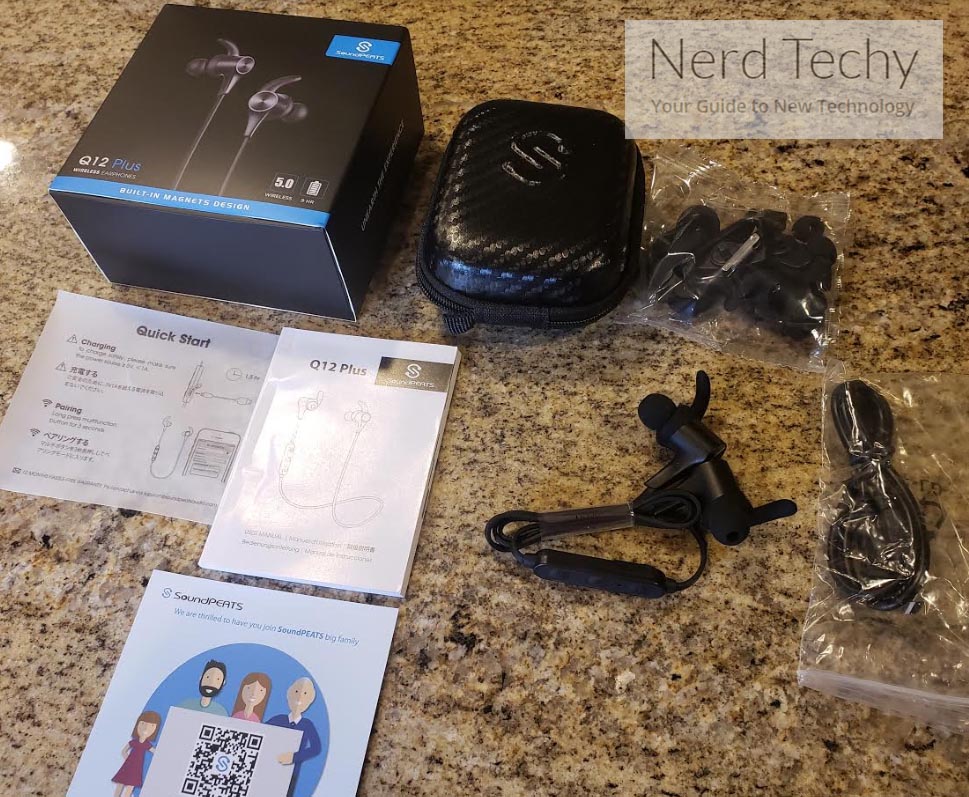 Who Should Choose the SoundPEATS Q12 Plus?
The Q12 Plus combines all the power of Bluetooth 5 with slightly improved audio quality. They have support for the APTX codec, which means flawless HD audio transmission. They have customizable ear-fins, which is an uncommon feature for headphones in this price range. And they have those nifty magnets, which makes them much easier to carry around.
The SoundPEATS Q12 Plus have a slight emphasis on athletic security over lasting comfort. They feel perfectly fine when you put them in your ears. But after a couple of hours, they'll probably wear on you a little. For someone interested in athletic activities, this timeframe shouldn't present an issue. It's only for someone sitting stationary at a desk this really becomes a concern.
Nothing about these earbuds is truly excellent. But they cover all your bases, so don't leave you feeling like anything is missing. And that's pretty much what you should expect for headphones in this price range. Which makes them is a good choice for someone who's seeking some reasonably affordable, budget-oriented earbud headphones.