No matter what genre of music you love the most, having a quality pair of wireless headphones is essential if you want the best possible experience. Over the last few years we've seen the prices of Bluetooth headphones come down dramatically. There are now several manufacturers that offer budget-friendly options for those who want excellent sound quality, durability and comfort but don't necessarily want to pay the exorbitant prices of a name brand like Panasonic, Beats by Dre or Sony.
If you've taken it upon yourself to select a new pair of Bluetooth headphones, you may have come across the new SoundPEATS Q12. We've had the pleasure of reviewing several of SoundPEATS' products in the past, including the Q9, Q8 and Qy7's – all have exceeded our expectations. As their newest release, the Q12's are something that we were really excited to get our hands on and finally try for ourselves.
Note: At no extra cost to you, we may earn a commission for purchases using our links. Learn more.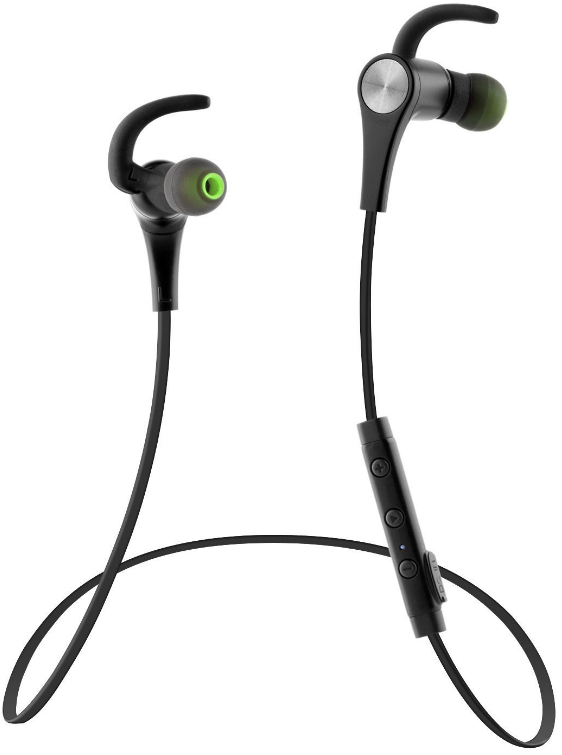 Unboxing
Right when you un-box the headphones you'll notice that there are a few things included – a USB charging cable, six interchangeable ear tips and hooks (3 pairs), two line buckles, a line clamp, carrying case and user manual. First and foremost, the most important thing you'll need to do is achieve a proper fit. Take note that each ear piece is specific to either the left or right side, as indicated by the small "L" or "R" on each.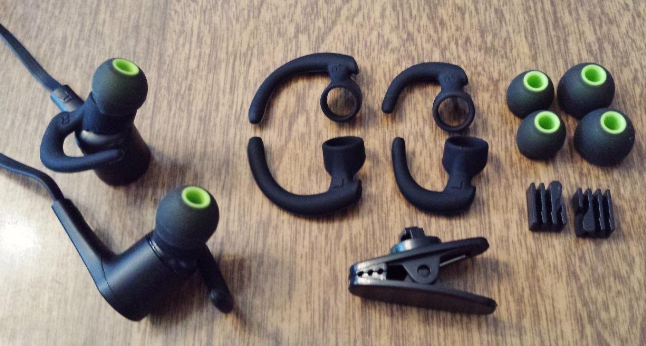 With a little bit of effort, you can remove the ear hooks and tips and swap them out with the correct pair that seems to fit the best. You don't want them to be too lose or they'll naturally fall out, but if they're too tight they won't securely fit. You'll want a snug but cozy fit – if you feel any discomfort, try a different size or arrangement. After a few minutes of adjusting the size to fit your ears properly so that the ear tip seals in your ear canal, you'll need to cinch down the sliding cable so there's no excess in the way.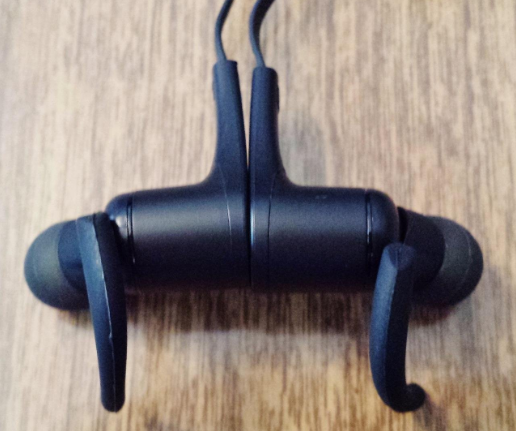 Upon unboxing, we were pleased with the overall build quality and design that they've used. What's unique to the Q12's is that each ear piece is equipped with a magnetic backing so that they can be clasped together and worn in a secure and unobtrusive fashion when not in use. This is a really cool feature that diminishes the need to store them every single time you stop using them for a few minutes. Although the included carrying case is a great place to keep them while not in use, wearing them around your neck is very convenient in some scenarios.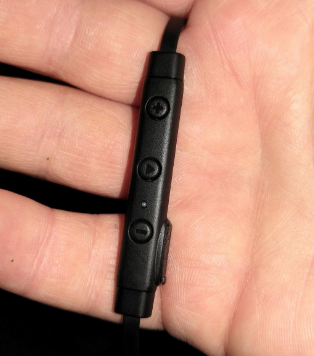 Pairing
Pairing them is a piece of cake. They're compatible with either Android or iOS powered smartphones/tablets so you can use them with virtually any modern device that has Bluetooth activated. First, turn on the headphones by holding the middle button on the inline control for about 3 seconds. Once you do that, you should see the headphones appear under the available Bluetooth connections that your smartphone or tablet can connect to. Once you've done that, you're good to go and ready to use them as you please. Each time you turn them on after you initially pair them, the Q12's will automatically remember the connection profile and pair without any manual adjustment.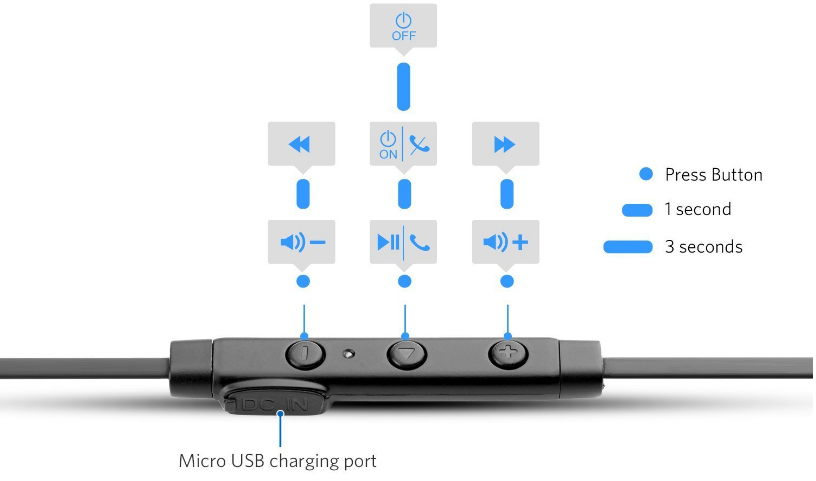 A useful and quite anticipated feature that SoundPEATS included with the Q12's that they've failed to include with previous versions is the Multi-point Connection feature. It lets you pair two different devices at the same time so you can listen to music from different sources instead of just one.
Comfort and Fit
When placed in the ears with the proper fitting ear tips and hooks, there's plenty of comfort that'll provide hours of use without irritation. The material that the buds are made out of is a soft, silicone-like material that's incredible soft and supple to the touch. Through a few workout sessions, we found that it stood up well to moisture and natural sweat build up over time. Although depending on how much you sweat and the specific activities you're involved in, we feel confident in saying that they withstand moisture quite well.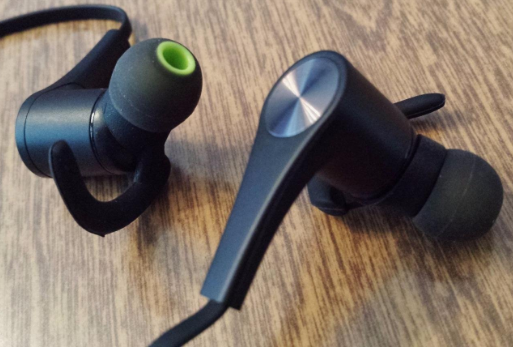 Sound and Bass
As one of the most crucial elements to any pair of high-quality headphones, the sound and bass is essentially the most important feature for many music lovers. After all, if your headphones fit nice and look nice but don't actually perform well, there's no point in using them.
To our pleasure, we found that the SoundPEATS Q12's provided excellent sound clarity with excellent high, mid and low tones. With the inclusion of APT-X technology, the headphones achieve lossless sound quality as long as your music source is of good quality (high bit-rate). Although sound is quite difficult to describe in words, we think that everyone would agree that they're definitely suitable, especially given the budget-friendly price point that they retail for. We've reviewed $100 headphones in the past that don't compare to the sound quality that the Q12's can emit.
The bass is deep, provides smooth rumbles and never seems to be overpowered or too dramatic. Although you cannot manually adjust the bass level, it's set to an appropriate level that works well with virtually any genre of music. We tested them on hip hop, pop, country and trance music and loved how all of the songs sounded.
The sound quality is totally dependent on a proper fit, but once you have that established, they naturally block out unwanted background noise.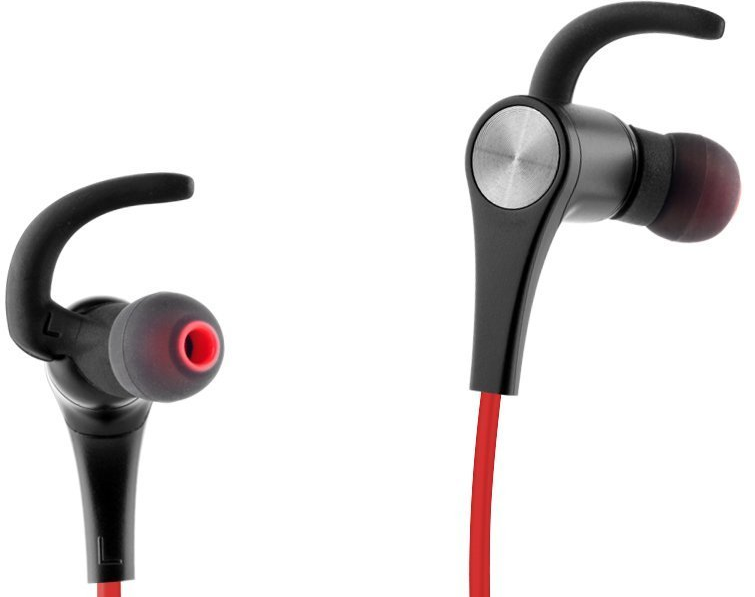 Wireless Range
Since they operate with the latest Bluetooth 4.1 version, you can expect the best wireless range that current technology can offer. Advertised as a 10 meter or 30 foot wireless range, we found that only to be true under ideal conditions (ie. line of sight). Whenever there are any objects, walls or physical obstructions in the way, the communication between the music source and the headphones is diminished.
In all reality, we found that the wireless range varied between 20 to 30 feet, but it didn't cause any issues with using them since most people don't need to be that far away from their smartphone or tablet. Either way, there seems to be plenty of available range for most any realistic situation that we could think of.
Battery Life
Since they're completely wireless, the Q12's require battery operation, but it's much less of a hassle than you might expect. With an integrated lithium ion battery, you'll never need to swap the battery out for a new one – simple recharge with the included USB cable.
Depending on a few factors, you can expect around 5 to 6 hours of playtime on a full charge. Some of these factors include the volume level, distance between the headphones/music source and environmental conditions like cold temperatures.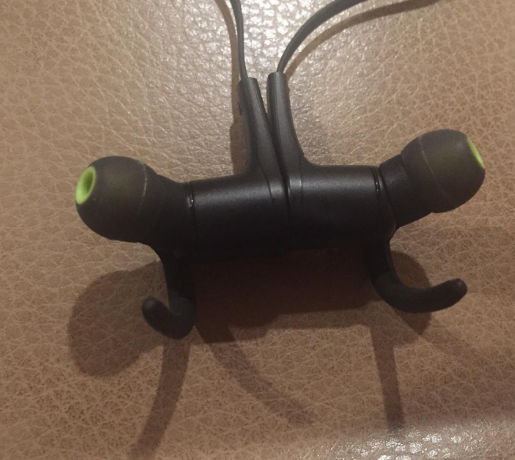 Making Calls
When you have the Q12 headphones synced to your smartphone and you're receiving an incoming call, you don't need to stop everything you're doing and take them out of your ears. The call will automatically come through the headphones and you can accept or reject it with the inline controller by pressing the middle button for just a second.
The call clarity is excellent, just the same that you'd expect for listening to music, the incoming call sounds great. Additionally, speaking through the integrated microphone seems to work really well. With the inclusion of CVC 6.0 noise reduction technology, you get the same noise cancellation benefit that's included in all of other SoundPEATS headphones that exist. While this isn't necessarily a new feature, it's good to see that they didn't go away with it as it makes a noticeable improvement for talking in public settings like on the bus or in a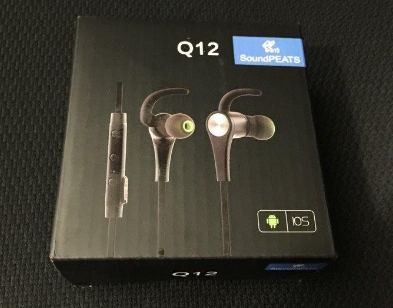 Specifications
Bluetooth Version: 4.1
Wireless Range: 25-30 feet
Battery Life: 5-6 hours
Battery Standby Time: 180 hours
Battery Type: Lithium Ion
Weight: 15 grams
Length of Cable Between Earbuds: 22 inches
Maximum Paired Connections: 2
Overall Thoughts
Although priced considerably less than what you'd expect them to cost, the new SoundPEATS Q12 Bluetooth Headphones seem to provide a fabulous listening experience with exceptional comfort, paired with surprisingly high quality sound and bass. Easy to use, built to last, and designed for music-lovers alike, they're a great choice for anyone looking for high-end features at an affordable price point.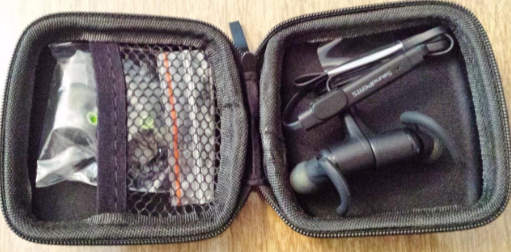 The magnetic feature is a nice addition, and the cable between the two earbuds is smooth and flattened so it avoids becoming tangled and twisted on its own – a common issue with many wireless headphones. There are plenty of accessories included and available in both black and red color schemes. We can say confidently that the sleek and ergonomic design will surely satisfy anyone looking for a superb fit that's matched with pleasing audio quality.
Note: At no extra cost to you, we may earn a commission for purchases using our links. Learn more.