The amount of inputs available to you and the versatility of each one are fundamental features for any PA or digital audio recording system, and is the primary performance quality of any USB audio interface. That being said, there are further considerations that can be made, such as the compatibility, ease of use, and portability with audio editing, production software and devices.
There available conversion and sampling rates are a specific performance feature that will make or break this quality no matter how many inputs, outputs and advanced features are included as well. We'll be giving it considerable attention in this review overall. As there are multiple models of the Focusrite Scarlett USB 2nd Generation Audio Interface, the 6i6, 18i8 and 18i20, we're going to pay individual attention to their unique features to see what they can offer.
With all of this in mind, you're going to receive a complete breakdown of what these newly released USB audio input interfaces are capable of in terms of performance, ease of use, durability and economy in both price and total cost of ownership.
Compatibility with Devices and Professional Editing Software
Based on the type of computer that you choose to use, there's very little limitation with the 6i6, 18i8 and 18i20, as they're all compatible with the Mac operating system versions 10.10 (Yosemite) and 10.11 (El Capitan). They're also compatible for use with computers running Windows 7 (64-bit), Windows 8.1 and Windows 10, providing plenty of opportunity to make full use of it.

On the part of the internal hardware of each USB audio interface, they're all capable of supporting a sample rate range going all the way up to 192 kHz, which is especially useful for modern audio engineering and special effects requirements. It also supports a wide range of sample rates beginning at 44.1 kHz, as well as 48, 88.2, 96, 176.4 and finally a maximum of 192 kHz.
In terms of capability for your inputs, Focusrite promises super low latency for all three models with dependence on the limitations of your software, the settings you're using and the computer that you're using.

We'll discuss the performance of inputs and outputs below, however it's worth mentioning that each model is fully capable of being relied on to support additional high performance hardware, without the use of a digital signal processor.
The exact measurements of their response capabilities is 2.74 milliseconds when working at 96 kHz with a 32 sample buffer, which is a lower performance measurement, however it's the fastest speeds that it's capable of while maintaining excellent audio quality every step of the way.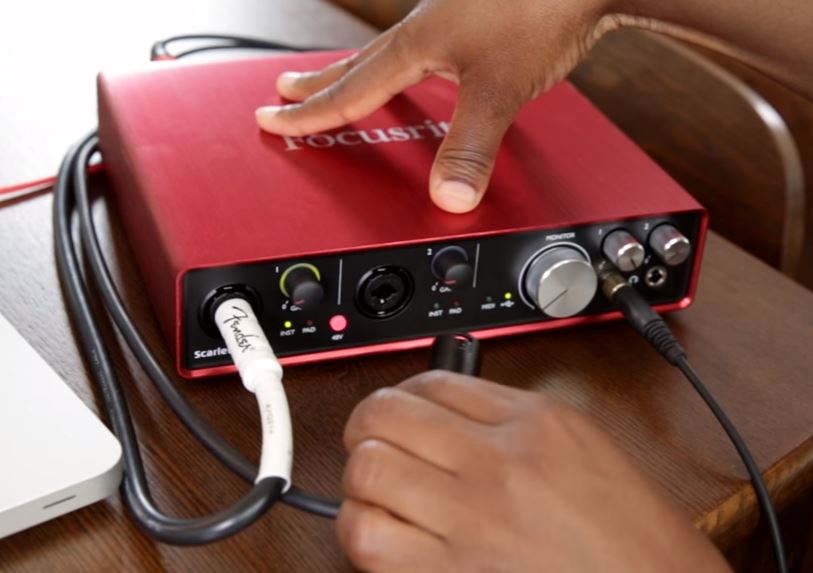 Custom Microphone Inputs with High Performance Preamps
The Focusrite Scarlett 6i6, 18i8 and 18i20 use two, four and eight custom preamps for microphone inputs respectively, which are world renowned for their near true to life sound quality. Differing only in the amount of microphone inputs, each one is capable of a frequency response rate of 20 Hz – 20 kHz + 0.5/-1.5 decibels and an A-weighted dynamic range of 109 decibels.
They also all have a maximum input level of 8.5 dBu and a noise EIN of -127 dBu, so you get basically pure sound at high volume without distortion created by the pre-amplifier, all the way up to its gain range of 50 decibels.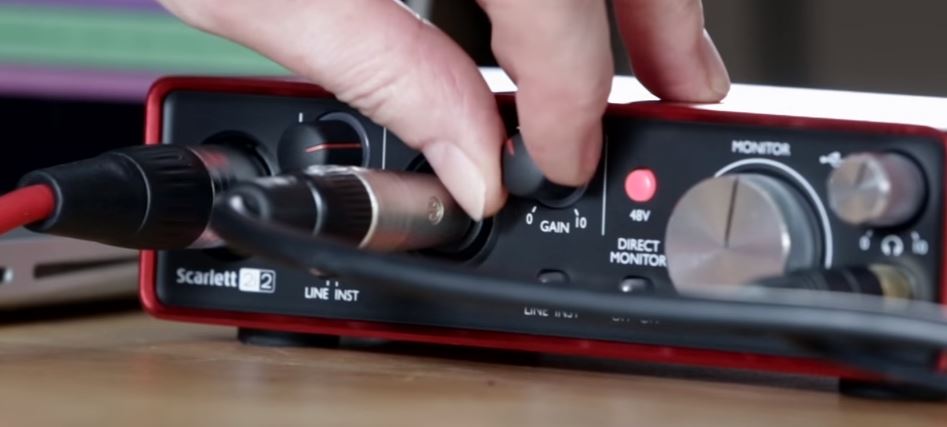 Recently Updated Instrument Inputs with Extended Headroom and Multiple Line Inputs
Each of these three models of the Focusrite Scarlett feature two upgraded instrument inputs designed primarily for the high demands of an electric guitar, with bass, treble as well as middle frequencies. Matching the capabilities of the high quality microphone inputs, the instrument inputs also feature a frequency response rate of 20 Hz – 20 kHz + 0.5/-1.5 decibels and an A-weighted dynamic range of 109 decibels. This goes to show just how well the microphone inputs perform, considering that you can set your gain levels with high range and precision for both.

Where they differ in technical specifications is that while the instrument inputs also have a gain range of 50 decibels, they have a higher maximum input level of 12 dBu and a total harmonic distortion plus noise rating of less than 0.003 percent.
Moving onto the line inputs, the 6i6 includes two and the 18i8 includes four, whereas the 18i20 has eight, and the 18i8 and 18i20 have twelve more inputs than the 6i6, with eighteen total inputs compared to six.
The specific capabilities of each line input are as follows:
Line Inputs 1-4: frequency response rate of 20 Hz – 20 kHz + 0.5/-1.5 decibels; A-weighted dynamic range of 109 decibels; THD + N of less than 0.003 percent; maximum input level of 22 dBu; and a gain range of 50 decibels.
Line Inputs 5-8: frequency response rate of 20 Hz – 20 kHz + 0.5 dB; dynamic range of 110 decibels; THD + N rate of less than 0.003 percent; and a maximum input level of 16 dBu.
There's plenty of space and more than enough audio quality to support a huge range of instruments including drums, guitars, basses, microphones and keyboards which makes each model effective for an entire band.

Versatile Output Options with Gain Controls
The 6i6, 18i8 and 18i20 have six, eight and twenty outputs respectively, with various options for each, and we're going to discuss them here in detail. First and foremost, they include four, six and ten ¼ inch balanced jack outputs respectively, each outputting a balanced digital audio signal for consistent transfer of data no matter how many devices you plug into it.
The 18i20 has two advanced inputs that feature dedicated stereo technology with anti-thump circuitry as well. The 6i6 also features a single discreet headphone output and the 18i8 and 18i20 each have two, all given gain controls specifically designed for use with headphones, making them comfortable to use with smaller drivers.
Having multiple effective headphone jacks is especially useful for multiple users to listen in as recording happens, however the 18i20 goes beyond this with their super high quality monitor output jacks so an entire room can listen in.

All three models include both an input and output S/PDIF jack for use when recording digital sources, as well as both and input and output MIDI jack.
Both the 18i8 and 18i20 feature an ADAT input so that you can increase the number of available line inputs by eight and take advantage of a greater number of pre amplifiers, for a much larger setup at low cost.
Durability and Overall Quality of the Design
As mentioned previously, all three models are versatile and compatible with professional audio engineering software, however Focusrite has decided to provide an enormous amount of free software and extra gifts for using their hardware.

For starters, you'll receive a bundle including a full version of Pro Tools, the First Focusrite Creative Pack that features twelve custom plug ins that are strictly exclusive to users of the second generation Scarlett. Considering that Focusrite not only keeps up to date with all of Pro Tools software, but also has collaborated with them to produce custom software, it's a great indication of the Scarlett's capabilities and design.
You'll be given access to a free copy of Ableton Live Lite, Softube Time and Tone Bundle, Focusrite's Red Plug in Suite as well as Focusrite Control software that can be used in connection with a 10 decibel pad for greater gain. On top of all of that, you'll also receive two gigabytes worth of Loopmasters samples which are at your disposal to use as you please.
Looking at the hardware end of the design and how easy it is to use, with multiple headphone options and access to a gigantic amount of inputs, you're pretty much set for any number of instruments without even having to reset the levels.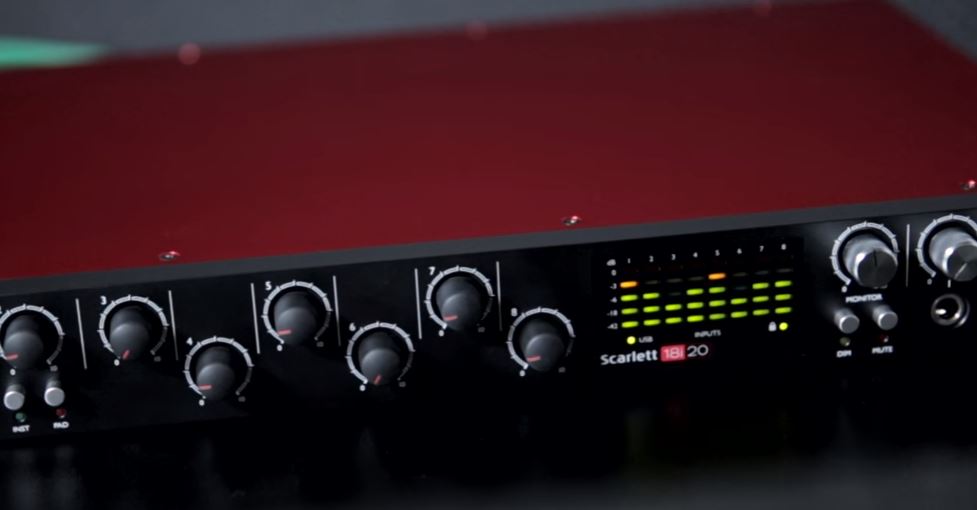 The crystal clear audio conversion capabilities and expertise and workmanship put into each input and output, combined with 48 volts of phantom power and consistent high quality linear gain make each model a powerhouse in their own right. There is also analogue protection circuitry built across not only the inputs but also every output, to protect against power surges that can prove deadly to your expensive hardware.
Each model is straightforward and ready to set up and use right out of the box, however the 18i20 understandably features a mounting bracket to make it easier to organize and store large audio equipment rigs as well.
Conclusion
The Focusrite Scarlett 2nd Gen USB Audio Interfaces are excellent examples of the qualities of performance and ease of use in a market where you're usually either sacrificing one to some extent, or spending a lot of extra money for both. The fact that you can choose between a powerful unit with low or high input and output options is complemented by the fact that each model is designed to provide as much value as possible for the price.