It used to be that in order to enjoy listening to must while you were on the go, you had to deal with clunky headphones that were attached to wires. While these headphones made mobile music listening possible, they could certainly be annoying. Those wires would get tangled up and you'd have to spend so much time untangling them, or they would get stuck on your arm, your bag, or anything else. So frustrating!
Thanks to the advent of wireless headphones, enjoying your own musical performance while you're on the go has gotten a whole lot easier – and a lot less frustrating. Gone are the days of tangled wires that get stuck on things.
While wireless headphones definitely make listening to music a lot more enjoyable and convenient, finding the right pair can be a challenge. You want to find a pair that offers great durability, excellent sound quality and performance without breaking your budget. There are a lot of wireless headphones available, but how do you narrow the options and find the best pair?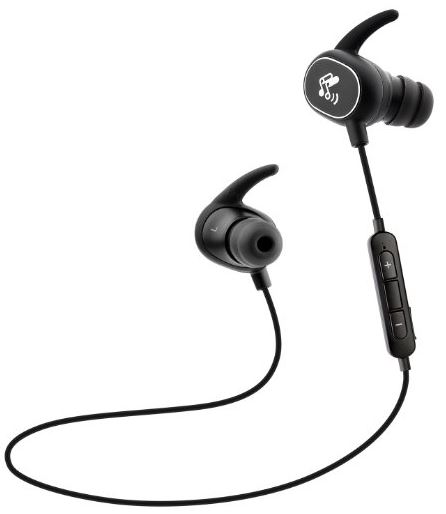 We had the opportunity to test one of the most popular brands of wireless headphones – The SoundPEATS Q15 Bluetooth Headphones. We have to say that after giving them a thorough trial run, we're really impressed. Here, we'll share our impression of these headphones with you, giving you a breakdown of the different features, the price and the appearance of the SoundPEATS Q15's. To make things clear, this isn't a paid review – we didn't receive these headphones for free from the manufacturer or anything like that. We went out of our own way to order them and try them out for ourselves. Without anything further, let's see what they truly have to offer.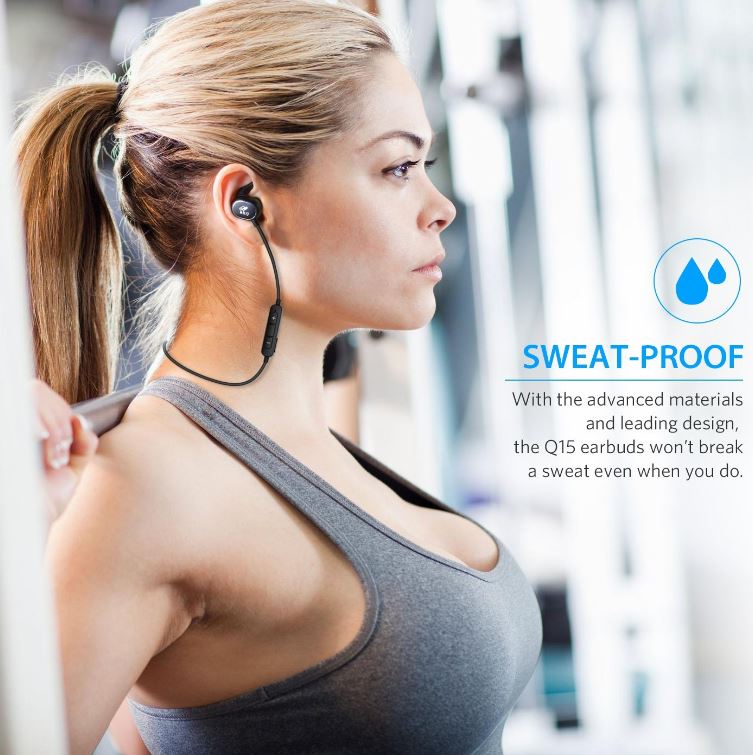 Bluetooth 4.1 + aptX
One of the most notable features is that they offer support for two Bluetooth connected devices simultaneously. They also allow for an automatic connection once they've been previously paired successfully with any Bluetooth-enabled device. Utilizing a powerful, high-fidelity stereo sound quality with aptX codec, virtually any Android or iOS powered smartphone or tablet can be paired with them.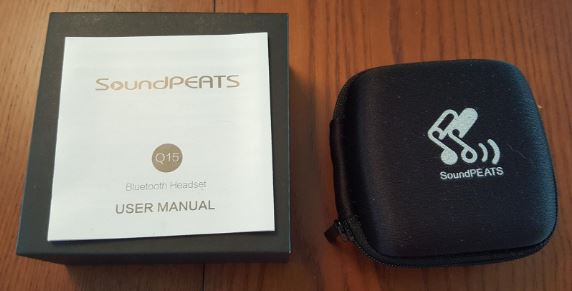 Lightweight Design
Weighing only .45 ounces, the SoundPEATS Q15's are some of the lightest weight wireless Bluetooth headphones currently on the market. They're also extremely compact, making it easy to tuck them away when you aren't using them. Because they are so lightweight and compact, they're perfect to use while playing sports or rigorous outdoor activities. You won't feel weighed down while running or doing a circuit at the gym, for example. The sound quality is excellent and your ears won't hurt, even if you have been wearing them for a long time.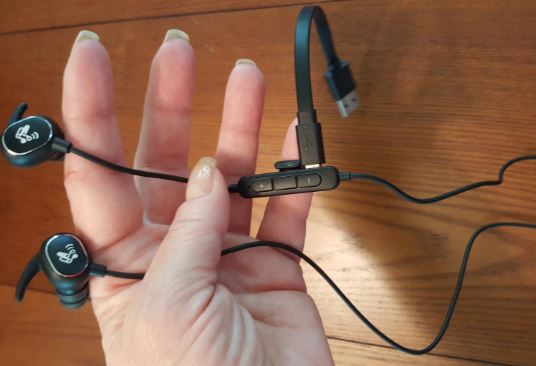 Comfortable, Secure Design
The SoundPEATS Q15 Bluetooth Headphones come with three pairs of sport ear tips in size small, medium and large and two pairs of music ear tips that come in small, medium and large. They also come with three pairs of shark fin ear hooks, which ensure you always have a comfortable and secure fit. Featuring specially designed ear hooks, you'll never have to worry about them falling out, even when you're doing a really intense workout. The ergonomic design is optimize to provide you with the ultimate level of comfort while wearing them.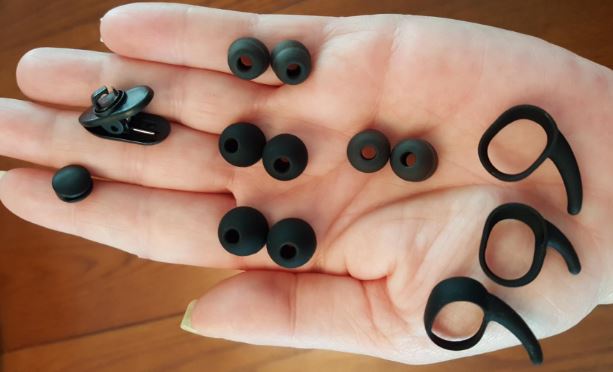 Sweat Resistant
If you've ever worn a pair of ear buds while working out and experienced a loss of sound quality, or any other issues when the buds were exposed to sweat, you'll be pleased to know that the Q15's are highly sweat resistant.. They have an IPX rating level of 4 and will easily withstand dripping sweat, meaning you'll never have to worry about losing your sound quality or having your ear buds short out when you're working out intensively.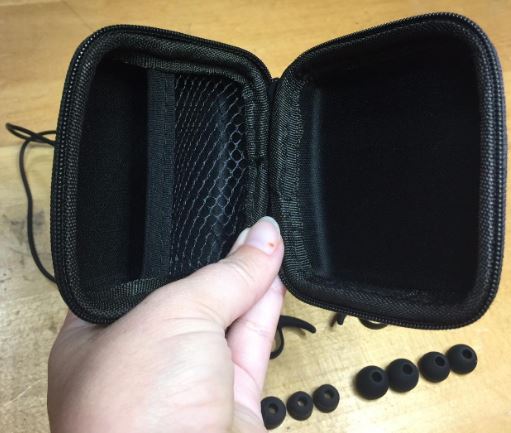 Super Convenient
The SoundPEATS Q15's provide up to 6 hours of play time and 180 hours of standby time on a single full charge. This means that switching between listening to your tunes and taking phone calls is never a problem. You can easily control all of the functions of listening to music and taking/making calls, thanks to the conveniently located buttons located onboard. These buttons with the built-in microphone allow you to take hands-free calls while you're listening to music.
Specifications
Bluetooth Version: 4.1
Effective Range: 33 feet or 10 meters
Audio Profiles: aptx
Play time: up to 6 hours
Charging time: ranges from 1 to 2 hours
Weight: .45 ounces
Battery Type: Rechargeable Li-polymer battery
Product Dimensions: 3.9 inches by 3.8 inches by 1.8 inches
Overall Impressions
Overall, we're extremely impressed by the SoundPEATS Q15 Bluetooth Headphones. We really loved how lightweight they were. Honestly, it didn't feel like there was anything in the ear at all, just music! And, after wearing them for several hours, there was no pain to the ears at all when they were removed.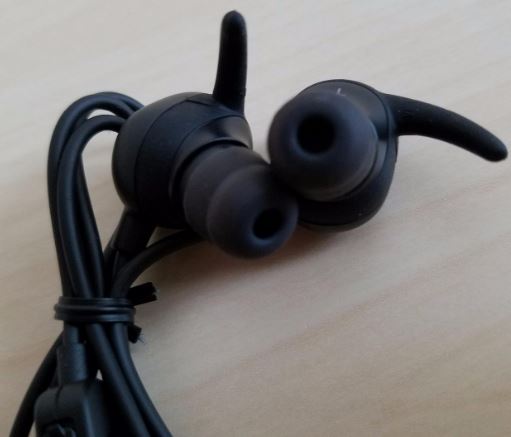 We tested them out during some extremely intense workouts. They were worn for a 5 mile run on a rugged terrain and again during a highly intense circuit training workout at the gym, which included weight lifting, squats, lunges, burpees and more. The earbuds were exposed to a lot of sweat, and that sweat never compromised the quality of the sound, which is something we've experienced with several other types of wireless earbuds that we've previously reviewed.
Another feature that was really awesome about the Q15's was the function features. We were able to easily transition from listening to music to taking phone calls with a few clicks. The button to switch between the functions was easy to operate, and the microphone provided clear sound for the caller on the other end.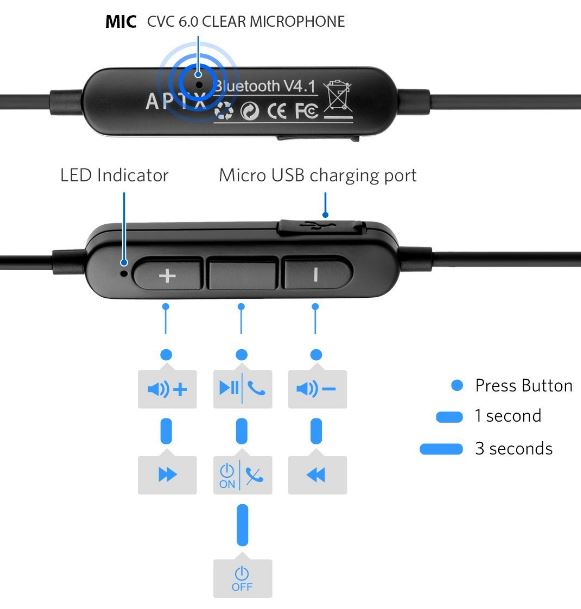 We also loved how long they ran for on a single charge. They were worn for a period of just over 5 hours and there was never an issue with running out of charge time. They worked perfectly the entire time. When they were taken off, they were easy to charge and were ready to be used for the next workout session.
The different ear pieces made it easy to adjust these ear buds to the perfect fit and size. Because of all of the different options for the size and fit, we think that virtually anyone would be able to wear these wireless ear buds without a problem. We've tried countless varieties of earbuds in the past and few of them gave the great fit that these do. With other models, we typically wound up having them too small or too big, and ended up having sore ears when we were done wearing them.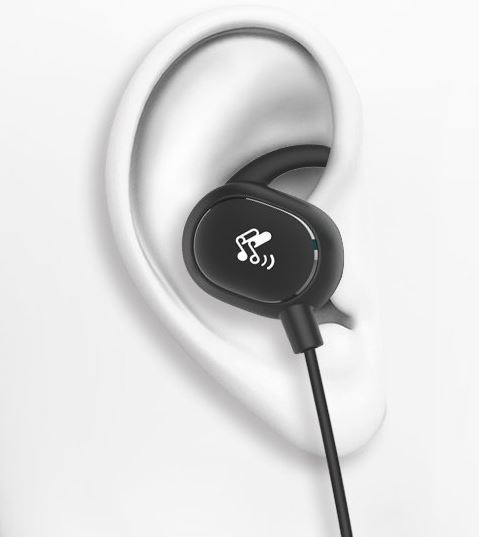 In conclusion, after giving the SoundPEATS Q15 Bluetooth Headphones a really good test run, we have to say that we highly recommend them. They're some of the best, budget-friendly wireless Bluetooth headphones that we've tested and tried out as of late. Bottom line is this: If you are looking for a sweat resistant, long lasting, durable, comfortable, high quality pair of wireless headphones that won't cost you a fortunate, you likely won't be disappointed with them.