Listening to music is equally entertaining as it is important to many individuals. Whether you're at home, on vacation or just out for the day, taking your tunes with you wherever you go can be a true luxury. Bluetooth speakers make it easy to bring along your favorite songs, but everyone knows how difficult and time consuming it can be to select the right one to invest in.
If you've done a little bit of searching around, you've likely already heard about the new AYL SoundFit Plus Waterproof Bluetooth Speaker and probably a little bit about what it has to offer. Durability and build quality seems to be the two traits it has going for it, but we wanted to see what else it's capable of; How does it sound? Is it really that durable? Is it easy to use? How's the battery life? All of these questions and more is what we're going to cover today.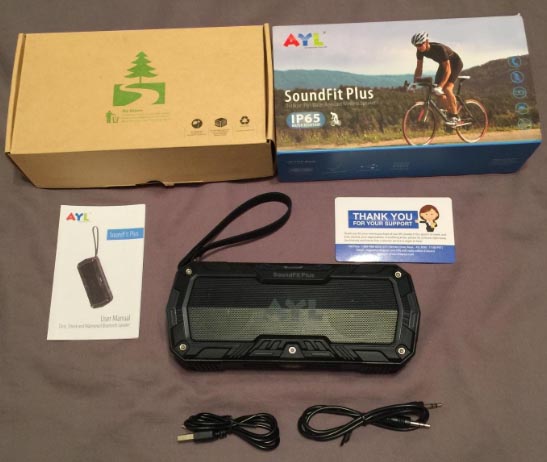 We had the opportunity to test it out for ourselves without any coercion from the manufacturer. They didn't send us a free sample or even get in touch with us. This review is an honest and fair approach to a budget-friendly speaker that, judging by other reviews, should provide everything it says and sound great. Let's get right into it.
First Impressions
By taking one look at the Amazon sales page of the new AYL SoundFit Plus, you'll see a lot of persuasive features that stand out above the competition. Needless to say, we had very high hopes and were excited to have it arrive on our doorstep 2 days after placing the order. Upon its arrival, we quickly opened it up and found that it came included with a micro USB charging cable, 3.5mm auxiliary cable, instruction manual and warranty card.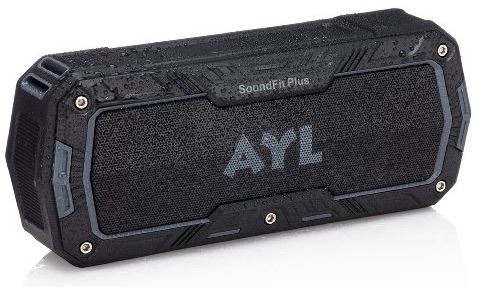 After unboxing, we powered it on immediately began the pairing process. First, we made sure that Bluetooth was activated on our iPhone and the AYL SoundFit Plus appeared on our list of available connections. After clicking it, it was paired and already able to play music wirelessly. This quick setup process was outlined in the instruction manual, but we didn't need to take a look – this straightforward process is typically the same for all Bluetooth speakers.
Sound Quality
Since we had it paired in a matter of seconds, we were really excited to play a wide variety of music through it to see how it performs. Built with two five watt speakers with 40mm drivers, we were absolutely impressed with the sound quality in all regards. The sound didn't seem muffled or distorted like most budget-friendly speakers we've reviewed in the past. There was something more realistic and lifelike about the effects coming out of the speaker. Although sound is quite difficult to describe in text, the highs, mids and lows seemed to shine through and recreate the music to its full effect.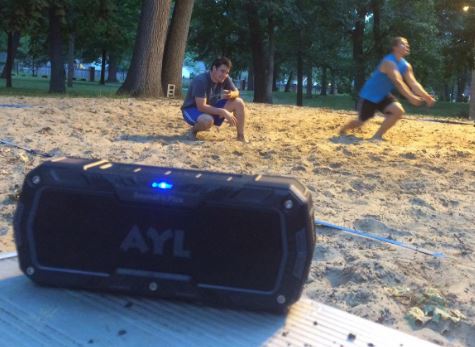 We tested it with all sorts of genres of music – rap, hip hop, country, rock and roll, classical, pop and even a bit of trance music. The bass always seemed to be on-key and didn't ever overpower the songs with distortion or a muffled mess. Although the bass isn't adjustable, it seems to be set at an ideal level to agree well with most genres of music.
Design and Build Quality
Measuring 8 x 4.3 x 2.5 inches, the AYL SoundFit Plus fits well in your hand and seems to boast a decent amount of portability. Considering that it's built and specifically designed for portability, it could be a bit smaller, but we're quite happy with the size of it. Holding it, you can tell that it's built with a solid construction that feels like they put a lot of time into the way it's constructed.
One of the biggest traits is its durability and waterproof ability, but we must say that AYL seems a bit deceiving when they say waterproof. Although it seems that it can handle quite a bit of abuse, it's not truly waterproof but rather highly water resistant. They do make it clear by saying it cannot be submerged in water, isn't that what waterproof is? Water resistant seems to be a better use of words in our opinion.
Being IPX5 rated, it's specifically protected from low pressure water streams from any angle, but not submersible. You can get it wet, but you definitely don't want to get it soaked. Using it in the shower, outside in the rain, or nearby a large body of water is what it's acceptable for, not playing your music underwater. That being said, there are some people who've actively submerged it into water and have reported that it works just fine afterwards. We don't recommend this since AYL clearly says to not submerge it into water, but it's nice to know that it should hold up just fine after an accident like this.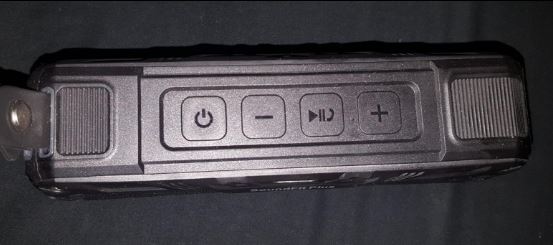 With that being said, it's built with a rubber-like coating throughout that gives it a grippy and textured effect on the exterior. This material naturally sheds away water droplets and moisture and give it a sleek black and grey appearance.
Battery and Charging
Since the AYL SoundFit Plus is completely wireless, a strong and burly internal battery is an important requirement that they've included. Although this isn't the kind of battery you manually take out and replace, it's integrated into the speaker itself and completely rechargeable with the included micro USB cable.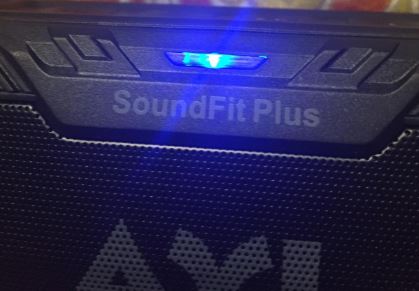 The advertised charge time is 3 hours and we wanted to see how realistic this claim was. Although it came shipped to us with what seemed to be a full capacity charge, we wanted to drain it completely to see exactly how long it took us to charge it up. In roughly 2 hours and 40 minutes, it was ready to go and at full capacity – pretty impressive if you ask us. AYL's claim for a 3 hour charge time was right on point.
Being that the battery has a 3.7V 2000 mAh capacity, it seems to hold plenty of life for up to 12 hours of continuous enjoyment. While this 12 hour estimate is quite realistic, there are some factors that can make this shorter. Examples include the distance between the speaker and your paired device, the volume you're listening at, and the environment you're using the speaker in. Personally, we experienced 11 hours of use before the battery was critically low – quite good in our opinion!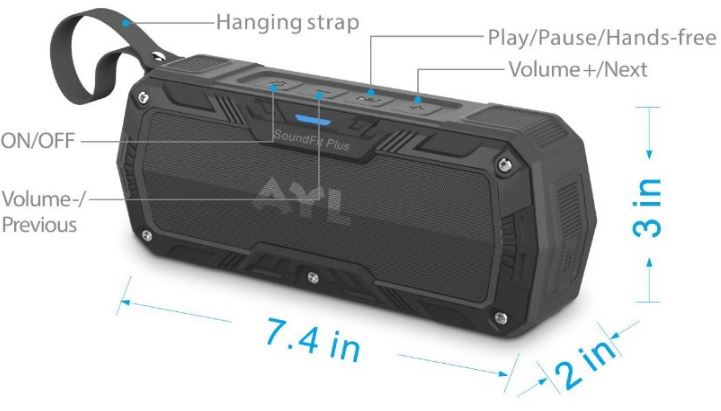 Final Thoughts
Although the AYL SoundFit Plus seems to hold up well to its extraordinary claims, there's a free lifetime warranty that's included with every speaker that they sell. This alone is a surefire way to guarantee their claims and high quality standards so that you, the consumer, get the most out of your investment and are totally happy with your purchase. Most manufacturers don't include any sort of warranty so a lifetime warranty is a massive appeal for many.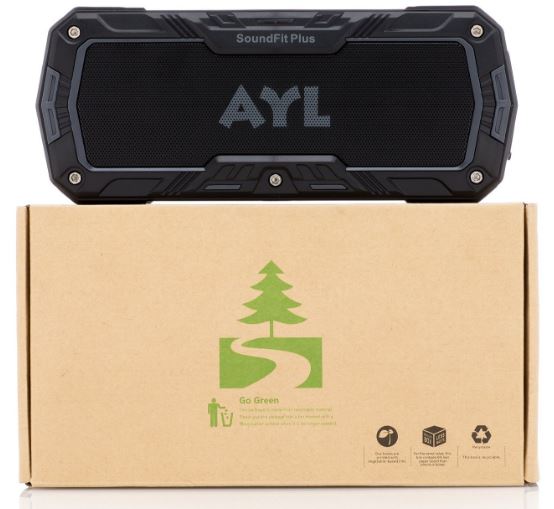 Overall, the SoundFit Plus is a phenomenal little speaker that boasts both portability, durability and fantastic sound quality that's quite hard to beat for the price. Although we don't think that it should be called "waterproof" but rather "highly water resistant", it seems to hold up well in all regards. The build quality is top-notch, it's easy to use and is compatible with just about any device you can think of. Although a wireless Bluetooth connection is preferred, they've included a 3.5mm auxilary cable for hooking it up to any device with a physical connection.
Lastly, the internal battery is great. It quickly charges in a few hours and the internal battery holds plenty of capacity to last for a long day of outdoor enjoyment. We love the integrity that it's built with and the care that's been put into the design – the AYL SoundFit Plus seems to be a real winner in all regards.