The basic utility of a tape measure, besides being compact, appears to include simply measuring things in a straight line, and being there when you need it. Over the years there have been very few innovations with this, including but not limited to a grasping edge, a stronger, more flexible tape with smoother release and recoil and laser sights, among others.
The overall promise of Bagel's Kickstarter campaign for this tape measure is not just utilizing modern smart technology, but making it the 'smartest' and integrating the best functionality available for the foreseeable future. Its campaign has actually received a significant amount of backing, considering that it's already gone through the full research, design and development phases in order to bring it to market, including the advanced features we'll go through in a moment.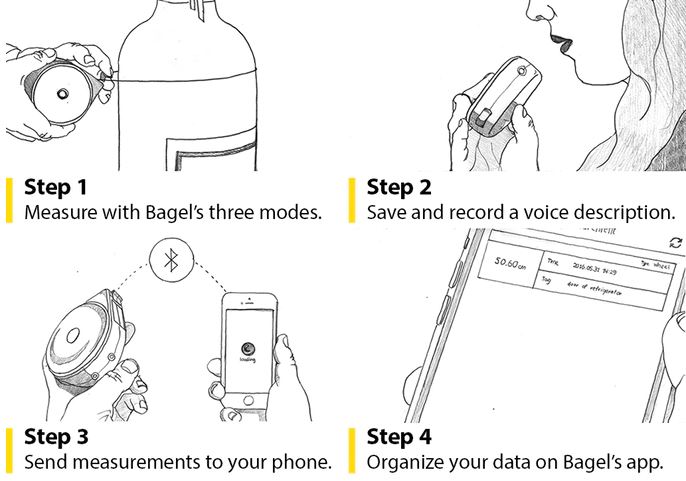 In terms of users, there doesn't appear to be any pandering to a more technologically sophisticated market, despite the fact that the Smart Tape Measure does rely on a smart phone or tablet for many of its features. An important aspect to keep in mind is that Bagel must negotiate between both hardware and software innovations – we're going to provide you with a full explanation on everything that it has to offer.
3 Measurement Modes
An interesting aspect of Bagel is that it doesn't use the conventional tape as older models do, with three different options instead, which you select between with a 'Mode' and 'Reset' button.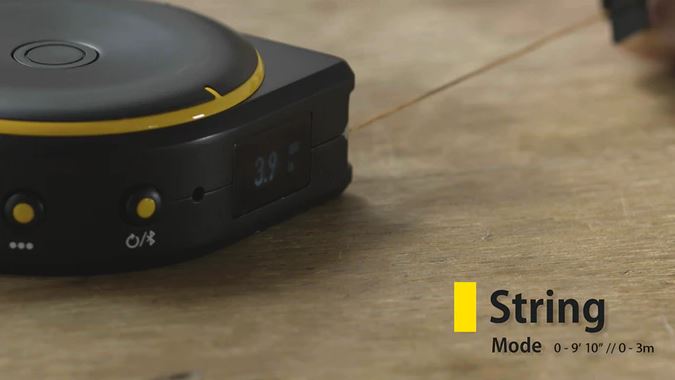 String Mode
With string mode, you're given the option of hitching one end to an object like you would with a conventional tape in order to measure flat surfaces, however it solves this and other issues. First, it's made of Dyneema, which is basically a high performance polyethylene that's quite flexible, allowing you to wrap it around curved and oddly shaped objects you wouldn't be able to measure with a conventional tape measure.
It's also durable and strong, with a total physical endurance of 112 pounds in weight. Since it's not made of metal there isn't the risk of cutting your fingers on sharp edges, making it a little bit more comfortable and safe to use. Also, there's a significant amount of additional space available for winding up string, so you get a total length of 3 meters, or 9.8 feet.
How this works is you simply pull out the length of string required to get an accurate measurement. Rather than look up the length on the string itself, it's read out digitally on the tape measure's display.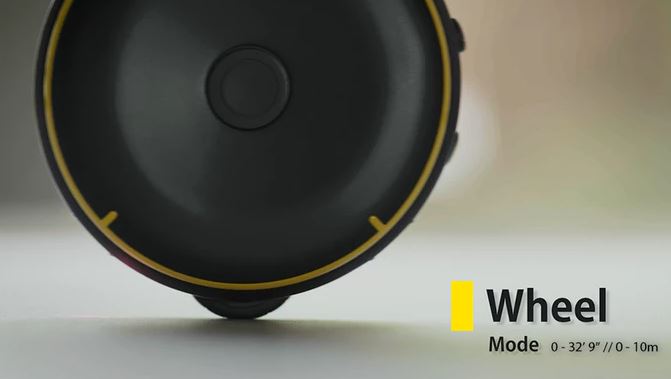 Wheel Mode
This mode is actually quite intuitive and can be useful for measuring long distances of up to 10 meters, especially where neither a string nor tape would provide much use. What this essentially does is once you've selected the appropriate mode, you use one hand to push a small wheel that sticks out the side of the tape measure, and it will record the total distance spun. The major advantage to this is that it works on virtually all hard surfaces, and provides quick and easy access when you only have one hand available.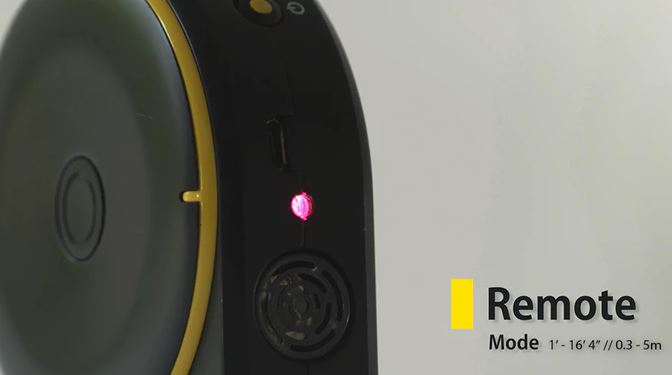 Remote Mode
Remote Mode a relatively modern feature that hasn't always provided the most accuracy and dependability in many models, and relies on an ultrasonic sensor discussed below. How this works, is once you've selected the mode a red laser guide will beam out automatically so you can visually see the point that you're measuring to, and the sensor technology will determine how far away it is.
This is particularly useful for hard to reach areas that would be next to impossible to measure by rolling or via the string. Since there are built in supports to keep the tape measure levelled, you can always be sure that you're measuring straight across, and not on an angle. Its maximum measuring distance is 5 meters, which is actually longer than the string and half the distance of the wheel.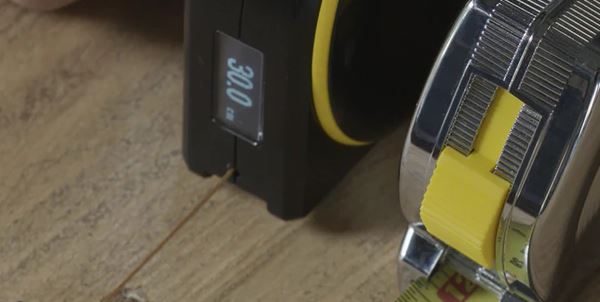 Proprietary Optical Sensor
Rather than going with another manufacturer's sensor, Bagel has decided to design their own from scratch. In fact, there are six different technology patents that they hold for the one used in this tape measure. Arguably, the reasoning could be pure cost savings as they're free to use their model in the dozens of other smart tools that they're responsible for. However, it does provide some desirability here.
First, it boasts an accuracy rating with about 0.5% maximum bias, which is a considerable achievement across all three modes. Depending on the climate of the environment that you're measuring in, you'll be able to get measurements down to one decimal place, even with the remote mode. It's also capable of measuring in either centimeters or inches depending on your preference, which is a nice feature to have when you're looking for precision.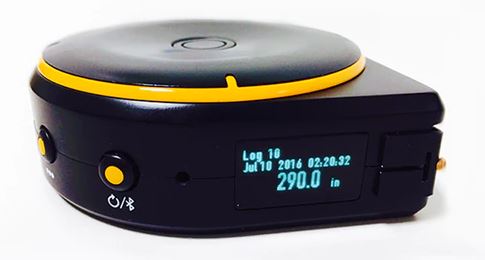 Internal Memory and Voice Memos
We've just about covered the performance hardware in this tape measure, however Bagel has also included the ability to save previous measurements, rather than relying on tape, pens and paper. The storage capacity is 32 megabytes, which is enough to store up to 100 measurements including the date and time that you made the measurement.
Because it's designed for greater ease of use, especially while working, there's a simple 'Save' button built right onto the tape measure for quick access. There's also an option for creating custom voice memos. The latter feature doesn't decrease the total saved measurement limited, but works as a tag and you can access this function by pressing the 'Save' Button as well.
Synchronization with Smart Phone App
While you can cycle through your recorded measurements directly on the tape measure's digital display, you can also send them directly to your smart phone for easy access and greater data storage. Bagel has produced a free app for both Android and iOS, which keeps track of all of your recorded measurements, with viewing, editing and some advanced features. Before discussing them, it's worth mentioning that you can connect this smart tape measure to your smart phone or tablet via advanced Bluetooth 4.0 technology.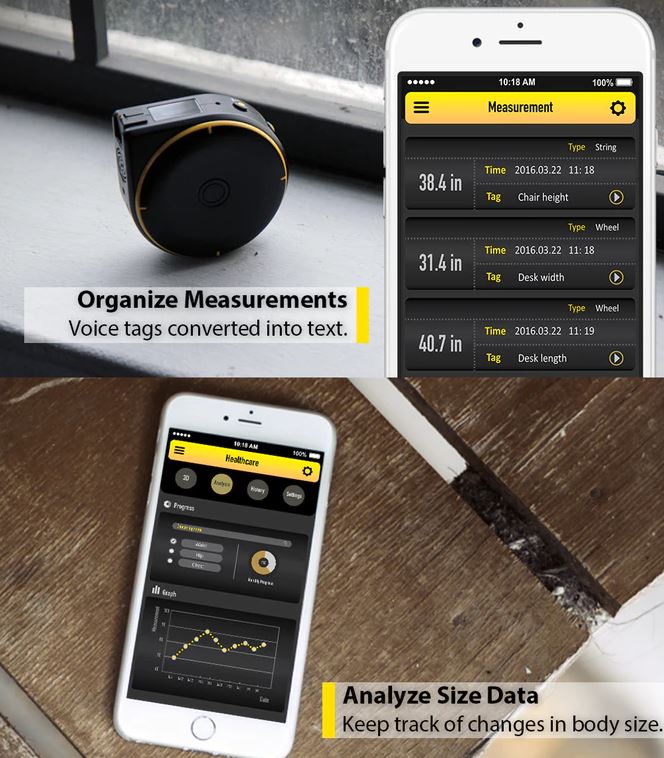 The major advantage to this is that because it allows wireless devices to communicate more effectively, there is significantly less battery drain on both devices, as well as rapid data transfer speeds. Also syncing the devices is very fast, because there's a simple on/off button for Bluetooth on the tape measure, and all that's left is finding it in your phone or tablet's Bluetooth menu screen for instant connection.
Next, the app export all of your measurements to your computer in CSV files on command, and converts your recorded audio tags to text titles as well, so you can see what you're looking at in the app, for greater organization. It'll also visually graph out sets of measurements, with one useful application for this being the growth of plants or your children's height over time,
Rechargeable Battery
As with any smart device, power consumption is inevitably going to come up on a regular basis, and is thus a vital component to this tape measure. Because it uses a rechargeable lithium polymer battery, you won't have to run to the store when it runs out of juice, however you will be required to have an electrical outlet or USB port nearby.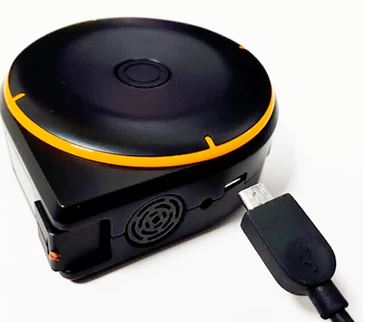 The way it charges is by plugging in a micro USB cable, and while there is one included it doesn't have a specific requirement, so it's easy and cost effective to replace if it were ever damaged or misplaced.
In terms of the battery itself, it provides a full 24 hour standby time, so if you're sure to plug it in the day before you use it, you shouldn't have a problem all day. The major reason for this is that it lasts for up to 8 hours when constantly in use, which is much longer than you'd likely use a tape measure for in an entire day.
Conclusion
The 0.96 inch OLED display is made good use of, as it's the only way to view your measurements without a smart phone. Its overall construction is quite sound, with a polycarbonate outer casing, giving it a compact 80mm x 80mm x 30mm size and a design that you're used to seeing. Weighing in at 4.2 ounces, it's no more of a burden to carry with you, other than a daily charging requirement.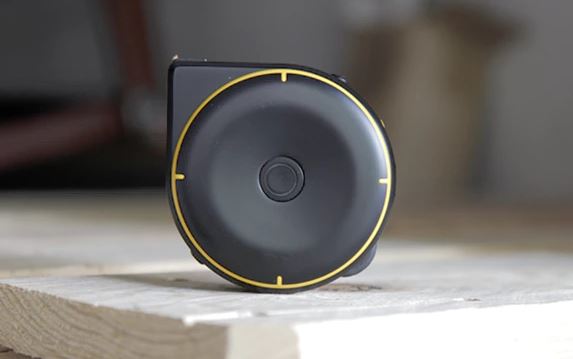 Even a metal tape measure is vulnerable to scrapes and rust, while this smart one with multiple electronics built into it is designed to operate and last, although it's basically limited to room temperature conditions. In terms of accuracy however, a maximum 0.5% bias isn't much compared to other models, especially considering that any faults are made mostly by the firmware and not the sensor's hardware. This is an advantage, because the firmware can be upgraded as Bagel makes improvements, via Bluetooth connection to your smart phone or tablet.
Overall, the Bagel Smart Tape Measure could certainly increase your organization on the job and allow you to measure difficult surfaces much more easily.
Meet Derek, "TechGuru," a 34-year-old technology enthusiast with a deep passion for tech innovations. With extensive experience, he specializes in gaming hardware and software, and has expertise in gadgets, custom PCs, and audio.
Besides writing about tech and reviewing new products, Derek enjoys traveling, hiking, and photography. Committed to keeping up with the latest industry trends, he aims to guide readers in making informed tech decisions.