There's always something smaller and better when it comes to technology, and the iPhone is no exception. Can any manufacturer build a better iPhone? Not likely; but you can build a better camera. As manufactured, the iPhone camera is pretty basic. But then along came fancier cameras that can be used in conjunction with an iPhone; and that's where the Insta360 Nano 360° VR Camera comes in. It's a little pricey, but it does what it promises to do and seems to do it quite well.
What Kind of Camera Is It?
The Insta360 Nano 360° VR Camera is advertised as the first 360-degree spherical iPhone video camera, and the smallest spherical camera in the world. It's pretty easy to believe both of those claims – it's tiny! Just 0.8″ x 1.3″ x 4.3″, so it really is pocket-sized and easy to take along just about anywhere.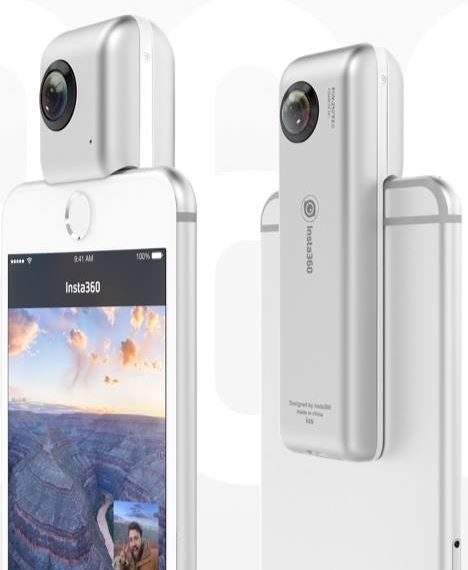 This camera can be used multiple ways, even though it's primarily marketed as an accessory for the iPhone 6/6plus, and 6s/6s plus. It isn't limited to iPhone usage only; the accompanying cable makes the camera compatible with other devices. It's not an ideal set up – you'd have to hold your phone and hold your camera, and the accompanying app required to manipulate the camera is iOS only. It also works as a stand-alone camera, untethered to a smartphone. That's a big selling point because lots of folks upgrade their phones regularly; the frustrating thing about buying an electronics accessory is upgrading or swapping out the main device and losing the ability to use your accessory.
Photo and Video Specs
The picture quality is good; it seems surprising in a device so small, but it's a nice surprise, all the same. The resolution is 3040 x 1520 for still pictures, and 3040 x 1520 with 30 fps possible for moving images through its 210-degree dual fisheye lenses. Video and still images are recorded on a TF card with a memory capacity of up to 64 GB. The camera also allows users to live-stream video content on social networking sites like Facebook and YouTube; or you can download it and play it later.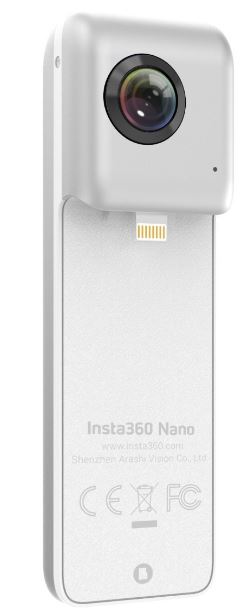 When You Open the Box
When you purchase the Insta360 Nano and get it home, there are a few other things in the box, too. You'll get a user manual and a quick start guide, for those of us who cannot wait to get it out of the box and get started. The camera also comes with a micro USB cable and a carrying pouch, plus cardboard virtual reality glasses (which is the most incongruous part of the whole thing). If you need more help, the Insta360 website has tutorials and documentation for getting the most out of your camera and what it can do, as well as instructions for how to get help if something isn't working like it should be.
But Does It Work?
The sleek, pearl white camera is fun to hold and use; it's just so pretty! It's the perfect size for pockets, backpacks, car dash consoles or desk drawers – at only 2.6 oz. in weight, it really is portable. Now, you really can share vacation footage of horseback riding or skiing, running your first 5k, or your cousin opening gifts at a baby shower. It looks a lot like a pack of gum, and far more portable than some other 360-degree cameras in shapes like spherical.

The Insta360 Nano is really convenient to attach and use. It's not the kind of process that's going to interrupt the activity or your fun. Even if you've never contemplated the need for a 360-degree camera or live-streaming, something like this – where's pretty much click-and-shoot – is a simple way to get started. And once you start thinking of the places where you might want to use it, the possibilities are endless: live-stream vacation footage from the top of a skyscraper or boat ride in a lake; share you-are-there-footage of a loved one's surprise party for friends and family who can't be there; capture your child's great play and the cheering crowd at the ball game.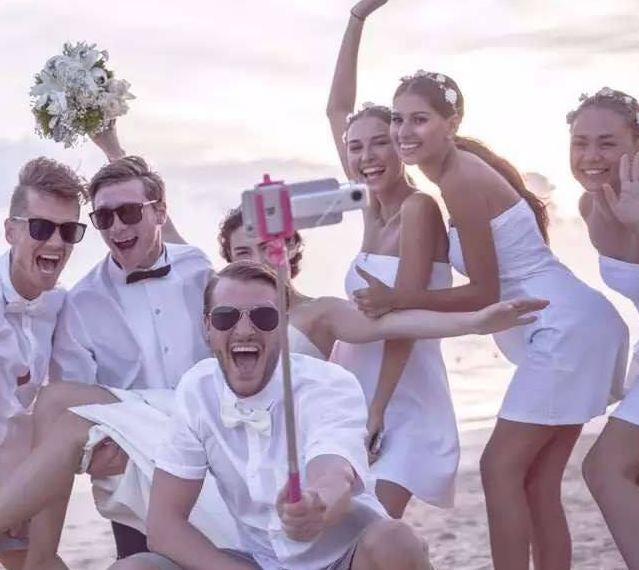 Perhaps the best part of this camera is that it has its own dedicated TF card slot. No worries about filling up your own iPhone with still and video footage, or trying to delete content or apps on the fly so that you can make room for newly shot footage. It's a nice feeling of freedom to film anywhere, anytime the mood strikes, without having to worry about sparing your own iPhone.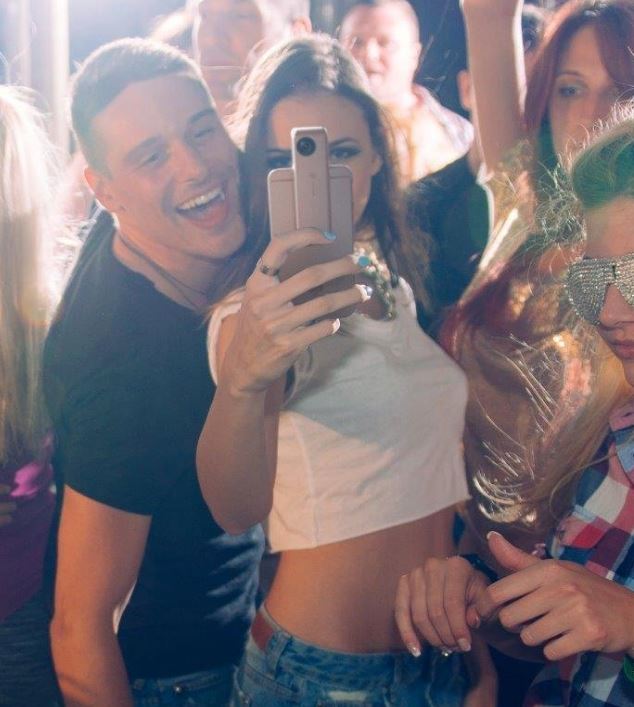 It's very satisfying how the Insta360 Nano 360° VR camera fulfills the promises it makes, from taking quality 360-degree film and still footage to device portability. There are no worries about charging – it just plugs into the iPhone and is ready to go. Content can be reviewed in real-time, and any film or still images can be shared through social network sharing sites like Twitter, Facebook, and more.
The one odd thing is that the way the camera plugs into the iPhone, through the lightning port at the bottom of the phone. The camera fits at a complete 180-degree rotation from the phone. So, in essence, the iPhone needs to be turned upside down to use the camera. Which is strange. It's not that it doesn't work, it's just that it isn't very intuitive to do it that way either.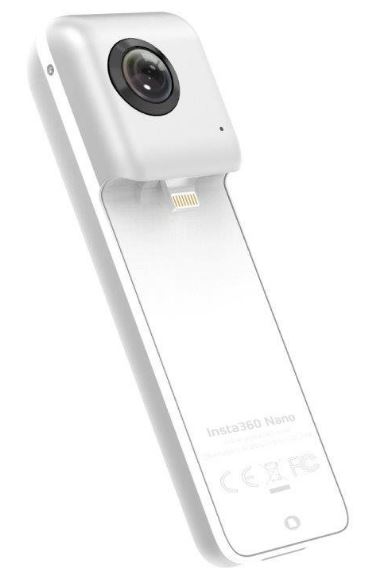 Apps
There are three apps for downloading if you want to get the most out of your camera. There's the Insta360 Nano Camera Control app, and the Insta360 Nano Firmware, plus the Insta360 Panoramic video player. The camera control app does just that, while the firmware keeps the device running properly; and finally, the video players is for playback of video taken by the camera or any other panoramic video footage. For folks who already have app-heavy iPhones, downloading three more apps seems like a heavy burden, especially when you know those apps aren't going to be small. Accessories are supposed to enhance, not feel like obligations; one must-have accompanying app is fine but three is excessive.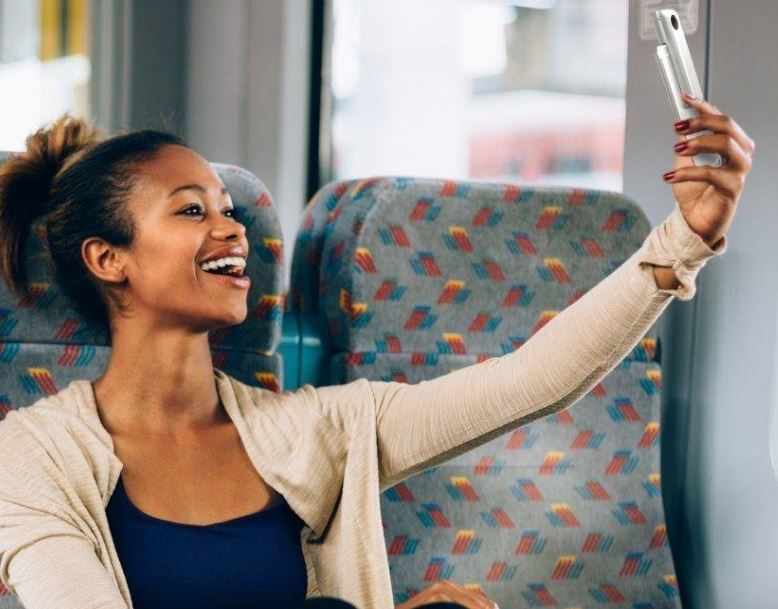 When you download the corresponding Insta360 Nano Camera Control app onto your phone, it'll automatically connect to the camera whenever it's plugged into the phone. Using the shutter works but it's a button on the screen, and not the home button on your phone; you can also use your fingertip on the screen to drag the focal point of the camera to where you want it to be.
Virtual Reality?
Ever wanted to try virtual reality? Now's your chance. It seems a little gimmicky, but yep, it's true, the box the camera comes in is a VR box. Open it up and slide your phone into the viewfinder and look through the special lenses – and voila! It's a cool idea in theory, but falls a little flat on the execution.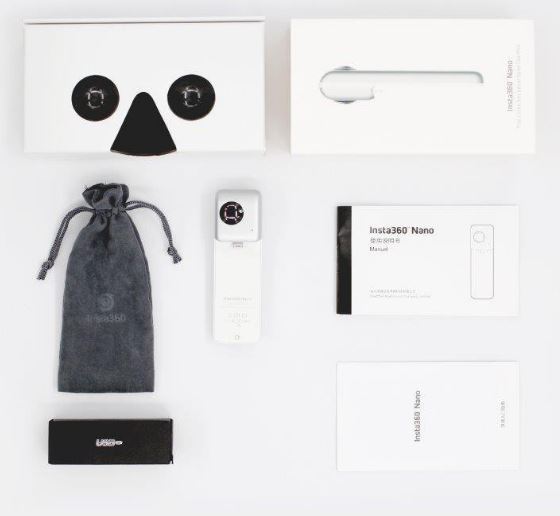 Final Thoughts
The construction of the camera is solid, made with durable aluminum, so there are no worries about it's portability or structural integrity. It's also Apple MFi certified. With a battery capacity of 800mAh, you're all set for adventure! There are several accessible features on the outside of the device, from a reset pinhole to an LED indicator, and TF card slot, although like the camera itself, they're pretty small.
If you're an avid photographer or videographer, an investment like the Insta360 Nano can definitely be worth it. For your average hobbyist, maybe not so much, although the portability and ease of use could quickly tip the scales in the other direction, as can the ability to use the camera with other phones (via cable) and completely untethered. Still, this is an an optional purchase for the occasional photographer, and more likely a must-have for true shutterbugs.