Although cloud storage might be a confusing concept for non-tech savvy individuals, chances are those same people have already used a cloud storage service without even realizing it. The way it works is simple: You upload something and the file gets sent off to a server where it's stored for later usage. The most popular cloud storage service at the moment is Dropbox, but Google Docs/Drive is making fast strides in that department as well. There's also a number of interesting hardware solutions that store files in a similar fashion, however, without the need for an internet connection.
If you're trying to identify the type of storage service that's worth your time, after a bit of research you'll find it boils down to one that offers a combination of convenience/flexibility, while remaining at an affordable price tag. Assuming you're familiar with recent revelations from whistle blowers like Edward Snowden, you're probably aware most files that make their way to the internet are breachable even if they're presented as secure. The best way to get around that is by going entirely physical and purchasing your own hardware.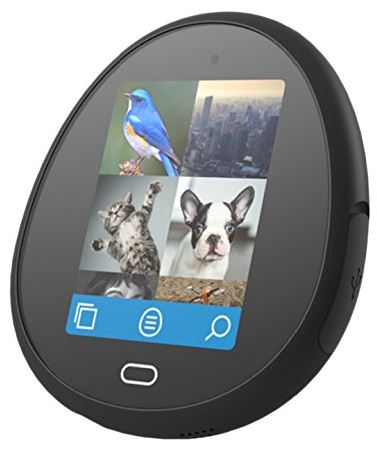 The Egg is simply your own hardware-powered personal cloud device. The concept behind it is that you should have the ability to bypass a mediator service and own the whole system yourself.
As indicated by the name, this device has an egg shape, thus it's small to the point where you wouldn't feel like it's a nuisance to carry around. It's very portable and you can carry it inside your bag, pocket it or simply place it anywhere inside your home. You can connect it to a desktop computer or laptop via USB and as long as you have Wi-Fi or connectivity options like Bluetooth available on your smartphone, you'll be covered throughout the entire area.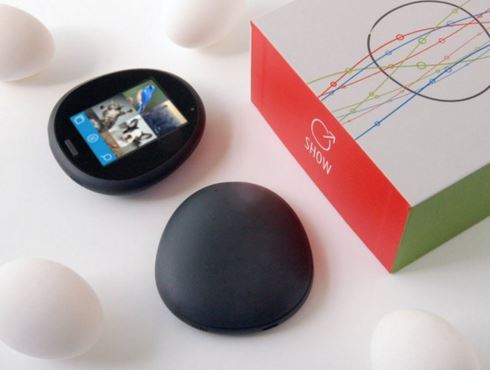 How Is It Different To Existing Storage Devices?
As most know, personal storage (offline oriented) devices have existed for a while now but there are unique positive aspects that help differentiate The Egg. The most notable feature is its size: it's smaller and more portable than a regular hard drive. Adding to that, it was designed to instantly make data backups so you don't have to be tech savvy. You can actually relax knowing your files will automatically be saved for you. There's also smartphone connectivity options that protect phone data and make it easily recoverable. Simply put, it's one of the easiest, most portable cloud services available.
Does It Work Without An Internet Connection?
That's likely the base feature. The Egg works like a secure internet cloud service would, except you own the server/hardware so if you're not connected to the internet, it doesn't affect you in any way. If you have people around (example: friends, coworkers or roommates) you can share files you've backed up as long as you give them permission to connect to The Egg.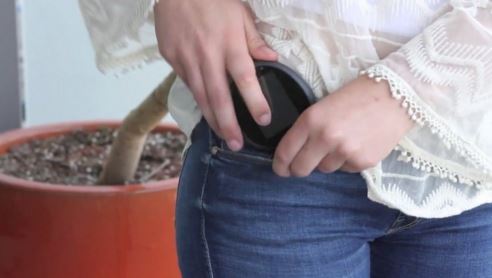 Approved people in your vicinity also don't have to be connected to the internet in order to take advantage. While you're connected with your smartphone, you'll be able to remove files you don't want in order to save storage space. We recommend The Egg for professionals or business owners who work out of an office but still carry a lot of their work back home and often switch between locations. This way, all your data is secured regardless of whether you're at home or the office.
You Can Carry It Anywhere
The internal mechanics are powered by Intel Atom technology and there are also a number of small, practical features that entirely differentiate itself from similar storage devices. For one, it's extremely small but built from the finest materials so it feels solid, and built with quality in mind. It also gives you the ability to upload to a personal website (media such as videos, documents, photos, etc) without falling under the lens of bigger cloud services that swallow data. This effectively increases your privacy tenfold.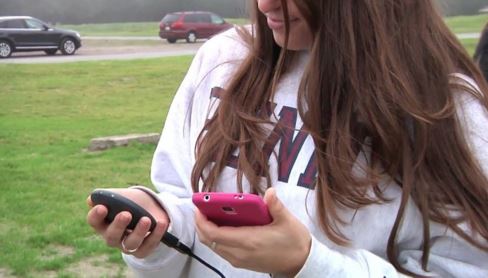 Access The Egg Remotely
You can connect to The Egg from anywhere in the world, this is what makes it a true private personal cloud. When it's connected to your home or public WiFi network, it becomes accessible via the Internet. The Egg will give you your very own unique URL where you can access it via their app or any web browser. You can even add content right from your phone, laptop, or other device and store it directly onto your Egg at home. Additionally, you're given the ability to invite guests to see your content by creating an account for them to login with.
Features
Compatibility with all Apple/Android smartphones including GoPro cameras and DSLRs. Users have the ability to automatically transfer their data from the device onto The Egg.
Extremely small in size but expands your devices with 256GB of extra memory.
If you prefer to stay online and not completely rely on hardware, you'll get a personal private website where you can upload data. This feature is comparable to Dropbox.
Multiple connectivity options: You can connect via Wi-Fi, Bluetooth or USB.
You have the option to further protect your files with a password.
The user interface is very user friendly and even if you're not tech savvy, you'll figure it out in a few minutes. They've gone of their way to simplify the usage process on a rather complex device.
If most data backups you'll be doing involve phone data, there are iOS and Android apps that will expand your smartphone memory and allow you to control The Egg from a short distance.
Equipped with an Intel Atom CPU, offering an extremely high degree of performance coupled up minimal energy consumption. This processor is a recent release and was designed for file storage exclusively.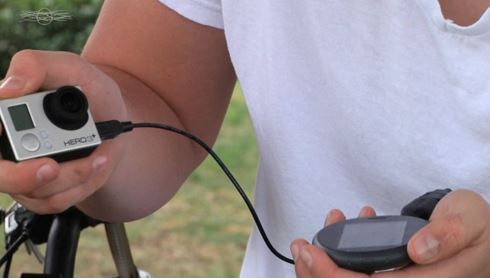 Does The Small Size Affect Performance?
We don't think so, considering it's smaller than an average smartphone. It's generally a combination of some really high quality equipment: the Atom processor, Wi-Fi options and a 2.4″ touch screen.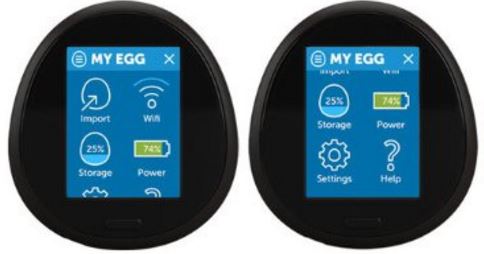 How Did The Egg Come To Be?
The Egg has actually been in development for the past 2 years but due to high demand, there aren't many discounts out there at the moment. It started off as a "Kickstarter" project, after which it attracted a lot of attention. Since then, a team of professionals joined in to add their flavor to the developments. Soon it became among the hottest, best selling storage devices.