Dash cams can help you record every detail of an accident. Insurance can be expensive, and not every driver on the road is a good Samaritan. For anyone who spends more than a few minutes inside their car each day, dash cams make sense to have. Taxi drivers, police officers, and similar professions widely make use of them. Whether you're thinking practically or you're just trying to capture some fun video from a road trip, you can find a dash cam appropriate to the task.
With a little added effort, these recordings are often able to be paired up with GPS devices and other tools which can enrich your recordings further. Depending on what you want to do with your dash cam, that kind of added functionality can make a huge difference. It's the difference between a $100 device that can be adapted to do anything, or a $300 device that can do anything, except you only need 1/5th of what it has to offer. In short, finding the right dash cam can be tough if you're not certain what you should be looking for.
Thinkware F70 Full 1080p Dash Cam
For people who aren't intimately familiar with dash cam brands, Thinkware is essentially the Samsung of the industry. Their widely used dash cams have been considered the standard amongst both enthusiasts and general consumers looking for a safe buy. That's because Thinkware is all about mainstream appeal. They're not trying to make a scientific instrument for CERN, or some kind of high definition film camera that can be used by James Cameron to shoot a next Hollywood blockbuster.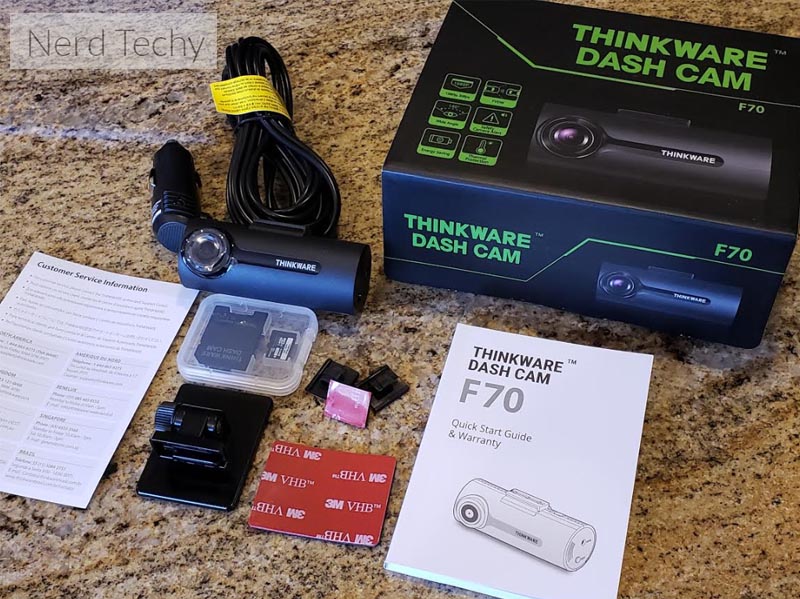 The Thinkware F70 is about the things ordinary people come to a dash cam looking for. It's about providing a clear and intelligible view of the road, so you can see things that happened exactly as they happened. It's about ensuring you don't have to micromanage the storage capacity of your dash cam, or have to worry about accidentally losing your valuable recordings.
Set to officially release on July 16th, the Thinkware F70 combines an easy setup with clear 1080p quality. For people who aren't technical minded, and people who aren't crafty enough to start making serious modifications to their vehicle, the F70 is an increasingly obvious choice. The set-and-forget nature of the F70, amongst its added recording features, ensures it's capable of providing absolutely everything most drivers want from a dash cam.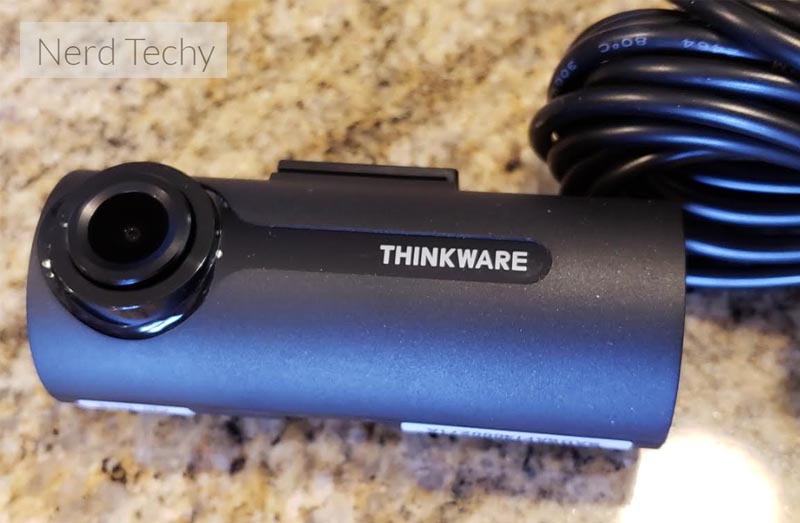 Build & Design
Physically speaking, the F70 looks like a PC webcam. It's got a simple, small, and circular black body. And the 3.1 x 1.4 x 1.2-inch build is perfect for quickly setting up within a vehicle. That's in large part due to the easy-install windshield mounting plate, which lets you attach the F70 in seconds. However, it does leave you with residue to clean up if you decide to remove the device later on.
Luckily, the lightweight nature of the F70 ensures that all you need for installation is a sticky affixing pad, which is quite easy to find within virtually any office store. While each separate installation will require you to use a separate pad, they're not expensive or terrible difficult to replace, ignoring the residue you'll have to scrub off the windshield.
On the driver's side of the Thinkware F70's body, you'll find a port for a GPS connection. Apart from that port, there's only one large record button on the device. Regardless of how you've otherwise configured the F70, you can quickly tap that button to turn on your camera. Beyond the basic recording mode, the Thinkware F70's primary functions are divided between two modes: parking mode and driving mode. The parking mode features mostly involve detecting and preventing crime, while the driving mode features are more about getting a clear capture of what's on the road.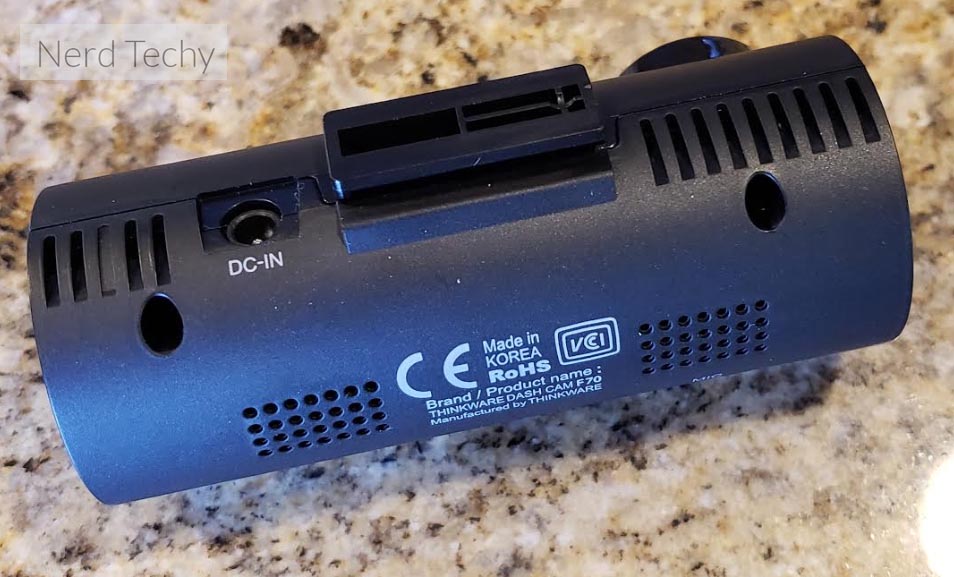 Video Quality
To ensure you get a full field of view of the road, the Thinkware F70 records your entire dash with a wide 140-degree angle. That's the difference between only recording what's directly in front of your vehicle, as opposed to seeing adjacent lanes and the shoulder of the road. The wider 140-degree angle of the F70 is absolutely necessary for a truly complete view of the driver's surroundings.
Additionally, the F70 captures footage in 1080p video at 30 frames per second. 30 FPS is somewhat higher than the presentation of television and film, so it's rather smooth, but won't eat through storage space like higher FPS settings can. For lengthy recording times without sacrificing visual fidelity, the F70 is perfect. For intelligible visibility of the road, 1080p is the sweet spot.
Even as televisions continue to zoom towards 4K content, the fact remains, 1080p provides more than enough visibility for virtually all types of practical application. Which is why 1080p dash cams will continue to be the norm for years to come. Content recorded in 1080p is roughly four times smaller than content in higher resolutions like 4K. Unless you have a specific reason to use 4K, using the 4K format involves trading down your storage capacity and paying more for less.
One potential limitation to the Thinkware F70 is that supported Micro SD cards have a ceiling of 64GB. But 1080p video isn't terribly space hungry, so 64GB is more than adequate for holding literally hundreds of hours of consecutive footage. Many people choosing the F70 will end up comfortably using it with 32GB cards or even smaller.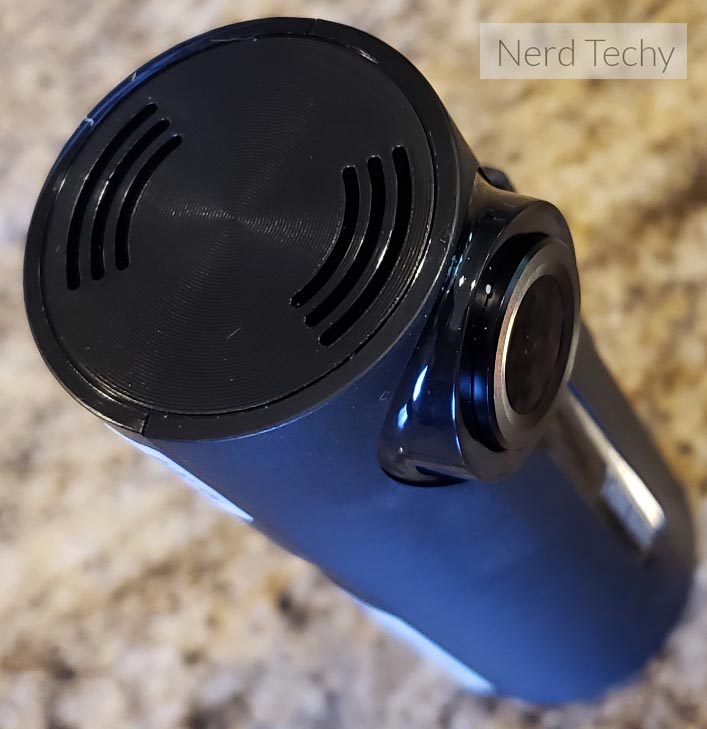 Core Features
The F70 prominently supports multiple recording modes, manual, motion detection, energy saving, continuous, and incident recording. The manual mode is initiated through the physical button on the side of the F70, and allows you to turn on-and-off recording at fill. For example, you might turn it on when you're pulling over to assist another driver, or when you've been pulled over by an officer.
The continuous mode will keep recording night-and-day without stopping, good for various types of surveillance. The motion detection mode is precisely what it sounds like, it will remain off until the motion detection sensor is triggered. After you've captured footage, you can use the F70's smart-file management feature to search through your recordings.
The F70 doesn't include many extras, but it does support the ability to add on a variety of optional accessories. You can throw on a hardwiring cable for parking surveillance, an external GPS antenna for speed and red-light-camera alerts. And using these cables can help you embed data into the capture, including time, speed, location of the recording. These features add an extra dimension of data to your recordings, which can be particularly useful when submitting the data to insurance agencies or government offices.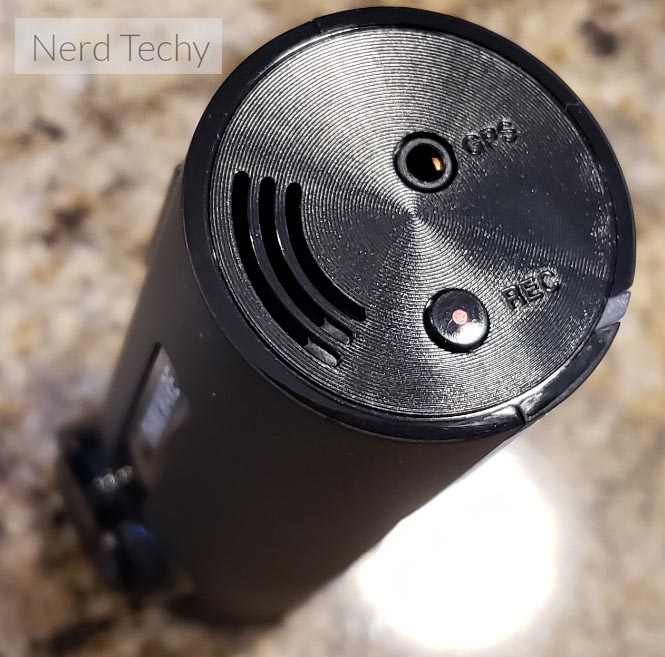 Protection Features
The F70 supports integrated thermal protection thanks to its use of high quality, heat-resistant capacitors. It also includes a thermal sensor for extra safety when you're using the F70 around extreme temperatures. Even if you're not recording in the California desert, keep in mind that the inside of your car can become quite hot during the day.
But the F70 is protected. It will shut down to protect itself if its thermal sensor detects unsafe operation, but not before quickly saving whatever it may have been recording at the time. The F70 has similar battery protection, which shuts down the cam if voltage dips below the minimum threshold. That can protect your camera from being fried, and protect your data from being scrambled.
Moreover, the F70 supports anti-file corruption tech to prevent your MicroSD cards from enduring data corruption during or after recording. Using Thinkware's proprietary technology, your SD cards are protected from data fragmentation and corruption by designating pre-allocated space for recorded segments. This process of continually writing to the SD card also helps extend the lifespan of your SD cards.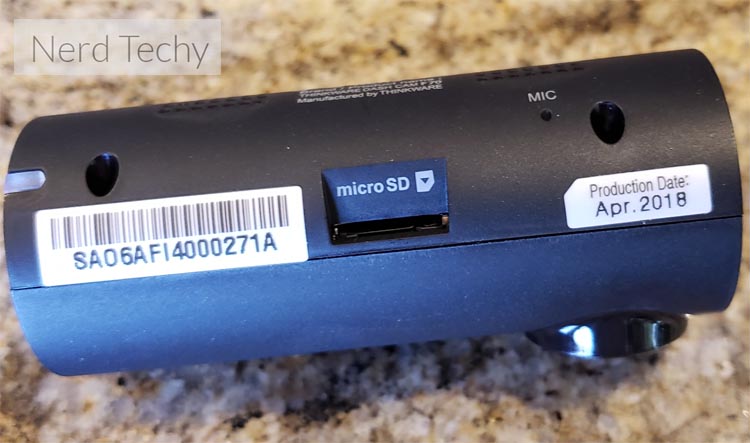 Other Considerations
The F70 doesn't support 4k video, and it doesn't support higher frame rates for its 1080p capture. For virtually every ordinary use, the 30FPS capture provided by the F70 will offer the clarity and smoothness they're looking for. Televisions and film are typically broadcast around 24 frames per second, and the F70 exceeds that by a hefty margin. The 30fps output provides exactly as much smoothness you need, without creating a ton of redundant frames that would only slow you down.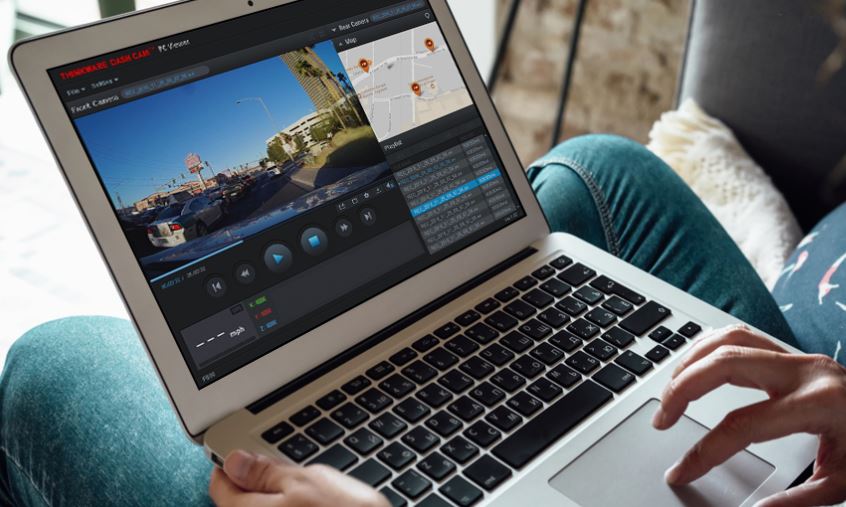 And keeping away from higher resolutions and 4K content drastically decreases the size of each recording, enabling you to record more data in less space. But some people doing certain types of art projects may want to seek out cameras with those higher resolution options. 4K video isn't something that anyone besides enthusiasts will even want to consider, due to high costs, more power consumption, drastically less storage space, and ultimately no benefits of consequence to ordinary users.
One more thing to note is the F70 includes a one-year warranty. A one-year warranty doesn't sound particularly impressive, but it's important to understand more about manufacturing camera equipment to really appreciate why it is. In short, camera equipment doesn't break that often. And if it's going to break from something that's not your fault, like a manufacturer's defect, those types of problems are most likely going to occur within the first year of use. So while the one-year warranty doesn't seem like much, it's more than enough protection from getting a bad unit.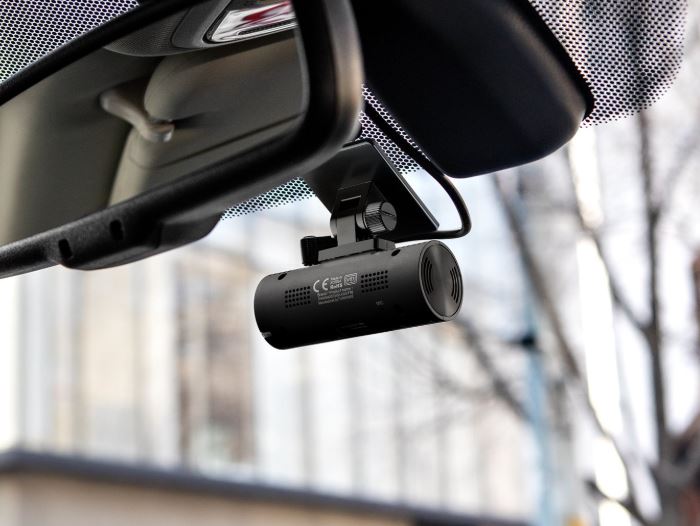 Who Should Choose the Thinkware F70?
The F70 is great for anyone who wants a general dash cam they can use in essentially any vehicle. It's quick to setup, easy to use, and works remarkably well at doing everything it tries to do. Video comes out clear and intelligible, and the numerous recording modes ensure you can only record the things you want to record.
As far as dash cameras go, the Thinkware F70 is on the inexpensive side of things. Nevertheless, its adaptability through the optional integration of a GPS antenna and hardwired adapters means the Thinkware F70 can perform as well as cameras costing as much as 50% more. And the handful of things it can't do mostly relate to film-makers, not more everyday dash cam usage.
Whether you're just looking to have some fun with a camera, or you're concerned with safety and insurance, the F70 is a fairly ubiquitous way to go. For that kind of camera, you can't do better around this price point, especially if you're not willing to give up ease of use and an easy installation.