When you're choosing a dash cam, the first things you want to think about are essential features. Storage capacity, expandability, and night vision are all prominent members of that list. You don't want a dash cam that will obscure your view of the road, which makes it important to pay attention to the size of the device. And you don't want to end up having to micromanage your recordings, which is why loop recording will be a non-negotiable feature for most purposes.
But there is far more you can get out of dash cams besides essential features. It's inside optional features and added extras where you can truly find great differences between mediocre dash cams, and first-rate selections. For a strong example of a dash cam that defines itself with extra features, look no further than Thinkware's F800.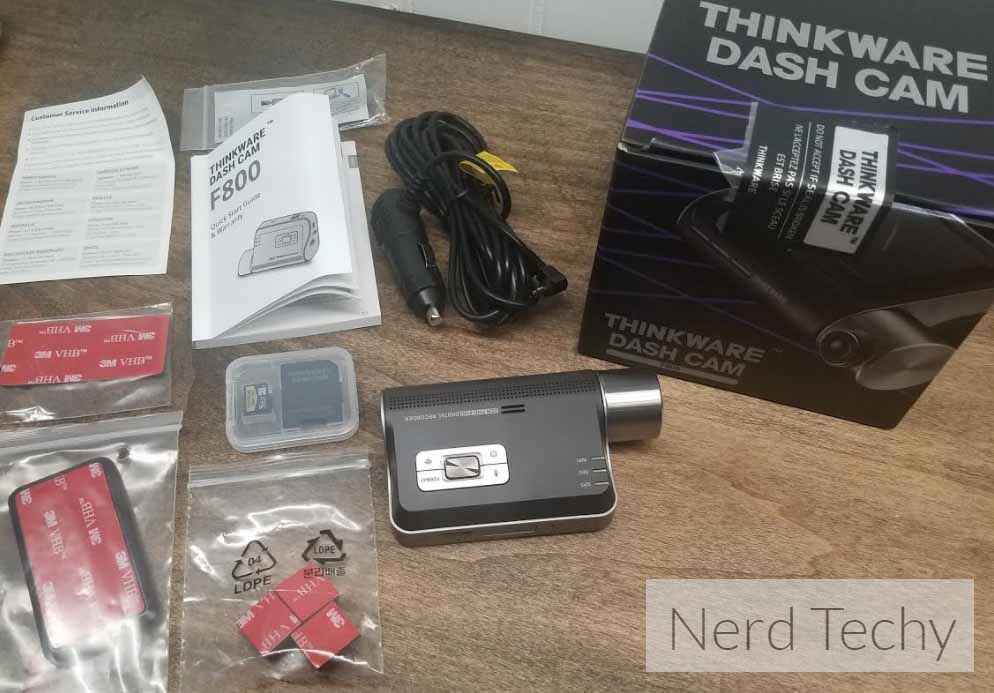 Thinkware F800
The F800 is Thinkware's flagship model, replacing the slightly older F770. Over the past decade, many manufacturers in the dash cam industry have focused on driving up their supported resolution beyond full HD. Rather than following industry trends, Thinkware has focused on building features and improving functionality around their 1080p cam. For the purposes of the average consumer, Thinkware's strategy is much smarter than that used by their competitors.
That's because recording beyond 1080p is largely a bad idea, unless you have a specific reason to do so. 4K resolution won't make a considerable impact in the visibility of your recordings. On the other hand, it will drastically increase the file size of everything you record, driving down the amount of footage you can store by a factor of four. You'll also drive up the cost of the camera, or lose features in the process. That's why the F800 instead focuses on providing features that are actually going to improve your day to day experience using a dash cam.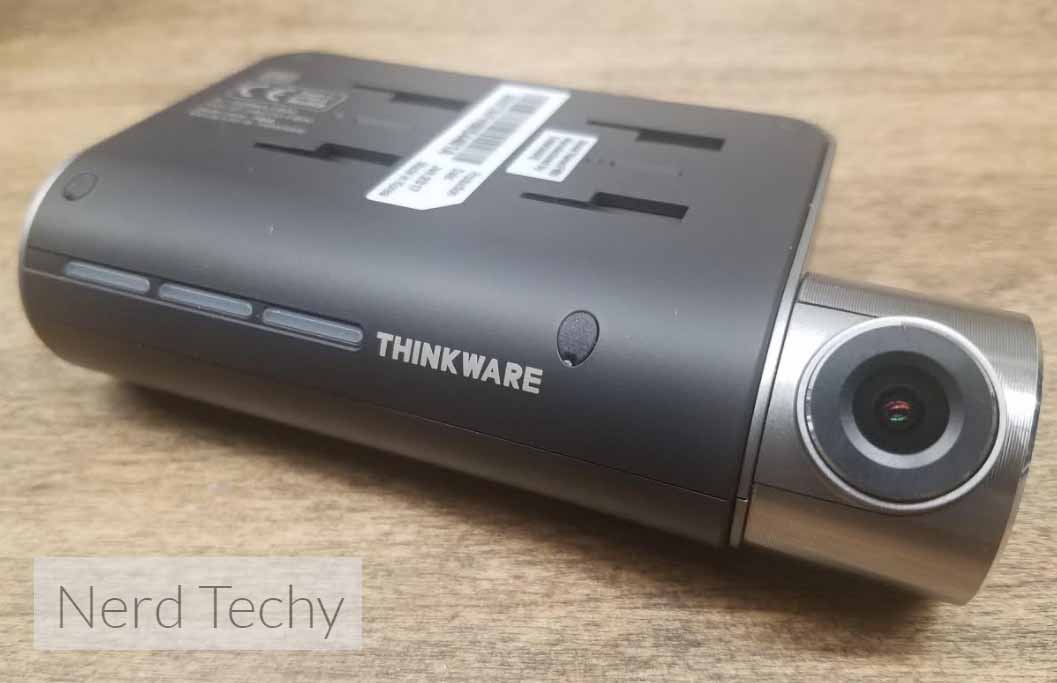 Camera Quality
As far as recorded video quality goes, your footage is captured at 10Mbits per second, which is relatively high quality for a 1080p video. That high quality level ensures you'll get clear and crisp recordings at all times. Unfortunately, you can't toggle down to 720p or similar resolutions to save storage space. But even at 1080p, the included 32GB micro SD card is well equipped to record roughly 400 minutes of data.
However, since the front and rear camera record simultaneously, you actually end up with about 200 minutes of capacity. Once it's been filled up, the F800 uses loop recording to automatically erase older files and make space for new recordings. And the supported 2.13-megapixel resolution will ensure full HD capture, although that capture is limited to a meek 30 frames per second.
Compared to the F770, the F800's primary functionality is only slightly improved. The F800 makes use of a modern Sony Exmor CMOS sensor, which is what helps this camera record well even in low-light conditions. The result is a "super night vision 2.0" feature that Thinkware endlessly brags about, claiming their nighttime recordings are 10 times brighter than their own earliest models.
Installation and Adjustment
Some dash cams are designed to be portable, allowing you to move them from one vehicle to another. Others are designed to be installed in one place and generally not moved again. The F800 is in the latter group, and is built to be affixed to the top of your windscreen through an adhesive plate. Once the plate is installed, the camera itself slides into place.
But you can also use a permanent connection kit, allowing you to route power to the camera through an internal connection, or take advantage of Thinkware's cigarette lighter adapter. However, that adapter is permanently attached to its cable, ensuing that connecting your dash camera in that way prevents you from using another device that requires the lighter, such as a satnav.
After it's been installed, you can tilt the F800's camera up or down to help it face the correct direction. You'll want to make sure the horizontal position of the camera works well before you install the plate, because unfortunately there's no horizontal motion available once installation is complete. The inconvenience of having to clean the adhesive off your car is reason enough to be careful on your first try, and ensure the camera has a good view before you attach the plate.
For the purposes of installation, you should know Thinkware's F800 includes a 16 GB SD card, adhesive mount, cable mounting clips, cigarette lighter adapter, and a start guide. In short, it comes with everything you need to get started.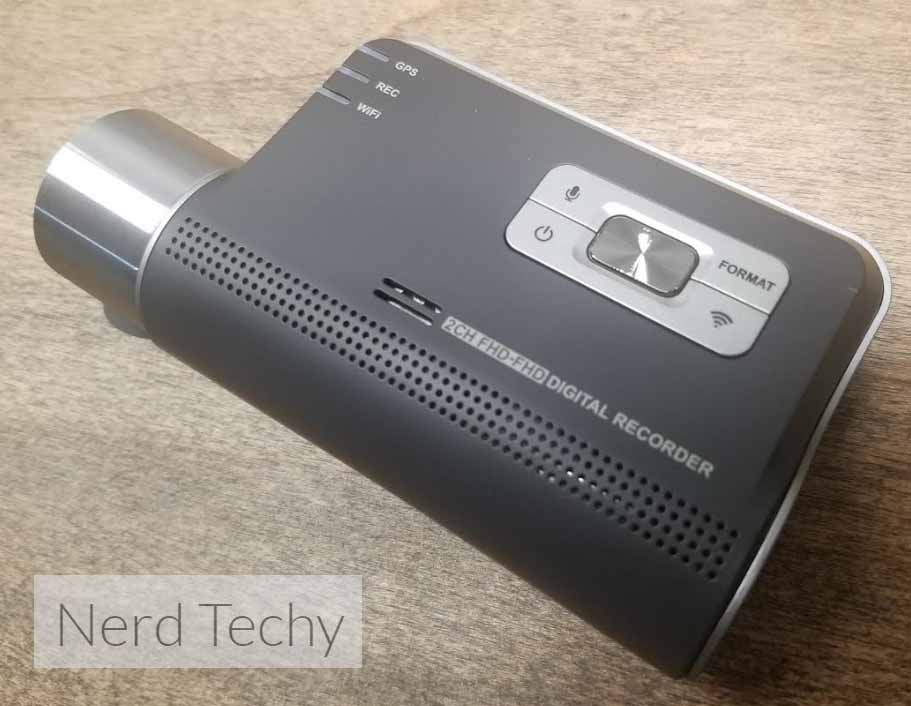 Rear-view Camera
Like with its predecessor the F770, the F800 is ready with an optional rear-view camera (bundle or separate). The rear camera provides the same image quality as the front, and there's little question that the rear-view camera has been improved over the F770. Unfortunately, those improvements also mean that anyone who owns the F770 will find their old parts and peripherals won't properly work on the F800.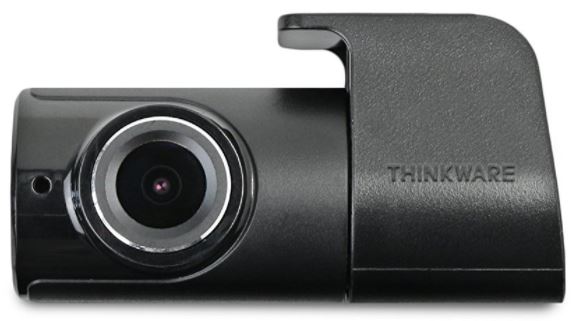 You can install the rear camera on your vehicle's rear window. But depending on the vehicle, you may want to use a different location. The kind of glare and reflection the camera picks up will differ depending on the design of your vehicle. Fortunately, setting up the rear camera is easy thanks to the inclusion of a particularly lengthy cable, and the simplicity of an installation based on another adhesive pad.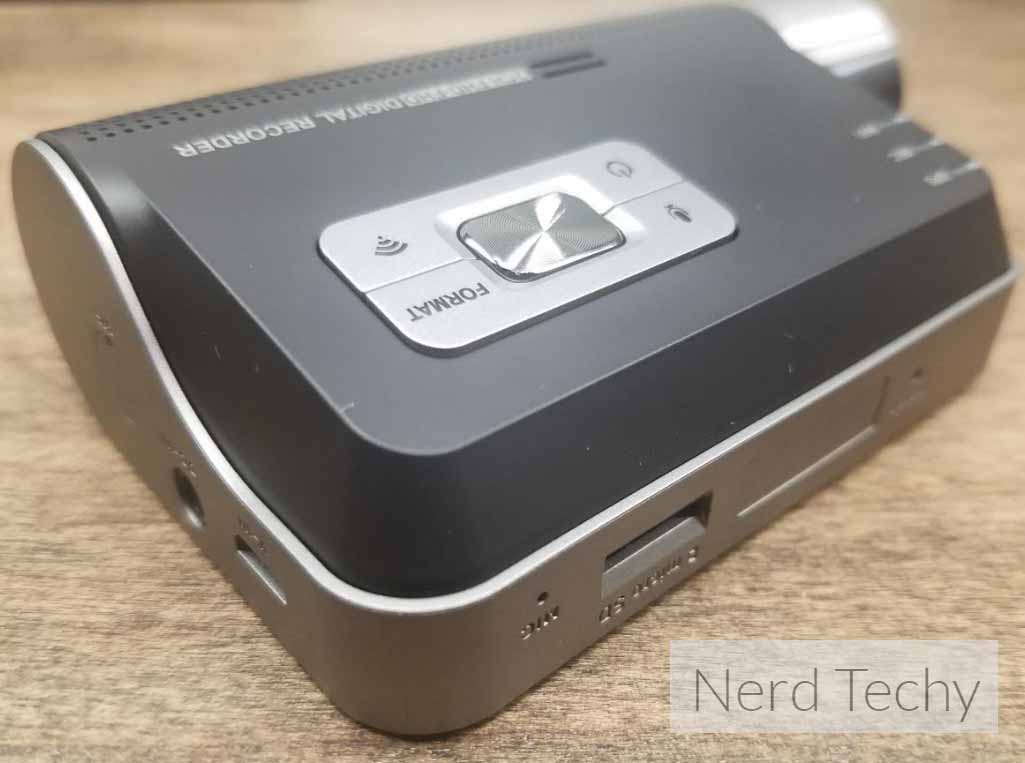 Ease of Use
The underside of the F800 has a number of buttons that are accessible once it's installed in your car. One button turns the dash-cam on and off, while another toggles on the microphone. The third button is for formatting SD memory cards, and the forth button initiates or deactivates the Wi-Fi connection. Finally, the fifth button can trigger manual video recording.
On the side of the device you'll find the microphone, a reset button, memory card slot, GPS port, DC-in port, and V-in terminal. But those numerous buttons and ports don't make the device any more difficult to use. After it's been turned on, the F800 will announce its Wi-Fi connection is ready. You can use this as a reminder to connect your smartphone and initiate Thinkware's Cloud app, which is how the F800 is configured. Inside you'll be able to select brightness settings for both the rear and front camera.
You can use the configuration to rotate the orientation of the rear camera, helping you align the camera properly with what you want to record. The app also provides a live view of your camera, helping you orient it before or after installation. These kind of minor ease of use decisions are the kind of thing that make Thinkware products stand out on an otherwise crowded dash cam market.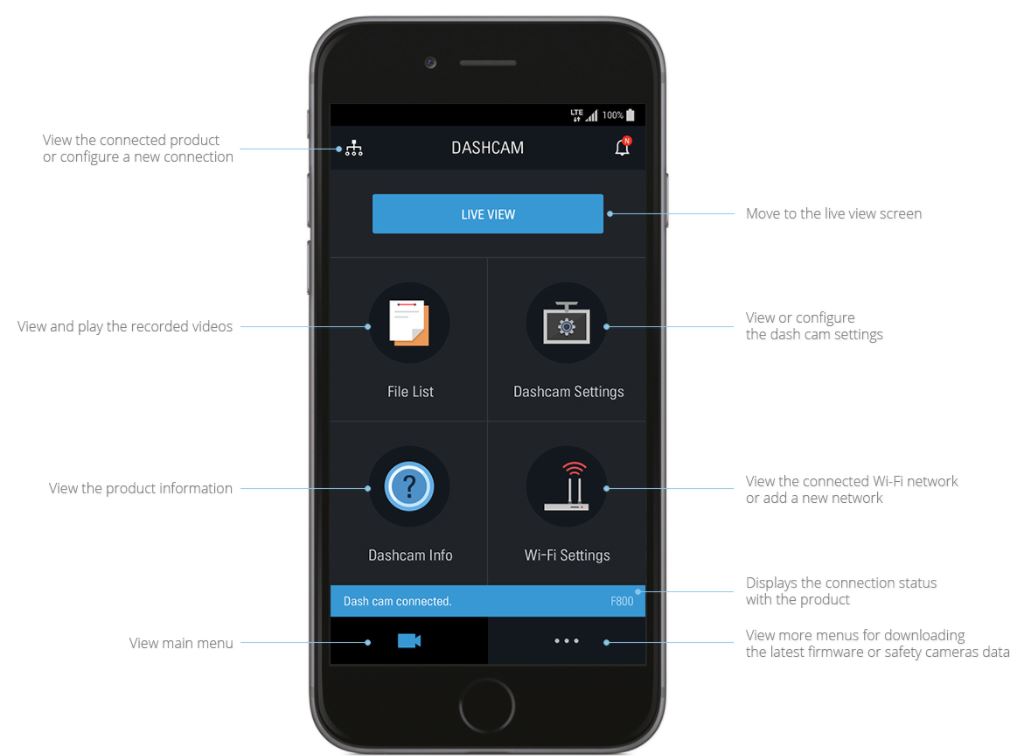 Safety Features
In the app you'll also find a variety of safety features available. The first one worth noting is a GPS feature, which can help track the location of your vehicle. The next is a G-sensor feature, which is designed to help protect your recordings if an impact is detected. The last thing you want is for your dash cam to become unreliable the moment you get into an accident, which is exactly what G-sensor can help you with.
For additional safety features, you'll also find a parking mode, which helps detect motion and impact. However, that mode essentially keeps the camera going almost constantly, which can be draining on the F800's battery. To counter balance that, you can enable a battery protection which will deactivate the camera if the battery power reaches a level that you've determined is too low.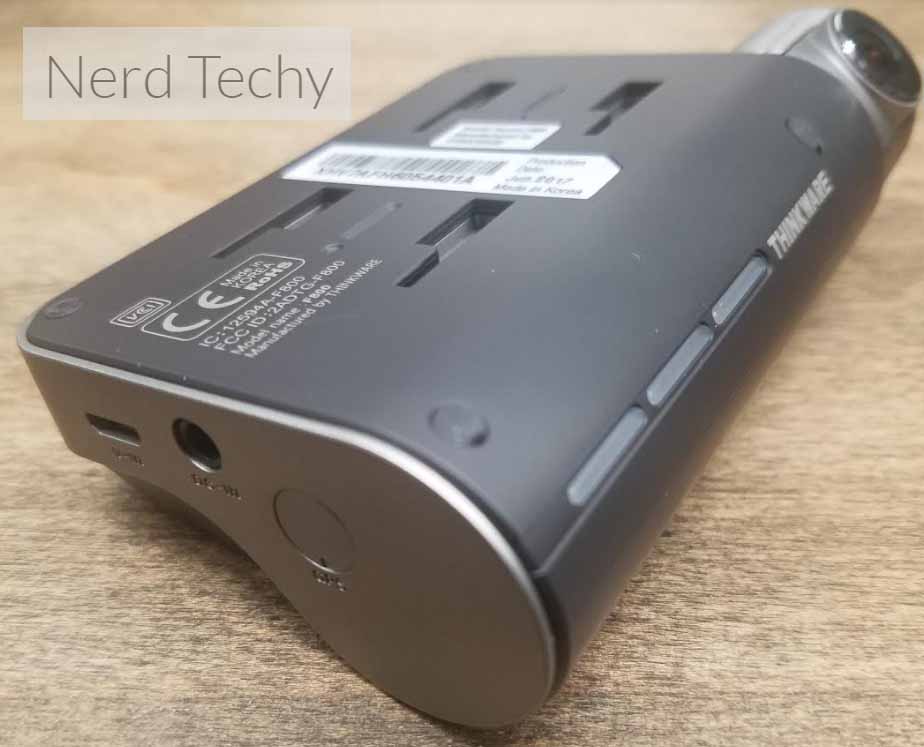 Other Cool Features
The other noteworthy functions relate to advanced driving assistant's systems. For example, the F800 can issue lane departure warnings based on your current speed, helping you to avoid false positives warnings when you're locally driving. The forward collision warning system can alert you if you're approaching the vehicle in front of you too rapidly, which can again be set based on your own speed parameters. And there's even a front-vehicle departure warning, which will notify you when the car in front of you in traffic begins moving. If you're often stuck in traffic and you end up fiddling around with your phone to pass the time, features like that can be very convenient.
But the F800's truly unique abilities are cloud based. For example, you can geo-fence a particular area, allowing you to be notified anytime your car and its camera leaves that area. It only takes a few moments of setup to can get similar notifications for impacts. Additionally, that GPS feature is easily turned into the ability to help you find your parked vehicle. Those features obviously have a great deal of potential use, but you'll need your smartphone to access them.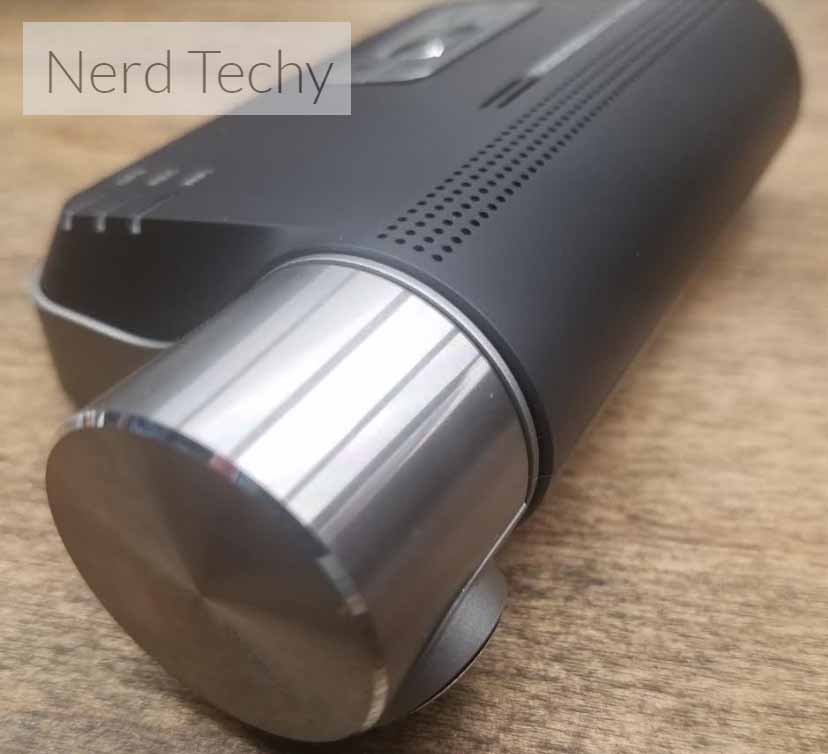 Drawbacks
It's fair to level a few criticisms against the F800. For one, you can't use a 128GB micro SD card. The F800 can't take snapshot photos, and there's no built in LCD screen for you to configure the device independently of your smartphone. Although Thinkware's app does everything it claims, it clearly was designed cheaply and quickly. But if you aren't bothered by a cheap-looking app and you don't need super-massive storage support, these are very minor drawbacks.
Who Should Choose the F800?
Relative to 4K cameras, the quality of the F800's lens is unremarkable. But when it comes to the usual reasons why people use dash cams, there's simply no reason to make the leap to 4K. Even at 1080p, the relatively loose video compression of the F800 ensures incredibly high quality video, there's no chance you'll have any trouble straining to identify vehicle plate numbers or similar details.
Compared to other 1080p dash cams on the market, the F800 is on the more expensive side of things. That price tag is the result of the numerous features that have been packed into this dash cam, like its unique cloud service. If none of the advanced features caught your attention at all, you can likely find a similar 1080p dash cam that costs less. But if you can make use of any of those advanced features, the Thinkware F800 is an easy choice to feel confident in.