Finding the right pair of headphones involves making a series of separate decisions. Do you want wired or wireless? Portable or powerful? Headphones have to strike a balance amongst those types of essential features. And depending on what you're looking for, each decision has pros and cons.
But there are some safe bets you can make. For example, wireless design. Wired designs are great when portability doesn't matter, when batteries aren't an option, or when you're willing to spend hundreds for audiophile quality sound. But if portability matters and there's nothing stopping you from using a battery, then wireless Bluetooth connections are a no-brainer.
Put on someone else's favorite pair of headphones, and you may find you hate them. That's because headphones tend to be a personal choice, involving comfort, style, and the unique way we experience sound as individuals. On the other hand, there are a handful of headphones on the market that are almost universally loved. And for a great example, you have to look no further than Archeer's AH45.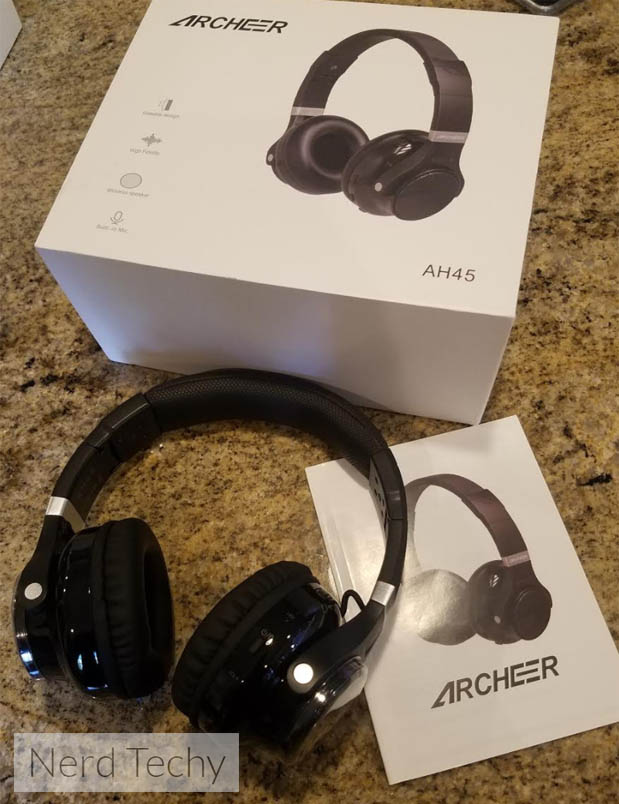 Archeer AH45 Bluetooth Headphones
A ubiquitous headset requires several things. You want Bluetooth connectivity to stay cordless. Since Bluetooth is on board, there's no reason to skip adding a microphone, ensuring your headset can double for making calls. And after you've gone cordless, you want a powerful battery to ensure you don't end up running out of charge in the middle of your day.
Archeer's AH45 is all that and more. Apart from being a first-rate pair of Bluetooth headphones, the AH45 also includes external speakers that can be used to play your music for others. Although those speakers aren't quite loud enough to fill a large room with sound, they're more than enough to help share what you're listening to with a small group of friends.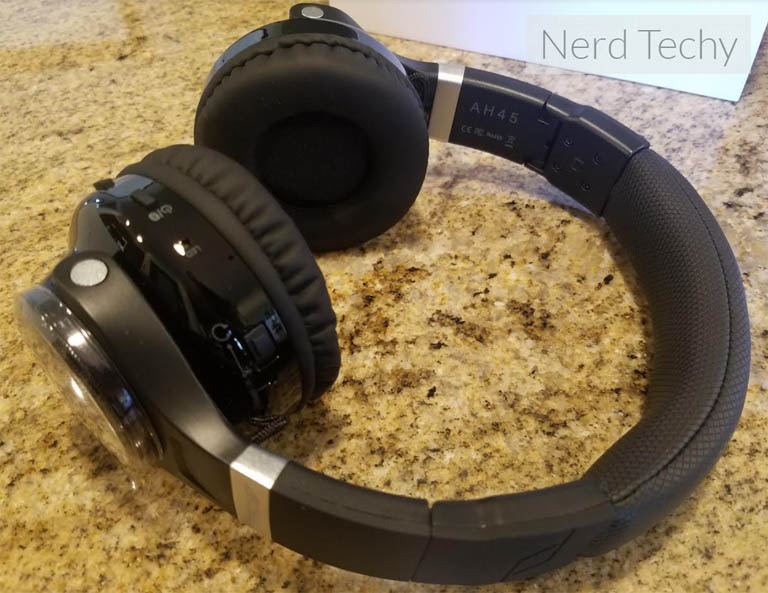 Battery Lifespan
The AH45 has a modestly small 1000mAh battery that's sure to raise some eyebrows. But 1000mAh is more than enough for a pair of portable headphones. Larger batteries don't just take up more space, they add a considerable amount of weight to a device. For a full sized pair of over-ear headphones, a larger 2000mAh battery would be appropriate, but here 1000mAh was the right choice.
From that battery you can expect to squeeze 45 hours of headphone play time. Of course, those measurements are taken in a laboratory with the headphones set to about half volume. You may experience closer to 35 hours of play, depending on how loud you listen to your music. Unsurprisingly, the speakers consume much more power. You can expect about 10 hours of continuous playback from the speakers, provided they're set to about half volume.
When you're not using the AH45, it's possible to reach as much as 1,000 hours of standby time. That's roughly six weeks that these headphones can sit idle and ready to go. And Apple fans will appreciate that the battery is compatible with iOS battery display, helping you keep a close eye on the charge of the device. And when you finally need to recharge, the AH45 is ready to go in about 3.5 hours.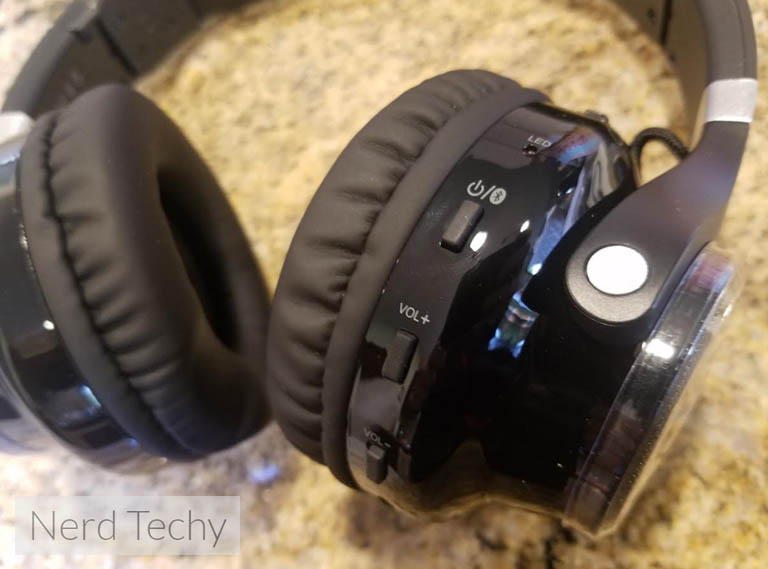 Speakers & Sound Quality
You've probably experienced a moment where you were listening to something on a pair of headphones, and wanted to share it with someone else. Short of carrying around a speaker with you, adding speakers directly on your headphones is the next best thing. And switching over to the speaker, and switching back, is as simple as pressing one button.
As far as volume goes, it's tough to know what to expect from a pair of speakers that happen to be attached to headphones. It's fair to say that they're much louder than what you'll find on your typical smartphone, and more in line with what you would anticipate from a smaller television. Although you won't get loudness similar to a full sized speaker, the quality of the sound remains quite strong when you switch to speaker mode.
As far as the headphone hardware itself goes, the AH45 supports a full 20HZ to 20kHz frequency response. Theoretically speaking, these headphones are equipped to span the full range of human hearing. The bass and treble frequencies are particularly well represented, and the AH45 keeps those tones relatively even as you increase the volume towards its maximum setting. In short, it's fair to say that their sound quality fairly close to average for a pair of headphones at this price point.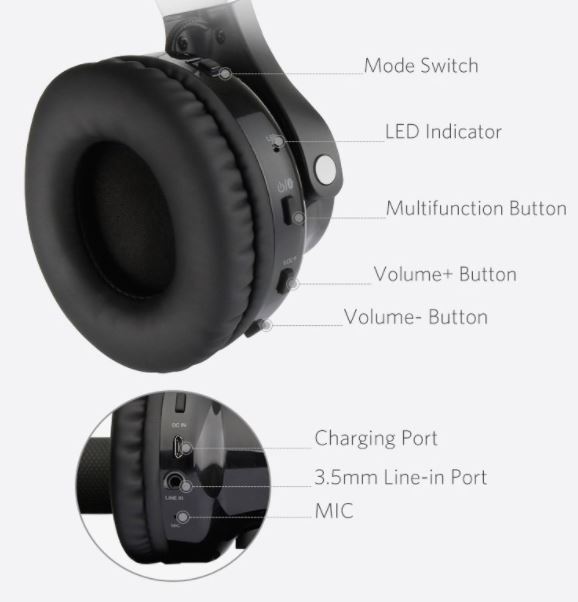 Build and Design
Small and portable headphones tend to have one fatal design flaw – they end up being flimsy and easily breakable. But the AH45 uses a completely foldable and compact build. It's possible to grab and twist the headband with fervor, and end up doing absolutely no damage to the AH45. You could hand them over to a particularly destructive toddler, and these headphones would most likely survive the encounter.
One thing you can confidently say about the AH45 is that it tries to ride a line between a portable and comfortable design, and those attempts are largely successful. The ergonomic headband is fully adjustable to help accommodate heads of any size. The ear pads are soft and well-padded without adding much to the size of the device.
Inside the casing, you'll find a sizeable 40mm driver ready to offer sound reproduction along a wide dynamic range. 40mm is actually considerably larger than what you typically find with on-ear headphones, but that larger driver is what allows these headphones to so easily duplicate as speakers. When you're not using them as speakers, that larger driver helps extend sound quality slightly past what you might expect from this design.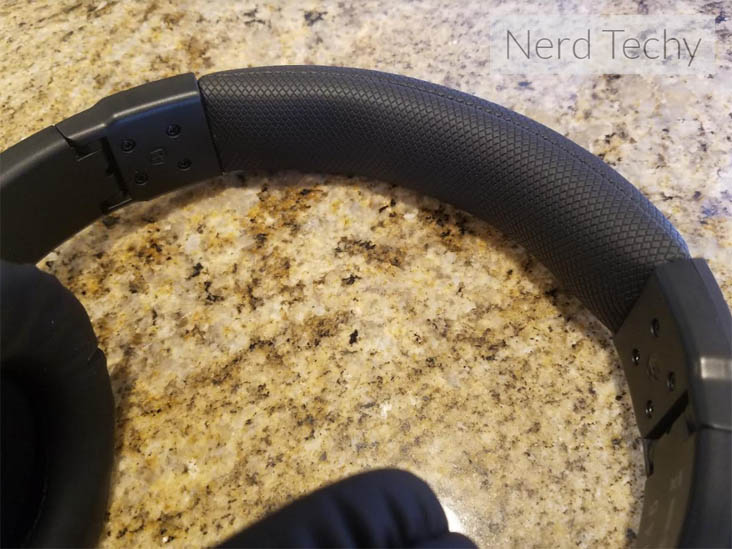 Ease of Use and Comfort
The AH45 uses an on-ear design, which has the headphone padding rest directly on your ears. On-ear headphones are usually generously padded, and the AH45 is no exception. No matter the size of your head, you should be able to an anticipate a cozy fit. However, there is at least one drawback to on-ear headphones. On-ear headphones compress your ears, which initially does not affect your comfort at all, but gradually can cause your ears to become sore. Unless you plan on wearing your headphones literally all day long, that's generally not an issue.
On the ear cup you'll find a mode switch that allows you to toggle between headphone and speaker mode. Below that is an LED power indicator and a malfunction button. On the adjacent ear cup, you'll find a separate button for volume increase and decrease, spread a considerable distance apart to prevent you from accidentally bumping one while adjusting the other. You'll also find the USB charging port, and a 3.5mm line-in port allowing someone to connect to your headphones, and the mic.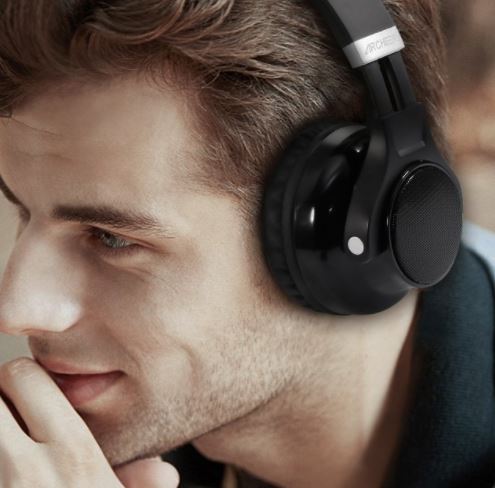 Included Microphone
Any Bluetooth headset worth its salt will include a microphone. The AH45's mic can be turned on and off with a quick access button, enabling you to manage call control and music streaming from anywhere. And Archeer built the Ah45 with an electret microphone, helping you achieve strong call clarity thanks to powerful built-in noise cancelling. And the position of the mic, subtly placed on the front of one ear cup, helps ensure it isn't vulnerable to interference and noise from your breath.
Bluetooth Connectivity
Like most Bluetooth 4.0 connections, you can expect up to 33 feet of distance on your connectivity. Without doubling the cost of your headphones, 33 feet is about as good as you can get, and it should be more than enough for most listeners. As far as Bluetooth bonuses go, it's worth noting the AH45 has no problem connecting to two separate devices simultaneously. That includes two phones, two televisions, or any other two devices that you can effortlessly toggle between with the press of one button.
Other Considerations
The AH45 is packed with features. When you're getting so much for so little, corners have to be cut somewhere. In the case of the AH45, the corners that have been cut relate to sound quality. The AH45 has a perfectly average range of sound reproduction for a pair of headphones in this price range. Their sound quality isn't going to blow you away; you can expect them to sound much like any other pair of headphones you've tried before.
Getting stronger sound would require you to spend far more, or start giving up one of the AH45's many useful features. All in all, the AH45 is an attempt to do many things well, instead of doing anything exceptionally. And that's exactly what makes it a strong choice for your typical consumer. Inside the box, you'll get a user manual, one USB charging cable, and an AUX-in cable that can help you make a wired connection.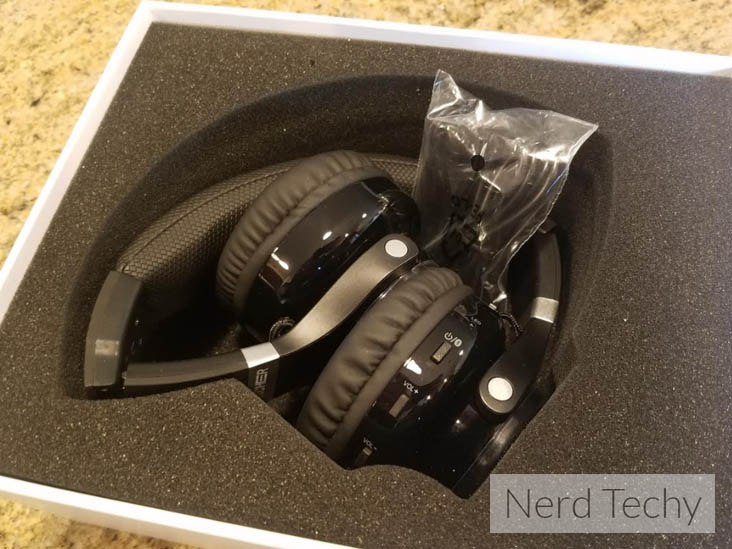 Who Should Choose the AH45?
The Archeer AH45 has Bluetooth support, a reasonably powerful battery, and a durable design that's guaranteed to help them last through heavy use. The cushioning is extremely comfortable, and the headband makes use of a fully flexible design that's built to last. Along with the wireless design there's no reason to think these headphones will survive for less than three years. Unless you're willing to settle for fewer features or pay for more hardware, the AH45 is an extremely compelling choice for just about anyone.
Furthermore, if external speakers seem valuable to you, then the AH45 is an obvious pick. Very few headphones on the market offer similar features. But surprisingly, the fact these headphones can be switched to external speaker mode doesn't actually add much to the price. Even if that feature doesn't particularly interest you, these headphones maintain a formidable price to performance ratio.
As far as comfort goes, the AH45 is a good choice for people who will want to wear their headphones for less than six hours at a time. If you're looking for a headset you can wear literally all day long, then you'll want to go with a bigger over-ear design. But if portability and lightweight design are non-negotiable, then the AH45's on-ear design is the right choice for you.