Racing games give everyone the chance to get behind the wheel of a high performance car that most of us cannot afford. While the cars themselves may be accessible only to professional racers, setting up a high quality racing simulation station is something that almost all of us will find accessible.
A nice set of pedals and a shifter will definitely do their part to make your driving experience more realistic, but no other piece of kit is as important as the racing wheel. Thrustmaster is one of the industry leaders in the simulation controller marketplace, and consumers have found that their products are among the most realistic and entertaining available. In this review, we'll be taking a look at their exciting new TS-XW Racer Sparco P310 racing wheel. This peripheral promises to be the most realistic replica if the famous P310 racing wheel. Does this top-tier peripheral actually make your racing experience more realistic, or is it simply a luxury item for gamers who like to show off? To answer this question, we decided to try it out for ourselves.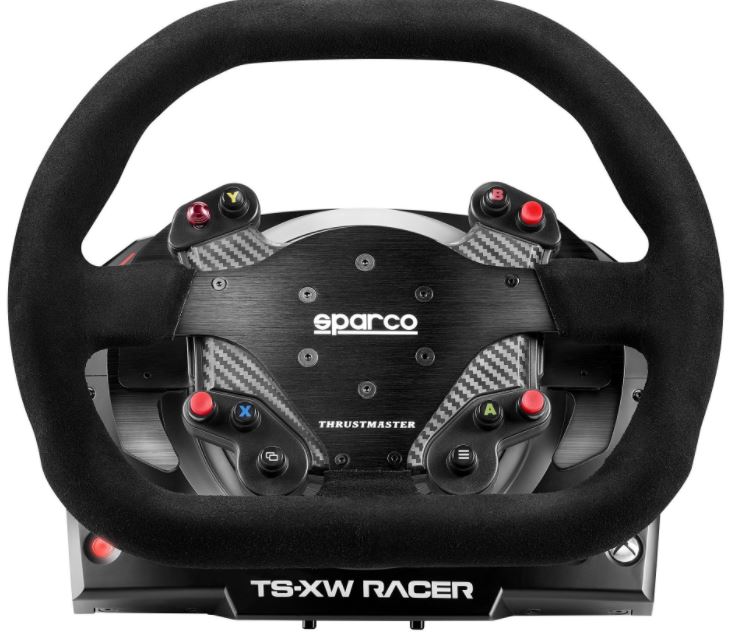 First Look
The Ts-Xw racing wheel is an officially licensed 1 to 1 replica of the P310 racing wheel found on tracks and drag strips all across the world. This particular wheel is compatible with Microsoft gamers, including both the Xbox One as well as the PC. It's pretty impressive to look at, featuring nice plush wheel grip, an aluminum frame, and carbon fiber accents. The wheel has all of the controls you need for any racing simulator including paddle shifters, X/Y/A/B buttons, several "NOS" style push buttons, and of course the Xbox menu navigational buttons.
The wheel is fairly large, and requires quite a lot of space. However, it's real sizing means that you'll find the experience nearly identical to driving an actual car outfitted with the same wheel. To give realistic feedback, it has two servo motors and an ultra-efficient power supply to give powerful feedback without a huge power draw. From a specifications standpoint, this looks to be one of the best racing wheels on the market. But do specifications translate into a real world performance improvement? To find out, we had to try it out for ourselves.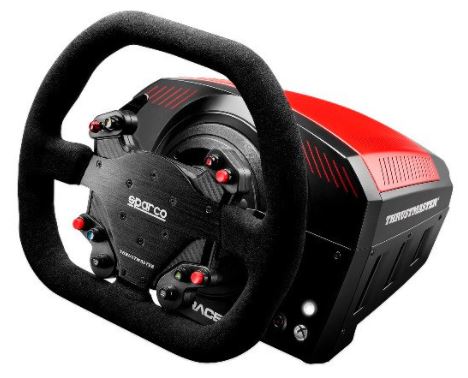 Design & Ergonomics
Although Thrustmaster products are highly regarded, they can't take exclusive credit for the unique design of this wheel. To make this replica as realistic as possible, they teamed up with Sparco – the real world manufacturer of the P310 racing wheel. This means that many of the components found inside are the very same ones that make it into the the actual P310. The most notable of these parts is found in the wheel itself. The "Sparco" labelled aluminum wheel is outfitted with a brushed aluminum exterior, giving it both a lightweight feel and an eye-catching look. Additionally, the foam covering of the wheel is strictly premium. It doesn't have that smushy feel of cheaper foam covers, but it's more of a firm rubber sensation that provides both tactile feedback as well as superior grip.
The paddle shifters are made from the same metal, but have a slightly more textured feel to them. This enables them to be quickly actuated, with a firm click to let you know that the paddles have engaged. Leading up to the actual shift, there is a slight tension build up. This gives you the tactile feedback you need to gently start to squeeze on the paddle, so you can hair-trigger them to shift at exactly the right point. Like most other components of this wheel, the tactile sensation makes it feel like much more of a mechanical machine than most digital controllers on the market.
The motion of the wheel is extremely smooth, thanks to a ball-bearing mounted steering column. Encompassing the column is a faux-dash. While it's not exactly true to life, the metal-armored enclosure definitely has a stylish look to it that is underscored by the red anodized aluminum panel.
Although the buttons themselves aren't found on the real wheel, there really is no way for the manufacturer to get around them. They're mounted on simple plastic lobes that make them both reserved in appearance, but also easy to access. Using in-game controls feels natural, and not simply like a tacked on feature.
Overall, the appearance of the controller is as true as it can be to the original P310. In areas that had to be modified, Thrustmaster went out of their way to ensure that the appearance adjustments enhanced the original design, rather than contradicted it.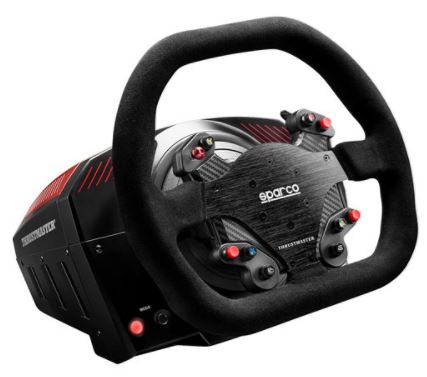 Force Feedback
Arguably one of the most important features to create a realistic driving simulation, force feedback is a complicated system to engineer. In a real vehicle, turning your wheel moves hydraulic fluid through a series of pumps. This boosts the power you put into the wheel and forces your tires in one direction or another. On the flip side, forces applied to your wheels can be felt through the steering wheel. Driving over rough ground can cause the steering wheel to jiggle back and forth, and taking a tight corner will require more effort than making a minor steering correction.
Racing wheels simulate this effect using electric motors. Most low end and mid-range wheels use direct drive motors. This means that the wheel is connected directly to an electric motor. When first released, this technology blew consumers away. But in this wheel, Thrustmaster has created something much better.
The problem with direct drive steering wheels is that the force feedback doesn't feel realistic. Force is delivered in quick pulsations. The wheel will quickly be ripped from your hand, then the force will immediately disappear.
For a realistic experience, we're after something called a power band. The force should be reduced proportionally with the movement of the wheel. As your hands slowly let it move in one direction or another, the pressure is gradually reduced in a linear manner. This accurately reflects the movement of real hydraulic fluid in the steering lines.
What Thrustmaster has done is connect the steering column to a series of rubber pulleys. Two pulleys are connected to two motors, each of which pull the wheel in one direction or another. When both motors are torquing the wheel in one direction, the wheel can be quickly torn from hands that aren't holding on tight enough. When the pulleys pull in opposite directions, the wheels is locked in it's current position making it more challenging to overcome the force.
The advantage of this system is that you can overcome the force of the pulleys. If you hold on tight enough, you can turn the wheel in spite of their movements. This makes for a shocking realistic driving experience. When driving conditions get rough, the only solution is to grip the wheel tight and force your vehicle in the direction you want to go.
If you've ever played a racing sim and found yourself easily spinning out, this force feedback system could be the solution. You won't be able to yank the car into a spin as easily as the belt-pulleys help reduce your range of movement to one that's appropriate for the driving conditions. Ultimately, this effect is only as realistic as the simulator you're using it with. But of all the wheels we've tested, this is among the most impressive of them all.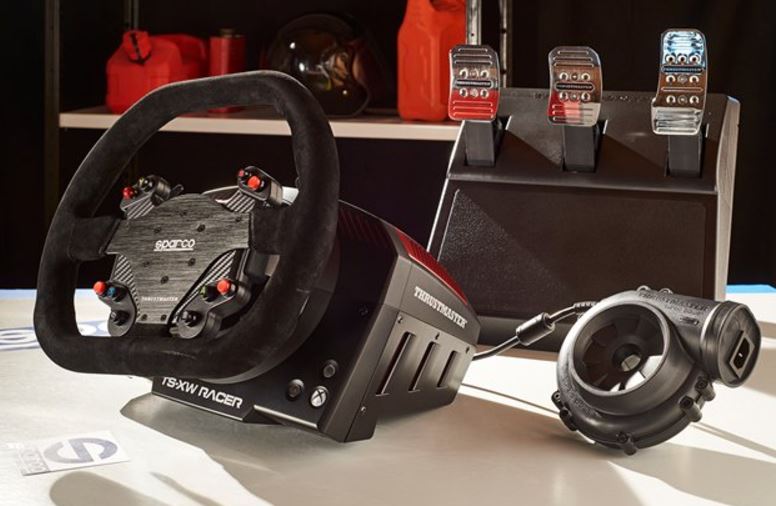 Pedals
One of the main advantages of this package is the fact that it includes pedals. With most high end systems, consumers are expected to purchase their own separately. Often, this comes at great expense. Since so much of the package is focused on the wheel itself, we were concerned that the pedals might be low quality. Fortunately, this was not the case.
The pedals are mounted on a large, flat plastic box with rubber feet. These feet help keep them in place, even when you're stomping on them. The accelerator is heavily sprung, so you require a lot of force to push it to the floor. While it's not quite as tight as a real car, this extra force helps you get more precise control over the speed and acceleration of your car.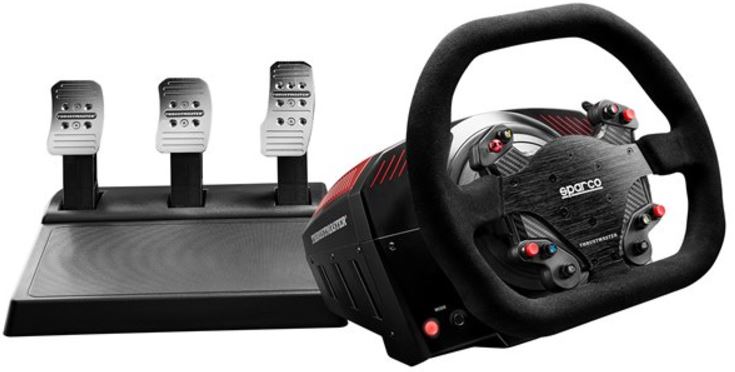 Perhaps the best features of these pedals is the brake. It includes something that thrustmaster calls a "conical rubber brake mod". Essentially, this is a rubber puck. To understand how this works, consider driving a real vehicle.
If you've moving at slow speed through the parking lot, a light tap on the brakes can bring you to a complete stop. You physically feel the brake pads gripping the rotors. Now if you are travelling at high speed, you know that you can depress the brakes much further.
Slamming your foot down dramatically increases the pressure, as you crush the metal pads into the rotors, causing them to slightly compress. By placing a rubber puck at the end of the brakes range of motion, you can replicate this effect. The brake piston crushes the rubber puck, requiring a lot of force to get the final range of motion. Since this is where the brakes start to lock up, you'll be able to control the deceleration and eventual stop of your vehicle with much higher precision than a brake that simply bottoms out against the plastic enclosure.
Disadvantages
This is a top-tier racing wheel, and you're going to pay a top-tier price for it. Weekend hobbyists on a tight budget will likely find this wheel well out of their price range. Additionally, the fact that it's compatible only with PC and Xbox games means that you're restricting your library to software available on those two platforms. If you're the type who wants to create the most realistic driving simulation possible, this could be a good choice. But if you want options, you might have to sacrifice quality for affordability.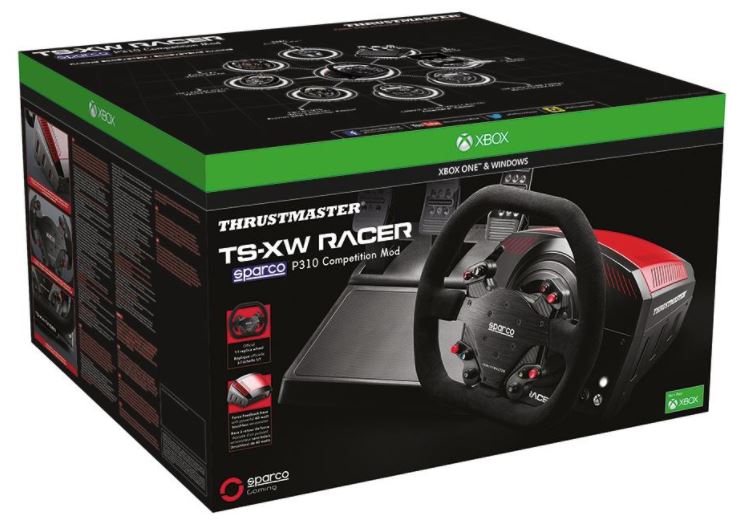 Final Verdict
Overall, there is a lot to like about the Thrustmaster Vg-Ts. This racing wheel has is one of the most durable models we've come across, not to mention the incredibly realistic force feedback system. In both aesthetics and performance, there is no doubt in our mind that this is a premium controller. If you're the type of consumer who is unwilling to make compromises, then the Trustmaster Vg-Ts is the best controller available on the Xbox and PC platform.
While the inclusion of the pedals as well as the wheel make this kit everything you need to get started with racing simulators, there is another component that can add a whole new layer of realism to your setup. A gearbox shifter lets you take your hands off the wheel and slam your car into gear, providing a simulation that is much more realistic than simply relying on an automatic transmission. We recently did a roundup of the best gearbox shifters for racing games, so if you don't have one this guide will help you learn where to start.
More of a PS4 gamer? While this wheel might not fit the bill, our roundup of the best racing wheels has many options available for PS4 gamers.