Having the ability to bring your music with you, wherever you go, is quite the luxury. Just ask anyone with a Bluetooth Speaker. Truth is, the popularity of these portable audio devices has skyrocketed in recent years. If you're late to the game, or looking for a decent upgrade, you may have heard about the new Tronsmart T6 Dual-Driver Speaker.
This 25 watt speaker has gained a lot of traction lately and was recently listed as a "Best Seller" on Amazon. Thankfully, we had a unique opportunity to test it out for ourselves to take a closer look at what it has to offer. We're here today to go in-depth and try all of the features with a neutral perspective.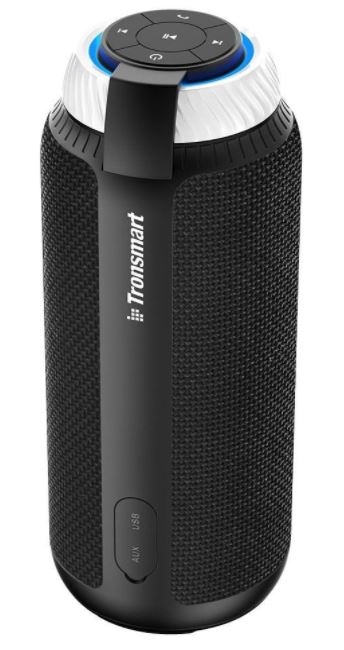 First Look
Although Tronsmart may not be a well known brand, Amazon is famous for offering budget-friendly options at a much more reasonable price-point. Coming in with a retail price under fifty dollars, many may assume that it doesn't have a lot of exciting features. We would strongly disagree.
Holding it in your hands for the first time, you'll likely first notice the rugged and portable design. The entire exterior is built with on-the-go use in mind, covered in a durable woven mesh that feels soft yet sturdy. With a weight of 1 lb, 3 ounces and measuring 2.95 x 2.95 x 7.68 inches, it's definitely small enough to carry along with whatever adventure you have ahead of you. We found the size to be quite nice – not too big, not too tiny.
Looking further, we noticed something unique about it. The speaker has a 360 degree range, giving it the ability to emit music in all directions. What makes this exciting is that you'll never need to position it at a certain angle. Just set it upright, in the middle of the room, and enjoy sound all around.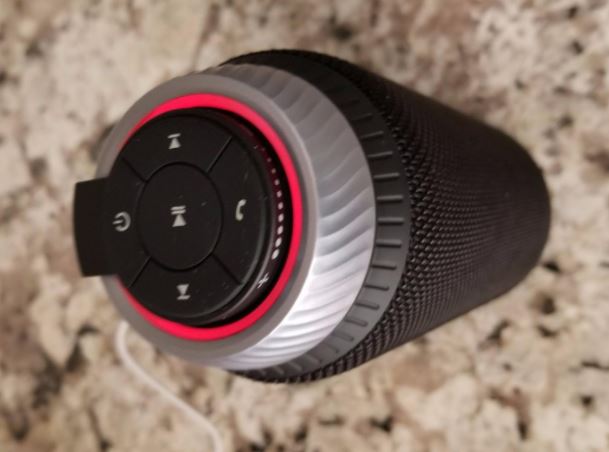 Controls
Located towards the top of the speaker, you'll notice a silver ring, surrounded by your basic controls. The silver part is actually able to rotate, to adjust the volume to whatever level you prefer. It's a pretty cool integration, but it may not seem totally obvious at first.
As we mentioned, the "basic controls" are situated in the center of the volume control. There's the power button, play/pause, next/previous tracks, and the hands-free button. Everything is fairly basic and laid out in an easy way, and controlling it is easy.
To turn it on, simply long press the power button for 3-4 seconds. If you want to switch between aux and Bluetooth modes, short press the power button for about 1 second.
Located down the side is a small flap that you can open up. Underneath it is the auxiliary port and the micro USB charging port. They're discreetly positioned, keeping a nice and tidy look, right next to the "Tronsmart" branding.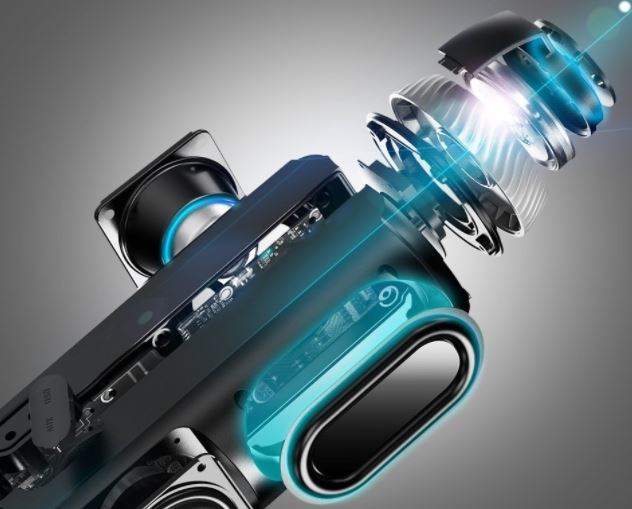 Pairing
If you're like most consumers, you'll likely take advantage of the Bluetooth ability. Giving you wireless freedom, this requires you to "pair" it with a smartphone, tablet, laptop, etc. (Basically any device that supports Bluetooth.)
To pair, first make sure that you have Bluetooth enabled on your device. Once you've done that, simply power on the speaker and the top LED with blink intermittently. Once paired, you should see "connected" on your device to "Tronsmart". It's fairly simple and easy to complete. Best of all, it's something you only have to do once – not each time you turn it on.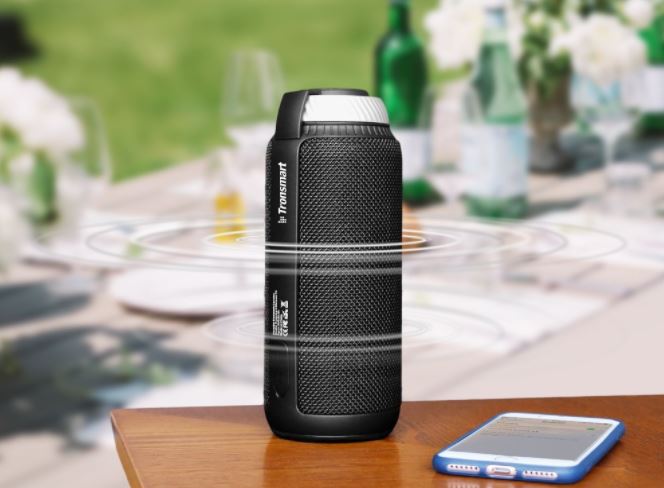 Sound Quality
Utilizing 25 watt DSP drivers, we were pretty shocked to find out how nicely the Tronsmart speaker sounded. Since it's more of a budget-friendly option and not "name brand" like Sony, Beats, etc. it's always hard to expect so much for so little.
We tested it out on a variety of genres from classic rock to modern hip hop. Our favorite feature was the deep bass that it was capable of emitting. Equipped with an external passive radiator, we felt like it had no problem exceeding our expectations. The bass is beautifully rich with a deep and realistic effect to it. Definitely a bit difficult to explain in words, but we can honestly say that the bass would likely compete with other models that cost twice as much!
Although the treble or bass isn't manually adjustable, we felt like Tronsmart configured them to the right balance. The bass never seemed to overshadow the lyrics and precise tones of certain songs, as long as the audio track was a good recording (old school hip hop and rock may be a touch distorted).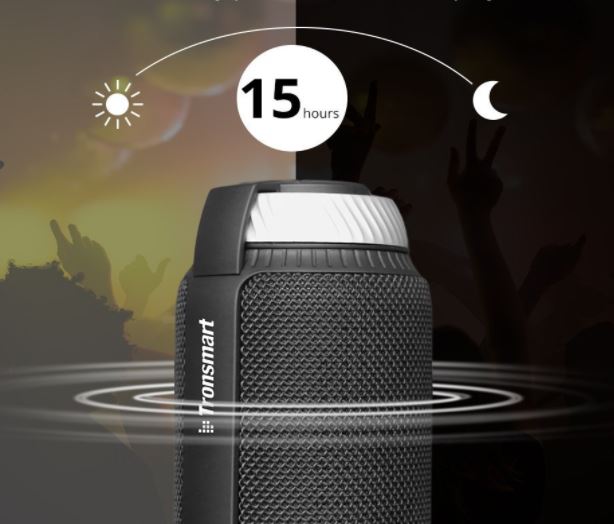 Wireless Range
Bluetooth maxes out at around 10 meters for wireless connectivity, so there's certain limitations this may pose. For best sound quality and latency, we found it best to be within 15-20 feet – or 30 feet if you have a perfect line of sight to the speaker. This range is exactly what we expected, as with most Bluetooth Speakers on the market.
Battery
Since the Tronsmart T6 Bluetooth speaker offers wireless freedom, it's equipped with a 5200 mAh internal battery. Built with the latest lithium-ion technology, this allows you to go up to 15 hours on a single, full charge. Well at least that's what they advertise. We had to test this for ourselves to really find out if that was a realistic duration. Throughout 2 weeks of daily use, we only had to charge it every 3-4 days. We were getting around 12 to 15 hours each time – just like Tronsmart advertised! The duration of the battery seemed to lessen if we blasted the volume or kept a far distance between the paired device and the speaker itself.
To charge it up, all you need to do is plug-in the included micro USB charger to the side port, and plug it into an outlet or USB port. A full charge should take around 5 hours or less. Not bad!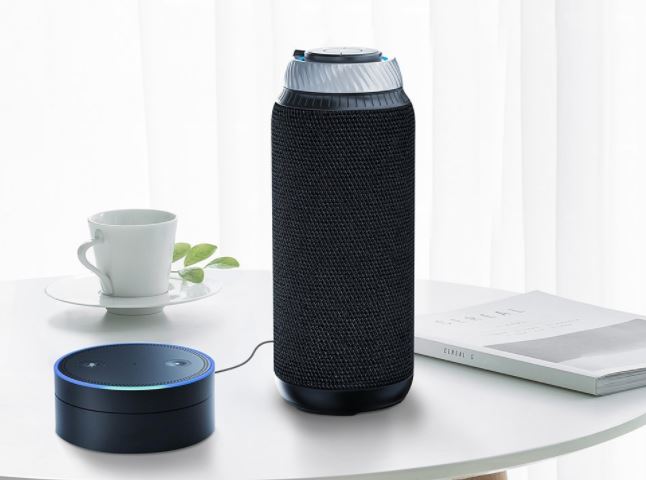 Disadvantages
Although the Tronsmart T6 speaker is built with ruggedness in mind, we can't say it's the most durable on the market. There's no IPX rating and in-fact, no water resistance at all. With most speakers that we like to classify as "rugged", we love it when they're waterproof. Or at the very least, some sort of water resistance is nice.
It may not be a deal-breaker for some, but we can't recommend it to those who want to put it to use near a pool, the beach, in the rain, etc.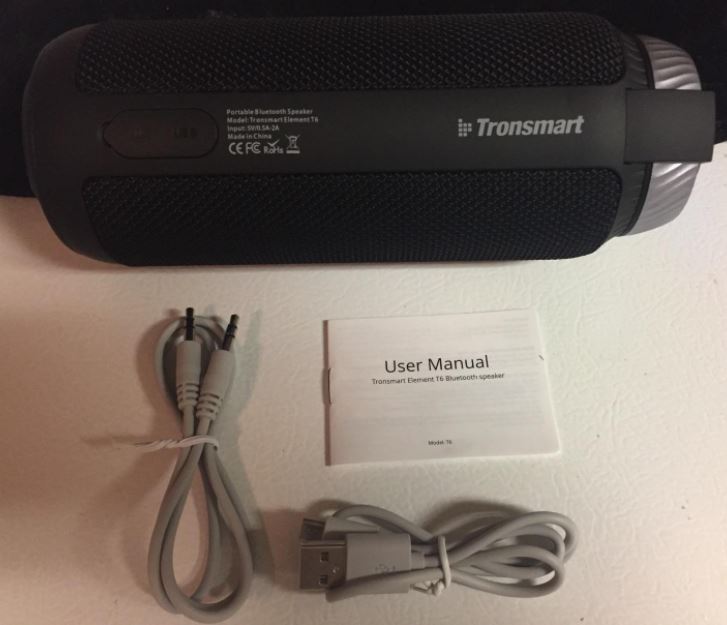 Final Thoughts
Overall, we have been quite happy with the Tronsmart T6 Bluetooth Speaker. It seems to provide plenty of beautiful sound, and isn't limited by unnecessary features. The bass is exciting, the volume is loud, and we had no difficulty with the initial setup and Bluetooth configuration process.
The size of the speaker is just about perfect. It's light enough to take with you anywhere, and small enough in size to throw in a bag or a big pocket for the day.
While it may not be waterproof, it does seem to be plenty durable for outdoor use. Just don't expose it to moisture and you should be able to enjoy it for many years to come.
Meet Derek, "TechGuru," a 34-year-old technology enthusiast with a deep passion for tech innovations. With extensive experience, he specializes in gaming hardware and software, and has expertise in gadgets, custom PCs, and audio.
Besides writing about tech and reviewing new products, Derek enjoys traveling, hiking, and photography. Committed to keeping up with the latest industry trends, he aims to guide readers in making informed tech decisions.