Capturing all of your adventures and action from your latest trip is essential if you want to share your fun times with all of your friends and family members. One of the newest and recent releases from popular GPS manufacturer TomTom is the Bandit GPS Enabled Action Camera. It's designed to record and capture the good times like any action cam, but it's packed with a few fantastic features that set it apart from others that we've seen released in the past.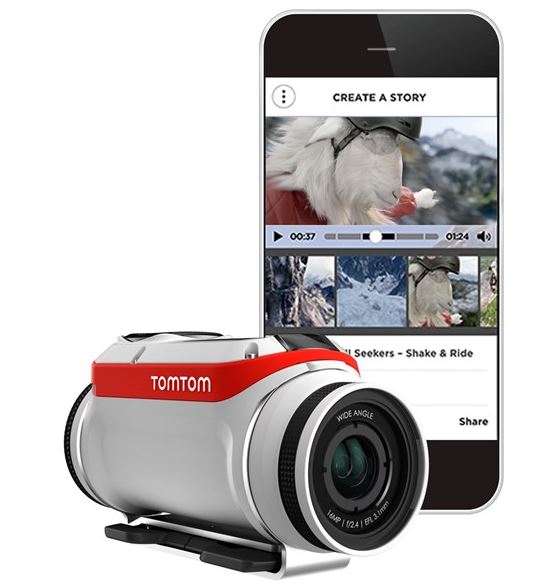 The Action Cam – Reinvented
If you want to record your adventures and give your viewers an experience like they were there, investing in an action cam is a fine choice. Action cameras record your point of view directly from your perspective and makes the audience feel like they were right there with you. The TomTom Bandit GPS Enabled Camera takes a new approach and gives you the easiest access possible to viewing, editing, and sharing your film right from your fingertips. In fact, it's the first ever camera to come included with an integrated media server. What does this mean for you? No more needing to constantly download huge files off of the camera before you can edit them. Along with your smartphone, it's totally possible to create, share, and view your footage with a simple shake of the wrist. Editing your footage on the go allows you to instantly share your experiences with your friends on Facebook, Twitter, or other social media platforms.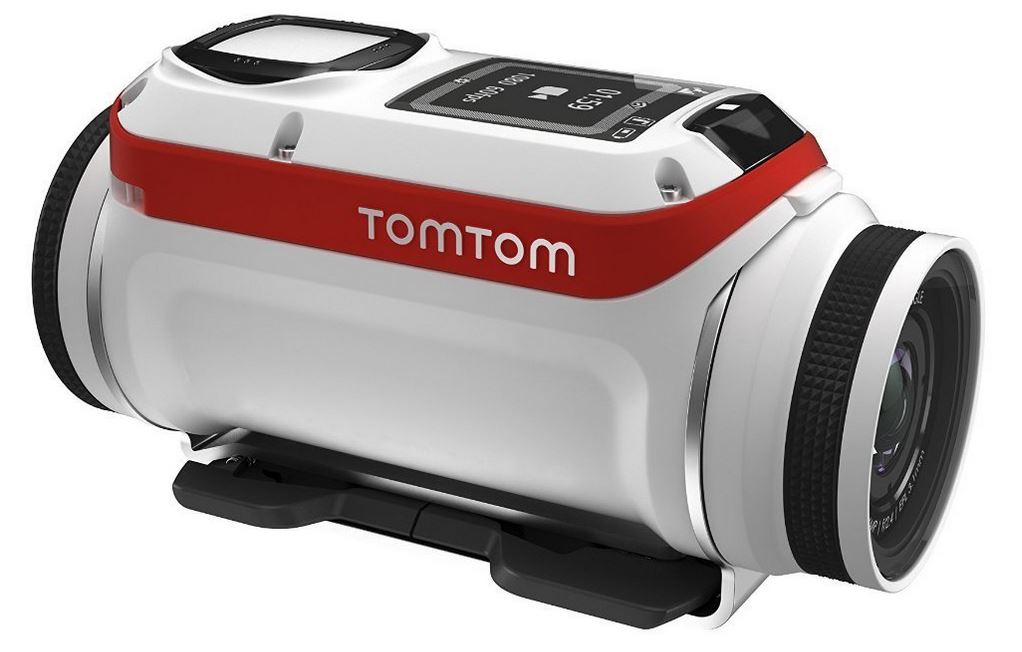 Motion and GPS Sensors
When you're filming lengthy recordings, the TomTom Bandit will automatically find and tag the best moments based on a number of factors. By taking a note of the speed, altitude, heart rate, acceleration, and G-Force, it knows which moments are the most exciting and worthwhile to share. If you aren't a fan of the auto-tagging feature, you can manually do it yourself with the tagging button located on the camera or by using the included remote control. Either way, a tag enabled function like this is a great way to "bookmark" your favorite moments with quick and easy accessibility.
Review Footage Instantly
Thanks to it's integration with any smartphone using the app, the TomTom Bandit can be viewed instantly through your phone so you have the perfect angle for viewing and recording. The built in media server makes this possible.
High Definition Footage
Available in 4K, the TomTom Bandit GPS Enabled Action Camera brings new clarity and superb quality to your footage. Incredibly crisp detail and smooth transitions give you the full 1080p high definition experience you've always wanted. It even shoots still photos up to 16 MegaPixels and allows you to record in lesser quality if that's a desired preference for you. In some cases where your MicroSD card may be getting full, it's nice to have the option to record in lower quality if you're running critical on storage space.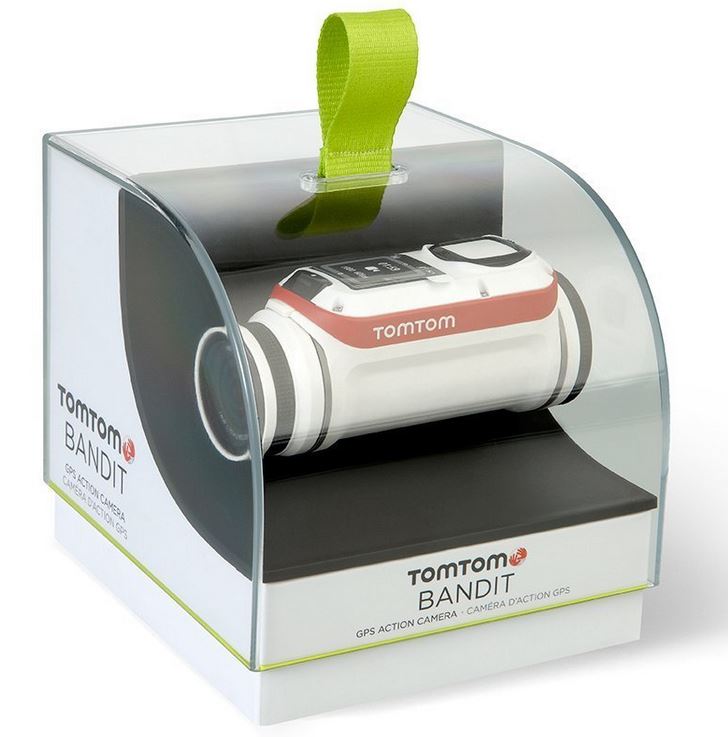 Incredibly Rugged
Although from first glance it may not look like it can handle the terrain, it certainly can. With the help of the additional lens cap accessory, it's fully waterproof at up to 50 meters without any need for a special case to protect it from water. Since it can be fully submerged in the water, you'll be able to bring it with you on your scuba diving or snorkeling trips and capture all of the underwater life in incredible quality.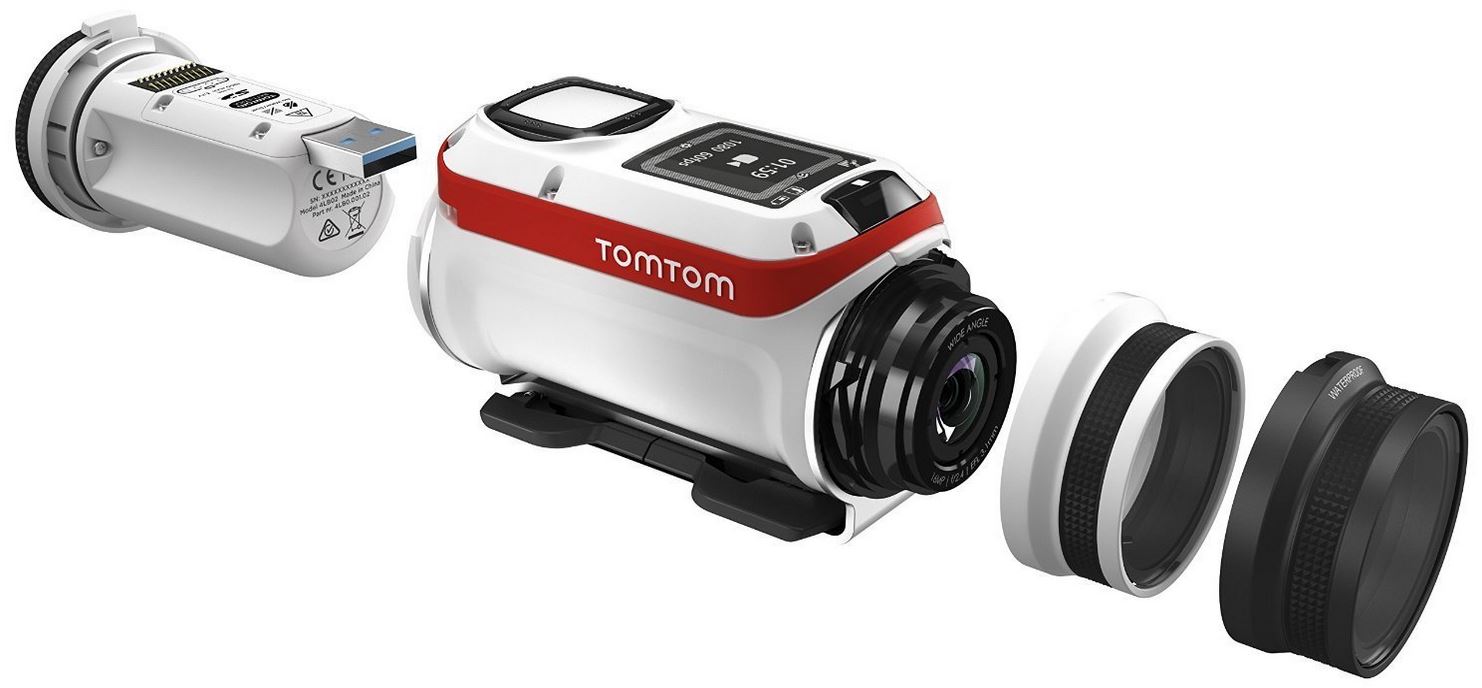 Mounting Options
Included are three different mounting brackets for affixing the camera to whatever you please, whether it's your helmet, pole, or handlebars. One mount is ideal for a flat surface and the other is a curved mount that's ideal for rounded surfaces. Additional is one more mount that's called the "GoPro Adapter". This adapter enables you to attach it to any GoPro mount that you may already own. As you may or may not know, the GoPro has been around for a while so there are nearly endless possibilities to mount with this integration.
Battery Stick
One of the coolest features that we're fans of is the 1900 mAh battery stick that's included. It makes for easy recharging without the use of a cable. Often times, when you buy a new camera you need to keep track of a certain cable that's specific to the camera itself. This isn't the case with the Bandit. The battery is built into a USB stick that charges it fully and ready for the next time you head out.

Premium Pack
TomTom decided to sell the Bandit Camera itself for $399, but if you want to have all the upgrades, bells, and whistles, you should spend a bit extra on the Bandit Premium Pack for $499. It includes an abundance of additional accessories that will make your filming easier and more worthwhile. Included are a few additional mounts like the handle bar mount, 360 pitch mount, and more. On top of that is the splash proof lens cover, dive lens cover, curved and flat holders, and more.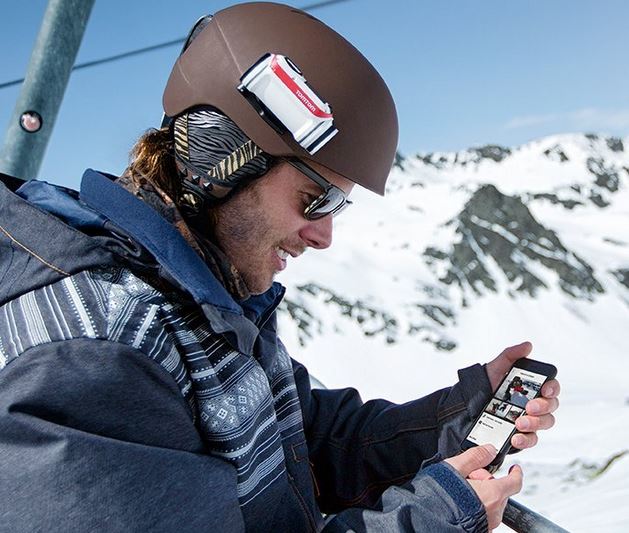 Overall Thoughts
We really like to see what TomTom has done with their release of the Bandit Action Camera. It's upcoming release is one that we'll definitely be looking forward to. We've pre-ordered it and cannot wait to have it in our hands once and for all. The exciting advancements they've made with it will surely leave most of us impressed. Even professional athletes like Danny Hart, Tiril Christiansen, and Desmond Tessemaker all agree that the Bandit makes it easier and film, edit, and share whenever they're on the go.