Not every pair of earbuds is made for every type of listener. From comfort to battery life, every feature an earbud has contributes to some type of listener-archetype. Everybody cares about battery life, but an athlete has different battery demands than someone spending all day behind a desk. When you start to calculate additional elements, like microphone capacity, these issues can become even more complicated.
TOZO T8 True Wireless Stereo Headphones
Making things simpler, the TOZO T8 are built to do several things. One is to considerably reduce ambient noise. After you've looked through the available silicone ear-tip sizing options, the TOZO T8's in-ear design provides an exceptionally isolated soundscape.
Another thing they do is provide a lasting long-lasting charge. Their athletic-friendly design makes it possible to keep your sound in action for most of the day. But first you have to get introduced to their carrying case, and all that comes with it.
Build & Design
The TOZO T8 are meant to be stored within their charging box. Each earbud rests upon two small metallic prongs, allowing them to charge while inside the case. While inside, each bud connects with the other, entering pairing mode with your devices automatically. The auto-pairing makes putting-down and getting-back to your music a much smoother transition.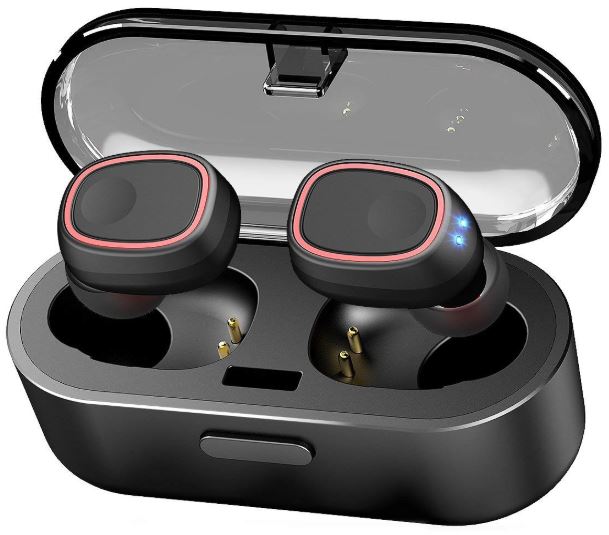 Each of the T8's earbuds are slightly smaller than the size of a quarter. The buds are extremely simple, no buttons to clutter things up, and no connections you need to make with wires. Each bud weighs roughly one ounce, with the whole kit weighing under 4-ounces. Although they're constructed from a matte black plastic, like most earbuds, they also use a rectangular construction that grants them a rather distinct professional appearance.
Their carrying case is scarcely larger, measuring about one sixteenth of an inch in depth. It's constructed with a non-descript silver-gray exterior. Opening it is a matter of pressing a simple analogue button placed along the front of the case, popping open its topside. As it opens, it's worth noting the hinge of the case feels strong and responsive. As it closes, its seal is fairly tight. But you wouldn't want to shove it under a fountain.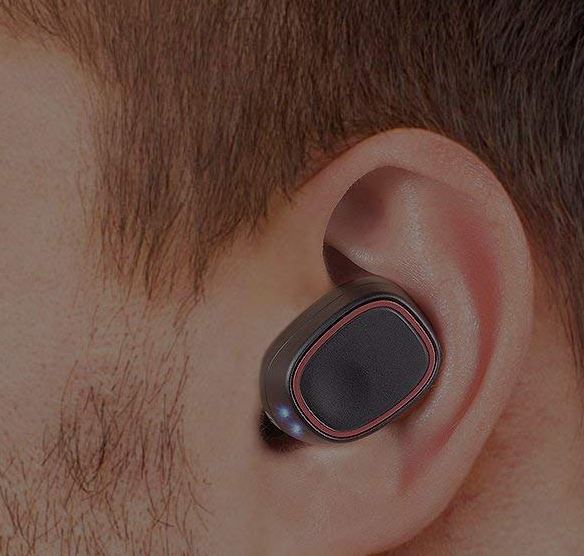 Active Comfort
When it comes to in-ear headphones, comfort can vary drastically from one person to the next. Some people will simply never find in-ear headphones they like, others find it easy to find loveable pairs, or have grown to love them with use. In any case, comfort for wireless in-ear headphones is all about having several options for silicone ear caps.
The TOZO T8 True Wireless Stereo Headphones include three sets of silicone ear tips, sized in small, medium, and large. That's a fairly standard array of sizing options, and relative to other brands, the different sizes seem somewhat standardized as well. It's worth noting the TOZO T8 comes with the medium tips pre-installed, but swapping between pairs only takes a few minutes.
And it's definitely worth checking out each size option because your choice isn't only about comfort, but about noise isolation, and ultimately enjoying yourself. After you've managed to identify the right pair of tips for your ears, the TOZO T8 are great for reducing ambient noise. And each earbud seems specifically designed for a firm fit, ideal for hiking, camping, wearing to work, or otherwise staying active.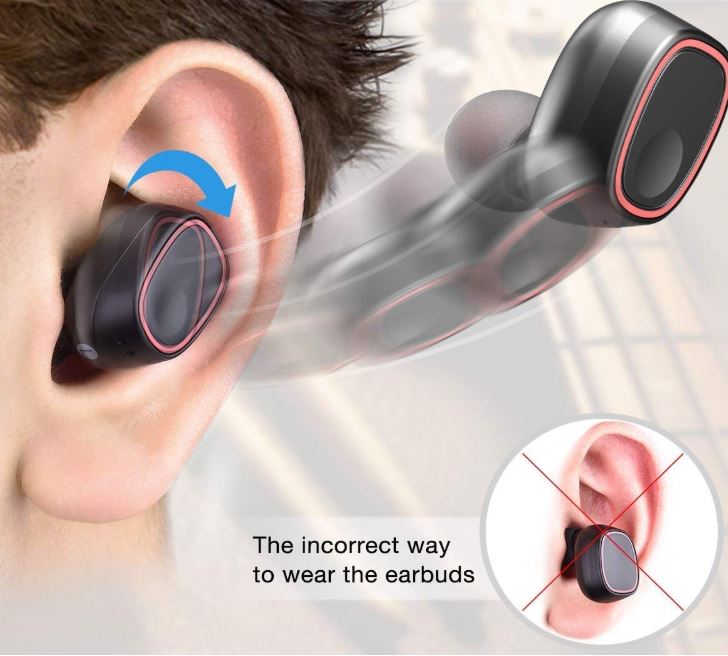 Sound Quality
It's tough to draw excellent sound quality out of the tiny dynamic drivers within earbuds. If you sat around listening to a dozen different pairs of earbuds, you may notice they tend to have similar quality throughout. Whether they cost $20 or $200, bass tends to be either on the weak side or artificially boosted. Distortion when you raise the volume can be hit or miss. And a lot of the sound quality is the result of victories or defeats in noise isolation.
With that said, the TOZO T8 provides what could be called a natural sound. The midrange is clear and focused, with a slight emphasis on vocal tones. That makes the T8 great for taking calls, or listening to audiobooks and podcasts. Richness within these ranges aren't a far cry away from average for this price point, but they're certainly a step in the right direction.
Additionally, the T8's bass tones are fairly balanced. They haven't been grossly inflated by default, which is an all too common design decision for headphones in recent years. Still, those who love bass may find the T8 can reach punchier levels if you take a moment to change your equalizer settings. The treble range is somewhat unremarkable, but can be similarly edged towards excellence if you have particular tastes an equalizer can fix.
Those factors combine to allow the TOZO T8 to be great for virtually all genres of music, and especially media with vocal tones. But admittedly the T8 are not ideal for cinematic experiences. You could use them to enjoy a movie on your next flight certainly, but action-packed movies are not their strongpoint. The bass just doesn't have enough punch for that kind of experience, equalizer or otherwise. In short, these earbuds are more oriented towards providing music on the go, with a mind towards productive tasks.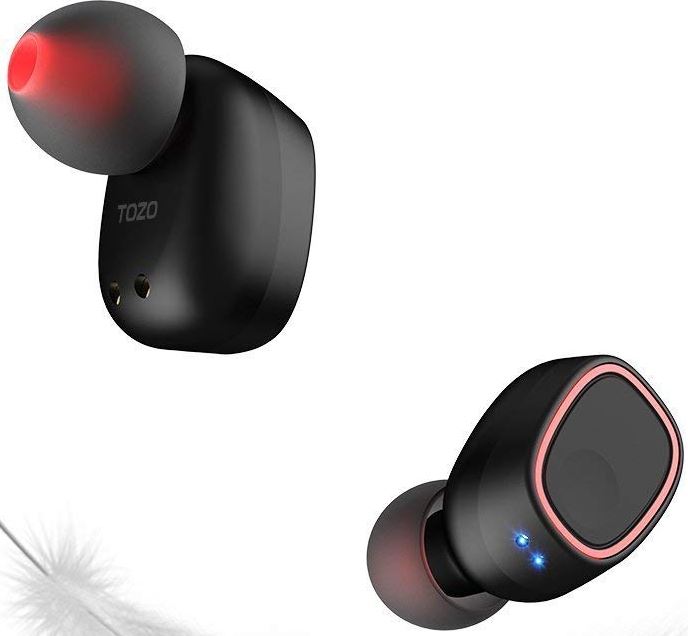 Battery Lifespan
Within the T8, everything is powered by tiny 45mAh lithium polymer batteries. That provides battery life of about two hours. Their charging case uses a slightly larger 300mAh battery, allowing you to recharge from the carrying case slightly more than twice. In other words, about six hours of power can be drawn from the case.
To keep yourself in action, charging the T8 True Wireless Stereo Headphones takes about an hour, and charging the battery case takes about two hours. That's not the fastest charging on the market, but it certainly doesn't slow you down.
On the exterior of the TOZO T8 ear-buds, two small LEDs help give indication about charging and battery status. These LEDs are small enough to be effectively invisible, unless you're in a pitch-black room, or are intentionally staring closely at them. In other words, they're not a source of distraction, and they're not about to bleed-out the battery life while you're not looking.
The USB port to charge for the charging case is just under the lid. And everything about the charging process is fairly self-explanatory and intuitive, from using the case to the buds themselves. One possible complaint is that it may have been more convenient to position the charging port on the outside of the case. But on the other hand, the USB port is far better protected in its current position.
Connectivity Options
Connecting to the TOZO T8 True Wireless Stereo Headphones is simple. The TOZO T8 has arranged for Bluetooth 4.1 support, including HSP, HFP, A2DP, and AVRCP. Its effective wireless range is slightly above average, providing effectively 40-feet of connectivity before you start to experience issues. But as with any similar device, that connection distance starts to lurk towards 15-feet if you're in close quarters with lots of walls and obstacles.
The TOZO T8 buds both automatically communicate and pair with each-other as you remove them from their charging case. For people who've used wireless earbuds in the past and had to pair them one at a time, that information should come as a breath of relief. It's a highly convenient feature for being able to pop-out your buds and use them on the go.
Other Considerations
The TOZO T8 can be used in mono mode, to an extent. It's possible to only use the right earbud, and then continue to charge only that one bud from the charging case. However, you can't make use of only the left bud because the right bud is the command unit.
This is largely a safety feature. Ensuring you're only using one earbud for calls is ideal for driving safety, crossing the street, and so on. It does somewhat restrict the mono capacity of the TOZO T8 True Wireless Stereo Headphones, but if their name didn't give it away, these headphones are more about delivering quality stereo sound than mono.
One thing that's slightly bothersome. Without the earbuds inside of the charging case, and depending on how you're connecting to the TOZO T8 True Wireless Stereo Headphones, the casing can be prone to flopping-over on its side during recharge.
That's because the case itself is an exceptionally light accessory, weighing only a few ounces, and intended to spend its time in a pocket or bag. It doesn't look out of place resting on a table, but it doesn't exactly belong there, either.
The TOZO T8 Wireless Earbuds include their charging box, user manual, USB charging cable, and three sets of silicone ear tips. It also includes a one-year warranty from TOZO covering both the buds and the charging case.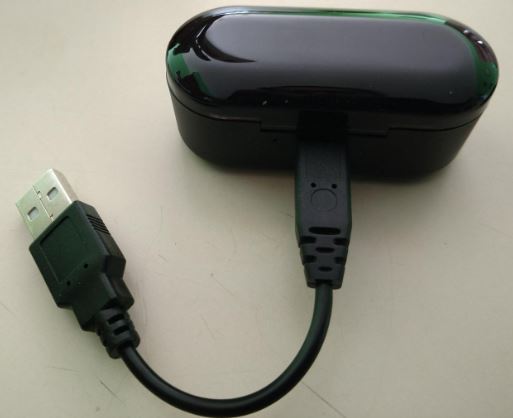 Who Should Choose TOZO T8's?
The TOZO T8 are lightweight, and they offer fairly compelling bass for earbuds. They're discreet, simple, and have a full array of sizing options for comfort. Pairing is simple, and use is simpler. There aren't any onboard controls to make them burdensome and weighty, and they don't force you to fumble around with tiny buttons to make adjustments to your listening.
There's just one thing not to love. The TOZO T8 has a fairly modest battery. That's something that's partially alleviated by the charging case, and perhaps totally alleviated if you intend on using the TOZO T8 for athletic purposes. But prolonged day-long use will eventually have to involve the case.
Relative to their price, the T8 is a fairly strong value. And they're a good choice for active people, whether it's athletics, or moving through the city throughout the course of a day. You'll need to replace the T8 after a handful of years, but if your experience is anything like average, they'll have served you well enough that you may end up looking for another T8 for replacement.