There are many ways to do portability. One way is to try and make everything as small as possible. That can backfire because for any number of reasons, mostly because it's tough to make a small projectors perform great.
Of course, there's another route. That's to make the projector small enough to pick up and move with ease, but not so small you can shove it in your pocket and go for a jog. Portability — to a point. And which of these options is best for your circumstances depends entirely on you.
ViewSonic M1 Portable Projector
The ViewSonic M1 is portability of the second type. It's large enough to provide a full range of features, and to help it avoid running many of the inherent problems that small projectors deal with. But weighing less than two pounds, it's simple to carry from one place to another. And above all, it's fairly easy to setup. You can plug-and-play your pictures, videos, and presentation in only a few seconds.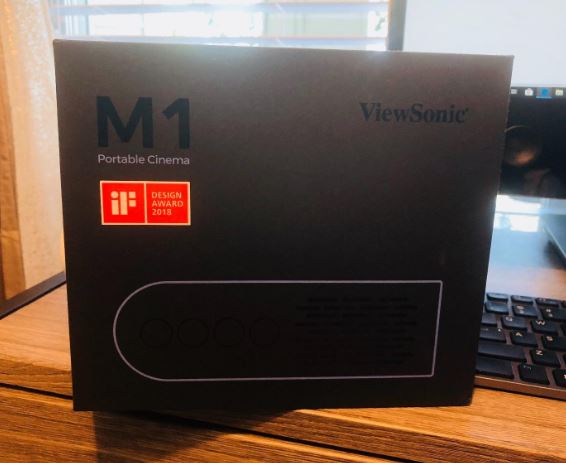 Another thing the M1 has going for it, which many other portable projectors don't, is style. Inside and out, the ViewSonic M1 Portable Projector has been clearly made for business-use. Outside of the office, the M1 still retains fairly strong cinematic presentation. But it's professional-facing design is rather clear as you move from one detail to the next.
Build & Design
From afar, the ViewSonic M1 Portable Projector looks a bit like a common household PC network router. It's got a professional black and silver exterior. Its length measures only 5.8-inches, its height 1.6-inches, and its depth 5-inches. That makes the M1 roughly palm sized.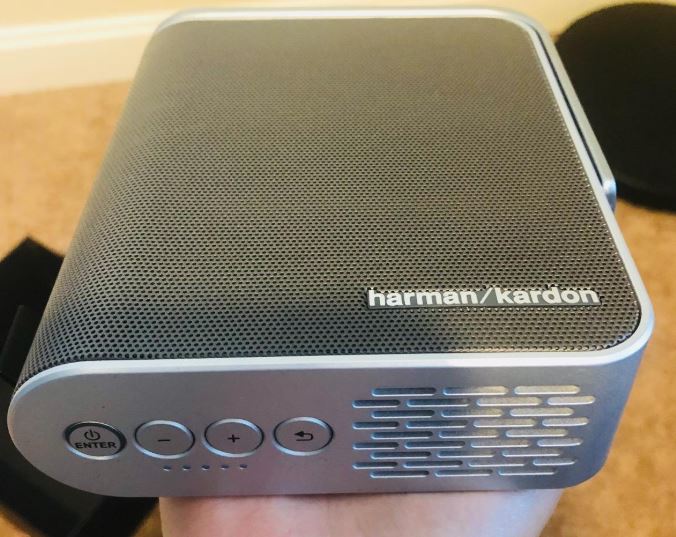 True to its short stature, the M1 is a short throw projector, which is ideal for quickly setting up a presentation as you move from one space to the next. It facilitates a wide array of presentation options, including support for screens up to 100" from a distance of 8.7 feet. Even the aspect ratio was chosen with business presentations in mind, as we'll see in a moment.
Surprisingly Strong Audio
Before that, it's important to highlight one of the ViewSonic M1's best features: premium audio. The speakers constructed within portable projectors are usually dreadfully bad. That's because it's difficult to squeeze quality sound out of tiny spaces, and with finite availability of electrical power to add to the problem. And that's why virtually any portable projector needs to be paired with additional speakers, which really undermines their apparent portability.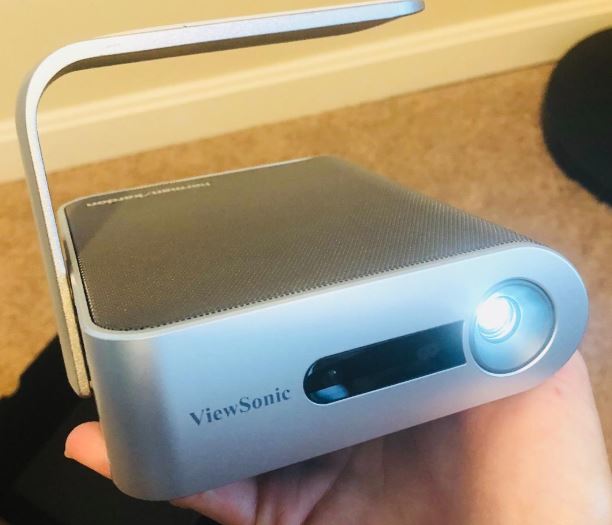 But the ViewSonic M1 is somewhat different. Its dual Harman-Kardon speakers provide room-filling audio that doesn't disappoint. The powerful speakers within also explain the speaker-like metallic casing covering the topside of the ViewSonic M1. While someone looking for a roomy cinematic sound would still benefit from adding speakers, you don't need additional help for volume and clarity. The M1 may be among the best sounding standalone projectors on the market.
Smart Stand Setup
Many portable projectors come with a tripod, it's a nice gesture, but it doesn't look very professional. The M1 uses a so-called Smart Stand, which is what allows for 360° projections around its base. It swivels and adjusts the projector to different angles with ease. Additionally, the stand can be used as a lens protector when the projector is off.
Most people will find it simple, elegant, and effective. But if you don't care for the stand, the M1 is still tripod compatible. Because it was designed to be portable, like virtually all portable projectors, it lacks the ability to be mounted. But there are a variety of small ceiling mounts that would nevertheless allow the ViewSonic M1 Portable Projector to be mounted upright, with a little extra effort.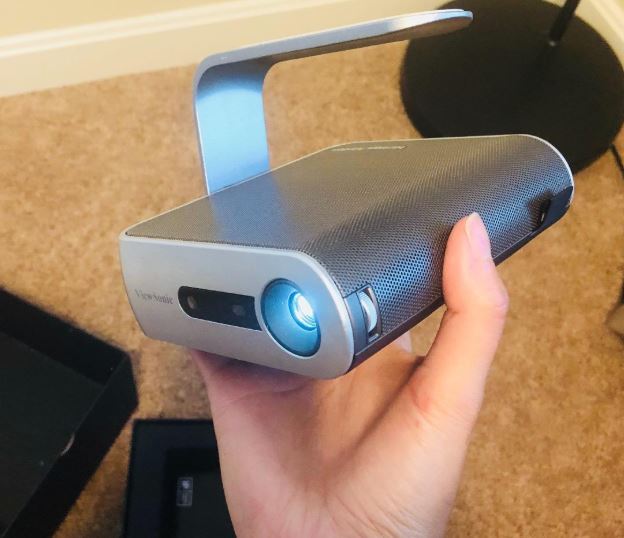 Connectivity Options
To access the control panel, you have to pop off a small hatch covering the backside. Before you do so, the only visible control is the volume wheel on the M1's backside. With respect to connection ports, the ViewSonic M1 has all the essentials. You'll find HDMI 1.4, USB-C, USB-A, 3.5mm aux-out, and a microSD card port. Most noteworthy perhaps is the inclusion of USB-C, helping make this device somewhat futureproof.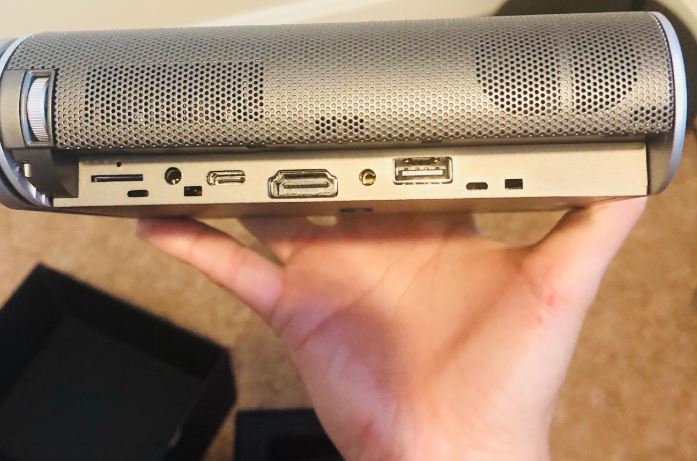 Beyond those options for connectivity, 16GB internal storage capacity makes things easier still. Sometimes you don't want to haul around a USB drive, or memory cards, or a bunch of cables to make connections. Being able to load straight from the ViewSonic M1 is another small details that adds a professional touch, and makes things one-step simpler.
Although there are no native streaming capabilities, the M1 does provide two USB ports. And with their aid, you can use either to turn the projector into a streaming device. Just use an Amazon Fir TV Stick, Google Cast, or another streaming dongle. The M1's internal USB power supply allows you to power from the device, but you have to keep in mind that doing so can slightly contribute to battery consumption.
Battery Life
The long battery life is another place where the ViewSonic M1 breaks expectations for portable projection. There's a dozen variety of portable projectors to choose from, after looking through a few you'll notice most have a fairly pathetic battery lifespan. The few that don't usually are hamstrung by offering dull screens.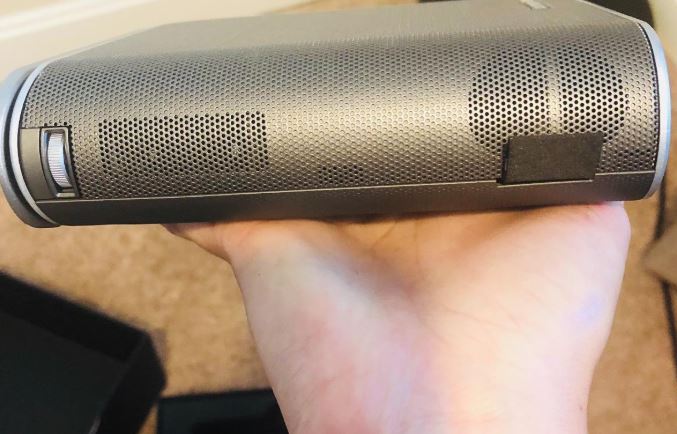 The ViewSonic M1's battery is 4000mAh lithium ion cell, with its weight well distributed along the internal chassis of the M1. It provides 6 hours of battery power, though the actual amount you get depends somewhat on your projection.
If you're hammering out bright-whites and loud-music for every minute of operation, then you can expect that time to sink towards the 5-hour mark. Streaming from a dongle can creep your connection time towards 5-hours as well. But provided you're making more modest use of the M1, you do end up reaching the full six-hour estimate.
Visual Quality
The ViewSonic M1 provides a conditionally excellent view experience. That's in large part due to the fact it uses a modest 250 lumen output LED. Mild in intensity, viewing the M1 requires a darkened room.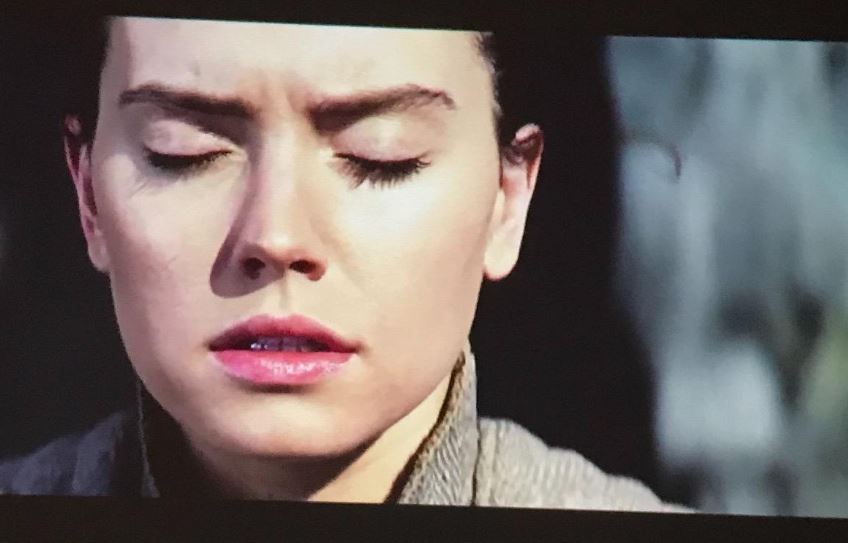 If you're without controlled lighting conditions, you're going to have problems. For example, projecting in a room with giant glass windows, during broad daylight? No luck. Although 250 lumens don't require you to be in a pitch-black environment, a darkened room is absolutely required for the ViewSonic M1 to be functional.
Once that requirement is out of the way, the ViewSonic M1 works quite well. The contrast ratio isn't intended to provide deep cinematic experiences, but it holds its own with the right lighting conditions. And the M1 uses a fixed zoom lens, a reasonably strong solution for any portable projector put to the task of moving your projection from one space to the next.
Finally, it must be said that the ViewSonic M1's native content resolution is WVGA 480p. That's the same as analogue broadcast television. While it doesn't contribute to a great cinematic experience, it does allow for text to be as readable as on a newscast, with fairly crisp edges to lettering even at smaller projection sizes.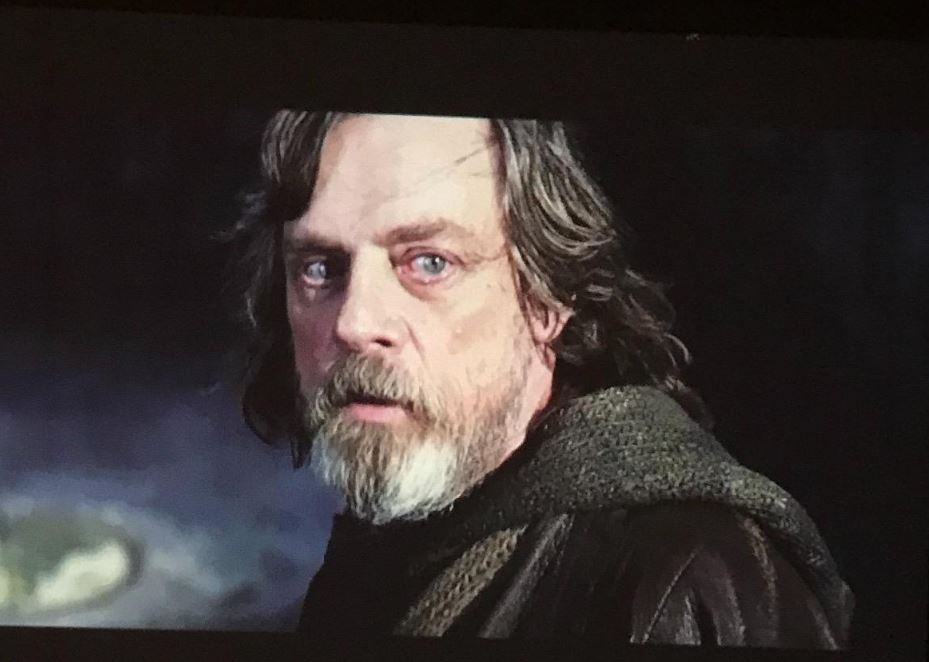 Longevity and Lifespan
One more thing to stop and appreciate. USB-C doesn't just support a fast battery recharge. It's the future of the USB format. You may want to end up replacing the ViewSonic M1 before it reaches a full decade of use. But whatever forces an upgrade, it won't be aging formats. USB-C is forward-looking and here to stay for the time being.
The M1's lamp has an expected lifespan of 30,000 hours. To put that into more concrete terms, it means you could watch a full length movie every day for several decades. That translates to about 3.5 years of continuous operation. Like most of this projector, it's certainly built to last.
But here's the sticking point. If a device has a lithium-ion battery that you can't replace without special technical skills, like the ViewSonic M1 Portable Projector, that device has a fairly finite maximum lifespan. That's because lithium-ion batteries degrade steadily over time, especially during regular use.
If you hammer the battery with use on a regular basis, you can expect it that battery will begin to falter around the four to five-year mark. At that point, it may only be able to offer about three hours of power before it needs to be recharged. But to the eternal credit of the M1, three hours is the starting point for many of its competitors.
Other Considerations
While the M1 isn't an ideal selection for gaming because it doesn't provide reduced input latency, it can handle mostly anything else. The zoom is somewhat limiting from a cinematic perspective, but doesn't create any issues given the short-throw design of the projector.
A built-in safety feature will shut down the lens if an object is detected in close proximity to the detector. That's one of the small sensors you see on the front side of the projector, adjacent to the lens. It's important to keep that feature in mind before walking an inch away from your projector, and wondering what happened.
This kit includes the M1 projector, USB-C charging cable, remote control, a carrying case, and quick start guide. ViewSonic also provides a 3-year limited warranty, including a year of coverage for the lamp, and unlimited access to their US based customer service.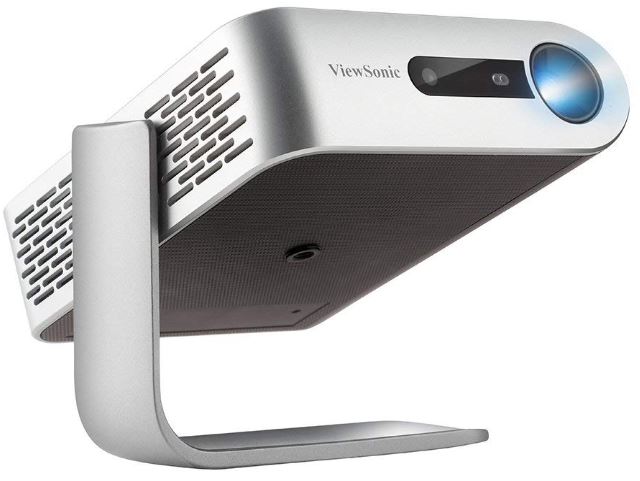 Who Should Choose the ViewSonic M1?
The ViewSonic M1 Portable Projector is a decidedly good choice for a variety of professional circumstances. It's simple to use, efficient in use, and provides a clear and bright display. Even the battery life is formidable in almost every respect.
If there are only a handful of portable projectors on the planet that won't require you add additional speakers, the ViewSonic M1 is surely among them. Even though creating a cinematic experience isn't what it's intended to do, the ViewSonic M1 works fairly well for playing movies, too. For someone looking for a professional-looking projector that's portable and competent beyond reproach, the M1 is worth close consideration.