As smart-home devices become more popular, homes around the world are filling up with Wi-Fi signals. Refrigerators connected to Wi-Fi aren't exactly going to tear through your bandwidth. Neither will a Wi-Fi Tea kettle, or a Wi-Fi connected lightbulb. But added together, their presence on the network does add up.
Once that happens, network traffic can start to become congested. That's why so many routers are being redesigned. Their new designs aren't strictly to accommodate high quantities of bandwidth, as older N-generation routers focused on doing. Rather, the current generation of routers are focused on creating support for all those individual connections that are making their way onto our networks.
TP-Link Archer AX6000 8-Stream Smart WiFi Router
The TP-Link Archer AX6000 8-Stream Smart WiFi Router has all of its most important features listed right in its name. It works to benefit your existing devices by making the most of AX technology, increasing the speed of any crowded AC or N router network. Going head-to-head with an AC router, the 2.4 GHz band is roughly twice as fast, and the 5GHz band is almost three times as fast.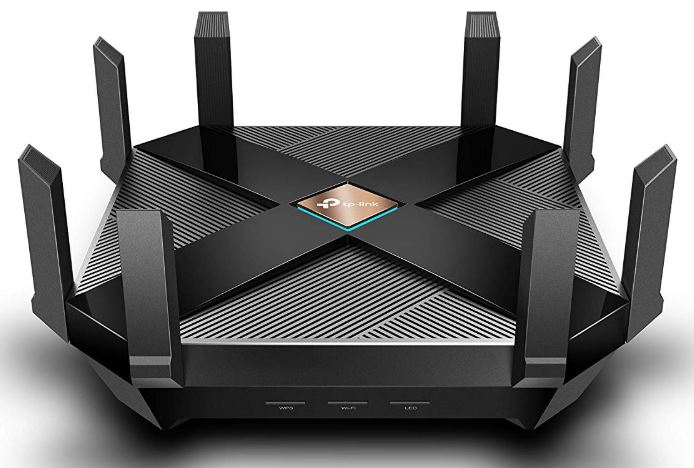 The 8-Stream portion of its name indicates it's capable of handling several high bandwidth connections. And AX6000 indicates an enormous 6 Gbps bandwidth capacity. For people who don't have extreme demands on their network, this router offers all the hardware and software features necessary for it to be safely considered future-proof.
Build & Design
The TP-Link Archer AX6000 is actually fairly large for a router. In terms of size alone, it's more like a cable box, DVD player, or VCR. It measures roughly 10 x12 x 4-inches. The majority of its height is made up of antennas, and it weighs about three pounds.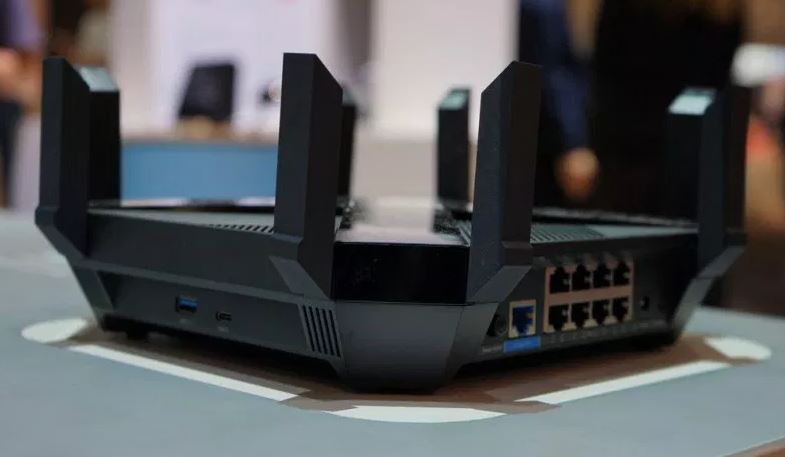 It's hard to deny this router has a distinctive style. It's a style that's becoming increasingly common for top-shelf equipment like the Archer AX6000 8-Stream Smart Router. Around the outer edges of the platform, eight smart-stream antennas extend upwards. This leaves the router looking like the battlements of some kind of fortress, or a tower of some kind.
This aesthetic is becoming more popular among high end equipment because this kind of gear needs to use several antennas. Those antennas have to end up somewhere. But it's important to keep in mind, the idea behind having an eight-stream router isn't only about having greater bandwidth.
AC vs. AX Router
After all, how many people really use 6 Gbps connections? Speeds like that seem more suitable to a public library or medium-sized business than someone's home. But the eight stream design isn't only about increasing theoretical bandwidth potential, it's about improving on your existing data transfer tasks.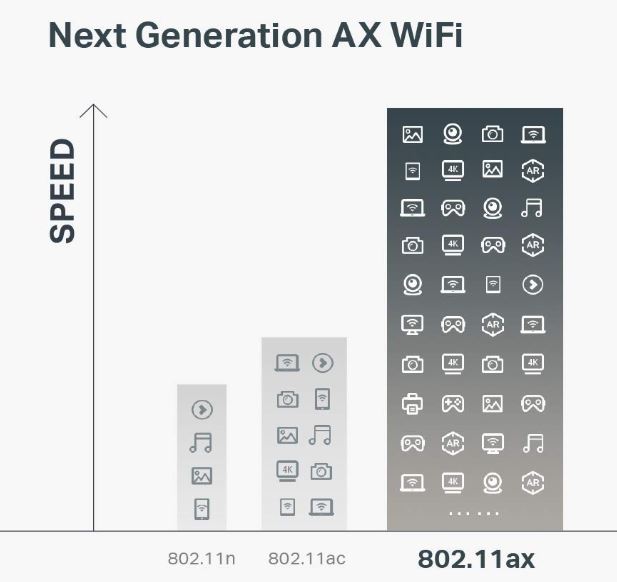 In other words, it's about making the current network traffic of your network a bit more efficient. Because these eight streams allow the TP-Link Archer AX6000 8-Stream Smart WiFi Router to interact with large batches of different devices simultaneously. And when it comes to high-bandwidth traffic, like UHD streaming, they're nearly just as good.
The difference between AC routers and AX routers is like the difference between a drinking-straw and a garden hose. That doesn't necessarily mean you'll be able to make use of all that added bandwidth, but it does mean your network will be prepared for the future.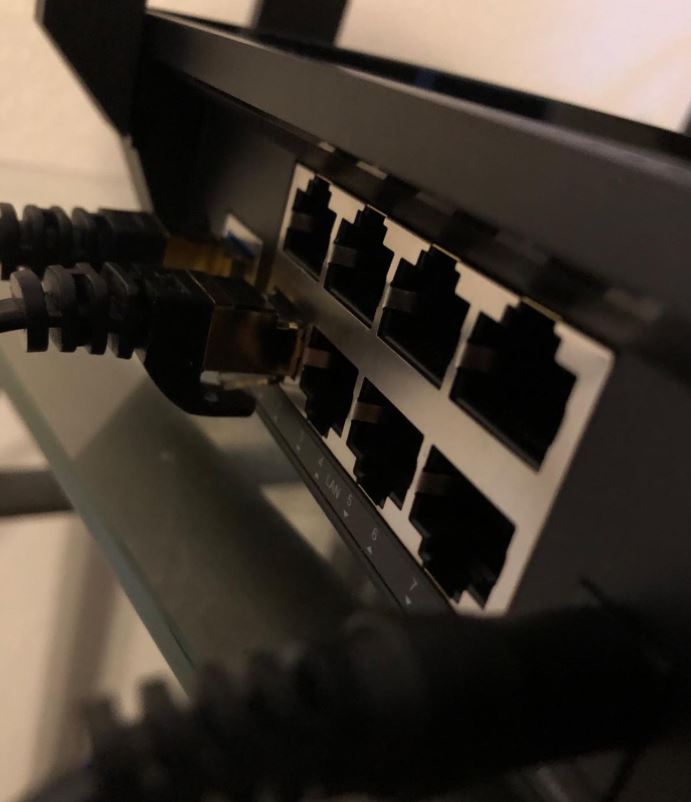 Network Speeds
The AX6000 is based around a 1.8GHz and 64-bit quad core processor, which is joined with three co-processors. When you're dealing with large quantities of bandwidth, and you expect multiple devices to be interacting with the router, you want processing power to match. The AX6000 has capabilities that only fall short when compared to industrial equipment.
Similarly, the Archer AX6000 provides a full 1GB RAM to support faster transmission speeds, especially when several devices and applications are making simultaneous demands of the network. Basically every aspect of its hardware is made in this way, emphasizing the support of several devices. The software side of things is equally wide open. The AX6000 supports current generation DOCSIS 3.1 technologies for the fastest speeds you can get from a router.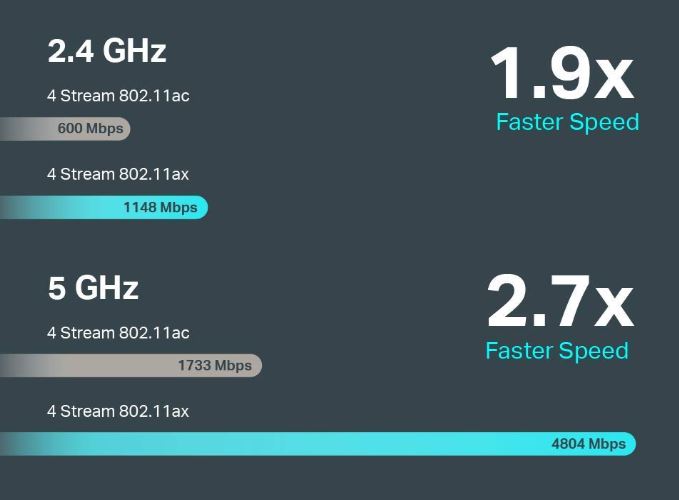 Between its eight independent streams, that hardware can deliver 1147 Mbps on the 2.4 GHz band, and an additional 4800 Mbps on the 5 GHz band. Combined, that's the 6 Gbps you can see in the name AX6000.
On the backside of the Archer AX6000 Smart WiFi Router, there's a 2.5 Gbps WAN port. That means if you do happen to be one of those individuals who actually wants to use a 2-Gigabit connection on their personal computer, that option is open. Whether you're doing 4K or 8K streaming, that ought to be enough for almost all people. It's equally suitable for trying to download huge files.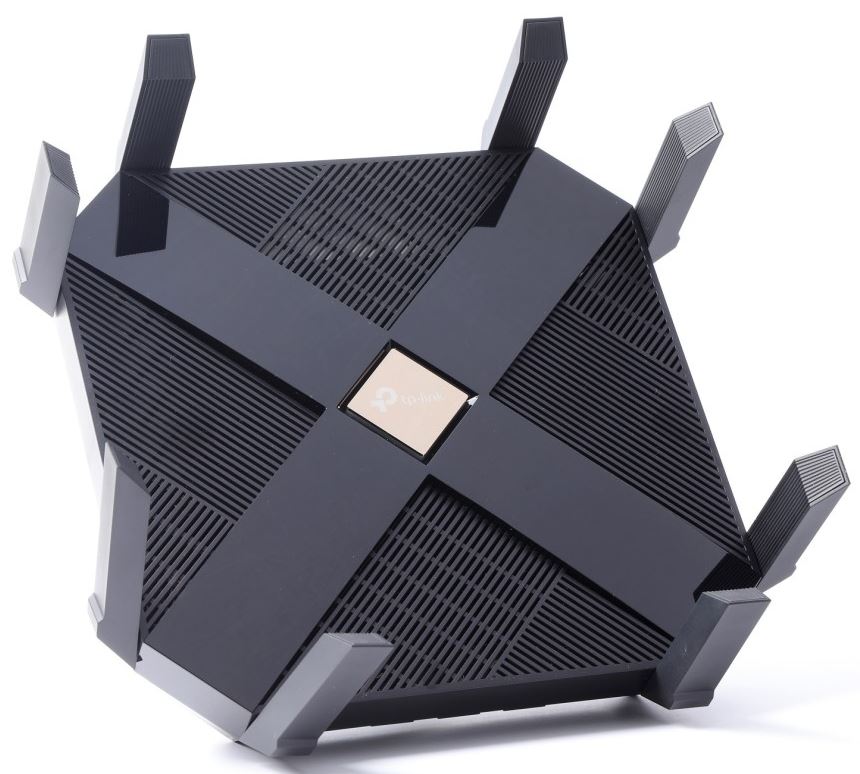 Quick Note About Gaming
Though MU-MIMO isn't generally considered a gaming feature, the inclusion of features like this ensure the AX6000 is made specifically for homes with several devices connecting to their network.
Preempting problems which occur when too many devices are connected to the network can ensure your gaming never encounters undue latency. There are no features explicitly made for gamers, but there are plenty of features for gamers to love.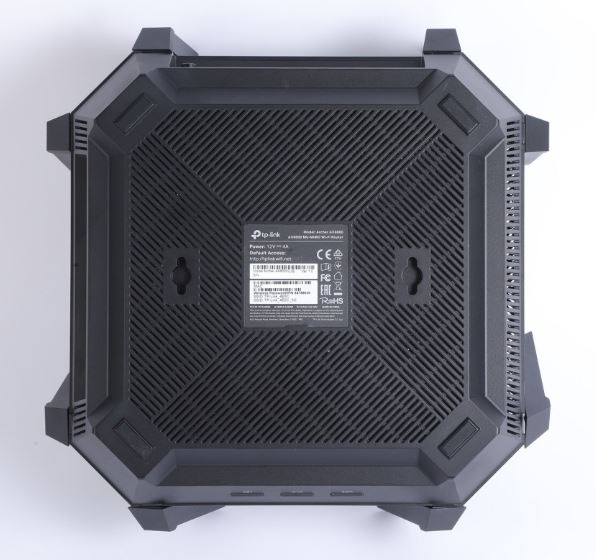 Network Security
It's not often the case that security features become a critical component of a home router. Basically any major brand, like TP-Link, will be able to provide the same protections as their competitors. In this case, it's TrendMicro security definitions that keep your network up-to-date with the latest protections, so you're protected from viruses and malware before you hear about them in the headlines.
If you want to get picky about security, there are really only gradients of difference when it comes to routers that are made specifically to provide security features. That equipment is usually made with businesses in mind, and the extra security it provides is generally useless to most home users.
While it doesn't have every advanced VPN feature that businesses may want, the TP-Link Homecare software does cover every security essential. That includes essentially every common sense feature you'd expect to find from a modern home router.
For example, there are parental controls that allow you to create user profiles, and then establish time limits. If you don't feel like controlling access through individually whitelisting or blacklisting websites, TP-Link has an active content filter setting. It works to create age-appropriate presets for viewable content categories.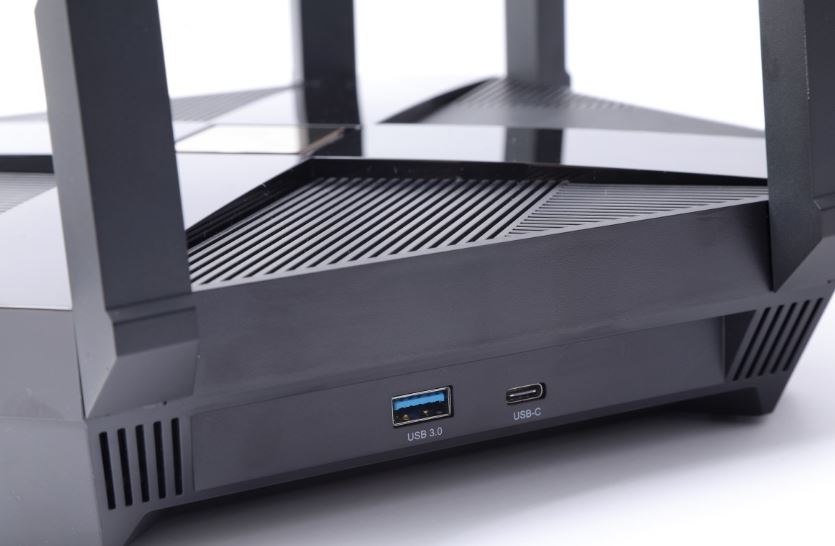 Ease of Use
Over the past couple of years, routers have become enormously simple to install. The TP-Link AX6000 really brings nothing special to the table to make it any simpler. How much can you improve on plug and play?
Maintenance of the network is also quite simple, thanks entirely to the TP-Link graphical control interface. Unlike many routers, you don't end up trying to configure your network with barren text windows. Navigating those windows can be tough because they often only give you a vague idea of what settings are being changed. For people who aren't network specialists but want to be able to configure their network, a graphical interface is the way to go.
Things are even simpler thanks to the TP-Link network app, which can help you maintain mobile monitoring of your network from anywhere you've got an internet connection. Just about everybody has an app these days. Once again, the TP-Link app doesn't bring anything truly special to the table. But it does mean being able to configure your network and create alerts, which is all you could ask for, isn't it?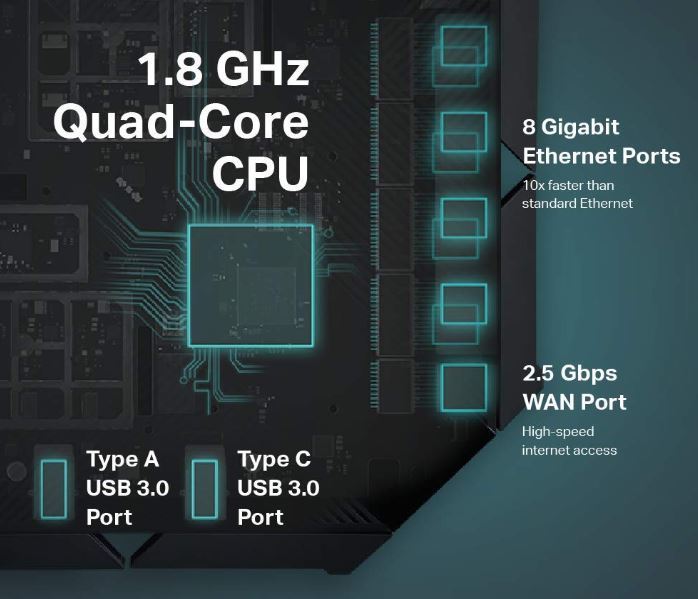 Other Considerations
The TP-Link Archer AX6000 has native support for Alexa. This basically helps ensure you don't ask a question, only to hear a long pause before any response. The AX6000 supports IFTTT, for users who are little more hands-on with their network control. IFTTT means the sky is the limit for smart-home connectivity, especially if you want to take advantage of some of the more advanced features which TP-Link brings to the table.
If you need to broadcast your wireless network across a giant 15,000 square foot warehouse, then you're going to need a mesh router in addition to the AX6000. The same is true for people who are setting up networks in areas with unavoidable Wi-Fi dead zones, caused by things like thick brick walls.
Similar to most commercial routers, the TP-Link Archer AX6000 includes a two-year warranty. It also includes a short Ethernet cable to help you get started, but it's only a couple of inches long. You may want to pick-up your own lengthier Ethernet cable, if you don't already have one to use.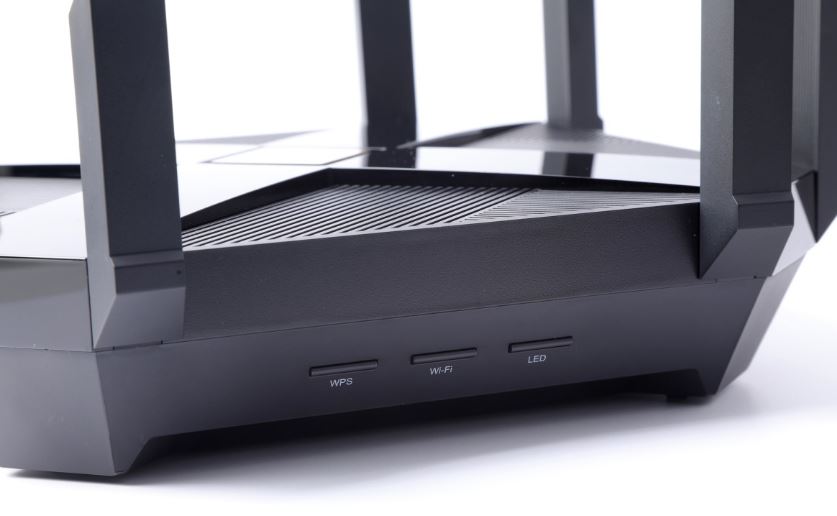 Who Should Choose the TP-Link Archer AX6000 Smart WiFi Router?
The TP-Link Archer AX6000 is really for two groups of people. The first is someone who has a network that already uses lots of bandwidth. The AX6000 is capable of taking on network traffic from roughly eight heavily active users, and several dozen independent Wi-Fi connections. It's not something you'd want to power the library of a major university, but it's suitable for virtually any home.
Routers are being redesigned to accommodate a world where not only two or three devices connect to the network, but potentially dozens of them. The TP-Link Archer is equipped for that kind of world. The AX6000 8-Stream Smart WiFi Router is also for people who want their network to be ready for the future. Using IFTTT, DOCSIS 3.1, and 6Gbps of bandwidth, there's really no reason why this router shouldn't be able to see service for years to come.
The list of things to dislike about the TP-Link Archer AX6000 is fairly small. The biggest complaint anyone ought to have is its price tag. That's because this is a top-shelf router. It's only marginally less impressive than industrial equipment. If you can't actually make use of an 8-stream router, and you don't see any advantage in having room to grow, then you'd want to choose a less powerful router.
If you want room to grow, or you can take advantage of these kind of smart features already, then the Archer AX6000 is certainly among your best options.