Athletic earbuds need some measure of waterproofing, a reasonably good battery life, and in-ear security. You don't want to feel as though the earbuds might pop out of your ears at any moment. Equally important, you don't want to have to stop and adjust the earbuds every couple of minutes if they start shifting around.
If nothing else, it helps if you know the earbuds will last more than a couple of weeks, or if they offer any means of transporting them. For athletic headphones, that might mean a carrying bag, charging case, or something as simple as the efficient use of some well-placed magnets.
Mpow S10 [Upgraded] Magnetic Bluetooth Headphones
The original Mpow S10 wasn't terribly impressive. It's strange how small faults can ruin something. The Mpow S10 [Upgraded] Headphones are basically an attempt to improve on the previous formula. They're still magnetic Bluetooth headphones, and they're still made for athleticism. But there are some noteworthy improvements with respect to the battery life and call quality.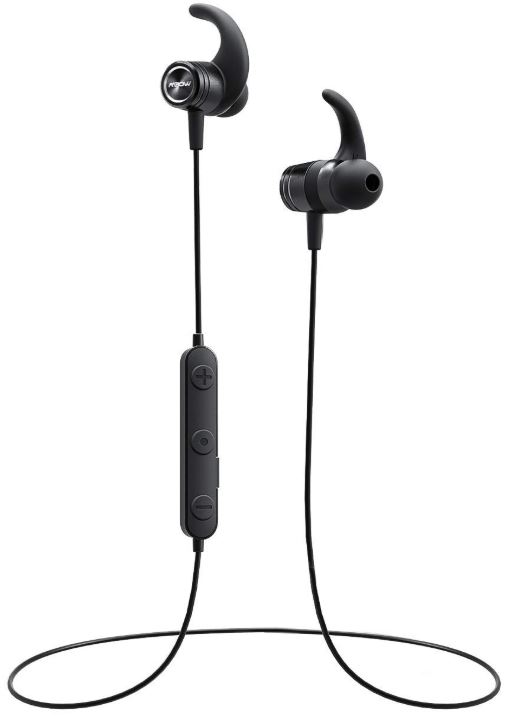 Ear-fin headphones aren't for everyone. But they do happen to be one of the most secure athletic designs. And the S10 takes full advantage of this potential, leading to earbuds made to stick inside your ears as though they were glued in position.
With respect to sound quality, the Mpow S10 [Upgraded] Magnetic Bluetooth Headphones end up sounding pretty similar to the original S10, as well as almost any other pair of athletic headphones. Though it might not outshine similar headsets in audio alone, it can certainly impress with several of its features.
Build & Design
They're fairly ordinary looking black earbuds, highlighted only by the Mpow logo, etched in silver on the outside of each bud. Though there's a small magnetic component added to each bud, it doesn't have any significant impact on their weight. This magnetic component allows each earbud to be clasped together when you're not using them.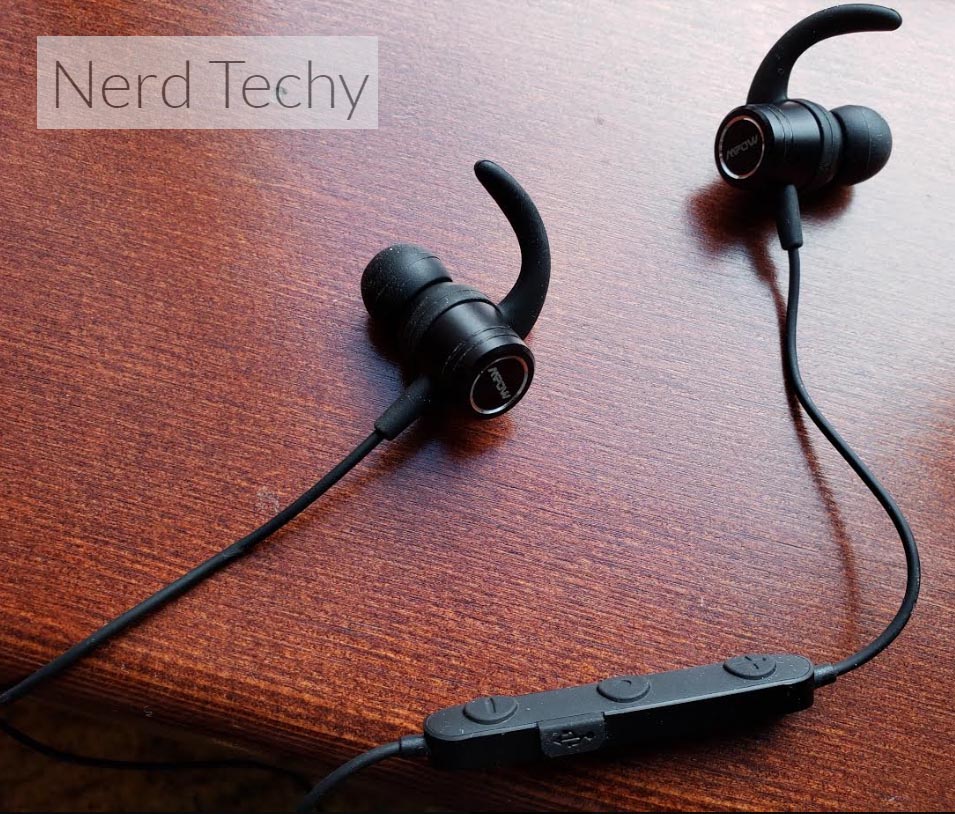 You can wear the S10 around like a necklace, or otherwise hang and store them far easier. Even putting them on is a bit simpler when both ends begin in one place. Meanwhile, the entire kit hardly weighs an ounce. And their behind-the-neck design allows you to shove the wire out of your way, while keeping all the advantages of a wired connection between the buds.
The Mpow S10 are constructed with IPX7 waterproofing. That allows them to stand up to moisture, sweat, and rain. They're even rated for light submersion, so you don't have to hesitate to wear them in the shower.
Worn Comfort
The S10 includes three sizes of ear tips, which is fairly standard for similar pairs of Bluetooth headphones. Among them, you'll find large, medium, and small tips. Taking a few moments to determine which tips feel best in your ears is worth the effort. Getting the right fit can help not only with comfort, but with noise isolation and sound quality.
These headphones are kept in your ears with a small winged phalange, which reaches out from each earbud. It's pressed against the inside of your ear, helping keep each earbud secure against your head. The included line buckle and line clip can help secure the wire against you as well, which certainly doesn't hurt.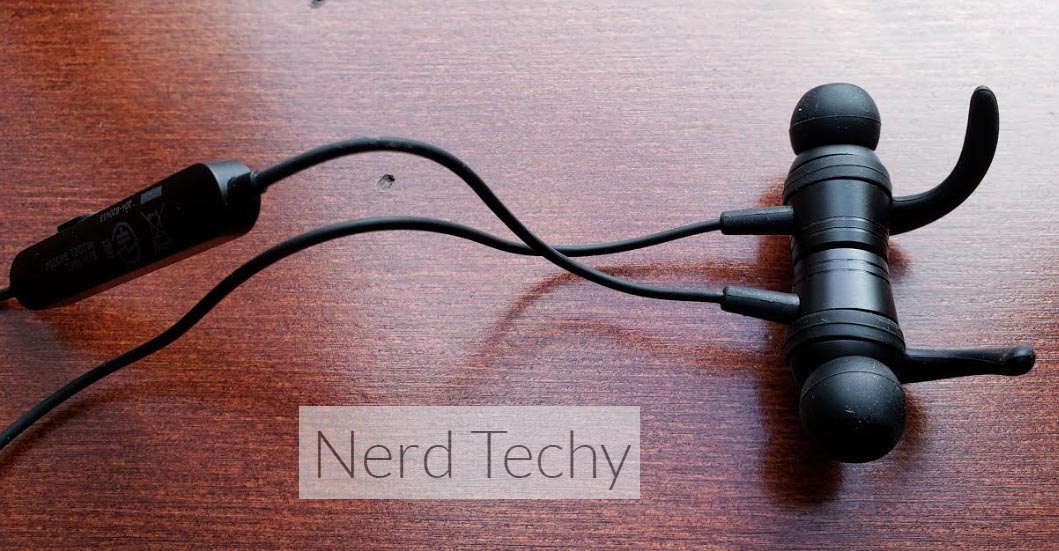 Battery Life
You recharge the S10 using the included micro-USB cable, which connects to the in-line terminal. The in-line terminal consists of three multi-function buttons. The buttons on the ends of the terminal are used for raising or lowering the volume, and for skipping between tracks. The central button is for toggling calls or initiating music.
The S10 [Upgraded] Headphones are capable of delivering about eight hours of battery life from one charge. That projection really depends on several factors, but the S10 can get you in that neighborhood. Their standby time works out to roughly two weeks, as well.
If you plan on using them less often than that, you can take some simple precautions to ensure your battery lasts as long as possible. Those precautions are thoroughly outlined in the included user manual.
Audio Quality
Earbuds in this price range tend to sound the same, with only minor differences between them. True to trend, the Mpow S10 aren't about to reinvent your understanding of music. If you were to listen to these earbuds in a blind test against another 20 pairs of similarly expensive athletic earbuds, you'd probably have a tough time picking one headset apart from the next.
Any audio manufacturer that isn't totally incompetent can deliver some pretty impressive sound these days, with the help of technologies like Bluetooth. Mpow isn't exactly a household name, but their equipment is reliably good, and it's rarely a disappointment in the sound department. That pretty much describes the Mpow S10. They certainly aren't going to disappoint, but neither will they amaze.
It's rather clear that these headphones were designed for a universal style of listening. They were not intended specifically for any one listening activity. Instead, they're widely aimed at supporting podcasts, movies, calls, or otherwise listening to music.
It's not a truly neutral soundscape, but it does come close. Usually, athletic headphones are made to heavily emphasize bass tones, which often leads to artificially bloated bass. The soundscape for the Mpow S10 seem more focused on delivering clarity, first and foremost.
That really helps when it comes to calls, especially because athletic headphones also have a tendency to cut-off the higher end of the treble range. Doing so causes voices to sound a little more robotic, especially female voices. Calls aside, the treble range for the Mpow S10 has a little extra punch to it, which could make the S10 especially good for electronic music.
Microphone Quality
Bluetooth microphones can be hit and miss. The Mpow S10 was constructed with a MEMS microphone, backed with CVC 6.0 noise cancelling. People become confused when you start talking about noise cancellation in the context of Bluetooth headphones.
But this noise cancelling technology basically works by removing sound from your environment, so people listening to you talk can hear you with more clarity. The effect of technologies like this really depend on individual circumstances. You'll probably get far better performance with certain types of noise. But the total noise reduction works out to be something like 30dB. That's not bad.
For the listener who you're calling, CVC 6.0 can sound like there's a smooth and constant ambient noise behind your voice. It's something you've probably heard once or twice, and almost certainly heard if you've ever been on the line with someone at a call center.
If you were looking for the very best microphone noise reduction you could get your hands on, then you'd need a multiple microphone configuration. It's preferable to have several microphones working together for noise cancellation, but it's also really only a feature you'll find on a business-quality headset. Quite rare to find those kind of calling features on anything resembling an athletic headset, let alone a headset in the price range of the Mpow S10 [Upgraded] Magnetic Bluetooth Headphones.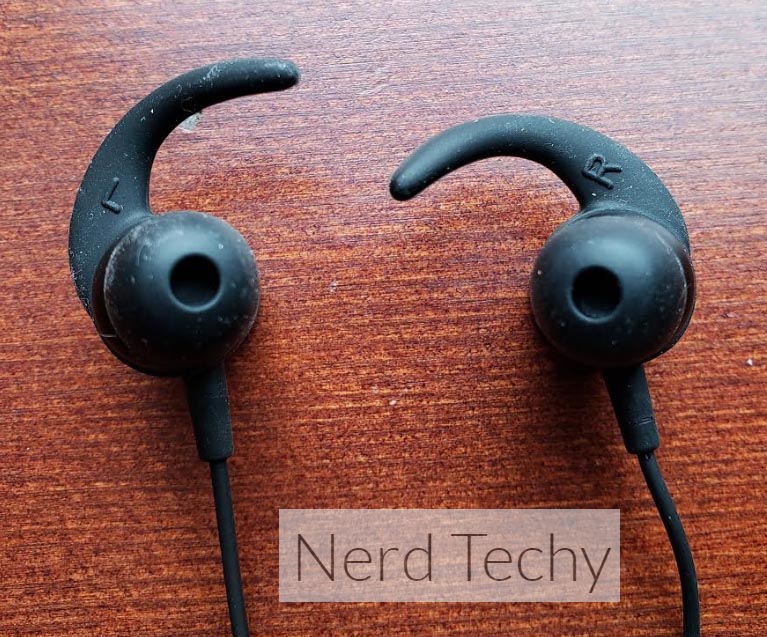 Wireless Connectivity
Bluetooth 4.1 means the Mpow S10 are capable of a variety of instant-pairing features. The S10 will do a reasonably good job of remembering the devices you've paired with, and then predicting your intents in pairing. But one weakness in their connectivity is in maximum broadcast distance. The Mpow S10 can broadcast roughly 33-feet.
These days, it's not at all uncommon to find similar headsets capable of twice that distance. But to be perfectly fair, 33-feet is enough for most people in most circumstances. The connection is stable, and there's really no serious negatives worth mentioning in relation to Mpow's use of Bluetooth.
Other Considerations
At the end of each earbud, where the wire and earbuds connect, the Mpow S10 was made with a little extra strain relief for the wire. This type of thing can easily go overlooked, but it can drastically improve the lifespan of headphones constructed in this manner. Details like this also indicate that Mpow is really trying to make a quality product.
The average pair of earbuds lasts less than a year. If you're willing to take care of your equipment, then you can probably expect the S10 to last as long as three years. But these headphones aren't made with any type of special wiring, and they don't have additional special protections. They aren't made to survive abuse. It's perfectly plausible that an active user might end up with closer to 18-months of use before they need replacement.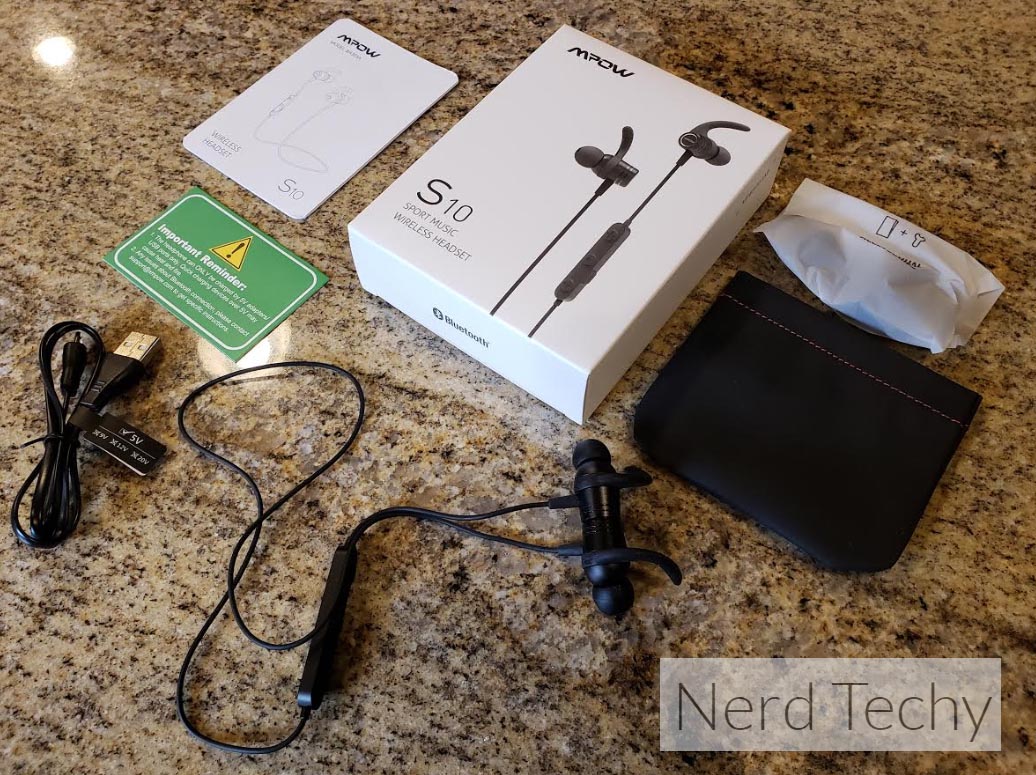 Who Should Choose Mpow S10 [Upgraded] Magnetic Bluetooth Headphones?
The Mpow S10 are many things. They're relatively inexpensive. Though not exactly rugged, they're waterproofed, which makes them adequate for athletic activities and outdoor use. They're generally well-made, and they have a reasonably impressive battery lifespan. The wire is smartly designed, though ultimately not much sturdier than any other pair of similar headphones in this price range.
With respect to comfort, the S10 is a little above average. Because the winged phalange is a universal fit, which can't be replaced, there will always be some people who find them unsuitable. Their universal fit is designed to work great for most people, and then work "okay" for almost everyone else. But then again, if you're looking for comfort above all else, you probably don't want to use ear-fin headphones. You'd probably want to consider using ear-hook headphones, instead.
Compared to the previous S10, the upgraded version is unquestionable a stronger value. In many ways, it's the microphone that really puts these headphones over the top. A reasonably good noise cancelling microphone can easily distinguish one pair of headphones from another, and that seems to be the case here. If you're looking for athletic earbuds, and you have any interest in call clarity whatsoever, the Mpow S10 [Upgraded] Magnetic Bluetooth Headphones are worth trying out.