Few things are more frustrating than spotty WiFi coverage in your home or office. It makes for a troublesome experience with slow connection speeds, interrupted downloads, and horrible lag or latency issues. Regardless of what you use your network for, I think that it's safe to say we can all agree on this.
Most routers are built to provide excellent coverage, but depending on the exact layout or architecture of your home, this may be a far cry from what you're actually experiencing. Solid foundations, walls, appliances, and sheer distance can mean that you don't have very reliable or accessible WiFi in all areas of your home. To fix this issue, you'll need a WiFi range extender that clears up your connection issues and drastically improves wireless range.
Introducing the TP-LINK RE355 & RE450
Recently released, the TP-LINK RE355 and RE450 provide a solution to slow or unreliable WiFi coverage while boosting speeds and expanding range without any hassles. Starting at around $85, the RE355 is the AC1200 version that provides up to 1.2 Gbps of transfer speeds. While priced a bit higher at around $105, the RE450 is the top of the line option as an AC1750 version boasting 1.75 Gbps. transfer rates.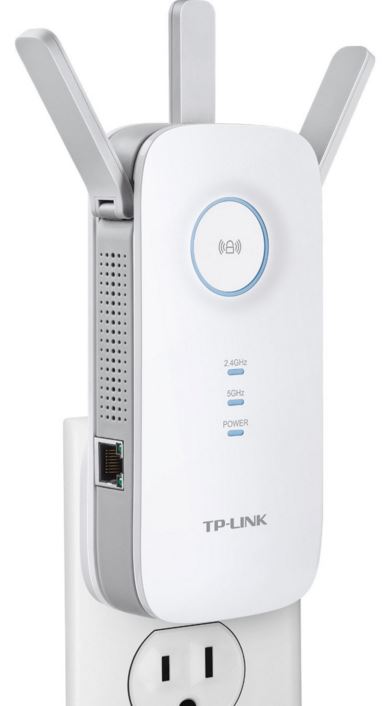 Both designed specifically to provide up to 10,000 feet of additional wireless coverage for your network, they offer an easy in-outlet design that gives you the freedom to place anywhere inside your home, office, or business workplace. Each equipped with three powerful dual-band external antennas, they're all paired with their own high-powered amplifiers to send a clear and distinctive signals to multiple WiFi connected devices.
Easy Installation and Setup
As with anything that's tech or network related, many people often worry about how they'll set it up and configure it. Rest assured, the installation process is very straightforward and simple – it only takes a few minutes. First, you'll need to plug the extender into an area that's within the current router's wireless coverage. Next, join the wireless broadcast that you'll see from the RE355 or RE450 Extender from any computer. Then, open up a browser and head on over to tplinkrepeater.net. From there, enter in the username and password (admin, admin) and you're good to go. From here, you can change the extender name or adjust settings at anytime.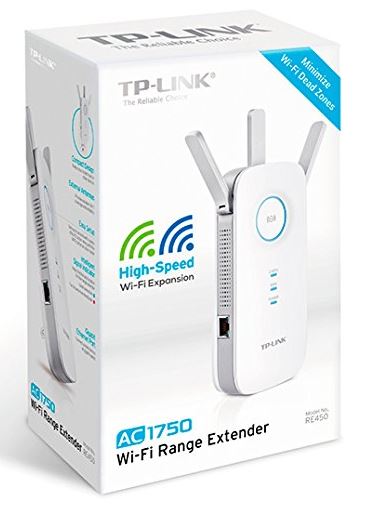 Once you've completed the initial setup procedure, you can freely move the extender to any outlet in your home. You'll then be able to join the signal that the extender is broadcasting in any area that was once a dead zone. Best all all, you'll have instant insight into the immediate and maximum range by taking a quick look at the front of the extender. The circle or "Intelligent Signal Indicator" will illuminate either blue or red. Blue, indicating a good connection. Red, indicating a poor connection.
Tether App
As a great way to setup and manage your WiFi extender is by using the free Tether App by TP-LINK. From your Android or iOS device, you're given instant access to your network and what's currently connected. It's laid out in a way to offer all of the features and specifications in a portable mobile app that you can readily access from virtually anywhere in the world.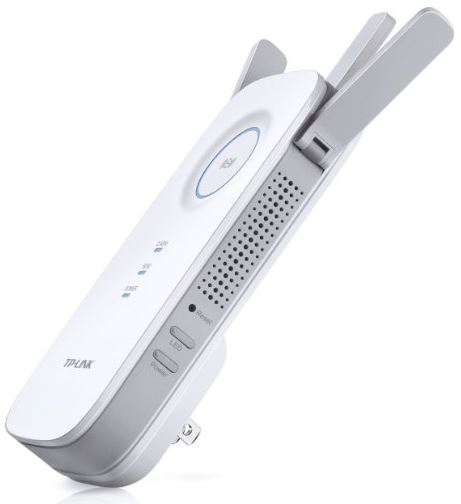 Difference Between the RE355 & RE450?
Normally we review one device or product at a time, but the reason we decided to review both the RE355 & RE450 together is because they're so similiar. But what's the real difference between the two? They look identical, but the RE450 is slightly faster than the RE355. By offering AC1750 speeds rather than AC1200 speeds, the RE450 is more ideal for those who want to use their connection for ultra high definition streaming in 4k, online gaming, or those who need the fastest data speeds possible. Although AC1200 may provide more than enough speeds for your given situation, it's nice to see that two different options are available.
Compatibility
Adding a WiFi extender to your network can make a massive improvement, but if it doesn't work with any of your devices, you're not really gaining much. Don't worry though, the TP-LINK RE355 and RE450 are universally compatible to work with any router, even if it's severely outdated. Additionally, all devices and operating systems are compatible including Mac, Windows, Linux, and more.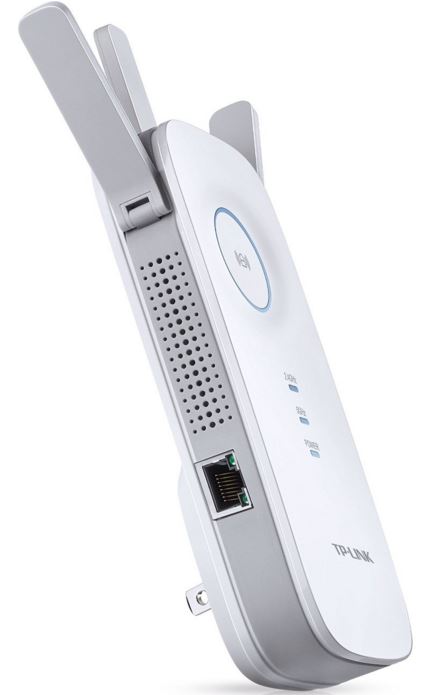 Wireless Bridge
Equipped with it's own Gigabit Ethernet port, these TP-LINK AC1200 and AC1750 range extenders can make any Ethernet-connected devices available through WiFi. If your device doesn't support WiFi, but it can be connected via Cat-5 Ethernet, this opens up a whole new realm of possibility. It gives you the freedom to connect virtually anything that has a wired connection but isn't able to connect wirelessly, acting as a bridge between the device and your network.
Beamforming
Rather than broadcasting it's wireless signal in all directions, TP-LINK integrated "Beamforming" technology in order to make the most of an available connection. Beamforming ingeniously locates devices using WiFi and specifically targets them in order to provide a more constant and dedicated signal that's much stronger than any conventional wireless signal. This keeps the antennas and amplifiers dedicated to your specific devices rather than putting a signal in areas that simply don't need it.
Final Thoughts
Gaining WiFi coverage in your home, office, or business environment doesn't have to be a problematic hassle like it once was. With a simple installation process, powerful amplifiers, and beamforming technology, you can successfully increase the range of your router by as much as 10,000 additional square feet. The plug-in design makes it a discreet and slick upgrade that doesn't pose as an eyesore since it's much slimmer and low-profile than many other wireless range extenders that we've previously reviewed in the past.
Whether you're interested in the RE355 AC1200 WiFi Range Extender or the RE450 AC1750 WiFi Range Extender, they back it by an impressive two year (24 month) warranty period that assures it'll always work flawlessly and as intended. This kind of assurance is nice to have with any investment in your wireless network, and TP-LINK is well known for standing proudly behind their products with unlimited technical support whenever you need it 24 hours a day, 7 days a week.
Overall, we're really happy and quite impressed with both the RE355 and RE450. We wouldn't hesitate to recommend it to anyone looking to boost a spotty or poor-coverage WiFi network.
Meet Derek, "TechGuru," a 34-year-old technology enthusiast with a deep passion for tech innovations. With extensive experience, he specializes in gaming hardware and software, and has expertise in gadgets, custom PCs, and audio.
Besides writing about tech and reviewing new products, Derek enjoys traveling, hiking, and photography. Committed to keeping up with the latest industry trends, he aims to guide readers in making informed tech decisions.