If we were to guess where most attention would go in terms of TV features this year, we'd wager Ultra High Definition 4K becoming the new standard – this combined with HDR (High Dynamic Range). If you're going to be investing in an expensive TV in 2016, getting anything that doesn't offer the minimum of 4K UHD/OLED technology is basically settling for inferior products.
These new TVs are incredible when it comes to uniformity – their blacks are near-perfect and any blur is eliminated. Many of them even feature HDR (High Dynamic Range) which is designed to deliver an even better color range to the 4K standard.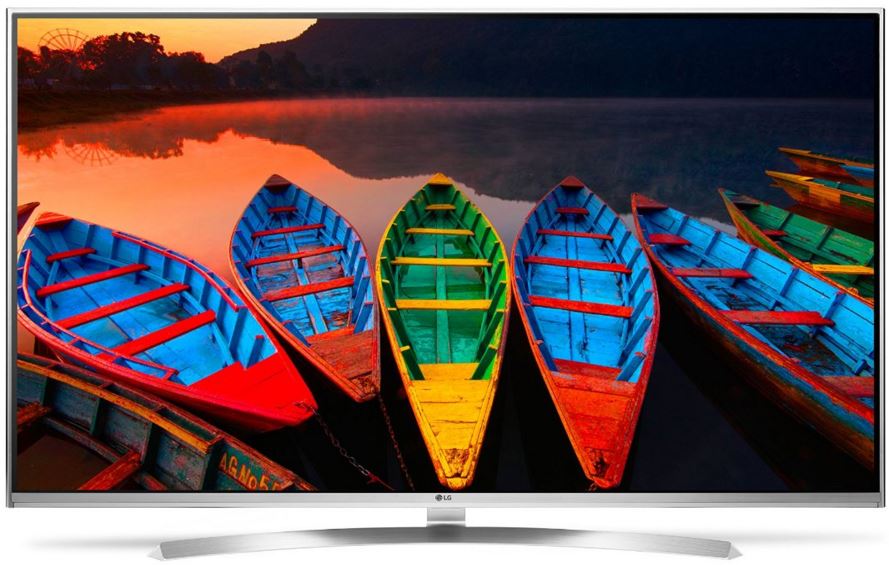 Featured at CES 2016, the newly release LG UH8500 55, 60,and 65 inch Smart LED TVs offer the best in 4K clarity with all of these additional features like HDR for the most incredible viewing experience for your home theater.
High-End Thin Build
At first sight most would describe the design of the UH8500 as "sleek". But the way it's thinly built, the design feels minimalist and the silver frame adds to that.
From first glance you'll notice a small curved metal bar toward the base that serves as a stand. It holds a stable position with a true, minimalist design. The silver frame around the screen looks great when combined with the rich screen output that this TV is capable of. As one of the thinnest and lightest TV's we've ever seen, the LG UH8500 is hands down built for amazement.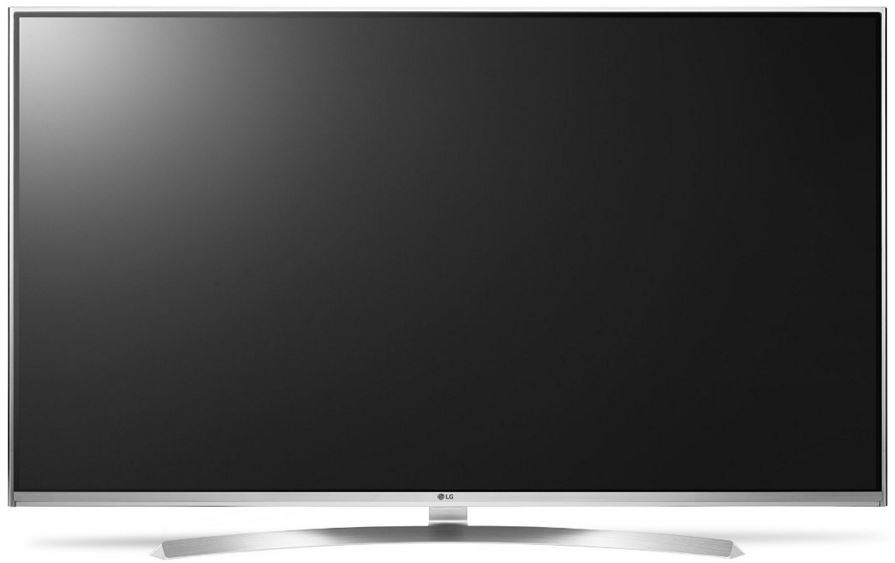 Better Than 4K
LG has a bit of an edge over other manufacturers with releasing the UH8500 this year, mostly due to its Super UHD feature that we'll go over shortly. Most TV manufacturers tend to reveal new releases at the beginning of a year and then spend the rest of the remaining year building next year's releases.
The most hyped-up feature this year is the "Super 4K UHD". Every TV that LG released from its new lineup has it as a baseline feature. The idea behind it is to take already high-performing screens that have the highest resolutions, then enhance them to bring the image output to a whole new level.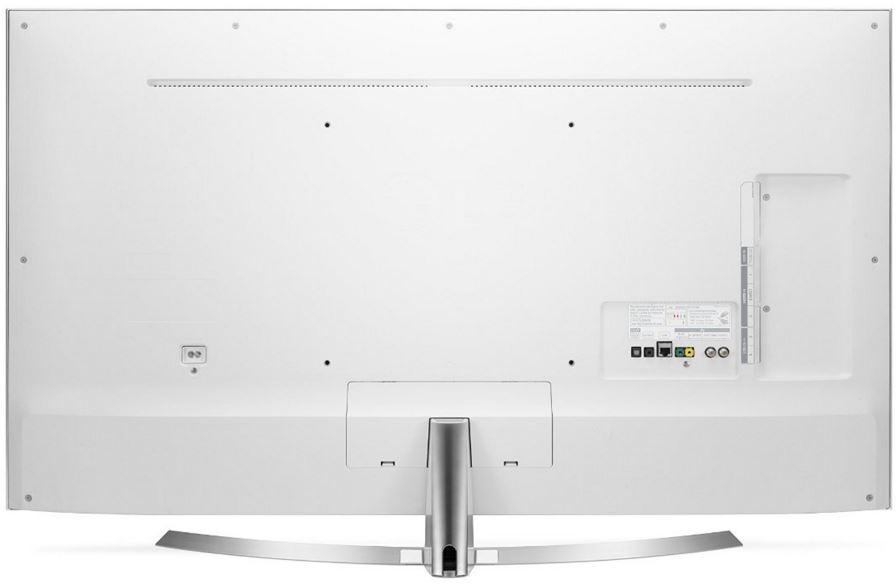 Samsung released their line-up of Super UHD TV's last year, however, LG's UH8500 has a better improvements since it's much thinner and minimalist in design. We tend to recommend them to people who want both the highest performance output combined with the simplest, usable design. The marketing strategy behind Super UHD's might come off as confusing if you're a first-timer, but the differences are bigger than they seem. For one, a regular Ultra HD screen offers 4K resolution which is literally four times clearer than 1080p. Additionally, HDR provides a noticeable improvement that brings out the best in brightness and true color.
Perfect Viewing Angles
If you're streaming, gaming or watching movies in a room full of people, having access to a TV that displays the images perfectly, no matter the angle, will drastically impact the mood of the room. You'll no longer need to adjust the screen, have to dim the lights or tell people to move around for a better view.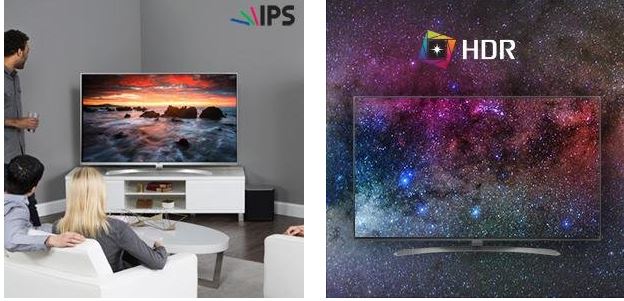 One major disadvantage that thinner LCD's of this kind used to have trouble with was displaying vibrant colors. The colors they displayed were seemingly weak unless you viewed the screen from a dead-center, precise angle. This is simply no longer the case as LED TVs like the LG's UH8500 offer perfect visibility, even when viewing from distant side angles. The colors have strong retention and they're evenly distributed across all angles. As you can imagine, the contrast is top notch, dark colors beautiful and the practical value excellent, making it ideal for movies, video games, or watching your favorite TV shows with your family in a large room.
Upgraded Audio System
Often times, audio is overlooked as most individuals who can afford themselves high-powered TV's tend to have a separate dedicated sound system. Onboard audio has never been a highly touted feature for many top of the line televisions, since most manufacturers tend to put more effort on improving other areas.

However, we were very pleasantly surprised to see LG actually took the time to tackle this with a serious audio-equipment manufacturer – Harman/Kardon. They've installed a booming sound system. One that actually produces high quality audio and doesn't simply pass off as "usable". This goes to show that the UHD8500 may very well possibly be one of their best releases so far this year.
HDR Plus
The LG UH8500 is part of a bigger series called the "UH". We could classify it as somewhat mid-tier within the high-end/premium range. It shares a few key features with other new LG releases from the year, the main being HDR+. This means that the standard HDR feature has seen updates, giving your TV the ability to display the same HDR content but with far better brightness. In addition, this will certainly affect your regular viewing experience as you'll be able to enjoy it, even if you're currently viewing non-HDR material.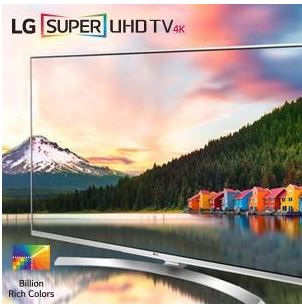 New Operating System (WebOS)
LG stepped up not only in terms of hardware, but they also revamped their entire OS and simplified the interface in a way that's more accessible and user-friendly. The UHD8500 is powered by the new WebOS 3.0 version. If you've used previous versions like this in the past, you'll notice that channel-switching has become easier as well as finding content from a near endless list of sources.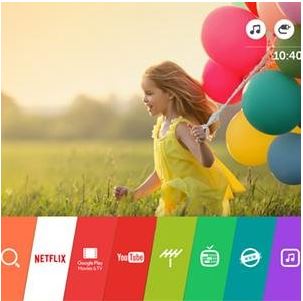 Additionally, LG integrated a really cool "zoom" feature that allows you to carefully analyze pictures you see on the screen. It'll let you zoom in with improved clarity so you can see in greater detail.
Also, there's a new remote called "Magic Motion". This new remote was actually expanded instead of simplified since it adds a lot of exclusively on-screen controls to improve the overall ease of use and navigation.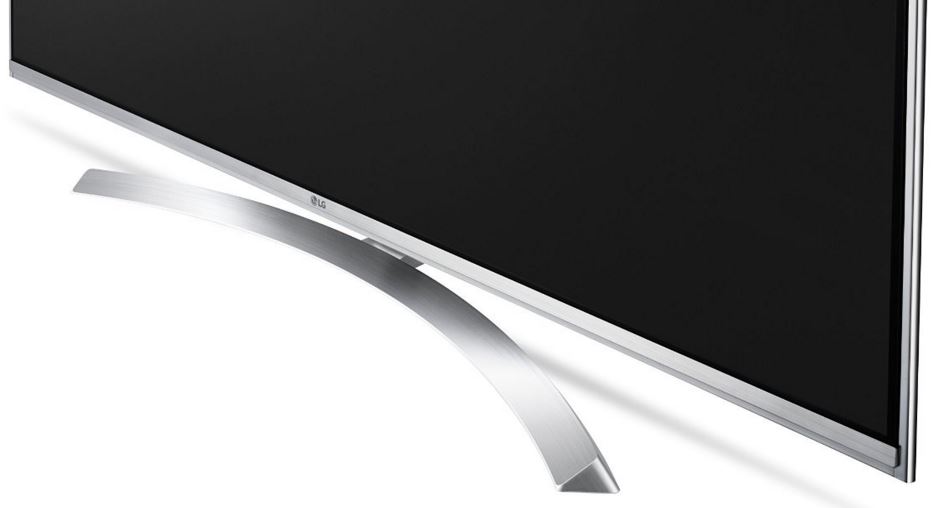 Conclusion – Is It Worth It?
It's challenging to find a bad LG release lately, they've been releasing a lot of really cool electronics. This is especially the case in their OLED department. We think it's safe to say that they truly do produce the best in the world.
We whole-heartily recommend the LG UH8500 4K Ultra HD 55, 60, or 65″ Smart LED TV, mainly for its upgraded Super UHD 4K that features incredible viewing angles, breath taking, rich colors and an array of new HDR features that really make a difference. We're also huge fans of the minimalistic design with it's sleek and sexy appearance. LG put in a lot of effort to improve the audio system, which is a definite bonus in our opinion. Overall, it really is the epitome of what an excellent, top of the line UHD Smart LED TV should offer. Strongly recommended.
Meet Derek, "TechGuru," a 34-year-old technology enthusiast with a deep passion for tech innovations. With extensive experience, he specializes in gaming hardware and software, and has expertise in gadgets, custom PCs, and audio.
Besides writing about tech and reviewing new products, Derek enjoys traveling, hiking, and photography. Committed to keeping up with the latest industry trends, he aims to guide readers in making informed tech decisions.