The newly released replacement for the classic FDR-AX33 – the FDR-AX53 4K HD Camcorder will serve as an extension to Sony's popular high-end 4K handycam lineup. This camcorder combines the latest of shooting technology while retaining only the best parts from its predecessor: a relatively compact design, strong internal hardware and the highest shooting resolution. The AX53 is a strong contender for this year's top camcorder, due to a combination of high resolution output, plenty of portability options and an all-around extensive video shooting capacity. Individuals ranging from student film makers to full-time professionals could definitely make use of it.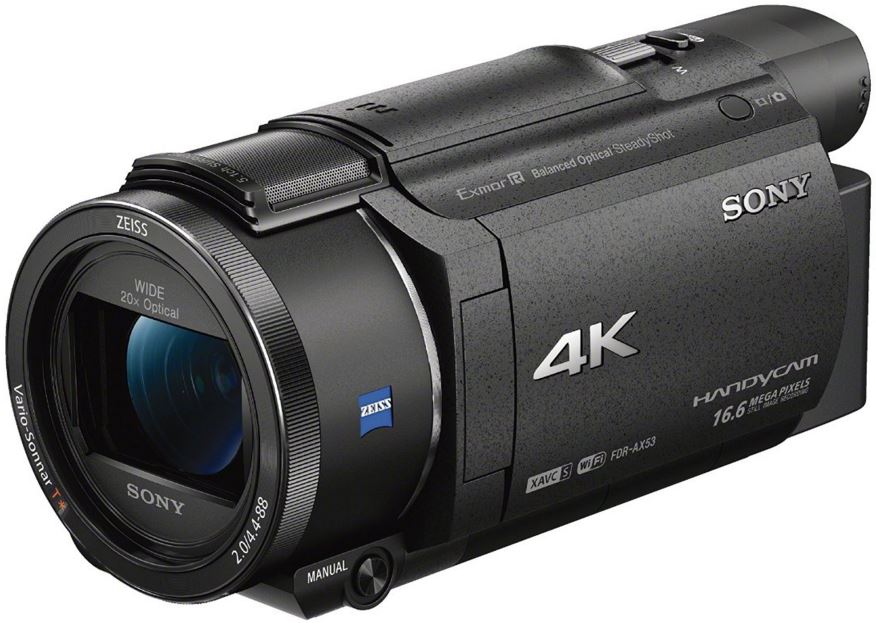 For starters, we're going to expand on the hardware-specific upgrades and then analyze the new features. Sony developed an all-new Exmor R CMOS image sensor, one that is featured on the AX53. As a baseline feature it offers 1.6x more pixel size than the AX33 and the ZEISS lens saw a full revamp as well. It now offers a wide angle of up to 26mm, and 20x optical zoom in 4K with 40x zoom in 1080P.
If you've used its predecessor, the AX33, you're likely aware it featured one of the best stabilization systems ever incorporated into a camcorder. Needless to say, the FDR-AX53 is the upgraded version and obviously in a league of its own. If taking video from a static angle isn't your thing and you prefer to move around a lot while shooting, you're going to love the new Optical Steadyshot. You'll find it easy to activate it and capture outstanding 4K video, even if you're moving fast while filming. When you combine this with a shooting ability of up to 100fps, the footage it outputs is nothing short of impressive.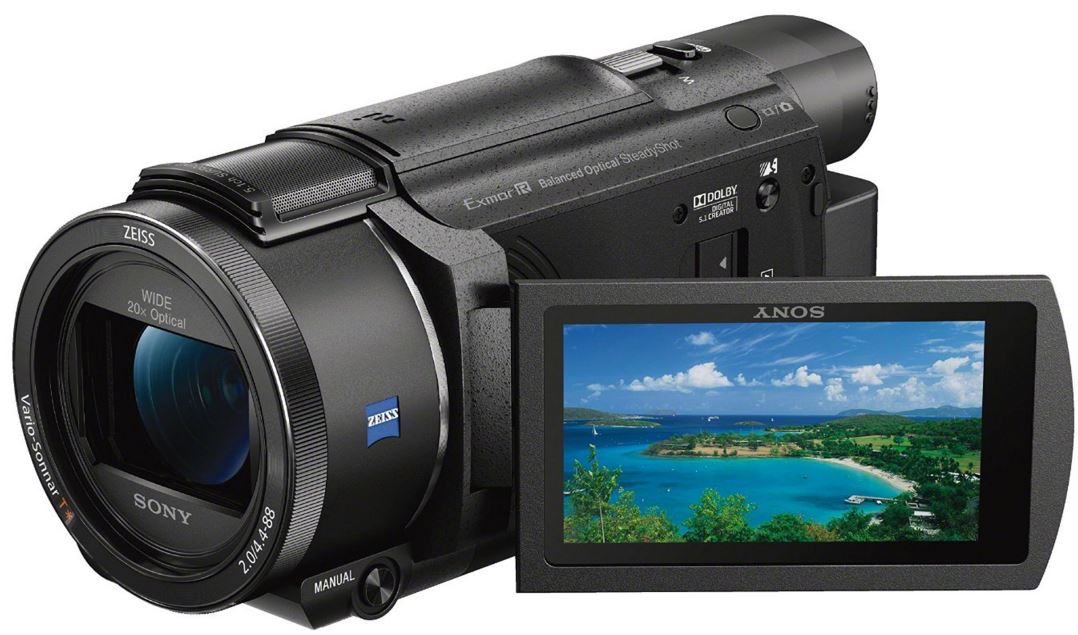 LCD Touch-screen Controls
The LCD display one the Sony FDR-AX53 4K HD Camcorder is 3″ – more than enough to give you an accurate representation of your footage. Nobody wants to be forced to re-shoot scenes and be paranoid about if you captured it "just right" for post-production. This is the perfect screen size; not only because it's not small enough to a point where you won't be able to analyze detail, but also because it's not large enough to a point where it takes away the portability. To many, it's simply the perfect size.
Top to bottom, the display is very clear. 921,000 dots and yet another upgrade with the Sony FDR-AX53 is "WhiteMagic", a feature that boosts visibility during strong daylight. Even if you're shooting in the desert with the sun beaming down hard, you'll still be able to see what you're working with. It'll assure that the powerful rays of the sun don't make the screen unusable.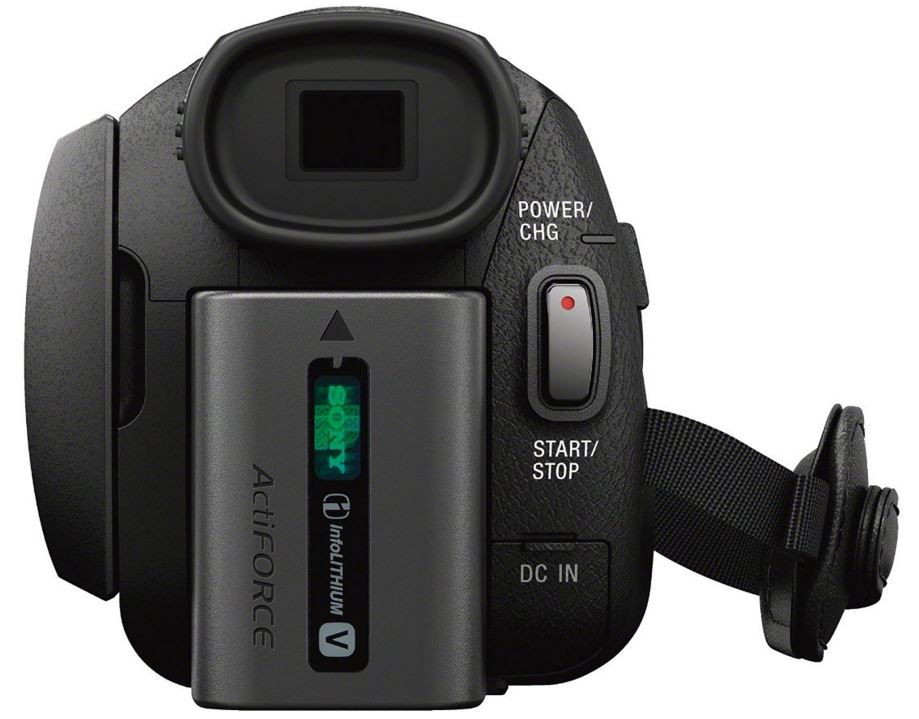 Physical Controls
We're glad Sony decided to retain some old-school manual, physical controls to the side in a way that not everything is done on the touch-screen. There's a control ring to the side that gives you the ability to adjust anything from exposure to focus to shutter speed and a wide range of additional settings.
Upgraded Carl Zeiss 20x Zoom Lens
The lens on the FDR-AX53 is from Carl Zeiss's new lineup of "Vario-Sonnar T" lenses. In terms of practical value, when you're shooting with this lens in movie mode, you'll have access to a focal length of roughly 27.mm and a 20x zoom range for 4K footage. The coating also has an effect on the raw output quality as it completely eliminates glare reflection. This is generally a very premium lens.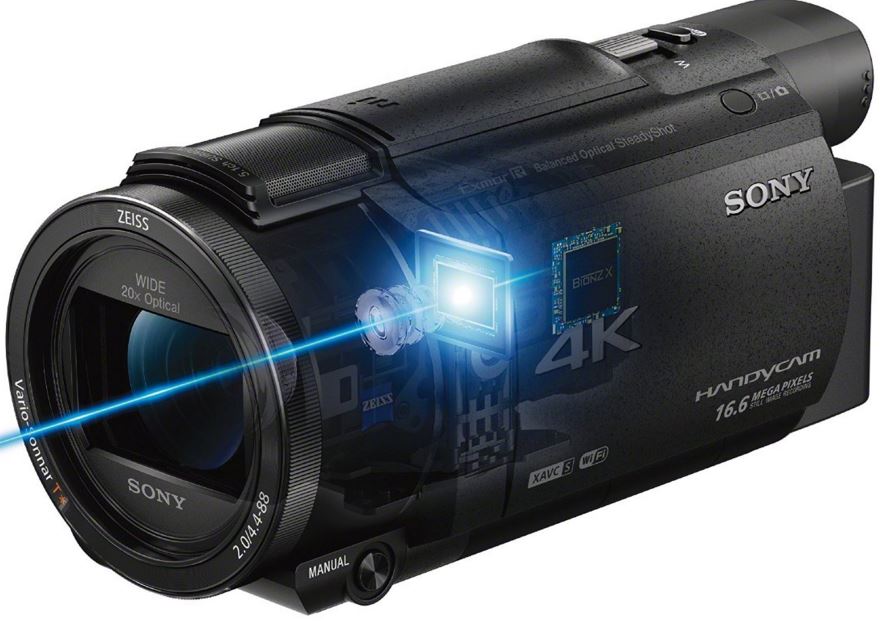 Premium Image Stabilization
Although a now-standard feature and not noteworthy on most premium camcorders, the AX53 really put an emphasis on enabling near-perfect image stabilization. When we were out shooting BMX action in standard HD mode, we noticed that even as the camera shakes, the final output looks much more stable than we expected. Sony seems to have put a lot of attention into the advanced stabilization abilities. Also, there's a 5-axis IAM (Intelligent-Active mode) that you have the option of enabling. This analyzes vibration from all angles and then stabilizes the final footage while retaining high-resolution quality.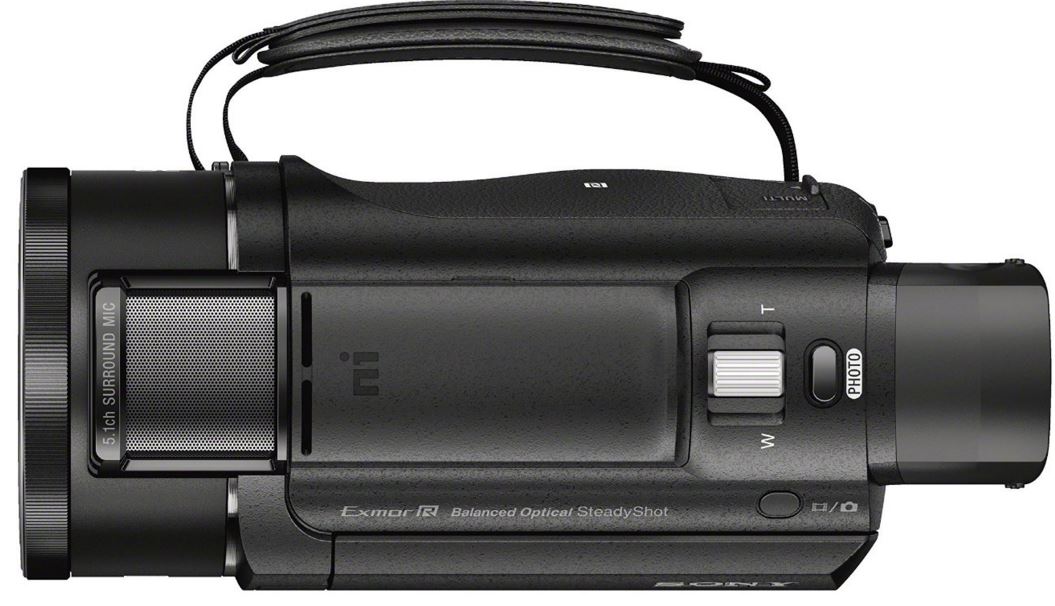 Dual-Footage Output
This is a neat practical feature for professionals who have concerns about extracting the best possible footage. For one, you'll likely want to try out different formats, settings and sizes. The AX53 enables dual-shooting in either XAVC S, AVCHD or MP4 format so you can compare the outputs side by side. This shortens the amount of time you need to take prefect footage (prior to post-production). We like to think about it as having two professional-grade camcorders shooting capabilities contained in a single body. The only downside to this is that if you're using outdated hardware for your post-production, you'll possibly need to upgrade it as the output can be heavily resource intensive.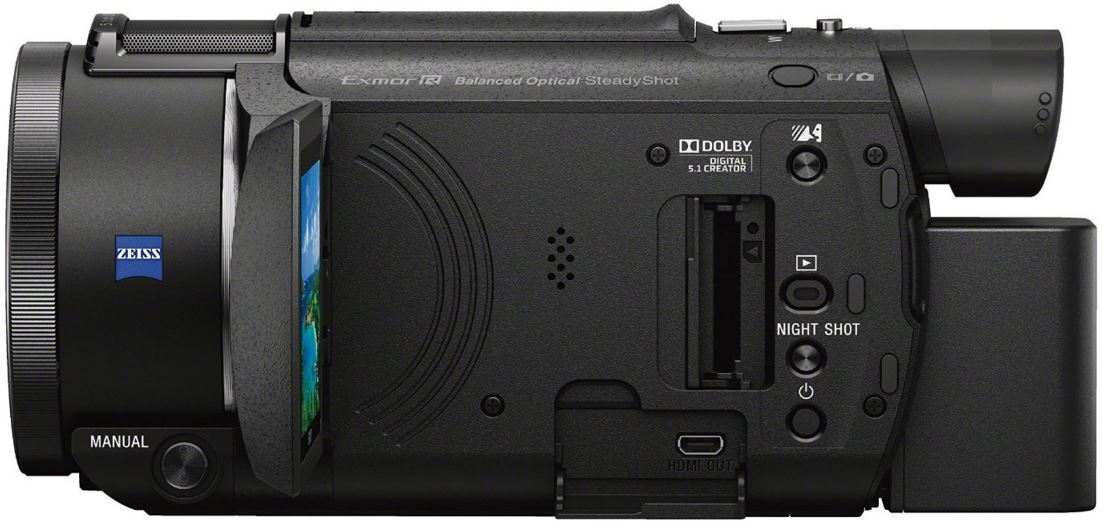 4K Time-lapses
If you've been forced to work with sub-par camcorders, you'll notice they offer decent time-lapse features. However, they always seem to restrict you to older, outdated resolutions such as 1080p. One of the best and most sought after features, the AX53 offers full 4K time-lapses. Plus, the integrated OS allows you to see everything on the spot without having to export files. This way, if something is off about your footage, you can instantly review it on the spot.
Next-Level Audio Control
The Sony FDR-AX53 4K HD Camcorder will spoil you in terms of audio input since it has a built-in 5.1 channel microphone on the front. It has the ability to capture sound coming from all directions, creating an accurate representation of what you actually hear in real life. It also has a small "music studio" feel to it as the LCD can give you light indicators for the sound, just like a recording studio. If you're coming from the AX33, you'll notice the sound output was largely revamped for the better. Effectively reducing noise levels by a decent 40-50%, boosting the stereo for XAVC format shooting, as well as Dolby's 5 channel surround technology. You likely won't even think about purchasing an external microphone as this integrated one offers complete adjustability and excellent audio quality.
Final Thoughts
The FDR-AX53 is an upgrade to Sony's previous flagship model (the AX33) and it's a completely new beast, rather than a simple baseline revamp. Combining features like the powerful 4K UDH shooting resolution at 24/30p, and the ability to shoot 17MP stills all the way up to 4K time-lapses, it's a great choice for both amateurs and professionals. Additionally, the dual-format recording and studio-level sound adjustability make it among one of the best new camcorders for 2016.