When consumers decide to purchase a new cable modem, there are usually two main driving forces. Upgraded modems allow consumers to get higher download speeds. This could be necessary if you're trying to upgrade your cable package beyond what your current modem supports, or if you're not currently tapping into all the bandwidth your current package offers.
Another reason consumers upgrade is to simply save money. Your cable provider may charge you a rental fee for their modem. No matter what the rate, if you purchase your own modem you'll be able to quickly reduce your expenses.
No matter what your motivation, there is a pretty big incentive to buy the biggest, fastest cable modem you can find. From a specification perspective, the TP-Link TC7650 looks to be one of the best modems on the market. Wondering how it performs in the real world? In our hands-on review, we'll be going in-depth to see what this modem is capable of. After we explore the functionality, we'll help you decide if this modem is the best option for your application.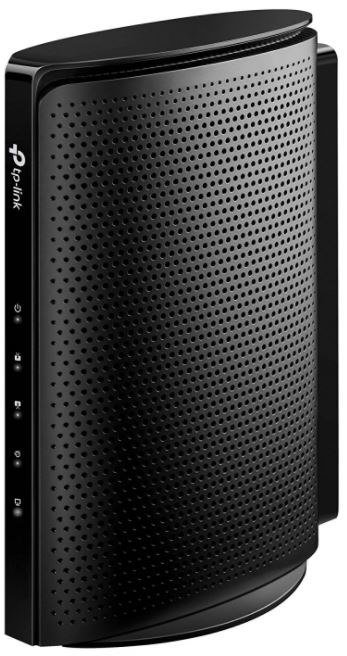 First Look
TP-Link is an internationally known brand offering high end networking hardware at a competitive price. The TC7650 is definitely a lot larger that most cable modems, but there is a ton of powerful hardware inside that justifies the large size. It supports the latest DOCSIS 3.0 standard, and is one of the few modems capable of downstream bandwidth exceeding 1 Gbps. Consumers who want a top tier internet package, or who don't plan on upgrading their modem again for a while are the main groups this modem is targeted to.
Unboxing & Setup
If you've previously configured your own cable modem, you'll be pleased to learn that the process is quite similar for TP-Links TC7650-E. But even if you're unsure of where to begin, you'll still be able to figure the process out quite easily.

Upon opening the box, you'll find a few key components. You've got the modem itself, a power supply, and Ethernet cable, and a quick start guide. The first thing you'll want to do is place the modem in an upright position, and connect the Ethernet cable to your router. You can then connect the coaxial port on the back to your cable internet supply, and finally connect the power.
After thirty or forty seconds, you'll see the power light turn on at the front of the router. This is the indication that your boot process is complete. From here, most ISPs require that you call in to tell them that you got a new router. There are a few, however, that allow you to activate it through their mobile app or online interface if you have a cellular data connection.
Design
Visually, the TC7650 has a very modern, up to date appearance. It's gently rounded sides and sleek inner enclosure mean that even though it's a little bulkier than most, it still appears like is has a thing profile. This modem has cooling holes on both sides, and is required to be used in an upright position.
Four status LEDs are located on the front, which give you a quick, at a glance look at it's current connection status. The appearance is slightly reserved, so it won't seem out of place no matter where you place it.

Compatibility
Whenever you buy a new cable modem, one of the most important things to check is whether it's compatible with your current internet service provider.
From a technical standpoint, there are very few ISP's that aren't compatible with this modem. Most providers are using DOCSIS 3.0, and TP-Link made sure that their modem adhered to the complete standard. But even through there is no technical reason why this modem wouldn't work with your carrier, there is still the unfortunate issue of bureaucracy.
Many ISP's do not allow any modem on their network unless they've tested and manually approved it. Before they can be used, vendors need to supply a review version of their hardware and make sure that it adheres to corporate policy.
At the time of writing, this modem is approved for use on Comcast, Xfinity, Time Warner, and Spectrum. If you're using a smaller, local, ISP. You might want to call and find out. Many smaller companies resell the services of one of these larger companies, so there is a chance that this modem could work even if your don't see your brand listed.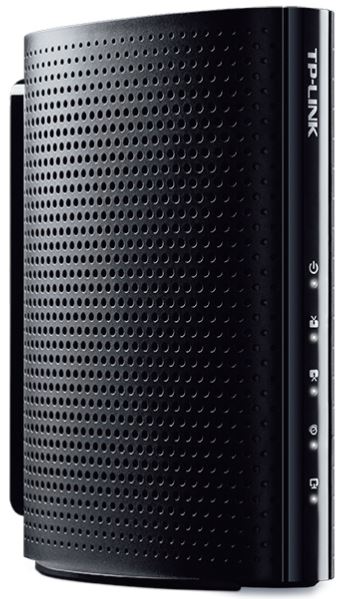 Networking Technology
If you're looking for something future-proof, this modem is one of the best options we've come across yet. It supports IPv6 in addition to IPv4, and both services can be run as a dual stack. It also supports a total channel width of 144 MHz, allowing it to access 24 channels of DOCSIS 3.0 bandwidth in downstream applications.
What does this mean for you? You get up to 1 Gbps of downstream bandwidth and 200 Mbps of upstream bandwidth. Although there are a few ISP's offering this kind of bandwidth, packages are still few and far in between. For most consumers, this is the type of modem that you buy now knowing that you want something that will last you several years. But even if you're the type who likes to download tons of files, this is still a great option.
Another form of future-proofing available with the TC7650 is the symbol rate. For illustration purposes, let's consider sending a letter to your friend. You have 26 different letters to choose from, so in this case your "symbol rate" would be 26. Each letter can have 26 different meanings. Most cable modems on the market have a symbol rate of 64. This means that a single waveform can have 64 different meanings. But this modem supports a symbol rate of 256. Although this technology is not commonly used with ISP's, it's quickly becoming the new standard. Once ISP's upgrade to this standard by default, most consumers are going to have to upgrade their modems. But if you purchase this one, you'll be ready for the changeover. For those of you looking for something that won't become obsolete anytime soon, 256 QAM is an important feature to have.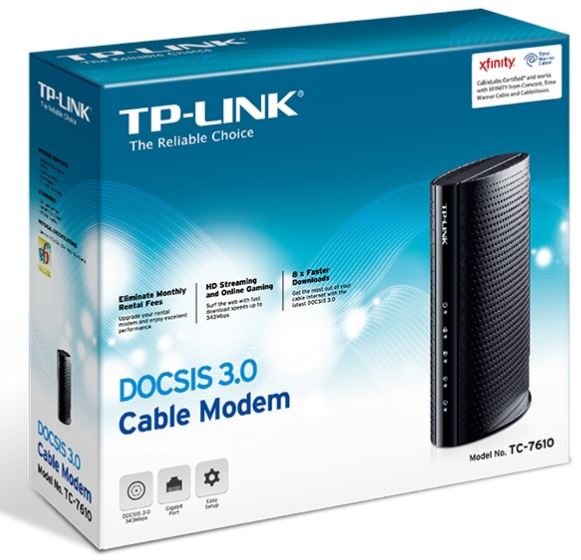 Disadvantages
For some consumers, the high end components don't provide much benefit. This modem is designed to be future proof, and includes hardware that supports technologies not currently in widespread use. If you live in an urban center, you'll likely see these technologies come into play within the next year or two. But if you live in a very rural area, there is a chance that you'll be spending money on equipment that isn't going to be seen for 3+ years.
Final Verdict
Should you buy the TP-Link TC7650 modem? Well, the answer to that question depends entirely on your usage. Are you one of the few people fortunate enough to have access to a 1 Gbps internet package? Or, are you looking for an inexpensive modem that will give you the best speeds available now, but scale with your usage over the next few years? If that's the case, then the 7650 is a fantastic option.
TP-Link is one of the most well known companies when it comes to home networking, and their expertise shows in this modem. It supports all of the hottest technologies currently in use today, as well as ones that are quickly coming into place. 265 QAM, IPv6, and 144 Mhz channel width are all quickly coming into play, and this is one of the few modems that can access these technologies without forcing you to upgrade.
That being said, this modem isn't the only thing you need to get a high speed internet connection. Unlike some, it doesn't include a router built in. However, we did just take a look at the TP-Link Archer C2300 router. This router is sold for an affordable price, but still performs like a high end unit. In our eyes, it's the perfect companion to the TC7650.
Looking for something a little more modest? This high end modem isn't going to be for everyone. If you're looking for an affordable modem / router combo, we'd highly recommend that you check out our review of the Linksys CG7500. This unit isn't quite as modern as TP-Links, but it's still got all the technology you need for a high end modern connection up to 300 Mbps. For most consumers, this could be a fantastic alternative.
Meet Derek, "TechGuru," a 34-year-old technology enthusiast with a deep passion for tech innovations. With extensive experience, he specializes in gaming hardware and software, and has expertise in gadgets, custom PCs, and audio.
Besides writing about tech and reviewing new products, Derek enjoys traveling, hiking, and photography. Committed to keeping up with the latest industry trends, he aims to guide readers in making informed tech decisions.