If you're gaming online, a high quality headset is one of the most important peripherals you can own. From an audio standpoint, a gaming headset helps you get more involved in your game by creating an audible landscape that adds another layer of realism to a digital environment. From a competitive standpoint, a headset is your line of communication to your teammates.
Unfortunately, many of us have experienced first-hand the disadvantages of using a low quality headset. Disappointing audio and an unclear microphone often create an experience that's worse than simply not buying a headset at all.
Turtle Beach is one of the most popular and well-known vendors in the industry. Their XO Three is a follow up to an extremely popular line of high quality headsets that have been on the market for many years.
In this review, we'll be putting this Xbox-Only headset to the test. We'll find out what it can do, how it performs, and help you decide if this should be the next addition to your gaming kit.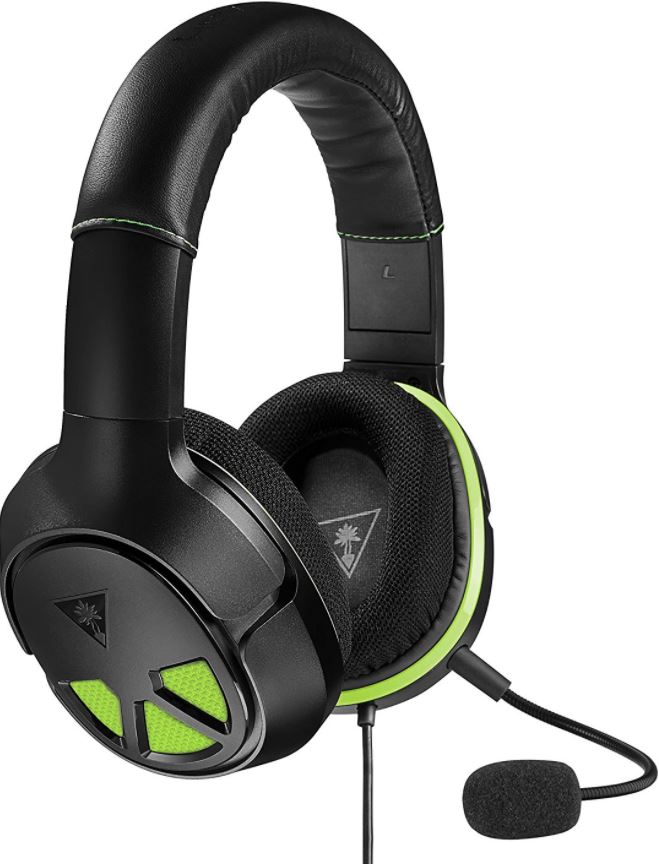 First Look
The XO-Series headsets are known for their thick, durable frames, comfortable padding, and high end audio equipment. Although this headset says it's designed for Xbox one, it's also compatible with PC, Mac, and PS4 systems. It's rare for Xbox controllers to be compatible with other platforms. However, this headset includes an adapter to be used with Xbox. If removed, it can be used with the other types of hardware. One of the main selling points of the XO three will be Turtle Beach's famous high sensitivity mic, so right off the bat we already have high expectations for this headset.
Design
If there is one thing gamers love, it's stylish hardware. Whether you're heading down to a LAN party or just inviting a few friends over for a competitive multiplayer session, appearance is everything.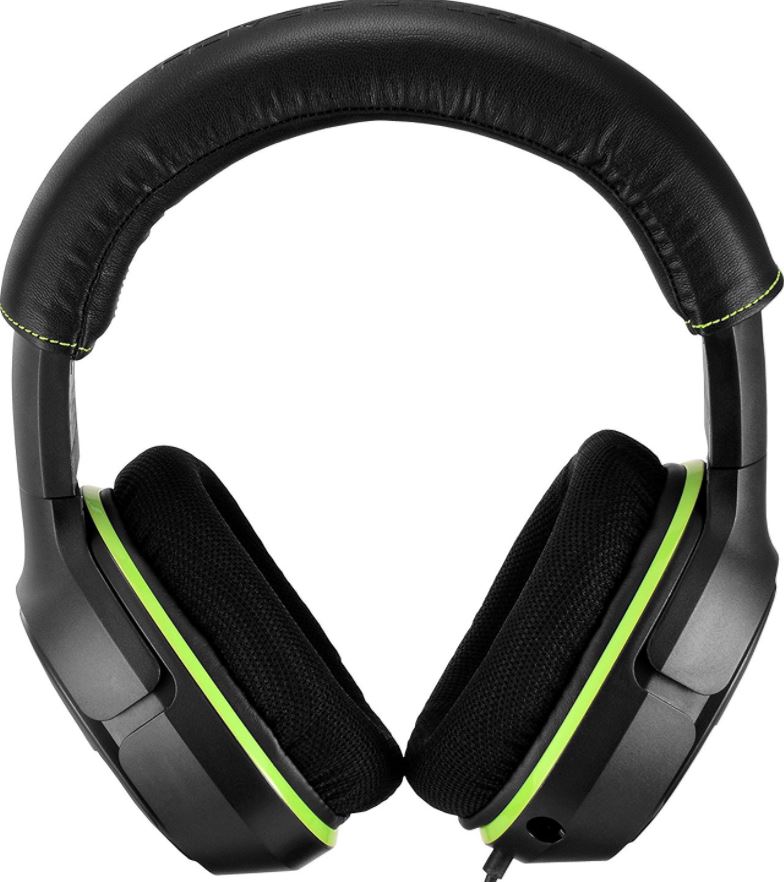 Fortunately, Turtle Beach doesn't disappoint. The large plastic frame is specially crafted to have a subtle, yet aggressive look. The squared off edges of the headband contrast nicely with the gentle curves of the ear cups. But what really captures your attention is the splash of green Turtle Beach has adorned their headphones with.
There is a thin line of green stitching at the end of the padding, and a thick plastic band that wraps around the ear cups. But the most notable of all comes from the three vent-style cutaway windows on the sides of the earcups. Black plastic has been peeled away to reveal a lime-green honeycomb style back plate. No only does this allow additional airflow needed to improve the bass response of the drivers, but it looks pretty darn cool too.
Comfort
When you're several hours into an intense gaming session, the last thing that you want is to have your focus eroded away by a general discomfort. Making comfortable headphones is especially hard when they're this large, as the extra bulk and weight can really put a lot of pressure. Fortunately, the lightweight construction combines with ample padding to create a level of comfort we're not used to seeing in headphones of this size.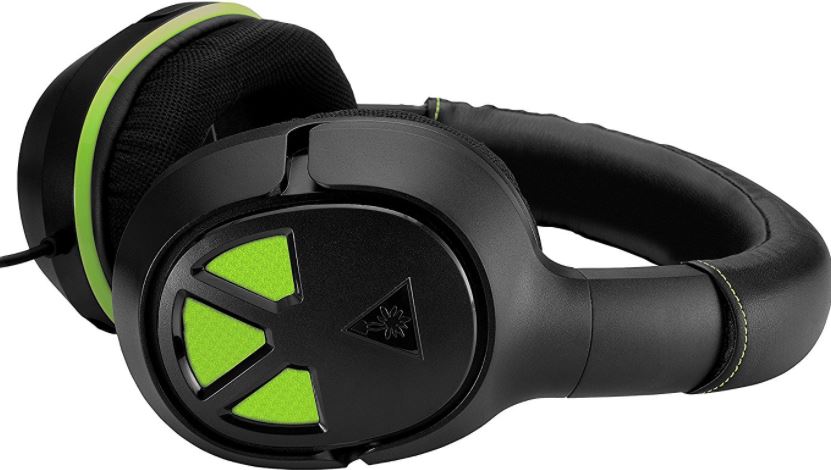 The bulk of the plush leather padding is applied to the ear cups. It's stuffed with a high density foam – think memory foam, but a little more evenly padded. You've then got an equally plush wrap of leather and foam around the headband. Here, the padding definitely contributes to the comfort levels of the headband. But the thickness of it is also a huge asset. You've got a large surface area that spreads the pressure across your head. There are no pressure points that stand out, and you're able to enjoy them for many hours of intense gaming.
The final asset this headset has is its circumaural design – it goes around the ears. There are no pads pushing directly up against the delicate cartilage in your ear, and this is our favorite design for long term use.
Sound Quality (Playback)
In our eyes, high quality sound is one of the most underrated aspects of a high end gaming experience. Thundering bass, rich textured mids, and crystal clear highs area all essential aspects to a realistic and enjoyable gaming experience.
To make this an affordable reality, Turtle Beach used some advanced hardware that outpaces the competition.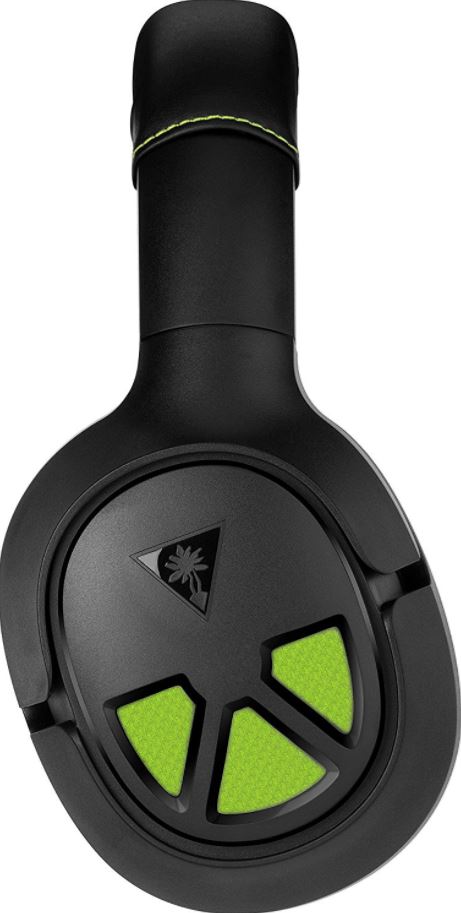 In order to make sound, headphones need to move air. And with a diameter of 50mm, the drivers in the XO Three are much larger than your average headphones. The sound signature heavily favors the low end. Explosions, background music, and gun fire have plenty of impact and power. That being said, because the drivers are so large, these big powerful sounds don't come at the expense of the upper range. Voice is extremely clear and easy to see, and treble is well presented and sharp.
If you're using an Xbox or an up-to-date Windows 10 PC, the XO Three headset comes with surround sound capability. This is a simulated surround sound, but the effect is very pronounced. Voices seem to come from the room around you rather than the headphones themselves. You can hear cars driving by, or bullets zipping past your head. The surround sound isn't quite at the same level as some dedicated headsets, but it's certainly the best we've heard in this price range.
It's true that this headset isn't audiophile grade. It's not the kind of thing you'd want to pick up and listen to a sonata. However, for gaming and movie use it's exactly what we'd like. For the money, the sound quality offered is well above average.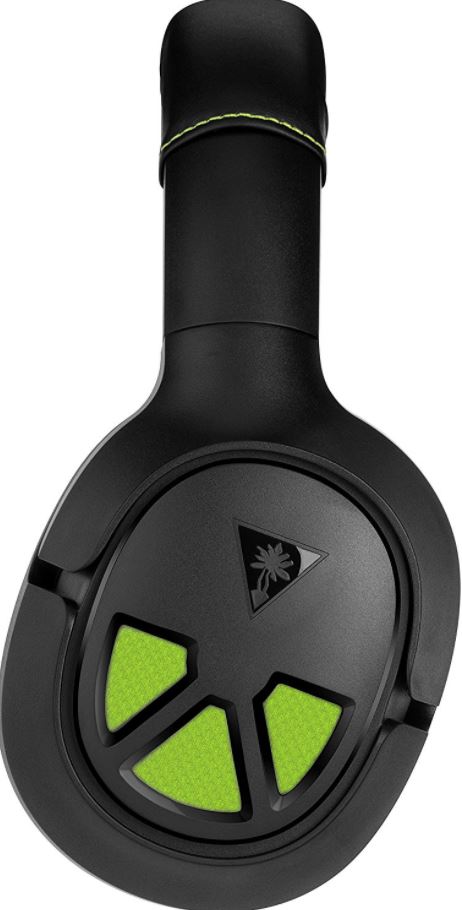 Sound Quality (Microphone)
At one time or another, we've all been paired with a teammate who's microphone was simply awful. Shrill, hard to understand audio can have you hitting the mute button as quick as you can. But the detachable microphone in the XO three isn't anything like that. Turtle beach is known for producing sensitive, yet clear microphones. The main advantage to this designs is that placement isn't very important. You can position it wherever is comfortable, and it will still pick up your voice as clear as day.
The sound quality is easily compared to talking on a cellphone. It's smooth, clear, and present. But it doesn't overpower the rest of the sound. Using it feels natural, and your teammates certainly won't complain.
Controls
When you're in the middle of an intense gaming session, the last thing you'll want to do is take your hands off of your controller. However, you do occasionally have to adjust your headset, so it's important that this is simple and easy to do.
This model uses an inline controller. Instead of placing it on the ear cups like many models, it's placed about halfway down the cable. You've got a button to mute or enable the microphone, so you can quickly have a private conversation without broadcasting it to the entire world. You're also able to quickly change the volume by using the dial. The controls are simple and easy to learn, so you're able to use them without having to think about it much.
Disadvantages
The removable microphone makes these headphones a good candidate for music and movies, but there are a few drawbacks. First, they're quite bulky. They're loose fitting and comfortable, but the size means that if you wear them while walking and jogging they'll tend to move around. Additionally, we'd prefer Bluetooth headphones for that purpose. Although Turtle Beach recommends these headphones for non-gaming purposes, we think that there are better options out there.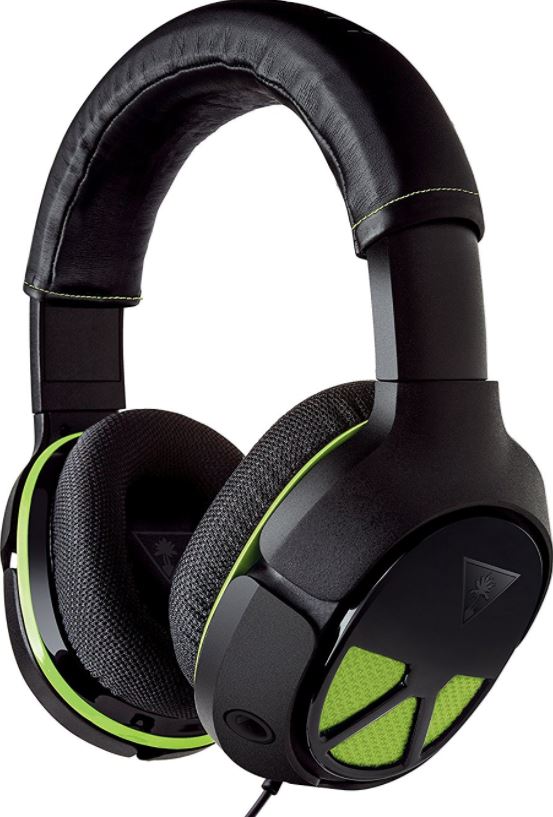 Final Verdict
If you're looking for a high end gaming experience on a low end budget, we'd highly recommend the Turtle Beach XO Three's. This headset look, feel, and (most importantly) sound like something that would command a three-figure price tag. They're simple, stylish, and easy to use.
Yes, you can find cheaper options. But in our eyes, this is the lowest price point where you still get that "wow" factor. If you're upgrading from a cheaper model, this headset will drastically improve your gaming experience. And if you're buying a headset for the first time, there will be very little to be disappointed about.
Microsoft's newly released virtual surround sound platform is definitely impressive, and this headset is the most affordable way to try it out. But if you're willing to pay a little more in order to experience a higher end surround sound headset, we might recommend that you check out the Turtle Beach Stealth 520. Surround sound is a nice bonus on the XO Three, but if it's the main selling point then it might be worth the extra money to get a higher end model.