If you know gaming headsets, you're sure to have heard of Turtle Beach. We've reviewed their products time and time again, always finding them a company that offers excellent value. Most of the products we've taken a look at have been focused on the mid to high end market, and we haven't always found a lot of entry level products suitable for gamers on a budget.
If you're shopping for affordable headphones, you've probably read the same advice as us. "Don't buy, save your money, everything inexpensive is poor quality."
It's disappointing advice. Considering there are so many great headphones available in the entry level market, why are there so few high quality gaming headsets? The answer, sadly, is unscrupulous manufacturers. Gamers are a passionate audience. Many of them love to get into their games, and any company that promises to enhance that experience can make a lot of cash.
Unfortunately, many of them choose to release the cheapest headset they can manufacturer and overcharge for it. Since Turtle Beach has such a great track record of giving gamers what they want, let's take a look at the Recon 50X and see how it stacks up.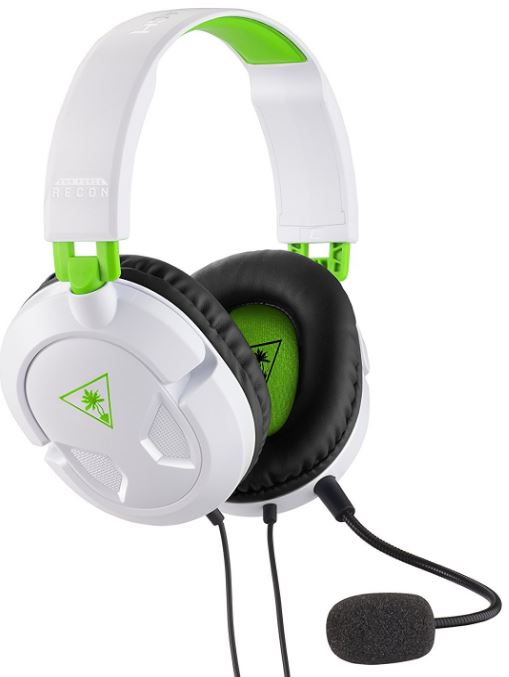 First Look
The Turtle Beach Recon 50X Gaming Headset definitely has a certain type of appeal to it. The pure white sheen stands in sharp contrast to the lime green accents. The smooth gradients and bevels almost have a bit of an industrial look to them, although the soft earpads fit firmly into the "luxury" category. They are quite light and a little short on features, although all the basics are there.
Build Quality
When you first pull the Recon 50X headset out of the box, you can tell they're an inexpensive headset. Fortunately, that is where the disadvantages end. Although they tried to keep the headphones simple, all of the mechanical features you'd expect are there. The ear cups extend and retract in order to adjust to the size of your head. We've seen so many headphones in the past that had weak mechanisms here. Turn your head the wrong way and one of the ear cups was either extending or retracting. But gamers need a headset that will stay in one place, and the 50X doesn't disappoint. When adjusting the ear cups, every notch of adjustment you make falls into place with a firm "click." The ear cup will stay in that position unless you genuinely want to re-adjust it.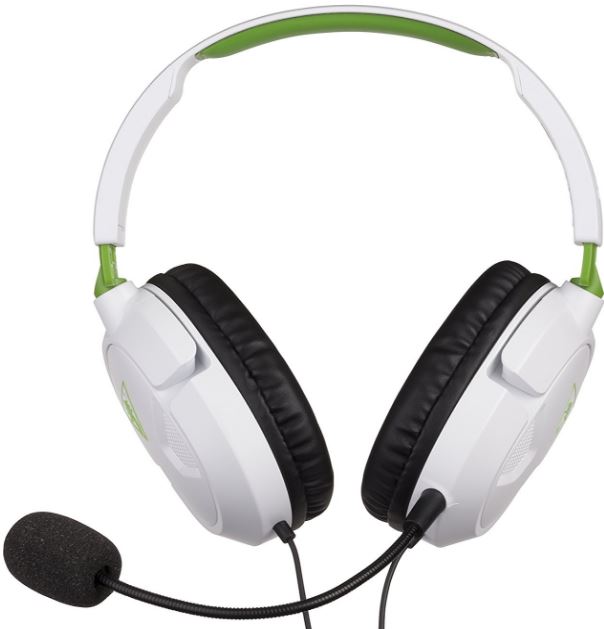 The ear cups also swivel along two other axis' for maximum comfort. They'll move both up and down, as well as side to side. The movement is smooth and yet firm, not floppy like a lot of budget headsets.
Another great feature for longevity is the removable microphone. It's attached to the ear cup through a standard 3.5mm mic port. This means that you can add or remove it as necessary. If you're on the go and just want to listen to some tunes, you can remove it and keep it free from harm.
Comfort
The headphones are very lightweight. It's easy to forget they are even there. At first, we were a little worried about the lack of padding on the upper band, but it turns out this isn't a problem at all. Most of the pressure is on the ear cups, which allows them to stay firmly planted on your head.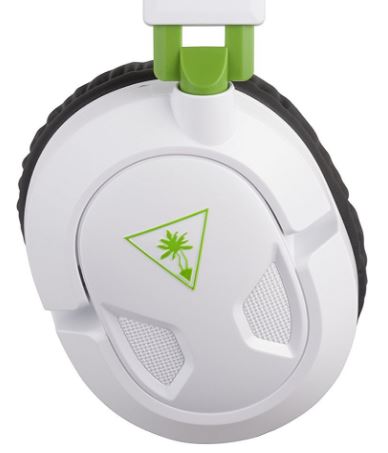 We're really happy that they chose to go with a circumaural (around the ear) design instead of a supraaural (on top of the ear) one. Circumaural is much more comfortable on the ear. You'll especially appreciate this feature if you wear glasses, as you won't have some tight headset crushing your ears into the sides of your glasses.
The padding on the ear cups feels great on the skin. It's very light and fluffy, while the pleather material is soft and breathable. If you're looking for a comfortable headset, we're super impressed with the Turtle Beach Recon 50X.
Sound Quality
This is one of the aspects we were most concerned about with the 50X. Surely for such an affordable headset, there must have been some serious compromises made with the audio quality? Well, if you were expecting sound quality akin to a $500 pair of audiophile grade headphones, you might be a little disappointed. But we were pleasantly surprised.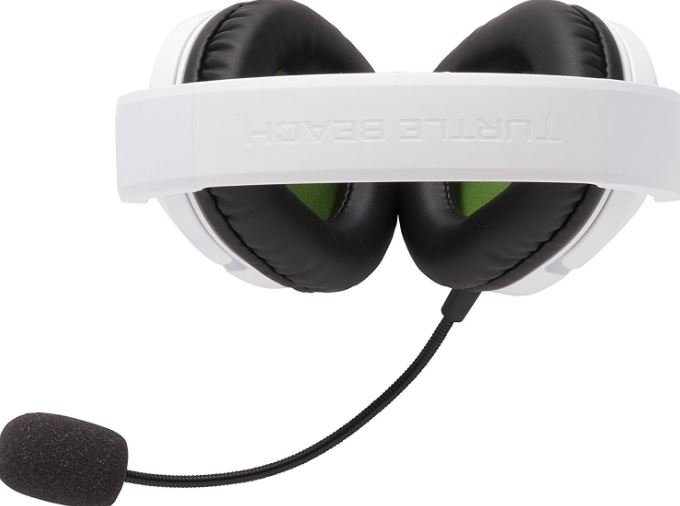 Usually, at this price point, you get tinny, undefined sound and boomy, overpowering bass. What we found with the 50X was much different. All frequencies were relatively well defined. Even when things got loud, the sound didn't degrade into a mess of distortion. All of the different elements had just a bit of separation from them, allowing us to pick up the relevant audible information out of a sea of noise.
In part, this audio quality is thanks to the 40mm Neodymium speakers. 40mm is quite a large driver size, allowing for reasonable bass reproduction. However, Neodumium is also an extremely powerful magnet. This means that the driver is able to exert a lot of force over the speaker cone, giving it an excellent level of control. It's this control that allows the highs to be sharp and defined, while the mids remain smooth and present.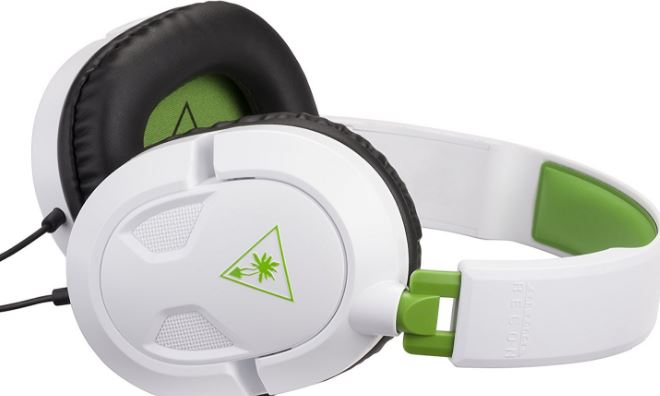 Microphone Quality
The microphone is not the best we've seen in a headset, but it's not the worst either. Although there are no controls to adjust it, they mic is on a very long boom so you can place it (physically) exactly where you need to. One of the largest problems we've had with microphones is sibilance and distortion. Ever talk into a mic and all of your "S's" turn into a "PSHHHH" sound? This is called sibilance. It comes from air from your mouth directly hitting the microphone's sensing diaphragm, and the mic doesn't know how to handle it. Many compact boom mics suffer from this, and yet the solution is so easy and cheap.
See that big foamy bit on the end of the mic? That's a diffuser. It allows sound to travel through clearly, but any large "gust" of air will be diffused, removing sibilance. That tiny little change makes a world of difference in audio quality. Sure, it might not be as pleasing to the eye as a tiny little mic machined out of a solid piece of aluminum, but it works incredibly well.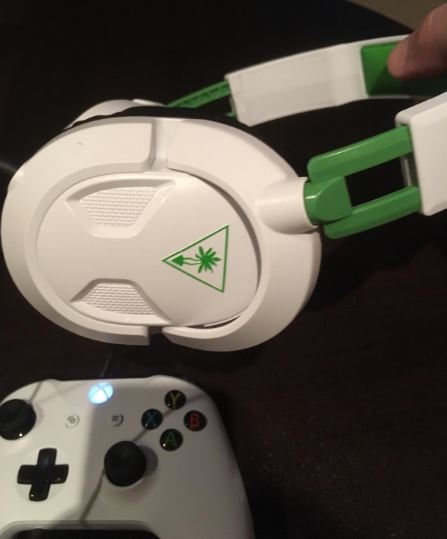 Compatibility
The primary advantage of non-wireless headsets is that they are compatible with virtually every device on the market. The Turtle Beach Recon 50X connects to your devices using a standard 3.5mm jack. This means that it will work with your Xbox One, your PS4, your PS3, and even your computer. There are very few devices on the market that don't have a 3.5mm jack.
Unfortunately, one of these devices is the Xbox 360. If you're a Microsoft gamer that hasn't upgraded to the One yet, you'll need to buy an adapter (both Turtle Beach and Microsoft make them) that will give you a 3.5mm jack on the bottom of your 360 controller. It might be compelling to just buy a different headset made specifically for the 360, however we'd highly recommend just getting something like this that will work with all of your future consoles, instead of buying into something that will only work for the one.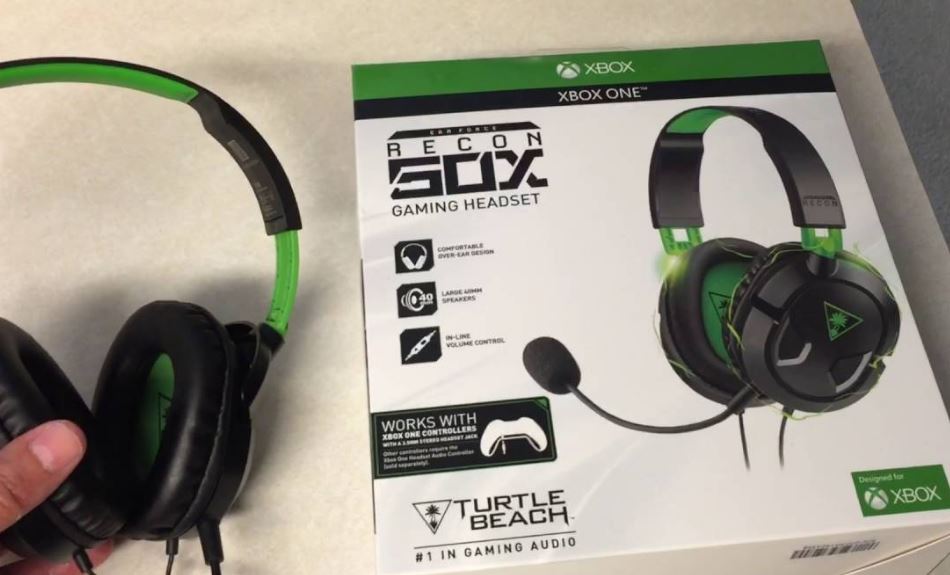 So, Should You Buy the Turtle Beach Recon 50X?
If you're looking for a great gaming headset on a strict budget, you can't get much cheaper than the Turtle Beach Recon 50X. They're incredibly inexpensive, and unlike many other headsets you actually get some value for your money.
However, it is important to note that these are absolutely an entry level headset. Serious gamers might want to check out something a little more powerful. Our recommendation if you're looking for an upgrade would be the Turtle Beach Stealth 420X, or even the Mad Catz TRITTON Ark 300.
Then again, many users may just want to keep it simple with the Recon 50X. Headsets tend to suffer from the law of diminishing returns. A headset that costs four times the price will certainly not be four times as good. It might have bass that's a little tighter, highs that are a little sharper, and perhaps a bit of wireless connectivity. But when it comes down to the basics, the Turtle Beach Recon 50X has everything you really need from a headset. The sound is nice and clear, they're comfortable and easy to operate, and they're compatible with a wide range of devices. From where we stand, you can't really go wrong!