Many manufactures would have you believe that buying the latest 4k, HDR, curved television is the number one way to create an immersive gaming experience. But no matter how visually appealing your games are, there is still one other important aspect to the consumption of media – Sound.
Even when visiting the movie theater, the screen size only plays a small aspect in your enjoyment of the film. It's the highly calibrated, accurate, explosive sound that draws you into the film. While it is possible to bring this experience into the home, spending thousands of dollars on speakers and amplifiers is not accessible to most consumers. Anyone living with roommates or in an apartment may find that their neighbors are not as excited about their expensive sound system as they are.
A high quality head-set is often one of the most accessible ways to get cinema quality sound in the comfort of your own home. With 7.1 channel surround sound now being found in many games for both console and PC, many manufacturers are releasing products that support this standard. But with so many challenges brought on by trying to cram big sound into a small package, some of these products have fallen short of expectations.
Mad Catz will be bringing the Tritton ARK series gaming headsets to market this holiday season. While they claim that this product is going to be the best gaming headset on the market, it's hard to determine if this is fact or fiction. Let's take a look at the specs and see how it compares to other products in the market.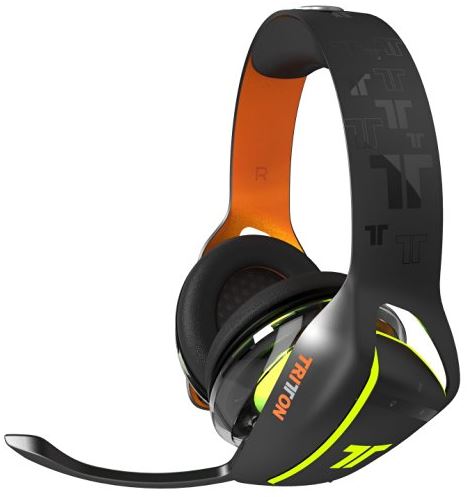 ARK 100 Stereo Headset
The ARK series gaming headsets are divided into two models, each available for three different platforms. The first of these models is the ARK 100. As a stereo headset, this one is only built for the standard two-channel audio. This is a wired headset, available for PC, PS4 and Xbox One. The headset can be connected via both USB and 3.5mm connection. When running off 3.5mm auxiliary cable, the headphone will operate off the internal battery. The included multi-color LED lights seem to give off a very impressive looking light show, but do tend to impact the battery life a bit. You should be able to expect 25 hours of continuous-use battery life with the LEDs off, but only 10 hours with them on.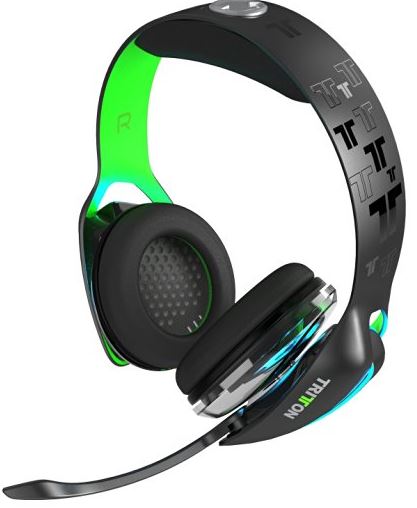 ARK 300
The ARK 300 takes all of the features of the 100, but adds a few key elements. The most prominent difference between the two is the addition of 7.1 surround sound. Multi-speaker design lets you hear audio from all directions, giving you a fully immersive audio experience. Surprisingly, the battery life appears to be the same as the wired model, indicating the same type of internal amplifier is used. To support the surround sound features, an impressive EQ feature is included. On the PC, a branded software is included that lets you control every aspect of the sound-stage. On the PS4 or Xbox, there are multiple user-definable EQ modes that can be switched between.
Design
The Tritton Ark headset is a gaming product, and they want you to know it. The headphone is made of plastic, but features a very aggressive design. Impressively, the headset manages to look tough without looking gaudy. The gentle lines and thick headband are accented both by the reverse-etched Tritton logo and smooth orange accents. When folded up, the microphone tucks nicely into the side of the headset and seems to almost disappear. The included LED lighting is absolutely attention grabbing, with 5 programmable transition styles.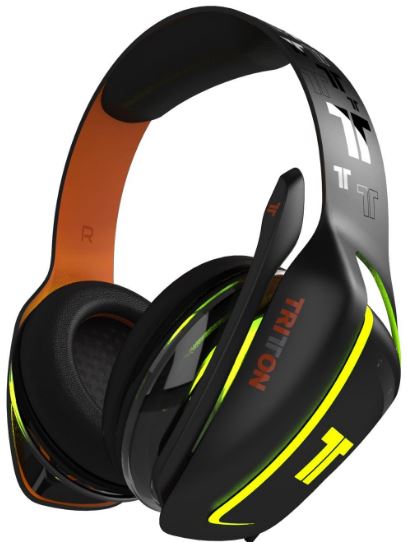 Cycle slowly transitions smoothly through the 8 different color combinations, breathe is a gentle pulsation of the color of your choice. Beat – just as the name implies – replicates the rhythm of a heartbeat. Random is more of a fast-acting cycle through the color spectrum, while the solid option is just a single illumination of the color of your choice. Fortunately, if you feel that the lighting stands out a little too much for your taste, it can be disabled.
Fit
As far as comfort is concerned, the fit of the headphones is one of the most important aspects. With the Tritton, Mad Catz has integrated several features designed to make the headphones comfortable to wear. Due to the circumaural design (meaning they go around, instead of on top of the ear), these headphones should be inherently more comfortable that more compact designs. To compensate for the variances in head size, the ear cups are adjustable in multiple directions. Combined with a thick pad on the headband, these headphones look to be pretty comfortable.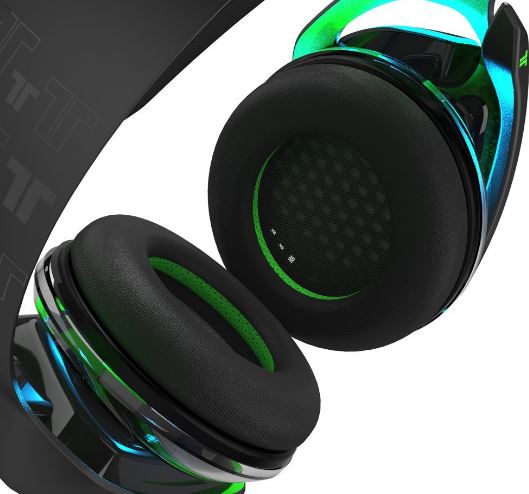 Sound Quality
Until these headphones are released, it's challenging to comment on the sound quality of this unit. But there are a few key features that have a massive impact on sound quality, and these ones seem to check off several of the boxes. The first issue is speaker size. The smaller the speaker, the less bass it is able to reproduce. But the larger drivers tend to roll-off the highs, producing a more "muddy" sound. Some of the earlier surround sound headphones provided many smaller drivers in order to project the audio in different directions, but lacked strong bass. Other headphones included large drivers, but suffered from distortion when trying to get highly dynamic sound out of a single speaker cone.
Tritton took a unique approach to solving this issue. Even the two channel ARK 100 contains a total of four drivers. Just like home speakers divide up bass and treble into separate speakers, the ARK 100 contains multiple driving units. The 60mm driver is very large as far as speakers are concerned, and historically they have delivered very powerful, dynamic bass without suffering from distortion. Small 10mm drivers are able to reproduce high sounds very accurately, and should keep everything sounding crisp and clear.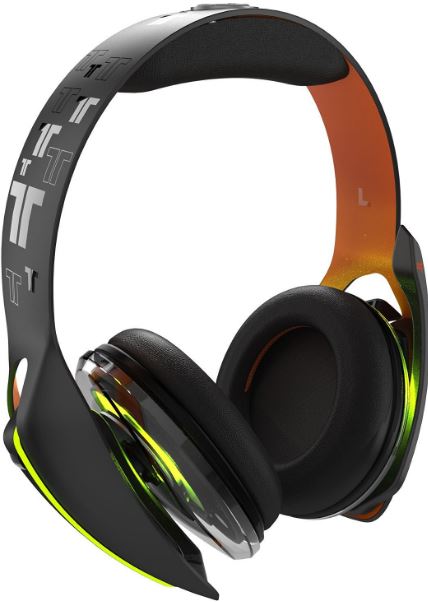 But with such a huge 60mm driver, how are they able to fit the multiple speakers necessary for surround sound into the ARK 300? Creatively, they simply installed multiple magnets on the speaker cone. Because the speaker can be pulled back in multiple directions, the sound can be properly directed as needed. While this is not true surround sound, this is probably the best you are going to find in a portable package.
Connectivity
The biggest issue with 7.1 surround systems on modern gaming systems is the inclusion of copy protection. In order to prevent televisions and video to be recorded, HDMI requires all media output devices to be verified. HDMI offers superior image quality to component, but means that you will not be able to use the standard headphone jack. Fortunately, both the ARK 100 and the ARK 300 include a base station with HDMI pass-through. This allows you to plug the HDMI cable from your console into the base station, and then the base station plugs into your TV. While many older surround sound headsets will not work with the latest gaming consoles, the Tritton ARK series should work flawlessly.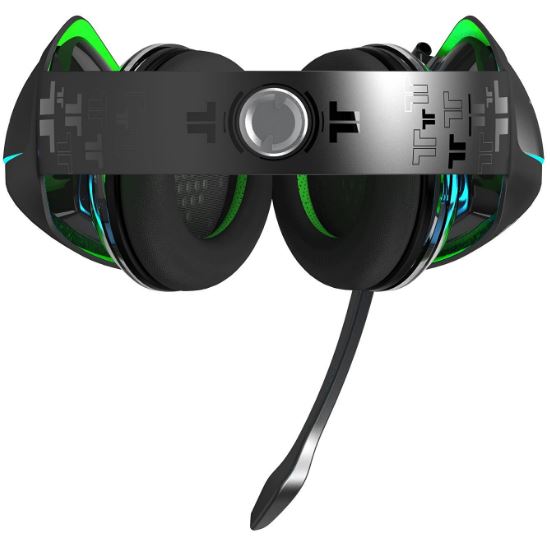 Microphone
The boom mic included with the ARK series of headsets looks to be a very high quality model. The microphone is a uni-directional model, so your voice should come across loud and clear no matter where you are placed. The audio input also goes through an audio filter, which is designed to remove all environmental noise. Because these filters often need a little tweaking, there is a selective voice monitoring feature enabled. This allows you to hear your own voice through the headset, so you can confirm that everything sounds good before you start the big game.
Integrated Amplification
Passive power mode means that you should still be able to use your headphones with a standard 3.5mm audio cable even when the battery is dead. But these headphones use very large and powerful drivers, and to make the most of their sound quality you need a little extra power. When charged, the headphones have a built in amplifier that should significantly improve bass extension and volume. If you're going to spend the money on high quality headphones, we recommend that you make the most of them by taking advantage of this amplifier. Simply running them off of a single 3.5mm input will probably result in sub-par performance
The Final Verdict
With so many different headsets on the market, it can be hard to decide exactly which model is right for you. Although we can't truly determine the quality of these headphones until they are released, they certainly look to be a very strong contender. If you don't need a headset immediately, we would highly recommend waiting until they are released before you purchase a competing product. Mad Catz has produced several very high quality products, and we're excited to see what they will come up with next.
Meet Derek, "TechGuru," a 34-year-old technology enthusiast with a deep passion for tech innovations. With extensive experience, he specializes in gaming hardware and software, and has expertise in gadgets, custom PCs, and audio.
Besides writing about tech and reviewing new products, Derek enjoys traveling, hiking, and photography. Committed to keeping up with the latest industry trends, he aims to guide readers in making informed tech decisions.