The TRENDnet Powerline 1200 AV2 Adapter Kit (Model TPL-420E2K) is an adapter that connects several devices to the internet with ease. It uses your house's existing power line to connect and maintain a fantastic performance level, supporting your wireless router in areas that are very difficult to reach.
It boosts the internet signal to maintain a flawless system of connection across a multitude of devices. It has a compact design that allows room for another plug in a double socket, and is extremely easy to configure and setup. Conventional plugs that are often bulky simply don't do this, making the Powerline 1200 a space-saving option.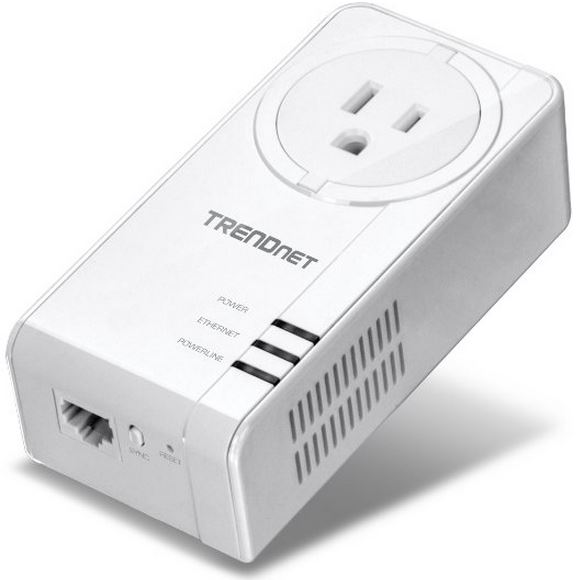 Many homes suffer from slow internet speed because of a shared internet connection. Even with just 2 devices sharing the internet, speed and performance can become poor, depending on your infrastructure. This is where TRENDnet Powerline 1200 AV2 Adapter Kit comes in. It pumps up the active network and expands the range throughout the entire home.
The TRENDnet Powerline 1200 AV2 Adapter Kit (Model TPL-420E2K) connects up to 8 devices to the internet. It uses the already-installed electrical power system to do so, which is great for connecting many gadgets like personal computers, smart TVs, media players, and/or game consoles.
Without having to install anything on your operating systems, the adapter is plug & play and works right away. It works right out of the box to connect to an outlet immediately for an extremely fast network connection. Additionally, it's a secure system as it's already pre-encoded from production, so no one outside of your household can connect to it.
Features
The TRENDnet Powerline 1200 AV2 Adapter Kit (Model TPL-420E2K) is extremely easy to use. Just plug it into an outlet and connect an Ethernet cable from your device to the adapter. In less than a minute, the system is set up and ready to use for secure and reliable use. The adapter transmits signals into the electrical line so that other devices can effortlessly connect to the internet when they would otherwise not be able to.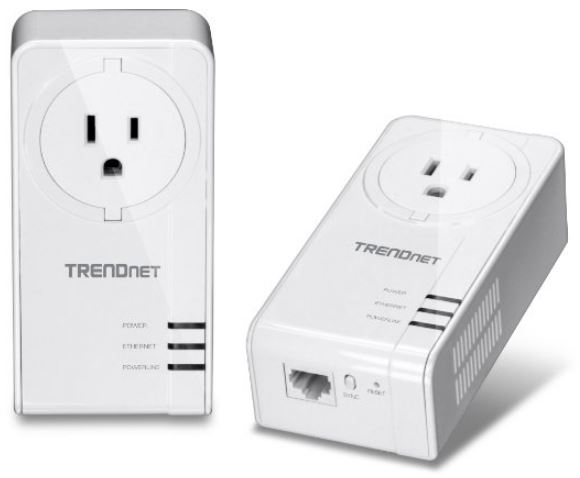 To explain the difference, WiFi uses an invisible signal to transmit data without any cables or wires. Although WiFi is often preferred, sometimes it's just not an option. Powerline technology uses the electrical lines in the house to send data throughout the network.
If more devices from other rooms need to connect, just plug in another adapter to the wall and connect the device into the adapter. There are no extra cables that lie around the floor to get the adapter to work.
The TRENDnet Powerline 1200 AV2 Adapter Kit shares the internet network across many places without clutter. It will not lose the network strength that a conventional router does even with many simultaneous users since it's using a hardwire connection to transmit and receive data.
Advantages
There are 5 good reasons why the TRENDnet Powerline 1200 AV2 Adapter Kit (Model TPL-420E2K) makes a great investment for home owners.
First is its Plug and Play quality. TRENDnet's ready to use adapter is good to go out of the box and needs no CD or drivers installation. It can plug immediately into the wall for instant connectivity, and its pre-encoded setup makes it safe and secure from unauthorized use. Even when neighbors can potentially see the Powerline network, they won't be able to use it without the owner's permission.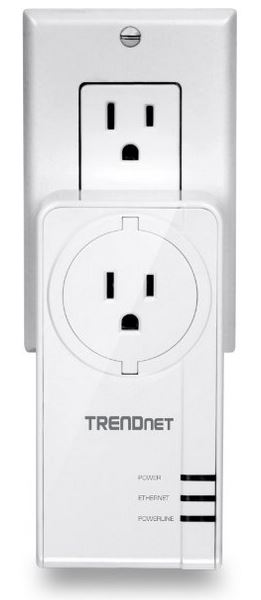 Second is Coverage. Its range of distance reaches up to 1,000 ft. of connectivity, making it a suitable choice for even large homes that have a ton of area and space. The amount of coverage needed to cover a large home is often times impossible for wireless routers alone. TRENDnet's powerful coverage reaches far places in houses that wireless routers simply can't reach. Home materials such as concrete walls and other materials make it hard for the common WiFi router to reach every nook and cranny. This is what it's so good at – it extends the network's reach to all of the corners in the house where there's a need for internet service.
Third is Signal Strength. It's a reliable device for most internet providers because of its super stable network signal. It allows seamless streaming of high definition videos, online gaming, downloading, and browsing without any lag or latency issues.
Fourth reason is the speed. Just one of TRENDnet's Powerline 1200 AV2 Adapter Kits provides up to 1200 gigabytes per second for one device. Even if many devices connect to the network, each of them receives their own 1200 gbps connection from its own adapter. This leaves them with a seamless connection for intensive internet use.
Fifth is that no extra wires are needed to connect many adapters and devices. All that's needed is the adapter plugged into an outlet and the electrical device connected to each other. No messy cable connections lay on the floor.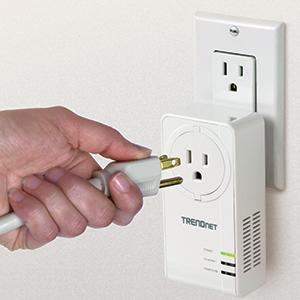 The Disadvantage
Some reviews say that the TRENDnet Powerline 1200 adapter is slow and expensive for its kind. A lot of feedback proves that the general performance compensates for the price paid at the beginning.
Pricing and Retailers
The Powerline 1200 AV2 Adapter Kit (TPL-420E2K) retails around $139 on through Amazon.com – the best place to purchase it. The box includes a CD-ROM user guide and 2 network cables. TRENDnet provides a wealth of post-sales technical support 24/7 to customers who need help with the product, all at no additional cost.
Specifications
The adapter works with Windows 7 to 8.1 and Vista operating systems. It plugs into 100-240 voltage power outlets so it can be used just about anywhere you have a free outlet. Each one weighs 104 grams and measures 2.3 x 3.0 x 2.6 inches, making it compact and portable in size.
It uses the MIMO (multiple in, multiple out) antenna technology for quick setup that only takes a minute. It also utilizes Beamforming technology to enhances its transmitting performance to exceed expectations of high speed connectivity.
Conclusion and Final Thoughts
The TRENDnet Powerline 1200 AV2 Adapter Kit optimizes an existing internet source without the clutter. This investment is definitely worthwhile in our opinion. It saves space and maintains high internet speed through dedicated adapters placed around the home. Additionally, it hardly uses any energy so you shouldn't notice any spike in your utility costs.
All in all, this adapter is a convenient supplement to an existing internet connection. It's perfect for homes that don't have the luxury of running more wires due to rent or renovation limitations. Plus, you don't need to get rid of your existing router, it's a fantastic supplement to the current network infrastructure.
Meet Derek, "TechGuru," a 34-year-old technology enthusiast with a deep passion for tech innovations. With extensive experience, he specializes in gaming hardware and software, and has expertise in gadgets, custom PCs, and audio.
Besides writing about tech and reviewing new products, Derek enjoys traveling, hiking, and photography. Committed to keeping up with the latest industry trends, he aims to guide readers in making informed tech decisions.