When you think of portable electronics, speakers probably aren't the first thing that come to mind. On the contrary, speakers tend to be one the least portable devices that we use. Smartphone speakers are better than nothing, but they're only equipped to create enough sound for a couple of people sitting directly next to the device.
If you're looking to get more sound than you can out of your smartphone, then you need truly portable speakers. Combining lithium-ion batteries and Bluetooth, you can find speakers that do things which would've been impossible only a few years ago. Fully portable speakers can now offer volume levels and audio quality that would've been impossible only a few years ago.
But when you're choosing portable speakers, it's important to know what you're paying for. Any speaker that costs less than a few hundred dollars will be making compromises in its design, and will aim to specialize in some way. That specialization might be an amazing battery life, outstanding volume output, or incredible bass response. Whatever the features happen to be, it's important to know what you need and what you can expect.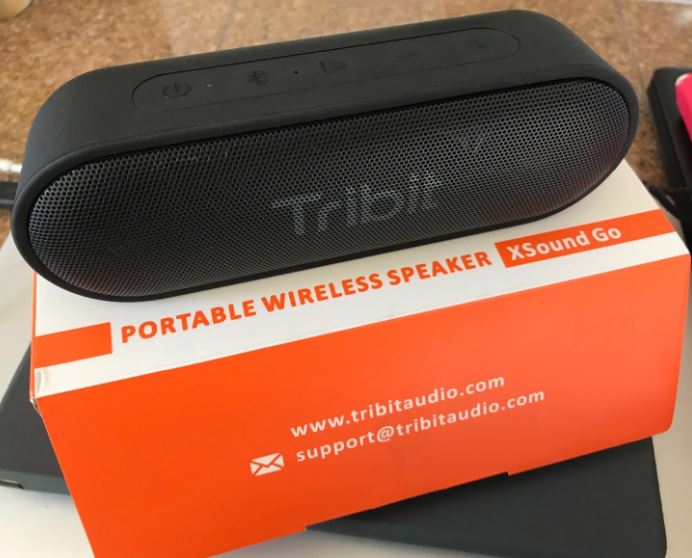 Tribit XSound Go Portable Bluetooth Speaker
The best word to describe the Tribit XSound Go is portable. It uses a simple curve design that fits neatly into the palm of your hand. In your hands, the tiny body is roughly the same as holding a hotdog. That level of portability makes it suitable for sticking it in a bag, or being hung in a room with the included lanyard. That lanyard is intended to be attached to your wrist, so you can carry the speaker around with you in your hands. Expecting people to physically hold the speaker should give you a good idea of the kind of lightweight build the XSound Go has to offer.
Build & Design
Portable electronics are made to be taken on the go, not to spend their days within the safe confines of someone's apartment. And when you're taking electronics on the go, you've got to worry about a dozen different ways that moisture might get on you. Your smartphone may not be waterproof, but it's almost undoubtedly water-resistant. Unless you live in a region where it never rains, choosing portable speakers without at least some form of waterproofing is a disaster waiting to happen.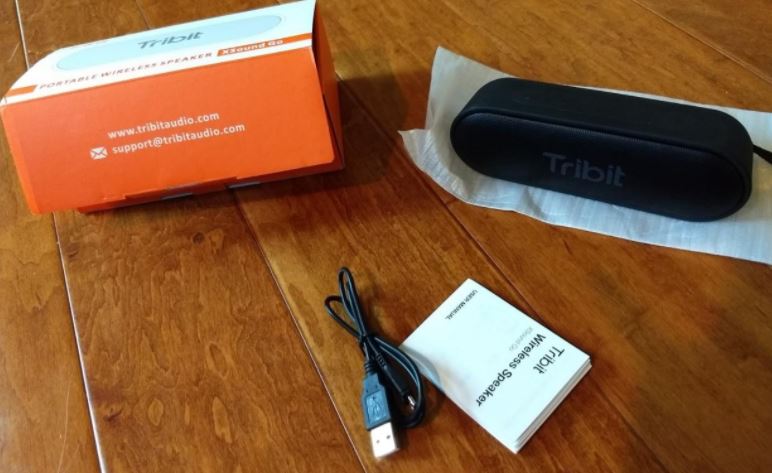 Most people looking for a portable Bluetooth speaker are probably thinking about taking it out on the road, to their backyard, or one of a million other places where water may be a concern. The XSound Go is IPX7 water resistant, which is a rating that indicates these speakers are effectively waterproof. If you were to push it to its limit, the XSound Go would probably survive being washed directly under a hose. It would even survive falling into a small pool, lasting through as much as three feet of momentary submersion. In other words, even if you're playing at the beach, you don't have to worry about water killing the XSound Go.
The physical build of the Go is 2.2 x 6.7 x 2.3-inches, making it one of the smaller and more compact dual speaker designs on the market. Although the body of the speaker is small, it's actually composed of two separate drivers, each running at six watts. The best comparison to the Go are the speakers you'll find on the backside of large computer monitors or small televisions.
That small build is what allows the Go to weigh only 0.84 lbs., which is particularly impressive given the high capacity 4400mAh battery. Along the top of the device you'll find all the usual buttons, including those for play, pause, volume, power, and Bluetooth connectivity. And each button is clearly labeled so you can identify what it is at a glance.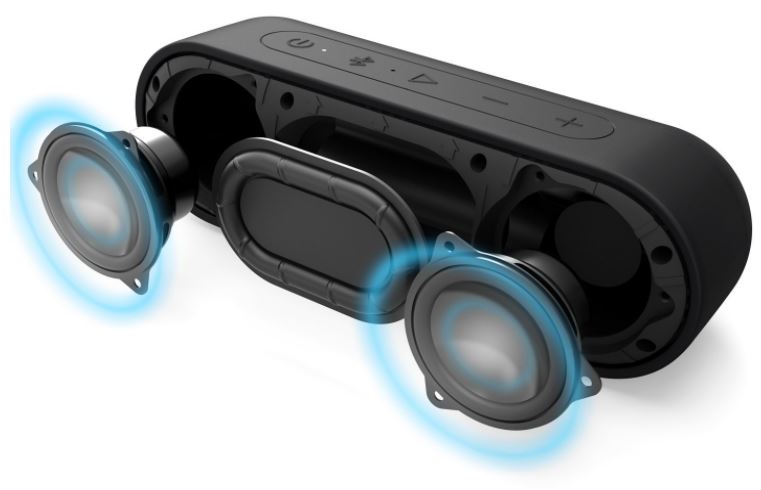 Battery Power
Among a market filled to the brim with portable Bluetooth speakers, the Tribit XSound Go's most compelling feature has to be its battery capacity. Tribit boasts that their sizeable 4400mAh battery is made to provide a full 24 hours of continuous playback. And that's helped by some common sense features, like an auto-off design that will disengage the speaker if you're not using it for a couple of minutes. But does a speaker as small as the XSound Go really have what it takes to last for 24 hours? It depends.
Some frequencies of sound require more energy to create. Bass frequencies in particular can be a drain on battery life. But more than what you listen to, battery life is dictated by how loud you listen to it. The 24- hour rating for these headphones is really only possible if you're playing your music on extremely low volume levels. For more common ranges of listening volume, you're going to be able to get closer to 18 hours of charge from the Go.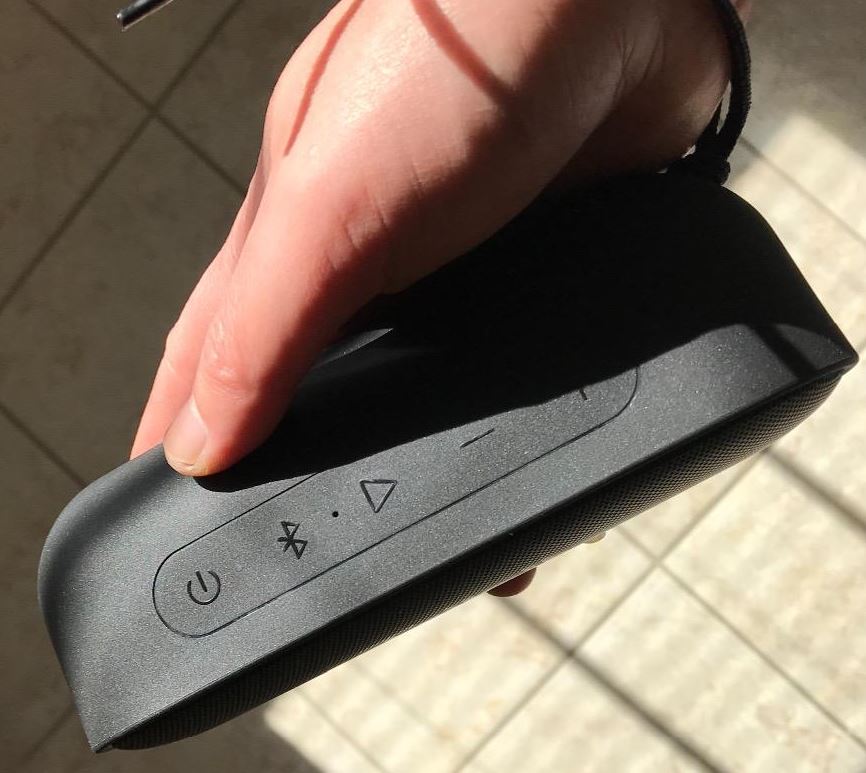 Connectivity
The only connectivity format that matters for a portable speaker is Bluetooth. And the XSound Go's supported Bluetooth 4.2 connection doesn't disappoint, with its support for stable connections spanning a considerable 66 feet. In other words, you don't need this speaker to be cradled next to a host device. That kind of range can be particularly important for people who plan on using their speaker outside their home. And although you'll probably never end up using analogue alternatives to Bluetooth, you can find a well-hidden aux-in port that can be used instead. Being able to make hard-wired connections slightly extends the versatility of these speakers, and does so without causing them to lose portability in the process.
Sound Quality
Portable sound is a compromise. Speakers that don't use an independent subwoofer aren't going to have excellent bass response, and speakers with a small-bodied design aren't well suited for that purpose either. You'll find similar constraints with high tones and mid-tones. In other words, when you're talking about smaller speakers, it's important to have realistic expectations about the audio quality based on physical limitations.
That being said, the sound quality on the XSound Go is a step above average. Although you probably won't be blown away by the sound, with some fine-tuning inside of an equalizer, the XSound Go is capable of producing far more than you'd expect. Unfortunately, the quality drops off if you end up playing your music at very high volumes. But the XSound Go is more about longevity than loud volumes, so most people aren't going to find that source of distortion a real concern.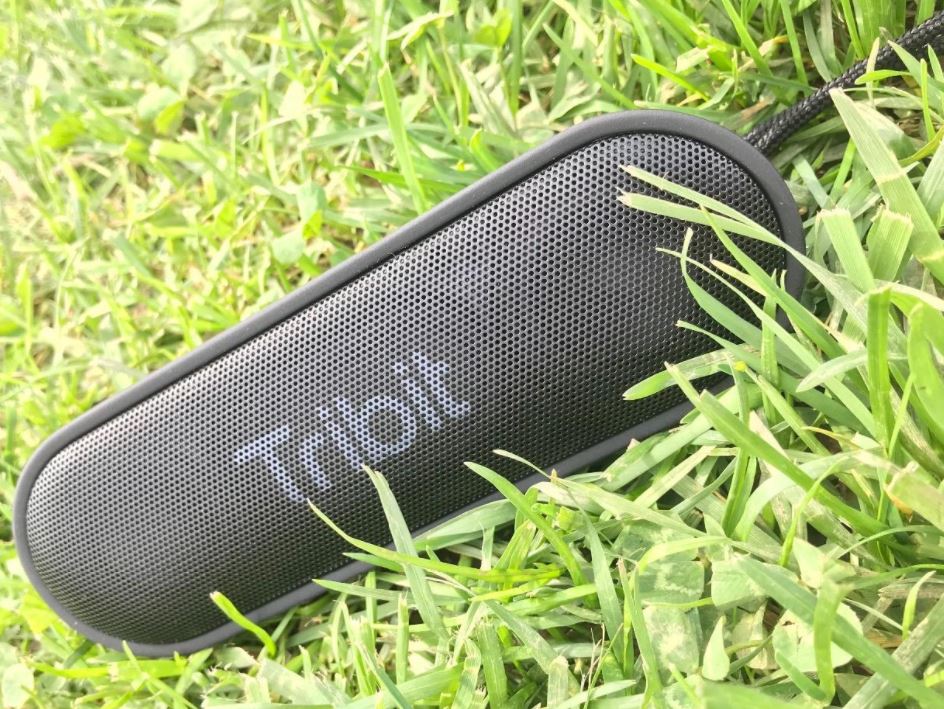 Extra Features
Anytime you're designing wireless Bluetooth sound equipment, it only makes sense to add a microphone. You might want to replace your Bluetooth headset so you don't have to wear something, or you might want to start playing your music through voice commands. Either way, it's undeniably cool and futuristic to be able to command your electronics with your voice. The quality of the microphone is good enough to do everything it promises, but it's lack of noise cancellation features means it doesn't live up to the highest standards for calling.
Other Considerations
Unfortunately, the XSound Go has no NFC support. NFC allows you to connect your Bluetooth devices with the press of one button. In the case of audio equipment, it's not uncommon to find yourself persistently connecting and reconnecting to your devices. Most speakers don't use NFC because most speakers aren't portable, they're made to be setup in one location and rarely touched. But for a portable speaker, NFC would've been a nice addition that would've easily made the XSound Go the best portable speaker on the market.
Fortunately, the XSound Go is unique in its own way. The feature that people will love the most is probably the built-in microphone. Whether you're trying to interact with your favorite vocal assistants, take on calls over the Bluetooth connection, or simply trying to change your music, the XSound Go is well-equipped to help you keep things hands-free.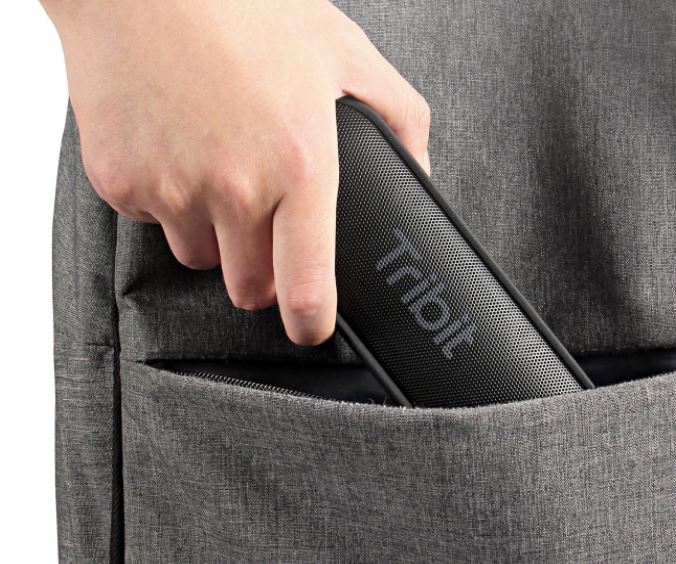 Another thing you should be able to appreciate is that the Go is built to last. You can likely expect no less than three or four years of steady use before you'll want to think about replacement. The relatively lightweight design is combined with an IPX7 waterproof rating means you won't have to worry about it many of the more common ways that portable speakers end up dead.
Tribit also includes a 30-day money back guarantee, an 18-month replacement warranty, and lifetime support. Realistically, you'll probably never end up needing the lifetime support. But the warranty covers a fair portion of what you can reasonably expect to be the lifespan of the device, which shows a high level of confidence in their product.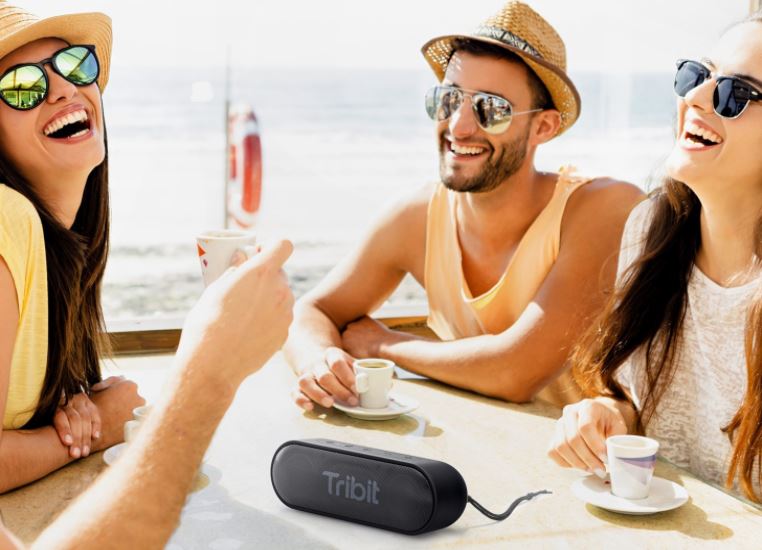 Who Should Choose the Tribit XSound Go Portable Bluetooth Speaker?
If you're trying to fill giant rooms with booming sound, then the Tribit XSound Go isn't the right choice. It's more suited to providing sound for a couple of friends sitting around a bench. If you couldn't care less about portability, then XSound Go has nothing to offer you. It uses a design that was clearly made with specific kinds of use in mind, and built for specifics types of activity.
Portability means different things to different people. Some Bluetooth speakers which are advertised as being portable still weigh as much as four pounds. By contrast, the XSound Go is one of the most portable Bluetooth speakers on the market. It's about as small as you can make a speaker without the size becoming a substantive issue with sound quality, and about as large as you can make a speaker without it starting to lose significant amounts of portability.
The XSound Go is a great choice for people who want to take their music on the go. It's made to help you bring your favorite music to a picnic at the park, or for rooms that have very little space. The volume and sound quality are best compared to what you'd expect from a smaller television. It's certainly louder than anything you'll ever get from a smartphone. If you're trying to take sound on the go, then it's a great choice.
Meet Derek, "TechGuru," a 34-year-old technology enthusiast with a deep passion for tech innovations. With extensive experience, he specializes in gaming hardware and software, and has expertise in gadgets, custom PCs, and audio.
Besides writing about tech and reviewing new products, Derek enjoys traveling, hiking, and photography. Committed to keeping up with the latest industry trends, he aims to guide readers in making informed tech decisions.