Music is a fundamental right as far as we're concerned. Listening to sweet tunes should have its own Constitutional amendment. Freedom of speech, the right to bear arms, the right to rock out, not necessarily in that order. Music runs deep through our genetic makeup. Every human on the planet is hardwired to emotionally react to good music. Whether the song is recorded in some dusty basement in Iowa, or a top-of-the-line professional recording studio in Japan, the power of song transcends all cultures.
Our belief in music's universal appeal is the driving force behind our continued journey to discover the world's best pair of affordable headphones. The percentage of people who have the kind of expendable dough to spend on high-end audio equipment is pretty slim. We're not completely deluded; we understand that high-quality features come with a high-quality price tag, but that doesn't change the fact that music deserves to be democratized. Consumer electronic companies that are focused on engineering affordable and high-quality headphones are doing the work of angels. Sure, they certainly stand to profit from their product, but there is also an altruistic vein that runs through the soul of budget manufactures.
Note: At no extra cost to you, we may earn a commission for purchases using our links. Learn more.
We've reviewed several of the most popular pairs of wireless headphones on the market, so we were excited to see how the TAIR wireless Bluetooth headphones stood up to the competition. TAIR's headphones are currently the seventh most popular pair of Bluetooth headphones on Amazon, which is pretty impressive when you consider the massive amount of competition. We couldn't help but take the TAIR Bluetooth headphones for a spin to see if they are worth the hype.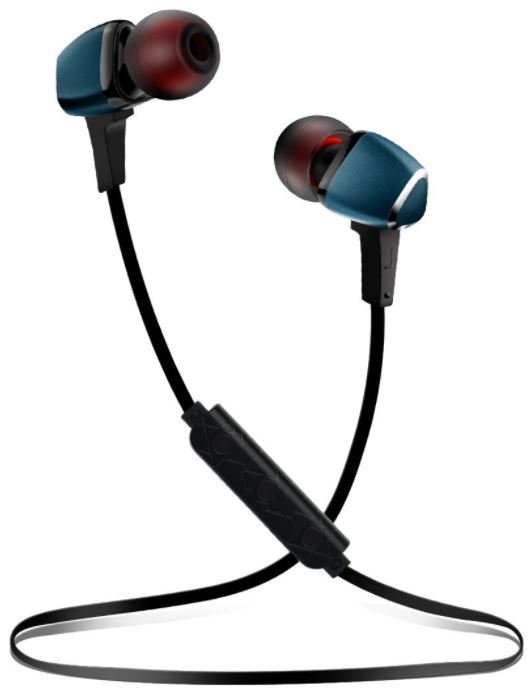 First Impressions
The TAIR Bluetooth headphones are a super-affordable wireless headset designed for versatile usage. The TAIR's attractive design, low cost and rich features make these headphones an attractive buy for almost anyone, whether you're living on a budget or just looking for a cheap second pair of headphones to carry around in your pocket. Over the past few weeks, we've put the TAIR headphones to the test, pushing them to their limit in a variety of settings and under a variety of circumstances. Here is our honest and in-depth review of the TAIR Bluetooth headphones.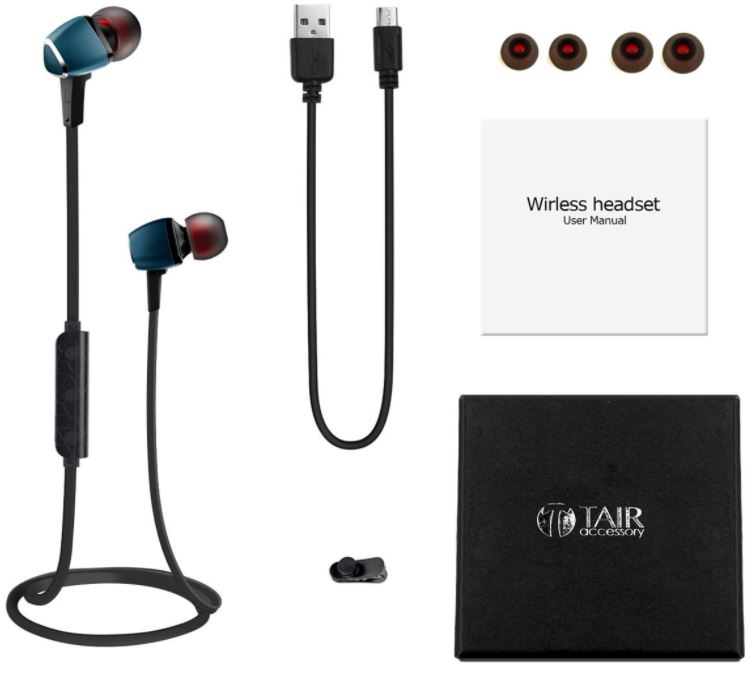 What's in The Box?
The first step of our review was to take a peek at the packaging and contents of the shipped product. The headphones ship an attractive black box which appears to be designed to resemble leather. The packaging box is slightly texturized, which gives it a slightly more sophisticated feel than the competition All of the contents were packaged securely, arriving undamaged with no indication that they could have been damaged on the way. Included in the box is the headphones themselves, six silicone ear tips (in three sizes: small, medium and large), one line clamp (which helps keep the short attachment wire in place. This helps reduce annoying chafing and movement), a USB charging cable, and the user manual.
Unfortunately, the TAIR headphones do not ship with a carrying bag. Considering that we've never used a case included in headphone packaging, this wasn't a huge deal for us. You shouldn't have any trouble finding some sort of bag or case to carry these in though. There are plenty of universal cases on Amazon if you find it necessary.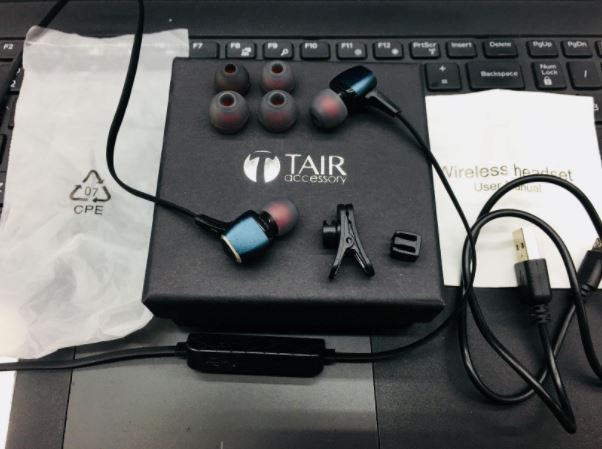 Comfort
One of our biggest worries about earbuds is always the fit and comfort. Earbuds have the habit of falling out of our ear canals very easily, and even when they are not completely falling out of our ears, they often sit loosely, lacking a proper seal. The TAIR headphones created a tight, yet comfortable seal, locking in that sweet, sweet bass.
One of the best parts about these earbuds is that they lack the need for ear hooks. Ear hooks have a way of chafing our ears that completely ruin the music listening experience. They are also a real pain in the butt to adjust since they often become bent out of shape. The ergonomic design of the TAIR headphones allows them to remain secure without the need of any secondary support.
Sound Quality
Typically, if you buy cheap headphones, you expect to get cheap sound. Budget earbuds, the kind you might buy from Walmart or Five Below, often sound crackly and don't go very loud. If you have any sort of aversion to awful sound quality, then budget headphones should be avoided at all costs. Luckily, the TAIR headphones break the budget earbud stereotype by offering impressive clarity and high volumes. The loudness, in particular, is a standout feature. These might be the first pair of budget headphones we've ever owned that didn't require us to crank the volume all the way up to eleven.
The TAIR headphones are their finest in the mid-frequency zone, though the highs are punchy and the bass is satisfactory. If you're looking for lows that rumble your brain, you might want to consider scoping out a pricier pair, but for the price, these earbuds offer a decent amount of clear rumble. The high frequencies do not sound shrill or hollow, which is a common issue with headphones in the same price range. All in all, the sound quality is typical of headphones that cost almost double.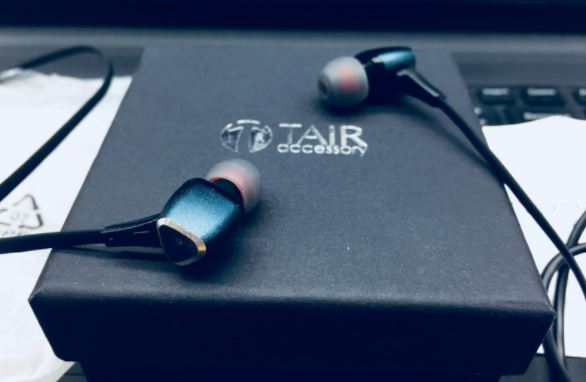 Battery Life
Budget headphones often feature a battery life that falls well beneath our needs. If the batteries only last three to four hours, it sort of defeats the point of being untethered, no? Based on our usage, figure that the TAIR headphones provide right around 8 hours of active listening time when used at a reasonable volume. The standby time was equally impressive, topping out at just around 170-175 hours. We didn't notice any degradation in the battery life over time, which for us, is even an even more impressive accomplishment. Cheap headphones have a habit of losing battery capacity pretty quick. An eight-hour capacity can rapidly become a 5 hour capacity, even after only a few weeks of usage. The TAIR headphones carried the same charge on day 30 as they did on day 1. The battery takes about an hour and a half to recharge completely.
Also, if you're using iOS, a helpful battery meter appears next to the headphone logo on the top right hand corner of your screen. This helps ensure that you're never left surprised with a dead battery.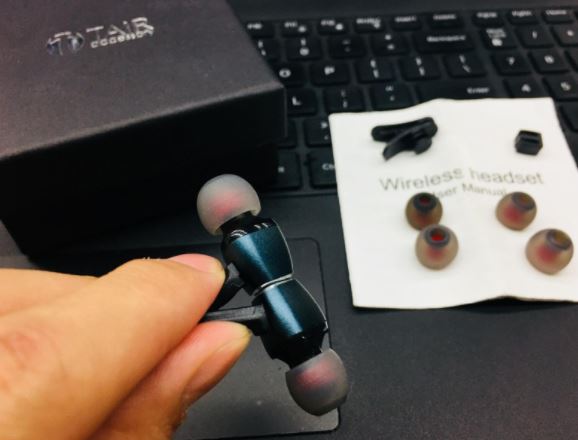 Bluetooth Connectivity
When we buy a pair of wireless headphones, we actually want a pair of wireless headphones. The whole point of going wireless is being able to roam freely without having to worry about getting tangled or violently yanking your source media around. If the Bluetooth range is only a few feet, that doesn't give you much room to work with. During our review process, we concluded that the TAIR's Bluetooth 4.1 connectivity gave us a range of right around 33 feet. Now, this means 33 feet of obstructed signal. Unobstructed, the signal can stretch even further. Since they are Bluetooth 4.1 compatible, the pairing process is very easy. Not as seamless as headphones that feature an NFC chip, but easy nevertheless. The TAIR earbuds also feature aptX codec compatibility, which signifyingly improves the streaming quality of wireless audio.
Water Resistance
While the TAIR headphones carry no IPX waterproof certification rating, we still put them to the test to see how they withstood a variety of wet conditions. Most importantly, sweating didn't seem to cause any issues. Technically, since there is no IPX rating, the headphones are not even certifiably sweatproof, though typical workout sweat didn't damage the drivers or power supply. We tried quickly dipping the headphones under a few inches of water, and that finally did them in. Take it from us: these headphones and water submersion do not mix. It's best to keep the TAIR earbuds as dry as possible, just to be safe.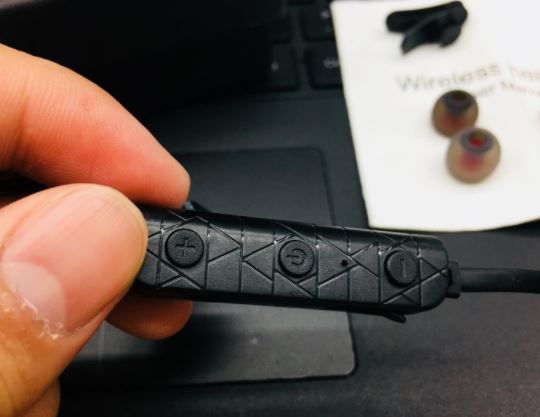 Call Quality
While they don't feature any active noise cancellation, the passive noise cancelling with surprisingly efficient. The earbuds create enough of a seal to block out a decent amount of ambient background sounds and street noise. Even though the headphones are not advertised as featuring cVc noise cancellation, the lack of background noise picked up by our mic suggests to us that there is some sort of mic noise cancellation working in the background. We received no complaints about our call quality.
Design
The ergonomic design of the TAIR earbuds is not only comfortable and secure, but visually attractive as well. The driver housing is an attractive metallic blue color which contrasts well with the red and black hue of the silicone ear tips. The diamond checkered accent design of the control panel shows that TAIR was concerned about aesthetics, in addition to sound and comfort. Each earbud has a magnetic rear, which allows the pair to attach around your neck like a necklace. This helps with safe portability and eliminated the threat of tangled wires.
Controls
The three-button control system sits on an inline control panel. This is also where you'll be plugging the USB cable in for a charge. The three buttons allow you to skip tracks, play/pause, and control the volume. The volume and track controls share a pair of buttons, so the volume is controlled by tapping the button once and the track controls work when you press the button twice in close succession. Right next to the mic is an indicator light which lights up when the headphones are powered on. The light will also blink when the battery is dying.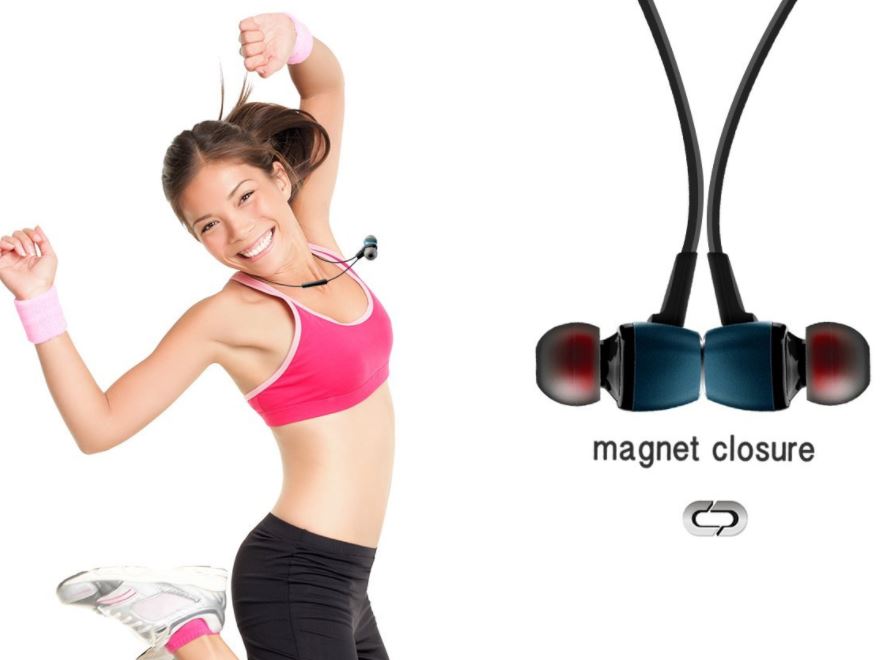 Final Thoughts
The TAIR wireless headphones are certainly worthy of their place on the Amazon bestsellers list. For the cost, you'll be hard-pressed to find a pair of headphones with a more versatile set of features and quality. If you're looking for a cheap pair of headphones that will deliver sweet sound, but won't force you to remortgage your home, then the TAIR Bluetooth headphones are worth exploring. With so much competition on the market for affordable earbuds, finding the pair that matches your needs might take some experimentation, but the TAIR are right near the top as far as versatility.
Please consider sharing:
Note: At no extra cost to you, we may earn a commission for purchases using our links. Learn more.