With the current generation of consoles, gaming has become almost a cinematic experience. With crystal clear HD video, high dynamic range processing, and advanced graphics filtering, it's never been easier to become fully immersed in your game. But video is only a small component of the gaming experience.
Sony's PlayStation 4 console has an entire CPU dedicated to processing audio. The chipset is capable of both encoding and decoding over 200 individual audio streams. This means that game companies can used compression algorithms to make audio files compact and quick to load, but every individual sound can have its own set of advanced filtering. Just as the console is able to render graphics in a three-dimensional space, the same can now be done with audio. The sound can be adjusted for reverberation, distance, location, and interference.
Note: At no extra cost to you, we may earn a commission for purchases using our links. Learn more.
You're not just going to hear what is happening, but where it's happening. With a proper audio setup, the experience can be akin to seeing a movie on the silver screen. But in order to take advantage of these features, you'll need to have the right gear.
If you've ever spent time shopping for gaming headsets, you're sure to have come across some of Turtle Beach's products. Not only are they known for producing high quality headsets, but their offerings are specifically tailored to the needs of the gaming community. With the Stealth 520 wireless gaming headset, they're enabling gamers around the world to take advantage of the incredible audio experience of the PlayStation 4.
The new Turtle Beach Stealth 520 Headset is not a completely new product. This is actually an upgrade to one of their existing models. The Stealth 500p was incredibly popular, due primarily for the incredible audio quality it delivered at such an affordable price. Let's take a look and see what kind of improvements were made in the latest edition.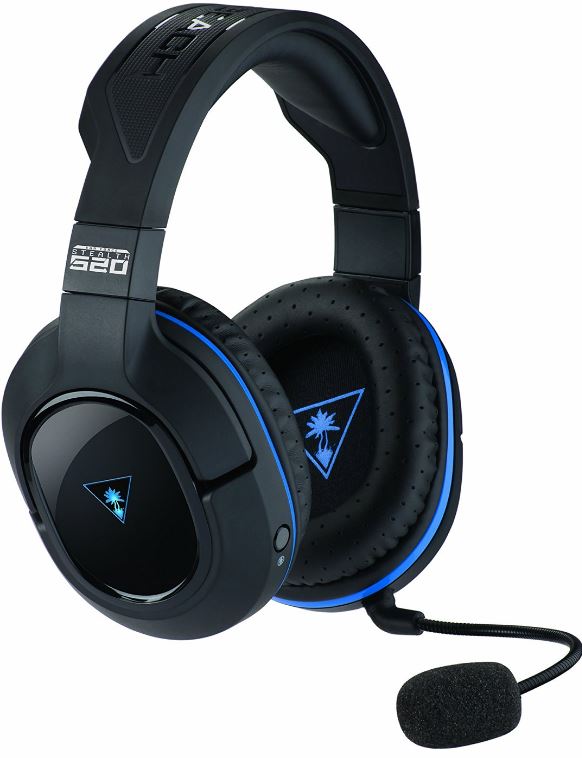 First Impressions
The headset is, visually, very similar to the 500p. It has a well-padded headband, large circumaural ear pads, and a flexible boom mic. The same neodymium drivers that were used in the 500p are found in the 520, so you'll get the same high quality audio that made this line famous. The headset supports full 7.1 surround sound encoded with DTS, creating an immersive 360-degree soundstage.
But there are a few new features that are sure to give the Turtle Beach Stealth 520 an edge. Both the audio processor and the wireless transmitter have been updated, providing increased range and improved clarity. Additionally, the microphone has been updated, offering superior sensitivity and range.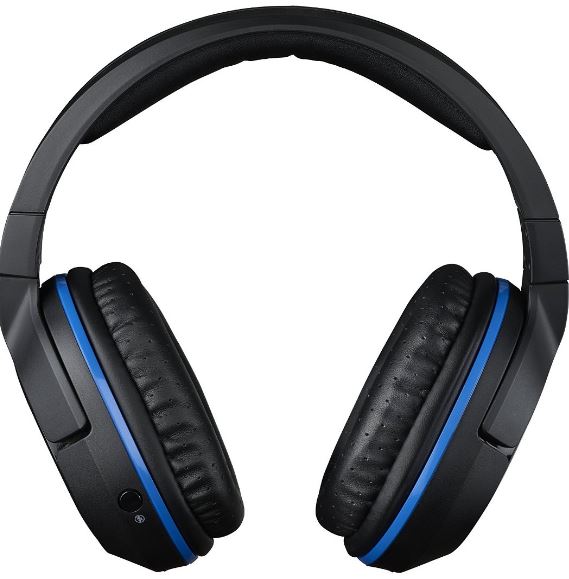 Audio Quality
As with any headset, the audio quality is one of the most important factors. With the 520, Turtle Beach doesn't disappoint. The drivers are identical to the ones used in the older model, which received rave reviews for their incredible performance. You'll get deep, hard-hitting bass, crystal clear speech, and sharp accentuated details.
The surround sound performance of the headset is also impressive. Generally, headphones give you a very "closed in" sensation. It's as if you are cut off from the outside world, and enveloped in your own private audio experience. But when you flip on the surround sound feature, your environment shifts. Soundscapes feel expansive, as if it's coming from the very room you are sitting in.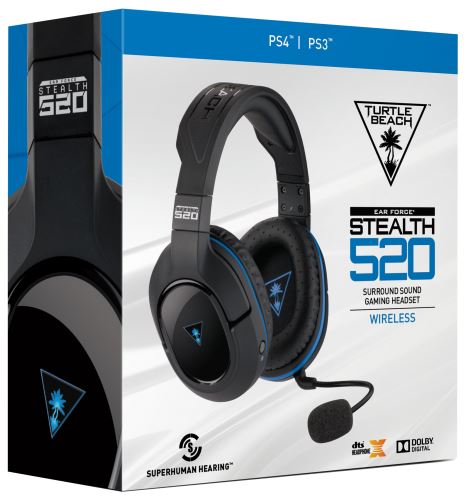 The key to the accurate positioning of the 520 is DTS compression. There are two different types of surround sound broadcasts: Matrixed and Discreet. Matrixed audio is extrapolated from a single channel. Positioning for the channel is encoded into the stream. Although you get some sense of direction with matrixed audio, you are not able to separate different elements. Either all the sound is coming from one position or all the sound is coming from another.
With Discreet mixing, each of the seven possible directions has its own individual audio stream. You can listen to a character speaking directly in front of you, while a vehicle zips by you in a different direction. Headsets that support DTS are very new on the market, and we haven't seen any available in this price range.
Another new feature of this headset is the Superhuman Hearing option. Marketing claims that this feature is able to amplify even the subtlest sound and make it stand out. Things like enemy footsteps or gunshots in the distance will be more pronounced, giving you a competitive edge. The feature is impressively powerful, but must be used in the right environment. The lush, detailed soundscapes that take advantage of the PS4's advanced audio processing become chaotic and overpowering.
Yes, you will absolutely hear your enemy sneak up on you. But you will also hear everything else. Fortunately, this feature can be turned on or off with the touch of a button. It should be used in times of tension, when you need to be on your toes. When this isn't as important, turn the feature off to enjoy the game the way it was designed to be enjoyed.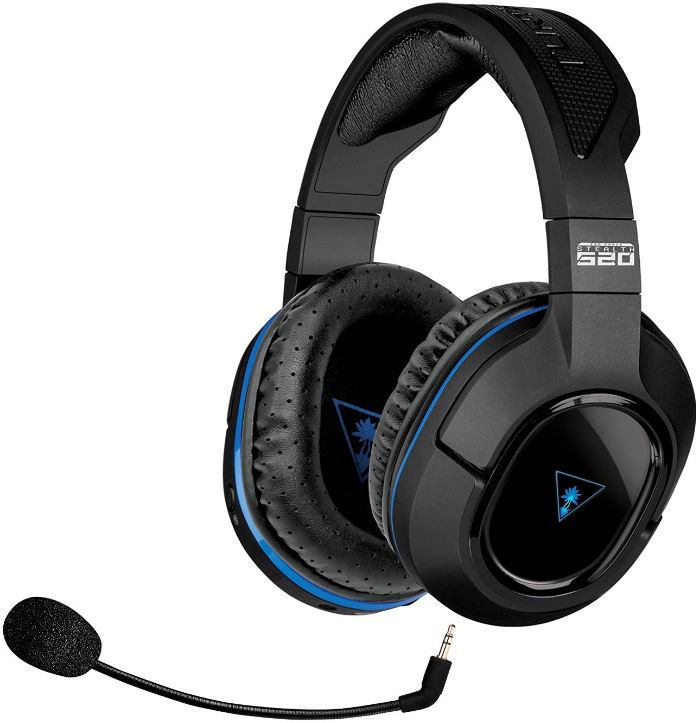 Microphone Quality
The boom mic on the 500p received very poor reviews. It was somewhat insensitive, difficult to position and the boom was not flexible enough. This problem has been addressed with a new microphone. The same one has been used on several other Turtle Beach products, and received excellent reviews. The microphones signal is clear, and picks up audio coming from any direction. The boom is much more flexible, giving you the control to place it exactly where you want.
Thanks to the internal feedback system called "Mic Monitoring," you'll be able to hear everything you say. This makes speaking over a headset sound much more natural, and will help you identify if you are speaking too loudly or too softly. An independent volume control on the side lets you adjust the feedback independently of the primary audio source, so you can reduce the effect if you like.
If you're planning to use the Stealth 520 while on the go, you might not want the microphone to always be attached. It connects with just a simple 3.5mm headphone jack, so it's easy to add or remove as necessary.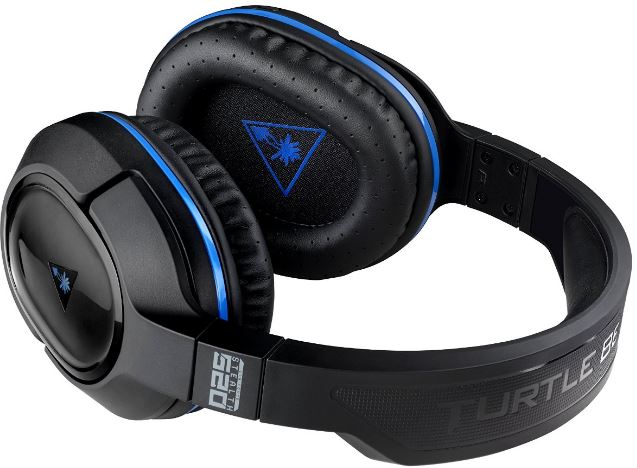 Design
The design hasn't changed a whole lot from the previous model. You still get the sleek, professional look of the gently rounded ear cups. But there are a couple little flares that give it that aggressive design so commonly found in gaming products. The sharp, metallic blue accents on the ear cups make the headset stand out, while the blue glow of the Turtle Beach logo has a distinctly premium vibe.
Build Quality
After spending a few hours enjoying the incredible sound quality of the Turtle Beach Stealth 520, it's easy to forget that you are using a mid-range product. When you hold the headset in your hand, the difference from a premium headset is striking. They do seem reasonably durable. The matte plastic is resistant to scratches. The moving parts are all fairly solid. They just tend to feel a little cheap. For day to day use, you should have no problems with durability. Any serious abuse, however, could result in damage.
There are a few advantages to the lightweight design. First, they are extremely comfortable. Combined with the padding on the headband, there is no unnecessary pressure on the head. The ear cups are circumaural – they go around the ear. With the lush padding, your ears don't get hot or sore like they do with headphones that rest on the ear.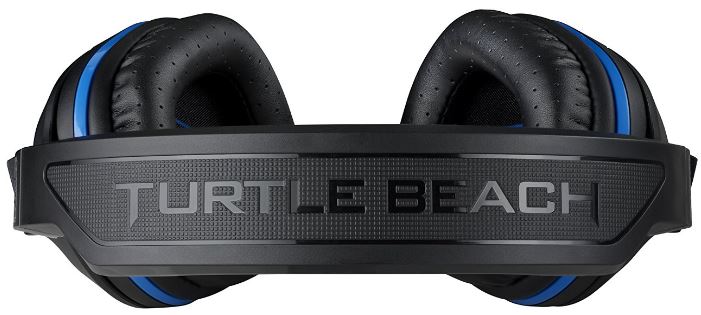 Ease of Use
Turtle Beach clearly spent a lot of time thinking out the design of their 520 headset. There were a few subtle changes from the 500p, such as button placement, that really improve the functionality. Volumes are on the right ear cup. In the center is a button that will turn surround sound on or off. On the left you'll find the button for Superhuman Hearing. Making any adjustments only takes a moment.
Setting the headset up is an even simpler process. You plug in the included transmitter to the optical out port of your PS4. Then you turn them on. It's as simple as that! There may be another one-time step, although it's not really Turtle Beach's fault. You'll have to go into the audio settings of your PS4 and enable "Bitstream" to take advantage of the headset's DTS feature. They still work, but with DTS off the audio quality is degraded.
The battery life lasts over 15 hours. There were some complaints of users only receiving 12 or 13, but it's dependent on how you specifically use the headset. Loud volume and resource intensive gaming will likely have a harsher effect on the internal battery.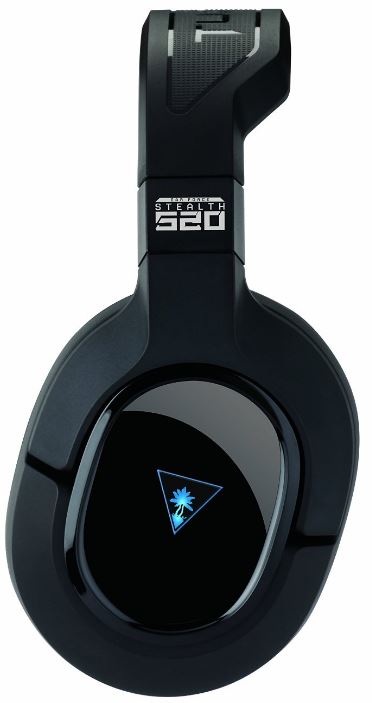 Final Verdict
It's unlikely that you'll be able to find a better audio experience in this price range. Although the Turtle Beach Stealth 520 isn't the flashiest looking headset on the market, it's certainly the most well designed. Many manufacturers create a product that looks high end, but performs poorly. But Turtle Beach put the focus on customer experience, and took every step necessary to create a product that performs well for an incredibly affordable price. If audio quality is your number one priority, you should absolutely check out the Turtle Beach Stealth 520 gaming headset.
Not a PS4 user? This is not the headset for you. Both the wireless radio and the surround sound feature are designed exclusively for PS4. Xbox gamers, you might want to take a look at Turtle Beaches other products to find one designed for your console.
Note: At no extra cost to you, we may earn a commission for purchases using our links. Learn more.