Overall Design -

8/10

Compatibility -

9/10

Ease of Use -

9/10

Performance -

9/10
Summary
The Ugreen Nexode 300W GaN Desktop Charger is like a breath of fresh air with its innovative design and top-notch performance. It's not your average charger; it's a solution to the never-ending struggle of keeping our devices powered up. Plus, it's super versatile, built to last, and even eco-friendly! This charger really stands out from the crowd. While some minor shortcomings might surface, it is clear that this Ugreen offering is tailored to please a diverse tech audience.
Pros
Universal compatibility
Compact and robust design
Quick charge times
Eco-friendly technology
Cons
Premium price tag
Chunky construction
You know how we live in a world where technology is taking over, and it feels like every device we own is constantly begging for more juice? It's like a never-ending game of "keep the gadgets charged." Enter the Ugreen Nexode 300W GaN Desktop Charger. This thing isn't just any old charger; it's a complete powerhouse ready to turn the way we charge our devices on its head.
Picture this: You're packing for a trip, and you need a briefcase just for all those chargers for your laptop, phone, tablet – the list goes on. Well, Ugreen Nexode might just be the hero we've all been waiting for. It's got the answer to this modern-day headache, with an innovative and practical solution. Stick with us, and we'll explore all the nifty features and what makes this 300W wonder possibly the only charger you'll need for your next vacation or business trip.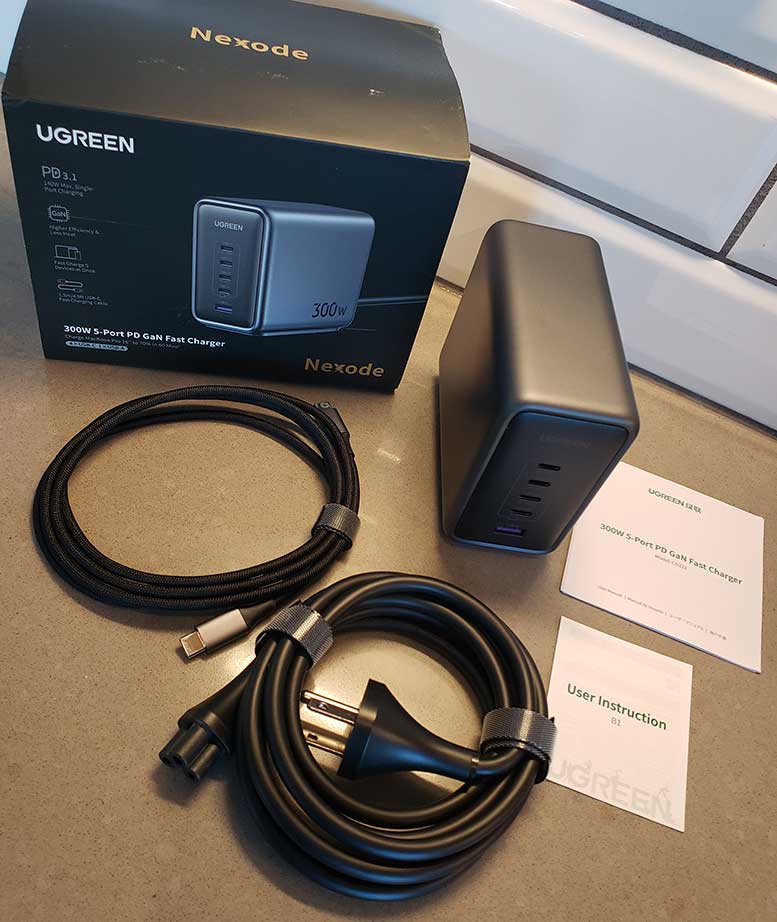 Compatibility
Compatibility? Now, that's a word that rings a bell for all of us dealing with a sea of devices. You know what we mean: chargers can be fussy. But the 300W Nexode? It's playing on another level. It's friends with PD 3.1, QC3.0, and a bunch of other charging protocols. No fuss, no favorites, just pure, efficient charging.
What gets us excited about the Nexode is that it's not just about today. It's looking ahead, ready to roll with the punches as technology evolves. Laptops, tablets, smartphones – it's all in a day's work for this charger. It's not just a solution for now but a buddy for the road ahead. Ready for a smooth charging ride? We sure are. Let's dive into how we put this charger to the test.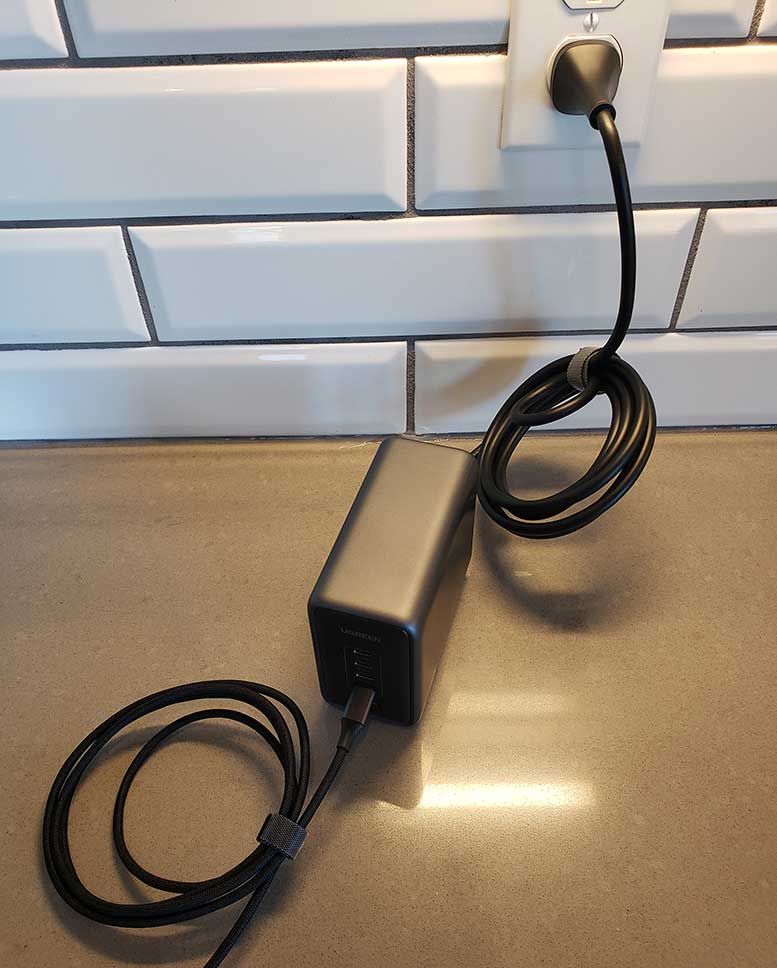 Testing with Laptops
We connected the Nexode with various laptops, ranging from sleek ultrabooks to robust gaming machines. The results? Consistently promising. Whether dealing with a MacBook Pro or a Dell XPS, the Nexode recognized and met each device's specific charging needs. It's a feature that really stands out. Feeling lost amid a myriad of charging options? Here's the solution you've been waiting for.
Phones and Tablets
We then shifted our attention to smartphones and tablets. The Nexode didn't miss a beat here, either. iPhones, Samsung Galaxy devices – the charger provided consistent and rapid charging every time. And those various charging blocks you might have around the house? No longer needed. This little beauty simplifies everything, providing the right amount of power for each device. There's a certain freedom you feel once you've broken free of numerous charging requirements. With one block to rule them all, mass charging is a breeze.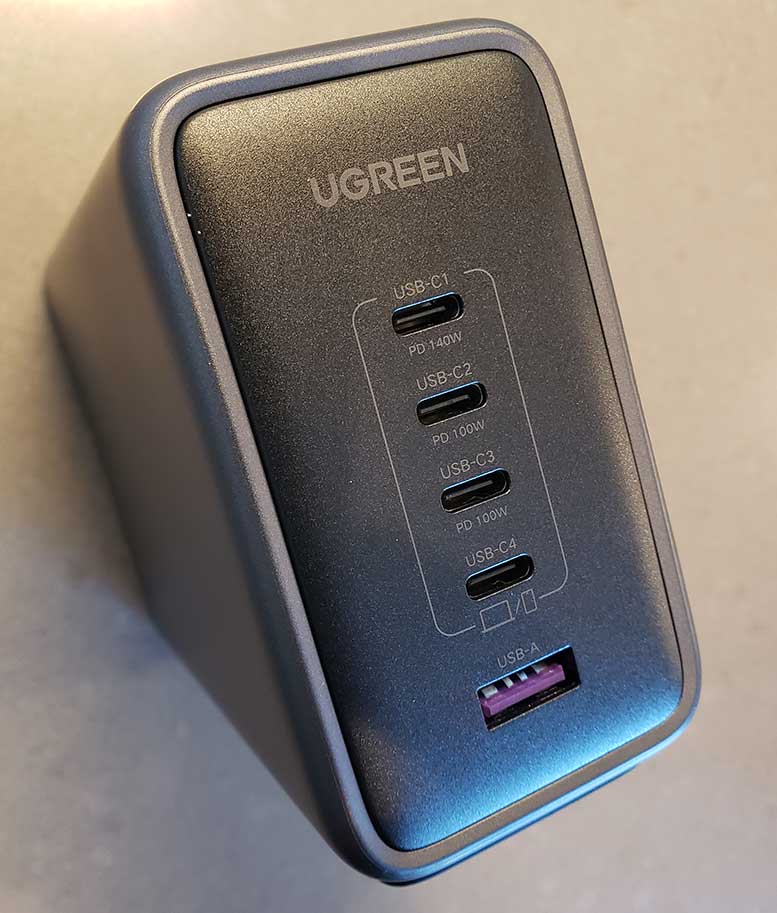 Gadgets Galore
But we didn't stop there. We even added smartwatches, Bluetooth headphones, and gaming controllers to the mix. The charger handled everything effortlessly, charging each gadget without any problems. With its 4xUSB-C and 1xUSB-A configurations, it gave us the flexibility we needed for this wide range of tech toys. Even older devices charged without any issues. And for us, that's a big deal. We hate needing to have a literal selection of charging blocks nearby to charge our various gadgets. Gadgets that don't use the same charger, mind you.
Eco-Friendly Testing
In keeping with the focus on sustainability, the use of eco-friendly GaN chips adds a layer of satisfaction to the testing process. It's reassuring to know that the technology in use leans toward being more sustainable. It has proven to be exceptionally reliable for ensuring universal compatibility. The impressive adaptability to various devices, along with its innovative design, gives it a unique standing in the market. Could it be the all-in-one charging solution you've been searching for? We believe it might just be. But let's first explore more of its features to better determine if it's the right fit for your needs.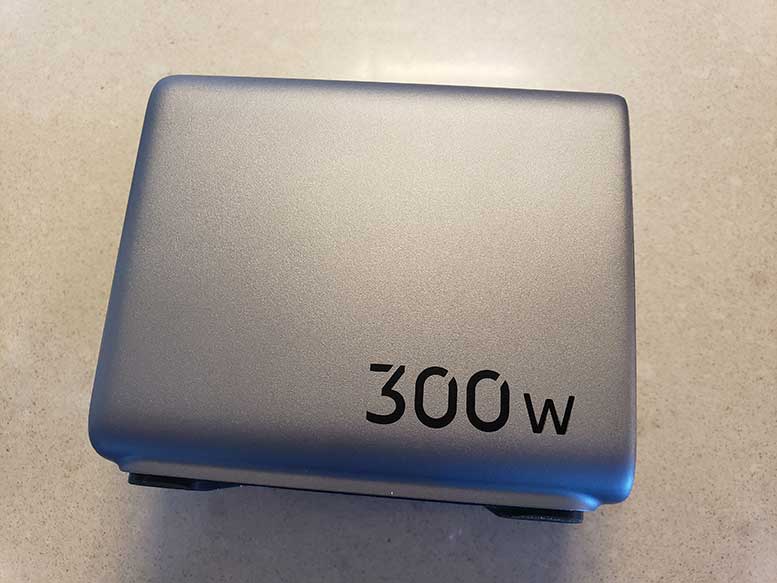 Charge Times
Charging time – it's often the make-or-break factor for many of us in the relentless race against battery depletion. How does it fare in this crucial arena? We tested several different device types to get an accurate gauge for compatibility and charging finesse. Let's break down what we found.
Laptops
For the laptop enthusiasts among us, it provides a robust solution. We tested it on a MacBook Pro 16, and the results were impressive: 0 to 70% in just 60 minutes. It's no secret that laptop chargers can be a headache to juggle, especially when one goes on the fritz. But with the sheer speed and convenience afforded by this unit, you've got portable charging power on the go. If you travel often and use a laptop, you need this charger.
Phones and Tablets
On the smartphone and tablet front, the Nexode delivered equally commendable results. Fast charging protocols worked seamlessly, providing a quick energy boost when needed. From a nearly depleted iPhone to a power-hungry Android tablet, it seemed to know just how to provide the power needed. You can expect a 50% boost in 20 to 30 minutes.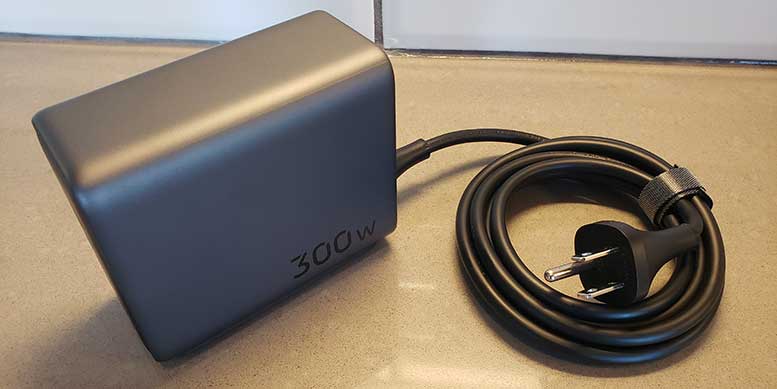 Concurrent Charging
One thing that really caught our attention was how effortlessly you can manage multiple devices at the same time. It's pretty impressive. Charging a laptop, phone, tablet, and more all at once? The Nexode handled it like a seasoned pro, allocating power intelligently to each device. And it's all made possible thanks to the multiple charge ports included on this tiny block.
The charge times are not just impressive but practical. Whether you're in a hurry or charging multiple devices, this unit stands ready to deliver. Could this be the end of watching the battery icon slowly creep upwards? It's starting to look that way.
Build Quality
Moving on to build quality, the charger shines with its design. Ugreen already has a long line of existing hardware, and this new 300W variant doesn't deviate from the manufacturer's aesthetics. It boasts a familiar style that's sure to resonate with consumers. That's true for what's under the hood, as well. Let's explore its aesthetics and engineering a bit more.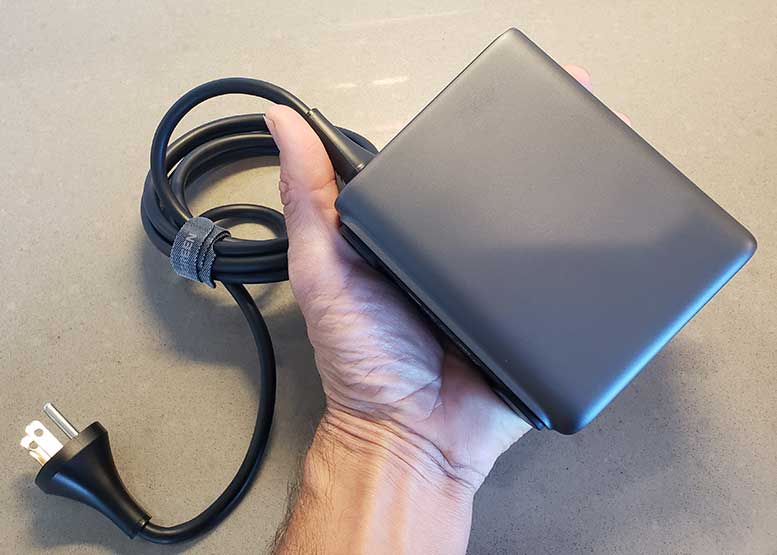 Material and Design
With its Apple space gray and V-0 Rated flame-retardant material, this little unit isn't just another charger; it's a statement piece. The build feels solid, not something you would question tossing into a bag as you rush out the door. Its sleek exterior doesn't just please the eye; it speaks of careful thought put into crafting a device that's more than a utility.
A blend of modern style and resilient material, it seems that Ugreen paid attention to both form and function. We like this particular scheme, as it pairs well with just about any tech you might have that can make use of the charger. While that seems to be especially the case for Apple products, it'll have no problem pairing with your non-Apple tech, aesthetically speaking.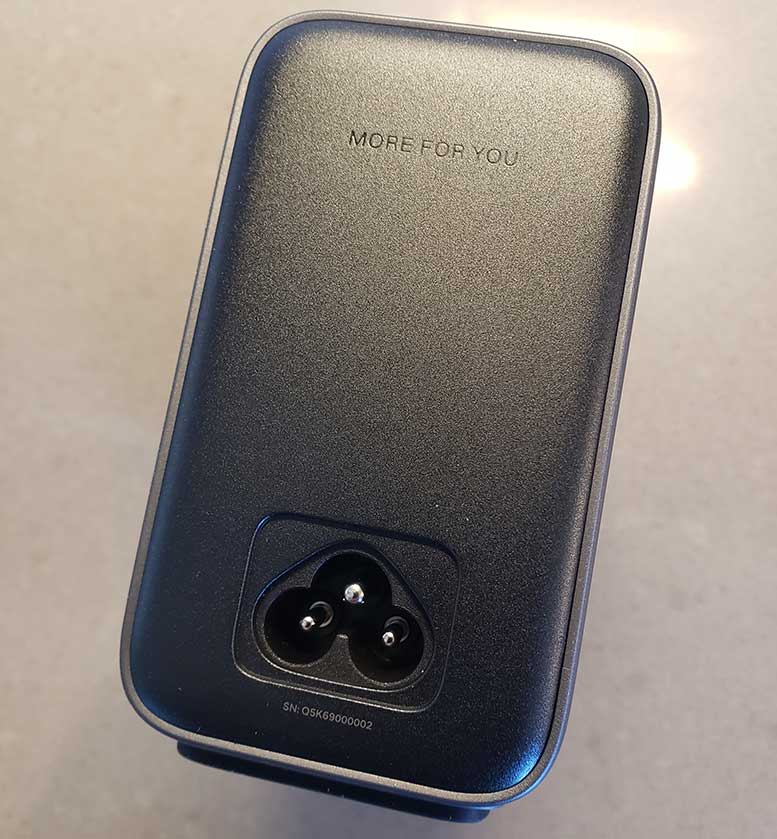 Temperature Control
Now, about the heat. We were really curious to see how it handled this specific challenge, especially considering its impressive 300W capacity. Overheating has always been a pain with chargers like this, and it's still a concern even today. Enter the built-in Thermal Guard System, taking 800 temperature readings per second. Yes, you read that right. Every half a second, the charger checks its temperature, ensuring it stays within comfortable thermal limits.
Even under heavy load, such as charging multiple power-hungry devices, it managed to stay cool, both in appearance and in temperature. Its performance here impressed us, proving that it's more than just a pretty face. And as we shared in our testing, the charger holds up well in both performance and safety. By our estimation, you needn't worry any longer about overheating. That said, electronics are not foolproof, and there's always a concern for fire hazards. But given the preventive steps Ugreen has taken, we think it's highly unlikely.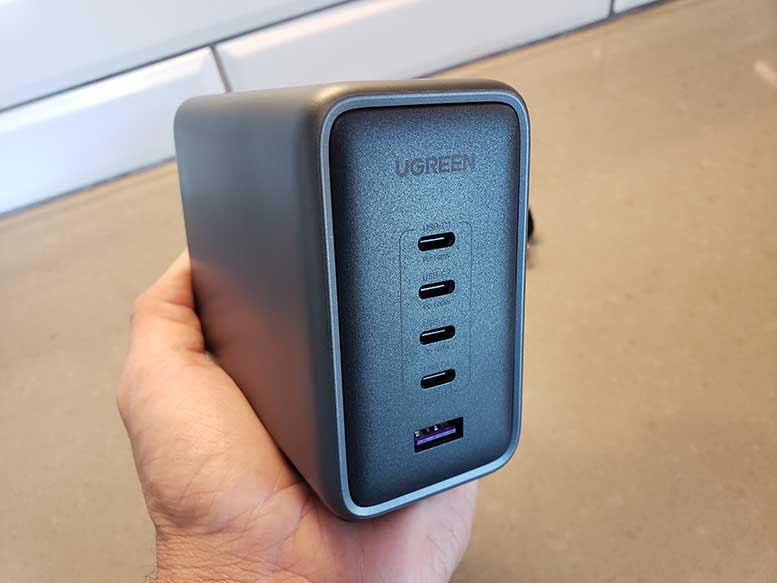 A Compact Powerhouse
Despite its power, it's still compact. This little guy is the perfect travel buddy, whether you're on a work trip or enjoying some leisure time. Measuring approximately 3 x 3 x 1.5 inches, it's small enough to slip into a laptop bag yet robust enough to handle a multitude of devices. And let's not overlook the 240W USB-C Cable that comes included, further enhancing its value. This isn't just about convenience; it's about providing a complete package that understands the needs of today's technology enthusiasts.
Environmental Consideration
In a world where technology often comes at the cost of the environment, Ugreen is taking strides in a greener direction with this line of charging devices. For starters, its GaN (Gallium Nitride) chips produce less carbon per chip compared to traditional silicon chips. This isn't just a minor tweak in design; it represen ts a significant shift toward environmental consciousness. By choosing GaN over silicon, Ugreen effectively reduces the carbon footprint of each charger they produce.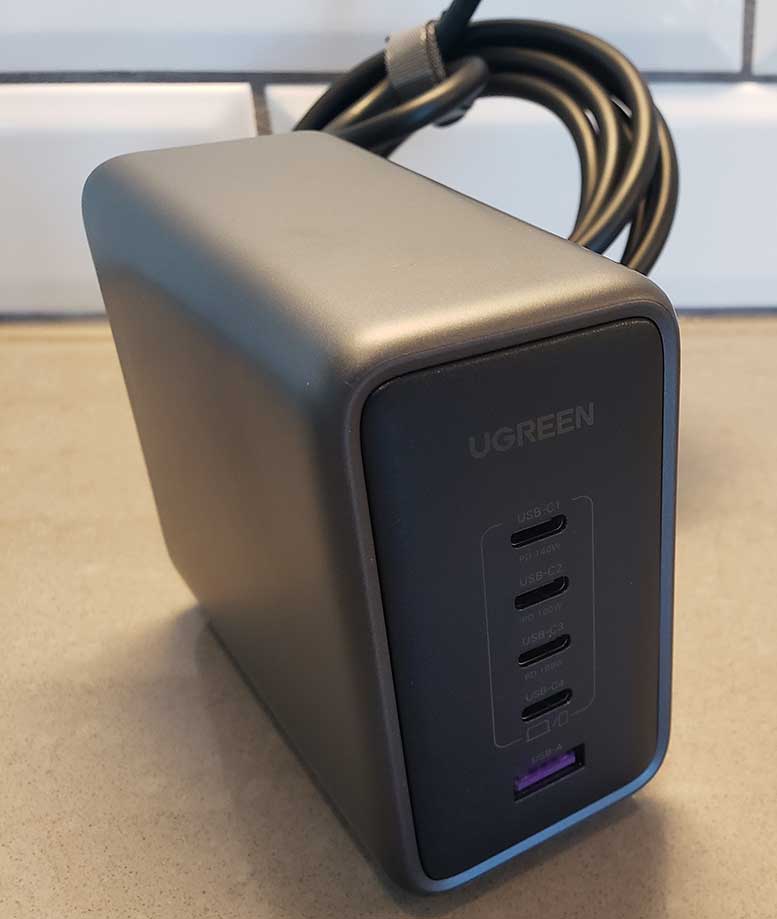 It's a step toward a more sustainable future, and it shows that technology can actually be green. But what does this mean for us, the everyday users? Well, it means we get a charger that's not just efficient but also takes into consideration its impact on the planet. So, less carbon production equals less waste and a cleaner environment. Even if the difference seems small on an individual level, think about the impact when scaled across thousands of chargers. The positive ripple effect is undeniable.
The Nexode 300W proves that power and elegance can go hand in hand. From its material choice to its thermal management, the build quality leaves a lasting impression. It's not just designed to perform; it's crafted to excel. Whether you're a tech-savvy professional or simply someone who appreciates quality, the Nexode seems to cater to a wide audience.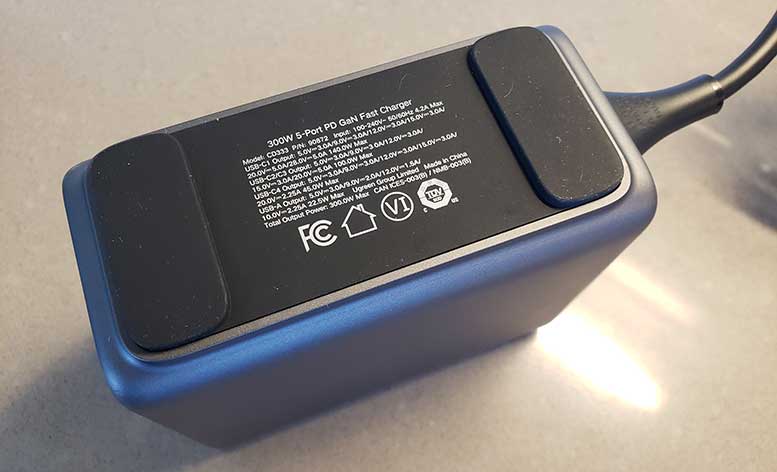 Final Verdict
The Ugreen Nexode 300W GaN Desktop Charger is like a breath of fresh air with its innovative design and top-notch performance. It's not your average charger; it's a solution to the never-ending struggle of keeping our devices powered up. Plus, it's super versatile, built to last, and even eco-friendly! This charger really stands out from the crowd. While some minor shortcomings might surface, it is clear that this Ugreen offering is tailored to please a diverse tech audience. Whether you're jet-setting around the globe or just want to declutter your workspace, the Nexode 300W is a smart choice that can meet your needs.