Overall Design -

8/10

Connectivity -

8.5/10

Ease of Use -

8.5/10

Safety -

9/10
Summary
When it comes to charging devices, the UGREEN Nexode RobotGaN Fast Charger Block demonstrates a successful blend of innovative design and robust functionality. It performs well in areas that matter: safety, versatility, and charging efficiency. Granted, some consumers might be taken aback by the higher price point. But it's the wealth of additional features that make it a value proposition that's hard to ignore. And at the end of the day, this charging block is not just another piece of hardware; it's a dependable device with an engaging personality.
Pros
Unique and fun design without excess
Multiple charging options
Comprehensive safety measures
Informative LED display
Cons
Feet magnets are weak
Limited global adaptability
Higher price point
For years, charging blocks were boring black slabs that served to connect our favorite devices to power outlets. In fact, it was only recently that they started adopting fun new colors. So it's safe to say that they're due for another overhaul or reimagining.
But what else can be done to charging blocks that we haven't already seen? That must have been what UGREEN asked because they've seemingly found the answer with their Nexode RobotGaN Fast Charger Block. Is this the ultimate solution to modern-day charging needs or just another fad? Let's find out!
Unboxing and First Impressions
For many, unboxing a new product is an experience filled with anticipation. With the UGREEN Nexode RobotGaN Fast Charger Block, that excitement is well justified. This is a new piece of tech that could very well be the future of charging blocks as we know it.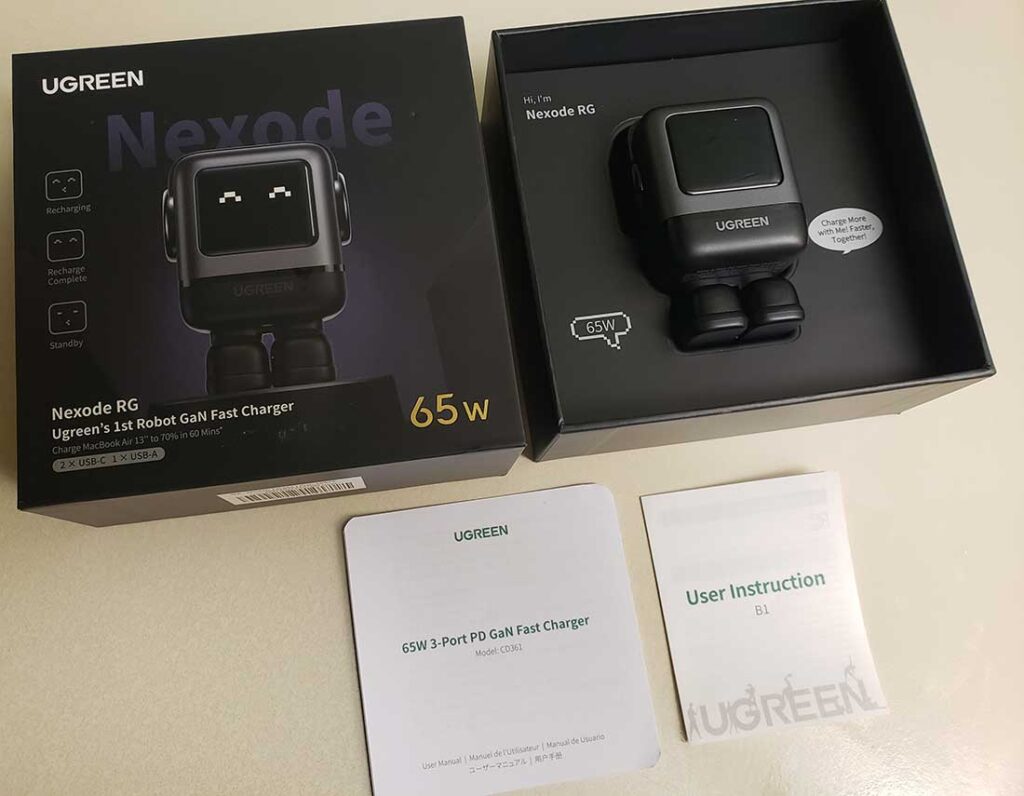 Opening the box reveals a robot-shaped piece of technology. No unnecessary frills or superfluous add-ons; what you see is what you get. No doubt, charging blocks have long been utilitarian devices, offering function with little regard for form or aesthetic appeal.
The Nexode RobotGaN Fast Charger Block aims to change that. It's a compact and lightweight power adapter with dimensions of 1.68 x 1.85 x 2.65 inches and a weight of just 5.1 ounces. This device is far from your average charging block.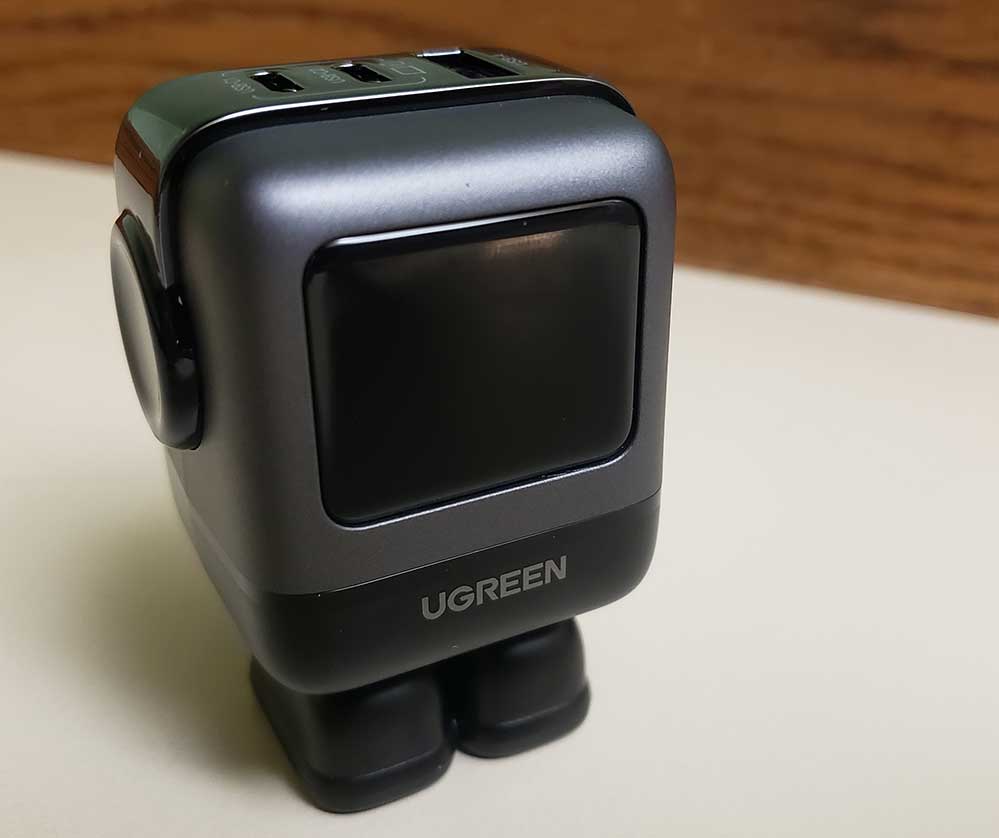 Its defining feature is its robot-shaped design, complete with an LED display that serves to indicate battery levels through various facial expressions. But don't be fooled by its playful appearance; this is a wall charger with an input voltage of 100-240 volts, not a portable power bank.
Compatibility is a strong suit for this device, catering to a wide range of gadgets, from MacBooks to iPhones to Samsung Galaxy models. And with 65 watts of charging power spread across three USB ports, it's more than equipped to handle your daily charging needs. Add to this an array of built-in safety features like short-circuit protection and overload protection, and you have a robust, dependable piece of technology.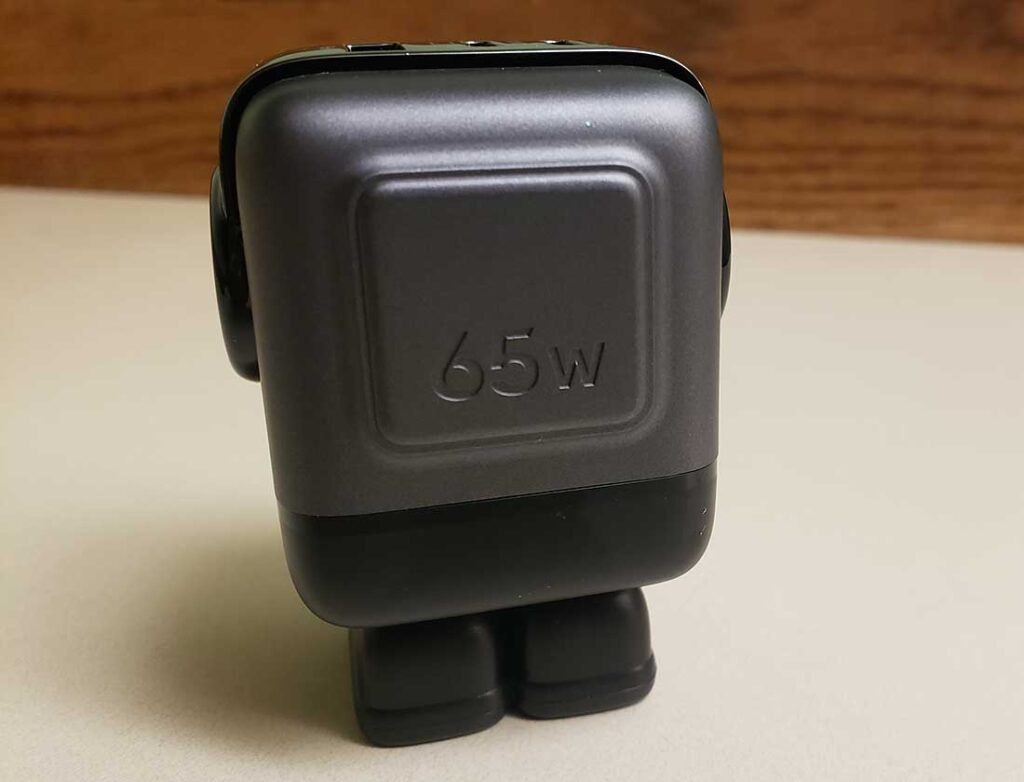 So, is the UGREEN Nexode RobotGaN Fast Charger Block a mere novelty, or does it herald a new era in the world of charging accessories? This remains to be seen in the sections ahead. However, its initial impression is promising and offers a blend of functionality and design flair that sets it apart. Let's proceed to our in-depth performance review to see how it stacks up.
Operation and Connectivity
When it comes to charging devices, functional utility often takes precedence over innovative features. However, the unit in question clearly challenges this notion. The charger comes with an interesting design quirk – its feet are magnetic.
These aren't just for show; they serve a practical purpose. Stick it to any metal surface and free up that precious countertop real estate. While the magnetic hold is firm when the unit is placed upside-down, attempting a sideways mount will result in a slide. It's a bit of a letdown and an oversight, in our opinion. The weight of the charger is a bit too much for the built-in magnetics. And once you take the feet off and plug the 2-prongs into an outlet, the magnetic feature is gone.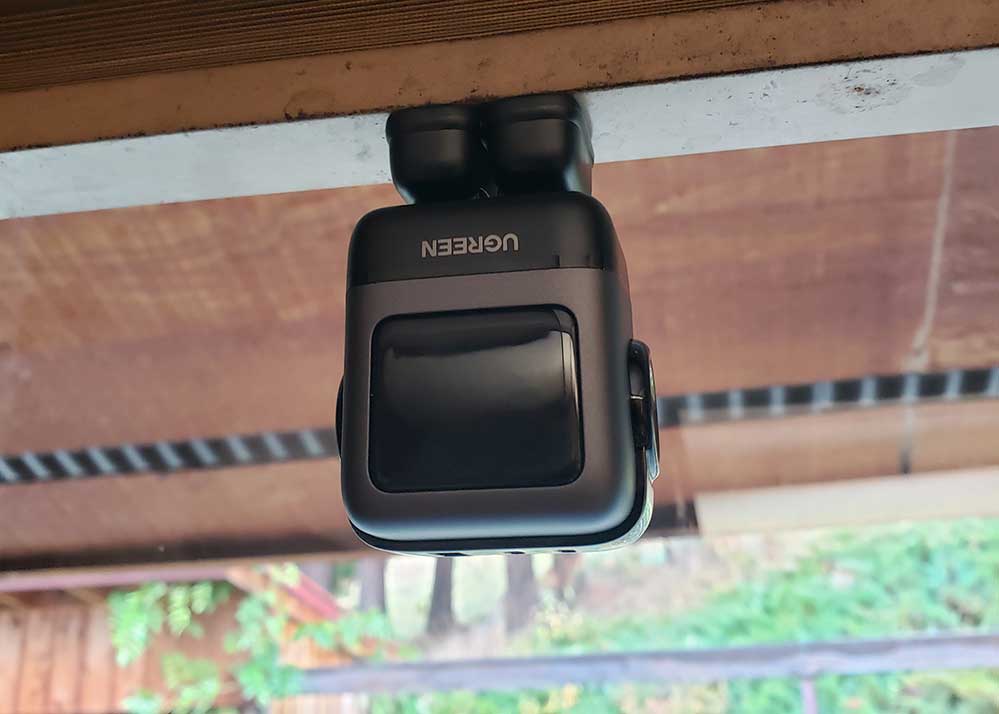 In this era of multi-purpose gadgets, it's refreshing to see a feature that adds practical utility. Should your travels take you abroad, be advised that this charger is optimized for use in the United States, China, and Japan. However, it's not a deal-breaker for globetrotters; a simple adapter makes it compatible in regions with non-American outlets. Here's a quick rundown of its connectivity:
Input: It operates across a range of 100-240V and can handle a max current of 1.8A, making it versatile and travel-friendly.
USB-Cl Port Output: The powerhouse here is the USB-Cl port, with a max output of 65W.
Dual USB-C Output: When both USB-C1 and C2 are in use, it cleverly distributes power – 45W for C1 and 20W for C2.
Mixed Port Output: Pairing USB-C1 with a USB-A? You'll get a 45W and 18W split. For C2 and USB-A, it's a more modest 5V/1.7A for each.
Triple Port Output: If you're the type who needs all ports firing, it'll distribute 45W to C1 and a 5V/1.7A split to C2 and USB-A.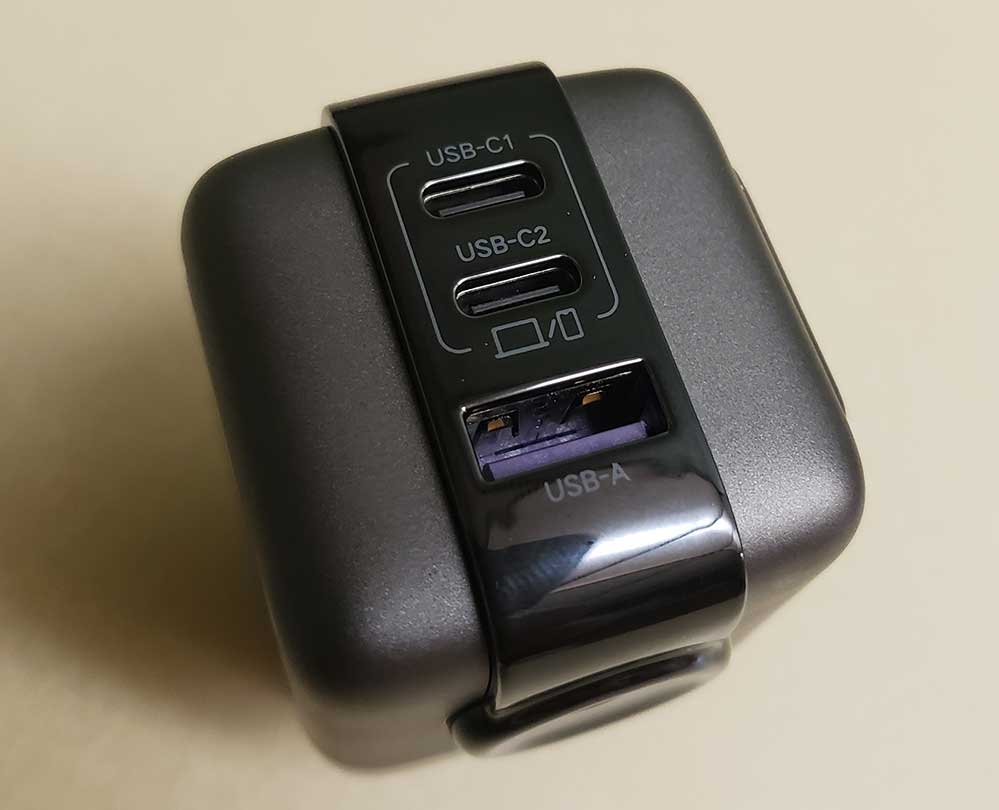 All of these numbers make one thing clear: whether you're charging a laptop or a smartphone, this block gives you plenty to work with. More than that, it's not often that your charger communicates with you, but this one does – via facial expressions on its LED display. When it's busy charging, a smiley face makes an appearance. Once the task is complete, a contented expression takes over. Clearly, this is a device that likes to keep its user informed and does so in a most charming manner.
Digging into the technicalities, the device has two USB-C ports and a USB-A port. Pay attention to the fine print, though: to reap the benefits of 65W charging, the C1 port is your go-to. The C2 port maxes out at 30W, while the USB-A offers up to 22.5W. UGREEN provides specific details on power distribution when multiple devices are connected. For instance, using both USB-C ports divides the output into 45W and 20W, respectively.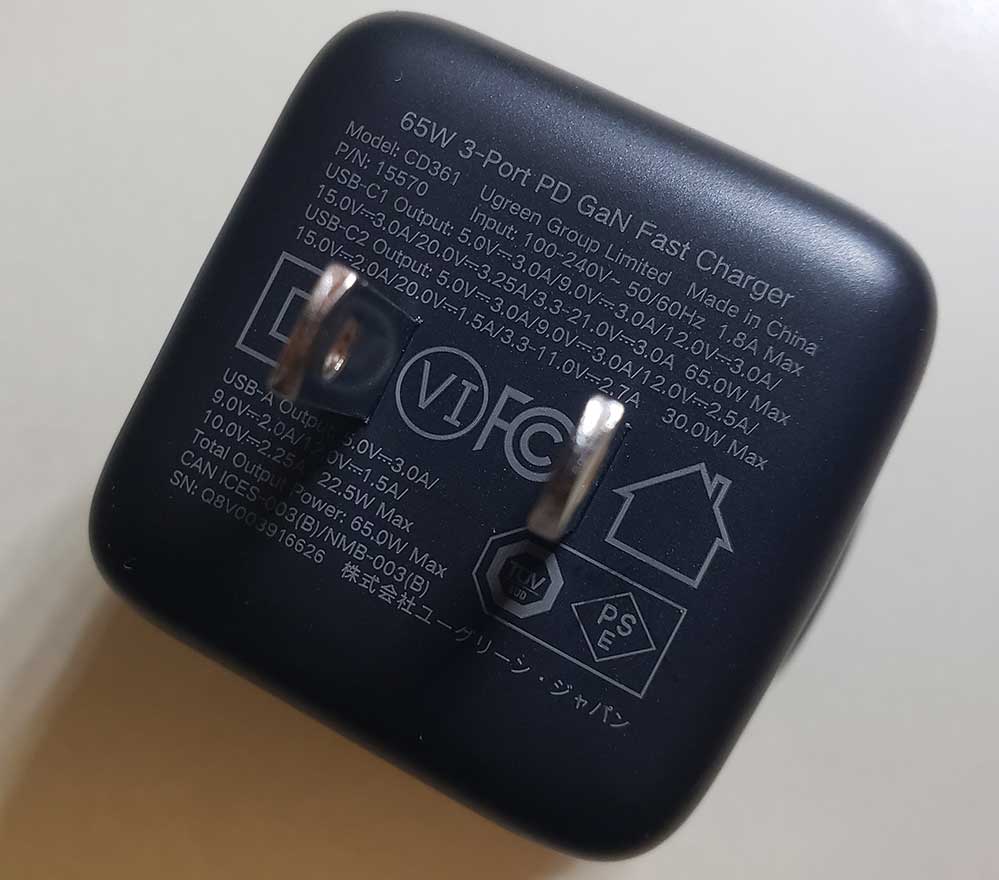 And in a scenario where all three ports are in use, the power is partitioned into 45W, 7.5W, and 7.5W allocations. During the testing phase, various devices were charged to assess the unit's capabilities. The device easily charged a power bank at 30W and fast-charged a Samsung Galaxy Note 9. Even the Galaxy S20 could be super-fast charged at 25W.
The unit proved its mettle in efficiently charging most USB-C devices, though it might not suffice for laptops requiring more than 30W. So, is this charger a groundbreaking reimagining or a fleeting novelty? Its blend of utility, innovation, and whimsical design suggests the former. It's safe to say that this is not your average charging block – it's a conversation starter that delivers on performance.
Design and Construction
The realm of chargers often feels monolithic – functionality cloaked in a drab exterior. However, with this unit, there's a departure from the norm, both in aesthetics and in design detail. The RobotGaN comes in a black and dark gray color scheme. While most charging blocks favor the universal black or white, the blend of gray adds a pop of personality without compromising the device's refined look.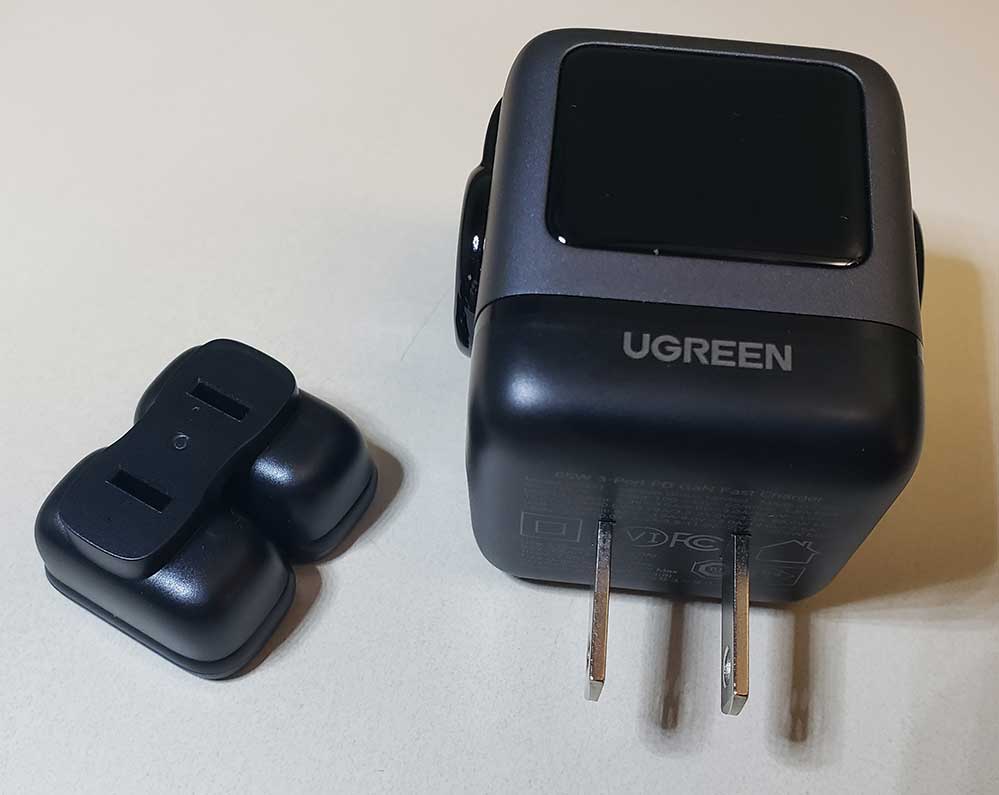 Once past its eye-catching hues, one will notice that the charger's "shoes" can be removed to reveal the AC plug. This two-in-one feature isn't merely aesthetic; it's another nod to the unit's multifunctional design. Slip off the shoes, plug it in, and watch as the LED screen momentarily lights up with a smile – a modest yet engaging interaction that signals the device is ready for action. Conveniently located at the top, the USB-C port is easily accessible.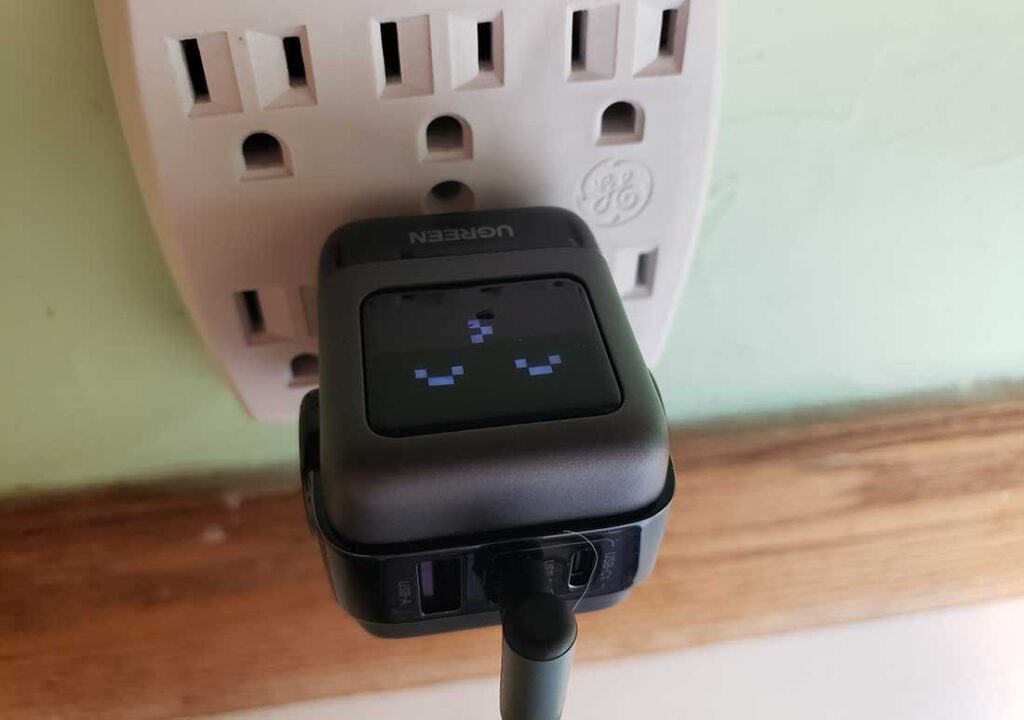 No fumbling around to find where to connect your cable; it's right there, as intuitive as it gets. And while your device is charging, that delightful smiling face reappears on the screen as if reassuring you that your gadget's battery life is in good hands. What stands out is how pleasant the charger is to look at. In a sea of utilitarian designs, it manages to be both eye-catching and sophisticated.
The design isn't just about a cutesy exterior; it's a calculated move to blend form and function, rendering the whole package quite agreeable to the eye. This is not just another charger; it's a fusion of solid connectivity options and thoughtful construction. From its color options to its clever design nuances, it's clear that it's a cut above your average charging block. And let's be honest – aren't we all a little weary of "average" when it comes to our electronics?
Features and Display
The Nexode RobotGaN comes with cool features that do more than merely impress. We're talking safety features that keep both your device and you safe. Indeed, its safety is second to none.
It's fitted with a Thermal Guard that serves as your device's personal security officer, ensuring that overheating and overcharging don't gatecrash your device's battery party. So, not only does it handle volts and amps, but it also juggles them in a manner that protects your gadgets.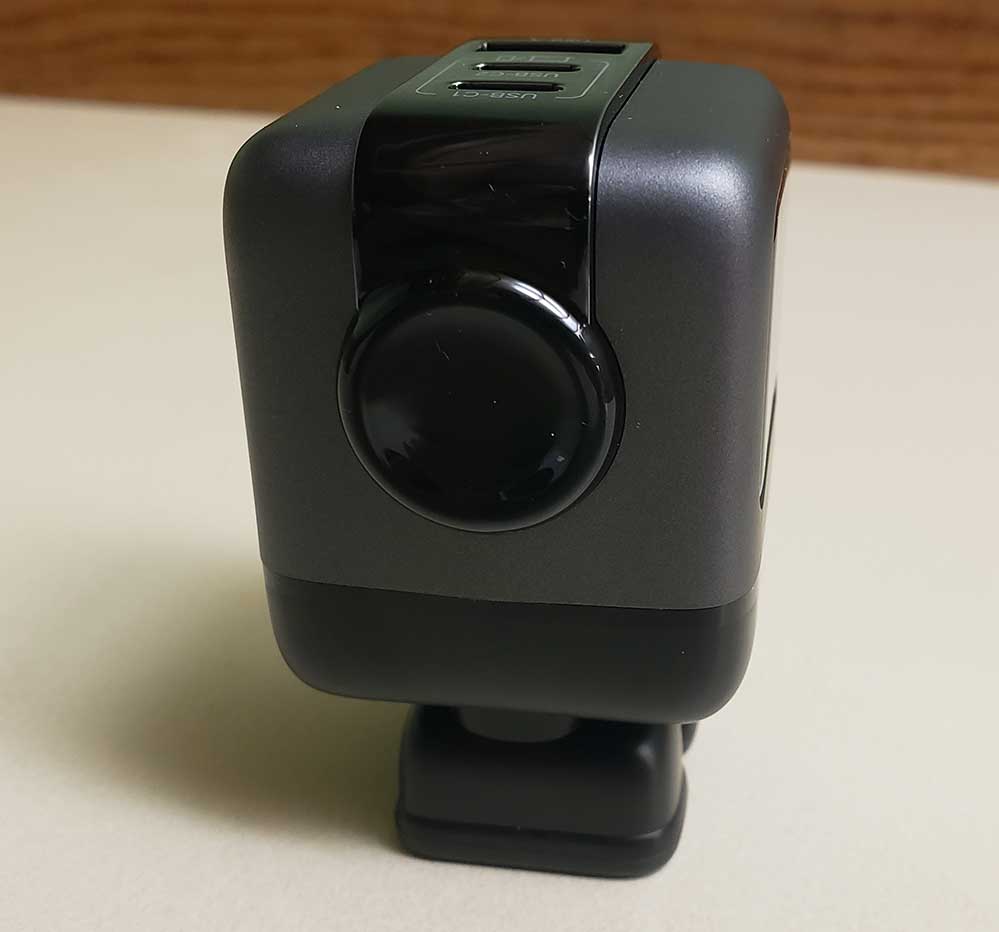 It's reassuring to know that accidental overvoltages and fires are protected against. Yes, accidents can still happen – this is an electronic device, after all. But the chances of something happening are greatly reduced here.
But UGREEN didn't stop there when they were creating the RobotGaN. This charger also wears a flame-retardant coat, adding an extra layer of reassurance that makes you feel confident using this block. It's not just a gadget; it's a fortress that stands between your device and potential electrical misadventures.
But wait, there's more emotion here than just peace of mind. With its unique Facial Expression Status Display, this charger turns the prosaic task of charging into something reminiscent of a Tamagotchi.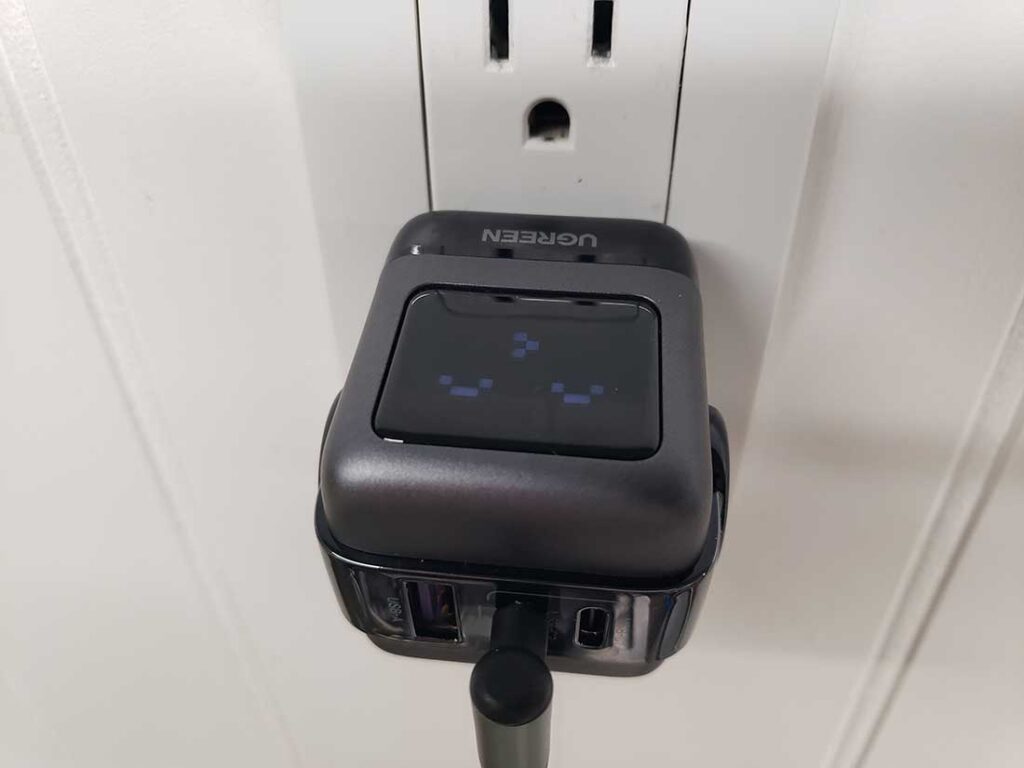 The LED display features a face that goes through phases during the charging process. If your device is gulping down electricity, you'll see an animated face glow up while a different face takes center stage when your battery is full. So it's much more than a practical indicator.
With this handy display, you'll find that it saves you both time and hassle. No need to open your laptop to check the battery; the face says it all. So, it turns out this charger is not just about good looks and a charming "face."
It's an intelligent piece of hardware that offers a range of safety features and indicators. With the Nexode RobotGaN, you're not just charging your device; you're engaging with a gadget that feels almost as responsive as your device itself.
Final Verdict
When it comes to charging devices, the UGREEN Nexode RobotGaN Fast Charger Block demonstrates a successful blend of innovative design and robust functionality. It performs well in areas that matter: safety, versatility, and charging efficiency.
Granted, some consumers might be taken aback by the higher price point. Let's be honest; we're used to paying about $10 for a cheapo charging block. But it's the wealth of additional features that make it a value proposition that's hard to ignore. And at the end of the day, this charging block is not just another piece of hardware; it's a dependable device with an engaging personality.
Meet Derek, "TechGuru," a 34-year-old technology enthusiast with a deep passion for tech innovations. With extensive experience, he specializes in gaming hardware and software, and has expertise in gadgets, custom PCs, and audio.
Besides writing about tech and reviewing new products, Derek enjoys traveling, hiking, and photography. Committed to keeping up with the latest industry trends, he aims to guide readers in making informed tech decisions.