VKB Industries is a gaming peripherals company that's well versed in producing high performance, durable and well-received flight simulation peripherals for high-demanding gamers. With three other successful versions of the T-Rudder under their belt, the Mk.IV has a lot to live up to which is why we're going to go in-depth to give an honest and professional review of these latest flight simulation pedals.
The first aspect in performance as well as ease of use is the realism that any flight simulation pedals can offer, as serious users will likely be looking for a challenge as well as the customization and response rates that go along with that.
Of course, we couldn't possibly provide a full scale analysis without covering durability, as with regular use peripherals can deteriorate over time and become shadows of their former selves, so we're going to discover what makes them unique in this area.
We'll also provide you with a comparison and rating of their overall value in terms of economy in price as well as total cost of ownership, to prove whether or not they're really worth the money and deliver as promised.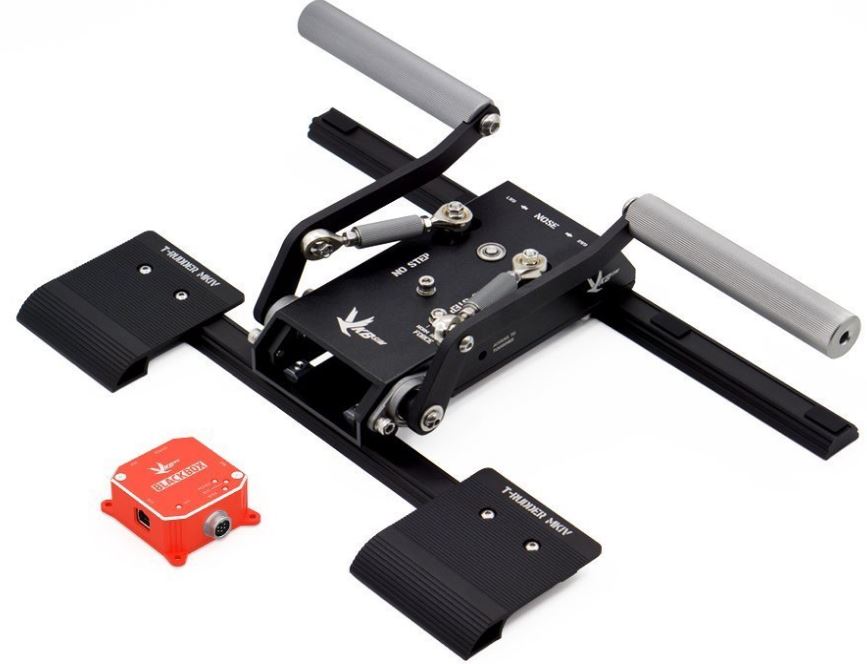 The new VKB Sim. T-Rudder Mk.IV Flight Simulator Pedals offer the following features that make it stand out. These qualities will be the template for our review:
Reversible Cam for Varying Tension Levels
Non-Contact Digital Magnetic Resistance Sensor
Overall Steel Construction with Use of Aluminum Heel Pads
Size Adjustment with Improved Pedal Locking System
USB connection with Firmware Upgrades Available
Let's deconstruct each of these features to determine how well they perform and durable they are among the other qualities previously mentioned, as well as for appearance.
Enhanced Realism via a Reversible Cam and MaRS
The use of a reversible cam isn't a new feature when comparing other high end flight simulation pedals, however the range of sensitivity and ease with which you can adjust it is often overlooked, leaving some expecting more.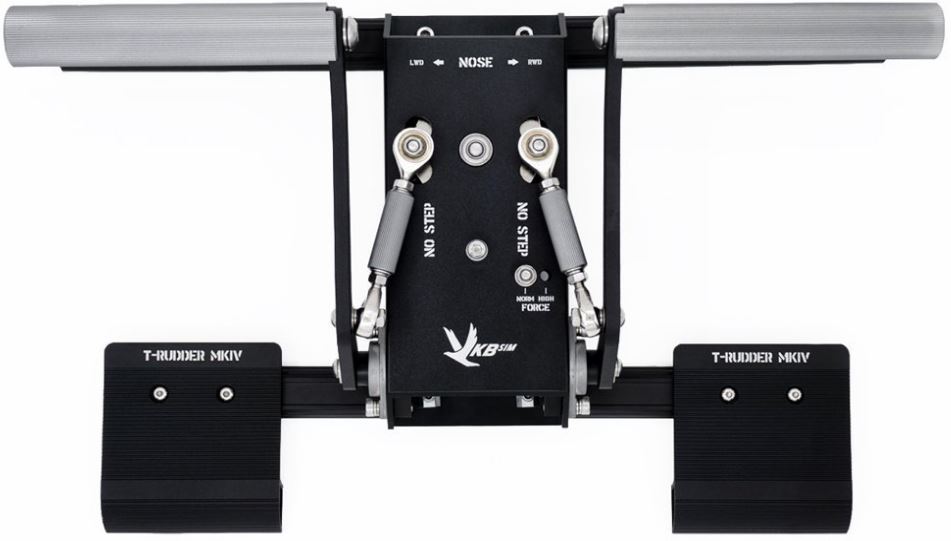 The T-Rudder Mk.IV's tension system utilizes a reversible cam that allows you to choose between détente and no détente, or in other words – an easing on the amount of pressure required to press the pedals down. While this may seem pretty standard, the option of switching between realistic resistance to pressure and easing the tension is a useful option that improves its overall comfort.
In terms of ease of use overall, the tension system makes it easy to make the swap between one or the reverse or installing another cam, by providing access to it externally so that you can simply release it and replace it, if need be. There is very little technical knowledge involved other than the type of cam you wish to use, however they're protected by warranty against manufacturing defects.
Looking at the Magnetic Resistance Sensor (MaRS) that uses digital technology to deliver a resolution of 0.01 which is not only precise, but comparable to the reactions speed of the twist axis of a joystick.
The Controller NJoy32 is used almost exclusively with VKB joysticks and flight pedals, with the exception of Defender Cobra M5 joysticks, and is an exceptional 32 bit ARM controller. It's capable of handling up to 8 axis, each of which can be configured independently for advanced digital functionality, with a fast response rate that doesn't require any additional drivers or software.
The result is a highly responsive set of flight pedals that are reliable and sensitive enough to provide a near true to life flight experience, and as you'll find out later the MaRS is firmware upgradable for even greater capabilities.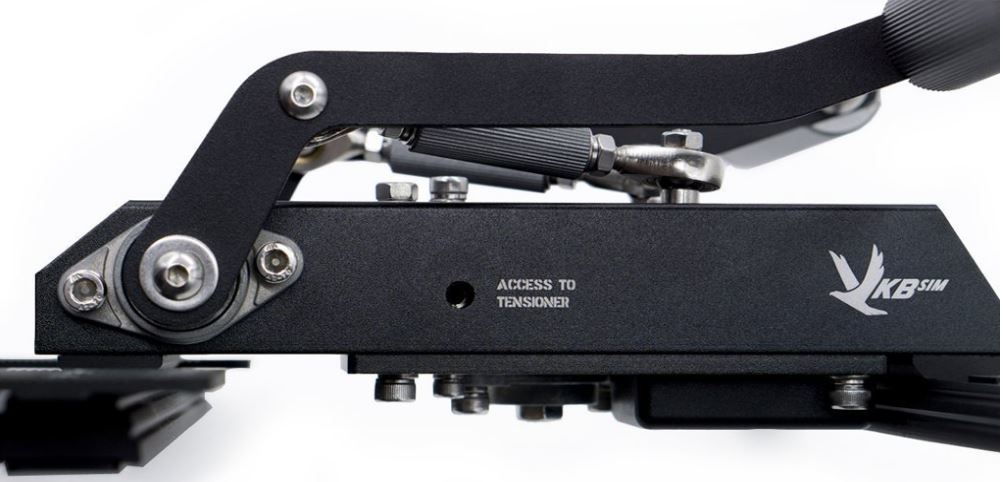 Metal Construction and Components for Robustness and Durability
As with any electronic pedal system, especially those with precision requirements and the heavy toll of continuous foot pressure on the tension of metal, durability is crucial. A bent frame or stripped pedal mechanic can be devastating to the integrity and performance of a flight simulation pedal system, which is why VKB Industries has chosen to use a solid steel for the construction of the T-Rudder Mk.IV.
For starters, the 4 millimeter thick centering mechanism has been reinforced, an improvement on the previous model the Mk.III and also uses two ball bearings to keep the pedals aligned and the entire structure tight and solid for long term use. In fact there are 12 high quality ball bearings integrated into the entire system as well as a reinforced frame for the pedal axes.
Even the spring force attach point has been reinforced for greater durability and robustness in that you can adjust between medium and high tension for desired effect, as well as a reliable amount of sturdiness for both settings.
The heel pads are also made of aluminum which is light enough to be maneuverable but strong and firm enough to keep your foot in place.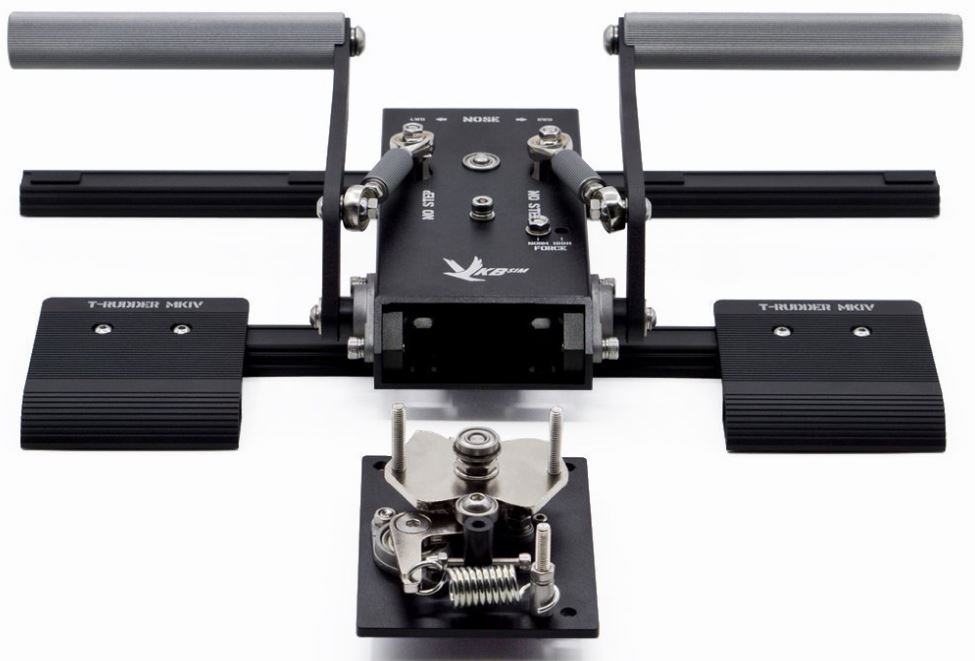 Advanced Size Adjustment Capability for Secure Foot Placement
One of the most desirable new features that make the T-Rudder Mk.IV more innovative than other models is a size adjustment system that allows you to adjust the size based on the length of your legs. There are also profiles available to choose from that accommodate for the size and length of your foot, which is especially useful in that it's capable of handling the push tension and wear from the size of shoe you may be wearing.
The heel pads themselves are also designed to be capable of precise and comfortable use at different foot positions, making it quite versatile and ready to use.
Even further, there are newly designed rubber pads on the bottom, ensuring a more secure placement on the floor – unlike many other peripherals that are easily tossed and moved around when used as if in a real situation.
The standard pedal toe rest that you'd expect for keeping your feet in place has been given an upgrade in its locking system, making it less likely to loosen up during use, and allows for a comfortable and consistent size adjustment for your feet.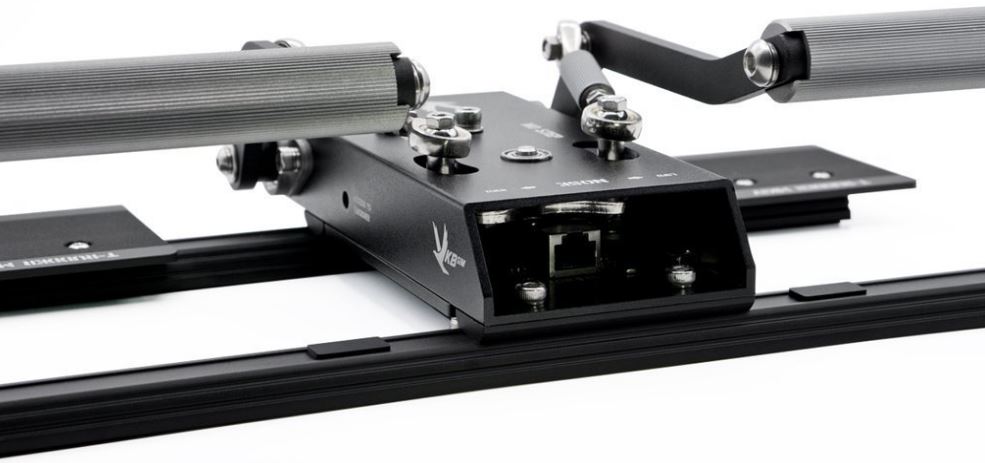 Connection Technology and External Components Included
With the level of precision in data being passed to your computer it's important to have a secure connection in order to avoid interruptions, as well as overall reliability of each part required for use. The first external device included with the Mk.IV is the orange Black Box which is its USB connector that keeps the entire system integrated, and data flowing properly.
Using a USB connection cable makes it easy to plug in and ready to use pretty much out of the box, and while there is some assembly required for the entire pedal system initially, you should be up and running within minutes. There are assembly tools included as well to make installation and maintenance an easier, quicker and more affordable task.
Looking at the T-Rudder Mk.IV as a complete system with a steel construction and secure placement on the floor, it's surprising that it weighs in at only 5.9 pounds and measures 15.7 by 9.5 by 3.9 inches.
This last feature positively impacts its comfort quality greatly, as it's difficult to find a set of flight simulation pedals that performs as well, is as durable and easy to use at the same time as being so compact that it fits under just about any desk.
It's actually designed and manufactured so that the vertical pressure required for the pedals complements its overall shape and size, as well as the horizontal movement of just about any office chair, further enhancing comfort.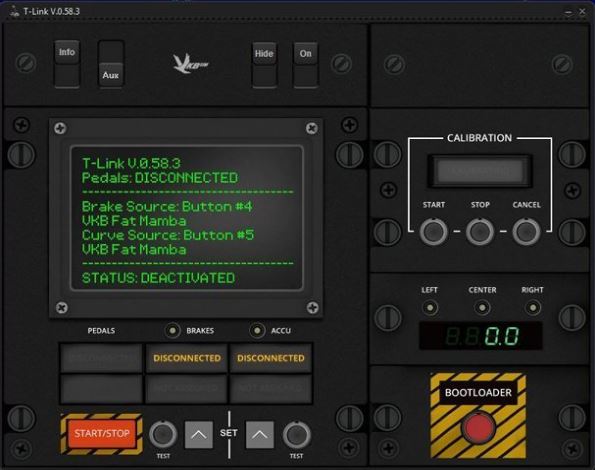 In terms of available software that's supported and is available today, the Mk.IV is capable of using virtual toe brake technology. With the use of a small bit of software ingenuity you can set a button to activate a brake control so that when you apply pressure to the foot pedals, it'll apply a brake mechanism in the flight simulation, which some air planes in real life use.
Lastly, there is a keychain included with a World War II KG12 trigger for novelty and appearance, and while it's just a little extra trinket, it adds some flavor and history to the joy of realistic flight simulation.
Conclusion
One of the most noticeable facts about the overall value of the VKB Sim T-Rudder Mk.IV Flight Simulator Pedals is the experience of VKB Industries, and the consistent improvement and knowledge gained from previous models and reviews from customers who've used them.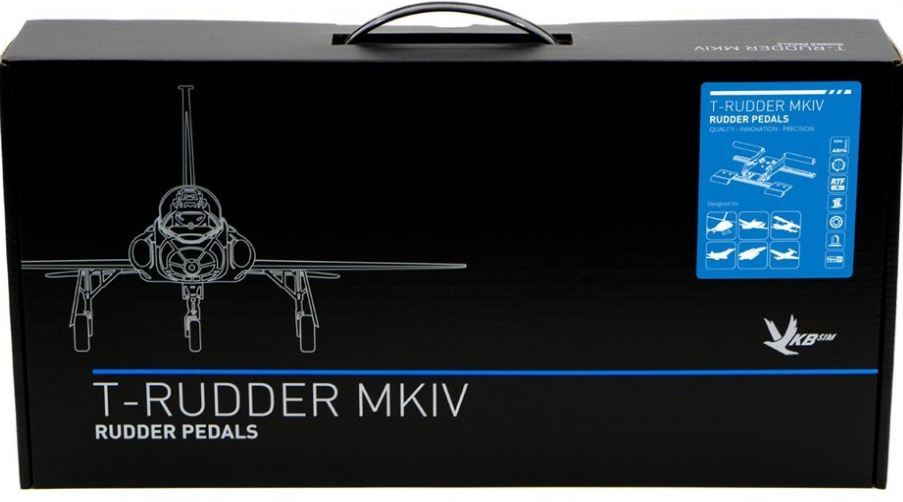 You'll be surprised that it performs much better than promised in terms of price, and although it's a high end gaming peripheral, you'll know through years of use you're getting more value than you pay for. That being said, it isn't absolutely perfect, in that there are some improvements that could be made, however it provides for the demands of realistic performance and comfort just as well as it does in overall durability and economic value.