Overall Design -

8.5/10

Drawing Experience -

9/10

Display Quality -

9/10

Ergonomics -

8/10
Summary
The Artist Pro 14 (Gen 2) by XPPen sets the standard for professional digital drawing displays. It blends exceptional technology, superior drawing experience, and advanced features with a user-friendly design to deliver a robust tool for artists. Whether you're an industry veteran or a budding enthusiast, it's an invaluable companion for your creative journey.
Pros
Exceptional X-Paper Surface texture
Accurate color representation and display
Highly responsive X3 Pro Smart Chip Stylus
Versatile connectivity and software compatibility
Cons
Size may be unwieldy for some
Might be a bit pricey for beginners
Requires lots of cables to use
Entering into the world of digital art requires not just creativity but also a powerful tool that will enable artists to materialize their visions. Recently, we had the chance to explore a fascinating product in this sphere – the Artist Pro 14(Gen 2) by XPPen. This thorough review presents the salient features, functions, and performance of this display, giving you a comprehensive understanding of what this product has to offer.
Unboxing the Artist Pro 14(Gen 2)
Opening the box presents an array of carefully curated accessories, each designed to augment your experience. Let's break down each accessory and discuss how it enhances the overall user experience.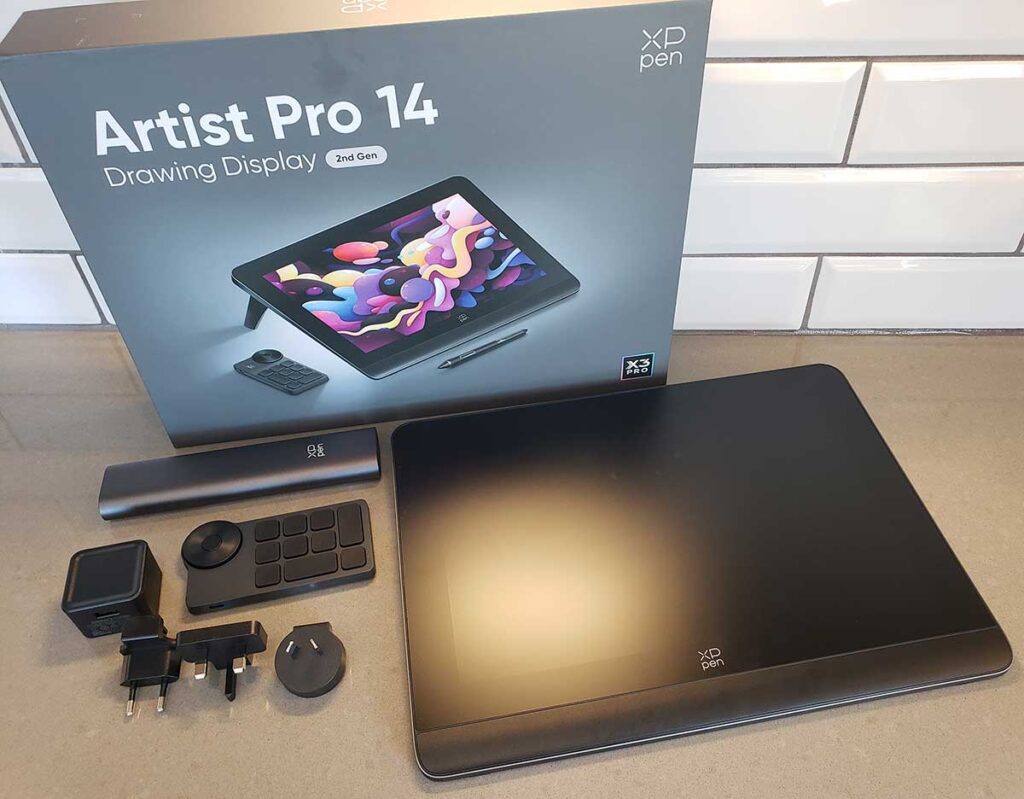 Drawing Display: This is the star of the show, the 14-inch FHD X-Nature display that brings your art to life. Its laminated screen and high resolution ensure a fluid, vivid, and precise drawing experience.
X3 Pro Smart Chip Stylus: This high-tech stylus offers 16K pressure levels, allowing for exceptionally nuanced strokes. We noticed the responsiveness of the stylus and the seamless transition between thin and thick lines during our testing. The stylus also supports a 60-degree tilt, enabling us to create a variety of shading effects effortlessly.
Pen Case (Includes 9 Pen Nibs): The sleek pen case houses the stylus and additional nibs safely. Its space-gray color and streamlined design sync perfectly with the aesthetics. The nine additional nibs provide a good supply for future replacements, extending the lifespan of the stylus.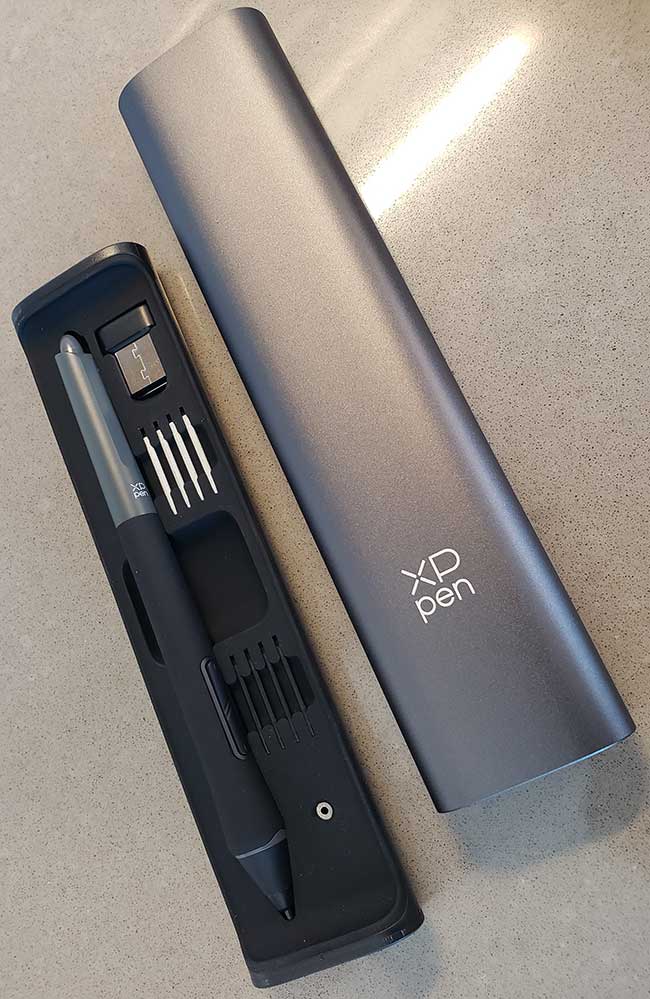 USB-C to USB-C Cable & Extension Cable: These cables provide connectivity options that ensure data transfer and power supply. We found the extension cable especially useful for a more flexible workstation setup.
Power Adapter & Power Cable: The included power adapter and cable ensure that the tablet is always ready to use, supporting long creative sessions without the fear of a battery drain.
Wireless Shortcut Remote: This device significantly enhances productivity by providing easy access to key functions. During testing, we customized the remote's buttons for our preferred shortcuts, which reduced our dependency on the keyboard and improved our workflow efficiency.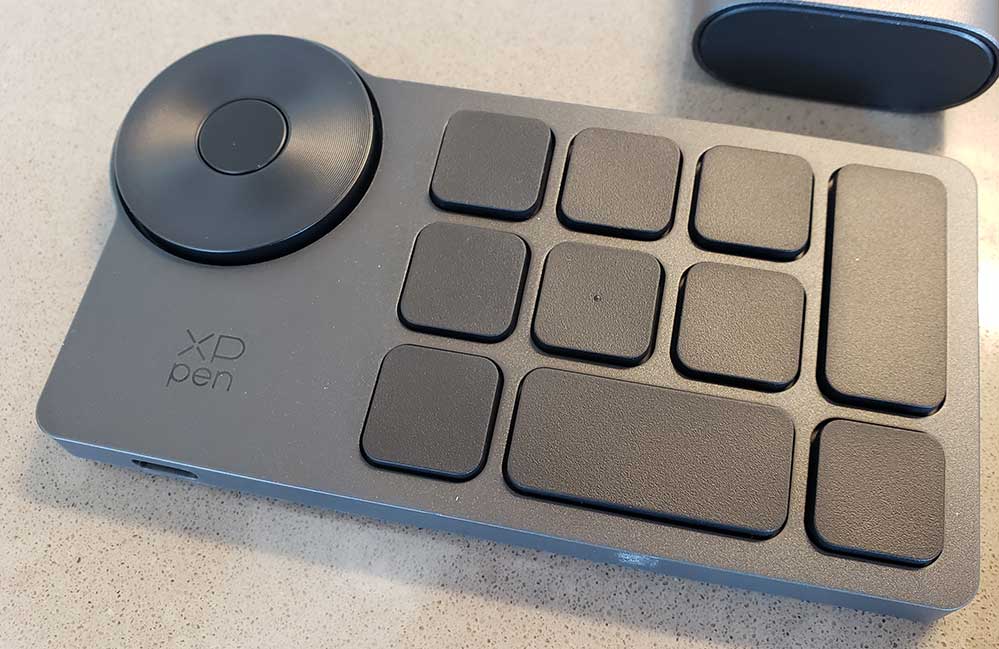 Drawing Glove: The glove, made of high-quality, breathable fabric, reduces friction between the hand and the screen, providing a smooth drawing experience. It also keeps the screen free from smudges and fingerprints.
Cleaning Cloth: To keep the display clear and pristine, a microfiber cleaning cloth is included in the package. We found it effective in removing dust and smudges without scratching the display.
Customer Service Card, Quick Guide & Warranty Card: These documents provide valuable information about the device. The Quick Guide provides simple, step-by-step instructions for setup, while the Customer Service Card provides contact information for support. And lastly, the Warranty Card offers peace of mind, guaranteeing against any manufacturing defects over a period of a year and a half.
Design and Ergonomics
While unboxing the Artist Pro 14(Gen 2), we couldn't help but notice the thoughtful blend of aesthetics and ergonomics. This tablet emanates professionalism, its space gray color and streamlined body creating a sense of futuristic minimalism. The metal body construction ensured durability and firmness; we even conducted a mild stress test, subjecting the tablet to common hazards like accidental drops and sharp objects. Despite these tests, the display came out unscathed, proving its robust construction.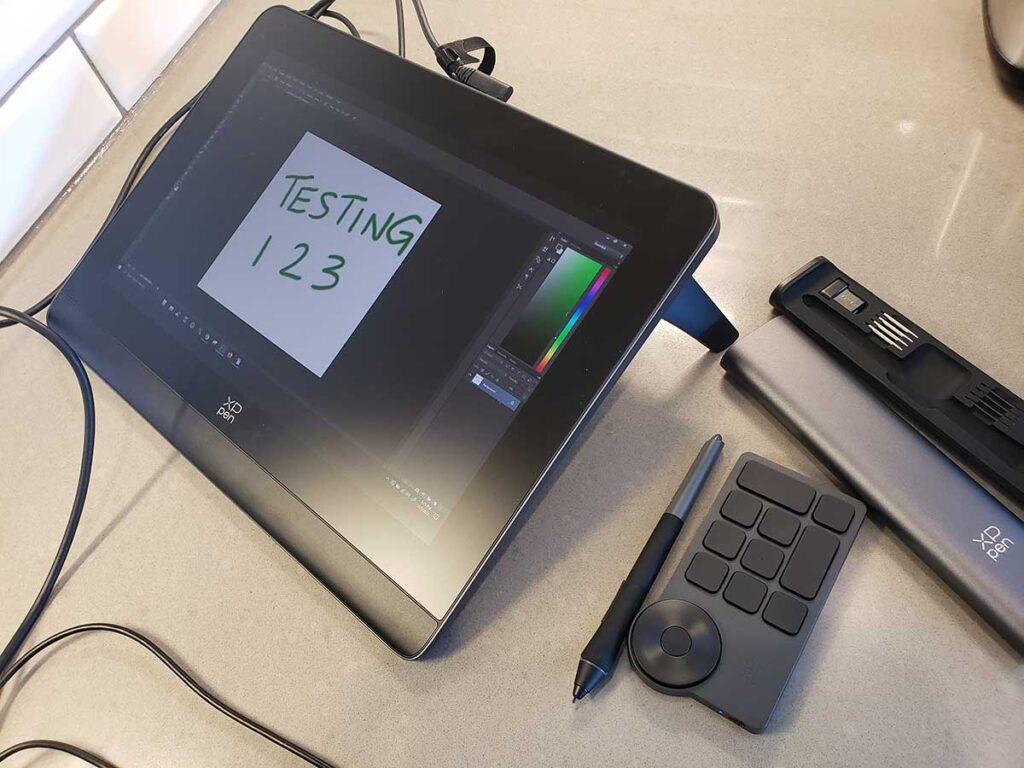 The X-Edge Wrist Rest, a feature unique to the Artist Pro 14(Gen 2), is designed to maximize comfort during prolonged drawing sessions. To put this to the test, we embarked on a detailed digital illustration project that required hours of continuous work. True to its promise, the wrist rest significantly reduced wrist fatigue and discomfort, allowing us to maintain focus and productivity.
The built-in foldable stand further accentuates its ergonomics. We experimented with different angles and positions during our testing process to emulate a variety of workspace setups. Whether working from a home desk or a bustling café, the stand allowed us to make adjustments to our preferred working posture, offering a customizable experience.
The X-Nature Display
The Artist Pro 14(Gen 2) sports a 14-inch artspace with a 16:10 aspect ratio and a full HD 1920 x 1200 resolution X-Nature Display (WUXGA). The brilliance of this feature unfolded when we engaged in various design tasks, from intricate digital painting to complex graphic design. The larger screen size, far from being merely impressive, provided a practical advantage by offering an expansive workspace that accommodated detailed manipulation.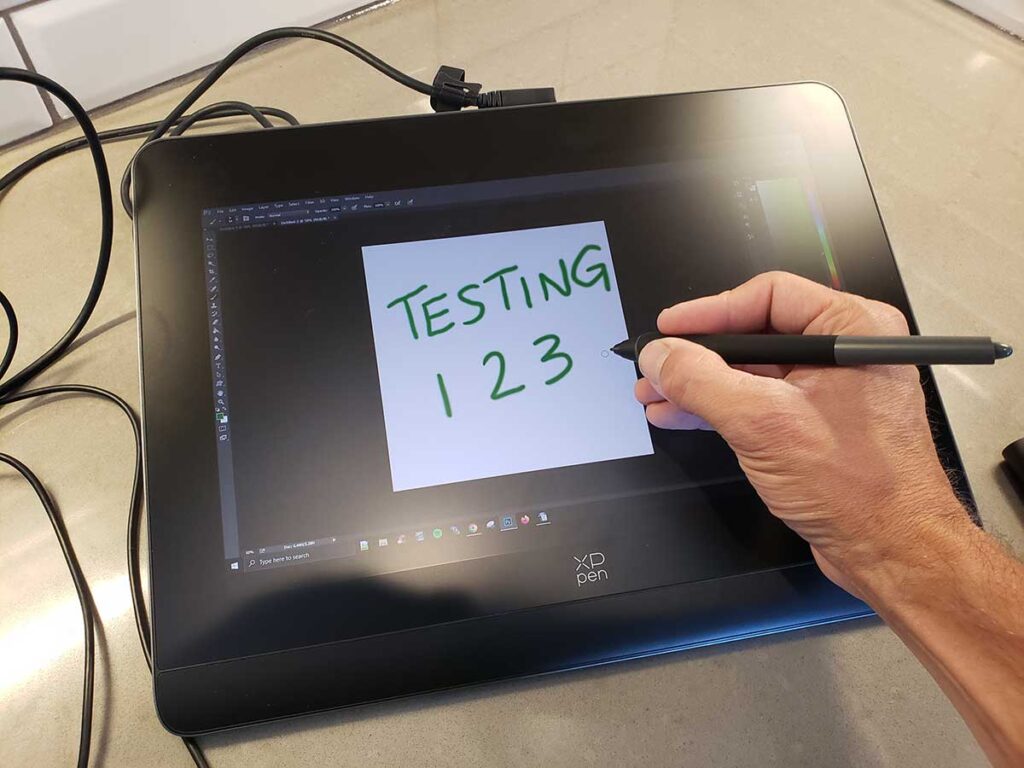 One of our testing procedures involved working on a detailed fantasy cityscape, requiring extensive detail and precision. Once again, the larger screen size proved to be a considerable advantage, allowing us to comfortably navigate the workspace and focus on intricate details without continually zooming in and out. Moreover, the screen's full lamination technology attracted our attention. This feature promised to eliminate parallax errors, a frequent issue with digital art.
To verify this claim, we embarked on a series of line art exercises that required precision. We used the X3 Pro Smart Chip Stylus to create a series of strokes, curves, and shapes, focusing on line accuracy. To our delight, its promise held true. The strokes appeared exactly where the stylus tip touched the screen, eliminating the disconnect often felt in non-laminated displays. This resulted in an increased sense of control and precision, significantly enhancing our drawing experience and the quality of our work.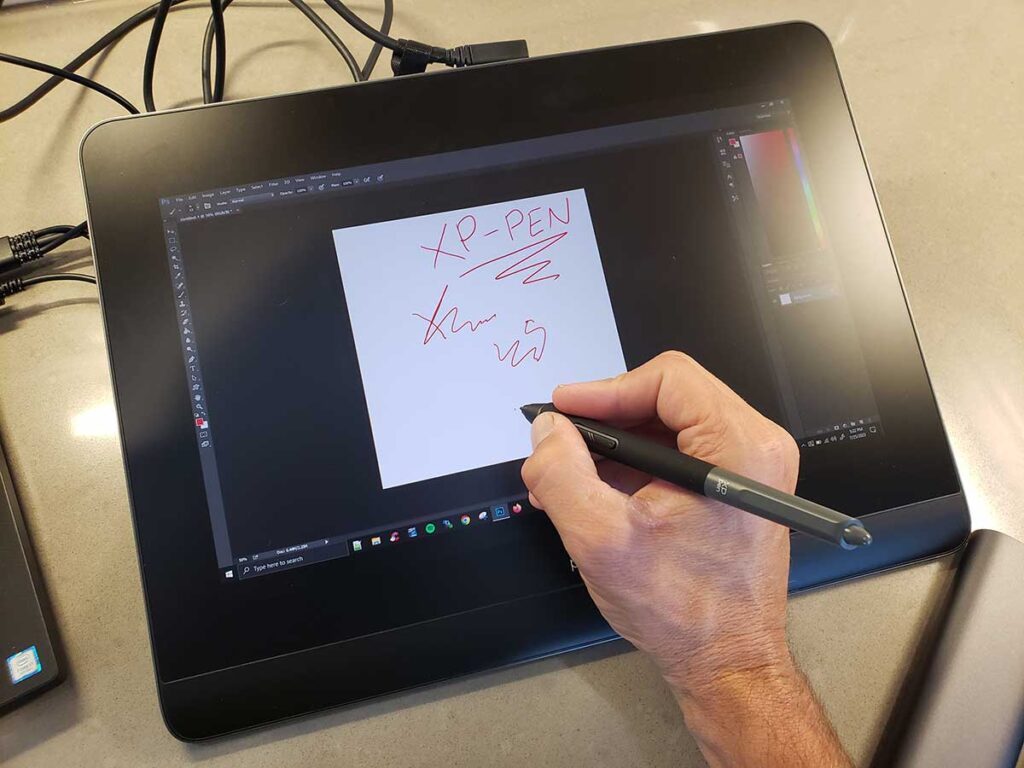 Complementing the user experience is TÜV SÜD certified low blue light. You can confidently say goodbye to potentially harmful blue light emissions, enabling you to work in safety and comfort. That means longer creative sessions without worry or fatigued eyes. The blue light feature doesn't negatively impact color accuracy, either. And speaking of which, let's switch gears to talk about how precise the colors are.
Accurate Color Representation
The Artist Pro 14(Gen 2) showcases an excellent color accuracy of Δ E<2.2, which is well within the acceptable range for professional work. This accuracy, combined with a color gamut coverage ratio of 99% sRGB, promises stunningly accurate color representation. During our test, we appreciated the ability to switch among different color spaces, such as sRGB, Adobe RGB, and DCI-P3. It's a feature that proved essential for precise color production in various applications. Whether we were designing a website, retouching a photograph, or creating an animation, the color capabilities lived up to our expectations.
The Drawing Experience
Drawing on the Artist Pro 14(Gen 2) is an experience that embodies the fusion of advanced technology and traditional artistic methods. A key factor contributing to this harmonious blend is the unique X-Paper Surface. Let's take a closer look at this incredible feature, as well as many others that play a key role in providing users with such an amazing drawing/creation experience.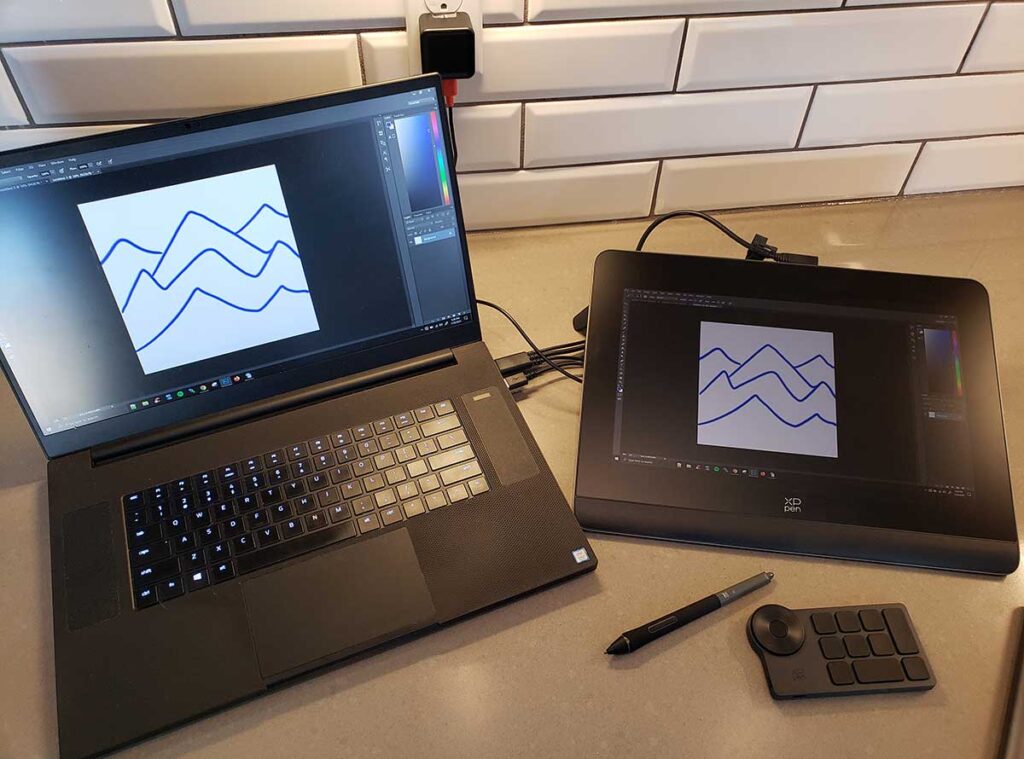 The Ultimate X-Paper Surface
The X-Paper Surface aims to provide artists with a digital canvas that closely mimics the feel of drawing on real paper. As we tested this feature, we were immediately taken by the distinctive texture of the surface – it was gritty but comfortable, with just the right amount of friction to give the feeling of a pencil moving on paper. This sensation of familiarity made the transition from traditional media to a digital platform much more seamless and enjoyable.
Anti-glare and Anti-fingerprint
In addition to replicating the feel of paper, the X-Paper Surface is also designed to be anti-glare and anti-fingerprint. During our testing period, we found these features to be truly advantageous. The anti-glare property ensured that the screen visibility remained excellent even under strong light, reducing eye strain and enabling longer periods of work. The anti-fingerprint characteristic, on the other hand, kept the screen clean and clear, despite hours of contact with our hands.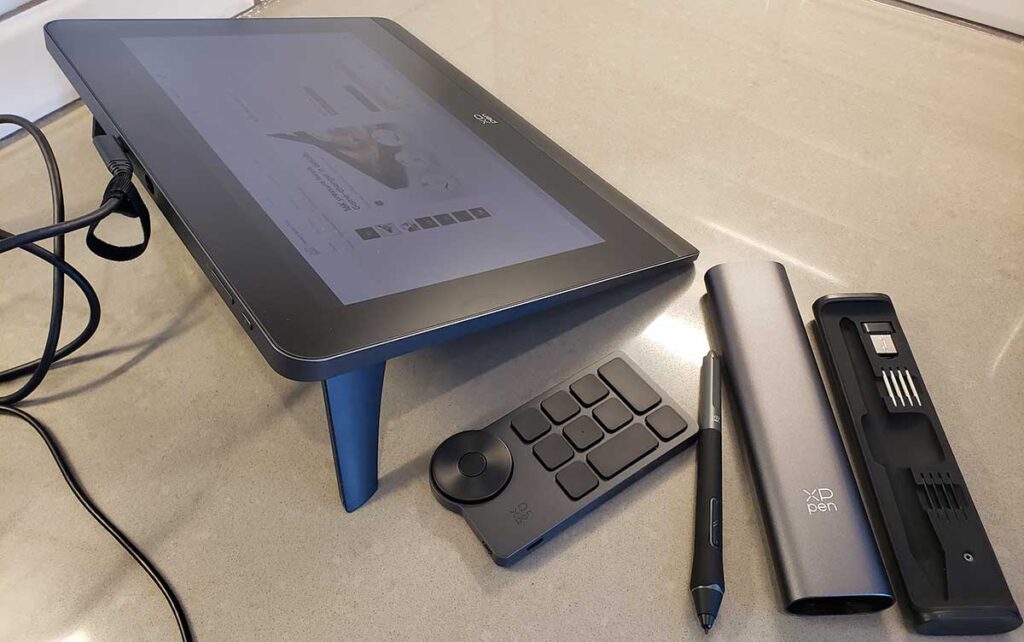 This resulted in an uninterrupted, pristine drawing experience. If you're overly worried about smudging up the artspace, you can always wear the included glove for added prevention. It works well, but we found that it wasn't all that necessary – the screen does a tremendous job of limiting the appearance of unsightly, bothersome fingerprints all on its own.
Drawing with the X3 Pro Smart Chip Stylus
Adding to the overall drawing experience is the X3 Pro Smart Chip Stylus. Its pressure sensitivity level of 16,384, which is double compared to the previous version, contributed to a much more responsive and accurate drawing experience. In fact, it boasts a reduction in the initial response rate to 90ms, making the stylus 1.5 times faster than ever. Coupled with an increased accuracy of up to 20%, we were afforded the freedom to bring out our creative ideas precisely as we imagined.
The stylus was also quite adept at handling varying degrees of pressure and angles. With a mere 3g initial activation force, a retraction distance of 0.6mm, and a tilt function of up to 60 degrees, we found ourselves creating nuanced strokes and shading effects with ease. Factor in the included nibs, and you're given an abundance of artistic agility that simply isn't possible with conventional styluses.
Connectivity and Compatibility
Great strides were taken in terms of connectivity options and compatibility with various systems and software. These elements serve to enhance the overall user experience by offering flexibility and compatibility with a wide range of digital platforms.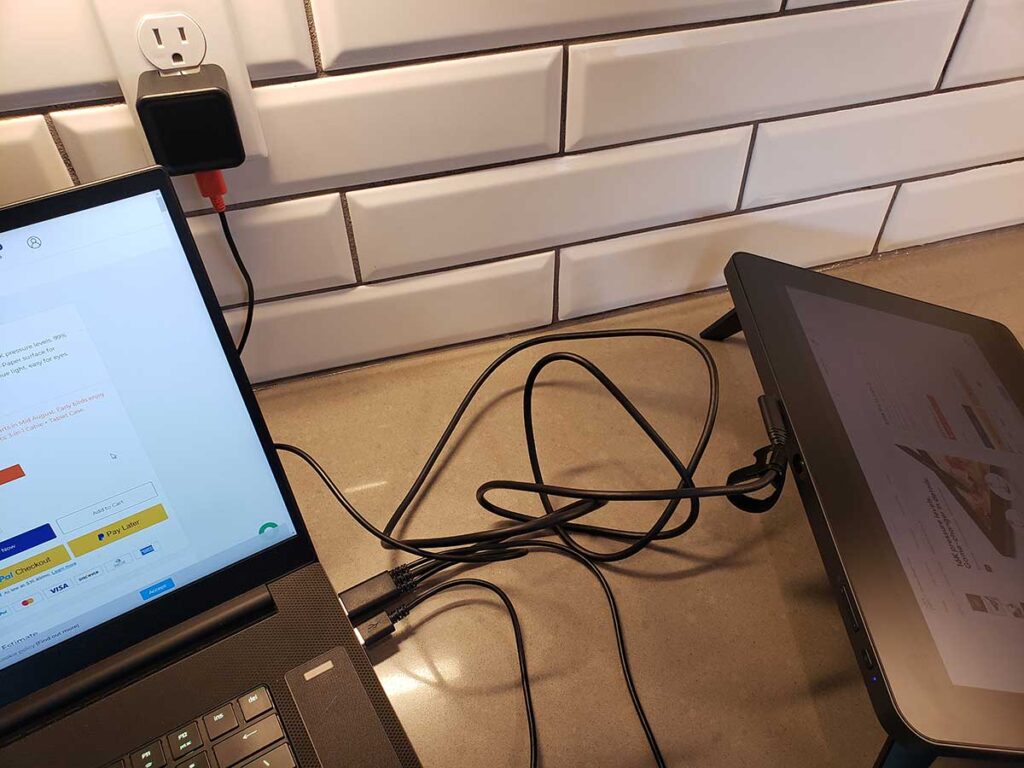 Flexible Dual Ports
One notable feature is the inclusion of dual reversible ports. These ports support both an HDMI 3-in-1 cable and a full-featured USB-C cable, granting users the flexibility to connect the device to a PC either way – up or down. This level of flexibility effectively simplifies the setup process and helps to reduce clutter around the workspace. Additionally, the ability of the full-featured USB-C port to manage charging and data transmission simultaneously offers the benefit of staying connected while also ensuring there's plenty of power for extended use.
Highly Compatible
Furthermore, it excels not just in terms of connectivity but also in its compatibility with various operating systems. It works seamlessly with the following operating systems:
Windows 7 and up
macOS 10.10 and up
Linux
Android (USB3.1 DP1.2)
Chrome OS 88 and up
This broad range of compatibility opens up a world of possibilities for artists working across different platforms. This is also a good time to mention the simplicity of switching between tablet mode and external display. XPPen makes it easier than ever – a simple tap of a top-facing button effortlessly switches between modes (assuming you're connected to another display, of course). It's a welcome feature that effectively eliminates fumbling through convoluted menus and settings.
Software Support
In addition to system compatibility, the tablet also supports a wide variety of popular art programs. This includes industry-standard applications such as Adobe's Photoshop and Illustrator, as well as specialized programs like Maya, CDR, SAI, GIMP, Blender3D, FireAlpaca, Krita, MediBang, and Toonboom. This broad software compatibility enhances usability, making it a great option for artists who work across multiple applications in their creative processes. Whether you're into graphic design, 3D modeling, or digital painting, the Artist Pro 14(Gen 2) is equipped to handle it all with aplomb.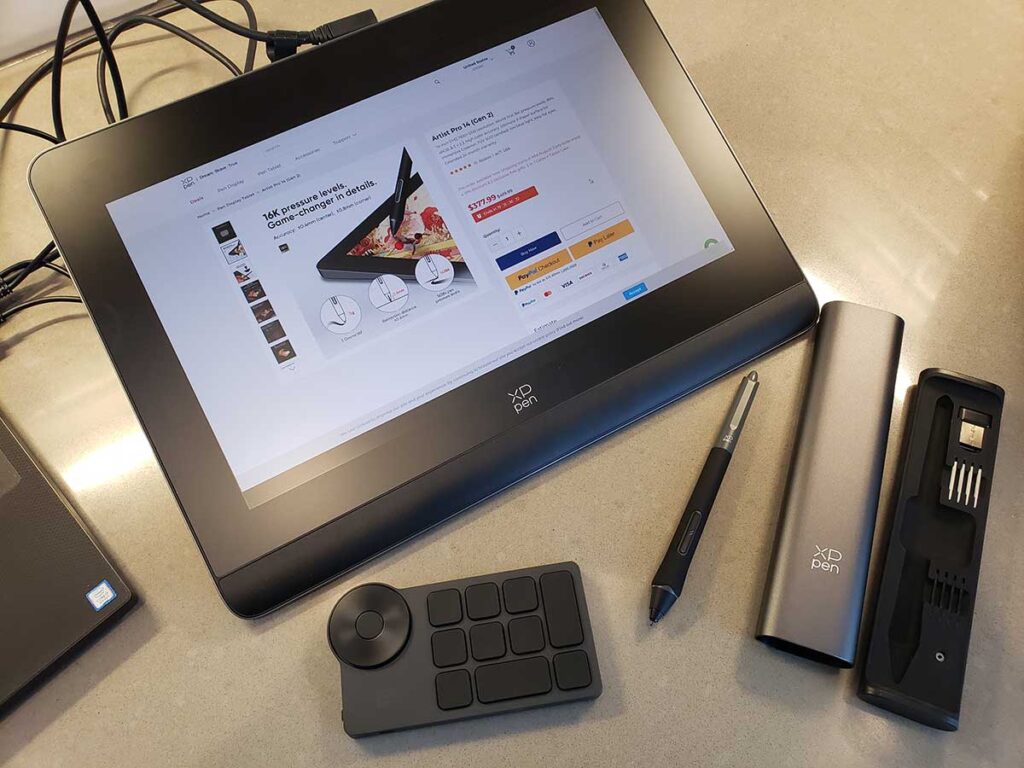 Final Verdict
The Artist Pro 14(Gen 2) by XPPen sets the standard for professional digital drawing displays. It blends exceptional technology, superior drawing experience, and advanced features with a user-friendly design to deliver a robust tool for artists. Whether you're an industry veteran or a budding enthusiast, it's an invaluable companion for your creative journey.