If you're looking for a good humidity sensing bathroom fan, we have you covered. We've compiled a list of the best ones available today to help you make an informed decision.
These fans are designed to maintain a comfortable and healthy bathroom environment by controlling humidity levels, preventing mold and mildew growth, and ensuring energy efficiency. Here are our top picks featured:
Read on to find detailed reviews of these top-performing humidity sensing bathroom fans, along with their key features, advantages, and potential drawbacks.
1. Panasonic WhisperValue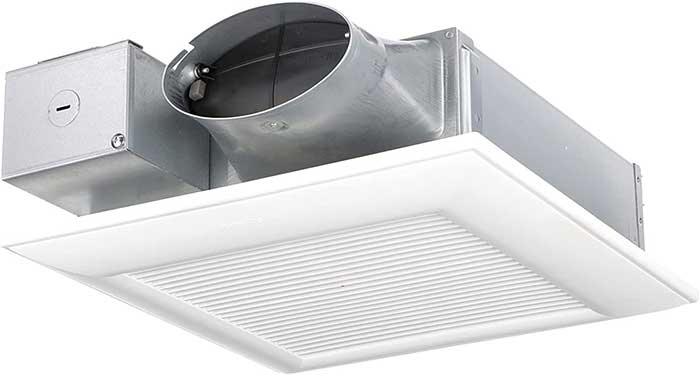 Key features:
Slim design, ceiling or wall mount
ECM motor with SmartFlow technology
Built-in condensation sensor for humidity control
Pick-A-Flow speed selector (50-80-100 CFM)
The Panasonic WhisperValue is a versatile, energy-efficient, and highly effective solution for controlling humidity in your bathroom. Its sleek white design ensures it can blend seamlessly with any bathroom decor, and it can be conveniently mounted on either the ceiling or wall. With a slim 3-3/8-inch housing depth, this unit boasts the thinnest design in its category, making it an excellent choice for all types of homes.
Measuring 16.49 x 14.48 x 7 inches and weighing just 1 pound, the fan's compact dimensions and lightweight design make it easy to integrate into various bathroom layouts without being intrusive. The unit is made of durable plastic material, ensuring it can withstand regular use in humid environments.
The device's SmartFlow ECM motor ensures optimal CFM output while using less energy. This increased efficiency not only saves on energy costs but also allows the fan to run cooler, significantly extending its lifespan. The built-in Pick-A-Flow selector allows you to choose the speed you want based on your specific ventilation needs. The ability to customize the airflow ensures that the fan can effectively manage humidity in bathrooms of various sizes.
Armed with a built-in condensation sensor, moisture levels in your bathroom are easily controlled, thus preventing mold and mildew growth. During testing, the fan proved to be highly effective in managing humidity, maintaining a comfortable environment, and contributing to better air quality.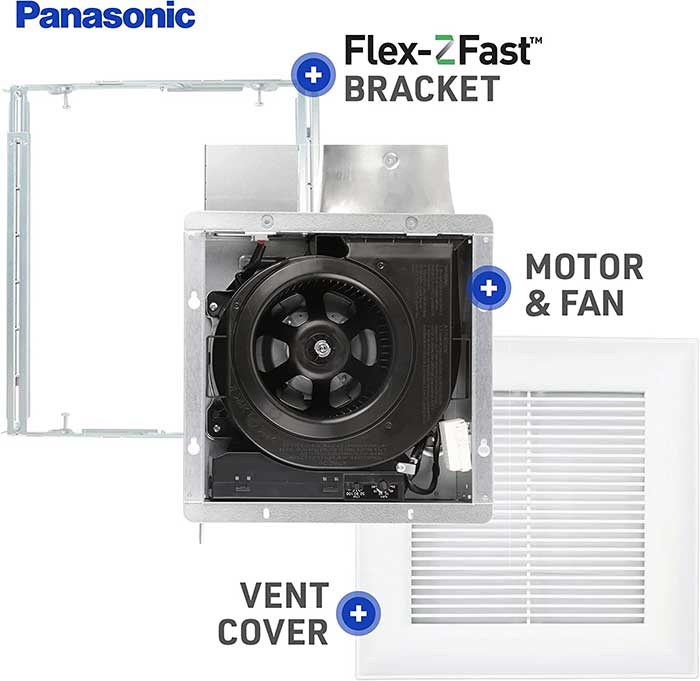 The fan's ease of installation is another noteworthy aspect. It has an L-shaped bracket that makes installing it a cinch while providing sturdy support. As a result, the fan remains secure and stable. This streamlined installation process is ideal for DIY enthusiasts and professional contractors alike.
As an ENERGY STAR-certified product, it meets the stringent requirements for ENERGY STAR's increased efficiency, ensuring low-cost and environmentally-friendly operation. In addition to being energy-efficient, the fan operates at whisper-quiet sound levels, providing excellent performance without disturbing your peace and quiet.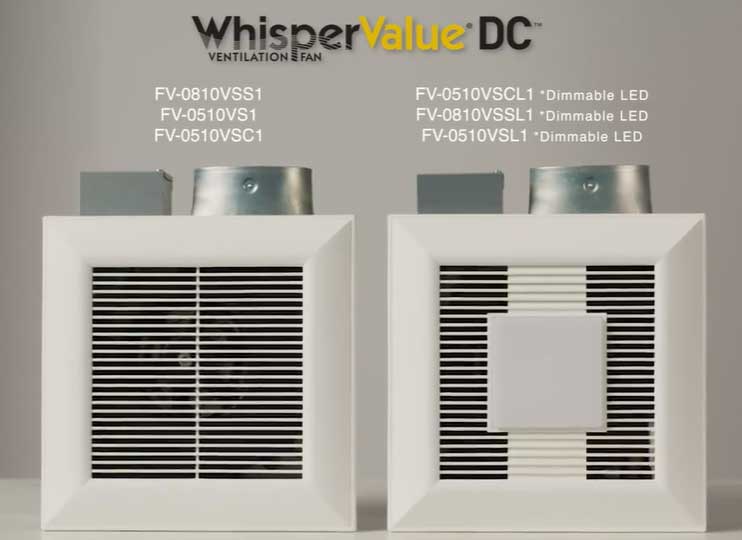 Panasonic's WhisperValue is a top choice for any bathroom ventilation needs. Its combination of excellent humidity control, energy efficiency, whisper-quiet performance, and slim design make it an ideal addition to bathrooms in homes of all sizes. With its user-friendly installation process and customizable airflow options, this fan delivers exceptional value and functionality, ensuring a comfortable and healthy bathroom environment.
What we liked:
Energy-efficient, ENERGY STAR certified
Whisper-quiet operation
Easy installation with L-shaped bracket
Durable plastic construction
What we didn't like:
May not suit very large bathrooms
Limited design color options
2. Hauslane Electric Bathroom Fan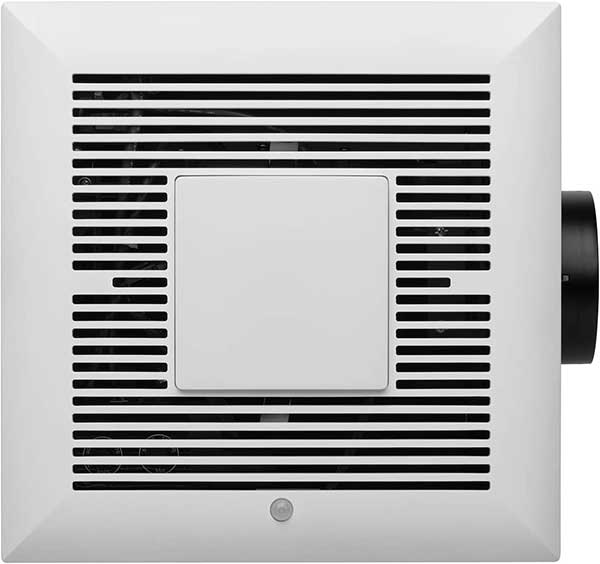 Key features:
Humidity & motion sensor technology
Ultra-quiet 1.2 sones operation
Efficient 120 CFM ventilation
Integrated 6W LED light panel
The Hauslane Electric Bathroom Fan is a versatile and efficient addition to any home bathroom. Featuring a humidity and motion sensor, this device offers an optimal solution for regulating air circulation and maintaining a clean, dry environment. We tested the unit in a variety of conditions and found it to be an excellent performer.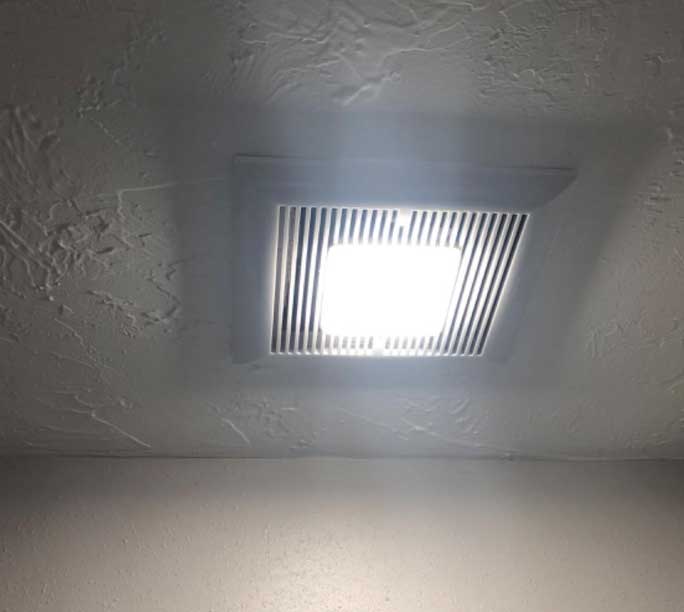 This 120 CFM ventilator is designed to remove unpleasant odors and excess moisture from rooms up to 120 square feet. Running at a 1007 RPM fan speed, it provides powerful ventilation while remaining ultra-quiet, with a noise level of just 1.2 sones. This makes it a perfect fit for shared housing or households with young children. The device is also equipped with a 6W LED light panel, which delivers convenient illumination for your bathroom. This dual-functionality makes it a smart choice for those looking to upgrade both their lighting and ventilation systems simultaneously.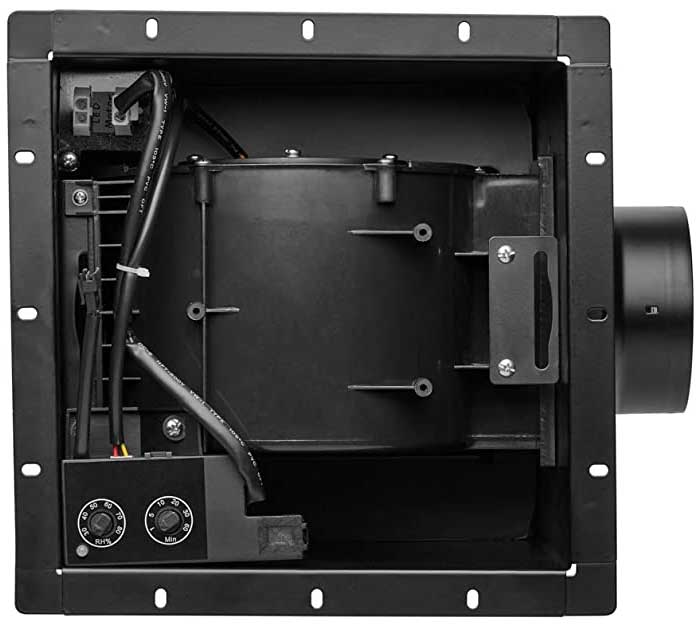 One of the most impressive features of this fan is its built-in humidity and motion sensors. These allow for automatic regulation of the bathroom environment, detecting when the humidity reaches a certain level or when someone enters the room. This level of automation ensures that the fan only operates when needed, contributing to its overall energy efficiency.
Installation is a breeze with the Hauslane fan, as it comes with a double hanger bar system for optimal positioning. The standard-size housing fits between most ceiling joists and includes a 4-inch vent connector. Moreover, the fan's components are separable, simplifying the installation process even further.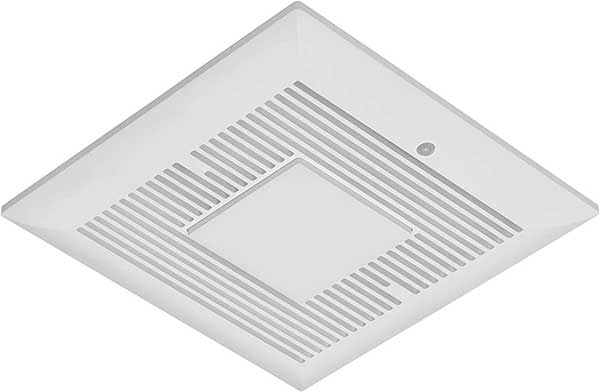 The unit is ETL listed, ensuring it meets high standards for quality and safety. To back this up, Hauslane provides a 2-year limited guarantee, offering customers peace of mind in their investment.
Measuring 10 x 10 x 8 inches and weighing 8.93 pounds, the Hauslane Electric Bathroom Fan is a compact and lightweight option for improving your bathroom's ventilation. The combination of powerful airflow, quiet operation, and advanced sensor technology make it a top choice for homeowners seeking an efficient and user-friendly bathroom exhaust fan.
What we liked:
Easy installation with double hanger bar
Energy-efficient performance
Automatic bathroom environment regulation
ETL listed and 2-year guarantee
What we didn't like:
Indoor use only
Limited to ceiling mount
3. Homewerks 7145-80V-HS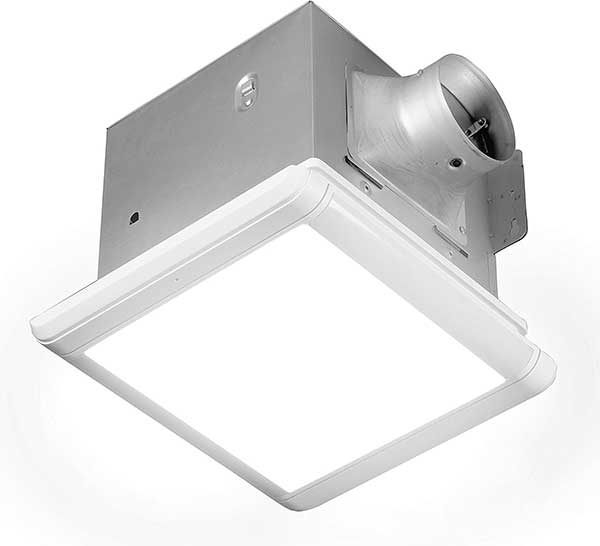 Key features:
Dual speed with auto humidity sensor
Quiet operation at 1.0-1.5 sones
Integrated dimmable LED light and night mode
Corrosion-resistant galvanized steel construction
The Homewerks 7145-80V-HS is a powerful and efficient ventilation solution for your bathroom. This fan features an integrated dimmable LED light and an automatic humidity sensor, providing not only comfort but also a modern touch to your space.
During our testing, we found that this device operates quietly and efficiently. At 80 CFM and 1.0 sones, it is barely audible, while at 110 CFM and 1.5 sones, it produces a sound similar to leaves rustling. The fan's performance is outstanding, effectively removing moisture and odors from the room. One of the most notable features of this unit is the dual-speed auto humidity sensor, which turns the fan on at its lowest setting whenever humidity reaches 60% and on its highest setting when reaching 80% humidity. The fan will turn off once the humidity level drops below 60%.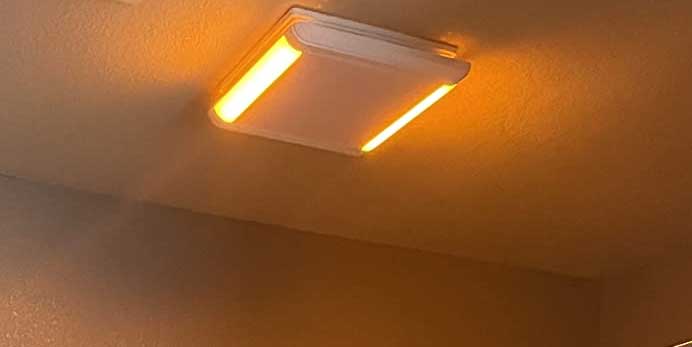 The device is straightforward to install, too. Its dimensions are 11.4 x 13 x 7.68 inches, and it weighs 11.57 pounds. The exhaust fan is made of corrosion-resistant galvanized steel, ensuring durability and longevity. The 4000K LED light is 15 watts and 800 lumens, with a dimmable feature. And it automatically switches to night light mode when needed. This energy-efficient light adds to the device's overall appeal.
An included LED touchpad wall switch allows for manual control of the fan, giving users the ability to adjust settings according to their preferences. The wall switch enables control over the LED light, dimmer, night light mode, humidity sensor, fan, motion sensor, and main power.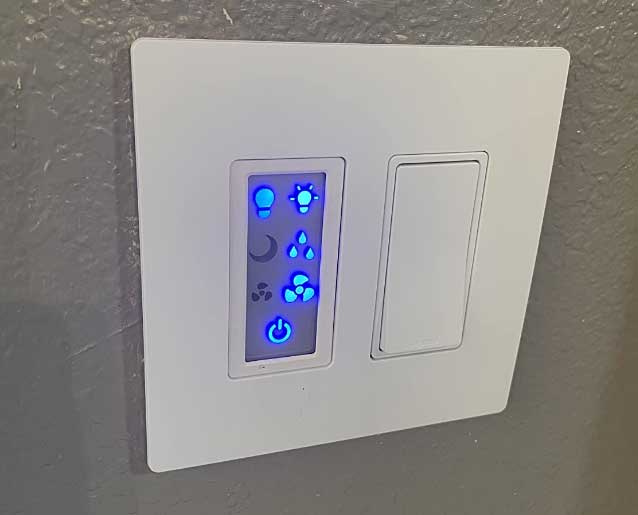 In our testing, we found that this exhaust fan is capable of moving 110 cubic feet per minute (CFM), making it suitable for a room of up to 110 square feet. Additionally, the AC motor is designed for continuous use. It can run non-stop for at least 50,000 hours, thus ensuring reliable performance.
Overall, the Homewerks 7145-80V-HS is an excellent choice for those seeking an efficient and stylish ventilation solution. Its combination of powerful performance, quiet operation, and smart features make it a top contender in the market.
What we liked:
Efficient moisture and odor removal
Easy no-cut installation
LED touchpad wall switch control
Long-lasting 50,000-hour motor
What we didn't like:
May require attic access for installation
Indoor use only
4. Delta BreezSlim SLM70H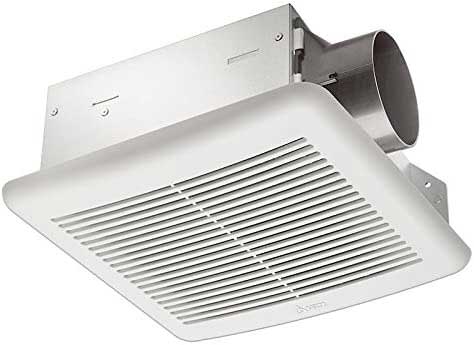 Key features:
Energy Star qualified, brushless DC motor
Automatic humidity sensing at 60% threshold
Compact design for easy retrofitting
Quiet operation at 2.0 sones
The Delta BreezSlim SLM70H is a compact and efficient bath exhaust fan that comes equipped with a humidity sensor to help maintain a comfortable environment in your bathroom. Measuring only 7.2 x 7.5 x 3.9 inches and weighing 4 pounds, this sleek and unobtrusive unit offers both high performance and convenience in one package.
What sets this unit apart from other exhaust fans is its Energy Star qualification, achieved through the use of innovative brushless DC motor technology. This ensures the device consumes less power while maintaining optimal performance. In fact, it has an impressive energy efficiency rating of approximately 5.8 CFM (cubic feet per minute) per watt.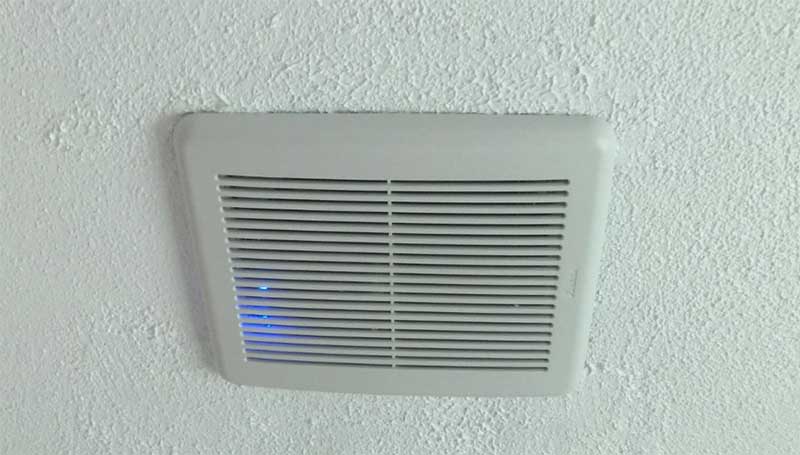 During our testing, we found the humidity sensing mode to be quite effective. When the humidity level in the room rises above 60%, the fan automatically turns on and continues to operate until the humidity drops below 60%. This ensures that your bathroom remains moisture-free, protecting your walls and fixtures from potential mold and mildew growth.
The SLM70H also offers quiet operation at just 2.0 sones, making it ideal for those who prefer a peaceful and serene bathroom experience. We tested this by using the device in various bathrooms and found that it was barely noticeable, even when operating at full capacity.
Installation is a breeze, as the compact housing allows for easy retrofitting and replacement of older bath fans. UL-approved for ceiling or wall mount, this versatile unit is suitable for a wide range of bathroom configurations. The device's small size of 7.5 x 7.25 inches makes it unique in the market, ensuring that it will blend seamlessly with your existing bathroom design. To keep you informed of the fan's operational mode, the unit features blue and amber LED indicator lights.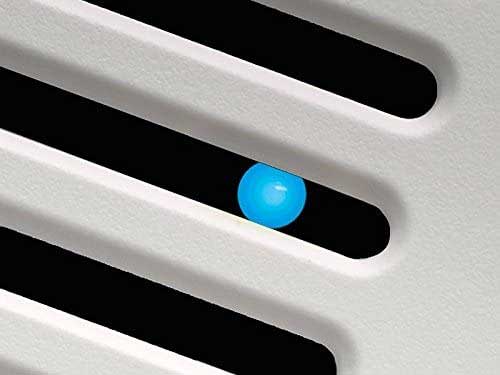 The blue light signifies humidity sensor mode, while the amber light indicates full-speed mode. These subtle yet helpful indicators allow you to gauge the fan's performance at a glance.
Overall, the Delta BreezSlim SLM70H is an excellent addition to any bathroom. Its energy efficiency, compact design, and automated humidity control make it a top choice for those looking to improve their bathroom's ventilation while minimizing energy consumption.
What we liked:
Efficient performance, 5.8 CFM/watt rating
Ceiling and wall mount options
Blue and amber LED indicator lights
Protects against mold and mildew growth
What we didn't like:
May be insufficient for larger bathrooms
Limited to 70 CFM air flow capacity
Humidity Sensing Bathroom Fans FAQs
How do humidity sensing bathroom fans work?
Humidity sensing bathroom fans are equipped with built-in sensors that detect moisture levels in the air. When the humidity reaches a certain threshold, the fan automatically activates to remove excess moisture and maintain a comfortable environment. Once humidity levels drop below the threshold, the fan turns off.
Are humidity sensing bathroom fans energy-efficient?
Yes, most humidity sensing bathroom fans are designed to be energy-efficient. They only operate when needed, reducing energy consumption and lowering electricity costs. Many models are also equipped with energy-saving features, such as brushless DC motors and Energy Star certification.
Can a humidity sensing bathroom fan help prevent mold and mildew growth?
Absolutely. By maintaining optimal humidity levels in your bathroom, humidity sensing fans help prevent the growth of mold and mildew. Excess moisture can lead to damp conditions, which are conducive to mold and mildew growth. These fans effectively remove excess moisture, ensuring a healthier bathroom environment.
Final Verdict
Each humidity sensing bathroom fan has unique features and advantages, making them top contenders.
The Panasonic WhisperValue offers a slim design, SmartFlow technology, whisper-quiet operation, and easy installation.
The Hauslane Electric Bathroom Fan features advanced humidity and motion sensor technology, ultra-quiet operation, and an integrated LED light panel.
The Homewerks 7145-80V-HS provides dual-speed functionality, an automatic humidity sensor, easy installation, and a long-lasting motor.
Lastly, Delta's BreezSlim SLM70H is compact, energy-efficient, and features easy retrofitting, ceiling and wall mount options, and LED indicator lights.
The best fan for you depends on your specific needs and preferences, but all options ensure a comfortable and healthy bathroom environment.