If you're someone who loves PC gaming, chances are you either built your computer or want to someday. There are all kinds of choices on the market for what to build in.
Standard cases, mini-cases, and even cases that look like statues are all available. But what if you wanted something that will set you apart from many of the setups you've seen online? Well, then you'd want to check out an in-desk computer case.
Best Overall: Eureka Ergonomic GTG-EVO 55″ Spectrum RGB Built-in PC Computer Case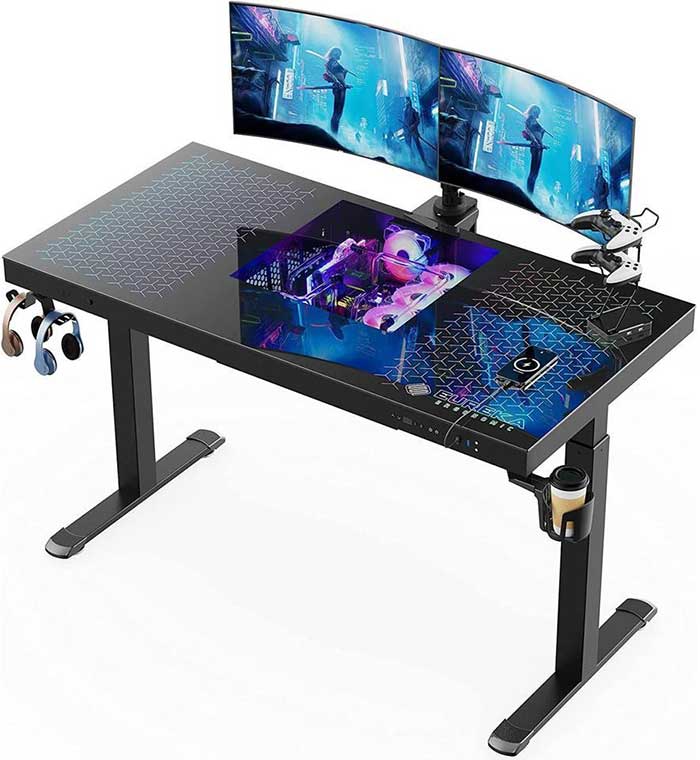 Key Features:
Variable height
Standard computer case design
RGB lighting included
The Eureka Ergonomic Spectrum is a heavy-duty in-desk case. It has a 6mm thick tempered glass top with a steel frame construction. This frame allows it to hold up to 220 pounds while still functioning as it raises and lowers. The steel used in the frame has an anti-rust layer, paint baking process, and nano spray paint to keep it safe while looking great.
As for looks, you'll love it if you're a gamer. The tempered glass top mixed with the black steel frame gives it a premium look and feel. When it's powered on you get to see a ton of pre-installed RGB under the tempered glass.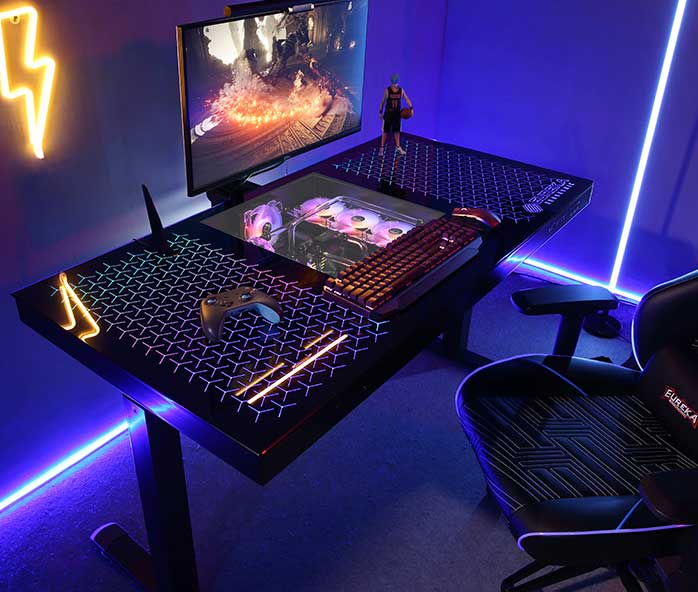 The design of the RGB has a 3D look and is primarily on the left and right of the case. The middle is where you're able to see the internal components of your PC. If you aren't a fan of the RGB, you can simply turn it off and have a normal-looking desk.
Building within the Eureka Spectrum should feel very familiar if you've ever built within a regular computer case. The design of this desk uses a normal case mounted underneath the desktop, so you can build as you normally would. You can use ATX, Mini-ITX, and Micro-ATX motherboards.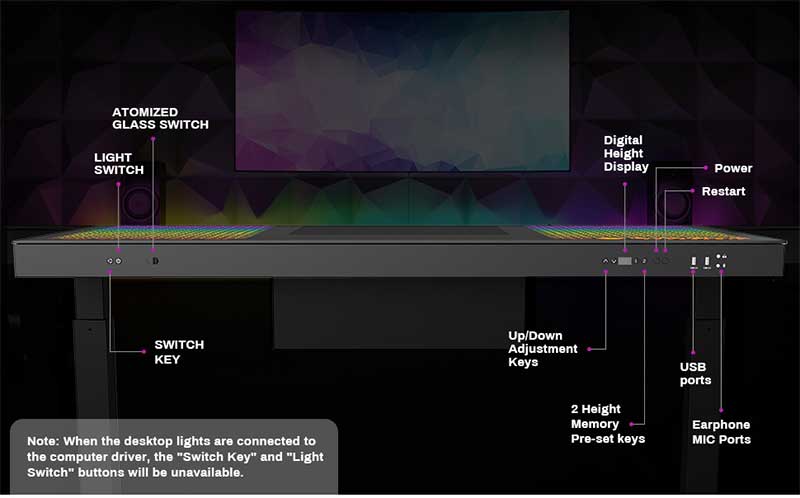 Graphics cards are supported up to 350mm, and power supply support is up to 200mm. It's designed to be either fan-cooled or water-cooled. The top and bottom both support 360 mm of fans. The back supports 120 mm of fans.
As for hard drive space, you can use two 3.5-inch and 3 2.5-inch drives. The front of the desk has all the controls you need. There are buttons and switches for lights, height adjustment, power, and restart. Additionally, you can find two USB ports and audio ports here.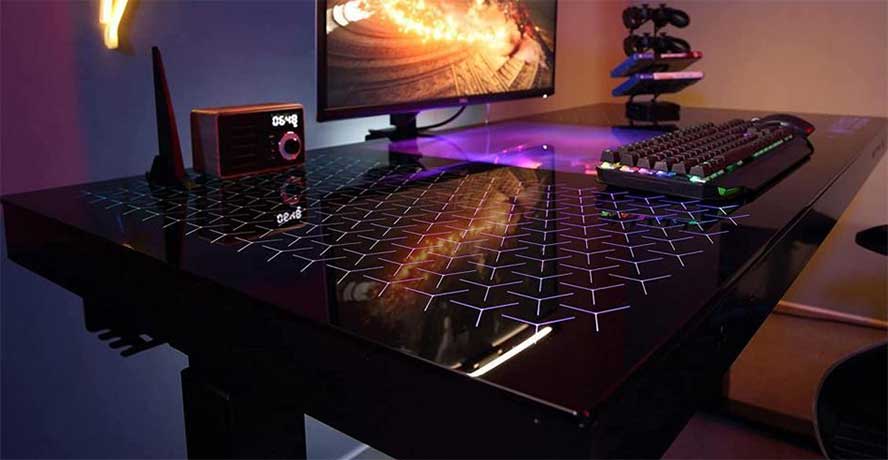 Another great aspect of the Eureka Ergonomic Spectrum is its ability to be used both sitting and standing. In fact, it has a dual-motor design that makes it much better than single-motor competitors. Therefore, it can go from sitting to standing in only 17 seconds.
The motors have a lifespan of 8 years and can lift up to 220 pounds. The minimum height is 29 inches and the maximum is 48 inches. You can also pick any two heights and have onboard memory store them to change at a push of a button.
Pros:
Familiar build style
Built-in RGB
Heavy duty construction
Cons:
Best Multi-PC Option: LIAN LI DK-05 FX Black Aluminum & Steel Desk Computer Case
Key Features:
Aluminum and iron construction
Height adjustable
Variable glass visibility
The Lian Li DK-05 is a fantastic in-desk computer case option. The frame is made from aluminum, with a glass top and iron legs. This makes it a very sturdy option. In fact, it can even hold up to 176 pounds. That puts it slightly below the Eureka's weight capacity, but should still be plenty to support your computer parts.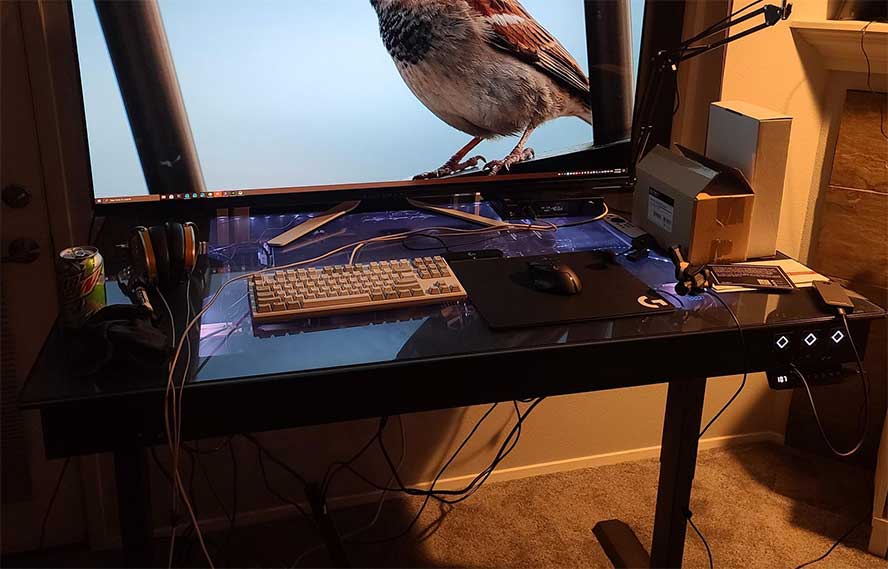 This in-desk case is very aesthetically pleasing. The exterior is all black metal with a bit of plastic by the controls. The entire top is made from tempered glass. There's also RGB included, with 7 different light modes to choose between.
The most unique part of the DK-05's looks is the tempered glass top. There are two different modes the glass can be set in. The first is a completely see-through version that allows you to see all your PC parts easily. The second is a frosted overlook. This hides everything inside and looks like reflective glass. This gives you plenty of options if you want to show off or have a more minimal setup.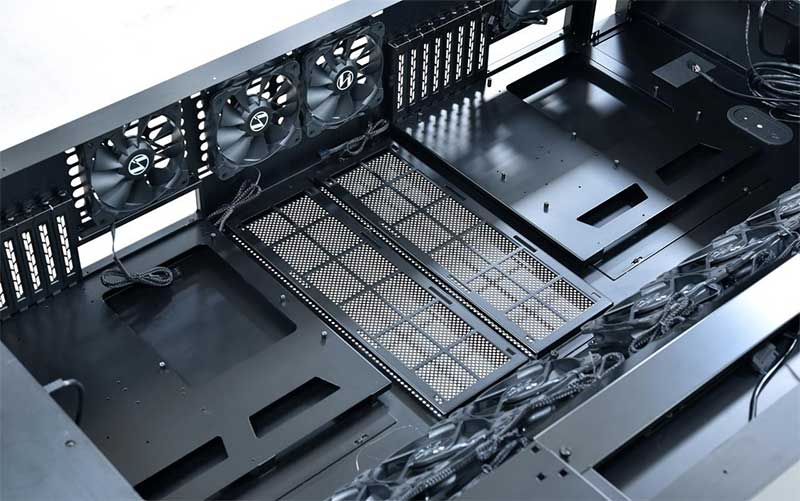 Building in the DK-05 won't be an issue. There's plenty of room internally, with space for two full-sized computers. For motherboards, you can choose between Mini-ITX, M-ATX, ATX, and E-ATX. The motherboard trays are also removable. The maximum size for the graphics card supported is 400 mm, with the maximum power supply size being 230mm.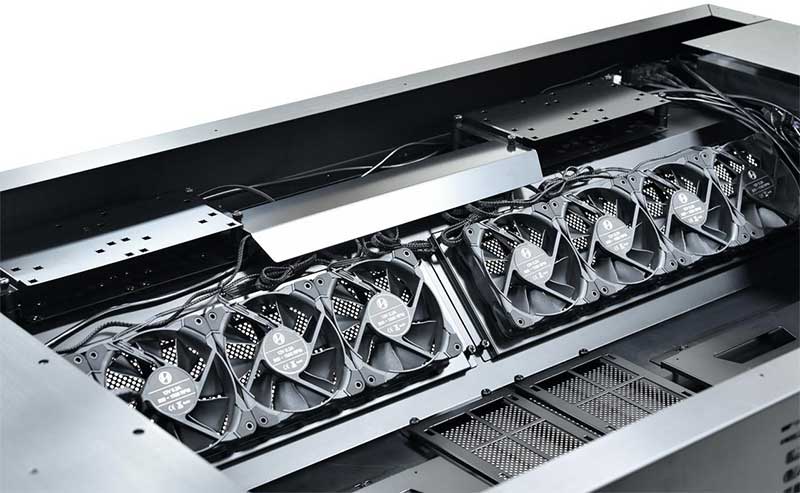 As for the hard drive space, it can support up to 8 3.5-inch or 2.5-inch drives. A case this size is going to require a good amount of cooling, and it can be done with standard fans or water cooling. There are tons of different combinations of 120mm and 140mm fans supported. Additionally, you can use a wide mix of 240mm, 360mm, 420mm, and 480mm radiators.
Make sure to do your research on what kind of cooling you want and compare it to what this case is capable of doing. However, Lian Li gives you a good start, as they include 12 120mm fans already in the case. For I/O controls there are lots of buttons to control the height, fan speeds, RGB, tempered glass clarity, power, and more. You will also find 1 USB-C, 4 USB 3.0, and 4 HD Audio ports.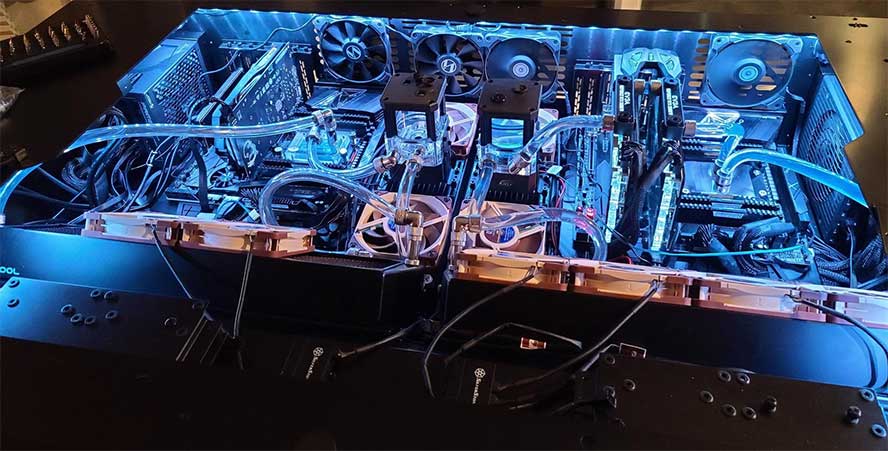 The most unique feature of the Lian Li DK-05 is its ability to house two separate computers. Since the internal case makes up the entirety of this 55-inch des, you have lots of space to work with. Having two computers internally has a few different uses.
One option is to have space for a second computer for anyone you live with to use. There could also be applications for this if you wanted a high-end workhorse setup. Streamers who use multiple PCs to entertain their audiences in high definition will also see tremendous benefits in having two computers in one convenient place.
Pros:
Multiple PCs in one case
Switchable clarity on tempered glass
12 included fans for cooling
Cons:
Cable management is reported to be difficult
Best Entry Level: ALAMENGDA BOOT-X 63″ RGB Built-in ATX Full Tower PC Computer Case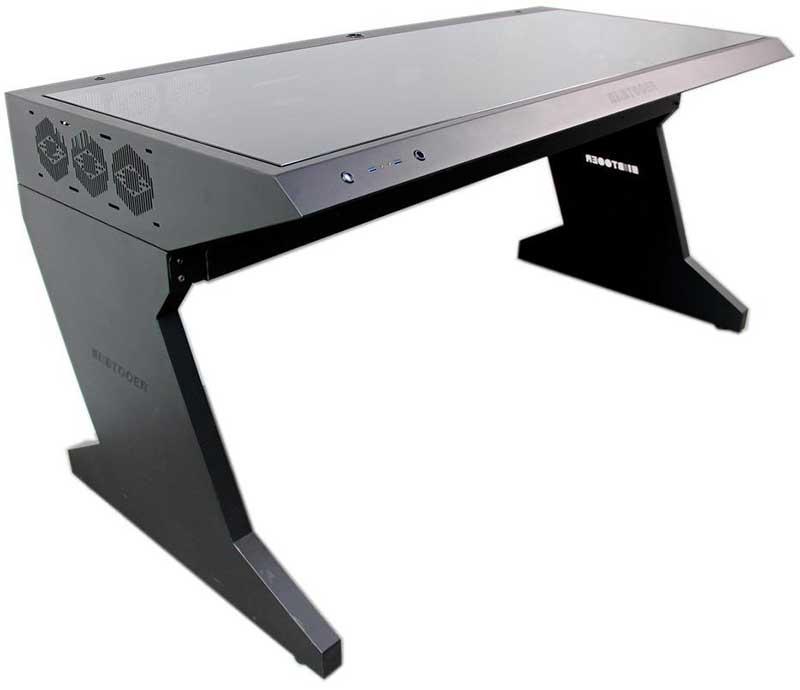 Key Features:
Tons of water cooling space
Full-length tempered glass top
Steel frame
The ALAMENGDA BOOT-X is a great entry-level in-desk case. It has a body constructed entirely of steel. The top is tempered glass that spans the entire length. This differs from the Lian Li because it doesn't have switchable transparency modes, it will always be clear. Additionally, its construction is solid, with legs that span the width of the tabletop to provide great support. Another difference from the other two options on this list is that it isn't height adjustable.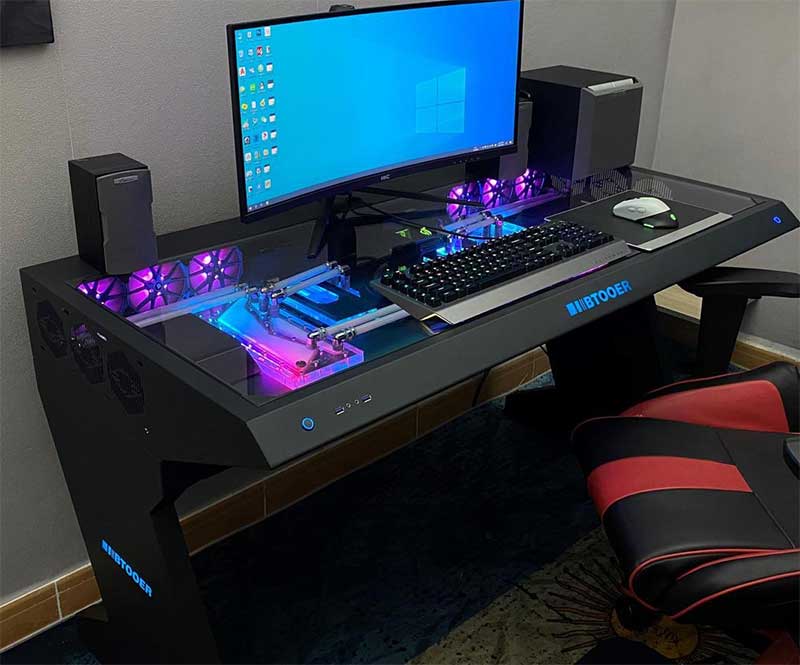 The looks of the BOOT-X are very minimal and modern. The steel body is all black. When powered on, there are light-up logos and buttons on the fronts and sides as well. However, besides that lighting, no listed RGB lights are included.
The BOOT-X should be simple to build within. It's compatible with one PC internally. You can have your choice of a Mini-ATX, M-ATX, ATX, or E-ATX motherboard mounted in the middle of the case. There's space for your GPU to be mounted next to the motherboard, which gives you more clearance between the graphics card and the tempered glass. There are two metal boxes on the left and right of the case that can be removed to mount your power supply, hard drives, or additional fans.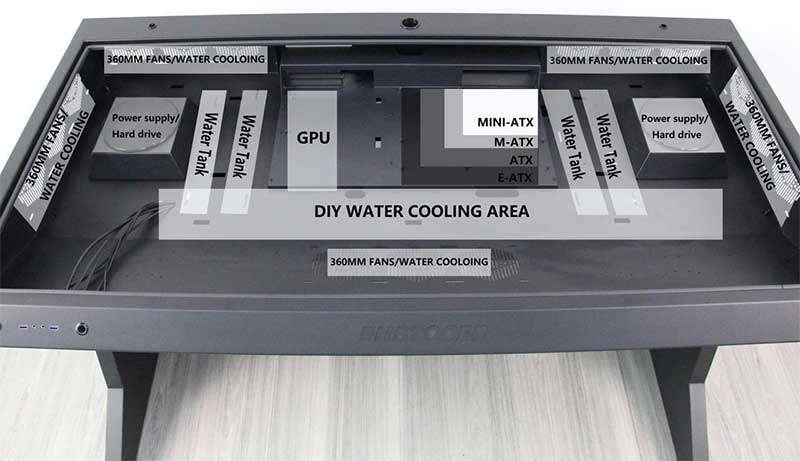 Water cooling was the main cooling method in mind when designing this case. With room for four water tanks, radiators around the entire outside, and custom water cooling loops you won't have any issues keeping temps low. The front I/O is fairly minimal, only having buttons for power, two audio ports, and two USB ports.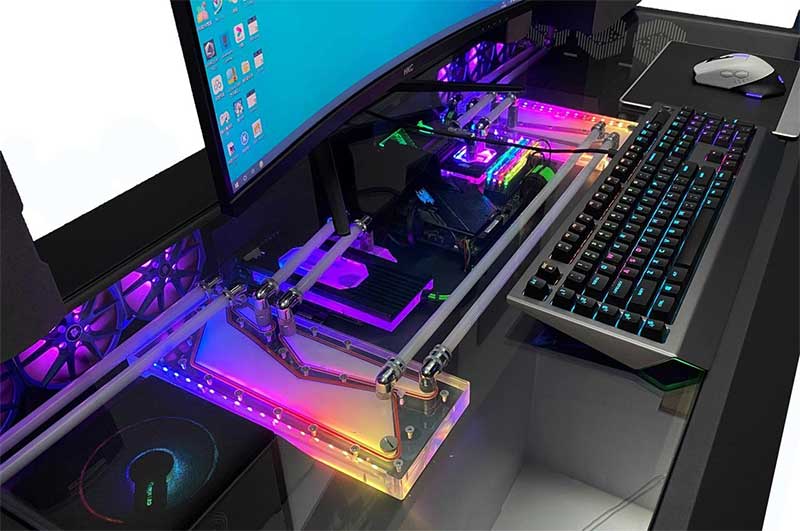 In our opinion, if you're looking for a great starter in-desk case, the ALAMENGDA BOOT-X is a great choice. It doesn't have additional frills that you don't need. There's plenty of room to build a state-of-the-art system that will still have the unique charm of being housed within a desk.
Pros:
Lowest cost on this list
Plenty of room for water cooling
Sturdy construction
Cons:
What is an in-desk computer case?
An in-desk computer case is pretty much what it sounds like. It's a desk that has all the mounting brackets and space to build your computer inside of it.
They have a normal flat top desk look, but internally it's more box-like to allow you to build. They also usually come with a tempered glass top to let you see everything you used internally.
Why would I want an in-desk computer case?
There are a few reasons you may want an in-desk computer case. The first is that they take up less desk space. PC cases are usually put to the far right or left of a desk. This can result in them taking up a ton of space that you could use for storage or to just keep a clean aesthetic.
The second reason is that they are so unique. Almost every gamer out there is going to have a normal PC in a normal case. You may want to set yourself apart and have something truly special.
The third is that because they are so big you have a ton of space for components. This is important with the way PC parts like graphics cards keep increasing in size these days.
Are they difficult to build with?
Nope! These are actually some of the easier cases to build in. They give you plenty of space to work within so that you can get all your parts hooked up. Usually, they have a pre-installed I/O port for USB plugins, fan controls, RGB controls, and more.
They are definitely a bit different to build in than a normal PC case, but with enough time and instruction research, you shouldn't struggle at all.
What about cooling?
Cooling is a big focus for any PC gamer. Manufacturers of parts and cases know this, and in-desk cases are no exception. These desks have plenty of space for moving air around with fans.
They also are usually built with water cooling in mind. You will typically find designated areas for radiators, water tanks, and water cooling tubing.
Is it going to take up too much room?
We'd be lying if we said they were a compact desk option. However, they are usually around 55 inches long like a normal gaming desk is. The extra size is typically seen in the witch of the table top since that is where the "case" is.
Something to keep in mind is that these are going to be a heavy pieces of functional furniture. This is due to the heavy-duty construction, tempered glass, and all your PC parts within them.
Are there any drawbacks to using an in-desk computer case?
The main drawback with an in-desk computer case is going to be portability. They aren't going to be the easiest desk to move. You'll also want to be very careful with them in transport if you have your PC built in it at the time.
As long as you take proper precautions and have some help you should be alright. This shouldn't stop you from checking them out some more, you may find the PC case of your dreams down below.