When you're dealing with electrical devices, ensuring you've got the right tools for the job is crucial. Among these essential tools, rotary selector switches play a vital role, providing seamless transitions between different inputs, outputs, or operational modes. We've handpicked the best rotary selector switches available today, each catering to a distinct set of needs and applications. For a peak at what's to come, here's a brief overview of our top picks:
Let's dive deeper into what each of these rotary selector switches has to offer, exploring their key features, benefits, and potential drawbacks.
APIELE Changeover Selector Switch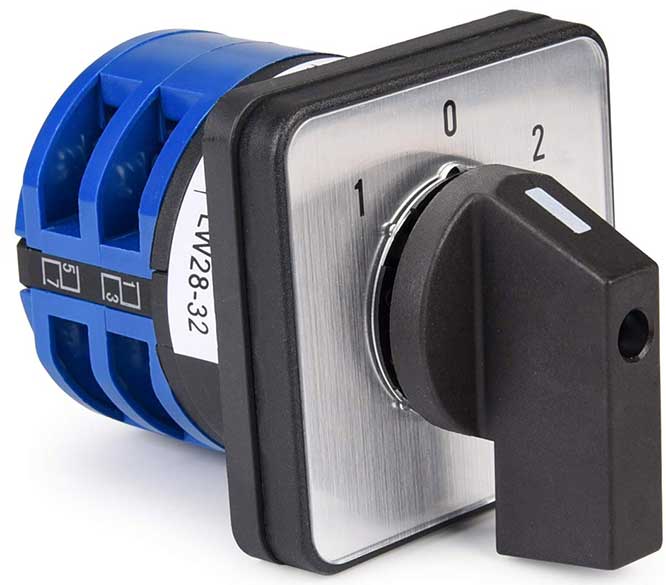 Key features:
3-position universal rotary switch
IP65 International Protection Rating
Latching action type
Flame retardant PC material
Getting straight to the heart of this versatile component, the APIELE Changeover Selector Switch is a testament to the durability and flexibility of electrical control systems. Right off the bat, it's worth mentioning that this switch can handle a decent current of 32 amps, operating smoothly at an impressive 440 volts. This isn't a light weight, and it shows in its operation. Constructed with an alloy-copper-silver blend, this switch's material isn't just for show. It brings a substantial, high-quality feel while ensuring durability and optimal electrical conductivity.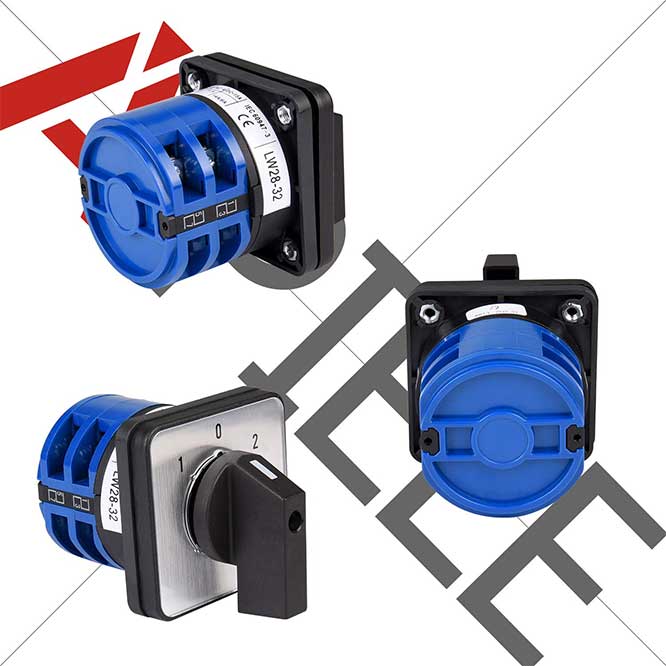 With a panel size of 64 x 64 mm and an installation size of 48 x 48 mm, it nestles comfortably in various setups without hogging space. Weighing in at a mere 7.37 ounces, this little unit is surprisingly lightweight for such a sturdy piece of equipment. During our test, we used it as a transfer switch between different power sources, mimicking the setup of a 120V RV refrigerator. Despite the initial complexity in wiring, the switch performed flawlessly, switching power sources with ease.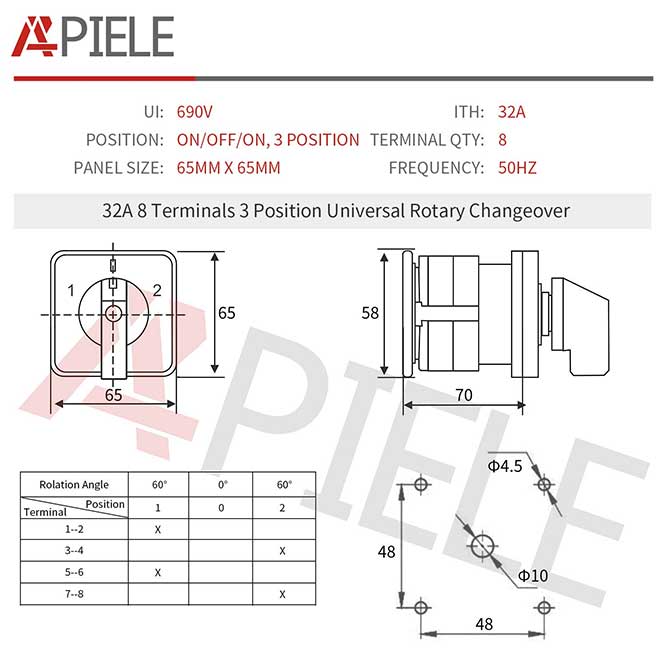 We found the flame-retardant PC material and high-temperature resistance, particularly reassuring during our stress tests. This device is a 3-position universal rotary switch with eight terminals, ideal for various applications, including power switches, speed switches, and motor control switches. The LW28-32/2 model also offers latching action, which offers an added layer of control and security. If you're worried about longevity, the international protection rating of IP65 and APIELE's 3-year warranty for non-man-made damages speaks volumes about this unit's robustness and the brand's confidence in their product.
What we liked:
High-temperature resistance
Versatile control application
Impressive 32A current handling
Good value for money
What we didn't like:
Complex initial wiring
Bulkier than some competitors
Taiss Rotary Switch 3-piece Set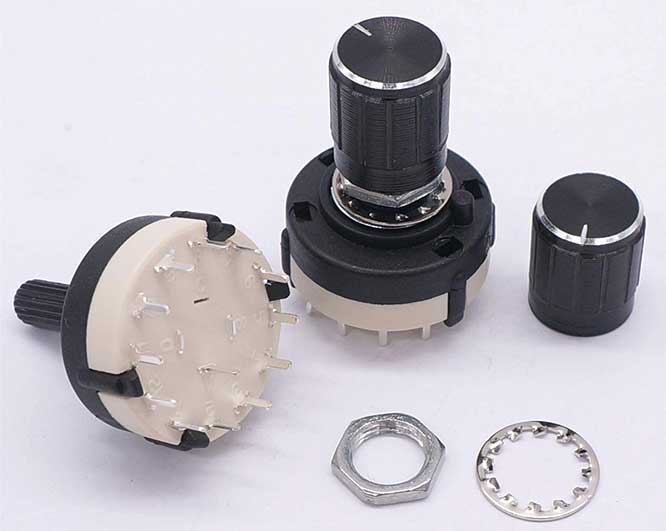 Key features:
Compact and lightweight
Adjustable 2-12 position setting
Robust metal-plastic build
Comes complete with knobs
The Taiss Rotary Switch is a three-piece set that's robustly constructed, featuring a mix of metal and plastic components. With its compact dimensions (1.1 x 1.5 inches) and lightweight build (1.76 ounces), it proves to be a handy addition to any project that requires dependable rotary action. We put this unit through various tests, and it never failed to impress with its ON-OFF operational mode and SP12T contact type.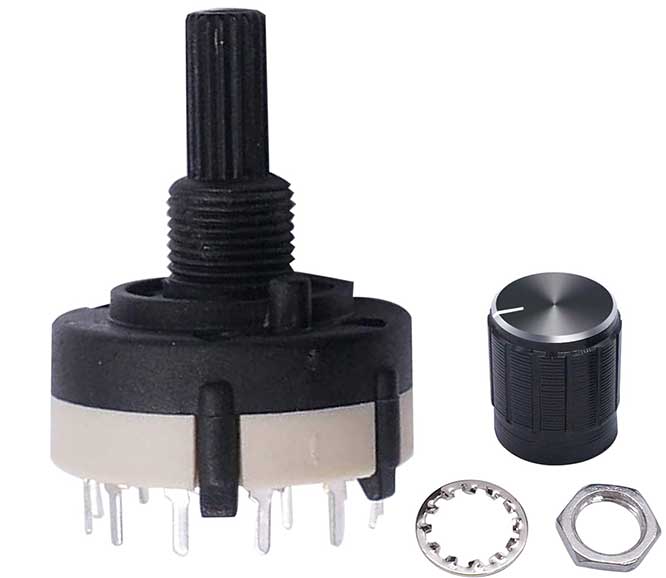 Whether we were using it for hobby projects or intricate installations, the switch performed smoothly, showcasing its adaptability to different applications. The ability to adjust the number of positions from 2 to 12 adds a significant degree of customization, allowing us to fine-tune the device to our needs. The device is not without its minor flaws, however. The knob rotation was somewhat stiffer than comparable switches, but we found this didn't affect its overall performance. We did note that the lack of eyelets on the lugs made soldering slightly more challenging but certainly not insurmountable.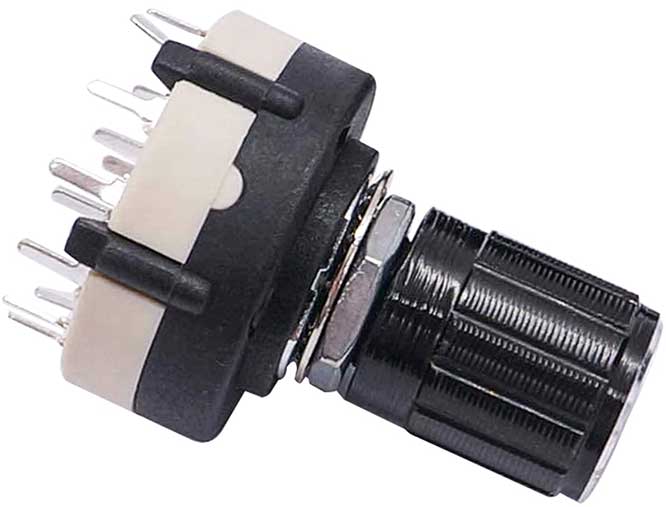 One standout feature is the set's compactness, making it perfect for fitting into tight spaces. We loved the clear, marked slots for setting the limit clip. Just remember to rotate fully counter-clockwise before adjusting positions to avoid getting stuck. This is a solid set for anyone needing reliable and flexible rotary switches. Its thoughtful design caters to a range of needs, making it a dependable and versatile tool.
What we liked:
Highly customizable settings
Fits into tight spaces
Clear, marked limit clip slots
Sturdy construction
What we didn't like:
Stiff knob rotation
Lugs lack eyelets for soldering
Taiss Changeover Switch 3 Position Selector Switch Box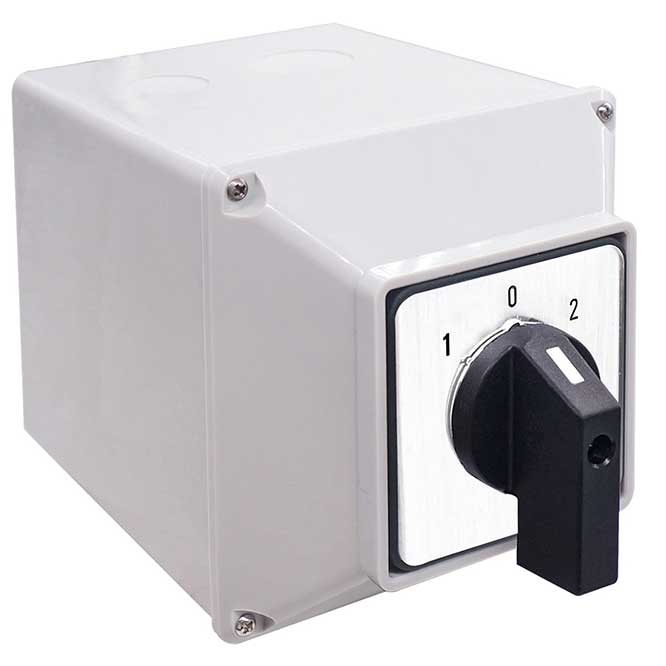 Key features:
3-position selector switch
High temperature resistance
Good conductivity and oxidation resistance
Surface mount
The Taiss Changeover Switch is a sturdy, reliable addition to any technical setup. Sporting a compact 4.33 x 4.33 x 6.69-inch form factor and weighing a solid 1.59 pounds, this 3-position selector switch box embodies robust construction and efficiency. With a latching action type and designed for surface mounting, the device is ideal for installations that demand easy accessibility. We tested this switch with two EV chargers and found its performance commendable.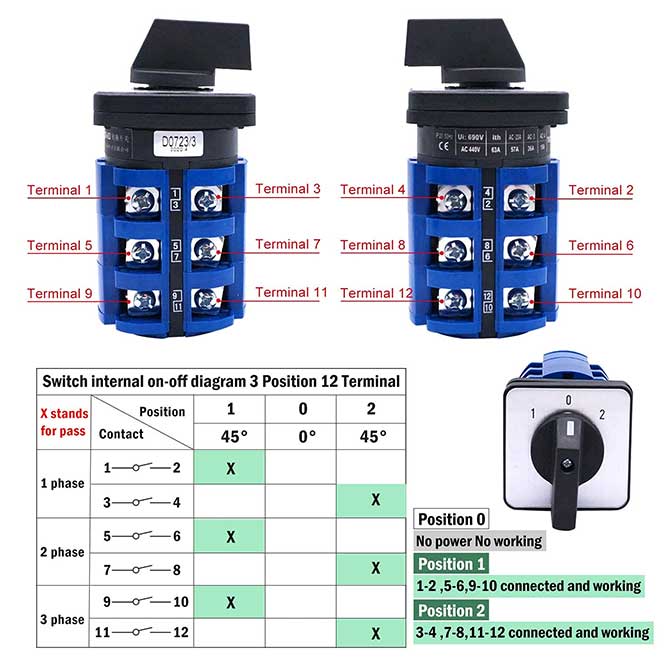 Thanks to the easy-to-manage rotary actuator, this device brings simplicity to complex power-switching tasks. Once toggled, it assured a firm, reassuring click, letting us know that the power supply was securely switched. The unit's most noteworthy attribute is its resilience. The switch box comprises flame-retardant PC material, a testament to its high-temperature resistance. The internal copper parts, supplemented with silver alloy points, offer excellent conductivity and resistance to oxidation. It's the perfect blend of robust construction and excellent electrical traits.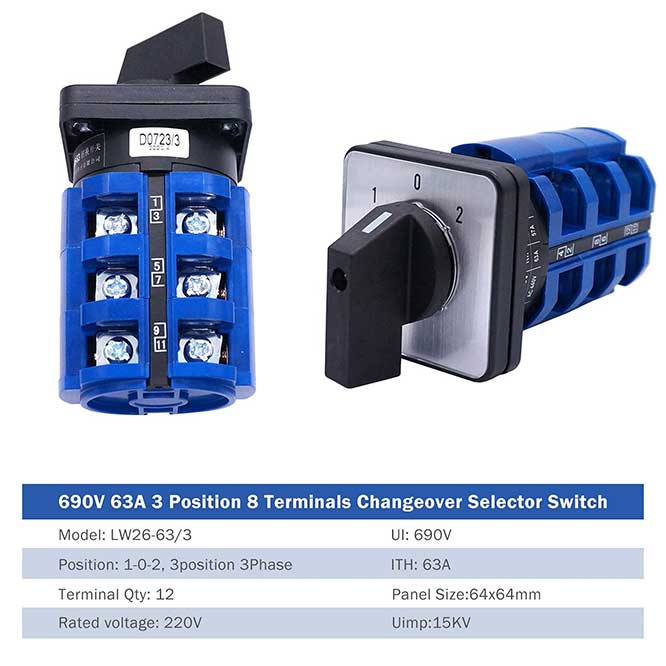 Operationally, the switch offers an ON-OFF mode, ensuring a straightforward user experience. With a current rating of 63 amps and an operational voltage of 690 volts, it's clear that this device can handle substantial power loads. However, one must consider the limited interior space for running wires, which could pose a slight challenge in some applications. Its three-phase operation with twelve terminals provides a wide range of configuration possibilities. But do take into account that the terminal connections are of the screw type, requiring a bit of manual effort during setup.
What we liked:
Solid, reliable operation
Robust material construction
High current and voltage capacity
Positive and firm switch engagement
What we didn't like:
Limited interior space
Manual screw terminal connections
Uxcell 3P3T 3 Position Rotary Switch Selector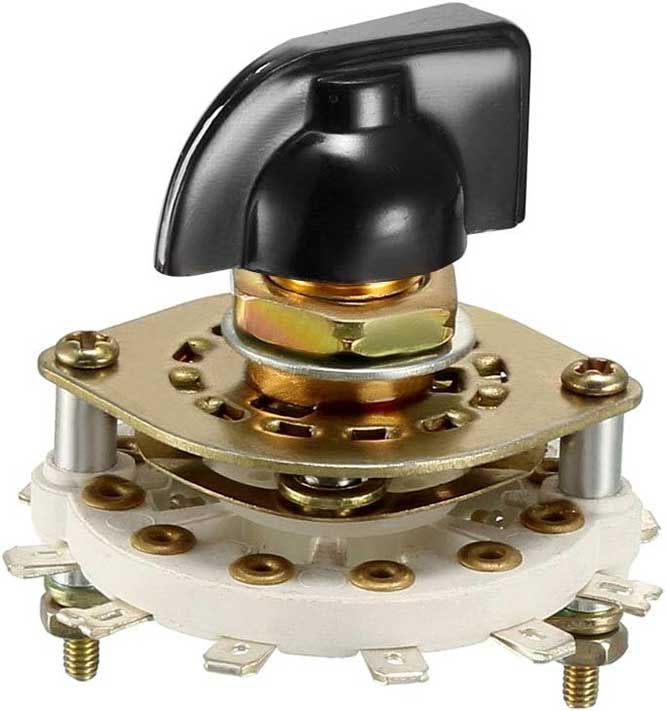 Key features:
Versatile 3P3T functionality
Robust plastic and metal construction
Easy to install with included hardware
Fits 9.7-mm / 0.38-inch mounting hole
Uxcell's 3P3T 3 Position Rotary Switch Selector packs a punch with its multiplicity of inputs and outputs, making it a versatile choice for electronics enthusiasts or anyone who just needs to add some switching capacity to their project. The first thing you'll notice when holding the Uxcell switch is its substantial feel. With dimensions of 2.36 x 2.36 x 2.36 inches and a weight of 1.58 ounces, it's just the right size. It feels robust and reliable, ready to withstand some serious use. The core of the Uxcell switch, its 3Pole-3Position functionality, offers versatility in spades.
Whether you're working with a radio, various instruments, or even LED home lights, this switch is ready to step up to the plate. It's like a Swiss Army knife of electronics, offering flexibility for various applications. But what about installation? Well, there's good news on that front, too. The Uxcell switch comes with its own mounting nut and black plastic knob, so there's no need to worry about hunting for matching parts. It also fits mounting hole diameters of 9.7mm or 0.38 inches, making it an easy fit for a range of projects.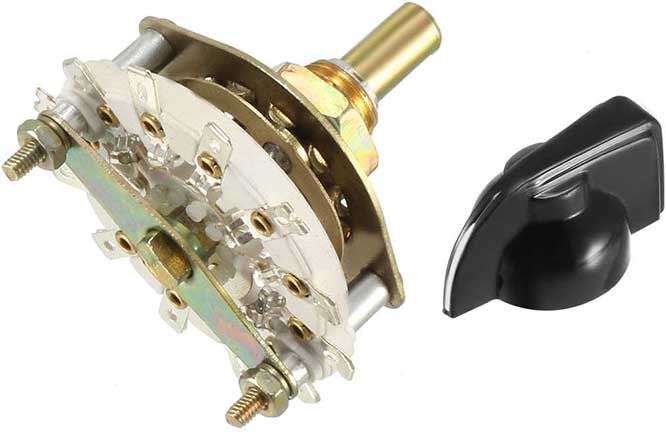 Despite all its flexibility, though, the Uxcell switch isn't for everyone. One customer review noted that its size was a bit larger than expected, so it might not be suitable for all applications. Make sure you measure your project area before committing. When it comes to sturdy, versatile switching solutions, the Uxcell 3P3T 3 Position Rotary Switch Selector holds its own. It's a reliable piece of tech that offers a range of benefits for those who need a little extra functionality in their electronic projects. However, be sure to consider its size before deciding if it's the right fit for your needs.
What we liked:
Broad application potential
Comes with matching knob
Sturdy and reliable
Easy installation
What we didn't like:
Size larger than expected
Not suitable for compact spaces
Mxuteuk LED Rotary Selector Switch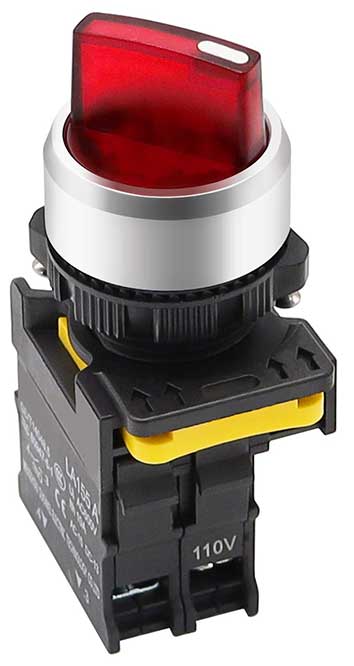 Key features:
3-year warranty
IP65 water and dust protection
Supports 110V-220V for LED
10 Amps current rating
In the realm of selector switches, the Mxuteuk LED Rotary Selector Switch really does shine. Boasting an impressive 3-year warranty, the device underlines its credibility and durability. The switch is mainly employed in the industry, where it plays a pivotal role in controlling electromagnetic starters, contactors, relays, and other circuits. All while delivering dependable safety, an impressive lifespan, and unparalleled reliability. The switch presents a seamless blend of plastic and metal, weighing a mere 2.08 ounces.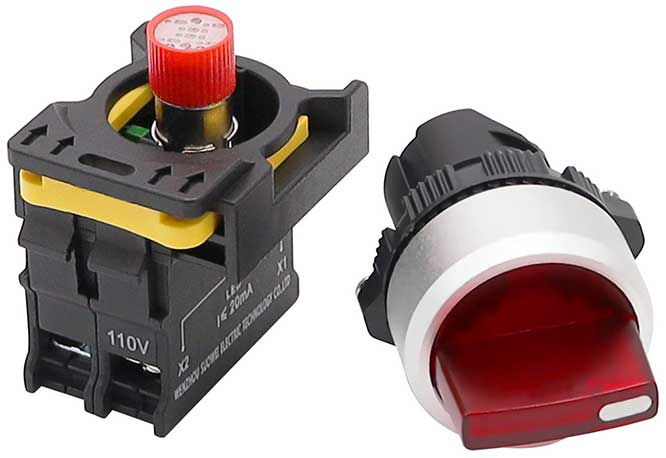 With dimensions of 1.5 x 1.2 x 3 inches, it's easy to accommodate in any panel. It's designed for panel mounting, making the installation process fairly straightforward and hassle-free. It's an IP65-rated unit, which means it offers strong protection against dust and water, a necessary feature for industrial applications. One interesting aspect is the switch's LED illumination. The LED color is red, and it's designed to operate on a wide voltage range from 110V to 220V. However, it's crucial to note that the LED might appear dim if used on 110V, as the bulb is marked for 220V.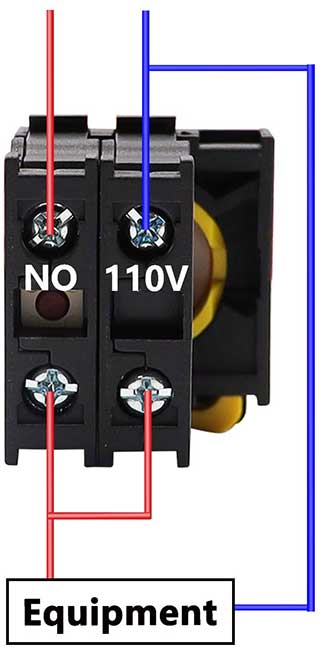 This could be a minor inconvenience if full brightness is necessary for your application. We tested the unit extensively under varying conditions and found the two-position rotary actuation to be smooth and responsive. What's more, the robust build and ability to operate in full daylight conditions make this one a winner. Bottom line; it's a good quality product that delivers on its promises.
What we liked:
Long life and good reliability
Bright LED illumination
Easy panel mount installation
Lightweight and compact design
What we didn't like:
LED may be dim on 110V
Voltage bulb mismatch reported
Rotary Selector Switch FAQs
What is a rotary selector switch?
A rotary selector switch is a type of electrical switch that operates by rotating a knob or lever to select different positions or settings. It's commonly used in various electronic devices and systems for controlling inputs, outputs, or operational modes.
How does a rotary selector switch work?
Rotary selector switches work by changing the active circuit path when the knob or lever is turned. The mechanical rotation is translated into electrical output, allowing you to control various functions or modes of a device.
Where are rotary selector switches used?
Rotary selector switches are widely used in various industrial, commercial, and consumer applications, including HVAC systems, audio-visual equipment, automotive controls, and industrial machinery, among others. They're particularly common in situations where multiple settings are required and manual selection is preferred.
Final Verdict
Our top choices cover a range of functionalities, from basic switching tasks to complex, high-load operations. The APIELE Changeover Selector Switch impressed us with its high current handling and temperature resistance, making it a heavy-duty contender. For those seeking versatility and compactness, the Taiss Rotary Switch 3-piece set offers the perfect solution, while their Changeover Switch 3 Position Selector Switch Box is an ideal pick for power-heavy applications.
Uxcell's 3P3T 3 Position Rotary Switch Selector is the go-to for broad applicability, whereas the Mxuteuk LED Rotary Selector Switch offers industrial-grade performance coupled with an illuminated feedback system. Each product excels in its own right, and your choice should ultimately depend on the specific requirements of your project.