Overall Design -

9/10

Video Quality -

9/10

Ease of Use -

8.5/10

Feature Set -

9/10
Summary
After thorough testing and examination, the VIOFO A119 Mini 2 Dash Cam is undoubtedly a high-quality product that excels in almost every aspect. It shines in providing high-quality, clear footage in various lighting conditions and ensures optimal performance even in parking mode. While the requirement for hardwiring to use parking modes could be a bit daunting for some, the overall user-friendly interface and feature-rich package make it a worthy investment for any road traveler.
Pros
Compact and unobtrusive design
Exceptional video quality in varied lighting
Comprehensive parking modes for vehicle protection
User-friendly interface and features
Cons
No included memory card
Requires hardwiring for parking modes
Every road trip can be a unique journey, and capturing those moments has become a trend among travel enthusiasts. A reliable dash cam is thus a necessity for the modern-day traveler. However, not all dash cams are created equal.
The VIOFO A119 Mini 2 stands out from the crowd by offering a range of features wrapped up in a compact package that promises to enhance your road trip experiences. Here are the results of our in-depth analysis of this dash cam and our thoughts.
Unboxing
As with most dash cams sold today, you get all the essentials to get the Mini 2 (5% off code: NerdMINI2) installed and up and running. Upon lifting the lid on the box, you're immediately greeted by a plethora of gadgets and accessories. These include:
A119 Mini 2 Dash Cam
User manual
Car charger
USB-C cable (data)
Removal tool for trim
Sticky mounting pad
Pair of static windshield stickers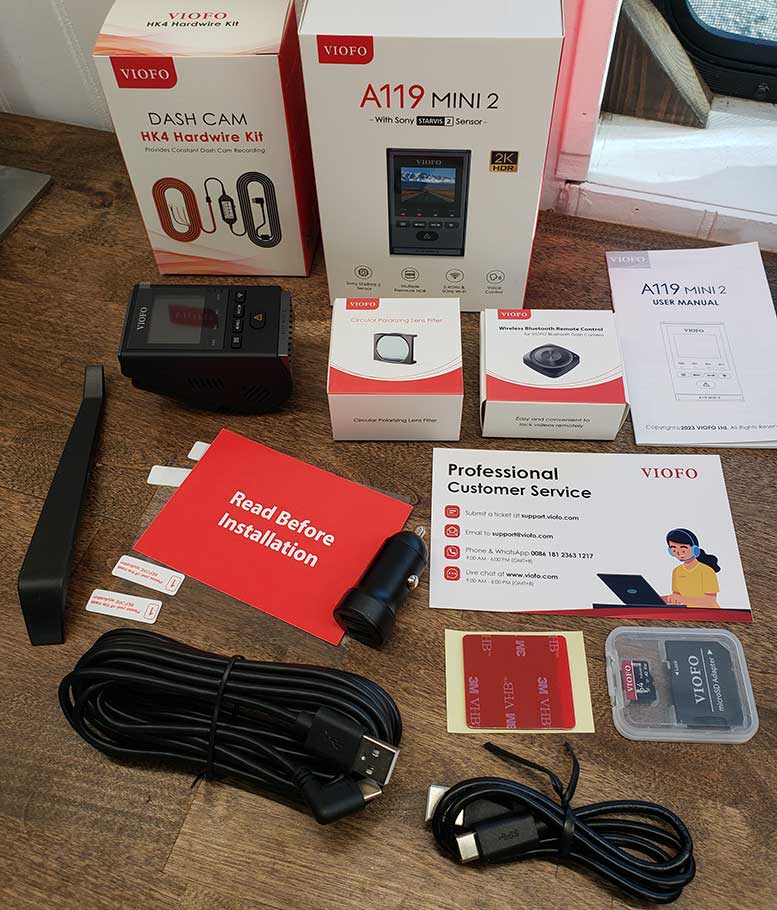 The packaging reflects careful attention to detail, with each component secured to prevent any damage during transit. While this might be standard fare, it's encouraging that no shortcuts were taken – meaning nothing feels cheap here. You feel as if you just invested in a quality piece of tech. Of course, presentation only goes so far. How does it stack up to other dash cams?
First Impressions
The compact form-factor is what strikes you first. Barely the size of a car key, the cam maintains a low profile and promises easy, unobtrusive mounting near the rear-view mirror. Despite its dimensions of 1.8 x 2.9 x 1.6 inches, it has a sturdy feel to it, suggesting durability and quality construction.
The 1.5-inch HD LCD display on the device may be small, but it doesn't compromise on quality or functionality. It provides clear visual feedback and menu navigation. Upon initial inspection, the Mini 2 seems to strike a balance between compactness and functionality. The real test, of course, will be in its performance, which will be detailed in the following sections.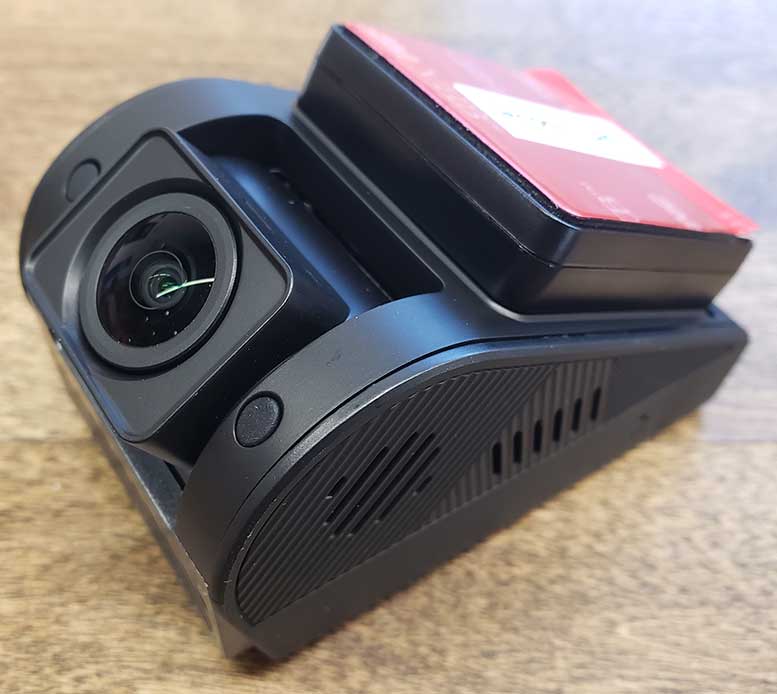 Features
Right out of the gate, the A119 Mini 2 Dash Cam sets the bar high with an array of compelling features. It's clear that this unit is designed for convenience, boasting a user-friendly interface that marries innovation with practicality. Let's delve into the features to determine what the Mini 2 brings to the table.
Display
The Mini 2 comes with a 1.5-inch HD LCD display. This may seem small compared to some larger models on the market, but this device emphasizes compactness and stealth. Despite its size, the display is impressively clear and provides excellent visibility for real-time monitoring and playback. It also allows for intuitive menu navigation, making adjustments and settings a breeze even for those new to dash cams.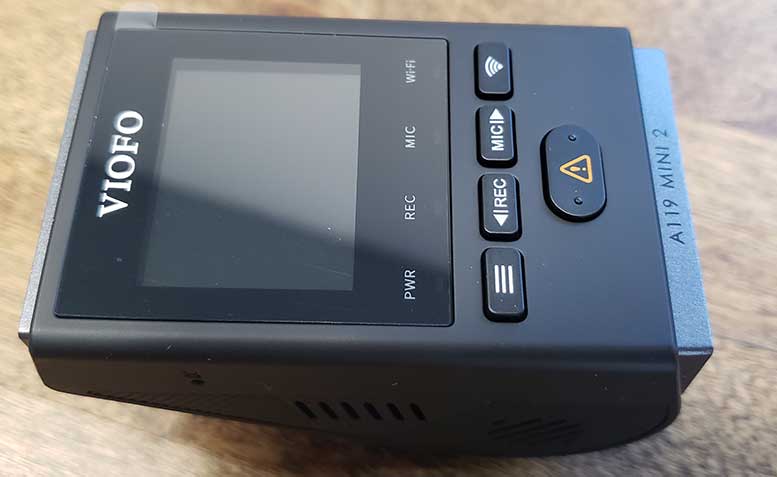 WiFi
In this digital age, having a device that can quickly connect and transfer data is crucial. The Mini 2 excels in this department with a dual-band WiFi module that supports both 2.4GHz and 5GHz connections. This allows for smooth video previews, swift downloads, and convenient sharing, especially with the faster 5GHz WiFi providing four times the data transfer speed compared to 2.4GHz.
Voice Control
Taking hands-free operation to the next level, the Mini 2 introduces an intelligent voice control feature. With simple voice commands, you can instruct the device to start or stop recording, take photos, or turn WiFi on and off. This helps ensure your focus remains on driving while the device handles the rest, enhancing safety during journeys.
GPS
For the data-savvy, the Mini 2 comes equipped with a GPS Logger. This handy feature records your vehicle's location, speed, and time data. This can be particularly useful in the event of a mishap, providing a detailed record of your journey. Or, it can simply serve as a useful tool to revisit the routes of memorable trips.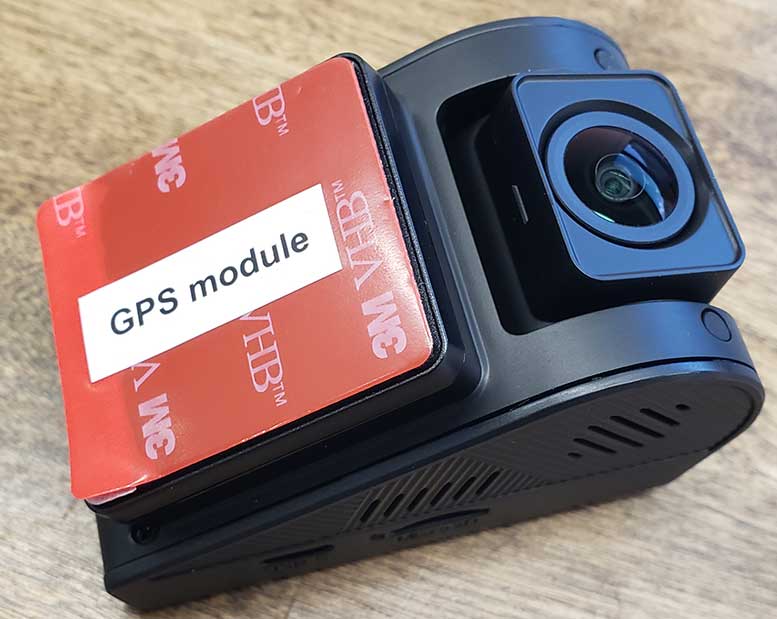 Optional Bluetooth
In addition to its built-in features, the Mini 2 dash cam offers an option for customization and added functionality in the form of a Bluetooth Emergency Button. This optional addition adds another layer of convenience, allowing users to place a button within easy reach so that immediate preservation of crucial video clips can be actioned without having to directly interact with the dash cam itself. In moments where time is of the essence, such as an unexpected incident on the road, this feature could prove invaluable.
Camera
The camera is indeed the cornerstone of any dash cam, and the Mini 2 embodies this principle to the fullest. During our testing, it was evident that Sony's new STARVIS 2 IMX675 image sensor plays a significant role in the device's overall performance. When we drove in bright daylight conditions, for instance, the 5MP sensor remarkably enhanced the dynamic range of the recorded footage, significantly reducing motion blur.
While traveling at high speeds on a highway, we were able to discern details such as license plates of passing vehicles and distant road signs with absolute clarity. The sensor's wider dynamic range meant that even in instances of fluctuating light conditions, like driving through a tunnel, the recorded footage maintained an impressive level of detail, a testament to its low noise capacity and ability to reveal more detail during daytime recording.
Switching to nighttime testing, the dash cam's Quad HD 2560x1440P resolution truly came into its own. Despite the challenging low-light conditions, we found that the Mini 2 could record at both 60 FPS and 30 FPS without any discernible degradation in video quality. Even details that would usually be lost in the dark, like distant street signs or parked cars' license plates, were captured with impressive clarity. The built-in Multiple Exposure HDR feature was put to the test in scenarios where the lighting conditions changed rapidly.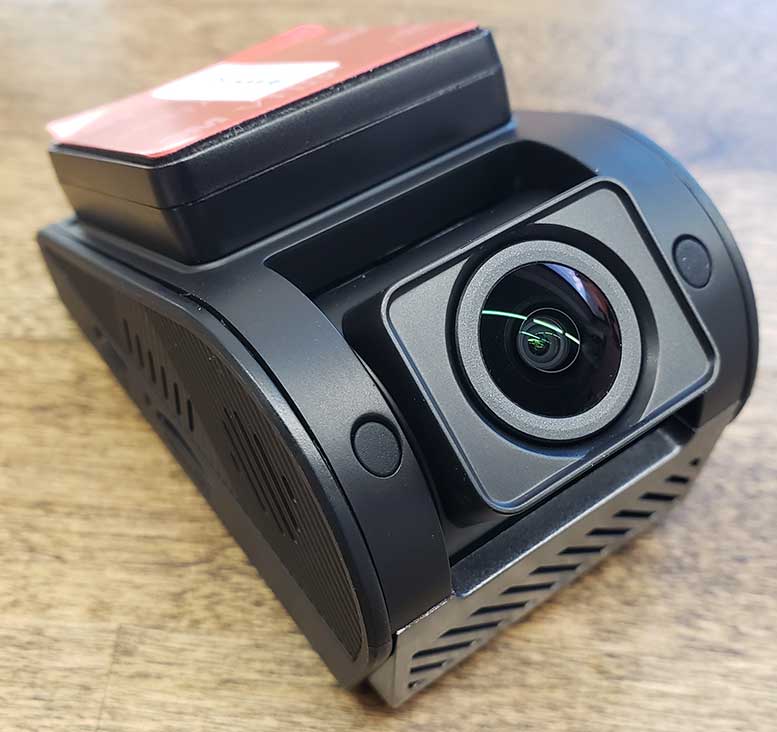 A good example was while driving from a shaded area into bright sunlight or at night in the city with contrasting bright and dark areas. It was evident that the feature effectively balanced these extremes to deliver more balanced and detailed footage. This balance was especially noticeable when we compared the recorded footage with those from a standard dash cam; the difference in detail captured was astonishing. As for the Night Vision 2.0 feature, we were thoroughly impressed with how it optimized the image capture during the darkest hours.
While driving on a poorly lit rural road at night, the Mini 2 continued to capture high-quality footage. It managed to illuminate details usually shrouded in darkness, proving that the device does not compromise on the quality of video capture, no matter the time of day or night. The camera of the Mini 2 does not merely record; it captures a comprehensive visual narrative of your journey. Regardless of light conditions or speed, the device strives to leave no detail unrecorded, making it an impressive companion on the road.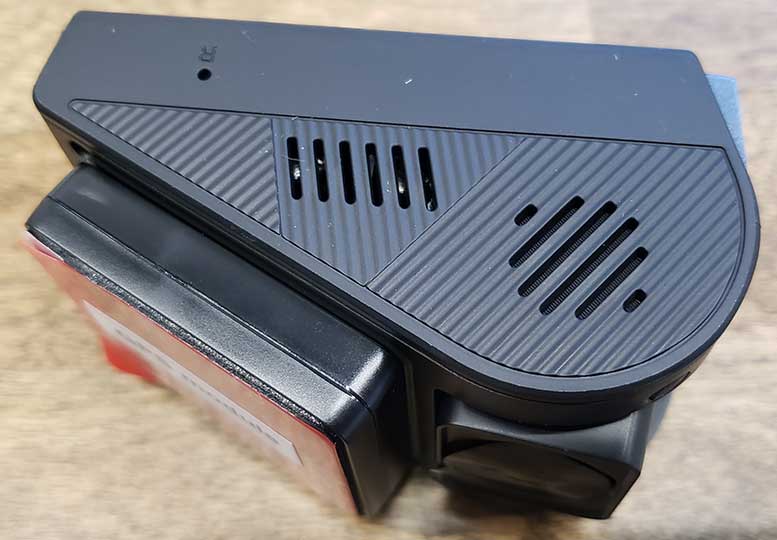 Parking Modes
This dash cam is designed with more than just your active driving in mind. When parked, it shifts into a vigilant guardian for your vehicle with its trio of parking modes. Let's explore what each of these modes does and what you need to do to benefit from them.
Buffered Parking Mode
This mode springs into action when motion is detected around your vehicle. It records 45 seconds of footage, starting from 15 seconds before the detected motion until 30 seconds after. This ensures you have a comprehensive recording of any event around your parked vehicle.
Time-lapse Mode
For those who prefer a summarized version of events, this mode records at lower frame rates (1, 2, 3, 5, or 10 FPS), effectively capturing a time-lapse of the period your vehicle is parked. This is quite handy, and it's a very welcome addition to what is already shaping up to be a well-rounded dash cam. But please be aware – if you wish to take advantage of any of the parking modes, the dash cam must be hardwired.
For those unaware, this means it needs to be wired directly to your vehicle's fuse box. Thankfully, VIOFO has a ready-made kit that you can pick up for simplified hardwired installation. Depending on your vehicle's layout, this could prove to be a time-consuming and difficult task. The kit certainly makes it easier, but if you're not adept at such jobs, it's probably best to hire a professional to do it for you.
Low Bit Rate Mode
In this mode, the device records continuously at a lower bit rate of 4Mb/s. This allows for longer recording times, ensuring your vehicle is monitored for extended periods without exhausting your storage space.
However, to utilize these parking modes, the Mini 2 needs to be hardwired to the vehicle's fuse box. For this, VIOFO's HK4 hardwiring kit is required, which is not included in the package and needs to be purchased separately. This ensures the dash cam has the necessary power supply even when the vehicle's ignition is turned off, allowing it to keep watch over your car when you're not around.
Memory Capacity and Use
While the Mini 2 doesn't come with an included memory card, it supports high endurance Micro SD cards up to 512GB. Considering the high-quality footage it produces, having ample storage is crucial. This also ensures continuous recording, courtesy of the loop recording feature, which overwrites the oldest footage with the latest ones when storage is full.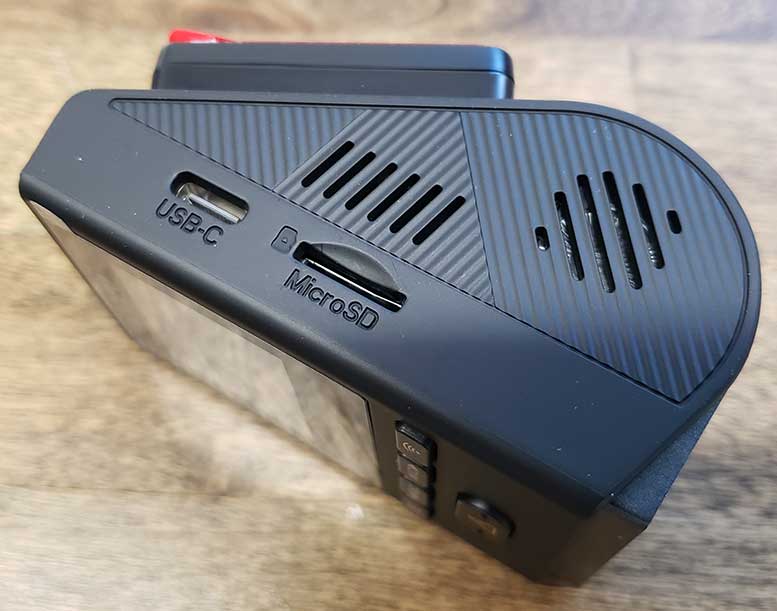 However, should an event such as a collision occur, the built-in G-sensor locks the current footage, preventing it from being overwritten and thereby preserving important evidence. This mixture of high storage capacity and intelligent memory usage demonstrates the cam's overall thoughtfulness in design.
Final Verdict
After thorough testing and examination, the VIOFO A119 Mini 2 Dash Cam (5% off code: NerdMINI2) is undoubtedly a high-quality product that excels in almost every aspect. From its compact and discreet design to its impressive array of features, the Mini 2 consistently delivers on its promises.
It shines in providing high-quality, clear footage in various lighting conditions and ensures optimal performance even in parking mode. While the requirement for hardwiring to use parking modes could be a bit daunting for some, the overall user-friendly interface and feature-rich package make it a worthy investment for any road traveler.