When faced with challenging weather conditions, upgrading your vehicle's fog light bulbs to superior H10 LEDs is a smart decision. These bulbs not only improve your road vision but also ramp up the look of your vehicle, making them a worthwhile investment. So today, we'll be looking at the top five H10 LED fog light bulbs to help you make an informed decision. Here's a rundown of our top picks:
Each of these LED fog light bulbs brings something unique to the table. Whether it's superior brightness, extended lifespan, or broad compatibility, there's an option for everyone. So without further ado, let's get into our detailed reviews.
1. SEALIGHT H10 LED Fog Light Bulbs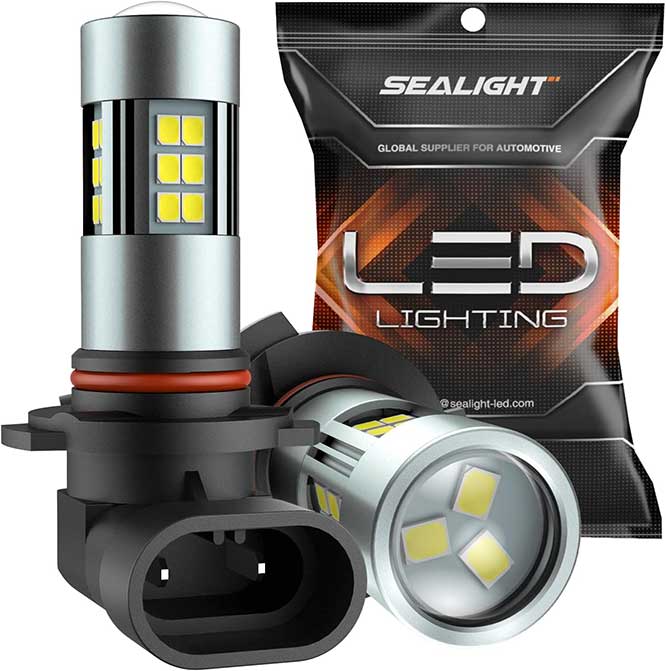 Key features:
27 SMD LED chips
Compact, easy-install design
30,000 hours lifespan
Compatible with numerous models
The SEALIGHT H10 LED Fog Light Bulbs make a noticeable difference to your vehicle's lighting setup. These tiny, 1.76-ounce units are a step up in technology, taking your fog lights from "just there" to "spectacular." The first standout feature is the lens design, which projects the light further, creating a focused beam that's careful not to blind oncoming traffic. Each unit houses 27 LED chips, offering 360-degree illumination, far surpassing the usual six chips found in most competitors.
This means you get significantly brighter, more comprehensive light coverage. The compact design is worth noting. Mimicking the dimensions of a traditional halogen bulb (5.35 x 3.94 x 1.54 inches), these lights are super easy to install, often in about 10 minutes or less (we installed them in 6 minutes). That's a major relief for anyone worried about complicated setup procedures. They are also notably versatile, fitting a range of models, including the popular 9145/9140/H10/9045/9040/PY20D.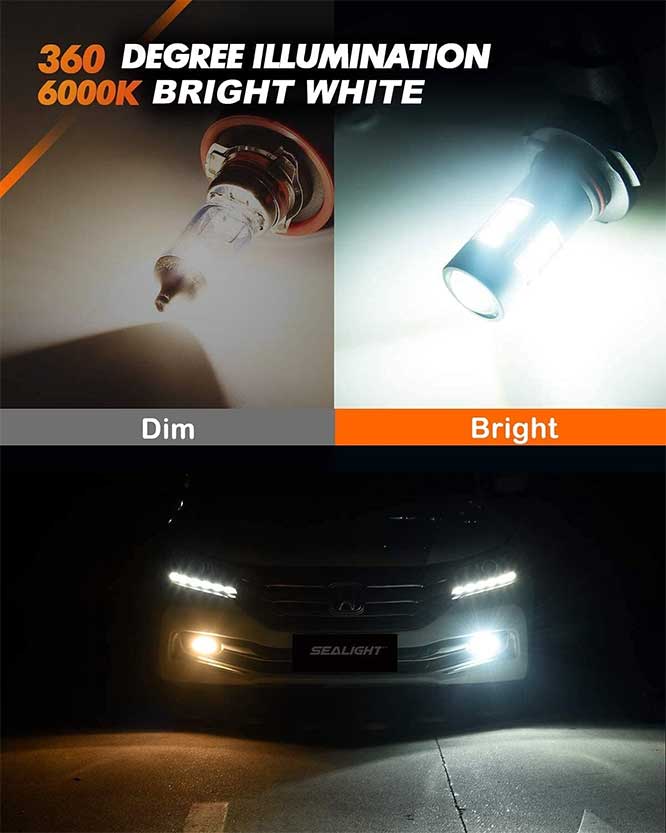 But you'll want to double-check your vehicle's manual or perform an online search for confirmation. Longevity is high here, too. Each bulb has a lifespan of over 30,000 hours, a testament to the all-in-one aluminum material used that ensures impressive heat dissipation. In essence, purchasing one SEALIGHT fog light is like getting 150 halogen bulbs, offering value while saving you from frequent bulb changes.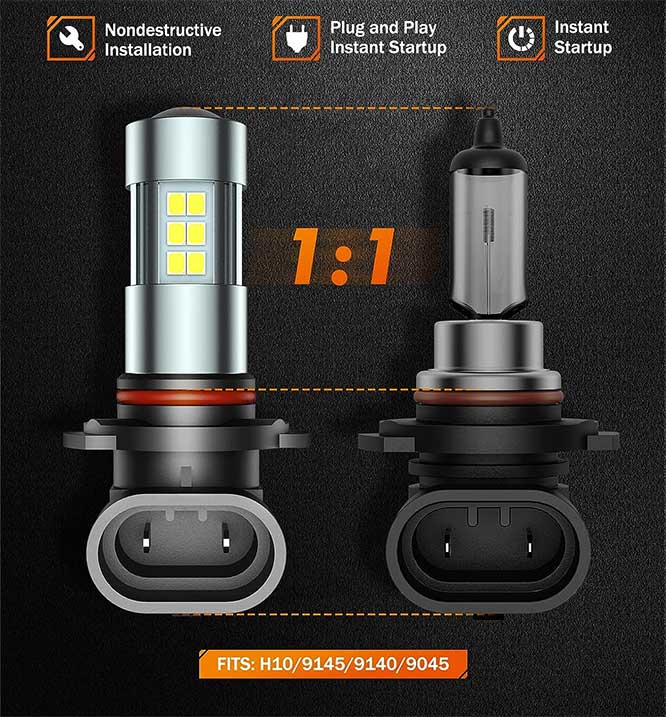 While the lights shine a bright 6,000K xenon white, they just don't seem to project very far. While this may be a slight setback for some, we think it's a tiny price to pay for the otherwise stellar performance and benefits of these bulbs. Factor in an affordable price point, and you've got yourself a serious contender among the best H10 LED fog light bulbs.
What we liked:
Super bright illumination
Straightforward installation
Strong heat dissipation
Long-lasting performance
What we didn't like:
Light doesn't project far
Compatibility check needed
2. MIFMIA 9145 H10 LED Fog Light Bulbs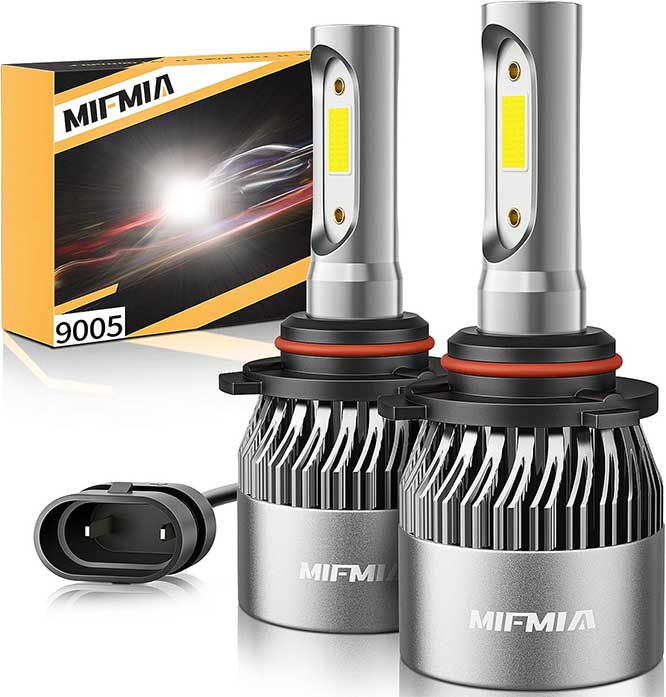 Key features:
500% brighter than standard bulbs
Excellent beam pattern with 15000 lumens
CANBus-ready for 98% vehicles
50,000 hours lifespan
MIFMIA 9145 H10 LED Fog Light Bulbs really take things up a notch when it comes to visibility on the road. With their top-grade LED chips that yield an impressive 15,000 lumens of light, you're looking at a unit that is 500% brighter than your standard halogen bulb. Our testing showed a noticeable difference, particularly on foggy nights and poorly lit roads, where these bulbs not only illuminated the road but the surrounding area, as well, ensuring a safer drive.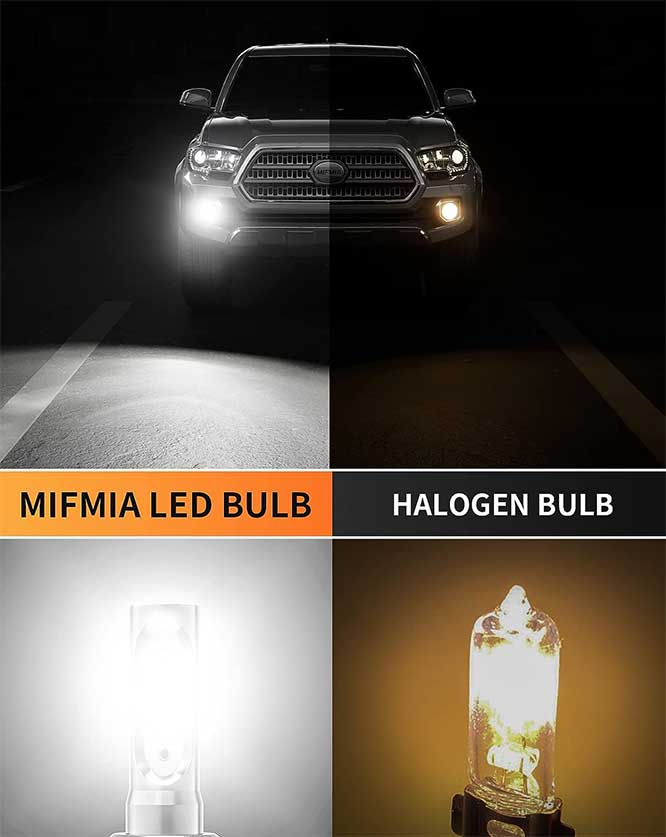 This bulb utilizes a similar beam pattern to that of your average halogen bulb, but its scope of light is wider and extends further. This means there were no dark spots, and glare was not a problem for oncoming traffic during our tests. Additionally, the 6,500K cool white light is quite pleasing to the eye. Compatibility with a variety of vehicles is a major benefit of these bulbs, boasting CANBus readiness for 98% of car computer systems. However, it's worth noting that a few specific models may need an additional CANBus decoder. Installation is straightforward and took just about 10 minutes in our testing.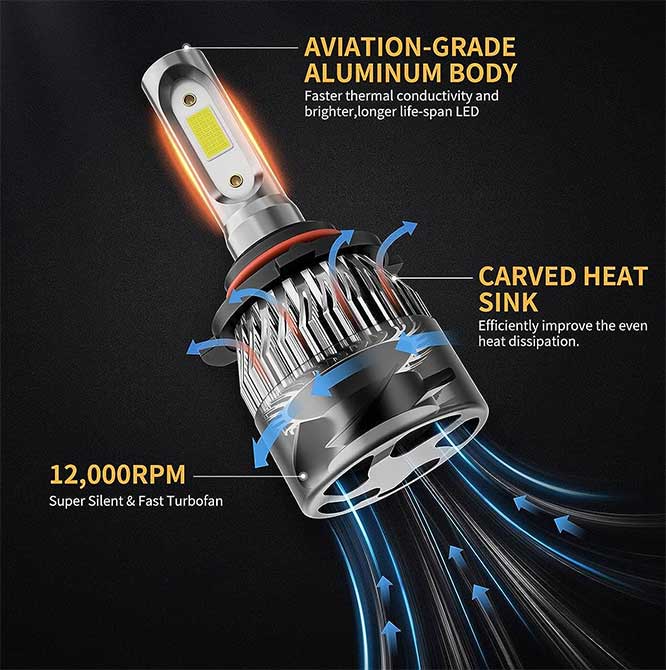 Weighing in at 7.8 ounces and with dimensions of 7.17 x 4.72 x 1.93 inches, the bulb is sturdy and fits well within most fog light sockets. Crafted from aviation-grade aluminum and equipped with a powerful 12,000 RPM turbo-cool fan, they promise a long lifespan of around 50,000 hours. They are also IP68 waterproof and have a working temperature range from -40°F to +300°F, which made them resilient during our tests in harsh weather conditions.
What we liked:
Easy, quick installation
Long-lasting with durable construction
Superb weather resistance
Wide and far-reaching light
What we didn't like:
May require CANBus decoder for some vehicles
Alignment issue with some specific models
3. Fahren 9145/H10/9140 LED Fog Light Bulbs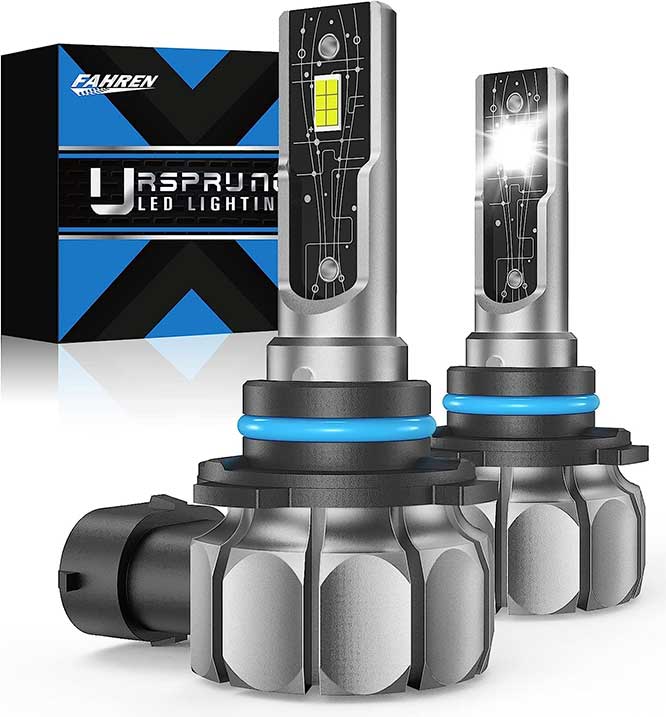 Key features:
8000 lumens, 6500K cool white
350% brighter than halogen
Quick, 10-minute installation
Over 50,000-hour lifespan
Fahren's 9145/H10/9140 LED Fog Light Bulbs boast a remarkable 8,000 Lumens and 6500K cool white light that delivers superior illumination. In fact, you get a whopping 350% brighter lighting than your standard halogen bulbs. This upgrade not only improves visibility but significantly broadens your vision range. We put these bulbs through their paces in a variety of conditions.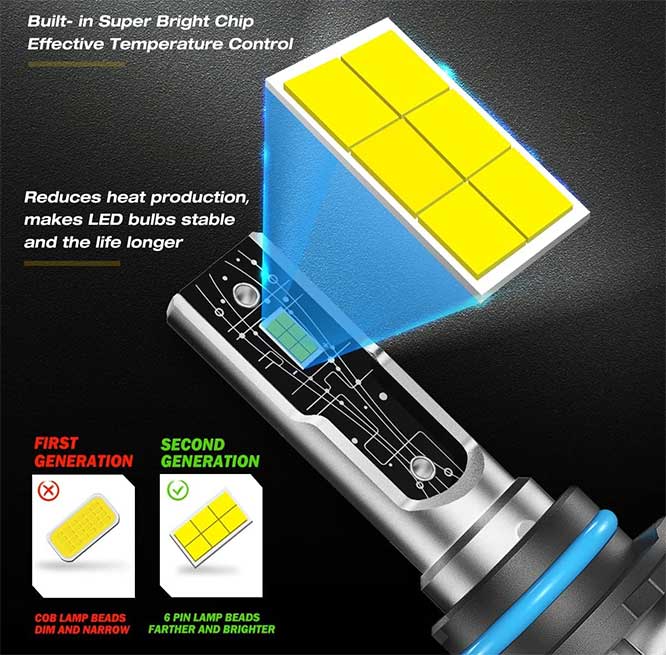 The top-grade LED chips packed into these compact bulbs rendered a powerful light that dramatically widened and extended our field of view during our nighttime test drives. Whether it was a clear night or a foggy one, we found that the enhanced brightness provided safer and more comfortable driving. As for the installation, it was surprisingly quick and straightforward. Thanks to its 1:1 imitation of halogen lamp size and its non-polarity design, they plugged right into our test vehicle in under 10 minutes.
While some vehicles may require additional decoders, the Fahren team is readily available to provide assistance. The impressive performance wasn't the only thing that won us over. These fog lights showcased their durability with an IP68 rating for water and dust resistance, meaning they're ready for anything Mother Nature has in store.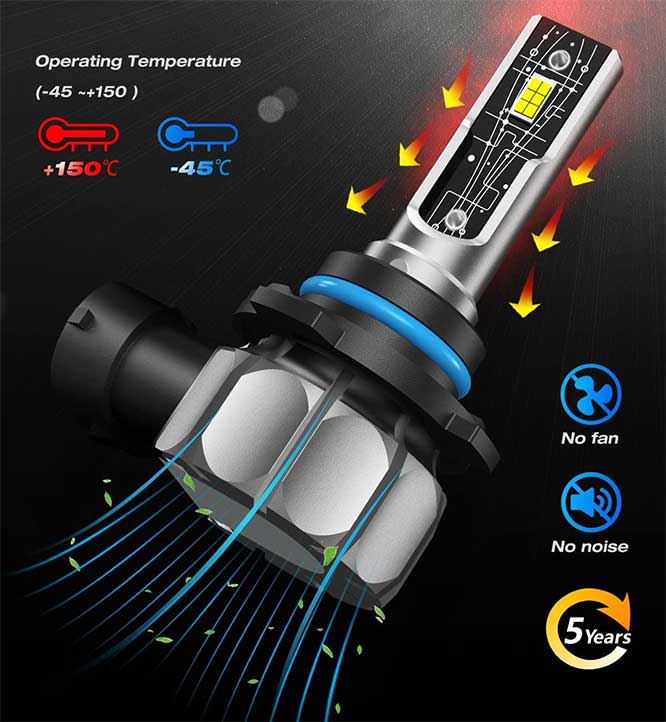 Plus, with an Aviation-grade aluminum body and intelligent temperature control, these bulbs promise a lifespan of more than 50,000 hours, making them a solid investment for your vehicle. Lastly, let's talk dimensions. Fahren's LED Fog Light Bulbs are compact, measuring 4.09 x 3.7 x 1.77 inches and weighing in at a light 2.89 ounces. And with a fanless, anti-flicker design, the only time you notice they are there is when you turn them on.
What we liked:
Exceptional brightness
Easy to install
Weather and dust resistant
Long-lasting and durable
What we didn't like:
May need additional decoders
Not universally compatible
4. AUXITO 9145 H10 LED Fog Light Bulbs
Key features:
6000LM light output
6500K cool white color
IP65 waterproof and dustproof
Easy 10-minute installation
Next up are AUXITO's 9145 H10 LED Fog Light Bulbs. These cool white LEDs are a game-changer, pumping out a whopping 6000LM light output that's 300% brighter than your stock halogens. With a 6500K color temperature, these bulbs give you extended, broader visibility during your nighttime drives. Built to endure, these bulbs exhibit a robust, fanless design that keeps dust at bay while reducing noise.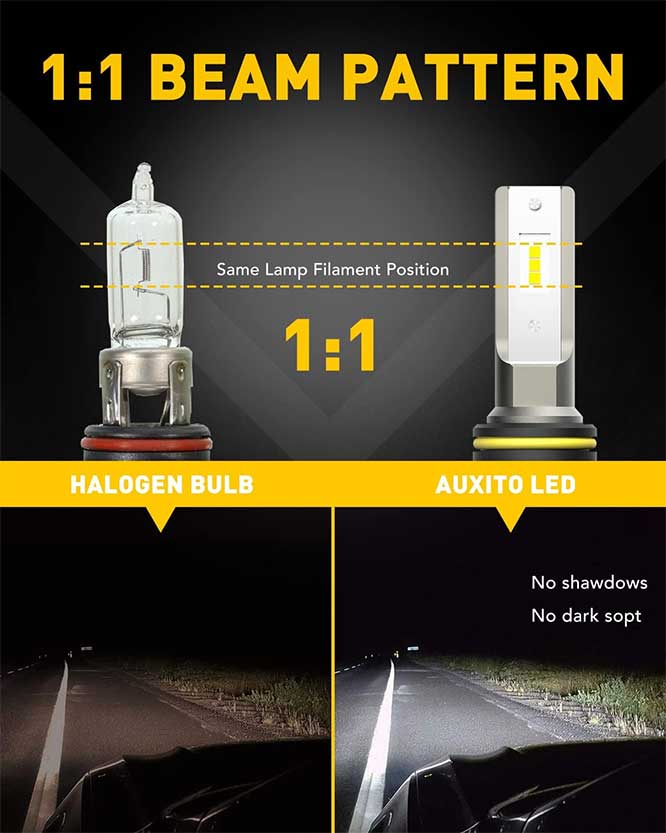 Pair this with their aviation-grade aluminum body and a unique hollow heat sink, and you've got a set of bulbs that dissipates heat quickly, thereby ensuring stellar performance and an impressive lifespan of 30,000 hours. Now, about the beam pattern: these bulbs perfectly mimic a factory halogen beam, delivering a comprehensive 360-degree illumination without leaving any shadows or dark spots behind. Such a design aids in providing a safer driving experience by offering an extended vision.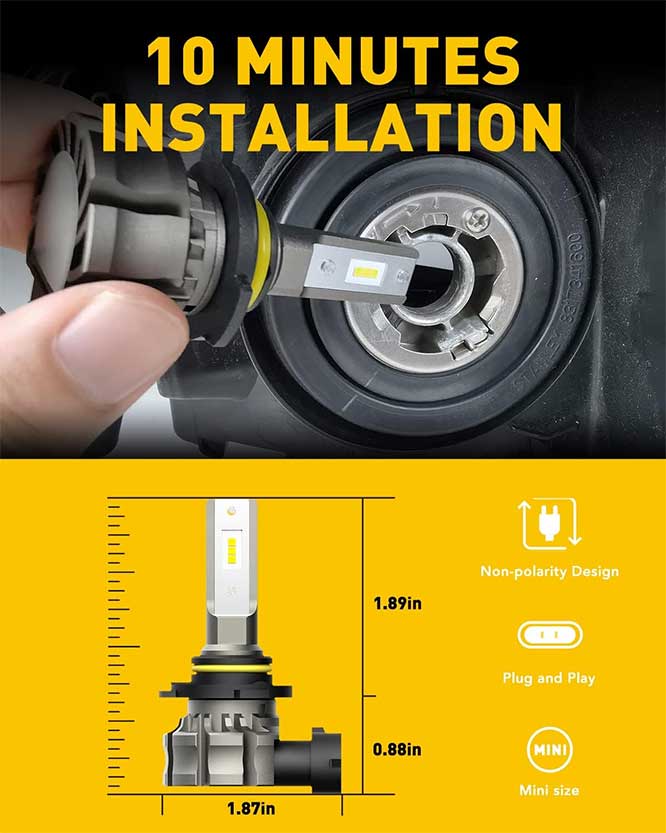 You'll be impressed by the ease of installation. Thanks to a wireless, non-polarity, and plug-and-play design, getting these bulbs up and running will be a 10-minute task. Plus, their compatibility with a range of fitment sizes makes them a versatile choice. And if you're worried about weather, don't be. These bulbs come with an IP65 waterproof and dustproof rating, which equips them to stand tall in adverse weather conditions, ensuring a clear view. Each package comes with two bulbs, each weighing about 5.3 ounces and measuring 4.3 x 4.2 x 2 inches.
What we liked:
300% brighter than halogen
Long lifespan of 30,000 hours
360-degree full-angle illumination
Weather-resistant design
What we didn't like:
Gasket could be thicker
Could be brighter
5. Torchbeam H10/9145/9140 LED Fog Light Bulbs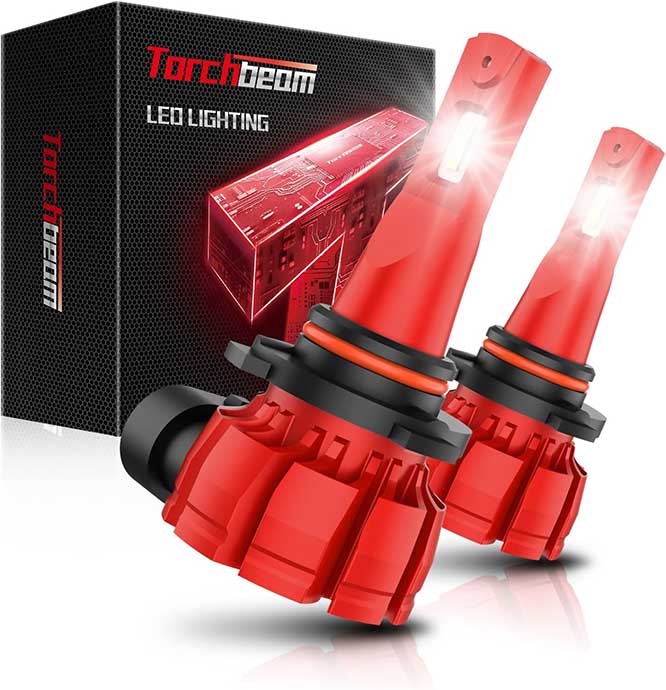 Key features:
Can-bus ready with built-in decoder
370% brighter with 6000 lumens
Quick 8-minute installation
Over 50,000 hours lifespan
Torchbeam's H10/9145/9140 LED Fog Light Bulbs made the cut as our final entry. On par with other bulbs we reviewed, these push out 6,000 lumens of 6,000K xenon white light. The blinding brightness is 370% stronger than typical halogens, cutting through the murkiest conditions with ease. One of our favorite aspects was the integrated CANBus system. It allowed the bulbs to communicate directly with our car's system and eradicate pesky warning signals. The built-in decoder also ensures they light up within a second, meaning you won't be left in the dark when you need illumination the most.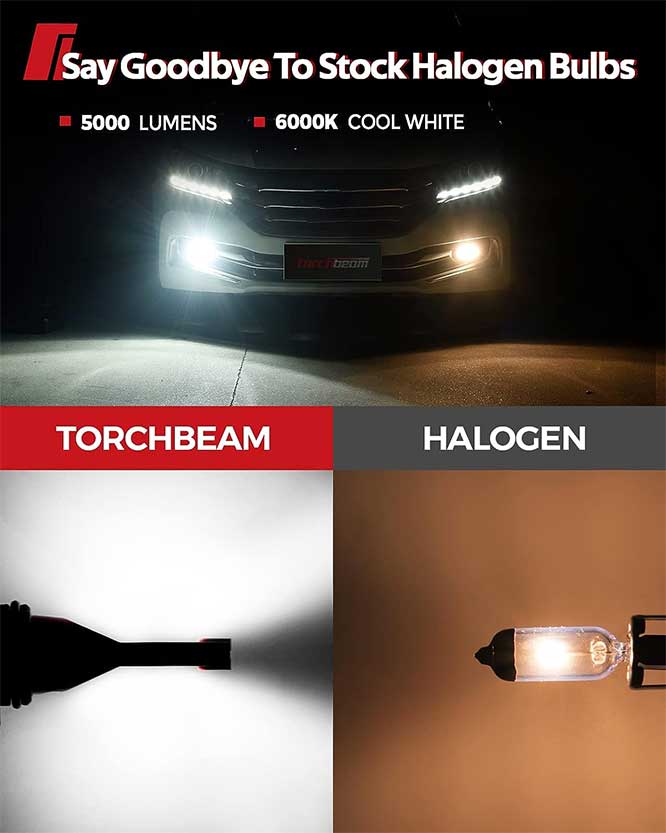 Installation was remarkably straightforward, taking us a mere eight minutes from start to finish. And thanks to its compact 1:1 mini design, they slipped right into our vehicle's original housing without requiring additional wiring or circuit modifications. The bulbs exhibited stellar resilience, even in extreme weather conditions. Its waterproof construction handled rainstorms like a pro, while the smart IC driver delivered consistent, flicker-free performance, creating a distraction-free driving environment.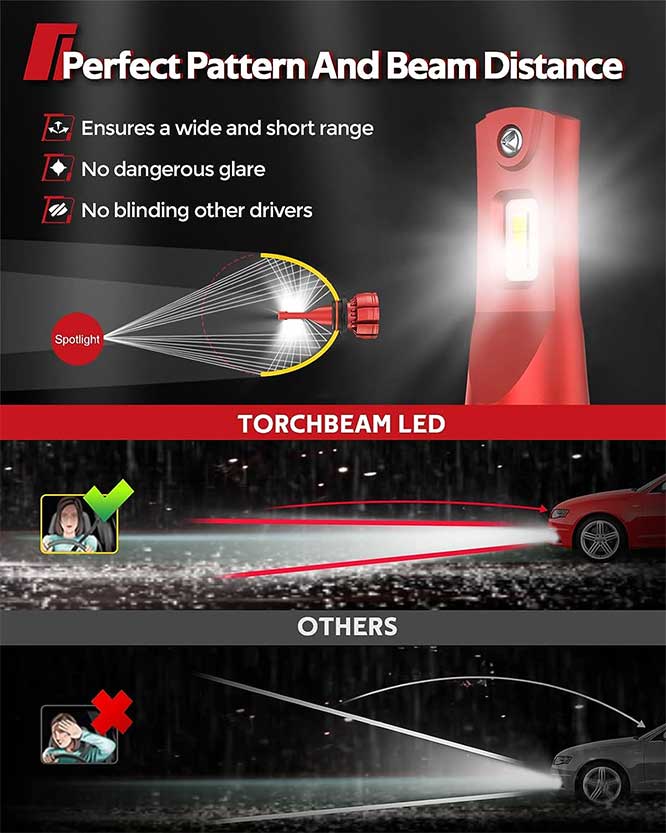 Furthermore, the EMC anti-interference feature ensured a comfortable radio-listening experience even on the foggiest days. Finally, there's the lifespan. These bulbs boast an incredible longevity of over 50,000 hours. This is made possible by the use of aviation-grade 6063 aluminum alloy and a unique sunflower cooling base that efficiently dissipates the heat generated by the LED chips. At 5.5 ounces and dimensions of 4.21 x 4.17 x 1.73 inches, they're remarkably compact for such heavyweight performers.
What we liked:
Exceptionally bright light
Long-lasting performance
Unique cooling base
Quick to light up
What we didn't like:
Installation may vary per vehicle
May be too bright for some
H10 LED Fog Light FAQs
Are H10 LED fog light bulbs compatible with my vehicle?
Compatibility depends on the model of your car. You'll need to check your vehicle's manual or search a trusted automotive store's bulbs to determine if H10 bulbs are the right fit.
How long do H10 LED fog light bulbs last?
The lifespan of LED fog light bulbs can vary between brands and models. However, many high-quality H10 LED bulbs promise a lifespan of anywhere between 30,000 and 50,000 hours.
How difficult is it to install H10 LED fog light bulbs?
Most H10 LED fog light bulbs are designed for easy installation, often requiring no more than 10 minutes. It's typically a straightforward, plug-and-play process, although some vehicles may need an additional CANBus decoder.
Final Verdict
After a thorough examination of these top contenders, we found that each has its distinct advantages. SEALIGHT offers impressive light coverage with an easy-install design, ideal for those who want a fuss-free setup. MIFMIA bulbs lead the pack in terms of brightness, while Fahren's bulbs come out on top for their exceptional brightness and robustness, ideal for drivers frequently traveling in diverse conditions.
AUXITO bulbs shine with their comprehensive 360-degree illumination, and the Torchbeam bulbs impressed us with their unique cooling base and quick response time, perfect for those looking for quick-lighting bulbs. Regardless of your unique requirements, each of these models could be the perfect match for upgrading your fog lights.