Whether you've accidentally locked yourself out or simply want a discreet spot for a spare, the right hidden key holder can be a lifesaver. Outdoor key holders, often camouflaged to blend with their surroundings, provide security while maintaining easy access for those in the know. Here, we've selected some of the best options available:
Whether you're looking for a device that mimics nature or requires a combination code, there's a hidden key holder on this list for you. Join us as we share the details about each of our top picks.
#1. RamPro Hide-a-Spare-Key Fake Rock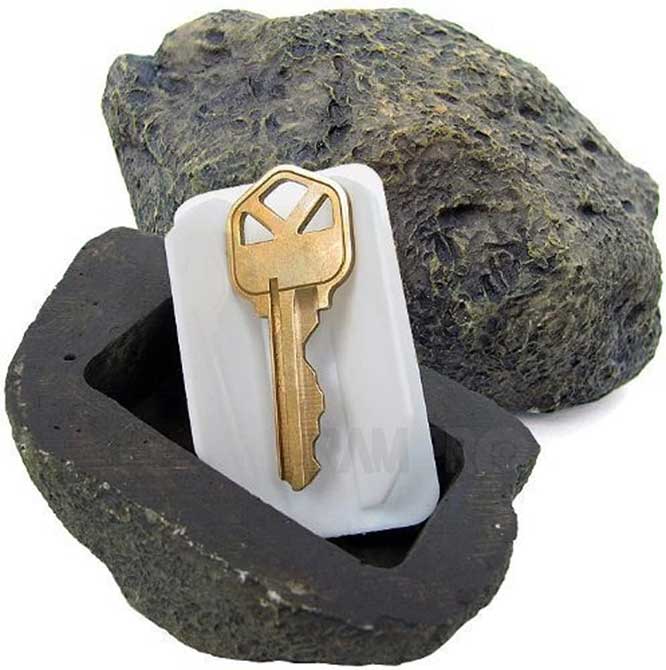 Key features:
Authentic poly-resin design
Windproof and weatherproof
Fits multiple keys
Versatile use possibilities
RamPro's innovative approach to a common dilemma presents itself in the form of the Hide-a-Spare-Key Fake Rock. Aesthetically designed to mirror the natural appearance of roadside rocks, this unit seamlessly disguises its true purpose, granting homeowners peace of mind knowing their spare key is safely hidden in plain sight.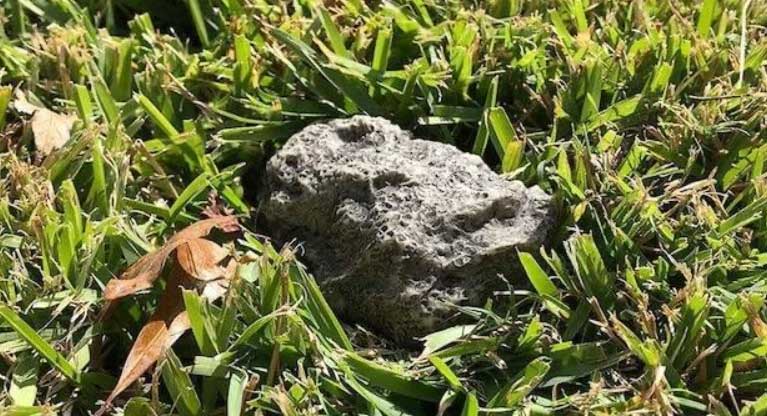 Crafted with meticulous attention to detail, it utilizes molded poly-resin to emulate the texture, size, shape, and color of genuine rocks. Weighing in at 3.52 ounces and measuring 3.4 x 2 x 1.25, this device is compact yet capacious enough to house keys up to 3 1/8-inch in length, 1 ¼-inch wide, and ¾-inch deep. Whether you're looking to stash a house key, car key, or both, this rock provides ample space without compromising on realism.
During our testing, we nestled the rock amongst shrubs, on the garden bed, and even between other rocks. Its stone color, a mix of grey and brown, ensured it blended perfectly in all environments. An added feature that impressed us was its windproof and weatherproof qualities, ensuring the safety of stored keys even in challenging weather conditions.
However, its versatility isn't just limited to housing spare keys. Many users might find it suitable for geocaching adventures or even discreetly hiding other small essential items.
What we liked:
Realistic appearance
Durable material
Ample storage capacity
Blends seamlessly in gardens
What we didn't like:
Perhaps a bit too lightweight
May not fit larger key fobs
#2. Master Lock 207D Magnetic Key Holder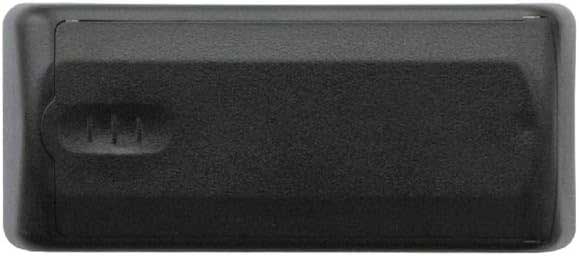 Key features:
Rust-resistant plastic construction
Strong recessed magnet
Portable and lightweight
Compact dimensions
When it comes to safeguarding an extra set of keys, the Master Lock 207D Magnetic Key Holder stands out due to its blend of durability and functionality. Crafted from a robust plastic material, it boasts a rust-resistant property, ensuring its longevity. Sporting a compact design with dimensions of 4.69 x 2 x 1.19 inches and weighing just 2.4 ounces, it doesn't feel cumbersome and is easy to handle. And indeed, one of the first things we noticed during testing was its size.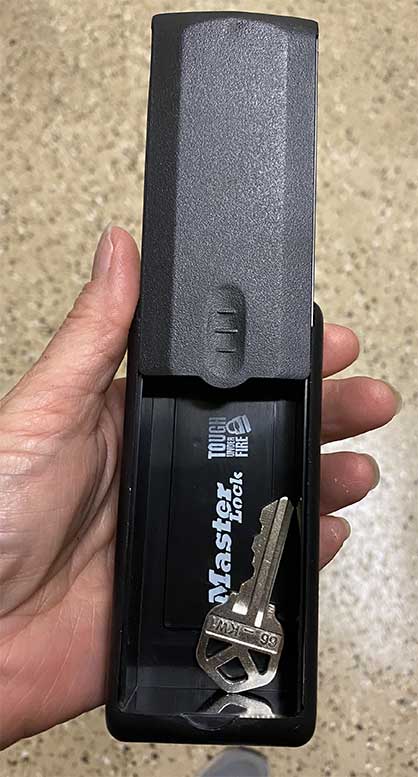 Contrary to our initial expectations, the unit is slightly larger than anticipated. While this might be a drawback for those seeking a super-compact solution, it is an advantage for those with larger keys or those with fobs. The inclusion of a recessed magnet in its design proved invaluable. We were able to effortlessly attach it to various steel surfaces, and it held securely without any hitches. Opening it, on the other hand, presented a slight challenge.
Despite the durability of its construction, the lid seemed prone to popping out of its track, especially with frequent use. That said, for individuals seeking a solution to stash a key for occasional access or emergencies, it's an excellent choice. This notion is further supported by its hard-to-penetrate design, ensuring the stashed key remains safe. But this also presents a bit of a quandary. On the one hand, it's durable enough that it could easily be buried in the ground.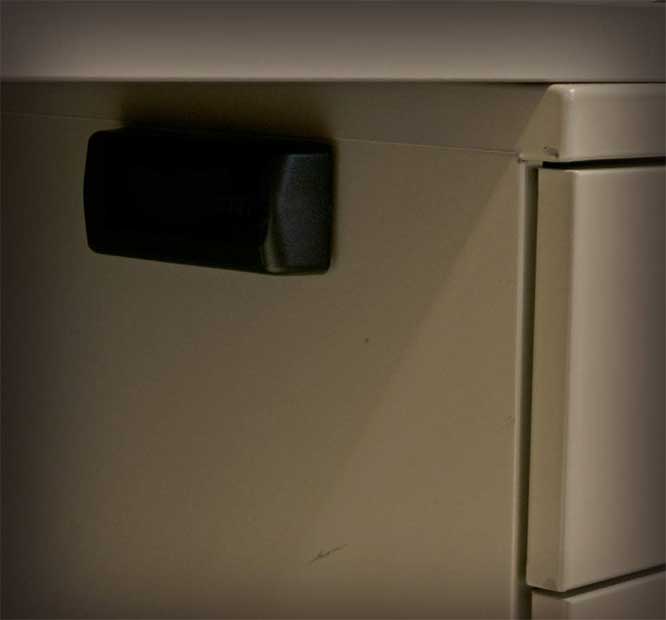 But on the other, the lid doesn't exactly give you the peace of mind that your key will stay safely inside the holder. Granted, it's not designed to be buried, but given its tough construction, it would have been a nice extra. Be that as it may, it serves its intended purpose well. Caring for it is fairly straightforward – a simple wipe with a damp cloth keeps it looking new. With a limited lifetime warranty from a reputed brand like Master Lock, this key holder inspires confidence.
What we liked:
Holds larger keys/fobs
Secure magnetic attachment
Durable and rust-resistant
Limited lifetime warranty
What we didn't like:
Lid may pop out
Larger than expected
#3. Lucky Line Realistic Sprinkler Key Hider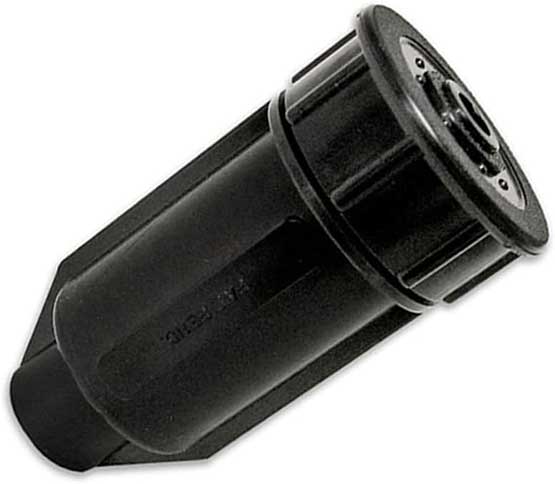 Key features:
Looks like a real sprinkler
Weather-resistant plastic case
Easy unscrew mechanism
Watertight storage compartment
Lucky Line, renowned for its extensive range of key accessories, brings forth the Realistic Sprinkler Key Hider – a blend of ingenuity and convenience. It's easy to admire the thoughtfulness of its design. At initial glance, the hider seems nothing more than a typical sprinkler head. That's precisely where its strength lies: in its unassuming presence. In terms of size, the unit measures 2 x 2 x 3.75 inches and has a weight of 1.76 ounces – compact enough to be inconspicuous yet spacious enough for its purpose.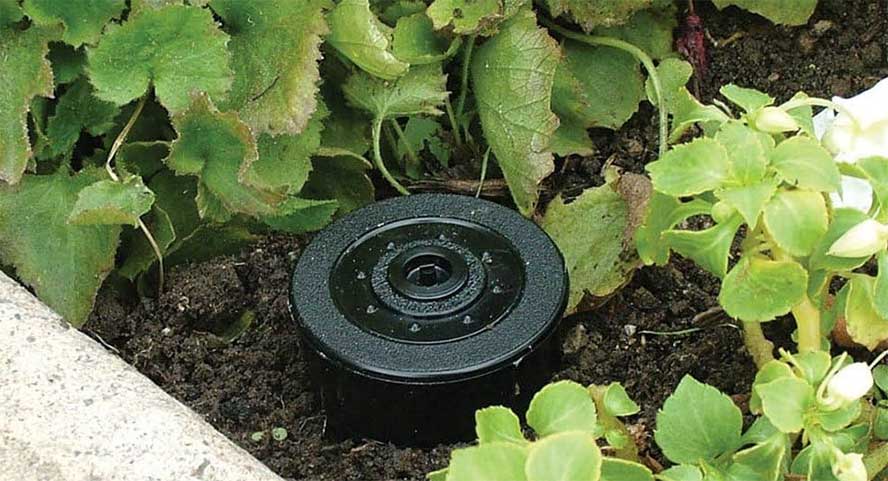 While testing it in different outdoor settings, from gardens to walkways, it nestled seamlessly, often disappearing among real sprinklers and shrubbery. Unscrewing the device was a breeze, revealing ample space to store not just keys but also notes or even some cash. The robust plastic case impressively withstood various weather conditions, retaining its watertight properties.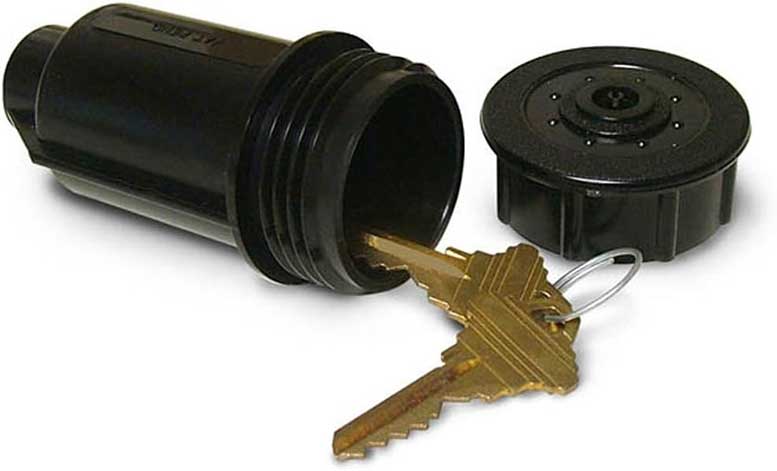 However, its true brilliance shines in emergency situations. Imagine having an electronic lock malfunction or simply forgetting keys indoors. Such instances magnify the importance of this discreet backup. It stands as a testament to Lucky Line's commitment to understanding customer needs and producing solutions in response.
What we liked:
Blends seamlessly outdoors
Spacious inner compartment
Durable and weatherproof
Simplistic, effective design
What we didn't like:
Limited to ground placement
Might require regular checking
#4. Iron Lock Wall Mount Key Lock Box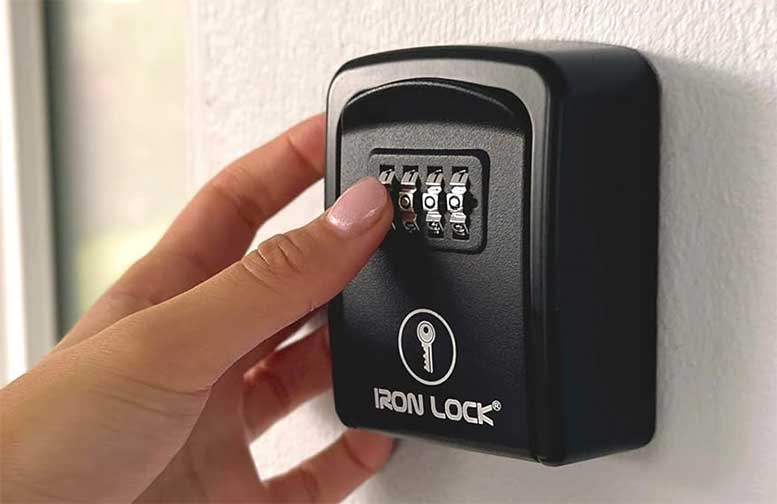 Key features:
Zinc alloy and aluminum construction
Customizable 4-digit combination
Resistant to hammering and drilling
Wall mount design
Iron Lock's Wall Mount Key Lock Box serves as an effective and efficient solution for those seeking a sturdy, external key storage system. With dimensions measuring at 1.4 x 3 x 3.7 inches and weighing a mere 9.9 ounces, this device is compact yet robust, boasting a durable combination of zinc alloy and aluminum materials. This ensures that it's resistant to various external elements such as sand, salt, and dust that could otherwise jeopardize the functionality of a stored key.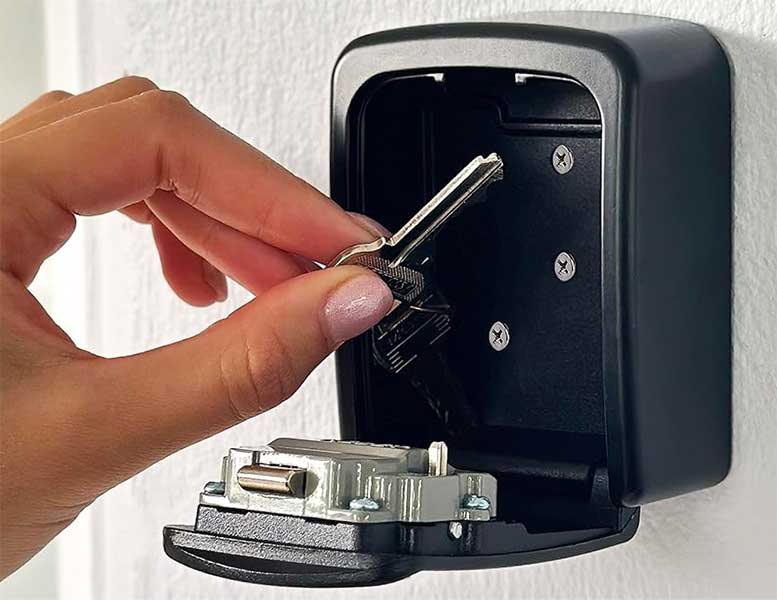 The storage compartment is surprisingly spacious, able to accommodate not just household keys but business keys and access cards. This adaptability makes it apt for diverse use cases, from property managers to businesses. One of the standout features is the unit's customizable 4-digit combination system. This system, paired with the A/B switch, offers both security and flexibility, allowing for easy resets.
Additionally, the wall mount design ensures that the unit stays in place, and the included 4 screws and anchors mean that no additional purchases are necessary for setup. During our testing, the unit showed resilience against common security threats. It could withstand attempts at hammering, sawing, and drilling, thanks to its heavy-duty steel locking mechanism and thickened compartment.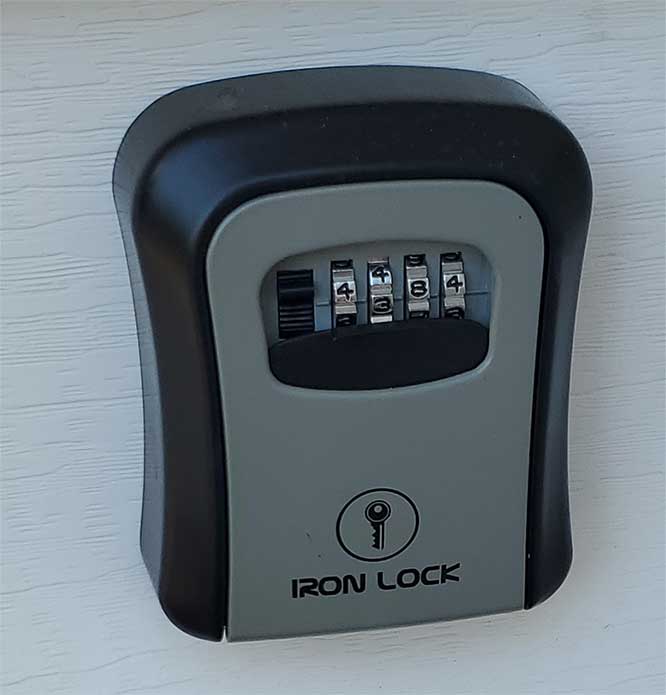 In practice, this lock box has proven invaluable for users like remote landlords. For instance, a landlord with a rental property in a college town found it useful for providing key access to a constantly rotating tenant base without the need for physical presence. Such utility and longevity, even with frequent daily usage, accentuate its worth.
What we liked:
Durable against environmental elements
Spacious storage compartment
Quick and easy installation
Versatile usage scenarios
What we didn't like:
Dial may wear over extensive use
Needs precise alignment for code entry
#5. Sungmor Cast Iron Turtle Key Hider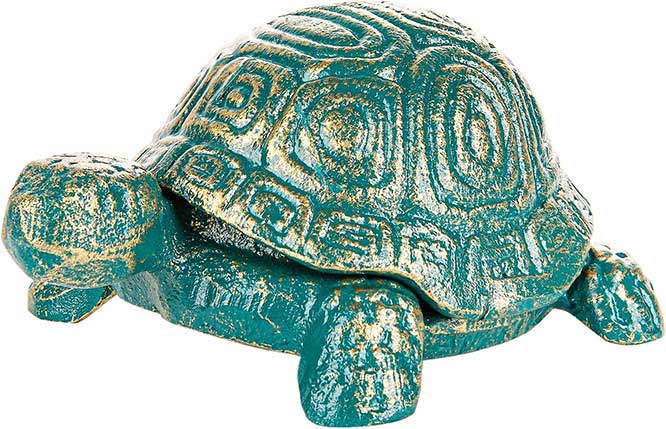 Key features:
Antique green cast iron design
Freestanding mounting type
Portable with cute shape
Oil rubbed finish
The Sungmor Cast Iron Turtle Key Hider, with its antique green finish, exudes a touch of nostalgia and charm. Made entirely of cast iron, the unit boasts a robustness that ensures it's not just an attractive decorative piece but also serves its purpose as a key holder efficiently.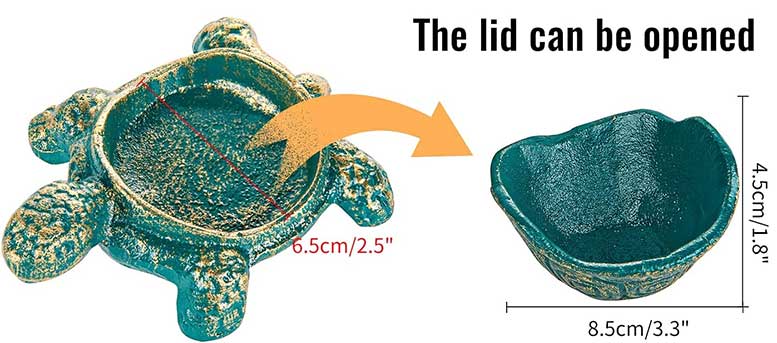 During our tests, we found the unit to be substantial in weight at 1.76 pounds, a testimony to its solid build quality. This weight makes it stable, ensuring it doesn't easily topple over when placed on various surfaces, from the front porch to the back garden.
Its design is reminiscent of something from a bygone era, with the oil-rubbed finish adding a sense of antiquity. In terms of dimensions, it comfortably sits at 4.9 x 3.9 x 2.7 inches, making it an ideal size – noticeable yet unobtrusive. Its freestanding nature means you can easily place it wherever you see fit without the need for any mounting.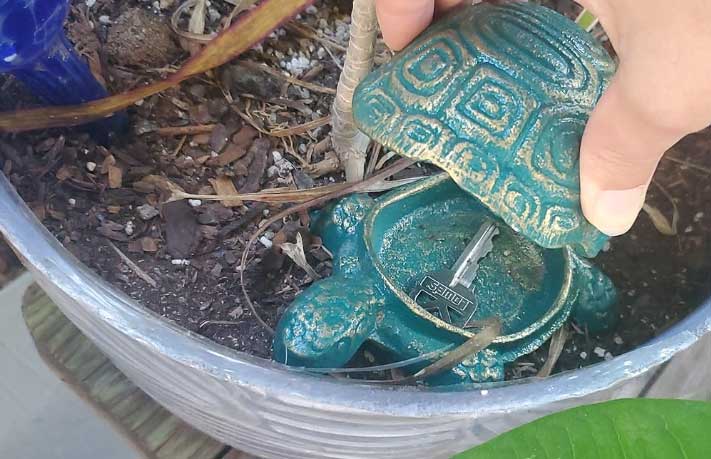 Interestingly, while it's primarily designed to be a key hider, its quaint and endearing turtle design, coupled with its finish, makes it versatile enough to be recommended for uses beyond its intended purpose, such as an earring holder. It has the ability to seamlessly blend into various décor styles, whether country, contemporary, or otherwise.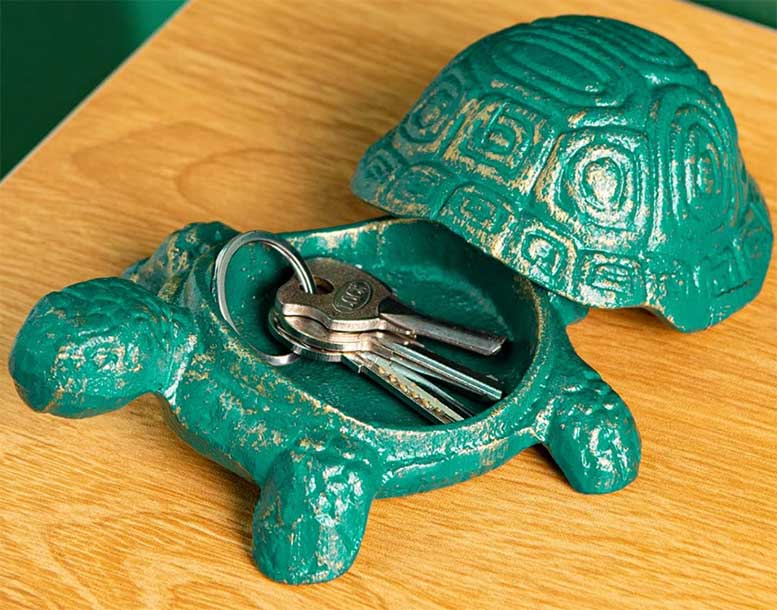 All sounds perfect, right? Unfortunately, there is a caveat worth noting. And that is its susceptibility to rust. Like many cast iron items, there's potential for it to rust over time if exposed to moisture. And since its primary function is to serve as an outdoor key holder, this presents some concern. If you regularly maintain it or take preventive measures, such as applying a clear coat, you can combat rusting to some degree.
What we liked:
Robust and weighty build
Versatile decorative uses
Classic, nostalgic design
Adequate size for key hiding
What we didn't like:
Prone to rusting
Some may have uneven bases
#6. Memeyou Hide a Key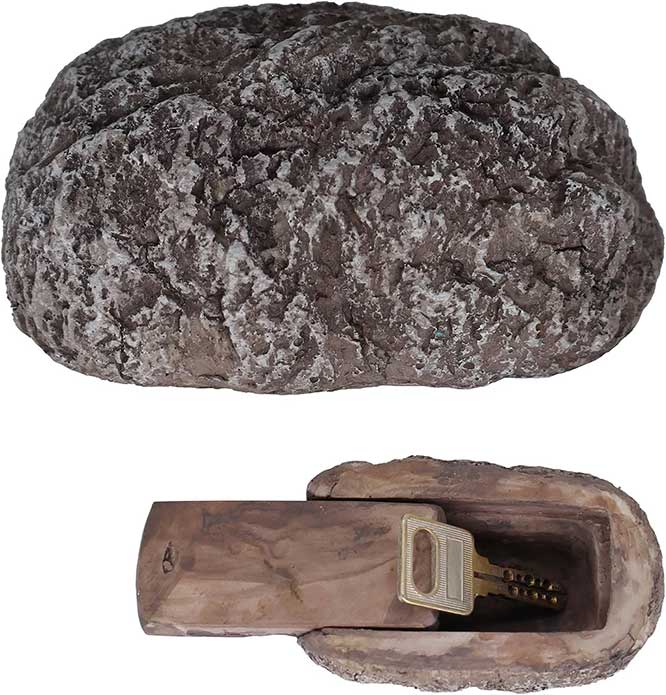 Key features:
Natural stone appearance
High-quality resin material
Generously sized internal space
Push-open design
The Memeyou Hide a Key unit boasts an innovative approach to securely storing spare keys outdoors. Sporting dimensions of 3.5 x 2.3 x 1.5 inches and weighing in at 5.6 ounces, this compact device is crafted to mimic a natural stone. Its grey hue seamlessly blends into gardens, walkways, or patios, ensuring that the hidden key remains inconspicuous to the untrained eye. Though some might argue it has an initial artificial appearance, a little touch of natural elements like mud significantly enhances its authentic look.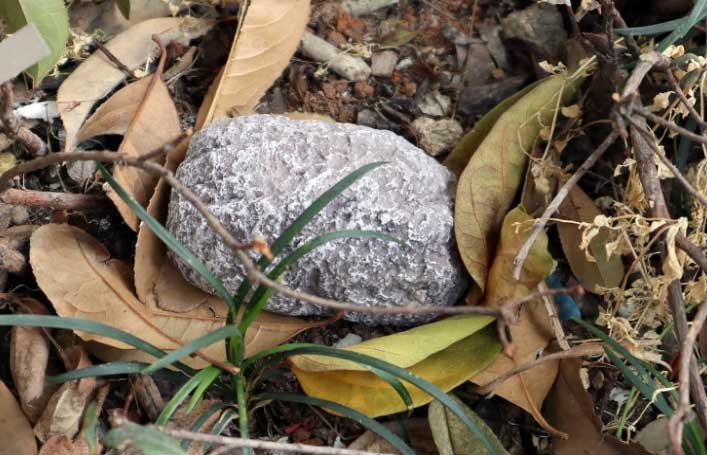 Constructed with high-quality resin, the Memeyou unit guarantees durability. It can endure the outdoor elements, further evidenced by its water-resistant lining, which protects keys from the elements, particularly moisture and humidity. The push-open slider on the bottom ensures that stored keys remain secure. Plus, the spacious internal compartment means it can hold various key sizes, inclusive of bulkier car keys.
Another standout feature is its fire resistance, providing an added layer of security. During our tests, we found that its design indeed blends effortlessly into the outdoors, especially after a few tweaks. However, the bottom sliding door presented some initial challenges, making it a tad tough to open and close. Nonetheless, its practicality, especially for home use, can't be overstated.
What we liked:
Durable and waterproof design
Fire-resistant feature
Blends seamlessly outdoors
Holds various key sizes
What we didn't like:
Initial artificial look
Can be hard to push open
Hidden Key Holder for Outside FAQs
Why do I need a hidden key holder?
A hidden key holder provides a secure spot for spare keys, reducing the risk of lockouts and providing easy access for trusted individuals without compromising security.
Can hidden key holders withstand weather changes?
Most hidden key holders are designed to be weather-resistant, protecting your keys from elements such as rain, snow, and sun. However, it's advisable to check the specific features of the chosen model.
How often should I check or replace my hidden key holder?
Regularly checking your key holder ensures that it remains in good condition and the key is still present. If there's significant wear or damage, or if the camouflage becomes too obvious, it's a good idea to replace it.
Final Verdict
When we selected the key holders for this review, our focus was primarily on security, design, and durability. The RamPro Hide-a-Spare-Key Fake Rock impressed with its realistic appearance and ample space, making it an excellent choice for those who want natural camouflage. Master Lock's 207D brings the brand's signature durability with the added utility of a strong magnet, while the Lucky Line Sprinkler offers a seamless garden disguise.
Iron Lock's Wall Mount is for those who prefer a digit code's security, and Sungmor's Turtle appeals to those with a taste for quaint décor. Lastly, the Memeyou Hide a Key provides a balance of design and security with its fire-resistant feature. All in all, there's an option for every preference, ensuring peace of mind and security.
Meet Derek, "TechGuru," a 34-year-old technology enthusiast with a deep passion for tech innovations. With extensive experience, he specializes in gaming hardware and software, and has expertise in gadgets, custom PCs, and audio.
Besides writing about tech and reviewing new products, Derek enjoys traveling, hiking, and photography. Committed to keeping up with the latest industry trends, he aims to guide readers in making informed tech decisions.