As with every speaker system, sound quality and overall performance is the most important element. Novelty is an excellent ingredient for an increase in sales, however the ingenuity of a magnetically floating speaker has both aesthetic and practical applications, which is why we're going to review not only the drivers but also the effectiveness of the 7 Arc Star Floating Bluetooth Speaker's design.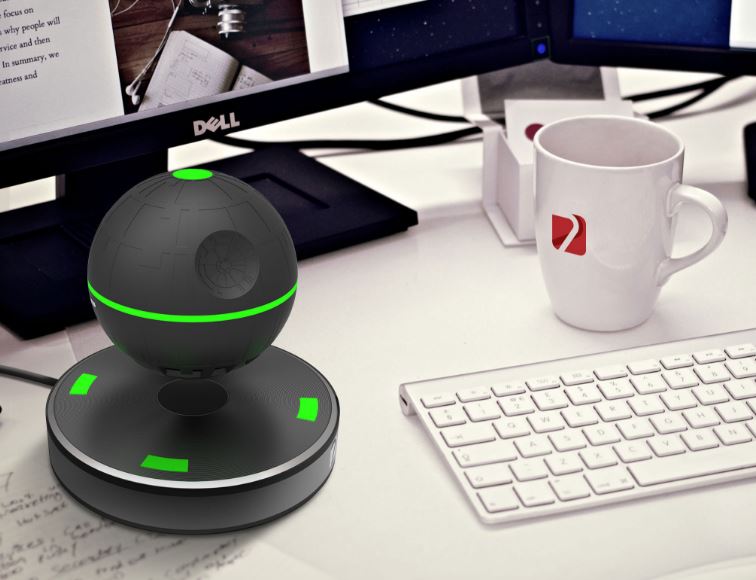 Today we're going to give a complete analysis on its ease of use in every area, and we'll be including the qualities of durability and appearance as well. Among its most impressive and prominent features, the 7 Arc Star Floating Bluetooth Speaker includes the following:
Unique Design with Disc Platform Base and Floating Sphere
Audio Output in 360 Degrees
Bluetooth Wireless Connection with Advanced Options
LEDs for Floating Balance and Appearance
Smartphone Charging Hub Built into the Base
While many of these features may seem like a gimmick, we're going to pick each one apart to determine the real value of each one, based on their most important qualities.
Magnetic, Multipurpose Platform Base
Both the sphere and base are designed to be somewhat independent of each other, allowing you to use it both on the go and when stationary/assembled. The base serves primarily as a charging station for both the speaker system, which houses some advanced technology in addition to its speaker drivers which we'll go into in a moment, as well as your USB connected devices.
It has a strong magnetic device built into it that's capable of not only levitating the speaker unit 10 millimeters above, but even rotate it as it's floating, giving the appearance of a 'Death Star' or planet rotating in orbit. These two technologies are combined to allow you to keep the speaker unit charged even while it's floating in the air. It'll also simultaneously charge your devices while seamlessly streaming music over the paired connection.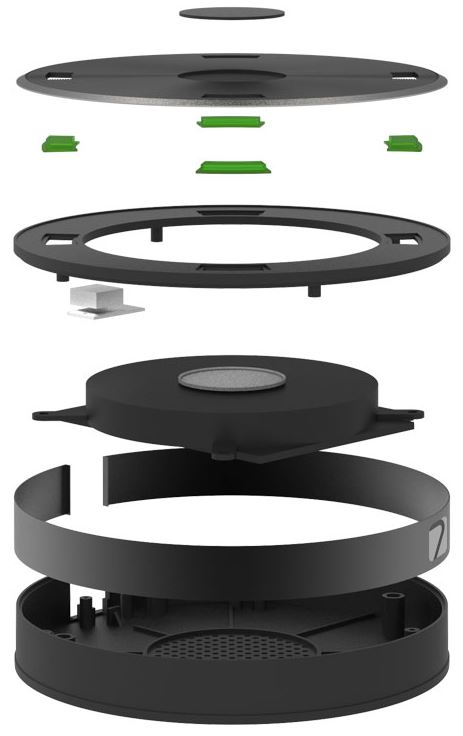 Built primarily for balancing purposes, there are four green LEDs on top of it as well. They flicker and light up when the speaker sphere is placed above it, making it easier to put it into the proper position for floating and rotating.
In terms of appearance, the base is given a visually pleasing dark gray finish which complements its metallic features, including the smoothly rounded circular shape and edges.
The platform on the top is given subtle grooves in its dark exterior that make it look somewhat like a modern vinyl record with a smooth charging disc in the center, directly below where the speaker sphere floats and rotates. The USB charging port and cable are tucked away on the side of the base so that you can easily hide the presence of a cable, but also have easy access to the charging port for all of your devices whenever you need it.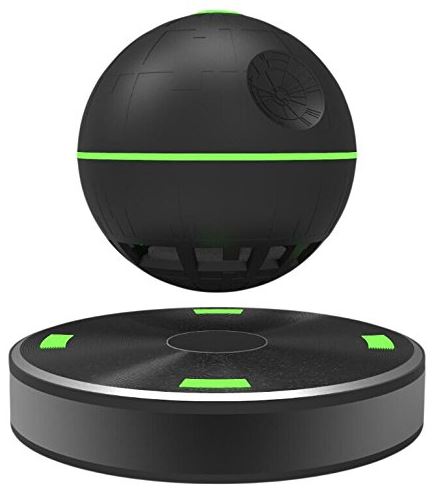 Versatile Speaker Unit Sphere with Bluetooth Technology
There are several aspects that make this speaker as effective and unique as it is. Some of these include a 360 degree sound system, simple wireless connection and multiple design effects for appearance purposes.
Most importantly, the lower half of the sphere houses a single powerful driver and has speaker vents cut all around the bottom, which are shaped specifically to provide consistent, clear sound no matter where it's placed in a room. This actually works quite well considering its rotating and floating design, however no matter the position, it seems to have no problems directing clear sound across the room.

There's also a green LED ring that's built into the 'equator' of the sphere to provide a bright and aesthetically pleasing light as it slowly rotates and levitates, bringing attention to the details shaped and carved into it. The LED ring is actually intense enough to look contemporary and cool in a setting with light present, however it's soft and smooth enough to provide a bright green over glow in a dark setting, adding an element of pleasing technological presence to a room.
As you may have guessed, it's designed to look like a deadly floating space station, with lines and grooves etched into it, and even a dome pattern to give it a unique appearance.
Advanced Charging and Portable Options
Next, it's worth mentioning the battery and charging concerns because as you may know; any portable, wireless speaker system, (much less one that levitates and lights up), must use a significant amount of electrical power.
The speaker sphere requires a lithium ion battery for use, which is included, and when fully charged it provides eight hours of continuous use. This is actually quite impressive, considering the advanced wireless options that are discussed next.
Charging the sphere is another matter however, as it requires the base station to be plugged in and its charging disc in contact with the sphere. This makes it quite easy to charge multiple devices at the same time with the integrated USB port mentioned previously, however it also means that once the sphere is charged you have the option of using the platform's magnetic levitation or simply bringing it with you on the go.
It's a valuable 'ease of use' feature that gives you an option of using the wireless speaker independently, although it does limit the appearance qualities and charging availability.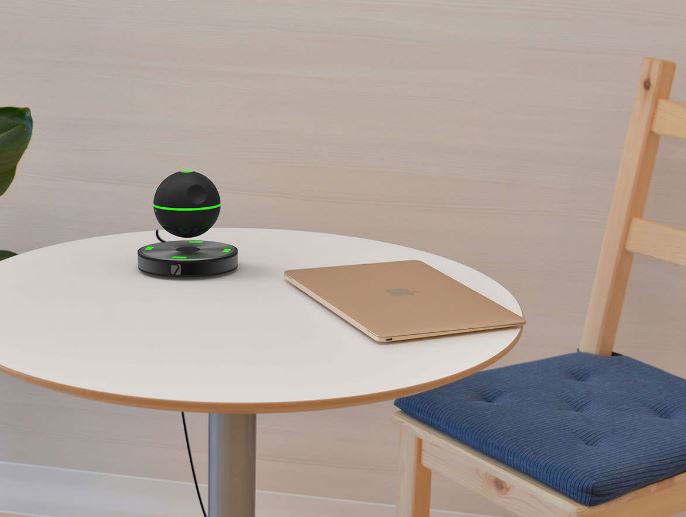 Wireless Connection Access Across All Bluetooth Devices
The speaker unit is fitted with a Bluetooth station inside the upper part of the sphere. It allows you to connect your favorite devices, including smartphones, tablets and even laptops and other devices that are Bluetooth enabled, completely wirelessly.
Considering that most wireless audio devices today are equipped with Bluetooth capability, this makes the 7 Arc Star very versatile and effective, as a wireless Bluetooth connection will mean less audio data lost, and a high quality music stream. It's also more reliable, each device communicates with each other effectively to determine the precise efficient battery usage level, leading to a longer consistent use time.
While this is mostly superseded by the ability to charge all devices while using the magnetic charging base, it's especially useful on the go. In outdoor conditions that can distort and scatter wireless connections, it also means a consistent connection so you don't experience interruptions in your music stream.
There's also an advanced connection feature that's exclusive to Android devices called Near Field Communication, which allows you to sync an Android smart phone or tablet to your 7 Arc Star almost instantly. All that it requires you to do is wave your Android device over the NFC connection spot located on the very top of the sphere. The two devices will be synced without extra effort, allowing you to stream music right away without complicated procedures.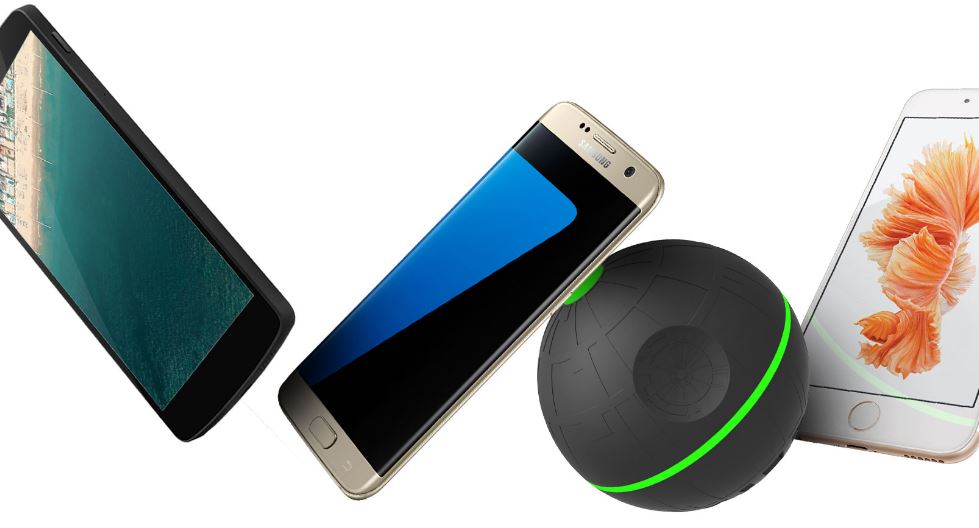 Durability and Overall Design of the Construction
7 Sense is a company that pays attention to their unique designs not only for the novelty value, but also for the quality of durability. They specialize in an array of smart and reliable electronics, from effective, tiny, high definition cameras built into a pair of glasses, to drones and smart rings.
This expertise is carried on throughout the Arc Star, from inside out, as each component from the exterior, LEDs and speaker battery is built to last.
The fact that they've chosen to go with only Bluetooth instead of also using WiFi is a reliable option that also makes it a less expensive than some in the same class. Their choice of LEDs allow it to provide lighting over many thousands of hours of use without any hiccups.
Conclusion
While novelty may be the reason you love it, the positive delivery of the qualities of sound performance, ease of use and especially appearance make it well worth the price. The 7 Sense Arc Star is a unique and creative take on the latest available technology. It looks great, works well, and sounds incredible!