Motorola has made some major advancements in wireless earbud technology in their release of the Verve Life lineup. Even their most economic option is near state of the art for its class. The inherent quality of being completely wireless puts both the VerveOnes and the VerveOnes+ not only ahead of their competition, but also easily the most desirable set within the new product line.
That being said, it's not well enough to simply let it get away with a higher price tag for this one feature alone. There are also comfort and durability considerations that will determine how effective it is to begin with.
In order to provide an accurate review overall, we're also going to rate the VerveOnes+ based on how well they perform wirelessly, and also the quality of audio that they're capable of producing over continuous, long term use. We're also going to be factoring in economy in both up front price and total cost of ownership, as some features may be more valuable and necessary than others.
While there isn't a tremendous amount of competition for a completely wireless earbud system on the market, there is enough to where it's possible to completely leave an ineffective pair in the dust, no matter how modestly priced.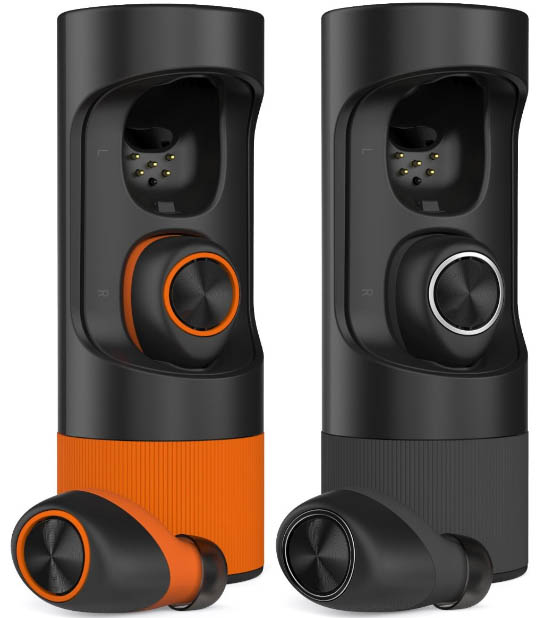 Complete Wireless Design with Charge Case
This is the primary feature we're going to focus on, and the same design is used with both the VerveOnes and the VerveOnes+, although there are distinct differences in durability between the two. The first thing you might notice about them is the cylindrical shaped black case that they're stored in, which provides a robust combination of protection and durability.
It's obvious that you're going to want a compact yet secure place to keep your wireless earbuds while you're not using them. However, what's even more important is how effective they are when they're actually in your ears.
Comfort and Fit
What they deliver is, first and foremost, six different sizes of ear gels. It's critical that you get the precise fit to keep them securely in your ear with as much comfort as possible. What's more is that a proper fit will assure better sound. Included are three different sized options that feature a small secondary cup to both increase size and provide additional stability, as well as basic small, medium and large options.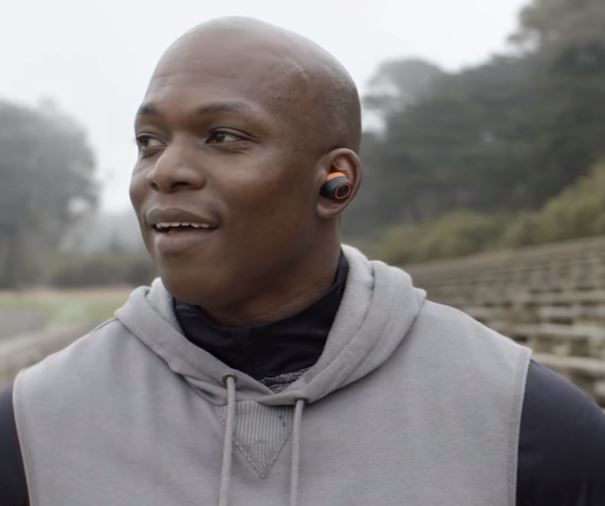 The major concern here is that wireless headphones are generally designed to make a larger variety of activities possible. With a secure and comfortable fit, you're able to enjoy them while running at the gym, playing sports or just lounging around your home.
The charging case, on the other hand, is an effective solution to limited battery charge each day as well as a portable storage space. All you do is place the earbuds in the appropriate spot within the carved out portion of the case, and whenever you're ready to charge, simply plug the included USB cable into the charge base and a USB port or electrical outlet with the appropriate power adapter.
The built-in lithium ion battery is rated to provide up to twelve hours of continuous use. Considering other products in the same market, this is quite impressive.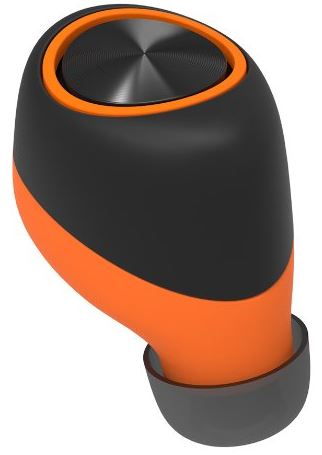 High Quality Audio Drivers and Dual Integrated Microphones
One of the performance features that both the VerveOnes and VerveOnes+ offer that make them not only more valuable, is the fact that they deliver full pass through. Full pass through is a technology that allows complex surround sound and three dimensional audio data created and engineered in a variety of media, including music, movies and video games. This is a leading edge technology that's only now being used by both media producers and high quality speaker manufacturers primarily in the high-end headphone and home theater markets.
The advanced Bluetooth technology discussed below provides excellent inherent benefits, and each of the VerveLife earbuds goes above and beyond their capabilities. That being said, the drivers themselves deliver full High Definition stereo audio through their drivers that will produce lossless audio data, no matter whether you're playing super high resolution audio or a less complex file.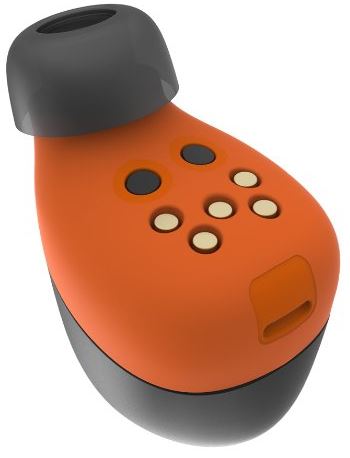 You can also adjust six different audio profiles for versatile and highly customizable equalization capabilities. This makes them perform much better than expected, no matter the range of frequencies your audio demands most.
There are also two integrated microphones, one in each earbud to deliver clarity and high quality voice reception when making calls. Since there are two and not just one, you'll be heard better on the other end when you make calls.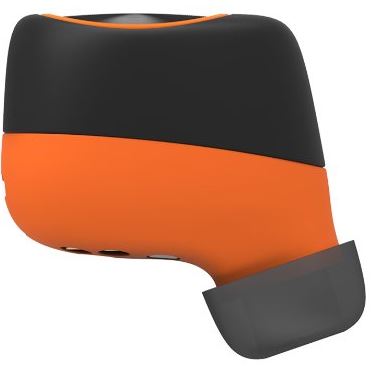 Advanced Bluetooth and Controls
Compatibility is a major consideration, and this is basically covered by the advanced Bluetooth 4.1 technology that's both backwards compatible with older Bluetooth versions and capable of connecting to a wider variety of wireless devices.
It comes as no surprise that these completely wire-free earbuds are compatible with both Android and Apple devices, as they're consistently updated for both hardware and software. On the other hand, this added compatibility makes it fast and easy to connect with other devices such as laptops and PCs. Since synced devices can communicate in both directions, it achieves a stronger, more reliable and focused connection.
One benefit to this is that each device will only use the precise amount of power required for the functionality that it's using. This means that they can easily keep up with your smartphone or tablet, and also naturally reduces their total power consumption when you're playing music.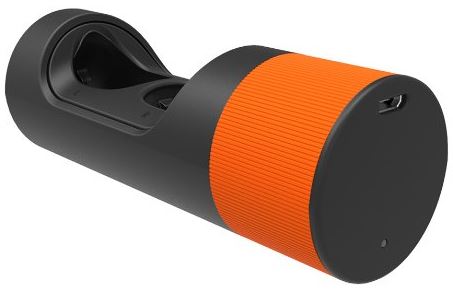 It's worth noting that they have a maximum connection range of around 33 feet, which is fairly standard and the maximum possible range that Bluetooth 4.1 can currently offer.
The controls are very straightforward and are located on the outside of each ear bud. There are seven different buttons for adjusting equalization and volume settings, as well as accessing the smart microphone.
Syncing is made simple. There's a power button that will automatically connect the two earbuds when turned on so that each time you'd like to use them, you won't have to go through a pairing process.
IP57 Water/Sweat Proof for Enhanced Durability
This feature is the major difference between the VerveOnes and the VerveOnes+, in that the latter is completely sweat and water proof. The difference is fully justifiable on both ends, because if you intend to use your ear buds outdoors or at the gym, the VerveOnes+ will surely be the superior option. They're coated in a HZO Protection layer that's applied to the internal circuitry to withstand all kinds of moisture.
In specific terms, the VerveOnes+ will endure full submersion in up to three feet of fresh water for a maximum of thirty minutes without damaging any of the components. This includes the speaker drivers and the rest of the internal electronics.
You can also use them at the gym whether you're lifting weights or running, because they're entirely sweat proof. They're capable of withstanding the large amounts of sweat that's consistently produced from an intense workout. Overall they're both very durable in terms of structural integrity however.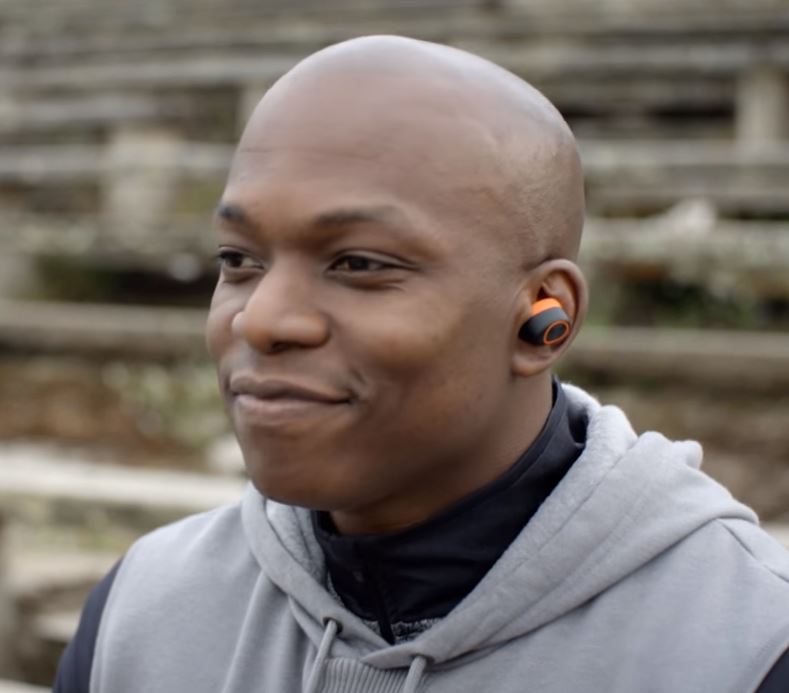 Smart App Capability
Smart functionality can either be a tremendous value or a complete waste of time, which is determined mostly by how easy they are to use and how effective they are at what you intend to use them for. One of the things that Motorola has provided for the complete line of Verve Life products is a free smart app, called Hubble Connected for Verve Life.
What it does is track your location using GPS and records the last place that your earbuds were connected. This is especially valuable if you lose or misplace them, or even if they get stolen. It can provide immediate information that can direct you exactly to where they may be. Pretty neat!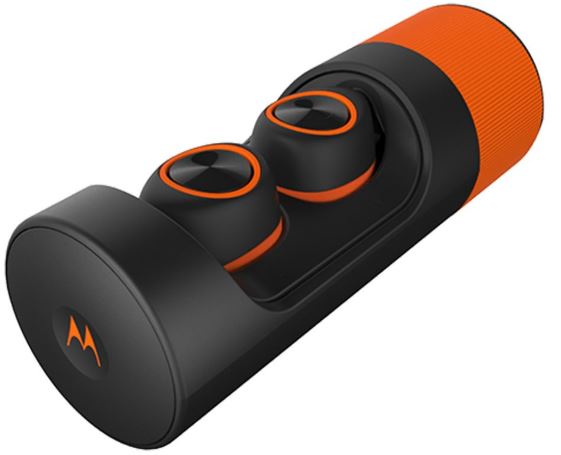 They're also compatible with Siri for voice commands with Apple smartphones and tablets. There's also full compatibility with Google Now. Google Now provides quick and easy access to hands free phone calling, as well as voice recognition and access to your list of contacts. It gives you the ability to make phone calls immediately without holding your phone or so much as lifting a finger. When combined with the dual microphone system, voice recognition is made much easier thanks to the clarity produced by audio reception on both sides.
Final Thoughts
Both the VerveOnes and the VerveOnes+ come with a considerably higher price point than the other options that you may have been looking over. They perform well, are built to last, fit comfortably and sound phenomenal. You truly do seem to 'get what you pay for' when it comes to wireless earbuds.
Meet Derek, "TechGuru," a 34-year-old technology enthusiast with a deep passion for tech innovations. With extensive experience, he specializes in gaming hardware and software, and has expertise in gadgets, custom PCs, and audio.
Besides writing about tech and reviewing new products, Derek enjoys traveling, hiking, and photography. Committed to keeping up with the latest industry trends, he aims to guide readers in making informed tech decisions.