Home television has come a long way from the family huddling around a small, black and white, boxy TV cabinet. Though the first televisions were certainly ground-breaking at the time, no one would have considered it anywhere near a cinematic experience. There was a vast difference between the blurry picture and advertising jingles of evening TV and the beauty and artistic expression possible on the big screen of a movie theater. Going to the movies was a one-of-a-kind experience that you couldn't dream of replicating in your own home.
This all began to change with the advent of flat screen, high-definition home television. Once the enormous, bulky TV cabinets slimmed down to just a few inches thick or less, people could now fit significantly larger screens in their living rooms. As prices fell and screen sizes grew, big screen, HDTVs became accessible to nearly all families that a generation ago may have had a fuzzy 19-inch tube TV.
Now more than ever, people enjoy movies and TV from the comfort of their own homes. While the movie theater experience still maintains some magic, the gap between the big screen multiplex and the comfort of your own couch has narrowed significantly. This progression has continued with the development of Ultra High Definition 4K devices and content.
Even as large as TVs have grown, a better option exists for anyone looking to truly close the gap and create a cinema-quality experience in their own home. Home theater projectors, while not nearly as common as standard LCD televisions, can create a massive, crystal-clear image provided you have the right environment.
Acer's new H7850 4K Ultra High Definition home theater projector brings 4K quality at an unprecedented value and compact size.

Projector Overview
At the time of its announcement in April 2017, the Acer H7850 took the crown as the world's smallest 4K Ultra HD projector. Measuring in at a mere 15.7 x 11.7 x 5.0 inches, the H78590 does not require a lot of room for installation.
But does this compact size make the H7850 a smart choice in any living room? While a projector creates a stunning viewing experience in the correct room, we should cover the basics on how to decide between a projector and a standard television.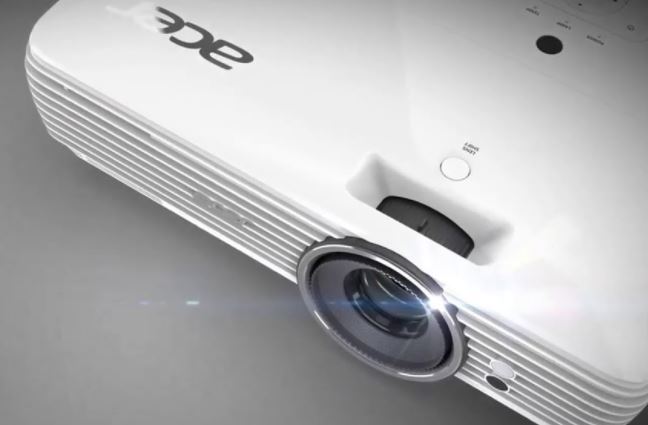 Consider the physical space of your room. You can mount a TV on just about any wall or use a stand to set it on top of a media cabinet. A projector needs an unobstructed line of sight from a good distance away which often requires mounting on the ceiling and running cables. Additionally, optimal image quality requires a projector screen. While a large TV runs in the 60 to 80-inch range, projector images tend to run over 100 inches. This works well if you happen to have a dedicated media room, but many people may not have the space or desire to arrange this setup in their primary living space.
Even if you have the space, the next hurdle to projecting a quality image comes from light. While LCD televisions use strong backlights to create a bright image in a variety of environments, projector images become easily washed out in bright rooms. This effect worsens with distance, so the larger you want your picture to display, the more darkness you require.
Finally, projector lamps can require replacement. Though longer lifespans and generally limited usage mean a realistic service life of many years, you wouldn't want to use a projector for extended everyday viewing as replacement lamps can be quite expensive.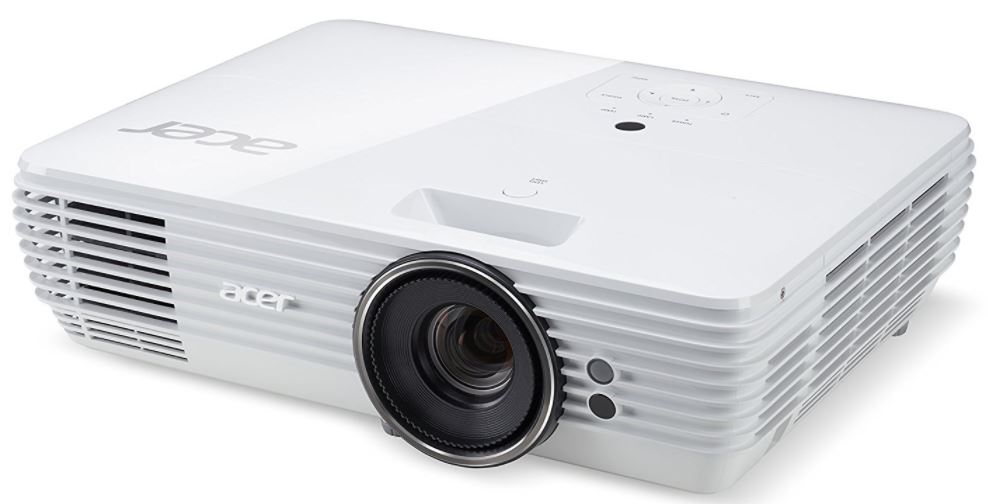 Acer H7850 Features
While 4K support certainly grabs the headlines, it's worth looking at a number of other features as well.
The 4K Ultra HD resolution, 3840 x 2160 pixels in a 16:9 aspect ratio, allows for crisp, clear images even with very large screen sizes. Acer says the H7850 can project images up to 300 inches diagonally which is a full 25 feet! Good luck finding an LCD TV anywhere near that size.
The Acer H7850 has a medium throw lens with a throw ratio between 1.39 and 2.22. The variability comes from the manual focus, manual 1.6x zoom lens. This means you would need to place the projector between 12 and 19 feet away in order to get a 120-inch image. Though dark rooms will certainly result in better image quality or allow larger images, the H7850 features an impressive 3,000 lumen brightness which should still function well in ambient light at the 120-inch mark.
In order to aid with setup, Acer added auto ceiling mount correction to automatically flip the image if the projector detects it has been flipped upside down. Also, lens shift allows you to move the image up, down, left, and right without any distortion via a simple control system. While this doesn't allow a huge amount of movement, it proved extremely helpful while fine tuning alignment with our screen.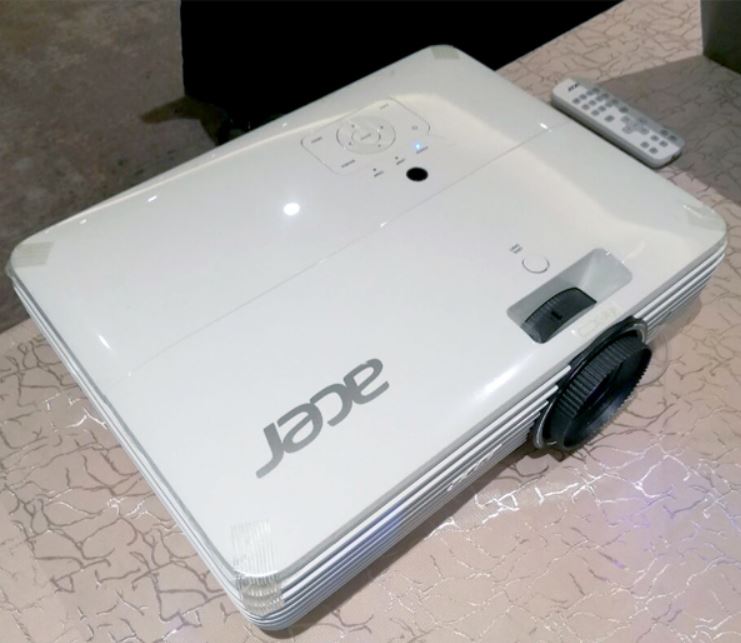 No one likes to see exposed cords, and while you could run cables to the back of your room or through your walls and ceiling, Acer has you covered. Wireless projection technology is enabled through the use of a dongle. Simply put the projector into wireless connection mode and plug the remote dongle (MWA3, sold separately) into an HDMI output from your media source for hassle-free HD content.
Aside from the wireless connection, the H7850 also includes 2 HDMI ports, USB port, RJ-45 port for Crestron eControl, VGA input and output, and audio line in and out. While carrying two 5-watt speakers for convenience, we can't imagine wanting to purchase a 4K projector without using a high-end sound system.

Technology
Let's take a closer look at the technology running the Acer H7850 for those of you who like to dive deep into the technical specs.
At the heart of this projector lies the Texas Instruments XPR DLP chip. If you're unfamiliar with DLP, an incredibly fascinating technology. A small chip less than an inch square contains millions of tiny mirrors. These mirrors correspond to the pixels on the screen. While the projector light source shines on the chip, advanced image processing software actually controls whether the mirrors pivot toward or away from the lens.
As amazing as that may already be, these pivoting mirrors are timed with a rapidly spinning color wheel with separate red, green, and blue sections. Just like standard TVs use these three colors to create a complete spectrum on-screen, this precise ballet of microscopic mirrors, pivoting multiple times per second, shines the correct light at the exact time needed to produce a lifelike picture.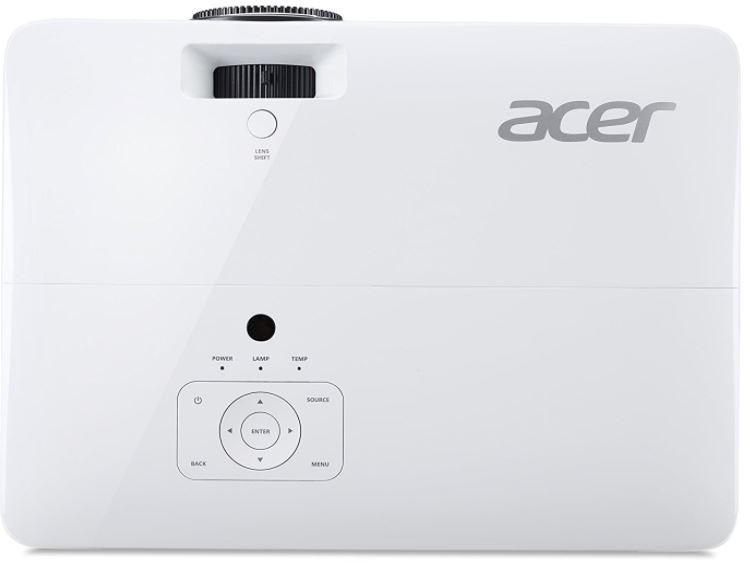 The Acer H7850 utilizes T.I.'s XPR chip. At a mere 0.67 inches, this chip contains over 4 million micro mirrors. By slightly shifting the mirrors position twice per standard frame, the XPR chip can seamlessly stitch together the 8.3 million pixels required for 4K Ultra HD and 1.07 billion colors. Frankly the fact that this technology works at all astounds us. The fact that it works to produce such an amazing image seems nothing short of magical.
Acer also adds some features to enhance the picture even further. DynamicBlack can alter image contrast on the fly to improve black levels in dark scenes. Proprietary Acer AcuMotion technology reduces motion blur in fast-moving scenes by generating intermediate frames that get inserted between the true frames. While odd that Acer creates frames that don't technically exist, in real-world usage you can't tell other than the improved smoothness for action and sports.
Usage
We were incredibly impressed with the H7850. The picture truly has to be seen to be appreciated. While we didn't test ceiling mounting, the MWA3 wireless dongle, sold separately, worked seamlessly within the room.
Fan noise was barely noticeable during viewing. Acer rates the H7850 at 27 decibels operating in economy mode and just 29 decibels in standard mode. This is about the same noise level as a quiet library. Acer rates the operating power draw at 260 watts in Eco mode and 315 watts in standard. Of course, some heat radiates from the projector, but that holds true for any other projector as well.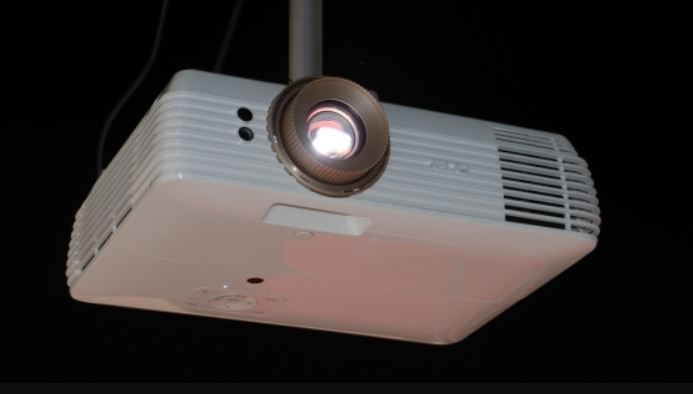 We found that economy mode was more than adequate for nighttime use in a dim or dark room. If you can run in economy mode, you certainly should. Aside from the power, noise, and heat reduction, estimated lamp life increases from 4,000 hours in standard up to 10,000 for eco. It's great to have the opportunity to switch depending on your needs and environment.
Assuming you can get a screen large enough and a location dim enough, the compact size of the H7850 means you could easily transport it for temporary outdoor use. There's nothing quite like watching a movie outdoors under the stars.
Conclusion
While Acer may not fall among the top-tier, premium manufacturers, over the years they have produced some great technology at amazing prices. The Acer H7850 4K Home Theater Projector is no exception. Stunning 4K resolution and brilliant colors would be enough on their own, but the fact that Acer fit this big technology into such a compact package has truly impressed us.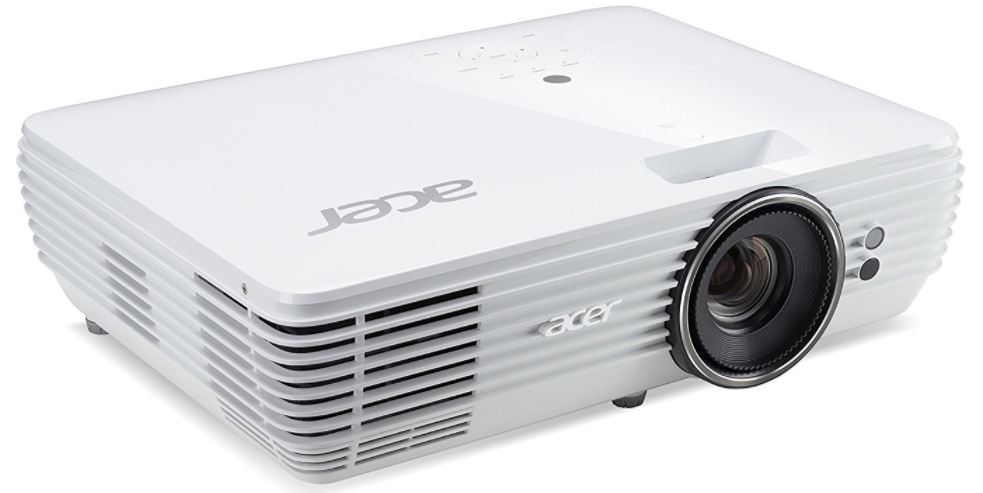 Just as HD content slowly edged out standard definition, 4K will eventually become the standard resolution for all content. Even now, Full HD pales in comparison especially when blown up to screen sizes of hundreds of inches. If your viewing space meets the criteria for a projector and you're in the market, we would strongly advise purchasing a unit that support 4K to ensure your new technology is future-proof. While most content today still only comes in at 1920 x 1080, the trickle of 4K content will surely increase rapidly as time goes on.
The feature rich and budget friendly Acer H7850 can bring the magic of the movie theater to the comfort of your home.