The Amped Wireless (REC33A) high power AC1750 Wi-Fi range extender is designed to help you redistribute your Wi-Fi signal over several extended locations. The extender is equipped with powerful amplifiers that ensure up to 10,000 square feet of expanded Wi-Fi coverage for your home or workplace network.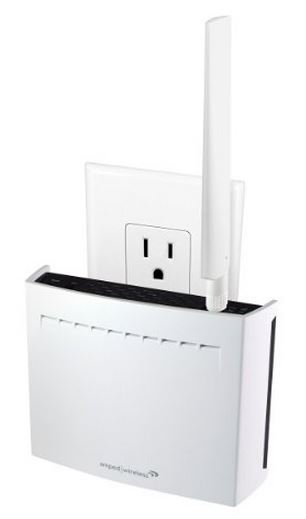 Featuring an additional 1-Gb port, this gadget allows you to connect more devices, including PCs or TVs, to your network. The extender is compatible with both single and dual Wi-Fi bands and works with a variety of Internet service provider gateways so it's compatible with just about any infastructure.
On the whole, it seems like a great investment for homes and offices. Let's explore what it has to offer and how it can improve your wireless signal.
Features and Details
This AC 1750 Wi-Fi range extender from Amped Wireless offers a quick solution to increasing your existing Wi-Fi range. It's designed to extend Wi-Fi coverage up to 10,000 square feet. It has the capacity to redistribute and improve a poor signal throughout your office, house, or property. Even though it does extend the signal, depending on thick walls and buildings, the speed can still drop significantly with the distance, even though it promotes a high speed connection in all of the redistributed locations.
The Amped Wireless REC33A WiFi Range Extender features a special LED light indicator that's supposed to determine an optimal place for your new extender. However, even when you follow the directions carefully, the speed still decreases with the distance. This is just the nature of the technology.
However, Amped Wireless still managed to make several things right. The first and foremost to mention is the compact, unobtrusive design. This small plug-in extender won't be an eyesore in your house. It has what it takes to inconspicuously fit anywhere you want it to fit. The 4 x 5.2 x 1.5 inch extender is designed in white – definitely one of the most interior-friendly colors for contemporary homes.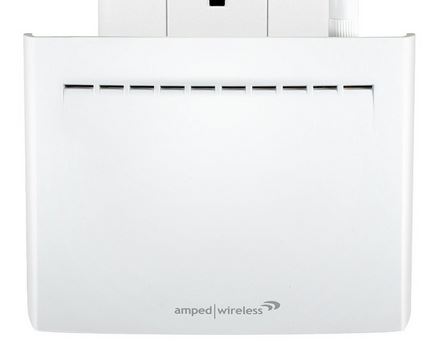 Another important feature is that it's compatible with both newer and older technologies, including 802.11a, b, g, n, and ac. Given that one of the reasons why people would actually need a Wi-Fi extender is an outdated router with limited Wi-Fi distribution capacity, compatibility with older Wi-Fi types is a great plus.
Because of the 12 built-in antennae amplifiers, the Amped Wireless REC33A extender ensures freeze-free HD and 4K video streaming. Well – if you are not too far from it. Also, do not forget about one very important technical detail. If one of your domestic devices (whether it's a smartphone, a tablet, or a laptop) has an outdated Wi-Fi chip (b-type, for instance), it will slow down the overall speed on all devices in your network.
So, extender or not, your Internet speed will stay average unless all of your gadgets have Wi-Fi chips with more or less equivalent capabilities. Not to worry – it doesn't affect streaming seriously; yet, you'll be able to see the difference during uploads and downloads, as well as speed tests.
The Amped Wireless REC33A AC 1750 Wi-Fi range extender is equipped with an additional 1-Gb port, which gives you the chance to physically connect your PC, TV, or even a game console to your network. The feature allows you to significantly boost the speed on the connected device, and you'll have the chance to enjoy a non-interrupted movie or gaming night.

Perhaps the biggest advantage is the easy setup it features. Easy setup will prove perfect for those people who don't want to replace their outdated routers simply because they don't want to go through all the trouble. Well, if this is the case, it can offer an impressively quick solution.
First, you'll need to attach the antennae and plug the extender in. The device will then connect itself and will guide you through the entire setup process. Just follow the instructions carefully, and it'll be setup and running in no time.
Finally, you should note that this Amped Wireless extender is compatible with all kinds of devices – brands and operational systems are not important. However, free versions of smart Wi-Fi analytic tools are available only to Android and Windows users.
Pros
Boosts Wi-Fi signal up to 10,000 square feet.
Ensures fast streaming and gaming.
Compact unobtrusive design.
12 powerful amplifiers.
Boost Band technology ensures maximum speed possible.
1-Gb port for connecting TVs, PCs, or game consoles.
LED indicator helps you to find an optimal location for the device.
Quick reset button.
Free Wi-Fi analytic tools for PC and Android.
Cons
Takes time to reboot.
Not the cheapest option on the market.
Signals drops significantly as the distance increases.
No Wi-Fi analytics tools for iOS and MAC OS X.
Could benefit from a remote control app.

Conclusion
Overall, the Amped Wireless (REC33A) high power AC1750 Wi-Fi range extender is a great option for those needing an extra boost of WiFi signal throughout the home or office environment. It was recently released so it's hard to tell if absolutely everyone loves it, but we're big fans of it. Although it's truly not the most inexpensive option available on the market, it's loaded with top of the line features that will surely improve your network infrastructure. With 12 integrated, super powerful amplifiers, it has the ability to cover up to 10,000 square feet – but do keep in mind that the physical location of your wireless device can have a lot to do with that. Plan ahead and figure out how you'll integrate it onto your network, and you won't look back.