Having fast, reliable, and secure WiFi throughout your home, office or business is essential if you plan on using your high-speed Internet connection to its full advantage. Nobody likes to deal with a problematic WiFi network that's slow, unresponsive or spotty in coverage because after all, a poor connection can bring huge frustrations.
Rather than upgrading your router, it might be a better idea to install a WiFi range extender to boost your wireless signal throughout an expansive area. Designed to amplify and extend your existing router's coverage, an extender can be placed anywhere in your home, office or business to boost fast connection speeds anywhere you need them.
Amped Wireless, one of the leading manufacturers of high power networking devices, has recently released their new ATHENA-EX AC2600 (RE2600M) WiFi Range Extender. It's been carefully designed to thoroughly extend and repeat the wireless range of any router by up to 15,000 square feet while offering an assortment of favorable features that improve speed, latency, security and reliability. Let's take a closer look to see exactly what it's capable of.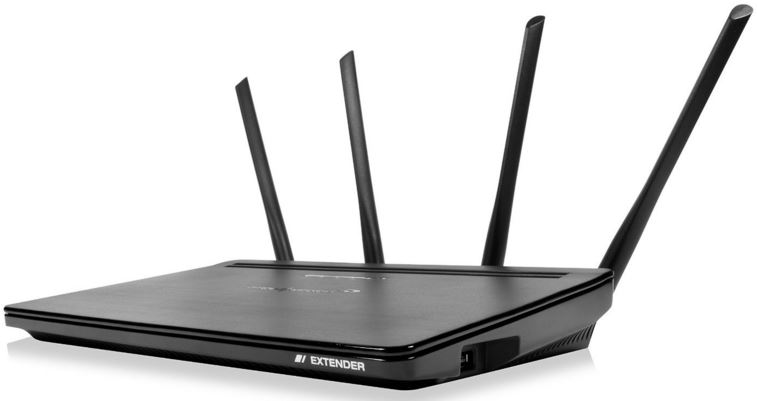 Most Powerful
Known as the most powerful WiFi range extender that's available on the market today, the Amped Wireless ATHENA-EX AC2600 (RE2600M) is specifically designed for the large, multi-device environment that you'll find in most household or office environments. Equipped with a super powerful dual-core processor and paired beside sixteen high power amplifiers and four high gain antennas, it's fully capable of delivering improved wireless speeds for areas up to 15,000 feet.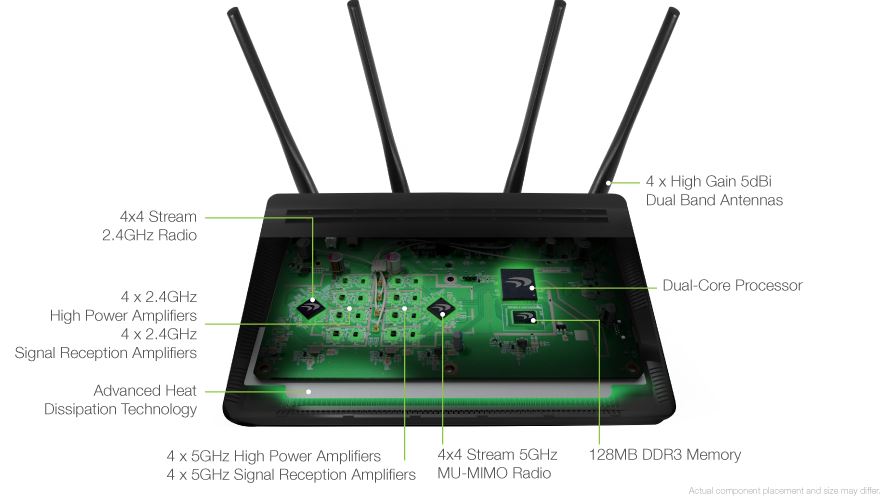 As the first AC2600-specific range extender available, there's no other extender currently available that can offer the same speeds at up to 2.53 Gbps through two different bands. With it, your can experience 800 Mbps on the 2.4 Ghz channel and 1733 Mbps on the 5 Ghz channel – more than enough transfer speed for virtually any task at hand. Ideal for the busy network environment with multiple devices and/or clients sharing the same Internet connection. It's a great choice for those who enjoy simultaneous video gaming, high-definition video streaming, multi-file downloading, or just basic browsing with the highest possible speeds.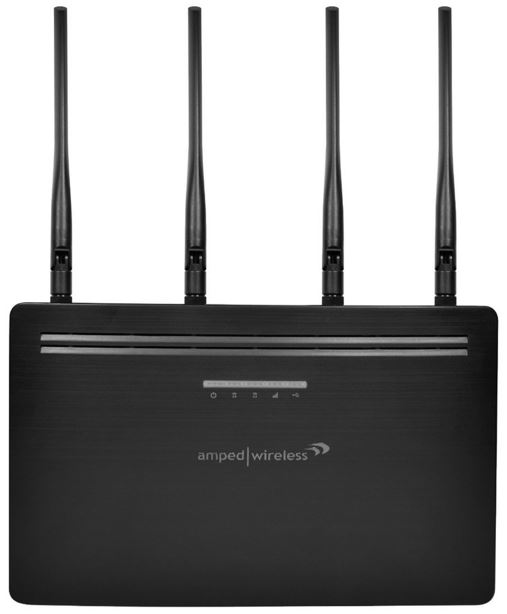 MU-MIMO
One of the most anticipated features of the RE2600M is the MU-MIMO or "Multi-User, Multiple-Input, Multiple-Output" technology. Rather than sending data to a single device at a time, MU-MIMO assures that there's plenty of bandwidth to go around for everyone who needs it. Ideal for a busy network environment with a lot of people using the connection at the same time, MU-MIMO utilizes all of the antennas and amplifiers together to communicate in a more efficient way, assuring the highest possible transfer speeds throughout all hours of the day.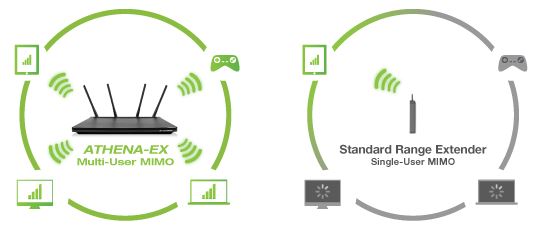 Connections and Ports
With it's sleek and slim appearance, you initially wouldn't be able to tell which specific connectors and ports are available on the ATHENA-EX. Located on the back side is a wide range of options including four gigabit network ports for attaching all of your wired devices, an LED on/off button, the power button, a WPS 1-touch setup button, and four gold-plated RJ-SMA connectors for attaching the four external high-gain antennas. Also, there are two USB ports – one located on the back that's USB 2.0 and one located on the side that's USB 3.0, offering the fastest transfer speeds for attaching network storage, an external hard drive, or virtually any peripheral.

BoostBand Technology
In order to deliver the best speeds possible, Amped Wireless made sure to include their very own "Boost Band" technology that increases the overall speed and performance of your extended network. It does this by sending dual band network traffic through a single band between your router and extender. If one of the bands is too weak for this, it'll then utilize the other band – but only if it has to. This makes multiple connections faster than usual since data is routed in a much more efficient manner.

Easy to Use
Setting up the ATHENA-EX is a very straightforward task that can be easily completed without the need for any prior knowledge or technical expertise. Once you've unboxed it and plugged it in, you'll need to connect your tablet, smartphone, or PC to the range extender. Access the intuitive setup menu for a full range of different configuration options and change any values you'd like. Next, scan for your network and enter your router's password for authentication. From there, you'll be finished and ready to use it wherever you plug it in. Best of all, there's also a step by step video installation guide that's included to directly walk you through the setup process.
If you're using an Android or Windows device, we highly recommend using the free Amped Wireless WiFi Analytics Tool that directly helps you analyze and optimize your network to it's best potential.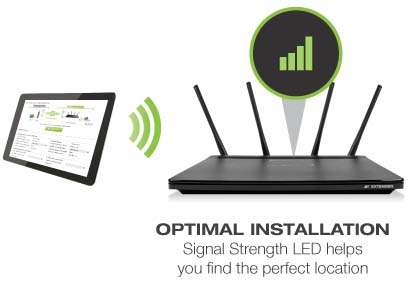 One thing that we really found to be useful was the Signal Strength LED. Located on the center, top-side is a small LED that will tell you the current network strength so you can find the perfect, most-ideal location to place the extender. It's very helpful for finding where you need to improve the signal the most without having to use any complicated setting.
Fully Compatible
Whenever you decide to add a new device or peripheral to your network, it can often cause headaches with compatibility issues. That's not the case with the ATHENA-EX AC2600 (RE2600M). It's designed for full compatibility between all brands of routers and devices including all Operating Systems like Mac, Windows, Linux, Unix, etc. It works with AirPlay, AirPrint, and Home Sharing features that are Mac-specific and often not supported by all manufacturers.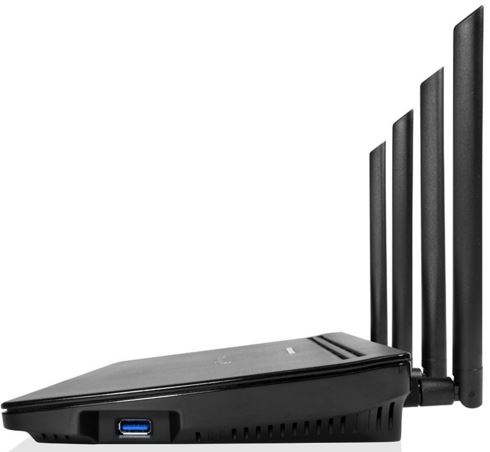 Key Features
Increase wireless coverage by up to 15,000 square feet.
With 16 amplifiers and 4 external antennas, it can fully eliminate dead-zones.
AC2600 (2.53 Gbps) WiFi speeds through dual bands 2.4 and 5 Ghz.
Poweful dual core processor that's designed for heavy-traffic and constant use.
BoostBand Technology adds efficiency to improve latency.
Create your own guest networks for visiting company.
Fully compatible with virtually any OS or platform.
Equipped with USB 3.0 for the best solution to network storage and file sharing.
Simple setup process that requires no experience.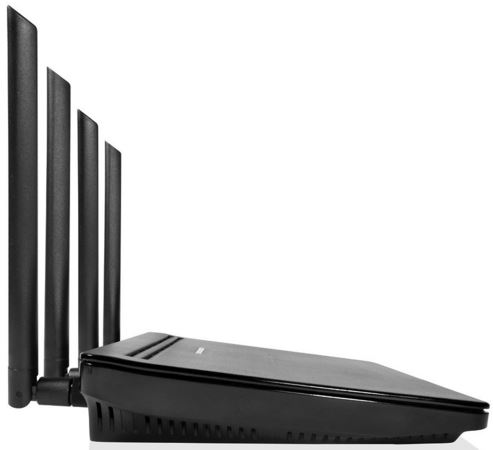 Final Thoughts
Anyone who's had to deal with a slow or unreliable WiFi connection can likely share the same frustration. Sometimes buying the most powerful and latest router simply isn't enough if you have a network infrastructure that's expansive or for a large area. A high-power extender like the Amped Wireless ATHENA-EX AC2600 (RE2600M) is an excellent solution for those needing to boost their WiFi signal to it's best abilities with improved coverage.
Capable of offering 2.53 Gbps through dual bands, and paired with some of the latest advancements in wireless networking like MU-MIMO and BoostBand, we feel that the ATHENA-EX is a fantastic choice. Ideal for high-end, resource-intensive tasks like HD video streaming and online gaming, it promises no lag, no buffering, and full compatibility between virtually any and all devices that are out there.
Best of all, Amped Wireless is well-known for their fantastic US-based support that's always readily available to you 7 days a week. Overall, a great choice for those needing the perfect blend of speed and reliability in any area of their home, office or business.