andobil Easyfly
Pros
Double-sided powerful magnetic grip.
Rotating ring supports your phone vertically or horizontally.
Includes iron rings and mounting plates.
Easy to reposition.
Sleek and attractive appearance.
These days, phone cases are getting more features than ever. There are stands to prop up your phone, clips to attach to a dash mount, and all kinds of gadgets. There are even magnetic cases, which can stick to a magnetic plate without interfering with wireless chargers. That said, phone cases as a concept are still in their infancy; there's still a lot of innovating to be done.
The earliest phone cases were nothing like the ones we use today. They were more like belt pouches, designed for early cell phones that were far too big for your pocket. But as phones got smaller, phone cases fell out of favor.
Look at a flip phone or even something blocky like a Nokia, and it slips right into your pocket. Those phones were also pretty durable and drop-resistant. From the 90s through the mid-2000s, there wasn't any practical purpose for a phone case.
Then came smartphones. With their exposed screens, a screen protector is a necessity. So much better if that screen protector comes with a secure housing encloses the entire phone. Once phone cases became popular again, manufacturers dropped their durability standards. Why make a tough phone when people will just put a case on it anyway? As a result, your phone case is more than just an optional accessory – it's a necessity.
So why not make your case as functional as possible? You're already carrying some extra bulk, so extra features are always welcome. The andobil Easyfly Mag Phone Grip is a great example of a "smart" smartphone case accessory.
andobil Easyfly Mag Phone Grip
Andobil is a well-known manufacturer of mobile phone accessories. They've been producing portable accessories for several years now. Overall, they've gained a reputation for high-quality, smart and useful upgrades that make your smartphone even better.
Today, we'll be reviewing the andobil Easyfly Mag Phone Grip. This magnetic phone ring holder not only firmly holds to your phone, it can also attach your phone to any magnetic surface. It also serves as a stand, with a flip-out ring that can prop your phone in a portrait or landscape orientation. Best of all, you can probably keep using the phone case you already have.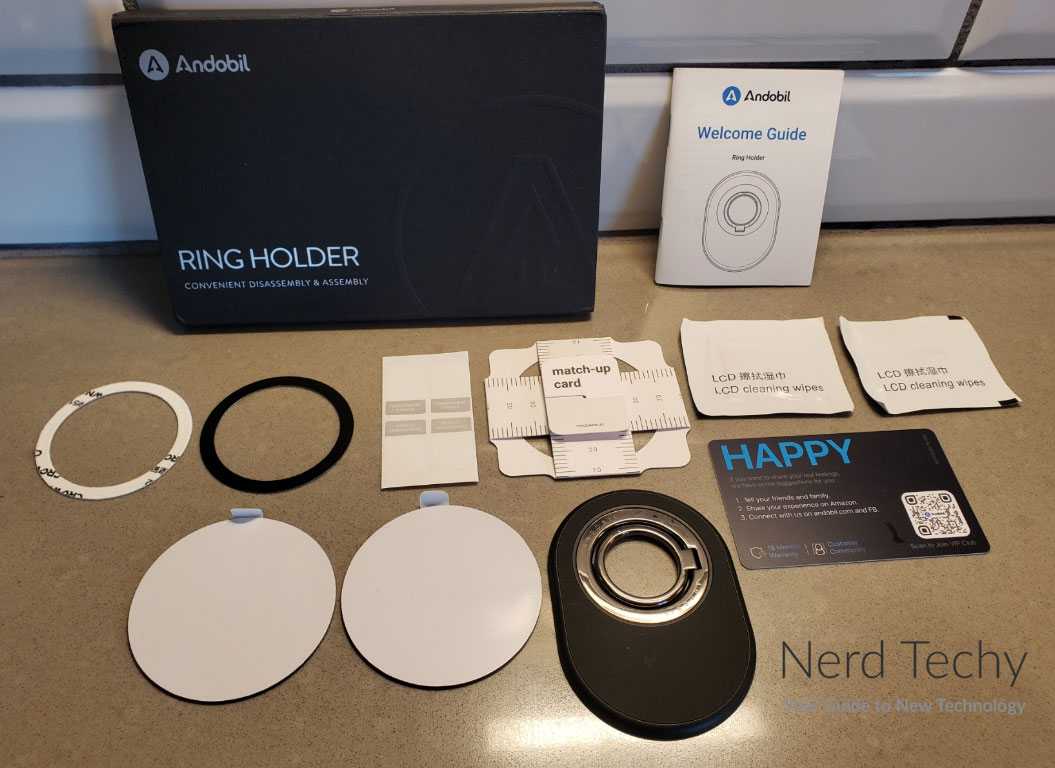 Of course, there are a number of things we'll have to consider. How good is the quality, and how durable is it? Are the ergonomics well thought out, and does it fit comfortably in your pocket? Most importantly, is the magnet secure enough that you can rely on it? We'll need to answer all of those questions, as well as talk about what makes a good phone case. After that, we'll have a better insight into what we're dealing with. Let's dig in, and see what we come up with!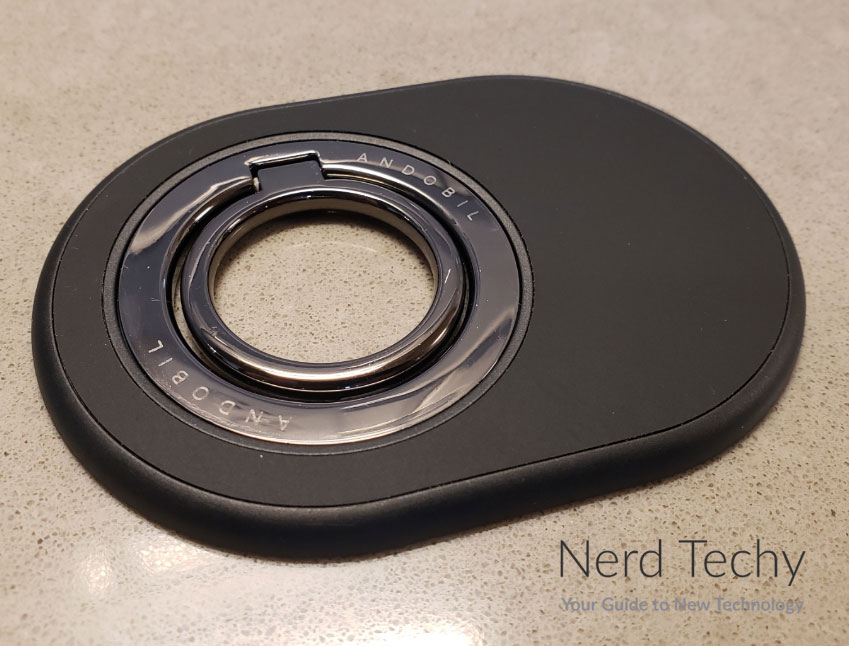 Overall Design
The andobil Easyfly Mag Phone Grip isn't an entire phone case. It's a grip that attaches to the back of your case. It's slimmer than your smartphone, flat, and oval in shape. The front side that sits against your phone is flat, with a recessed ring cut out into it. The back side is also flat, but it's beveled around the edges. This makes it comfortable to hold on to, since it doesn't present any hard corners.
The main feature of the Easyfly is its special dual-sided magnet. On one side, it's designed to cling to your phone. On the other, it can stick to a fridge or anything else that's made of iron or steel. If you're at the gym, you can slap your phone directly to a weight bench. The integrated magnet is very powerful. In fact, it's rated for 70 Newtons (of force) on your phone and 18 Newtons on the back. That's basically a scientific way of saying your phone absolutely isn't going anywhere once it's attached to something.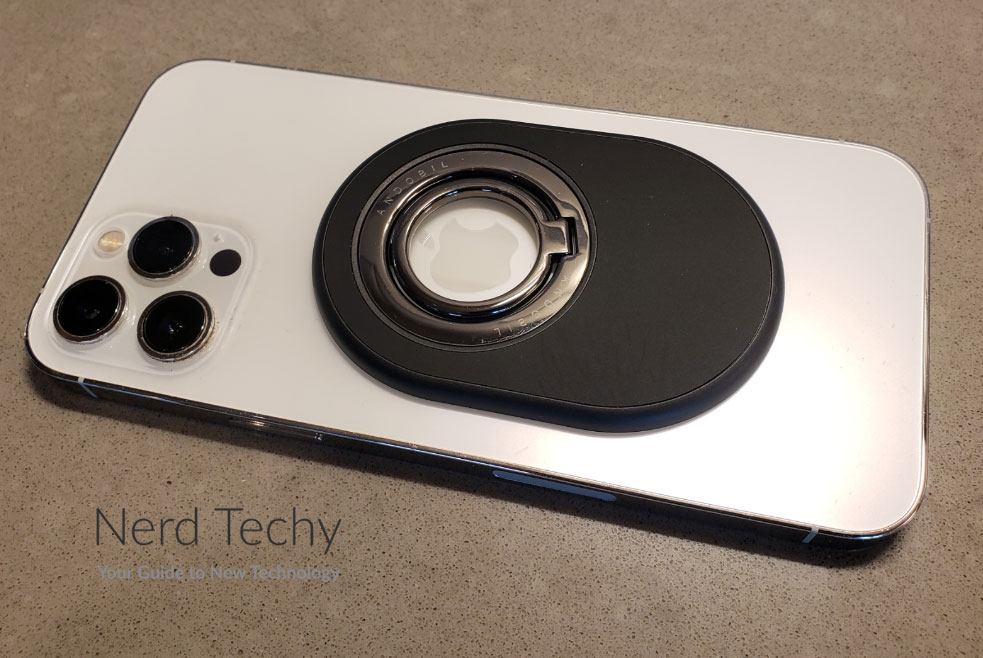 There's a circular cutout in the middle of the grip, which has a metal ring inside it. The ring is hinged, and can flip out and rotate around. This serves a couple of purposes. To begin with, it makes it easier to hold onto your phone. You can slip a finger through it and stabilize your phone in your hand. This makes selfies simpler, as well as walking around with your phone during a video chat. And since the ring folds back into place, it doesn't take up extra space in your pocket.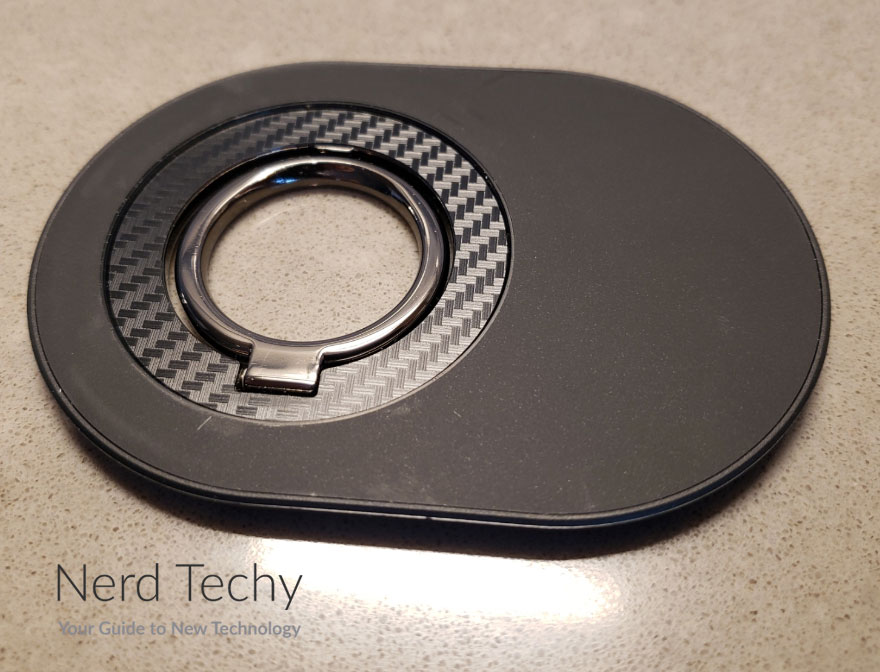 In total, the ring can flip out to an angle of 125 degrees, and it can rotate 360 degrees. As a result, it can also be used as a stand. It's stiff enough to support any phone, both in portrait or landscape orientation. This is great for gaming or watching videos, since you don't need to purchase a separate phone stand. Your stand is also with you 24/7, so it's always there when you need it.
Andobil backs the Easyfly with a 24-month warranty, which is pretty impressive for a phone accessory. You don't have to worry about premature failure.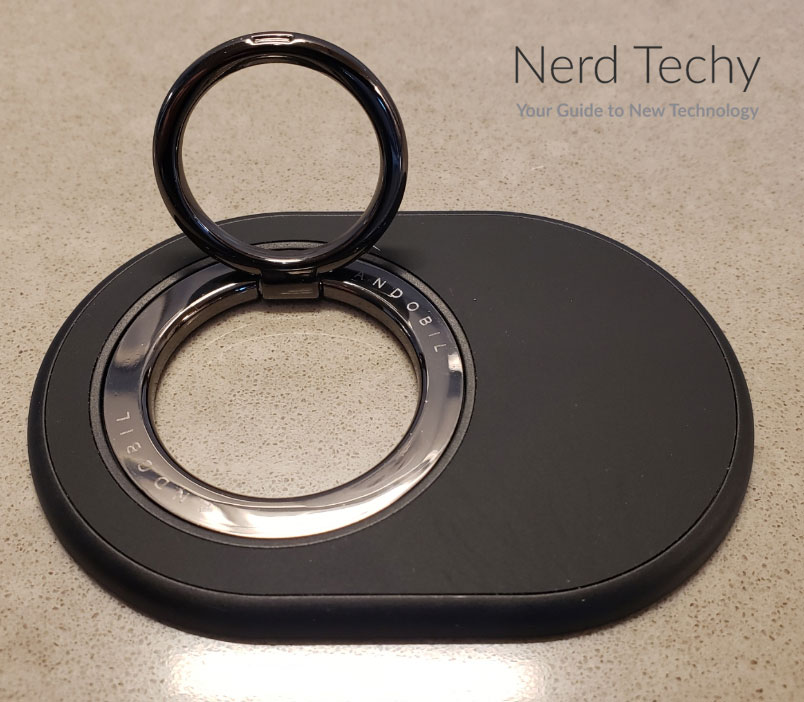 Attachment and Compatibility
If you already have a magnetic phone case like Apple's MagSafe case, attaching it is easy. Just stick the Easyfly to the back of your phone, and you're good to go. But what if you don't have a magnetic case?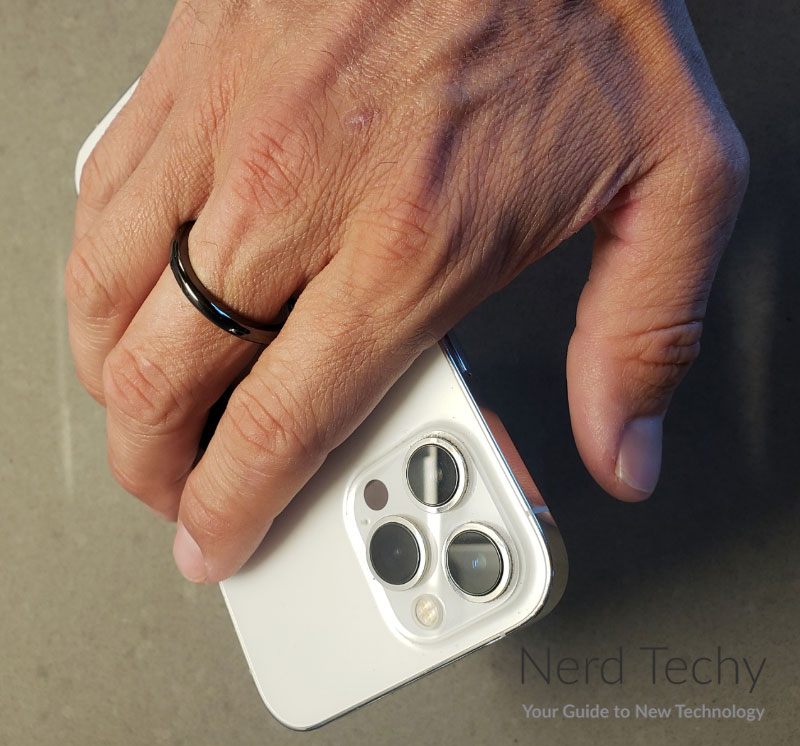 In that case, there's a pair of iron rings in the package. These have a peel and stick backing, and you can stick one to the back of your phone case. The adhesive is even stronger than the magnet, so it won't come loose even with frequent use.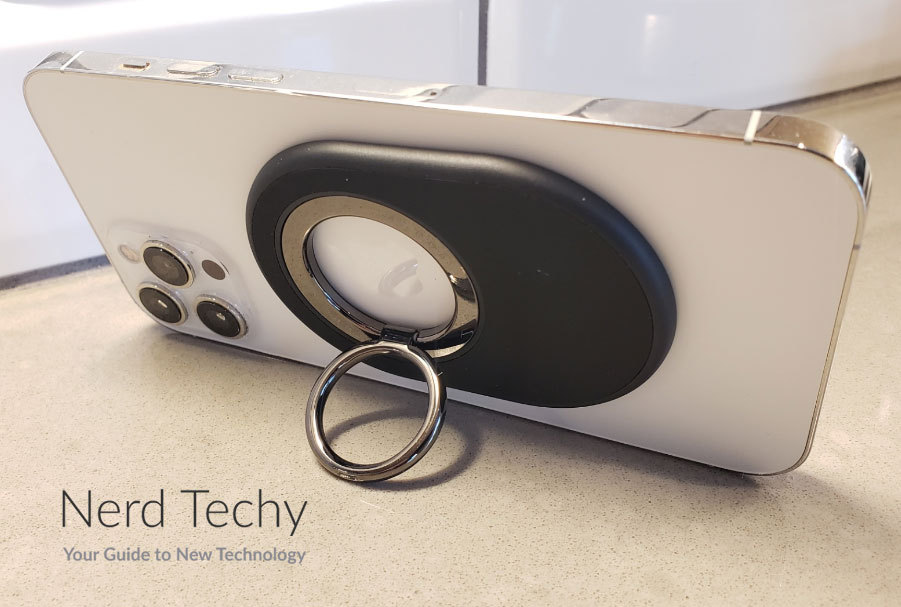 You also get a set of circular iron sheets with a similar peel and stick backing. This lets you turn any surface in your house into a phone mount. Put one on your kitchen wall for while you're cooking. Stick one near your toilet. Slap one on the wall next to your bed. Wherever you want to watch videos, you now have somewhere to stick your phone.
If you're looking for even more magnetic accessories, take a look at the Pitaka MagEZ Slider. This is a desktop wireless charger with a magnetic plate that supports your phone at an angle. It doubles as a stand, and it can simultaneously charger your earbuds and your smart watch.
Popular Magnetic Phone Case Features
If your phone case doesn't have a flat back, you'll need one to attach the Easyfly. In that case, you'll need to look for a phone case with a flat back. It may as well be magnetic while you're at it, so you won't have to mess with the iron ring. Instead, you can slap the Easyfly right on the back. While you're shopping around, you might run into some of these features. Here's what you should look for, and what you should avoid:
Cases with magnetic backs – These cases are designed to mount on a metal surface, and are compatible with many specialized mounts. This is the perfect type of case to pair with the Easyfly. You'll get the best results, and you can also use the iron mounting discs without the grip.
Cases with magnetic covers – These are wallet-style cases that close to cover your entire phone. They secure with a magnet, but they themselves are not magnetic. Some of these cases are technically compatible with the Easyfly. However, we'd avoid this type of case if you want to mount your phone anywhere. The open cover can get in the way, and isn't ideal for watching videos.
As you can see, a "magnetic case" isn't always a magnetic case. You have to be careful what you're buying, and make sure you're getting the features you need. Of course, there's no rule saying you have to use a magnetic case. If you like a non-magnetic case, most will work just fine with the Easyfly. Just make sure your case has a smooth, flat back.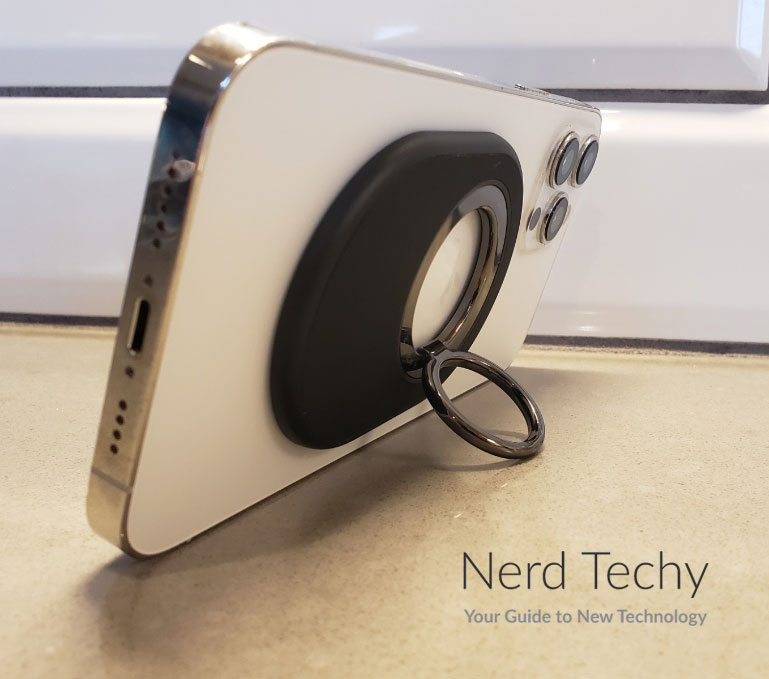 What Makes a Good Phone Case?
If you do have to buy a new case, you might as well make it a good one. Before we wrap up, let's talk about what makes one phone case better than another.
First off, look at the quality of the material. If it's loose and rubbery, this is a bad sign. These cases can come open by mistake particularly if they're being tugged by a magnet on the back. A TPU or polycarbonate case will perform much better, as will a metal case. We'd avoid leather or faux leather because there would be no good way to attach the Easyfly.
Along the same lines, think about durability. If you need your phone to take a lot of abuse, get a fat, beefy case that offers a lot of protection. If your phone is rarely in any danger, you can get away with a slimmer, more lightweight case.
Finally, think about your other smartphone accessories. If you have a particular bracket mount, will the new case fit? If you have a wireless charger, is the case wireless compatible? Make sure your new case will work with all of these devices, or you'll need to replace them. Perhaps the most obvious scenario is for iPhone users. If you have an iPhone, there's really no excuse not to have a MagSafe case.
CASEKOO's New iPhone 14 Cases
If you plan on investing in Apple's new iPhone 14, you'll need a high quality case to go with it. Although it has yet to be officially released, CASKEOO has developed and manufactured their own line-up of iPhone 14 cases with each one differing slightly from one another.
ClearPrime™
As an all-clear case, the ClearPrime™ Series by CASEKOO is a crystal-clear case that's designed to stay that way. Typically, all-clear phone cases tend to yellow over the course of time. Normal use, heat, UV light and other factors may contribute to this natural yellowing that always seems to happen with generic clear cases.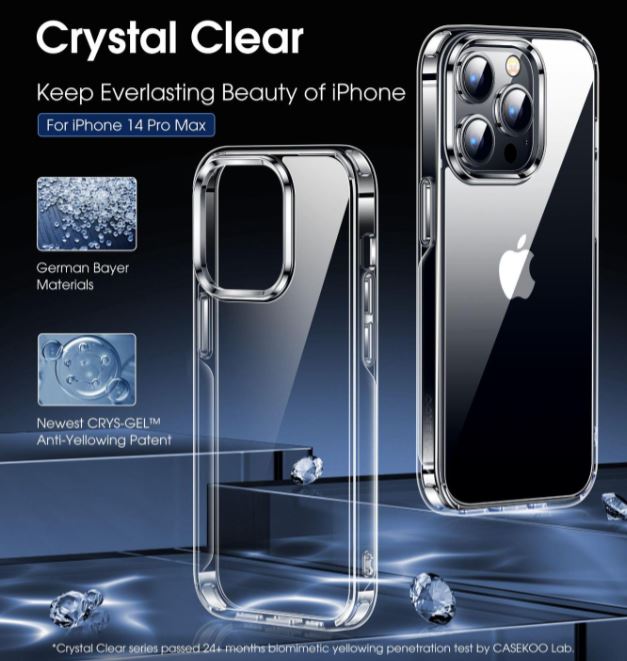 CASEKOO utilizes a specialized "CRYS-GEL" filler that's specifically designed to combat yellowing and stay clear for years to come. Although the ClearPrime™ is minimalist in design, they've added military-grade proection from 1.2 meters. Ultimately, this means that it's built to withstand impact and shock from over 3 feet. Best of all, this added protection doesn't add any noticeable bulk to the overall size and shape of the case.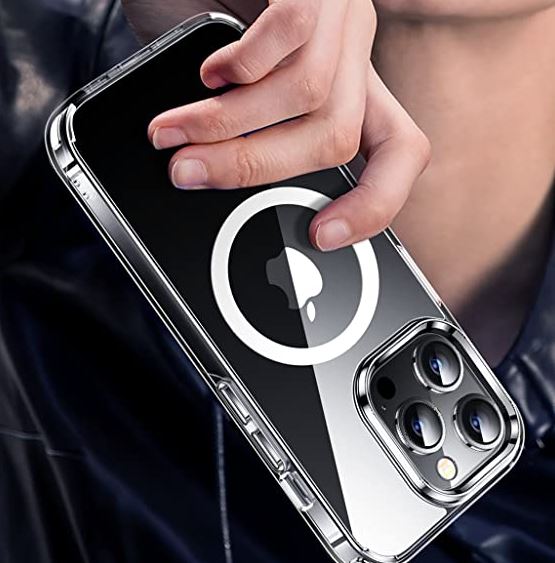 MagClear
For those who need even better protection, look no further than CASEKOO's MagClear. With the same anti-yellowing properties as the ClearPrime™, you're assured that it'll keep its original color for years to come. However, the MagClear is a bit burlier than the standard ClearPrime™. As a result, it's built with 10 foot (3+ meter) shock protection.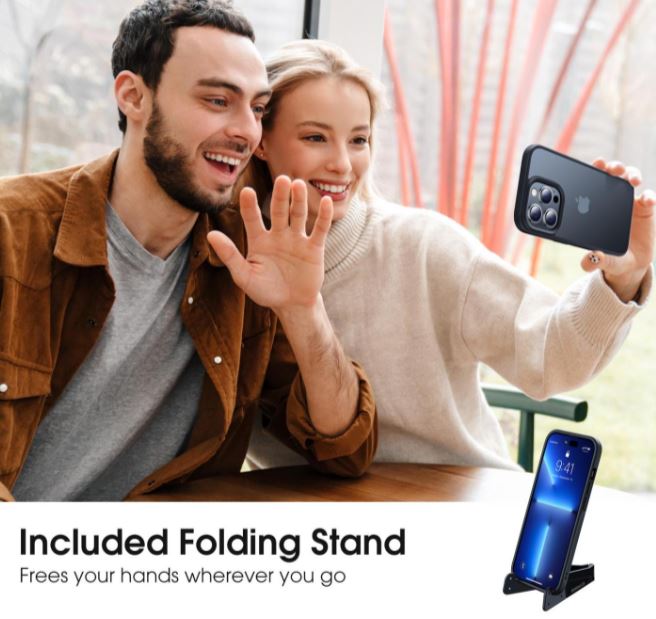 MagicStand
The MagicStand case is another CASEKOO offering that's a bit more intuitive in design. It boasts nearly all of the same features as the aformentioned, but has a built-in horizontal and vertical stand that folds-in while not in use. Rated for falls up to 2.4 meters, it's not quite as rugged as the MagClear but is double protected when compared to the standard ClearPrime™ series. Best of all, the MagicStand cases are fully compatible with all of the accessories that utilize the iPhone 14's magnetic suction.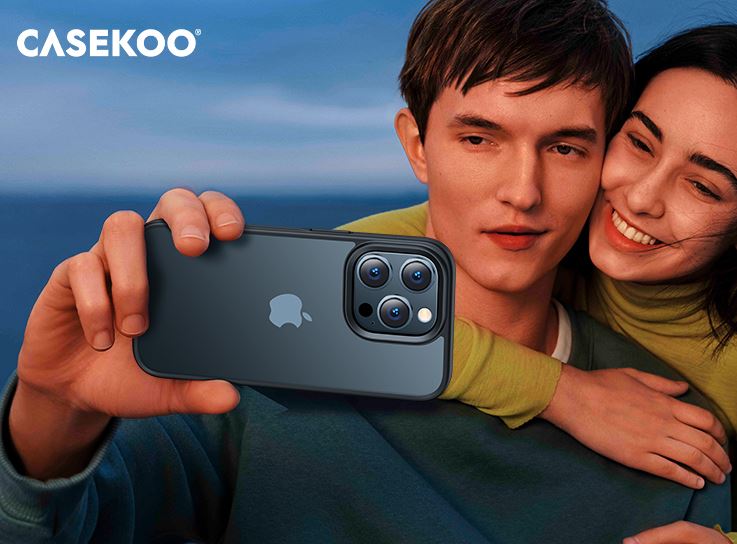 KooShock™
Last but certainly not least, CASEKOO released the KooShock™ series of iPhone 14 cases. With a sleek, slimmed down appearance, it's easy to achieve a streamlined look. Available in a wide range of colors, users are able to select their favorite style without any of the added bulk of a typical rugged case.
The KooShock™ is seen as a slim, basic case, but still offers plenty of protection for most everyday use. As with any of the cases that CASEKOO has recently released, none of their offerings impede the functionality and features of the new iPhone 14. That said, they're all built with proper camera and screen protection with a recessed lip extruding above the screen and camera lenses. In addition, they're all equipped with an anti-fingerprint and non-slip exterior, keeping the sleek style and clear appearance that everyone desires.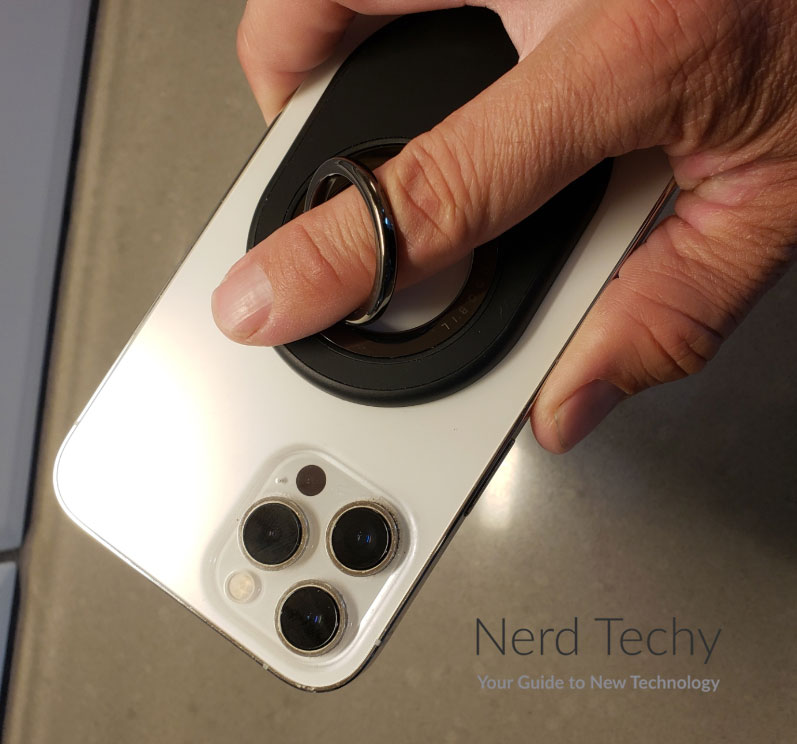 Final Verdict
The andobil Easyfly Mag Phone Grip is a well-designed little gadget. The powerful magnets do a great job at sticking to your phone and remaining attached to any ferrous surface. The rotating ring is effective both for holding your phone and for using it as a stand. It's a little bit pricey for what you're getting. But it's very durable and comes with a two-year warranty. When it comes to engineering, we had zero complaints.