5TH WHEEL M2
Pros
Relatively lightweight, portable design.
Non-Zero Start Mode makes riding safer.
Three speed settings.
Wide, stable riding deck.
Durable magnesium alloy frame.
Cons
Hard tires are not very forgiving.
Could stand to be more water-resistant.
Riding deck is tough to clean.
Getting around American cities can be a challenge. In many places, the infrastructure is primarily designed for cars. If you don't drive – or you don't fancy driving in rush-hour traffic – it can be tough to find other options.
Public transportation may be infrequent or inconvenient. Even when it's not, it may not get you exactly where you need to go. Then you end up having to walk several blocks to get to your destination.
A bicycle is one solution. It's certainly a good way to stay in shape! But bicycles are large, and can be inconvenient to store. And depending on where you're going, you may not want to work up a sweat on your way there. Instead, many people are turning to electric scooters as an alternative.
If you think electric scooters are just toys, your information is a few years out of date. Battery technology is advancing by leaps and bounds, as is electric motor technology. In the past few years, electric scooters have become a viable mode of transport.
You can zip around town much faster than you can on foot, and without working up a sweat. And you don't have the same storage issues that you have with a bike. But it's important to be discriminating. Take your time and investigate your options. That way, you'll be able to find the best scooter for your needs.
5TH WHEEL M2 Electric Scooter
Today, we'll be reviewing the 5TH WHEEL M2 Electric Scooter. This is a zippy little scooter with three speed settings. It's made from magnesium alloy, which is extremely durable. It's easy to store when you're not riding it, and it has a wide riding deck with a rubberized top surface. It also has powerful brakes, and several other useful features.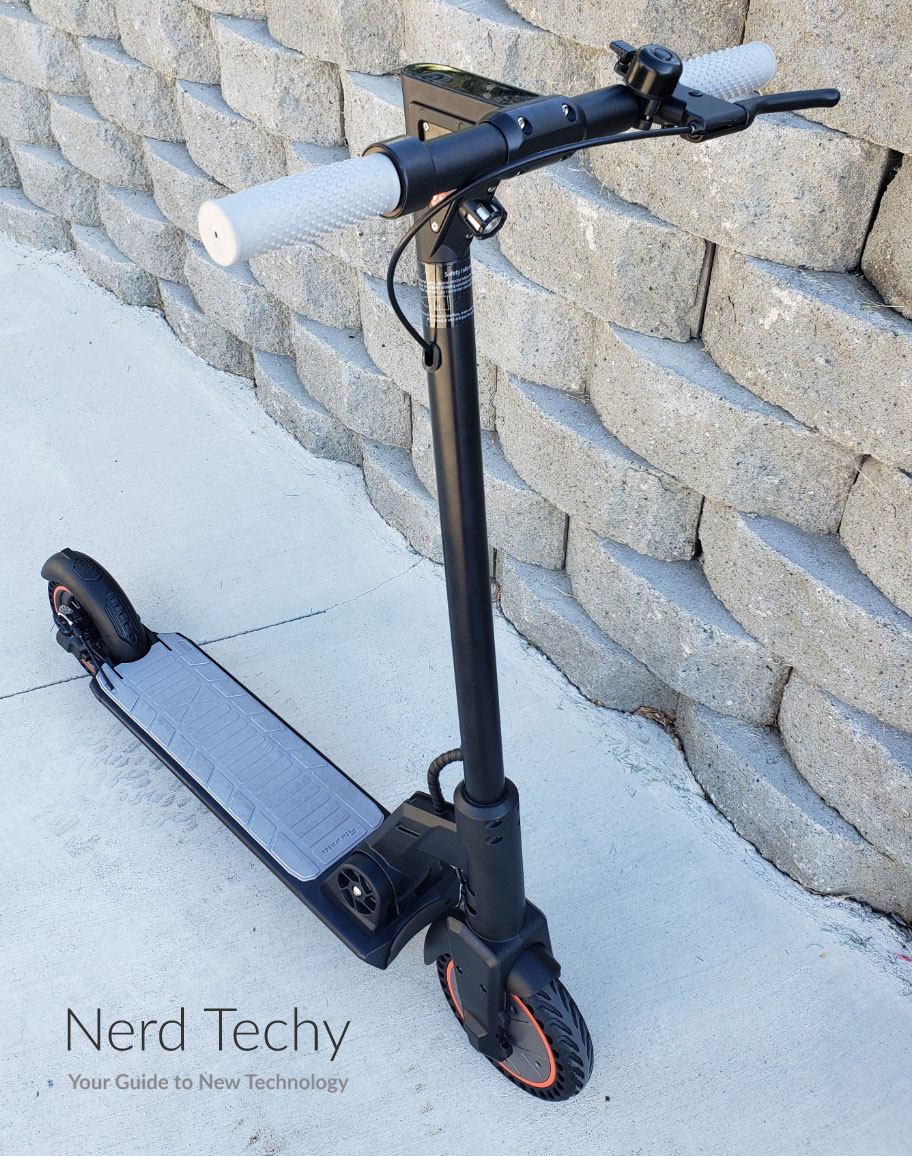 But is it the best choice for you? To find out, we're going to have to do a little digging. We'll have to look at the design, and how it's engineered. We'll talk about how you operate it, and how you can expect it to perform. In addition, we'll also need to discuss the battery life, along with any relevant safety features. After that, we'll be ready to hand over our verdict. Let's begin!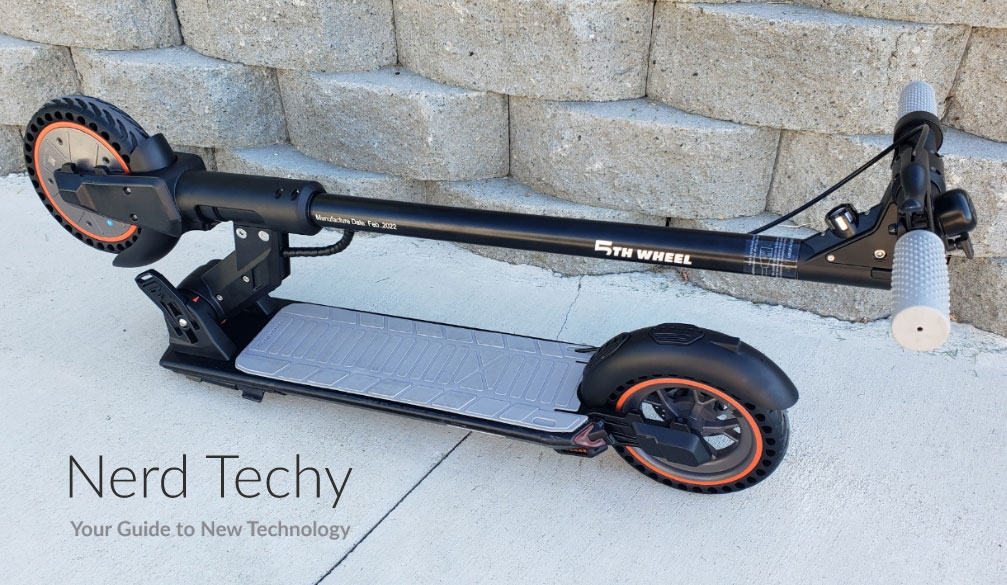 Overall Design
The 5th WHEEL M2 Electric Scooter is shaped just like the scooters you rode as a kid. But it's far more robust, with a magnesium alloy frame that can take a lot of punishment. It has a slick, blacked-out design, with grey highlights on the deck and handlebars. And it's capable of supporting up to 220 pounds. Keep in mind that this includes anything you're carrying.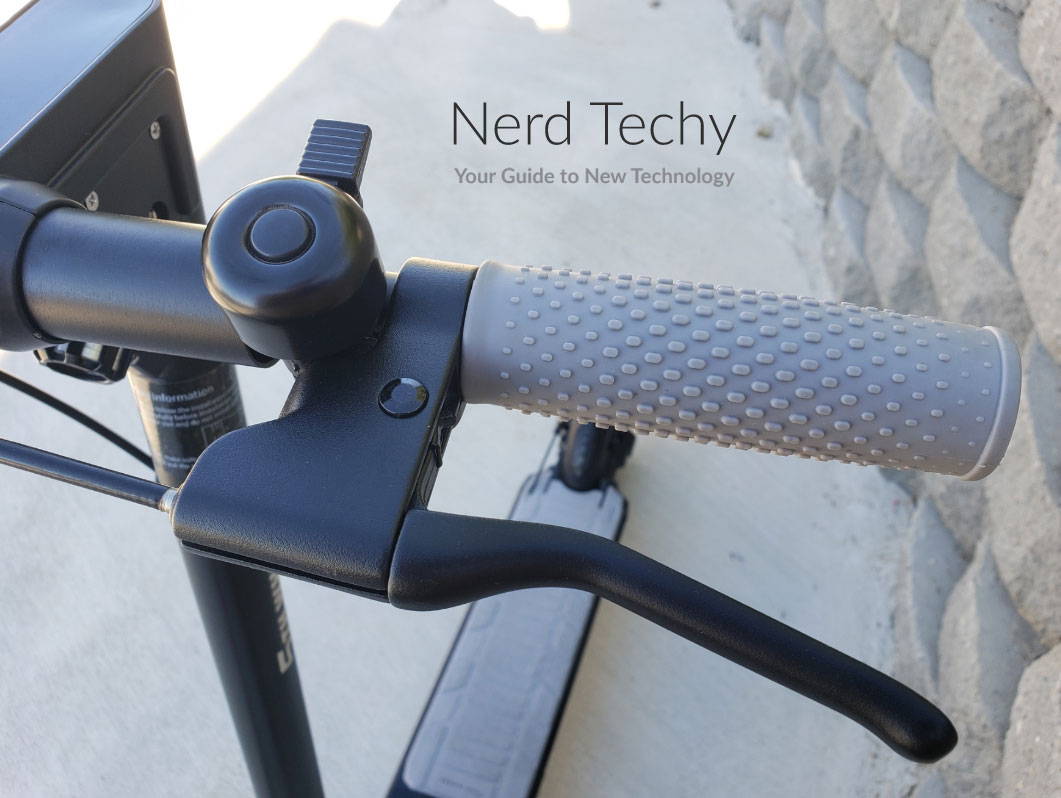 When you first open the box, you'll need to do some minimal assembly. The handlebars need to be attached to the top of the scooter, and you need to connect the display wire. It's very easy, and should take you only about five minutes. When fully assembled, it stands 43.3 inches high, with a length of 43.3 inches.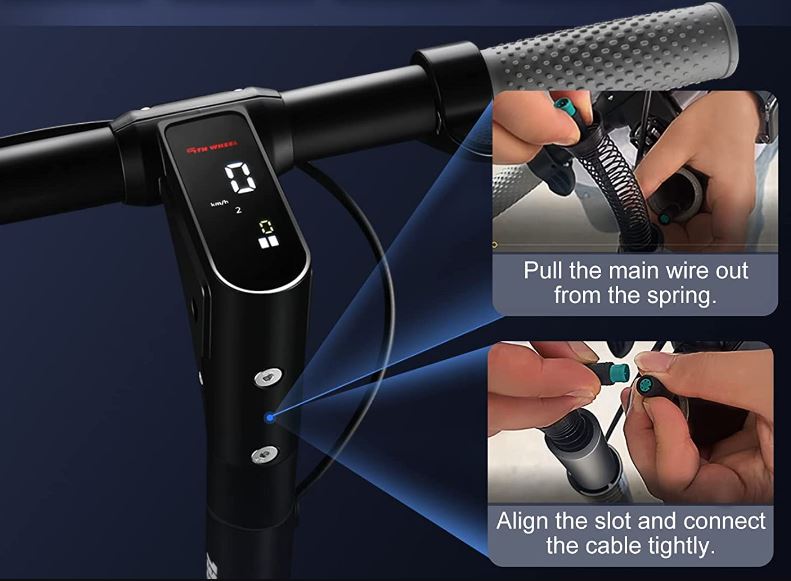 There's a wide release lever at the front left, where the handlebar tube connects to the deck. Flip it down, and you can collapse the handlebars. Flip it back up, and they'll lock into place. This makes it easy to fold up your scooter for storage or transport. And if you end up having to carry it, it weighs 33 pounds, which isn't absurdly heavy.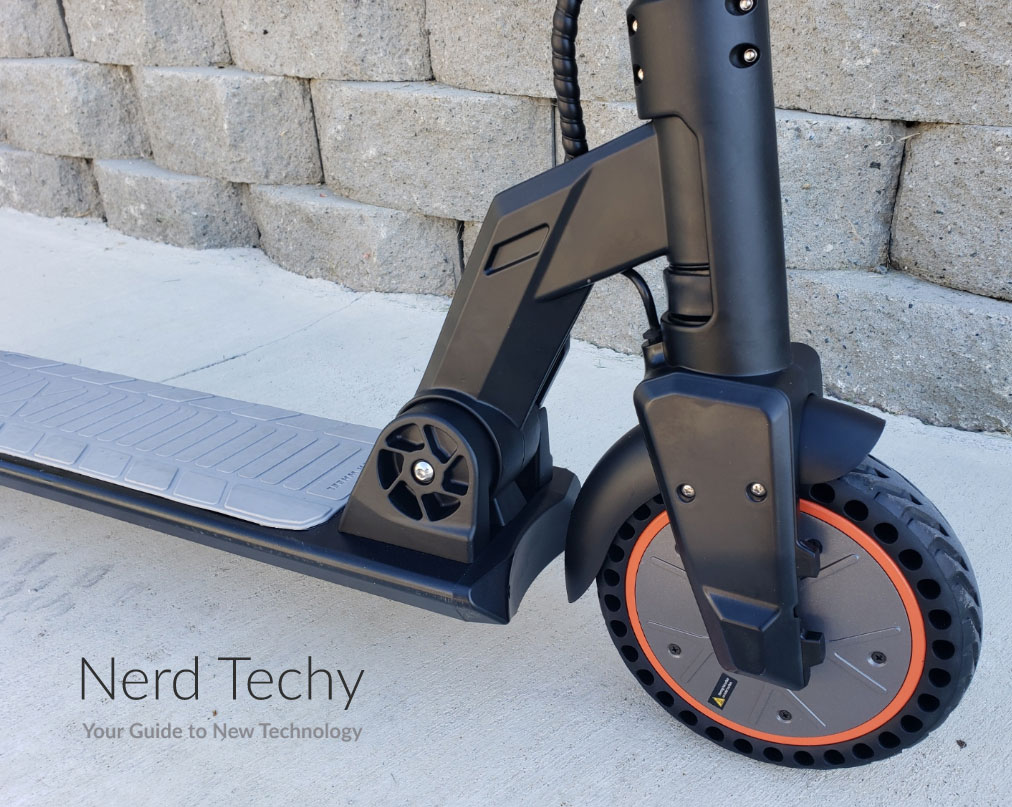 The M2 has a weather-resistance rating of IP54. It's almost impervious to dust, and it's splash-resistant. This is great for everyday use. That said, we'd be concerned about extended exposure to hard rain. In other words, don't leave it parked outside unattended for long periods.
Deck and Suspension
The deck is fatter than you might expect, and this isn't just to give it strength. The battery cells are also housed inside it. It's nice and wide, even if you wear a very large shoe size. And it's covered with a grey rubber mat that's thick and comfortable to stand on. The rubber has deep grooves that provide excellent traction, which is great in damp conditions. The only downside is that it tends to attract dirt and is somewhat tough to clean.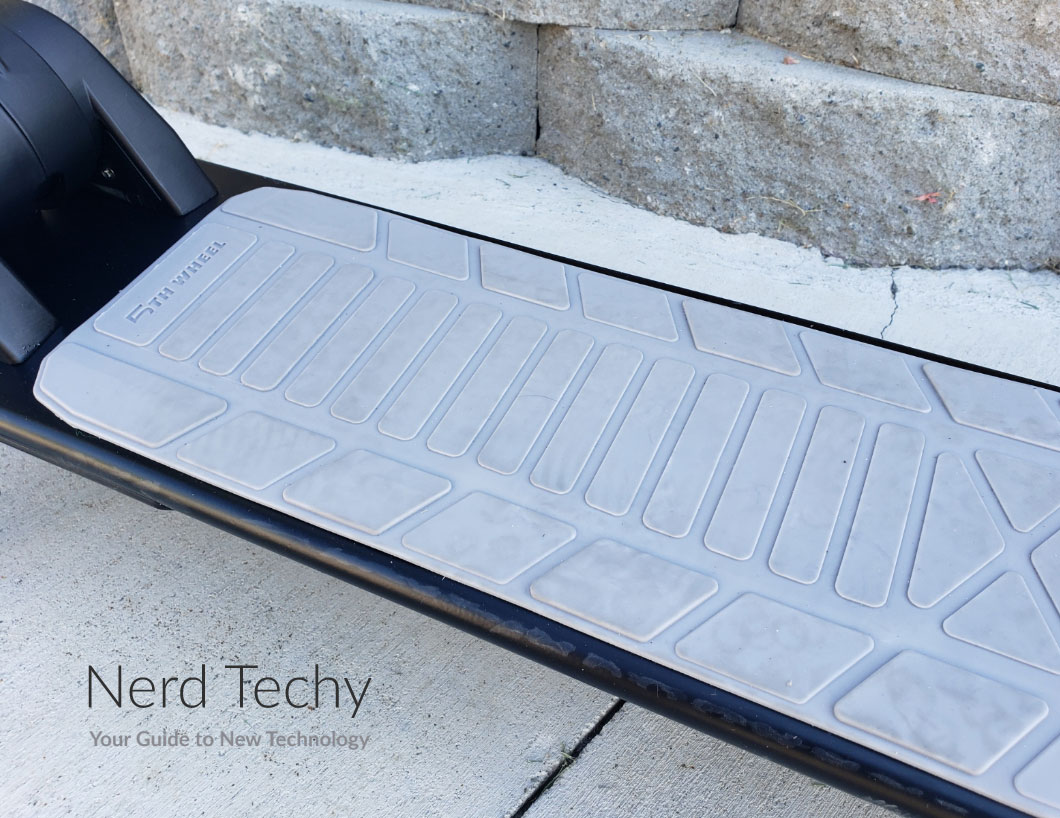 You'll also find a small kickstand at the front left for parking. When not in use, it folds away and fits perfectly into an indentation on the base.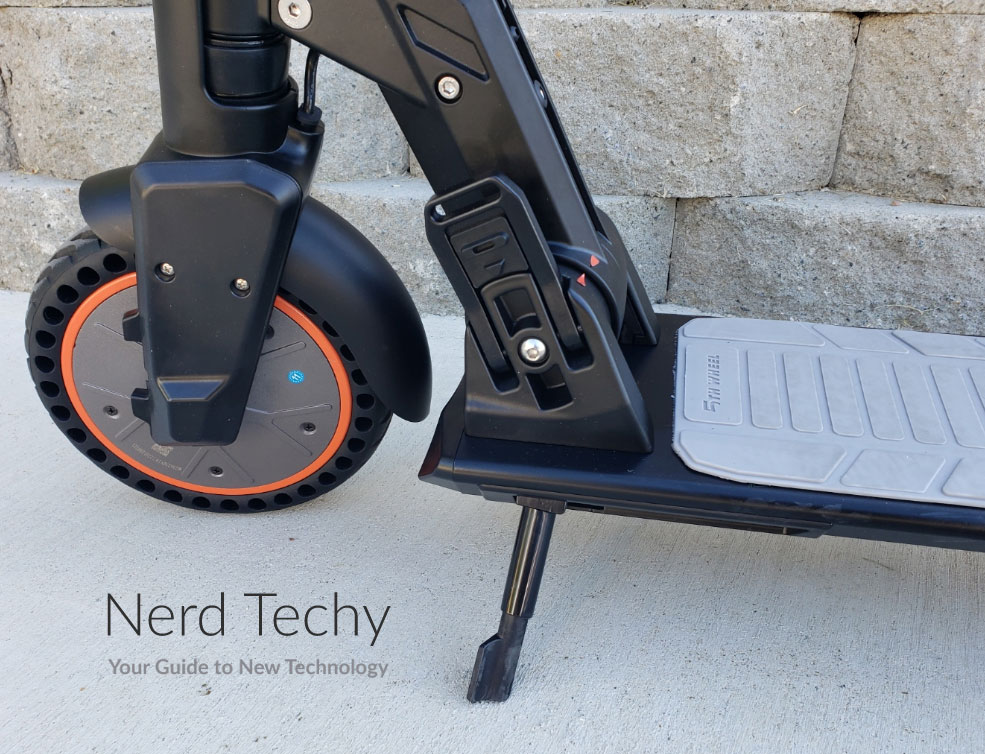 The deck is supported by a set of fat, 8.5-inch diameter tires. The tires are constructed from a tough, high-density rubber, and they're entirely solid. This makes them puncture-proof and incredibly durable. On the other hand, they don't have a lot of give. You don't get the same kind of compression you get from an air-filled tire.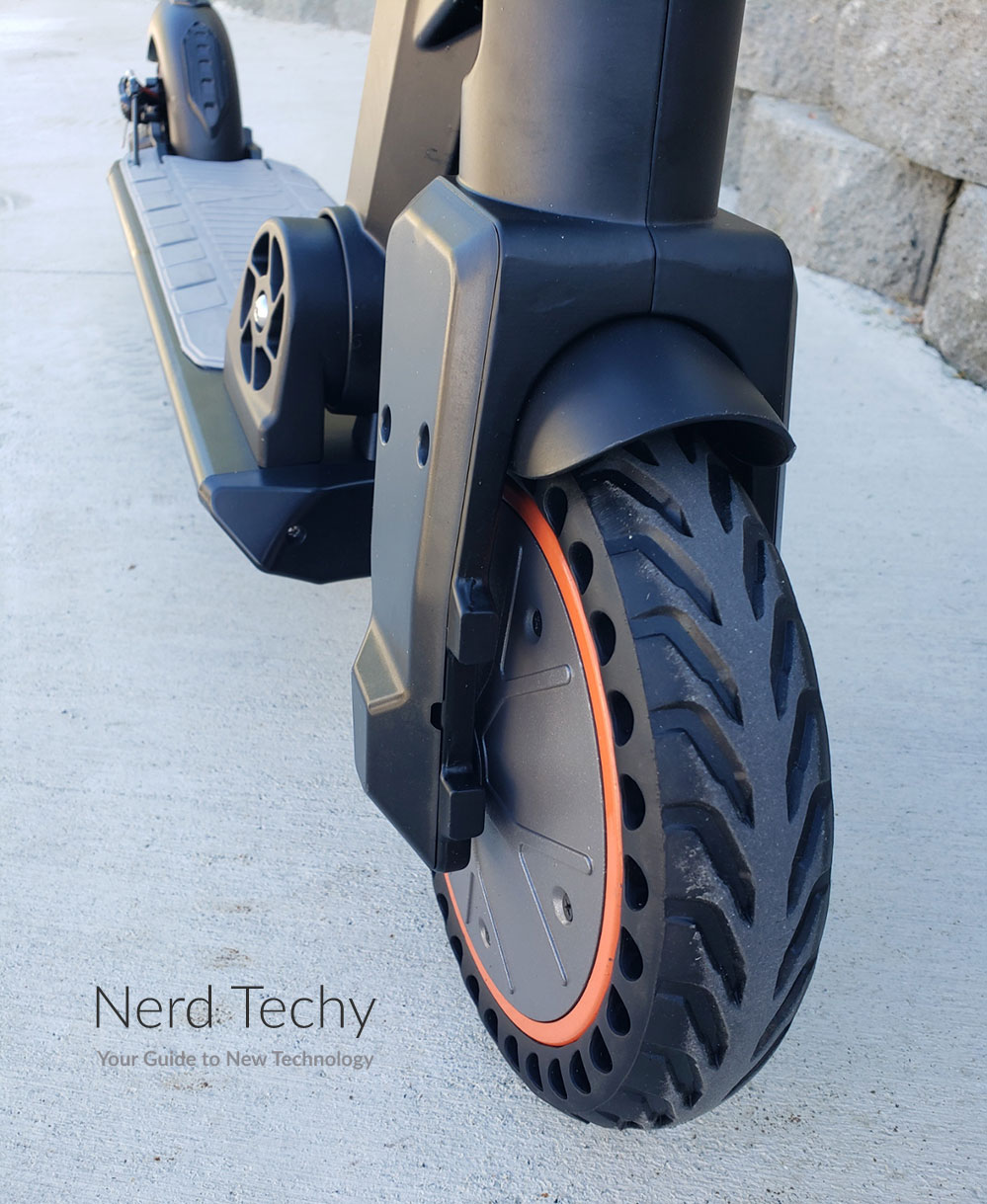 That said, 5TH WHEEL has actually built a suspension into their scooter. There's a spring over the front wheel to reduce the amount of vibration transferred to your arms. Meanwhile, the back tire actually floats on a damping system. It also has a concealed, spring-loaded shock absorber in front of the rear wheel. This attenuates a lot of the jolt you'd receive from hitting smaller bumps.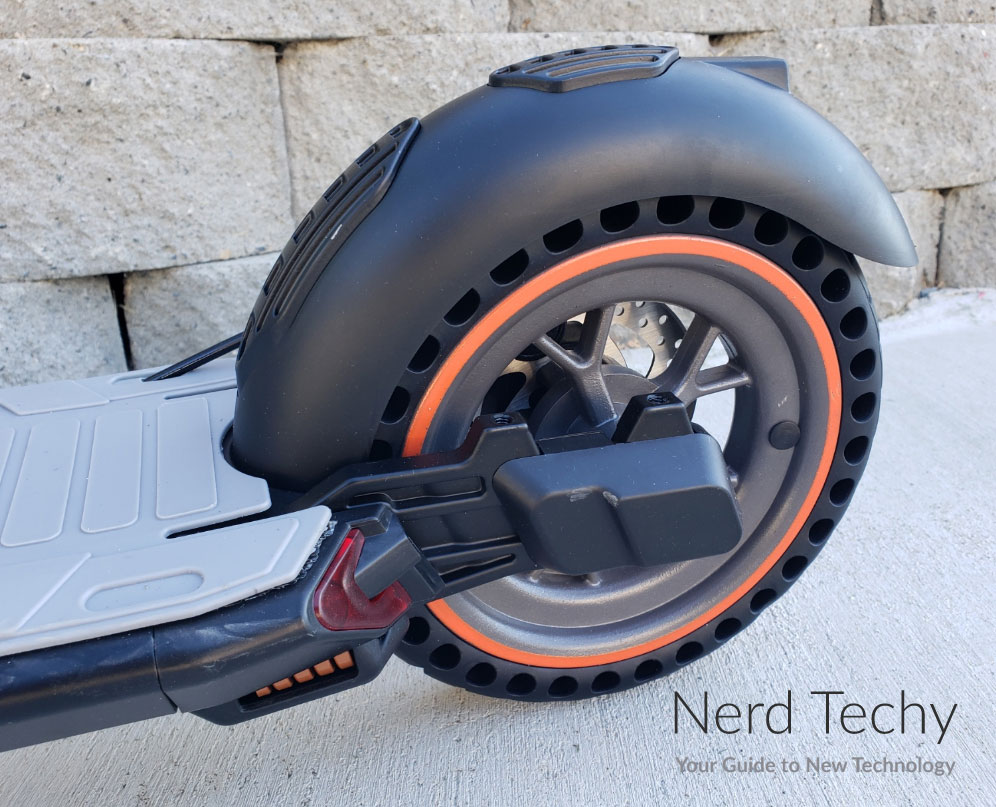 Controls
At the top of the handlebar support, right in the center, there's an LCD display. It's blacked out to match the rest of the scooter, with bright white lighting. At the top of the display, you'll see your speed in large numbers.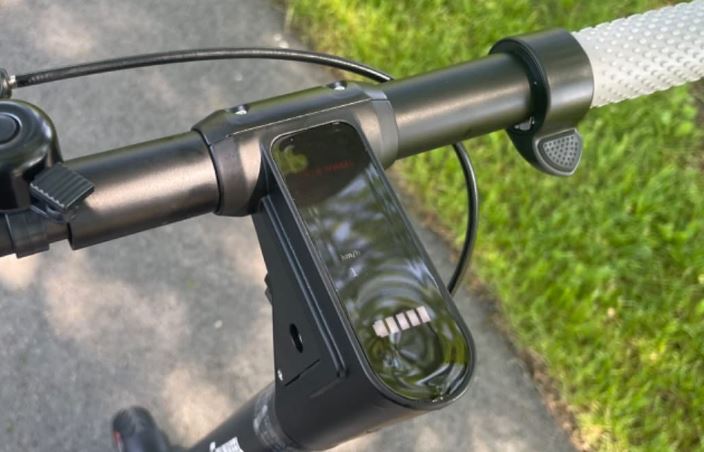 Beneath that, you'll see a small "1," "2," or "3," which indicates your current motor speed. Your trip mileage is shown in mid-sized numbers under that. At the bottom, you'll see a simple four-bar battery meter. Your speed and mileage will be displayed in kilometers. However, you can switch to miles with the companion app.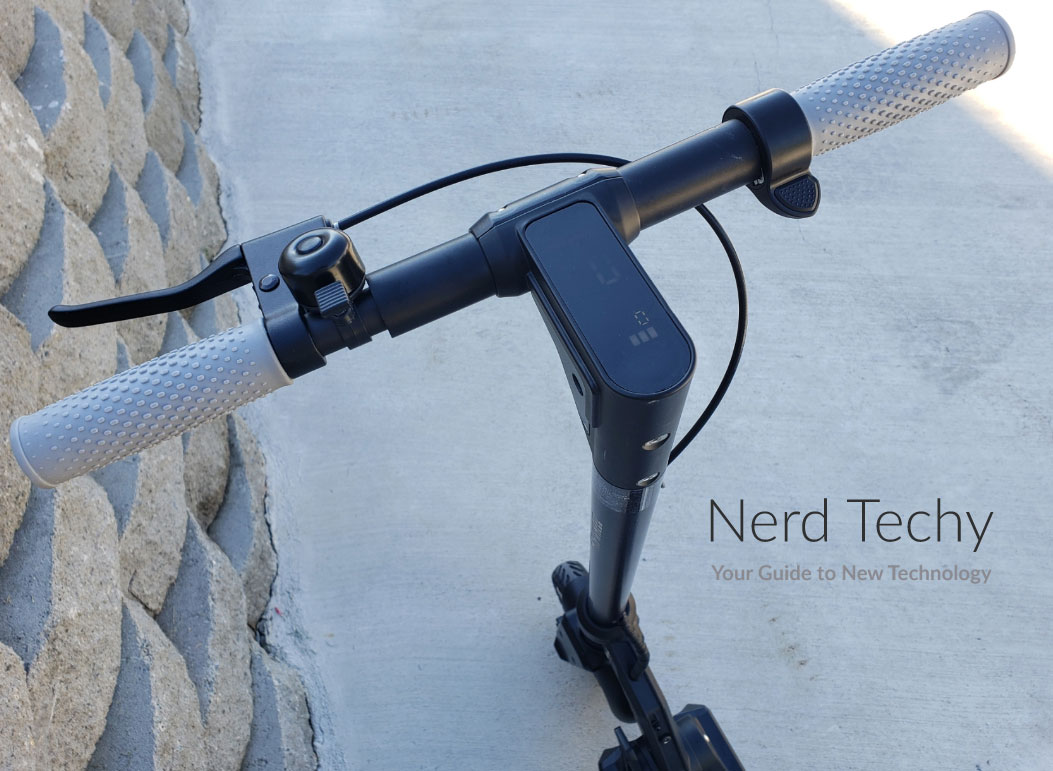 There's a single button at the bottom right of the display to perform several functions. To turn the scooter on, press and hold the button. Turning it off works the same way, but you have to hold it for longer. A shorter press will turn the headlight on or off. A double tap switches between the three different speed settings.
Once you're powered up, you're ready to start riding. The accelerator is a simple lever, located by your right thumb. Press down to go faster, and release to slow down. The brake is located at your left hand, and works just like a bicycle brake. Squeeze it in, and you'll quickly slow to a halt.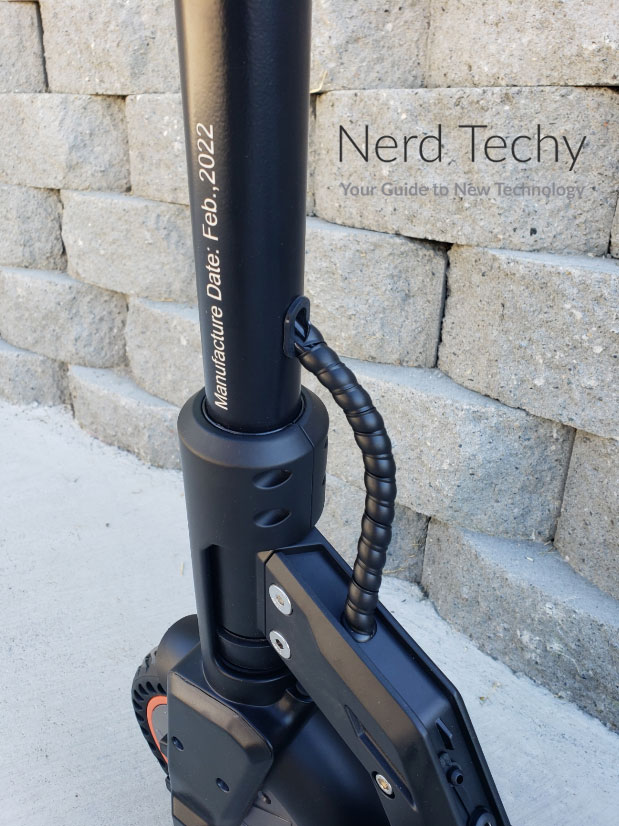 Everyday Use
The 350-watt motor is surprisingly powerful. On a flat road, it's capable of speeds up to 15.5 miles per hour. That's fast enough to zip around an urban area faster than the flow of traffic. Keep in mind that your maximum speed will depend on your settings.
At lower speed settings, you'll have the same acceleration, but your speed will be capped. This can save battery power, and it's really up to you how you want to play things. But even at the highest settings, the motor is quiet. It's just an electric whir, and you won't blow out your eardrums.
One other thing we liked was the ability to climb hills. This scooter can tackle a hill with up to a 14-degree slope. This will include the vast majority of hills you're likely to encounter. You'll have to push yourself manually sometimes if you live somewhere like San Francisco. But in most areas, you'll have all the power you need to get around town.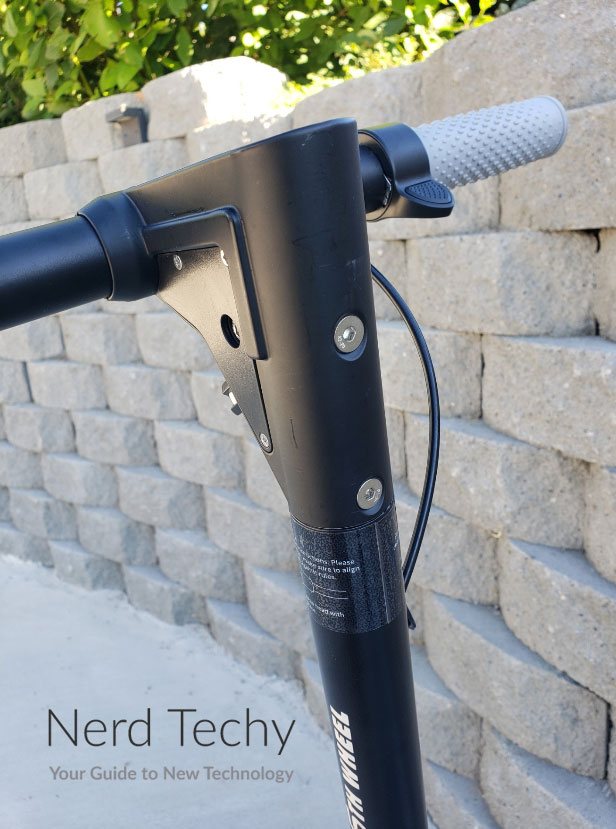 Battery Power
The battery has a capacity of 7.5Ah, with a total power delivery of 36 volts. This is enough power to travel between 16 and 19 miles. Your exact performance will vary depending on the terrain and your speed.
If you're scooting fast in a hilly area, 16 miles is more reasonable. If you're moving at a moderate pace on flat ground, you can expect to get the full 19 miles. The battery meter and trip odometer on the display will help you to gauge your performance.
The kit includes a charging adapter that plugs into the side of your scooter, just behind the steering tube. It takes a little under five hours to fully charge a dead battery. So if you take the scooter to work, you'll have a full charge when you leave.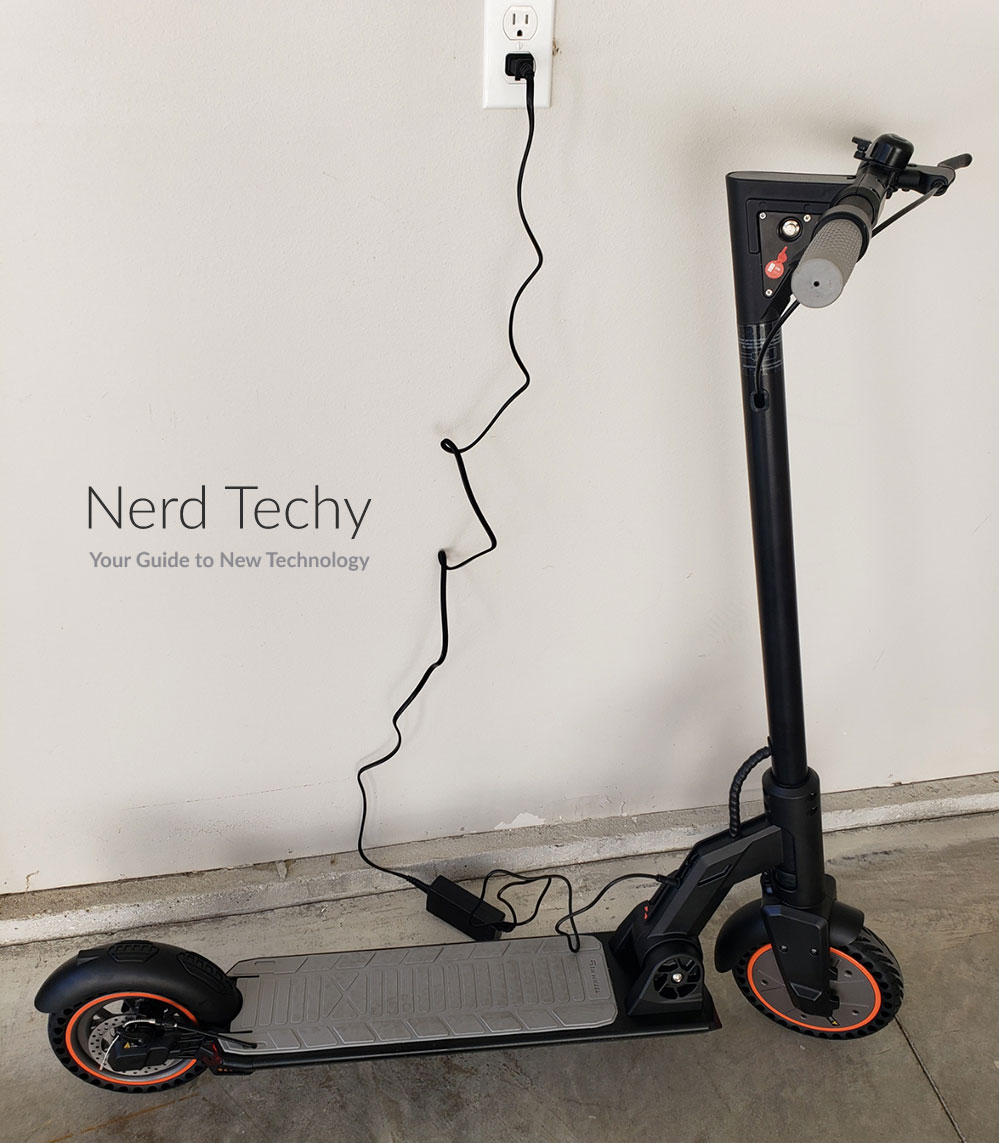 If you need a little more range, check out the ScootHop B1. It offers similar performance, as well as most of the same capabilities. It can also travel up to 26 miles per charge, which is a significant improvement. Then again, the battery is far heavier, bringing the weight to just a hair under 40 pounds.
Safety and Extras
The M2 Electric Scooter has a few extra features that are worth mentioning. First off, it has something 5TH WHEEL calls "non-zero start mode." Basically, you have to manually accelerate the scooter to 3 KMPH (1.86 MPH) before the accelerator will work. That's the pace of a very slow walk, so it's easy to do. The point is to keep the scooter from taking off on you because you accidentally brushed the accelerator.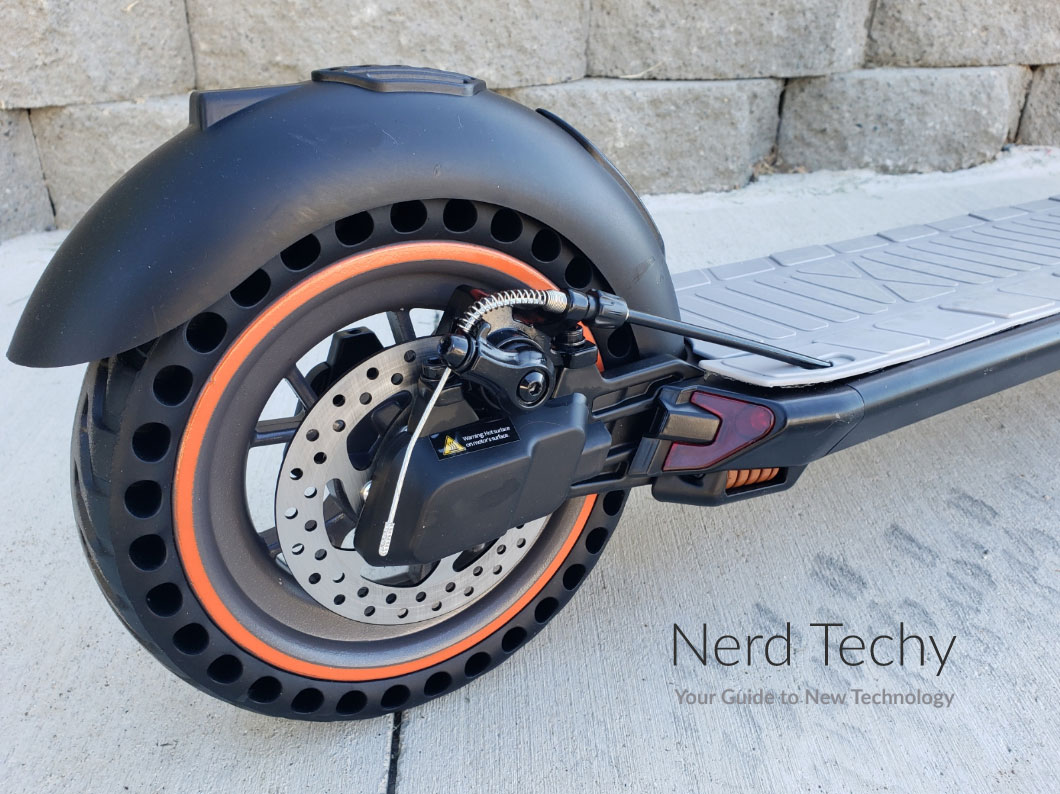 There's are also three separate braking mechanisms. When you pull the brake lever, it will engage the motor brake and front and rear disc brakes. But there's also a foot brake. Press down on the rear wheel cover with your heel, and it will slow you down even faster.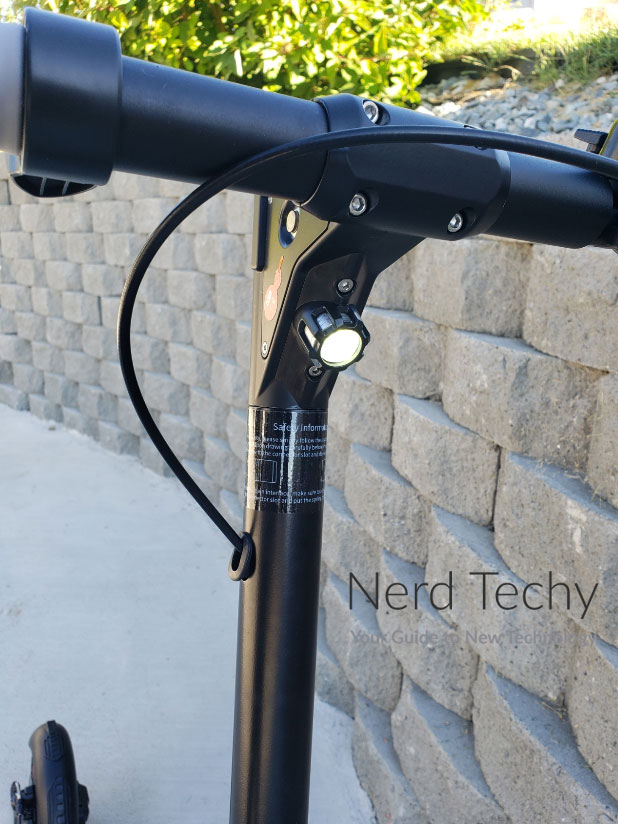 The LED headlight is decently bright, and casts a long enough beam for safe operation at maximum speed. There's also a set of red taillights that light up whenever the headlight is activated. This ensures that you remain visible at night.
Finally, you can download the free companion app and link with your scooter via Bluetooth. Some of the features are pointless, like the speedometer. Why not just use the one on the display?
However, you can view your total lifetime mileage, and switch between US and metric units. You can also perform a self-inspection, and, most importantly, lock the tires. Since the tires can only be unlocked via the app, this makes the M2 impossible to scoot away on.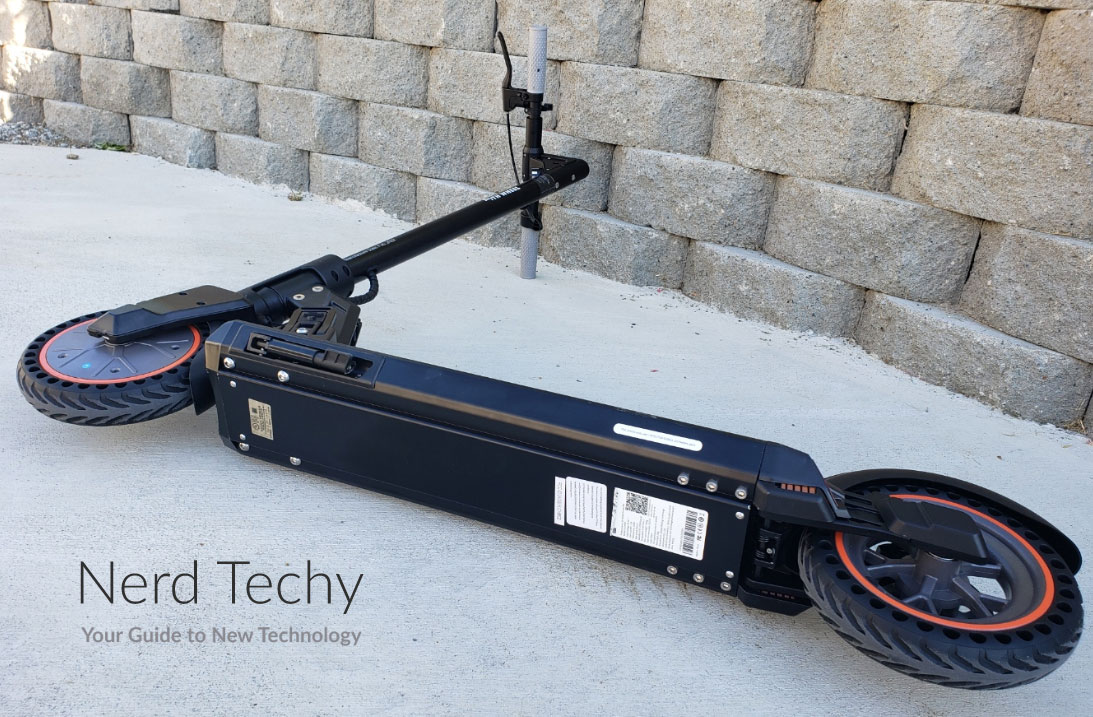 Final Verdict
The 5TH WHEEL M2 Electric Scooter is a great way to get around town without driving or using public transportation. It's fast and zippy, with enough battery life to go 19 miles. It's easier to operate, and can manage a 14-degree slope without manual assistance. And with plenty of safety features, you can ride to your destination with confidence.